Almost every day I get asked what migraine diet snacks are ok on the Heal Your Headache diet (HYH), so I wanted to pull together a few options and ideas of what you can have for a quick bite.
Please read what is listed carefully as certain flavors or brands may not be ok during the elimination period. Remember that this doesn't include everything ever made...that would take me forever.
Most of the snack ideas below are gluten and dairy free as well so if you see something that interests you, don't hesitate to look it up and see if it fits your personal restrictions.
Vegetable Prep Ideas
Cut fruits and vegetables - carrots, celery, cucumber, bell peppers, jicama, green beans, and radish are great for snacking and dips. Buy them pre-cut (which can get pricey) or devote some time to cleaning them and cutting right away when you get home. Storing cut carrots and celery in water in the fridge will also help preserve their life.
Strawberries, blueberries, blackberries, cherries, grapes, apples, mango, peaches, nectarines, pears, and melon all make great grab and go snacks.
Dried Fruits - Look for freeze-dried (Karen's Just Apples), sulfite-free, or dehydrate them at home.
Pickles - If you have some fresh cucumbers you can make these quick pickles. Grillo's (found refrigerated at many stores) also has fresh pickles that are migraine-friendly!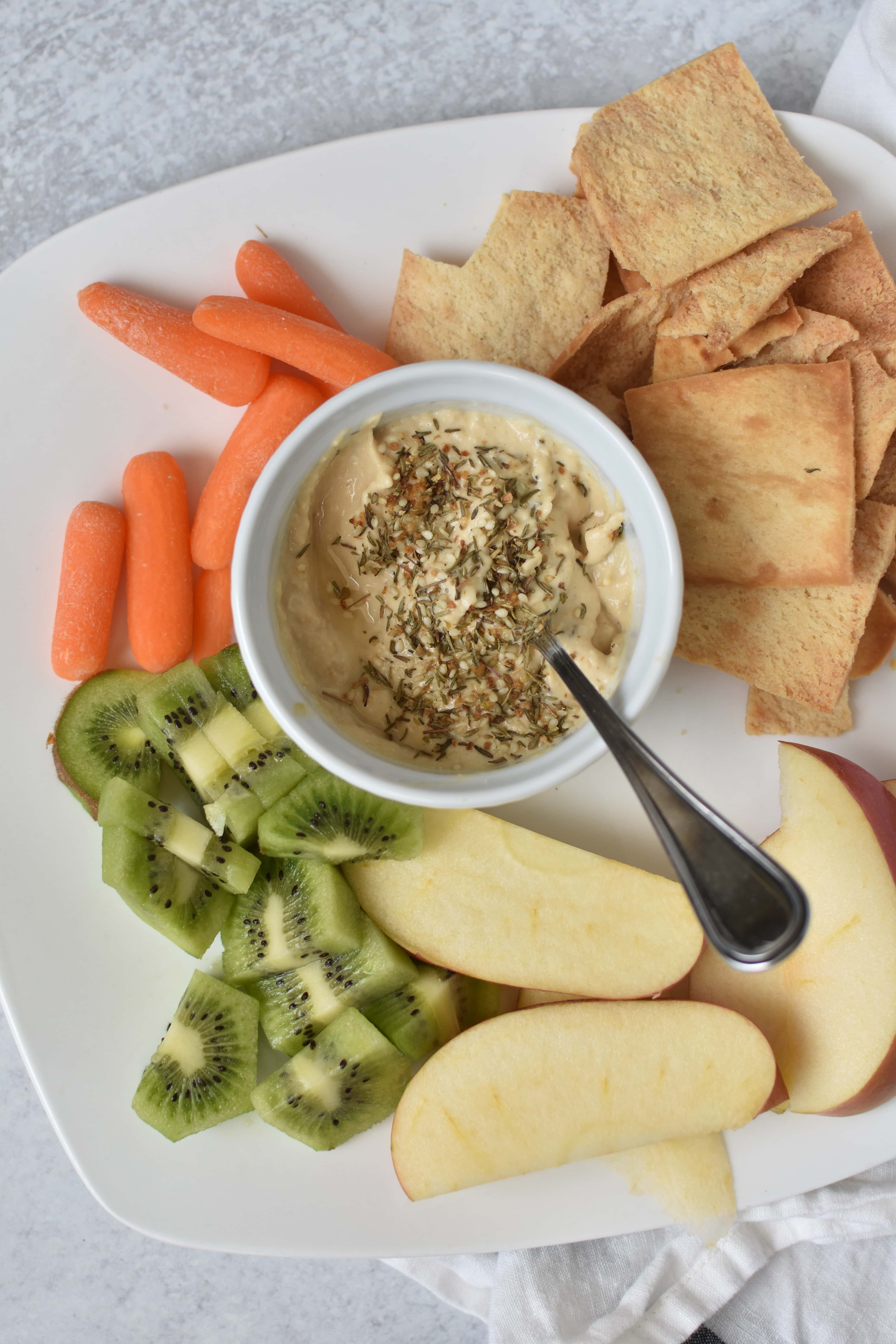 Dips
Mix these up on a Sunday and enjoy with vegetables, chips, or pita bread throughout the week. Only the crab dip will need to be consumed within 2-3 days.
Carrot Hummus (cookbook page 119)
Store-bought salsas - Tacodeli Salsa Verde (Whole Foods Texas), Tacupeto Molka Fire Roasted, Del Real Green Salsa (Fresh Thyme), Tia Lupita Salsa Verde
Trader Joe's Organic Hummus
Seed Butters and Bars
Pumpkin seed butter and sunflower seed butter are great for quick snacks. You can also buy plain roasted sunflower seeds or pumpkin seeds. My favorite brands are Sunbutter, Trader Joe's and 88 Acres.
Use either on apples or celery sticks for a crunchy snack with a little bit of fat and protein.
Spread on a rice cake or dip with pretzels (see below for brand recommendations).
Mix into oatmeal, chia seed pudding, or overnight oats.
Use to make my energy balls or protein bars (pg 116).
Go Raw Sprouted Organic Snacking Seeds
88 Acres Seed Bars in Cinnamon and Oats, Mixed Berry.
Creative Snacks Granola Clusters Bountiful Berry
Lara Bar Kid Cinnamon Swirl
Crunchy Snacks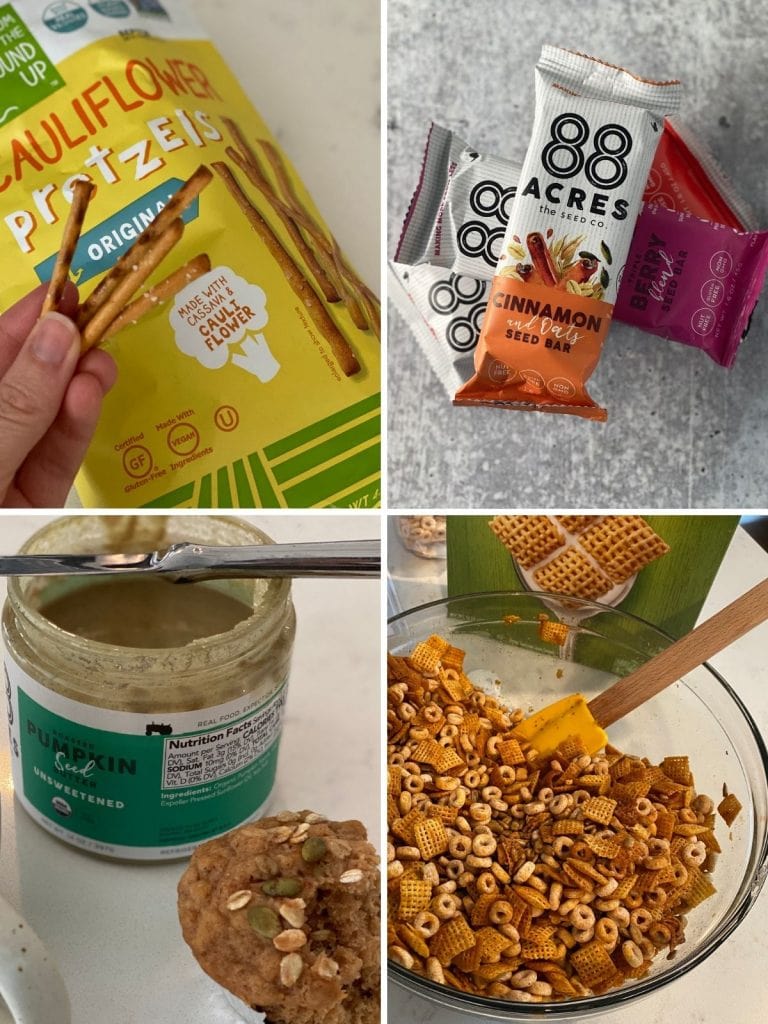 These recipes store well for a long time and hit that crunchy craving.
Homemade Chex Mix (cookbook pg 127)
Plain Cheerios
Popcorn - Original Skinny Pop, Sea Salt and Black Pepper, and Sweet & Salty Kettle Corn are ok. Any other kinds of Skinny Pop are not. Trader Joe's Olive Oil Popcorn and Kettle Corn. Boom Chika Pop Sweet and Salty Kettle Corn as well as the original.
Potato Chips - any PLAIN brand is allowed on the elimination diet. Lays classic, Boulder Canyon, Cape Cod...
Crackers - Carr's Original Table Water Crackers, Trader Joe's Classic Original Water Crackers, Good and Gather Water Crackers, Original Triscuit and Hint of Sea Salt, Back to Nature Harvest Whole Wheat Crackers, Crunchmaster's Sea Salt Gluten Free and Tuscan Peasant Olive Oil and Sea Salt (not any other types).
Goldfish Veggie Crackers Sweet Carrot, Trader Joe's Beet Crackers, Orchard Valley Chickpea Chips Original Sea Salt, Terra Vegetable Chips, Simple Truth Root Veggie Crisps, Thrive Market Veggie Chips, Food Should Taste Good Sweet Potato Tortilla Chips.
Any corn tortilla chips without seasonings.
Pretzels - Rold Gold Braided Honey Wheat, Utz Honey Wheat Twists, From the Ground Up Cauliflower Pretzels and Butternut Squash Pretzels (Gluten Free).
Granola - Buckwheat Granola or Seed Granola, Nature's Path Pumpkin Seed and Flax Granola (Costco), Purely Elizabeth Original, Blueberry Hemp, and Pumpkin Cinnamon.
Sweet Snacks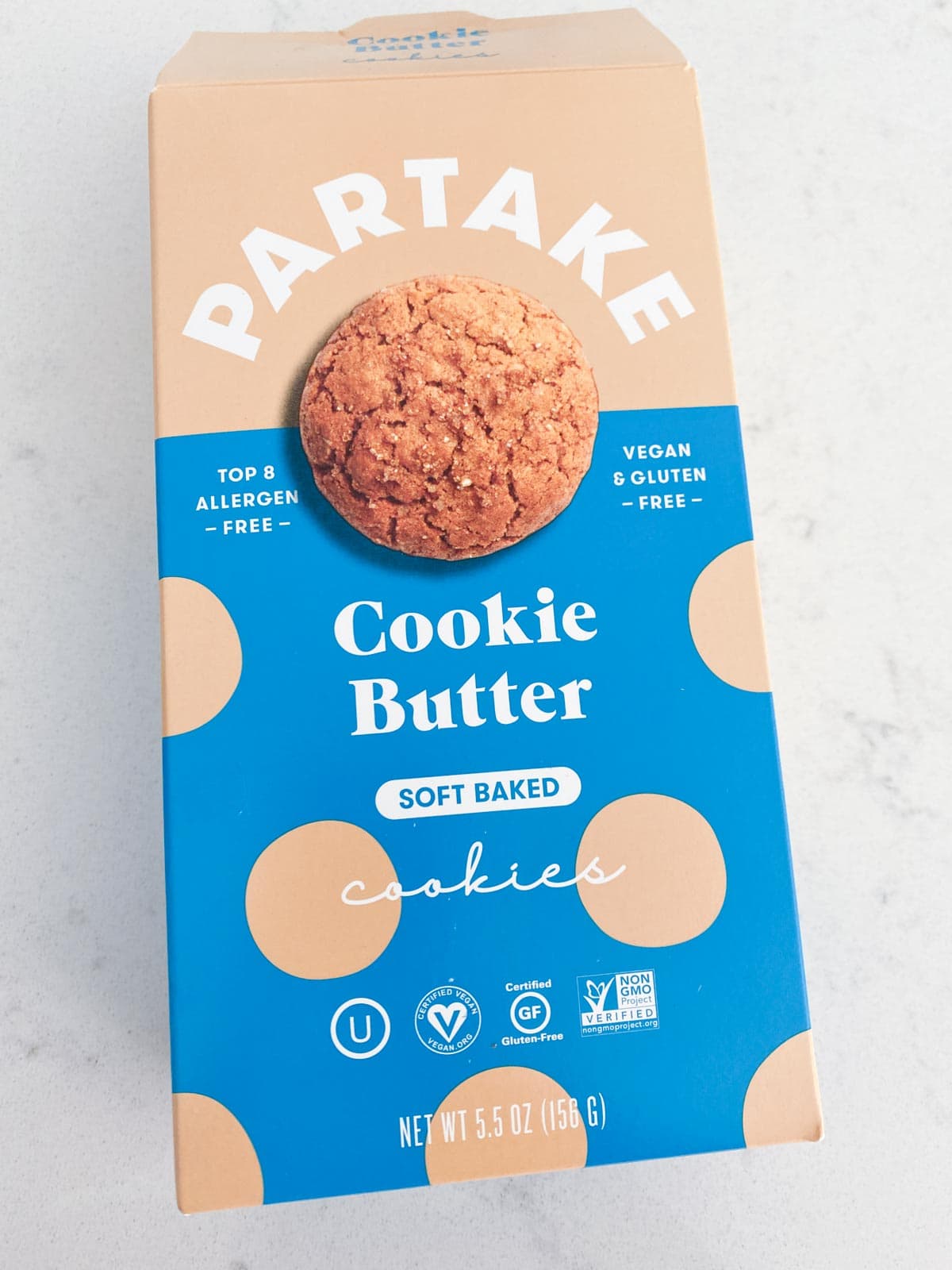 Trader Joe's Butter Waffle Cookies and Speculoo's Cookies
Pepperidge Farm Chessman and Gingerman Ginger Cookies
Partake Cookie Butter Cookies (Trader Joe's and Whole Foods)
Mi-Del Gingersnaps
Field Day Frosted Flakes
Petit Pot Vanilla Bean & Rice Pudding
Migraine Diet Cheese
BelGiosio Mozzarella Balls (or any fresh mozzarella balls)
Mozzarella Sticks
Cubed American Cheese (Andrew and Everett, Boars Head, Organic Valley...)
Farmers Cheese
Spreadable Goat Cheese (Chevre), unaged. Serve with crackers, jam or honey, fresh herbs, or rolled in black pepper.
More cheese options
Freezer Storage
These are quick grab and go meal replacements you can keep in the freezer. The pepita protein bars and the energy balls would also fit into this category.
Chicken Taquitos or Vegan Bean Taquitos (pg 58)
Sausage Balls (pg53)
Rollingreens Crispy Cauliflower Wings (Mustard)
If you see anything missing that you love from this migraine diet snacks list, please add your suggestions in the comments!
Here are some pantry staple product recommendations and full foods allowed list.