This recipe for creamy Boursin pasta with fettuccine is comforting, cozy, and a little bit decadent. With just five ingredients total, it's a quick side dish or vegetarian meal that's easy and delicious.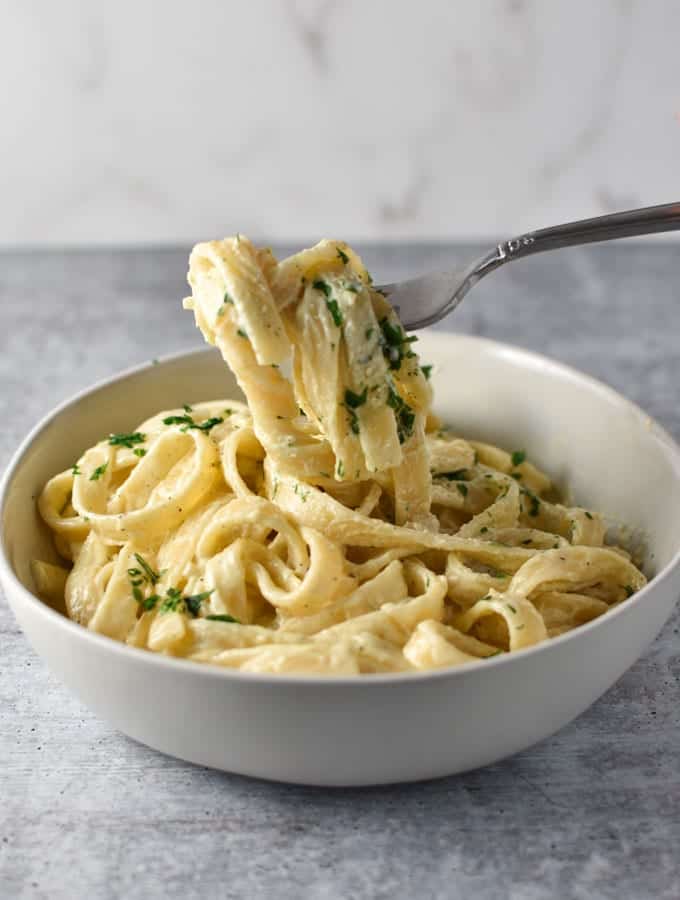 My Inspiration for Boursin Pasta
I'm currently flying back from London which was a last-minute getaway for me and Casey. This trip was booked on a whim with miles and points when I originally got the news I was losing our 3rd baby. I just had to get away.
We've always put traveling at the top of the list of things we find important and between managing vestibular migraine and going through infertility treatments, it's been difficult to try to fit it in the past few years. I regularly get messages about how I do it and how I got over that fear of flying again since it's so triggering for many with vestibular disorders. The truth is that I'm always scared to fly, but this illness has taken a lot from me – one big thing was my career in watch development. Because of this, I try to not let it become something that rules my life…even if I do have to take extra precautions for it. Some trips are better than others and I have a set of tips that I follow, but I find that the more I did it the easier it became.
My friend Ellen, who I grew up with, moved to London over 8 years ago after she met her husband Tom on a study abroad tour. How romantic, right? I've been wanting to visit her for ages. With the last minute nature of this trip and also just looking for some time to relax, we decided this was the perfect time. Ellen suggested we spend a few days in the Cotswolds before making our way to London, saying I would feel just like Cameron Diaz in The Holiday. That was enough to sell me!
Boursin Pasta aka "Christmas Fettuccine"
There are two parts of The Holiday that really stand out to me – the first being how much Cameron Diaz probably spent on all her last minute flights when she keeps changing her mind to stay another day. And she's flying first class too! I mean, come on. That's just not economical.
The next is the idea of Christmas fettuccine. In one scene you see Jack Black and Kate Winslet sharing their heartbreak stories when Kate exclaims they'll make some "Christmas fettuccine" and watch movies. Then the following scene you see Cameron Diaz with a giant bowl of creamy pasta after she proclaims earlier she wishes she could eat carbs without wanting to kill herself.
That last part really struck a chord with me. Sometimes in life, there's just a need for a really good, creamy pasta. One with lots of butter and cheese. And there's no reason you should have to avoid that even on a migraine diet!
Aged Cheese and Migraines
So why Boursin Pasta? Traditional fettuccine alfredo is made with butter, cream, and lots of parmesan cheese. Unfortunately for anyone with migraine, aged cheese is an incredibly common trigger. Parmesan cheese is one of the worst since it's usually aged for a year or more.
What do we know about aged cheese and migraine attacks? Most likely the trigger is due to the high amount of tyramine and histamine, which are biogenic amines that increase as food ages or occur in fermented foods. Romano, parmesan, gruyere, and many others that are aged more than 2 months or so fall into this category.
There are a few fresh cheeses which many find they're able to tolerate quite well if no dairy sensitivity is present. Boursin garlic and herb cheese is one of these, and I really love it in a lot of my recipes, like this Best Sandwich Ever and this Boursin Broccoli Casserole.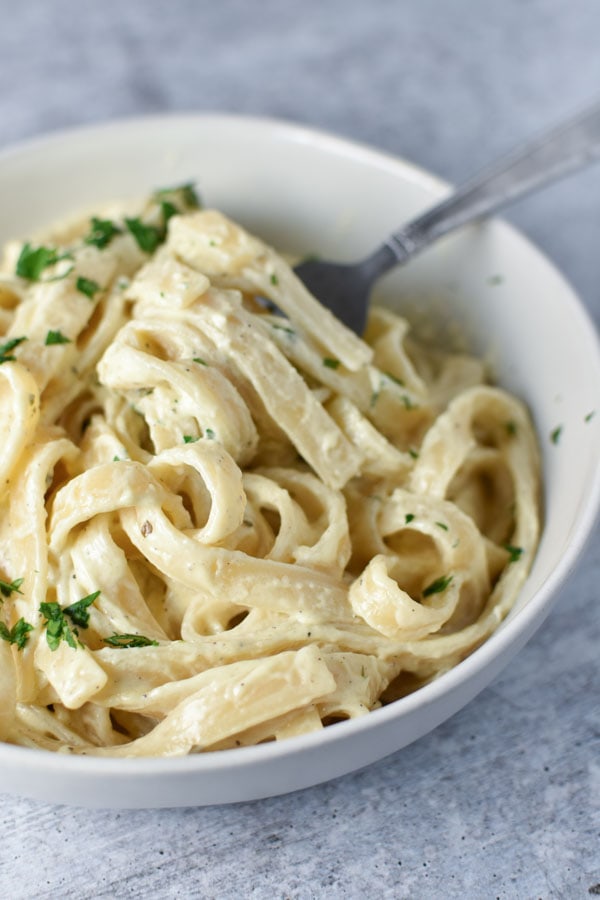 How to Make Creamy Boursin Pasta
The awesome part about this creamy fettuccine is it's a 5 ingredient pasta! For this recipe I like to start with a really good pasta, usually all semolina flour, and ones that you can find freshly made. This isn't totally necessary, but it does elevate the dish. Obviously if gluten is an issue for you, you can use your favorite gluten free pasta.
The rest of the ingredients are really easy, I just recommend getting the best possible ingredients you can. I like to use Kerrygold butter, which is MSG-free, and a heavy cream without carrageenan or additives. Heavy cream can be tough to find without carrageenan, but Organic Valley has some, as well as some local brands. A friend of mine recently found a great one at her local Trader Joe's!
It's important to not try to substitute out the heavy cream for half and half or milk in this recipe. I know, I like saving calories too, but it just won't turn out as good. It also won't have the same decadent thickness to it.
I feel like when you make this recipe for Boursin pasta, you really have to let go and pretend that you're in The Holiday, eating all the carbs and enjoying your vacation to it's fullest…even if it's just in your own living room. You can also pretend you have a hot date with Jude Law. Totally acceptable.
Can't Handle the Carbs?
If you're looking for a lower carb recipe that's similar to this creamy Boursin pasta, check out my Cauliflower Mac & Cheese recipe.
Creamy Boursin Pasta
This recipe for Creamy Boursin Fettuccine is made with just 5 simple ingredients, yet flavorful, cozy, and decadent. The perfect side dish or vegetarian main dish for a delicious meal that can also be gluten free. Serves 2-3 as a main dish and 4 as a side.
Course:
Dinner, Side Dish
Cuisine:
American, Vegetarian
Keyword:
Creamy Boursin Pasta
Ingredients
8

oz

fettuccine pasta

2

tablespoons

butter

2

cloves

garlic, minced

3/4

cup

heavy cream

4

ounces

Boursin Garlic & Fine Herbs Cheese

kosher salt and fresh pepper to taste

fresh Italian parsley for garnish
Instructions
Cook pasta according to package directions and drain. Keep about a cup of pasta water just in case you need to thin out the sauce later. Meanwhile melt butter in a large saucepan and cook the garlic for a minute or two until fragrant, but not brown. Add heavy cream and bring the sauce to a simmer, about 5-7 minutes, until nice and thick. The spoon should leave a line/trail as you run it through the sauce.

Turn the heat to low and add Boursin cheese, stirring until melted and fully incorporated. Taste the sauce and add any kosher salt or fresh black pepper as needed. Add drained pasta and toss everything to combine. Top with parsley for garnish
Recipe Notes
Use your favorite gluten free pasta to make this GF friendly
If the sauce is too thick, add 2 tablespoons of pasta water after adding the Boursin cheese until desired consistency is reached.
I used Kerrygold unsalted butter and Organic Valley Heavy Cream (any heavy cream without carrageenan is ok).
Nutrition Facts
Creamy Boursin Pasta
Amount Per Serving
Calories 541
Calories from Fat 324
% Daily Value*
Fat 36g55%
Cholesterol 153mg51%
Sodium 255mg11%
Potassium 172mg5%
Carbohydrates 43g14%
Protein 11g22%
Vitamin A 1159IU23%
Vitamin C 1mg1%
Calcium 71mg7%
Iron 1mg6%
* Percent Daily Values are based on a 2000 calorie diet.