These Baked Chicken Kabobs in the oven are really simple to make and do not require a grill or grill pan! Marinated in garlic, oregano, and dijon and paired with fresh peppers and shallots, they're an easy and healthy meal.
I love this recipe because it can be made any time during the year, no matter what the weather is like. And there's no grill pan to clean! Basically there are a few simple steps - marinating and threading the chicken and vegetables, baking, and finishing with the broil if you love those little charred pieces.
Need a dairy and gluten free dinner recipe that's ready in just 30 minutes? This is perfect! It fits Whole 30, paleo, low carb, and a migraine diet.
Ingredients
You don't need a lot of ingredients for this recipe. Here are a few that you should have on hand in the pantry.
Chicken - I used boneless skinless chicken breasts. I prefer air-chilled because there's no added water or solutions, providing a better taste and cooking experience. Without added water, the chicken won't release a bunch of liquid and essentially "steam" but will bake nicely. It's also a great way to make sure there's no hidden MSG.
Dijon Mustard - I love using dijon in marinades for chicken. It gives such a great flavor in a quick amount of time. My brand of choice is Annie's or HEB.
Spices - Garlic, oregano, and sumac. Sumac gives this dish a lemony flavor without added citrus.
Red and Yellow Bell Pepper - A great way to get in the traditional kabob vegetables.
Shallots - I love shallots instead of red onion for this recipe. They're smaller and more mild than red onions. Cut into quarters, they fit well onto skewers.
How to Bake
Begin by cutting the chicken breasts into bite-sized cubes.
In a large bowl, mix together the olive oil, dijon, garlic, oregano, and sumac. Add chicken, along with kosher salt and pepper, and stir till well-coated. Cover and refrigerate for at least 30 minutes, up to 12 hours. (Picture 1)
Preheat oven to 425 degrees Fahrenheit. Prepare a baking sheet with aluminum foil for easy clean up. (I used parchment in the pics because I am moving and packed my foil...oops. Foil works better.)
Using metal skewers, alternate threading pieces of chicken, shallots, and peppers until filled. (Picture 2)
Place the kabobs onto the baking sheet, at least 1 inch apart to bake. Bake at 425 degrees F for 15-20 minutes until chicken is completely cooked through and registers 165 degrees for an internal temperature. (Picture 3)
If you'd like to add a bit of char to the vegetables and chicken, place the broiler on high heat and the skewers about 6 inches away. Broil for 1-2 minutes or until it's browned enough to your liking. (Picture 4)
Recipe Tips
Start with great quality chicken. Air chilled is more important than organic for the best flavor, but both are great if you can make that work for your budget.
Marinating is a must. Plan on at least 30 minutes of time to marinate the chicken. The longer you can leave it, the more flavorful and tender it will be. Because you're cutting these into bite sized pieces, I would not marinate for longer than 12 hours or the meat can turn mushy.
Watch the broiler. If you do decide to broil, just watch it carefully. From someone who knows how easy it is to get distracted in the kitchen, set a timer if you plan to do something else. Or you'll end up with burned meat!
Mix it up. Mix up the vegetables with zucchini squash, tomatoes, and mushrooms. All would work well here if you don't like peppers.
Buy metal skewers. Metal kabob skewers make your life easier. No one has time to soak wooden skewers. Unless you find pleasure in soaking skewers in which case I support you. You have more patience than I do. The world needs more people like you.
Side Dishes
What's nice about these is the vegetable side dish is pretty much built into the recipe. But if you're looking for something extra for these baked chicken skewers, some of my favorites are:
Roasted Garlic Mashed Cauliflower
Healthy Coleslaw
Chipotle Sweet Potatoes
Corn and Basil Pasta
Cauliflower Mac and Cheese
Baked Chicken Recipes
For more recipes that are easy to cook like these chicken kabobs in the oven, check out these posts.
If you make any of my recipes, don't forget to tag me #thedizzycook or @thedizzycook on Facebook and Instagram. And please leave a review below!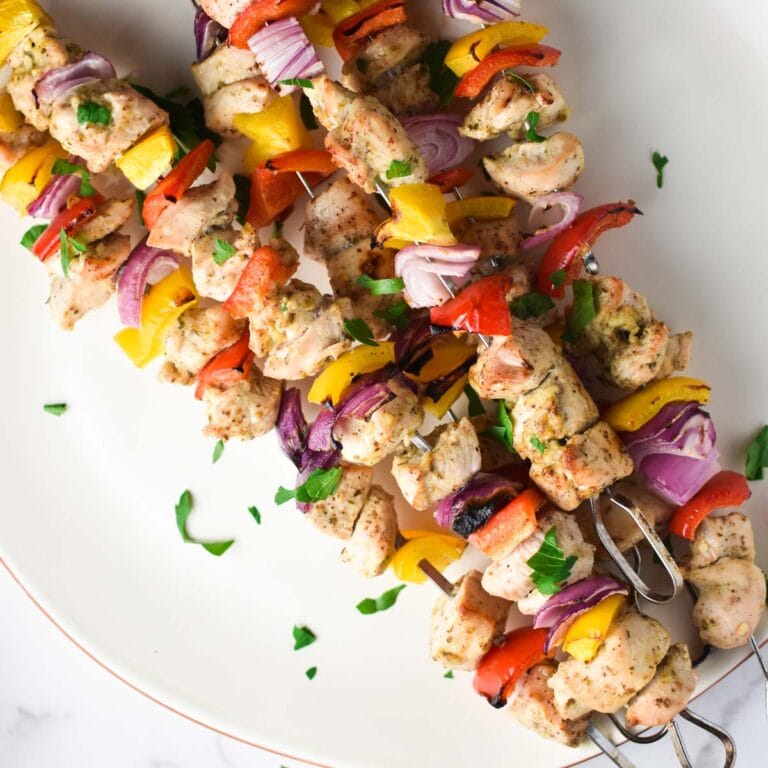 Baked Chicken Kabobs
These oven baked chicken kabobs are easy to make without a grill or grill pan! Healthy and delicious, they're great for an easy weeknight meal.
Print
Pin
Rate
Ingredients
1½

pounds

boneless, skinless chicken breast

2

tablespoons

extra virgin olive oil

1

tablespoon

dijon mustard

3-4

cloves

garlic, minced

1

teaspoon

oregano

½

teaspoon

sumac

½

teaspoon

kosher salt

¼

teaspoon

black pepper

1

red bell pepper, cut into bite sized pieces

1

yellow bell pepper, cut into bite sized pieces

3-4

large shallots, peeled
Instructions
Cut chicken breast into 1 inch pieces and set aside. In a large bowl, mix together olive oil, dijon, garlic, oregano, sumac, kosher salt, and pepper. Cover and marinate for at least 30 minutes and up to 12 hours.

Cover a baking sheet with aluminum foil for easy clean up. Preheat oven to 425 degrees F. Thread alternating pieces of chicken, peppers, and shallots onto metal skewers. Bake for 15-20 minutes until cooked through, meaning no pink in the center and registering 165 degrees F on a meat thermometer.

If you'd like more of a grill-like char on the outside, set your oven broiler to high. Broil kabobs about 6 inches away from the heat source for 1-2 minutes until lightly charred on edges. Serve warm!
Notes
Hate peppers? Mix up the veggies with cut zucchini squash, mushrooms, and tomatoes.
Use metal skewers to avoid having to soak the wood - just makes life easier.
If not following a migraine diet, red onion can be substituted for shallots, although I prefer the flavor of shallots.
Nutrition
Calories:
294
kcal
|
Carbohydrates:
8
g
|
Protein:
38
g
|
Fat:
12
g
|
Saturated Fat:
2
g
|
Polyunsaturated Fat:
1
g
|
Monounsaturated Fat:
7
g
|
Trans Fat:
1
g
|
Cholesterol:
109
mg
|
Sodium:
535
mg
|
Potassium:
840
mg
|
Fiber:
2
g
|
Sugar:
3
g
|
Vitamin A:
1055
IU
|
Vitamin C:
97
mg
|
Calcium:
36
mg
|
Iron:
1
mg