This air fryer chicken tenders are extra crispy and delicious, but you can also bake them in the oven. I give you instructions for both cooking methods in this post! This recipe can be made, gluten free and egg free and is already dairy free.
The Instant Pot Air Fryer Lid
I was always skeptical about the instant pot air fryer lid, but it seemed like an easy solution rather than investing in another large kitchen gadget. The only downside? They're kinda pricey! I recently had some readers asking for recipes in my Dizzy Cook Recipe Chat and when I mentioned I hadn't bought one yet because of the price, I had a very kind couple that reached out to me through email offering to purchase it for me. It never fails that for every bad or frustrating comment you receive, someone super lovely steps in that makes you feel valued. So a special shoutout to Carrie and Brenda for this new gadget that I already love - we'll call these "Brenda's Chicken Tenders".
A little bit about the lid. It is bulky, so you will have to find a space for that, but the rest of the tools you use fit easily in the pot for storage. It's also not quite as large as buying a separate air fryer. It heats fast and works like a charm. You barely have to read the directions for how easy it is to operate (much easier than the actual instant pot in my opinion). The only downside about this product is the space. It's perfect for a family of two, but if you have 3-4 people, I'd invest in a larger one. I didn't find batch cooking to be too annoying. I set my oven to "warm" and just placed the finished chicken tenders in there. Everything cooks really fast, so it goes by quicker than you'd think.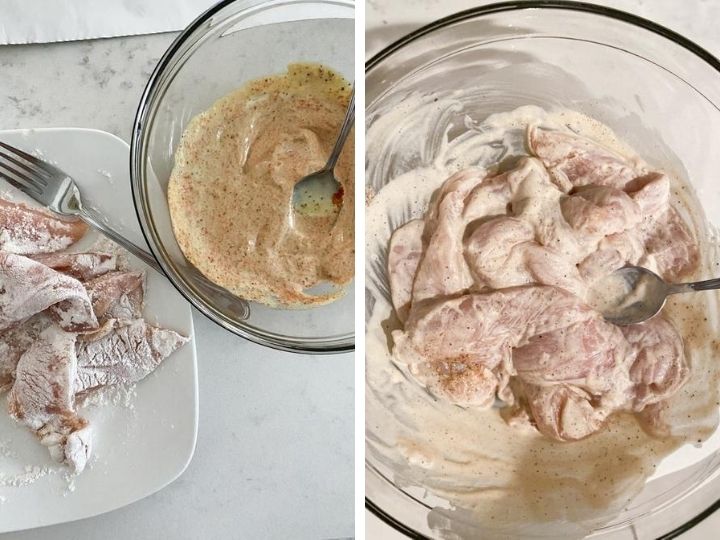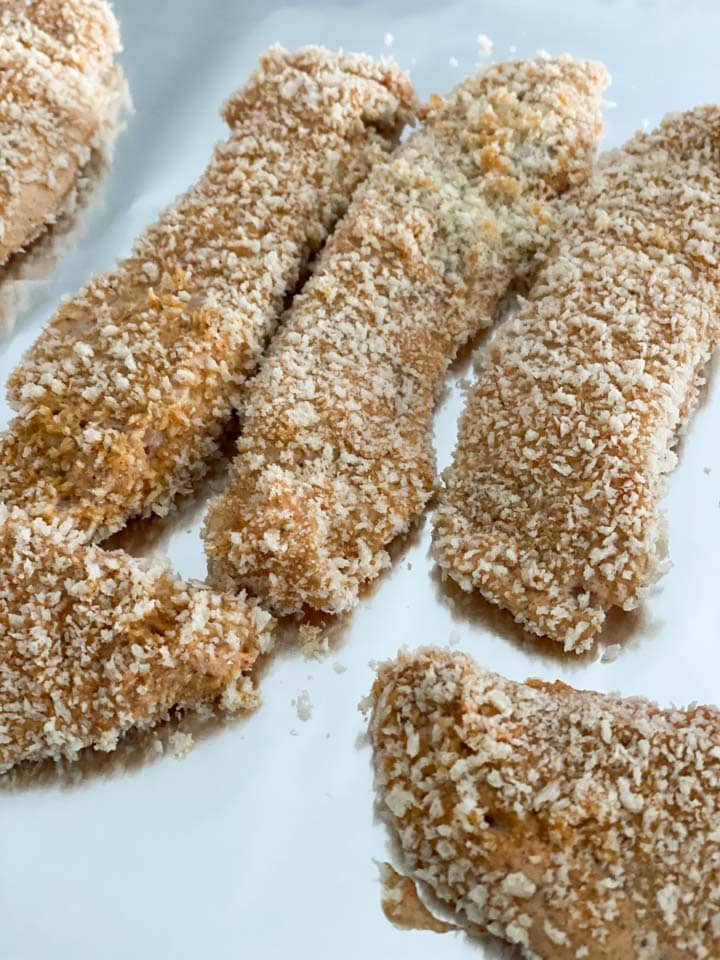 Recipe Ingredients
For this air fryer chicken tender recipe, I wanted to use mayo instead of egg because 1. I think it makes the chicken more moist and flavorful 2. I wanted people who couldn't tolerate egg to be able to make this. If that's you, try this with my Aquafaba Mayo recipe.
Since I'm ok with eggs, I used my favorite Sir Kensington's Organic Mayo. I've tried this both regular mustard and dijon mustard and both are quite good. So whatever you have on hand or prefer would work here as well.
If you can buy pre sliced chicken tenders, this will make your life easier! I had a thin cut chicken breast in the freezer that I just sliced in half. So essentially one full chicken breast should create 4 strips. You can either pound it thin, to a little less than ½" or slice the chicken breast in half width-wise and then slice those into halves length-wise to create 4 strips. I really recommend using air-chilled chicken for this recipe, if possible. It will cook and taste much better.
Gluten Free Option
Making gluten free chicken tenders is really simple - just use your favorite all purpose gluten free flour and a gluten free panko. Aleia's has a good one and Jeff Nathan's Creations can be found at Walmart or Amazon.
Oven Baked Chicken Strips
If you don't have an air fryer, these can be made in the oven as well. Here are the recipe modifications.
Toast the panko for 3-5 minutes until just very lightly browned
Place an oven-safe rack over a sheet pan and place the chicken tenders on the rack so there's airflow underneath
Flip halfway through baking
Bake at 425 degrees F for 15-17 minutes until cooked through (165 degrees)
Sides and Sauces
Of course I had to serve these air fryer chicken tenders with my knockoff Chick-Fil-A sauce which takes like 2 seconds to make. But some other ideas for sauces are:
BBQ Sauce from my cookbook
And some ideas for easy side dishes are:
Side Salad with Ranch
Green Bean Salad from my cookbook
If you make this recipe, don't forget to tag me on facebook, instagram, or twitter and use the hashtag #thedizzycook and please let me know what you think in the comments!
Air Fryer Chicken Tenders
These air fryer chicken tenders are quick, easy, and super crispy. Served with ranch, bbq, or copycat chick-fil-a sauce, the whole family will love them. See post for gluten/egg-free options.
Print
Pin
Rate
Equipment
Instant Pot Air Fryer Lid or Air Fryer
Ingredients
1.5

pounds

boneless chicken tenders

¼-1/3

cup

all purpose flour

2

tablespoons

mayonnaise

2

tablespoons

regular or dijon mustard

½

teaspoon

kosher salt

½

teaspoon

paprika (smoked is fine too)

½

teaspoon

garlic powder

1.5

cups

panko

olive oil or cooking oil spray
Instructions
If you're using chicken breasts, pound them out to a little less than ½" thickness and then slice into tenders OR slice the breast in half width-wise and then into strips.

Spread all purpose flour in a shallow dish, then in a separate shallow dish, combine mayo, mustard, kosher salt, paprika, and garlic powder. In a 3rd dish or plate, add panko.

Dip the chicken tenders into the flour, coating both sides and shaking off any excess, then place them in the mustard/mayo mixture. Finally, coat them in panko, patting both sides and shaking off excess. Place them on a plate or foil till ready to cook.

Preheat air fryer lid to 400 degrees, spray both sides of the chicken lightly with oil spray and place into the raised rack of your air fryer. Cook 8 minutes on the first side, flip and cook another 7 minutes on the next side. They're done when they're golden brown on the outside and 165 degrees F on the inside (using a meat thermometer).

Since you have to do this in batches. Place a wire rack over a baking sheet and put the finished chicken tenders on top. You can leave them in a warm oven till the rest are done and they should stay crispy.
Notes
This recipe serves between 3-4 people depending on how hungry they are. Or one pregnant lady and one guy who does a lot of crossfit.
See post for detailed oven baking instructions - 425 at 15-17 minutes.
For gluten free, use GF panko and all purpose flour
For egg free, use my aquafaba mayo recipe.
Nutrition
Calories:
488
kcal
|
Carbohydrates:
31
g
|
Protein:
54
g
|
Fat:
15
g
|
Saturated Fat:
3
g
|
Cholesterol:
149
mg
|
Sodium:
1044
mg
|
Potassium:
912
mg
|
Fiber:
2
g
|
Sugar:
2
g
|
Vitamin A:
232
IU
|
Vitamin C:
3
mg
|
Calcium:
72
mg
|
Iron:
3
mg