This instant pot air fryer pork tenderloin is so tender and juicy, with just the right amount of herbs for great flavor without a ton of effort. Ready in just 20 minutes with 5 simple ingredients, this recipe is dairy and gluten free as well as low carb.
Ingredients
This recipe is actually inspired by one of the first I ever created for the website, but that one was an oven baked pork tenderloin. What I loved about it though, is you can get great flavors out of just four ingredients. A while ago I actually planted rosemary in my backyard, which seems to grow like crazy no matter how much water or sun it gets. I highly recommend keeping a little plot of your most used fresh herbs either in an at-home herb garden or outside in little pots. Overall it will save you so much money (herbs are expensive!) and it is one less thing to plan for when grocery shopping.
Garlic and rosemary is one of my favorite flavor combinations and adding just a touch of dijon mustard brings it all together and makes it into a "paste" that you can spread on top.
Here's a tip – hold the rosemary stalk with one hand and slide your fingers down the stem with the other, removing all the leaves in one easy step.
What Pork Should I Use?
This recipe uses pork tenderloin, which can be a bit more expensive but is also the most tender and leanest cuts of pork. It is long and thin, whereas a pork loin is more wide and flat. If you're looking for a recipe for pork loin, check out this Dijon Roasted Pork Loin with Apples.
"Scoring" the pork tenderloin, which is just cutting small little slits into the meat (not even 1/4 inch deep), allows this garlic rosemary paste to really get into the meat and provide lots of flavor instead of just sitting on top.
For this recipe, I like to use HEB Organics Dijon Mustard or Annie's Organic Dijon.
Instant Pot Air Fryer Tips
I never knew how good pork tenderloin could be till I tried it in the air fryer. In just 20 minutes, you get perfectly cooked pork that's juicy and not dried out at all. I find it kind of tricky to cook pork in the oven and it does tend to dry out more. In the air fryer, it cooks perfectly every time in just half the time!! You seriously shave off 20 minutes of cooking time this way.
I used my Instant Pot Air Fryer Lid, which I love as an attachment since I'm just cooking for two. This comfortably fit a 1 pound pork tenderloin, cut in half.
Here are my tips:
Preheat the air fryer to 400 degrees F. This happens so fast!
I sprayed a tiny bit of oil on the rack just so the meat wouldn't stick, but it really doesn't need it.
Pork needs to reach an internal temperature of 145 degrees Fahrenheit to be cooked through. Keeping a digital meat thermometer on hand will help with any doubts!
Side Dishes
My absolute, hands-down favorite side dish for air fryer pork tenderloin is my Winter Rice Pilaf (pg 172 of my cookbook), which has a mixture of cranberries, seeds, and thyme. The flavors work so well together. Something with a little bit of sweetness balances this savory pork meal. Other favorites for this would be:
Sautéed cabbage with a little butter or oil
Whipped Parsnips (pg 183 of The Dizzy Cook)
If you make this recipe, don't forget to tag me #thedizzycook or @thedizzycook on Facebook and Instagram. And please leave a review below!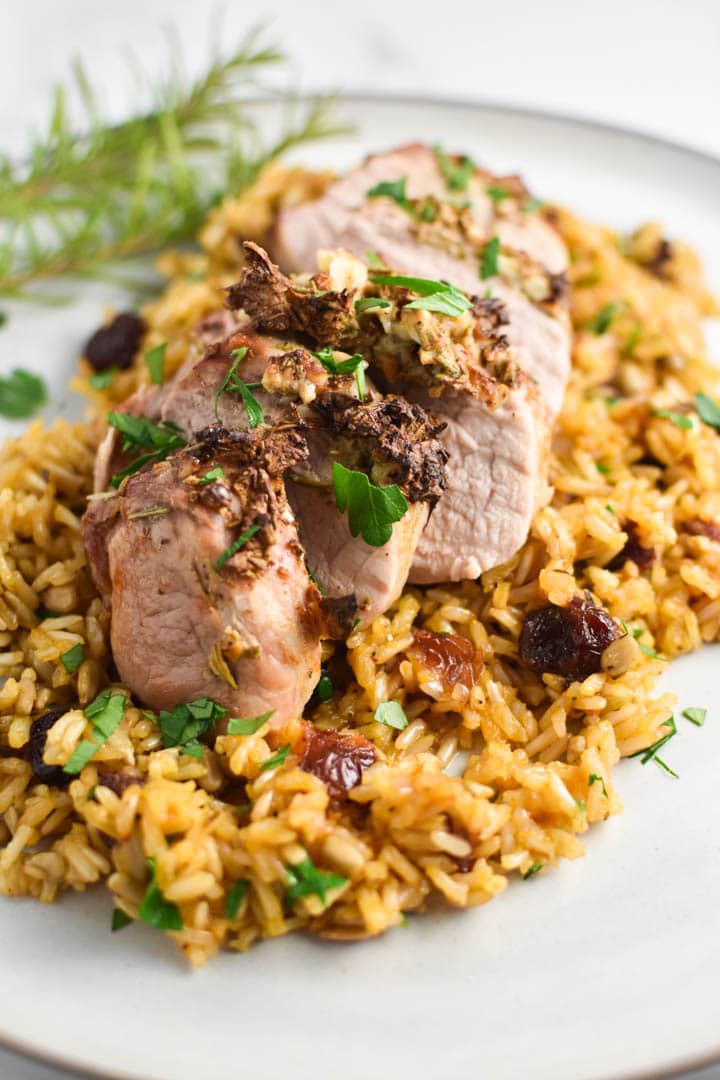 Other Air Fryer and Pork Recipes
If you love this air fried pork tenderloin, give these other recipes a try.
Air Fryer Chicken Tenders
Air Fryer Southwestern Egg Rolls
Pork Loin with Roasted Vegetables
Oven Baked Pork Tenderloin
Apple Cider Pork Loin Chops
Air Fryer Pork Tenderloin
This garlic and rosemary crusted pork tenderloin cooks in just 20 minutes using an air fryer. Served with my winter rice pilaf, it's a hearty and delicious meal with 5 ingredients!
Keyword:
Air Fryer Pork Tenderloin
Ingredients
1

pound

pork tenderloin

4

garlic cloves, minced

1

tablespoon

fresh rosemary leaves, chopped

1

tablespoon

dijon mustard

1/4

teaspoon

kosher salt and black pepper
Instructions
Preheat air fryer to 400 degrees F. Score the pork tenderloin (cut small slits in the top, about 3/4 inch apart). In a small bowl, combine the minced garlic, rosemary leaves, dijon mustard, and kosher salt and pepper (to taste). Spread the garlic rosemary mixture on top of the pork tenderloin, making sure it gets in the little cuts.

Place the tenderloin (you may have to cut into 2 halves to fit) in the air fryer and cook at 400 for 20 minutes, or until it reaches an internal temperature of 145 degrees F. Slice and serve warm.
Recipe Notes
This recipe is automatically dairy and gluten free, so no subs needed there.
Cooking times may vary based on model of air fryer. I used the Instant Pot Air Fryer Lid.
Nutrition Facts
Air Fryer Pork Tenderloin
Amount Per Serving
Calories 289
Calories from Fat 72
% Daily Value*
Fat 8g12%
Cholesterol 147mg49%
Sodium 205mg9%
Potassium 915mg26%
Carbohydrates 3g1%
Protein 48g96%
Vitamin A 31IU1%
Vitamin C 2mg2%
Calcium 37mg4%
Iron 3mg17%
* Percent Daily Values are based on a 2000 calorie diet.