Before I get into everything today, I wanted to let you guys know I've been working hard on The Dizzy Cook pinterest page. If you go there you'll find more than just recipes, but some pins for creating your own essential oils, reflexology tips, and restorative yoga poses. If there's ever a category you'd like to see more of, just let me know.
This week stinks. We've had about 4 major things in our house break, including our AC/heat. A swarm of ants have decided that our house is suitable for camp, despite there being no AC or heat. There also seems to be some sort of large animal that's moved in under our deck, which I'm too scared to figure that one out. My best guess is that a giant rat read my "Anyone Can Cook Roast Chicken" post and thought I would be really welcoming. But through it all I'm feeling pretty good, which is a lot more than I could say about 2 years ago when I could hardly move around the house. As I sit here writing in front of my plug-in heater, I'm thankful to even have a home and fairly decent health. I think it's easy to sit and wallow in all the things that go wrong, especially with our health when you're managing a chronic illness. Migraines and vestibular disorders are no picnic, but when you have good days you so appreciate them. I can't tell you all the times I took my health for granted before I had this condition. Now any day I wake up feeling good, I almost want to dance out of bed. It's like a whole new outlook on life.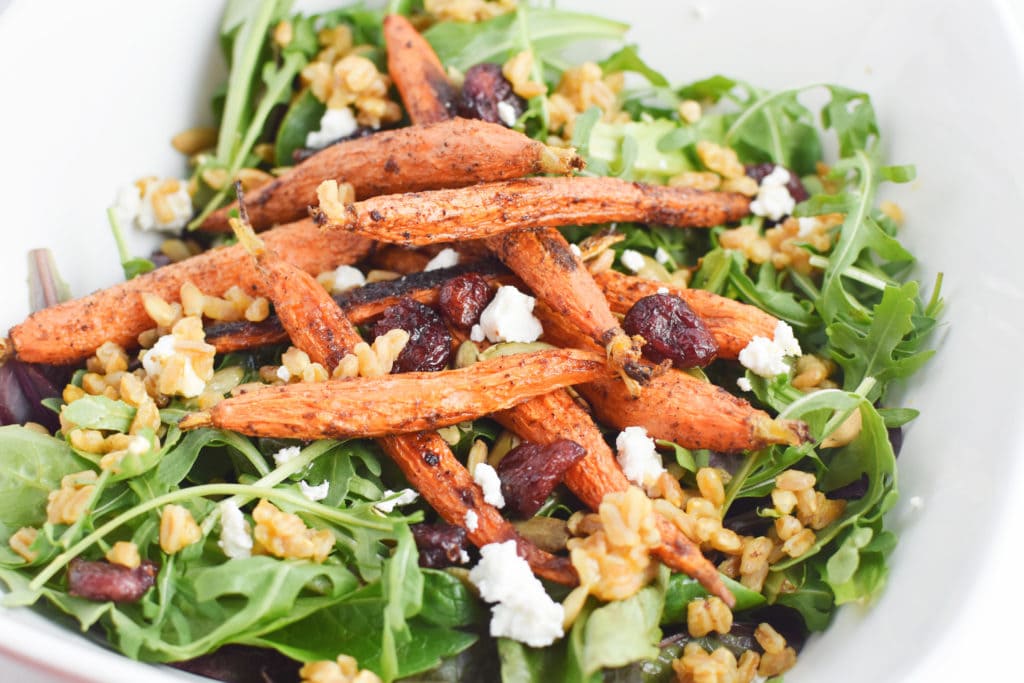 I thought what better way to celebrate our health than with a healthy salad! This is a very special salad - it's easy to make, but incredibly unique. It's also a wonderful dish for company, which is how I first discovered it. My sister in law, Libby, was visiting from NYC and we had a Friendsgiving party at our house for Thanksgiving. My go-to for big parties is always pulled pork because it's easy to make ahead, not super expensive, and you have a really hard time overcooking it. However I never quite found a good salad that I could make ahead and that wasn't super basic. Anyway, Libby decided to make the Moroccan Roasted Carrot, Arugula, and Wild Rice Salad from the Love Real Food vegetarian cookbook by Cookie and Kate and I helped her with a few migraine safe substitutes…which means we changed half the recipe. But it turned out amazing and everyone was raving about it several days after the party. I sent the recipe to no less than 6 couples!
I think the best thing about it is the moroccan spice mixture. I've made this several different ways by using multi-colored carrots, parsnips, butternut squash, and sweet potatoes. Each version has been fantastic. The original recipe calls for golden raisins, but I have a terrible time trying to find raisins without sulfites. I've found some dried cranberries without them from Trader Joe's and these from Patience Fruit Co., but if you're avoiding all dried fruits I highly recommend adding pomegranate seeds.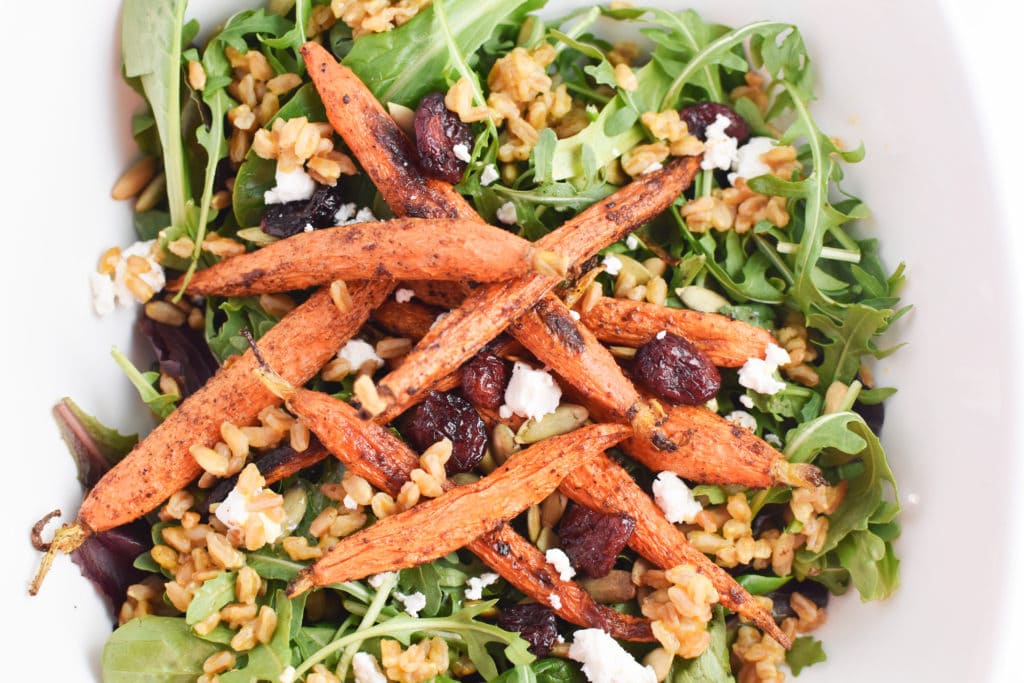 Farro and Arugula Salad with Moroccan Roasted Carrots
Heavily adapted from Love Real Food. This can be made ahead and tossed with the dressing right before you serve.
Print
Pin
Rate
Ingredients
Farro
1

cup

quick cooking farro

I used Trader Joe's 10 minute farro

2

cups

water or MSG-free broth
Roasted Carrots
1

lb

carrots, peeled and cut into ½inch thick slices or use baby carrots sliced in half

Can also sub sweet potatoes or butternut squash

1

tablespoon

extra virgin olive oil

1

teaspoon

chili powder

¼

teaspoon

ground cinnamon

¼

teaspoon

kosher salt
Dressing
¼

cup

extra virgin olive oil

2

tablespoon

distilled white vinegar

1

teaspoon

dijon mustard

Annie's Naturals is safe

1

teaspoon

honey

1

clove garlic minced or pressed

¼

teaspoon

kosher salt and fresh ground black pepper
Salad
⅓

cup

toasted pumpkin seeds or sunflower seeds

You can either toast them under the broiler or in a skillet on medium heat

6oz

arugula and/or mixed greens

3

tablespoon

dried cranberries or pomegranate seeds

¼

cup

fresh goat cheese - OPTIONAL
Instructions
To cook the farro, follow package directions. Quick cook farro will usually have you add the farro to a pot with the broth or water, bring broth or water to a boil over high heat and reduce the temperature to low. Cover and simmer for 10 minutes. Remove from heat and allow to sit for 5 minutes. Drain any excess liquid and set aside.

Preheat oven to 400 degrees. Toss the carrots with the olive oil, chili powder, cinnamon, and salt. Spread the carrots evenly on a baking sheet (you can line with foil or parchment paper). Cook until they are browned and slightly soft - about 25-30 minutes depending on their size. Be sure to toss them every 10 minutes or so. Once finished, allow to cool for 5 minutes.

While the carrots cook, whisk together all the ingredients for the dressing. Prepare salad with arugula, cooked farro, cheese (if using), toasted seeds, and dried cranberries (or pomegranate seeds). Toss with carrots and dressing.

I find this makes more dressing than I need so I like to save it for future salads. This recipe can be made ahead, just wait to toss the dressing with everything until you're ready to serve. There's nothing worse than a soggy salad!