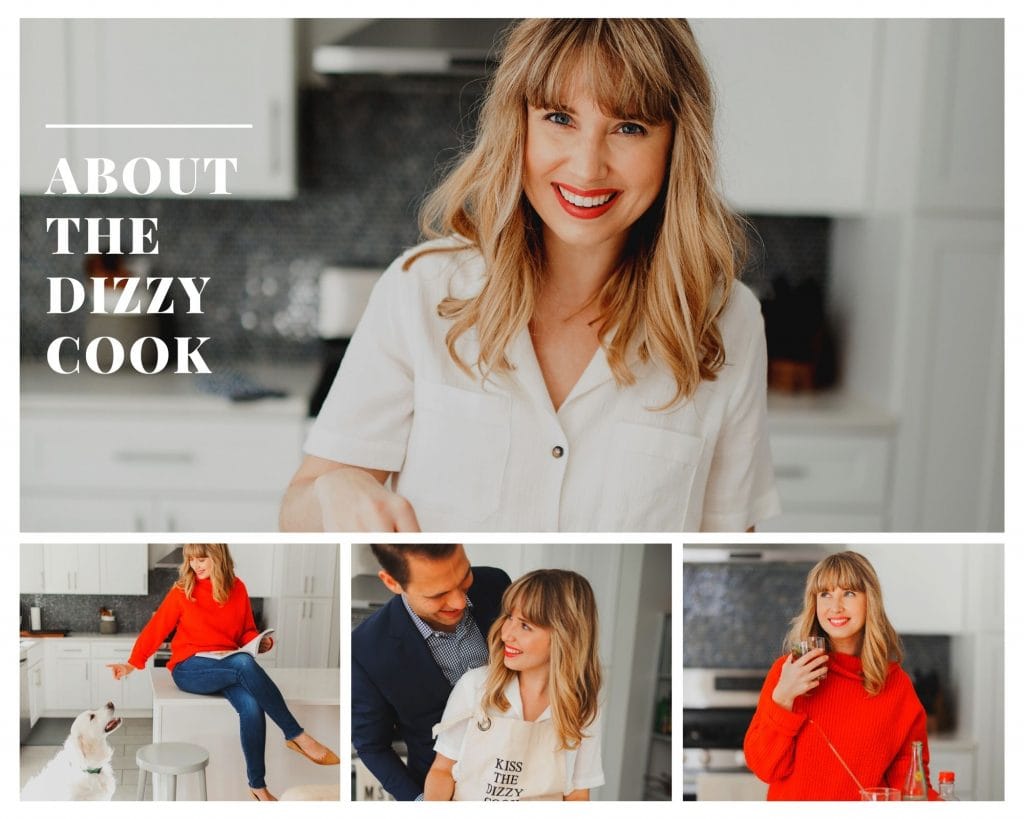 Hi! I'm Alicia Wolf and I'm the creator of The Dizzy Cook...
The idea for this website began about 4 years ago when I was first diagnosed with chronic vestibular migraine (you can read my full story at that link). I quickly realized there weren't any resources for migraine diets and also for people who had this specific type of migraine. When you're just starting a migraine diet, you're usually not feeling up for the amount of work it takes to implement into your life. I knew there had to be an easier way for people and I missed being able to go to my favorite food blogs and make what I wanted. Not only that, but I wanted people with vestibular migraine to not feel so alone on this journey. There are many migraine websites out there, but very few spoke about this particular type.
This was also during a time that I lost my job because of my illness. As someone who has always identified heavily with career, I felt totally confused on what to do next. This state of unknown made me depressed and I knew I had to find a new purpose. So I bought the website domain, learned photography and how to write recipes, and researched and spoke with doctors about migraine treatments, especially for those with vestibular migraine.
How I Became a Cook
My love for cooking began in college, but as a new graduate I spent many nights at home learning new recipes. I was self-taught by reading cookbooks and making recipes from Ina Garten, Julia Child, Martha Stewart, and Smitten Kitchen. As I became a better cook, I furthered my education in cooking techniques by taking classes around the world, including The Cooks Atelier in Beaune, France and with Chef Lucia at Alexia Cooking School in Sorrento.
My recipes have been featured by Foodgawker, Foodista, Yahoo and MSN, PARADE, mindbodygreen, and on local morning shows like Today and Good Morning Texas.
I have spent the last 7 years doing advocacy work to bring awareness to vestibular migraine. This work has been highlighted by Healthline, American Migraine Foundation, Migraine Again, and Vestibular.org. I was awarded the National Migraine Foundations "Headache Hero" award in 2022.
My first cookbook, The Dizzy Cook, was published February 2020 and has been considered an Amazon Bestseller in the Pain Management category and has 700+ reviews. It is available at bookstores everywhere. My second cookbook, The Mediterranean Migraine Diet, was done in partnership with neurologist Dr. Shin Beh, and is also available everywhere.
I currently live in Dallas, TX with my husband Casey and two dogs, Ellie and Cocoa, a 2 year old boy and a baby girl. I went through years of infertility and recurrent miscarriage before we landed on IVF, which brought my amazing son. Our daughter came as a surprise! She spent time in the NICU before finally coming home with us 3 months ago.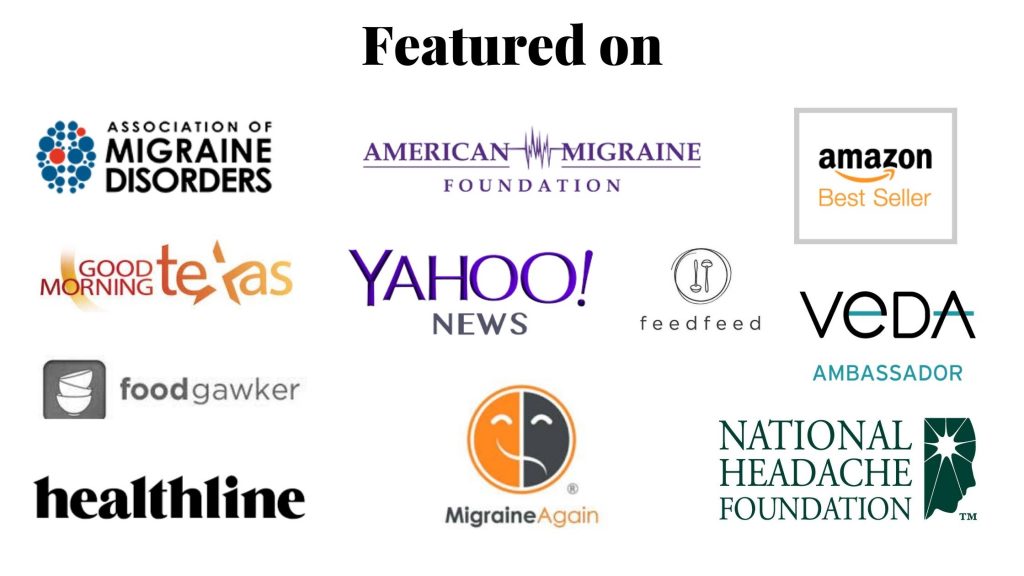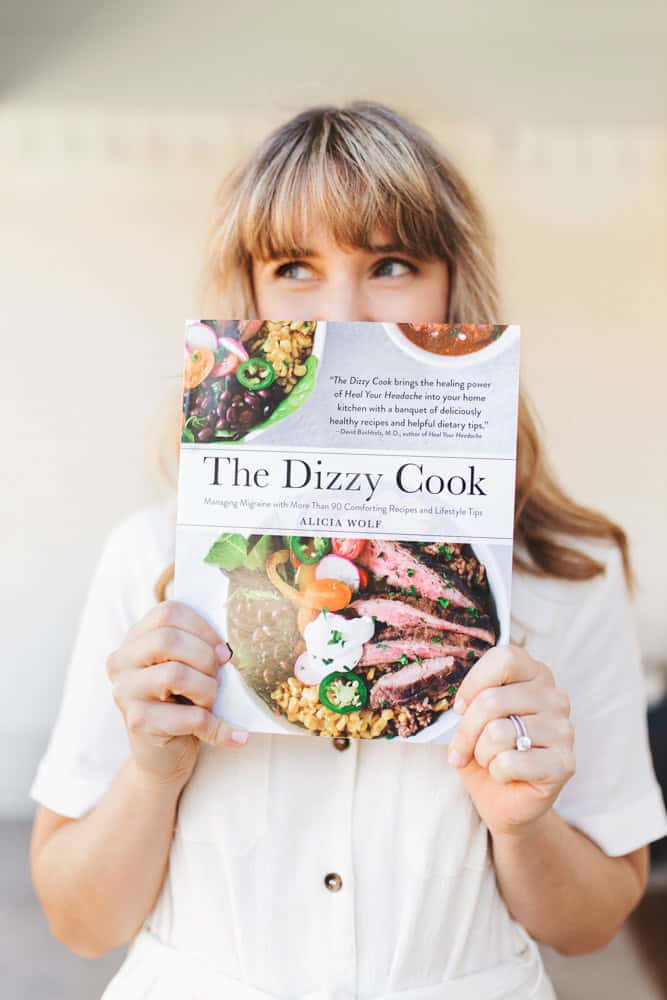 The Dizzy Cook Cookbook
Today this website has bloomed into a bestselling cookbook, sold on Amazon and through The Dizzy Cook Shop (purchasing here supports me and this site directly vs supporting Amazon!) and has over 230,000 page views a month. I also run The Dizzy Cook Recipe Chat which helps people with making my recipes and following the diet directly.
The Mediterranean Migraine Diet
As a follow up to a migraine elimination diet, patients need something that is healthy and sustainable to support their brain health. This is why I partnered with Dr. Shin Beh to bring you this book that focuses on what foods boost brain health and support the migraine patient in their healing journey. It's sold on Amazon as well as The Dizzy Cook Shop.
Migraine Advocacy
As a migraine advocate, I push for more awareness for the community, particularly for those with vestibular migraine.
Much of my time is spent volunteering and organizing events for the Vestibular Disorders Association and Miles for Migraine as a Social Events team leader and patient board advisor. I helped organize VEDA's Life Rebalanced Conference, on-boarded vestibular ambassadors, and written informative articles for their website. As part of the first Life Rebalanced Chronicles cast, I shared about my journey with vestibular migraine.
I've also hosted fundraiser cooking events for Miles for Migraine, Vestibular Disorders Association, American Migraine Foundation and CHAMP's Retreat Migraine.
My articles about migraine have been in Healthline, Greatist, Association of Migraine Disorders, My Chronic Brain and Migraine Again.
Work With Me
I love collaborating with brands and companies I respect and believe in. Please contact me at alicia@thedizzycook.com if you're interested in working together and I will send over my media kit.
I'm available for recipe development, brand ambassadorships, food photography and styling, product giveaways and trials. I also will freelance write for websites that align with my views.
I currently don't accept guests posts unless I personally invite you to write for the website. I also don't allow sharing or copying of my photography or recipes without explicit permission. Please email me if you're interested in this kind of arrangement.