Infertility and managing migraine is not something that is talked about often on migraine websites, but it's something I've personally faced for the last 4 years of my life. I figured since I now have my own IVF success story to tell, it was time to write about my journey. I want other couples out there to know that they are not alone in this, and it's a super confusing thing to have to manage both conditions. It feels like an impossible choice – do you choose between having a family or (hopefully) managing a chronic condition without throwing a bunch of hormones in the way.
Trying to Conceive with Vestibular Migraine
From my first appointment seeing Dr. Shin Beh, I mentioned it was on my mind to start a family. I had been married a little over a year and was 30 years old. It never crossed my mind we'd ever deal with any issues. Aside from my vestibular migraine, I am a really healthy and fairly young woman who never really had any OB issues, except for some suspected extremely mild endometriosis. And my husband never misses a workout and is the poster child for CrossFit. We were essentially the "perfect parents" on paper.
Dr. Beh and I formulated a treatment plan that included Timolol, which is allowed during pregnancy, ativan (which I would have to stop), and lots of supplements as well as a migraine diet. With this plan, the only thing I'd really have to worry about was ativan, and I was on such a low dosage it would be very simple to wean off of.
Once I started having more dizzy free moments and days, about 6 months into the process, I weaned off my nightly dosage of ativan. It was around this time that I stuck with my diet strictly and it really paid off. Besides some elevated days here and there, it was a fairly easy process coming off. I stuck with my daily preventative, Timolol, which I also believe helped. About this time we decided to start trying. Nothing too serious, although I did use the cheap ovulation sticks to help. Not the good ones with the smiley face, but the really cheap ones you have to squint to see and never quite know if it's accurate.
My First Miscarriage
I figured it would happen on our big vacation to France, but the trip came and went with another period following soon after. I was never too concerned because I was still unsure of how much I actually wanted to be a parent. Casey and I love to travel and we swore we'd never be those couples who do IVF and go crazy spending all this money – we'd just travel the world if it wasn't in the cards for us.
So 11 months went by and I didn't bat an eye at the sight of my period. It became so common that I just always assumed I wasn't pregnant. One morning before a spin class my boobs just hurt so bad. I checked my period tracker app to see if I was due soon as I figured this was the cause. Realizing I was a few days late, I grabbed a test and sure enough it was positive. I yelled at Casey and we both sat in disbelief, laughed, and wondered how on earth we'd make it through our class.
The next week I went into my OB's office for a blood test which confirmed I was pregnant and we started on the do's and don'ts. I was mortified to tell her I had shared a bottle of wine with some friends the night before I found out, which she told me not to worry about one bit. It still didn't feel real. One day I sat in the Old Navy parking lot and debating going in and buying a bunch of clothes. I thought about what we would be like as parents and how we'd still travel with our sidekick.
That evening I began to bleed. I knew it wasn't good, but after googling I convinced myself it was just implantation bleeding. There was still hope. Unfortunately my blood tests confirmed I was miscarrying our first child. My OB sat with me and said this was so common. One in four women miscarry, but many go on to have babies quickly right after. She told me to never blame myself for anything I did, not the wine, not the timolol…none of this was my fault. But I couldn't help feeling as though it was.
Chemical Pregnancy
Probably the worst word anyone has ever come up with, a chemical pregnancy is a loss that happens usually before women even find out about it. However, if you're a woman tracking your cycle pretty closely and taking early tests (as most women trying to conceive are), you'll know when it happens. I hate the term because it makes it sound like it's not a real pregnancy or a real loss.
This happened 7 months after our first loss. Thankfully my OB didn't mess around and told us that she personally recommends looking further into issues after 2 losses instead of 3, which is more common for doctors to suggest. She recommended 2 reproductive endocrinologists in Dallas and we did some research. After finding out Dr. Chantilis was one of the leaders in IVF and he had helped friends we knew, we booked our appointment – which was a 2 month wait. At this point, that was nothing after waiting to see Dr. Beh for 4-6 months!
After this loss something really changed in me and I knew I really did want this. I had seen my life with kids and it was difficult to go back to being the fun couple that just traveled.
Infertility and Recurrent Pregnancy Loss
Our appointment with Dr. Chantilis was interesting. We ran several different panels of blood work, including one for recurrent pregnancy loss. His conclusion was unexplained infertility along with recurrent pregnancy loss. Not only was it difficult for me to get pregnant, but I also couldn't stay pregnant.
He recommended both Casey and I start ubiquinol (which is essentially fancy CoQ10) to help with egg and sperm quality. My AMH was on the low side and my FSH was on the high side. My FSH did improve by 2 points while taking the ubiquinol and other supplements. It supposedly helps produce better quality embryos. I asked him if there was anything else I could be doing and he recommended reading It Starts with the Egg.
Supplements for Infertility
From there I added in the supplements recommended along with my normal vitamin D and magnesium I take for migraine:
A prenatal with 800mcg of folate

R-Alpha lipoid acid – 200mg

N-acetylcysteine 600mg

Vitamin E 200 IU

Vitamin C 500mg
These get expensive so thankfully I got them all discounted through the supplement store. Also, a migraine diet is actually really wonderful for infertility as well because you're eating more naturally. Although I did add in more healthy fats from fish and olive oil, I didn't have to change much.
I do believe these made a difference in our outcome of our IVF success story as it seems egg quality was our issue.
Clomid and Ovidrel
Because we didn't have sperm quality issues, my doctor recommended timed intercourse with Clomid and a trigger shot (Ovidrel). This is essentially the same as an IUI, but your husband is actually in the room with you. However, because of the strict schedule, I would say it is not more romantic.
Clomid made me crazy. I had awful hot flashes and would sometimes just stand in the grocery store with the freezer doors open on me. It was also a wreck on my vestibular migraine too and I often felt more dizzy than I had in years. It still wasn't as bad as how it was when I first was diagnosed, but it definitely was noticeable. I also had extreme emotional outbursts. I was angry all. the. time.
The ovidrel shot was intimidating just because I had never given myself a shot, but I hardly felt a thing. All that anxiety for nothing!! It comes in a pre-filled syringe and is literally the easiest shot you'll give throughout treatment. Trust me, it can get worse.
Shockingly our first round worked – easy right? I thought we were probably the most straightforward case ever. But after my blood work I found out that my levels for HCG were pretty low. HCG is basically what makes the two pink lines show on at home pregnancy tests, and doctors like to see a level over 70 to indicate a viable pregnancy. Anything lower they are concerned about the viability. My first was at 24…not good.
I went to instagram to ask people to pray for us and sure enough a few days later, my levels were at 88. I thought this was it! This is our miracle. My numbers had more than doubled (which is what they want to see). My nurse was cautiously optimistic. I went into my 3rd blood draw with a happy face. This is when I found out I'd only increased about 10 and I was most likely miscarrying. One of the nurses on call told my husband very abruptly, to watch me for an ectopic pregnancy and get me to the ER if that happens. Gee, thanks.
Deciding to Pursue IVF
At this point we were exhausted and frustrated. We didn't understand why this kept happening when all our testing was coming back normal. I felt as though I was getting nowhere. My RE wanted to keep pursuing conservative treatment, but these losses were hard on my heart…and on my head! Plus the cost of conservative treatment isn't exactly cheap – you'll pay about $1000-1500 per cycle for all the appointments and medications. This is a good reminder that you know your body best. Don't be afraid to push your doctor, within reason, for what you believe is best for you.
We looked into doing IVF and toyed around with the idea, but insurance rejected our claim for treatment because we had not yet done SEVEN IUI's/treatments. SEVEN. They would actually make a woman go through 7 losses all to approve IVF, even if that was the most effective course of action. All I can say is this would NEVER happen if men had to go through this and it's disgusting. It's disgusting viagra is covered and not infertility medications. I could clearly rant for days.
While we did try more rounds of Clomid that were unsuccessful, it became apparent that pumping my body with hormones was getting hard on my vestibular migraine and I didn't want to go backwards in my success while trying to get pregnant. I needed the best option possible and that was IVF and genetic testing.
The Cost of IVF
IVF, if not covered, will cost about $15-20,000 out of pocket. That's standard. There are some clinics, like CNY, that do it for reduced costs and for some that's enough of a draw to travel to New York and be a number. I've also seen couples get part time jobs at Starbucks, which offers coverage as well. It truly comes down to your insurance and employer.
Medications, which I ordered from Freedom Fertility cost about $4000. This will actually be a huge chunk of your cost.
Medications – $4000+

Egg retrieval and monitoring – $7500

PGS (Preimplantation Genetic Screening) – $2000 + $250 per embryo tested

Embryo Thaw and Transfer + More Meds – $5000
Some clinics offer payment plans, which I totally understand why people need to do that. However, this can end up adding $10,000 to the cost of treatments, if not more. They really encourage you to pay up front by giving you "discounts".
IVF with PGS
PGS is a genetic screening where a biopsy is taken from the embryo after 5 days of growth, but before it's frozen. It essentially screens to make sure the embryo is normal and is free from any missing or extra chromosomes. This can be a controversial decision because you also find out the gender of your baby. Some people just do this to choose whether they have a boy or a girl. Responsible clinics will not allow this unless your embryos are the same quality, which I appreciate.
For us, I didn't care what we had! I just wanted a healthy baby. With so many losses and them all being fairly early, we knew it was most likely because of chromosomal problems. And sure enough, almost half of the embryos we sent off had fatal chromosomal problems, like Trisomy 13.
There is a risk to doing this because it can harm an embryo, but there's also some pushback to that idea that those embryos which don't make it probably wouldn't have survived anyway. For us, the risk was so much smaller than the reward. With PGS your chances of IVF working go from like 30-40% up to 50-60%, depending on embryo quality.
IVF Timeline
What I wasn't expecting was that IVF takes A LONG TIME! Holy smokes. First you're on birth control for a few weeks to regulate your cycle, then I started with lupron injections to prevent me from ovulating. Those seemed to last forever. So essentially one month is just to prep your body to get ready for the real show.
The real show for me was about 2 weeks of stimulation, which encourages your ovaries to produce as many follicles as possible. Each follicle is supposed to contain an egg, which doesn't always happen. But they don't know this till your egg retrieval. The stimulation meds I took were Gonal F and Menopur, which are pretty standard, along with Lupron. So for a couple weeks I was doing 3 injections a day.
You finally end with a ovulation injection (Ovidrel) at a very specific time that's scheduled according to your timing for egg retrieval…if you're off on this at all your body can essentially ovulate all the eggs on it's own and you're screwed. This is also how octomom happens if you choose to have sex on your own.
IVF Injections
My IVF injections weren't nearly as bad as expected, they just get reallllllly old.
Lupron – teeny tiny needle. I usually saved the space on my belly and did these in my thigh, which I think hurts a little more than the belly area. These were hit and mess. Some hurt and others weren't bad at all.
Menopur – this was the worst of the bunch. It's the most complicated cause you have to mix it yourself, which is amazing they actually let people spending 20k do this. It's truly outdated. This also burns quite a bit too. Sometimes I would ice the area first, which seemed to help a bit.
Gonal F – This came in a pre-filled pen and was super easy to give. Now I have no sympathy for CGRP friends – ha! They make it as easy as possible. If I ever was off on a dosage, I just brought my pens into the clinic and my nurse re-filled them for me so no medication was wasted.
Ovidrel – Again, you just give this once and it's the least painful of the whole bunch.
Progesterone in Oil – The big mama, this is the worst of them all and has its reputation for a reason.

These shots are famous because it's legit a 2 inch needle that gets inserted into your hip muscles, sometimes leaving knots and other unpleasant effects.
My PIO tips are:
I didn't ice before and I think that worked well for me

After drawing the syringe, warm it in your hands or under your armpit for 5 minutes.

UBER NUMB CREAM – I swear by this. Put it on at least 15 minutes before and secure it with Glad Press-N-Seal

Use a heating pad for about 5 minutes after

Do some squats!
I rarely got knots, but about a month after stopping I still have numbness in my hips and it can kind of hurt to sleep on my sides.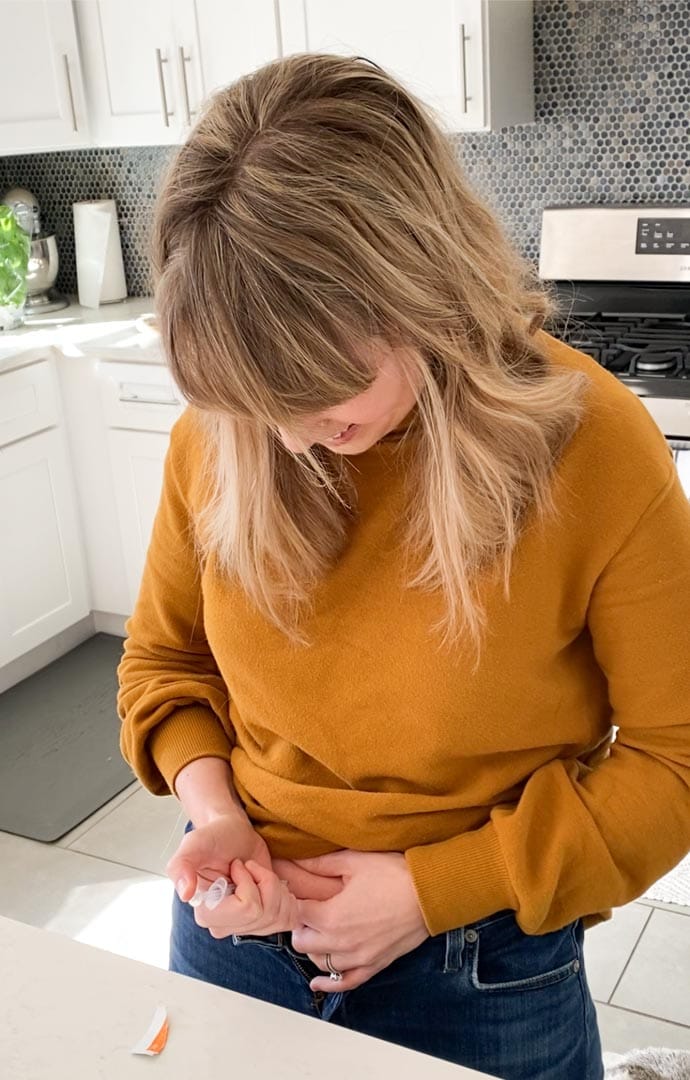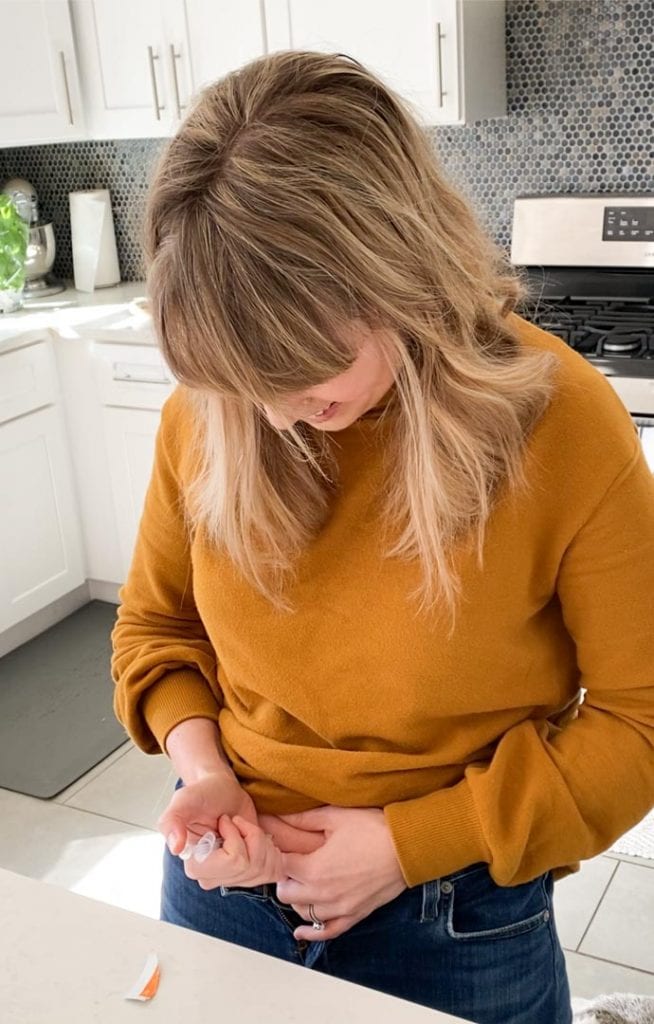 Egg Retrieval
My egg retrieval went well, but let me tell you about the downside of comparing yourself to others going through IVF.
Anytime I went in to my ultrasounds to check how my follicles were growing, we only saw maybe 4-5 follicles. I was terrified that I wasn't responding. Tons of people told me "it just takes one", but they also weren't putting $15,000 in one cycle of this. I would see women online who had 20-30 eggs retrieved and was furious with my doctor. Although we did end up increasing my medications, I ended up with 11 eggs total with 9 being mature (able to be fertilized). So not only were there some we couldn't see on ultrasounds, but most of mine were actually able to be used.
It seems now doctors like to overstimulate women to get 30 eggs, knowing their patients will think that equals results. Let me tell you, it doesn't. You want the eggs to also be mature, otherwise there is no use for them. So finding that balance between a good amount of eggs and also quality is key.
Out of 9 eggs, 7 of ours fertilized and 5 of them made it to day 5 (which means they can be biopsied and frozen). Out of those 5, only half ended up being normal, which ended up being the perfect amount for us.
IVF During A Pandemic
What we didn't plan for is a world pandemic to come right between our embryos being frozen and transferred. For a while, all the clinics in Dallas halted their procedures and we were unsure of what would happen.
A part of us also didn't want me to be pregnant during a pandemic as the risks of what would happen to a baby were unknown. But as months went by with no end in sight, once our clinic opened again we decided to go for it. We weren't sure if they would get shut down again and how long that might be.
I'm honestly a little thankful we went for it during this time. The pandemic really allowed me to put things into perspective. I had kept wanting to delay our transfer for "the perfect time". If this taught me anything, there is no perfect time.
The worst part of it is your partner can no longer be there for ultrasounds or your transfer, which can be really heavy. It's tough to sit in these rooms alone waiting for life changing events or news by yourself.
The IVF Transfer
The transfer process takes about 3-4 weeks. You start off on birth control again before adding in estrogen (thankfully mine was in pill form). Five or six days before your embryo transfer they have you start the dreaded progesterone in oil (PIO) injections. You'll go in a few times for an ultrasound to check your uterine lining, which you want to be thick, and if that's good you'll get the green light for a transfer.
The hardest part of the transfer is you have to go in with a full bladder and are terrified you will pee all over your doctor. They use a sonogram to see where the embryo gets implanted and show you the process, which is pretty cool – but it is also so hard on your bladder! I had a bit of a tough time enjoying the moment because I had to go so bad.
Our IVF Success
Many people are not successful with their first IVF transfers, but a few days later we found out we were one of the lucky ones. Which is good cause I'm not sure my heart could have handled any more disappointment. I did have reservations about getting too excited till my blood tests. I wanted a high HCG number. Sure enough my first one was 170!! I couldn't believe it. It made me confident in the PGS testing and that this would finally be our miracle.
I'm happy to say I'm now 15 1/2 weeks and although it was a super rocky first trimester for me including a subchorionic hematoma, off and on bleeding, bed rest, lots of emotions, and almost constant nausea and vomiting. I'm hopeful the second trimester is bringing better days!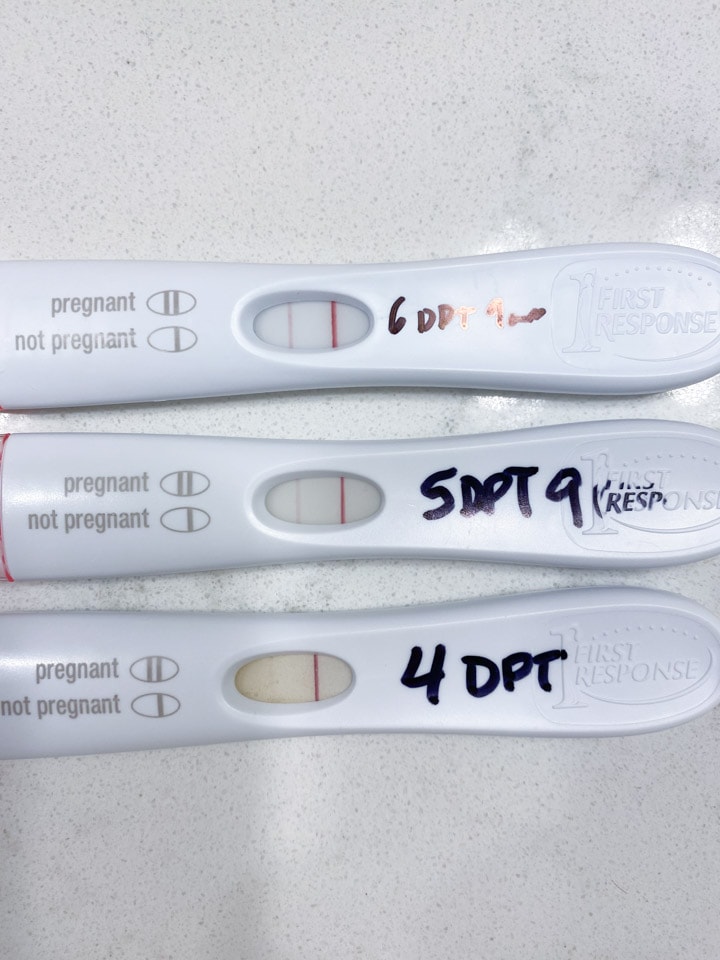 IVF and Migraine
The question I get asked the most – how was my head through all of this? Honestly the roughest part for my vestibular migraine was clomid and the first few weeks of pregnancy, which I sometimes wonder if that has to do with being on estrogen and progesterone as well.
I never got headaches with my VM attacks previously, but it seemed like they were more common with the medications I had to take for IVF. Some ways I managed without migraine medication.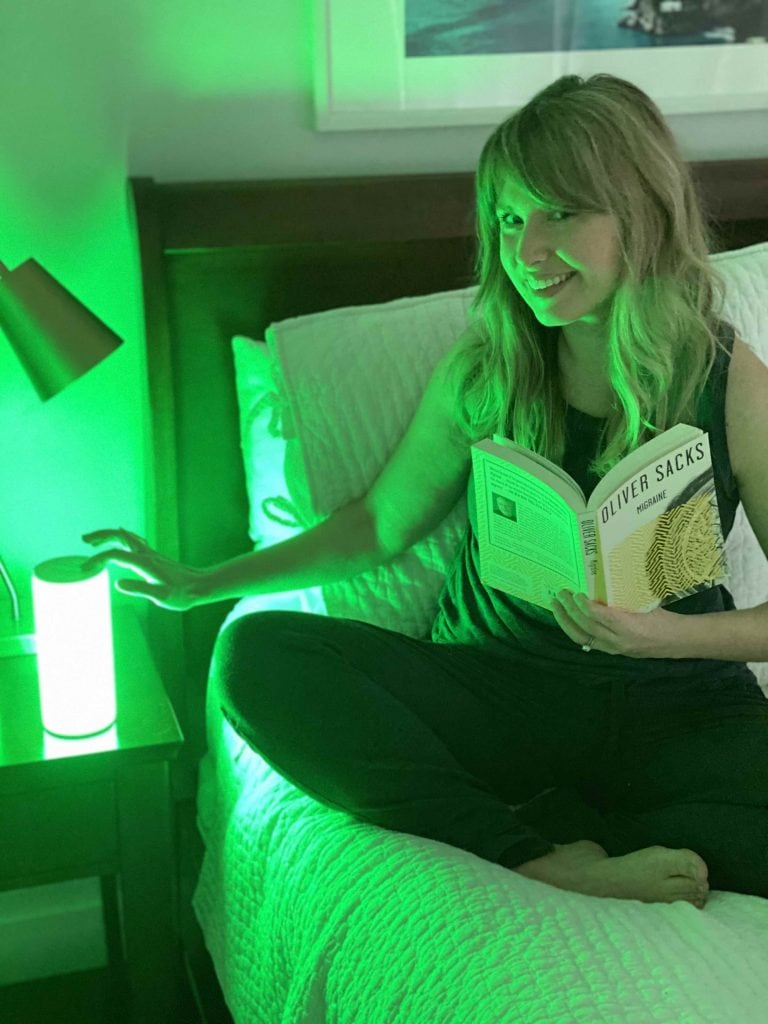 Sometimes I think any dizzy days I had were all anxiety related due to my PTSD from all the loss I've experienced, especially while dealing with bleeding in my first trimester.
Overall though, the medications weren't bad. Possibly I had a better experience because my migraine was more well-controlled going into this process. But again, I would encourage anyone to do it in a heartbeat and to not let their migraine disorder dictate going down this path.
It's important to be very open with your OB and RE about your concerns and if there's anything you can do to manage your migraine while going through this process. I have friends who stayed on their migraine medications because their doctors felt the benefits far outweighed the risks. It's a very personal decision, but one that shouldn't deter you if this is what you truly desire.
Thanks to all my readers for your constant support through this journey.
For more info check out Trying to Conceive with Migraine.