If you struggle with chronic migraine, you are probably familiar with the anxiety that can come along with the fear of attacks. In this post you'll learn how CBT for migraines can be an important component of healing.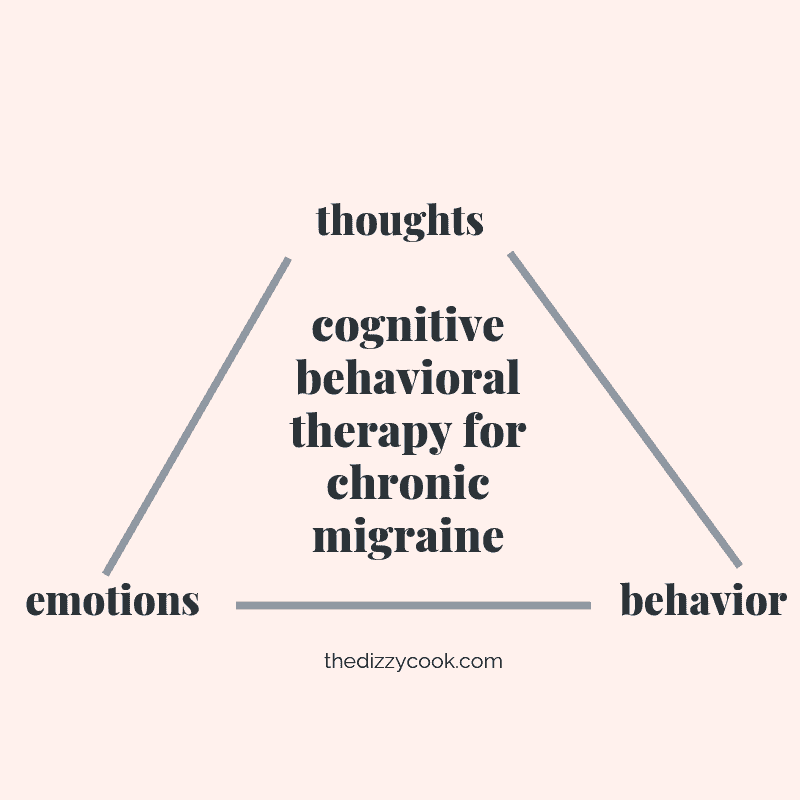 Today's guest post is from Kristi Ann DeName, a NYS licensed mental health counselor who is certified in biofeedback therapy and level-II trained in Eye-Movement and Desensitization Reprocessing (EMDR) therapy. She provides counseling for children, adolescents and adults, primarily focusing on trauma, stress-related issues, ADHD and anxiety. During these sessions she likes to incorporate play and art therapy techniques. Kristi is extra special because she does all of this while managing her own vestibular migraine disorder. I asked Kristi to share her view on therapy as a resource for anyone with migraine. If you've ever been interested in CBT for migraines, this is the post for you!
Chronic Migraine Can Alter Your View of Life
Migraine disorders change your life. They modify your identity, your lifestyle, your choices. The symptoms can cause not only physical pain, but emotional anguish, mental distress, and cognitive turmoil. It can feel impossible to recognize yourself while in the midst of your disorder. Mental health therapy plays a significant role in guiding you back into joy, peace, and into your life. I know this because, of course, I am a therapist-- but I am also diagnosed with my own beautiful vestibular migraine disorder (yay!).
Chronic migraine disorders don't only alter how you relate to others, but also how you relate to yourself. You might feel isolated and misunderstood. A therapist can help you connect to your relationships again by encouraging you to communicate how you feel to others - and even teaching you how to express this. They can also get you comfortable with trying new things out with friends and family, while educating them about your illness.
It's normal to feel helpless and frustrated with the doctors who can't give you answers, and bounce you around from one test or specialist to the next.

It's normal to feel crushed, relieved and hopeful when you finally do get a clear diagnosis.

It's normal to feel heartbroken when your loved ones become upset and discouraged as well.
Chronic Migraine Does Not Have to Define Your Identity
What did your life look like before? How did you identify yourself before your diagnosis? What can be kept? Modified? Transformed? Left behind?
You do not need to give up everything you had pre-diagnosis or symptoms. Certain tweaks, strategies and in some cases, major changes can help maintain your past normalcy in combination with your new normalcy.
A therapist can help facilitate these changes and provide tools for the anxiety and depression that might occur. In therapy, you can explore your new role, while figuring out how to not become limited in it. Some clients see themselves as "patient" only and become stuck. A therapist can help you identify unhelpful thought patterns that may fool you into seeing yourself as a victim. Therapy can also help unravel and extinguish limiting beliefs that get in the way of healing.
Your diagnosis or diagnoses do not define you. They can, however, demand a shift in your lifestyle to move forward. At first, you may feel extremely stubborn and afraid to do so. You might curse and struggle, and wonder how to do even the simplest things again, like getting out of bed.
To express these concerns, thoughts and fears fluidly to someone who will hear you and see you and offer compassion, empowerment and guidance, is enough to remind you you're not alone. At the bare minimum, a therapist you connect with will offer that.
What to Expect in Therapy
During the first few sessions of therapy, the therapist will want to build rapport with you. This will allow for a therapeutic alliance built on trust and a chance to learn your history. They want to understand what has brought you to where you are now. After that, depending on his or her type of therapeutic approach, you will work on increasing your self-awareness and insight. You will learn learn different coping techniques as needed. It's possible that you might be asked to practice coping skills at home or journal in between sessions.
CBT for Migraines
I highly recommend a cognitive-behavioral (CBT) focused therapist with a warm, caring, person-centered approach. Cognitive behavioral therapy focuses on increasing awareness of learned distorted thinking patterns. Here you will learn new ways of challenging, reshaping and restructuring limiting thoughts to create helpful thinking patterns. This is how CBT for migraines can be an effective treatment to add to your arsenal.
CBT also teaches the inextricable connection between our thoughts, emotions and behaviors. This is how cognitive behavioral therapy can be helpful for chronic migraine.
Internal events (bodily sensations and physiological states i.e. tired, hungry) and external events (ranges from witnessing a car crash to being complimented) occur all the time, and our thoughts are rapid in response. Our thoughts shape our world without our consent. We feel emotions based on the thoughts we have, and then act out based on their combined fuel.
CBT for Vestibular Migraine Examples:
Dizziness (internal event) -> "Oh my gosh, not again." (thought) -> fear (emotion) -> panic, complain, go home, take medication (possible behaviors)
Your boss is concerned about the amount of days you've taken off (external event) -> "I should just quit, what's the point? I'll never be able to work normally again." (thought) -> despair (emotion) -> quit job, sleep all day (behavior).
As you can see, in the examples above, our thoughts can elicit emotions, and our emotions can prompt behaviors. Distorted, unhelpful and irrational thoughts often lead to ineffective and/or impulsive choices.
For the first example above, after learning CBT techniques, it might look like this instead:
Dizziness (internal event) -> "This is just a sensation. I am safe." -> neutral/calm (emotion) -> breathe slowly and rest as needed (behavior).
Therapy Resources That Explain
PsychologyToday.com is a great place to start when seeking therapy. You are able to filter your search based on location, specialty, accepted health insurance, among others. Do not be afraid to try out a few until you find the best connection and therapist for you.
You are important. You are human first. You are you first. And the right therapist will treat you as such.
- Kristi Ann DeName, LMHC, BCB, EMDR-II, B.S. University at Buffalo, M.S, Walden University
Tips Outside of CBT for Migraines
Heal Your Headache Diet every day
CBD oil in tincture and nasal spray form depending on need. I find the nasal spray helps more quickly with head pain, whereas the tincture helps calm the nervous system and can help with the motion sickness in the car when I'm a passenger.

THC oil in vape form as needed for sleep and nausea.

Light sensitivity glasses for days the world is brighter. I also use them when I'm using screens.
EarPlanes for pressure changing days or situations (like altitude changes during any mode of transportation).
Headache essential oil blend by Eden's Garden for my forehead, temples and back of neck; Ginger essential oil by Eden's Garden for my stomach when nauseated; and Vertigo essential oil for behind my ears and on wrists for dizziness.

Stress management techniques.

Vestibular therapy exercises - once a week for about 3 months.

Neck, shoulder and upper back massages.

Mental health therapy to deal with the frustrations and denial.

Rest or sleep when in a full blown attack.

Vitamin Supplements Daily: CoQ10, vitamin B2, magnesium glycinate, magnesium threonate, vitamin D3, etc.

Knowing when to say "no" to invitations. I try to book only one obligation per weekend and cushion it with lighter activities and rest.

Order groceries through Amazon Fresh to avoid grocery store triggers (side perk: saves time!).

Seeking support from loved ones.

Pushing myself through and still working, traveling and enjoying life - keeping my joy over my pain. Committing to these changes in order to increase and maintain a higher quality of life experience.
A huge thank you to Kristi for sharing her expertise and incorporating her personal story. You can connect with Kristi on Instagram (creativetherapy_withkristi) or through her website. If you loved this post, leave a note in the comments!
This post contains some affiliate links through which The Dizzy Cook, LLC will make a small percentage of profit on your order at no cost to you. Thanks for helping to support the ways I keep this site a free resource.