Making a migraine diet book wasn't easy, but it was very fun! Here's my journey on how this project came about – from recipes to photos and publishing!
You may have noticed a lack of posts, and especially recipes lately. If you're a regular reader, you know I've been a little pre-occupied finalizing my migraine-free cookbook. I signed off on the project with West Margin Press, a branch of Ingram, around this time last year. My amazing editor, Jen, had approached me earlier that year about doing a cookbook for people trying a migraine diet. At first I thought she was kidding. I was the only student in my AP English class that didn't pass the AP test, which made me feel like a huge loser in high school. To this day I have a vision of my English teacher walking around with a bell yelling "Shame! Shame!", but that could be from all my binge-watching of Game of Thrones….
Anyway at the time, it seemed like only my mom and my friends at Migraine Strong read my little blog. Thankfully Jen was one of them too!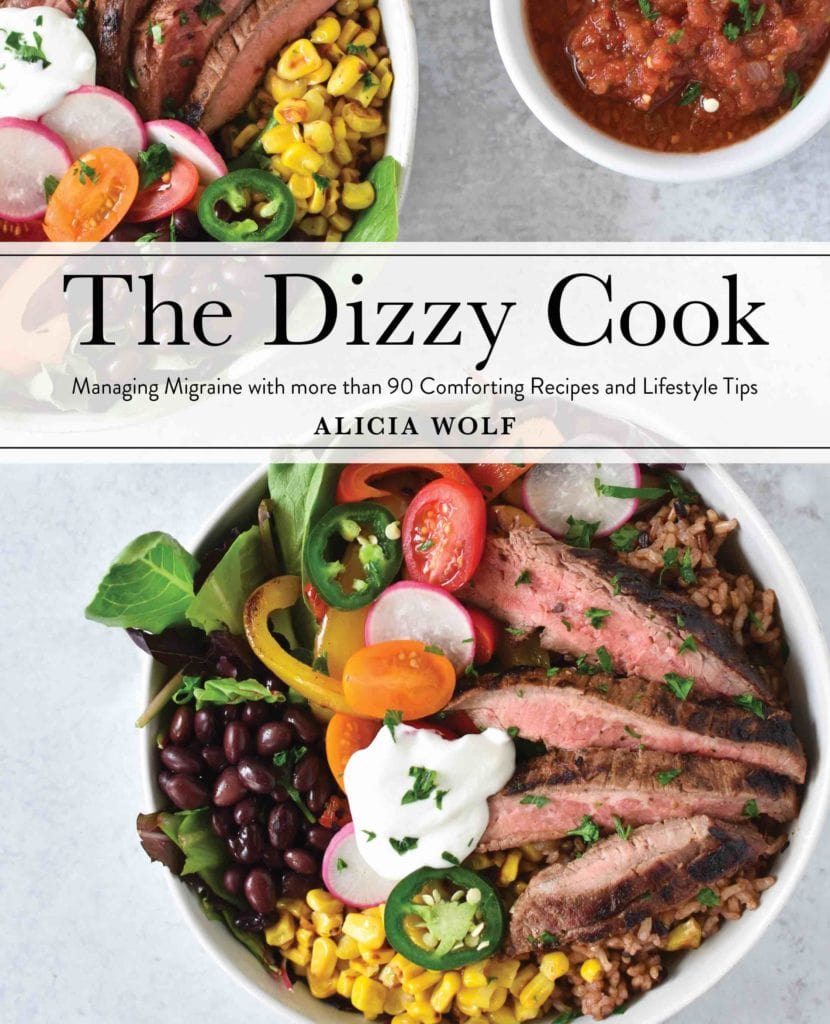 A New Migraine Diet Book
As you all know, there's a serious shortage of resources for anyone trying to follow the Heal Your Headache diet, or any of the low tyramine versions similar to it that are recommended by the top migraine clinics like Johns Hopkins. The resources out there are appreciated, but I remember when I was first on the diet, they just didn't have the food I desired – which was comfort food, but clean. For someone who loves food, the last thing I wanted to feel when in a state of chronic vestibular migraine was like I was also on a strict diet.
It's now almost a year later and I just sent off my first manuscript along with all the pictures I took. If you would have told me 3 years ago that my life would change with just an idea and a desire to help others in my situation, I would have called you crazy. I had my pity party for a few months where I cried on the couch, watched way too many Housewives reruns, and cursed my old employer that essentially forced me out of my career of 8 years.
Life is funny that way. One day you're at the top of the world, and the next moment you're in the trenches. In just a month, I went from being super active to hardly being able to walk. Now three years later, I keep wanting to say the "r" word, but I'm too scared. I'm off my preventative medication, just managing with supplements and continuing to eliminate the triggers I found from doing this diet – nuts, fermented foods like yogurt, and caffeine. This means I freely enjoy guacamole on my tacos after I take pictures for this site. And this is my hope for every single reader too!
My Personal Battles
It doesn't come without fear. Here I'm even scared to say the word "remission" just in case it comes back, especially as I try to have my own family. I hear so many stories of this coming on for people after pregnancy, what does that mean if you have it before you even get pregnant?
As I feel on top of the world with this book, another part of my life is in pain. For the past year and a half we've been trying to have a baby. I finally got pregnant last December. Both elated and terrified, instead of the real fears I should have been thinking, I was worried about food cravings affecting all my recipe testing. But just weeks later it was all gone, and my body began to change back to normal.
I've sadly experienced this feeling twice now, which means we are looking into why this keeps happening and what the next steps are. In my mind, I see friends who announce pregnancies and never had to deal with a chronic issue. I think "how can they be so lucky?". Why did I get stuck with chronic VM AND infertility…haven't I been through enough?! It's so easy to be angry and jealous with others who have nothing to do with our issues. However, if there's one thing I learned, it's that a great doctor can make all the difference in the world. If Dr. Beh could help me get my life back, I need to trust my OB to bring another life into this world.
For now, this book feels like my baby. It's the kind of resource I wish I had when I felt so scared and alone. Remembering that feeling, I put my heart and soul into it. When developing recipes, I thought of the few people I know who can't tolerate eggs, the ones who are gluten free, and even my vegetarian and vegan friends. I remembered the people who complain about breakfast options, and tried to be as creative as possible! Even some of the requests from readers, like Mandy, of the things they missed most are in there. Every ounce of helpful info that I've learned about vestibular migraine is included as well, along with travel tips and meal plan ideas. Oh and The Dizzy Baker makes an appearance too!
Cookbook Recipe Development
The development of recipes took me the most time. I wanted a range of them – from easy to more challenging, and creative to more traditional. The most common complaint I get from readers about my recipes are that some are too complicated. For me, and my friend Jennifer, there's a reason we like more complicated recipes. It helps us to be mindful, present in that moment and not thinking about pain or dizziness. But for those that aren't able to spend a lot of time or effort, I wanted to include some recipes that you or a family member could make ahead and freeze. If you haven't checked out this 5 day meal plan, you may find it helpful.
4 Weeks for 90+ Recipes
As for the pictures, I waited until the last minute which required me to cook over 90 recipes in 4 weeks. Let me tell you, THE STRUGGLE WAS REAL. There were moments when I sat in my kitchen whining to Casey about cooking yet again. Some of the grunts and groans that came out of my mouth probably made my dogs question my sanity (Casey already did a long time ago). I just really wanted take out!!! But let me tell you, it can be done! Once you just start and get about 5 minutes in, you tend to forget about all the dread you had before. And, as usual, a homemade meal tastes better than take out 99.9% of the time.
So with that, I am back, albeit about 6 pounds heavier!! And ready to get back into posting more regularly for my few readers and loyal recipe makers (shoutout Nancy and Brandy) I still have left – woohoo!
Over the next few months I'll be doing some exciting promotions and giveaways for the book so stay tuned. I'll also be offering special editions and signed copies through the site.
Oh, and I'm legit getting takeout tonight.
For all the recipes so far, visit this link.
The Dizzy Cook: Managing Migraine with More Than 90 Comforting Recipes and Lifestyle Tips is in bookstores and on Amazon and Barnes & Noble and Target, just to name a few. You can order signed copies and support me directly through The Dizzy Cook Shop!