This dry rub oven ribs recipe uses a simple mixture of paprika, chili powder, brown sugar, and garlic powder for the most flavorful, oven baked baby back ribs!
Dry rub oven ribs are easy to make without a grill. All you need to do is bake at 300 degrees for a couple of hours and you have the most tender and juicy ribs - plus a homemade bbq sauce!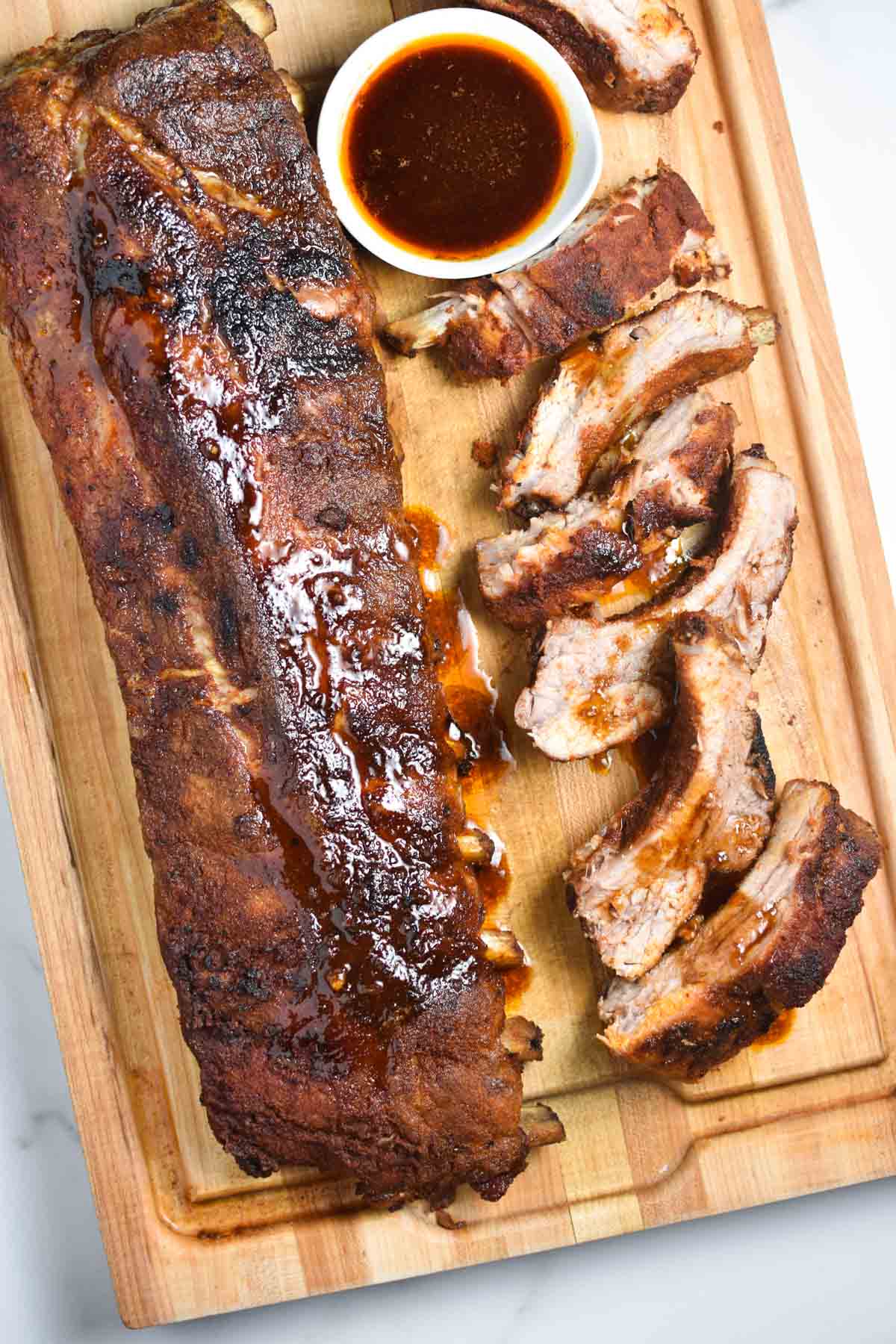 This post was first published in June 2018 and was updated in May 2021 with new pictures and recipe tips.
Jump to:
Why Make Ribs in the Oven?
I love oven baked ribs, especially baby back ribs, because they are so easy to make and come out perfect every time! With a grill, so many factors come into play with the weather being good and the heat being consistent - using the oven is totally hassle free. Cooking at 300 degrees F gives you a 2.5-3 hour cooking time, which is really fast for ribs.
This recipe:
Does not require a grill.
Can be used for baby back ribs or St. Louis style.
Is perfect for dairy free and gluten free family members.
Super simple ingredients.
Dry Rub for Oven Ribs
This is one of my favorite dry rub recipes for ribs because it doesn't require a ton of different ingredients - just six ingredients total. Besides salt and pepper, here are some of my tips for choosing the right spices.
Chili Powder - My favorite chili powder is from Morton and Bassett, which uses a really basic blend without any cocoa powder. It's also salt-free for those following a low sodium diet. If you're following a migraine diet, you'll want to watch out for mixes containing onion powder as well.
Brown Sugar - Brown sugar is essential to adding a hint of sweetness, especially when the dry rub transforms into a bbq sauce while the ribs are in the oven.
Garlic Powder - Unless you have a chili powder with a lot of garlic in it, the extra garlic powder adds so much flavor.
Paprika - I love to use a combination of smoked paprika and regular paprika. The smoked paprika makes these ribs taste like they're hot off the grill without the effort, but it's not overpowering when you mix the two.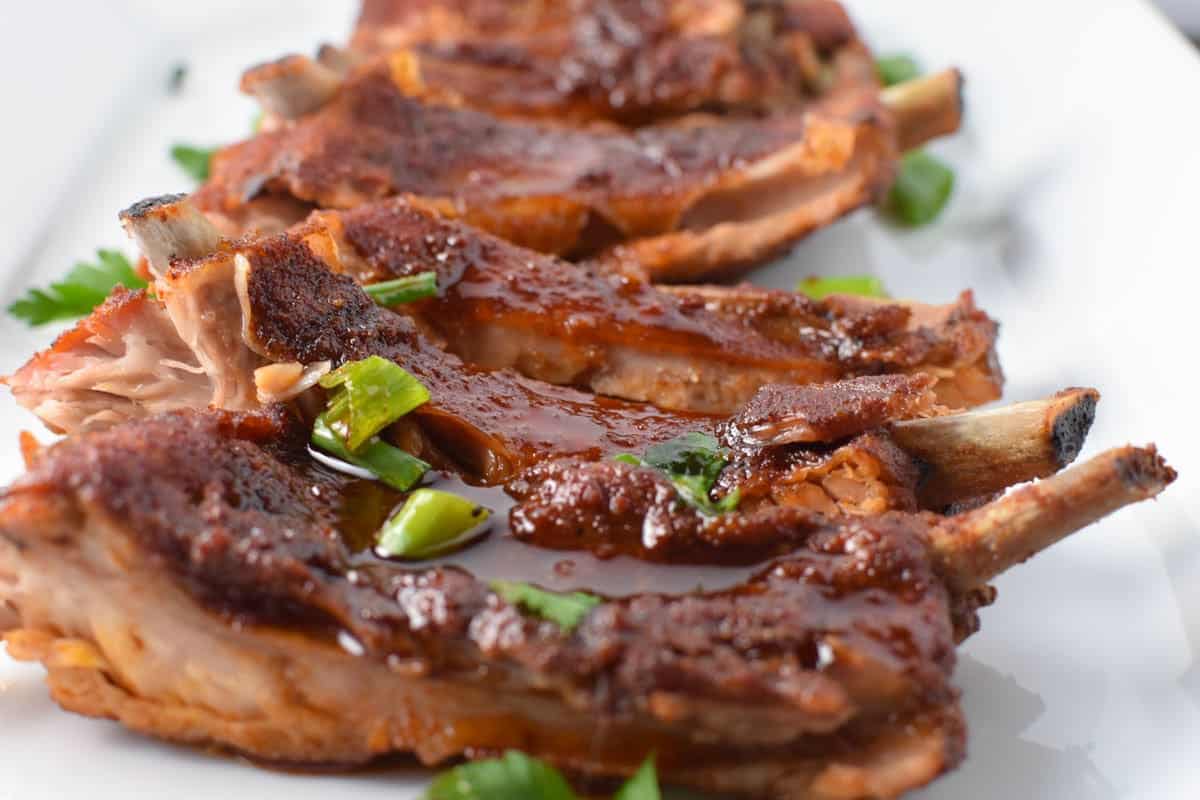 Types of Pork Ribs
A few things to note. "St Louis" aka "Spare Ribs" vs. "Baby Back" ribs will both work well with this recipe. I prefer baby back as there's a little more actual meat, less fat, and just overall easier to eat. My husband vehemently disagrees with me and thinks St Louis/spare ribs have more flavor and are heartier.
St Louis style is also less expensive than baby back, which is good if your husband can also polish off a whole rack by himself. I know you can usually get both types pre-packaged, but I highly recommend asking your local butcher for fresh ones. They're usually quite common this time of year and that way you don't have to worry about any additives or preservatives.
Typically baby back ribs are trimmed of a thick, shiny membrane on the back of the ribs, but if not, you can ask your butcher do it for you, or remove the membrane from the ribs yourself. This technique will result in more tender and flavorful ribs that are easier to eat!
Step by Step Process
Step 1: Remove the thin membrane, if needed.
Start by removing any excess membrane on the back of the ribs, or have the butcher do it for you. Pat them dry with a paper towel.
Prepare a tin foil piece that's just as long as your rack of ribs and lay them on top.
Step 2-3: Season the ribs.
Combine all the spices for the dry rub in a bowl and pat half the mixture on the back side of the ribs (meatiest side down).
Flip the ribs over and use the rest of the dry rub on the meaty side of the rack. (Picture 4)
Step 4: Wrap the dry rubbed ribs in foil.
Curl the tin foil up around the ribs as much as you can on all sides, you need the juices to stay inside the foil. You will most likely need to lay an extra sheet of tin foil on the top and wrap it around snugly.
Place your tin foil-wrapped rib rack on an oven-safe rack over a sheet pan. You can also place foil underneath the rack for easy clean up in case any juices leak. (See photo above.)
Bake in the oven at 300 degrees for 2.5-3 hours or until the ribs reach an internal temperature of 145 degrees F. I find these ribs to be pretty forgiving - they don't get dried out unless you leave them in a really long time!
Step 5: Make homemade BBQ sauce with leftover juices.
Remove the rack of ribs carefully, reserving the juices that accumulate in the tin foil - this will be your homemade BBQ sauce! Transfer the juices to a small pot and whisk in cornstarch to help thicken it while reducing the sauce over medium heat.
You can do this 1 teaspoon at a time until desired thickness is reached. Just give it some time to reduce before adding more.
Meanwhile, turn your oven broiler on high to add an extra char to the ribs - about 10 minutes total.
Broiling and Cutting the Ribs
To finish these ribs off, you can either grill them or broil them. Since you're already using the oven, I prefer broiling to make it easier on yourself and dirty fewer dishes.
For either, you want to turn the broiler to high heat and place the ribs, meaty side up, about 6-10 inches away from the heat. Leave them for about 10 minutes, rotating the pan every so often so they are darkened evenly.
To slice the ribs, place them meat side down so you can clearly see where the bones are, making for easy cutting.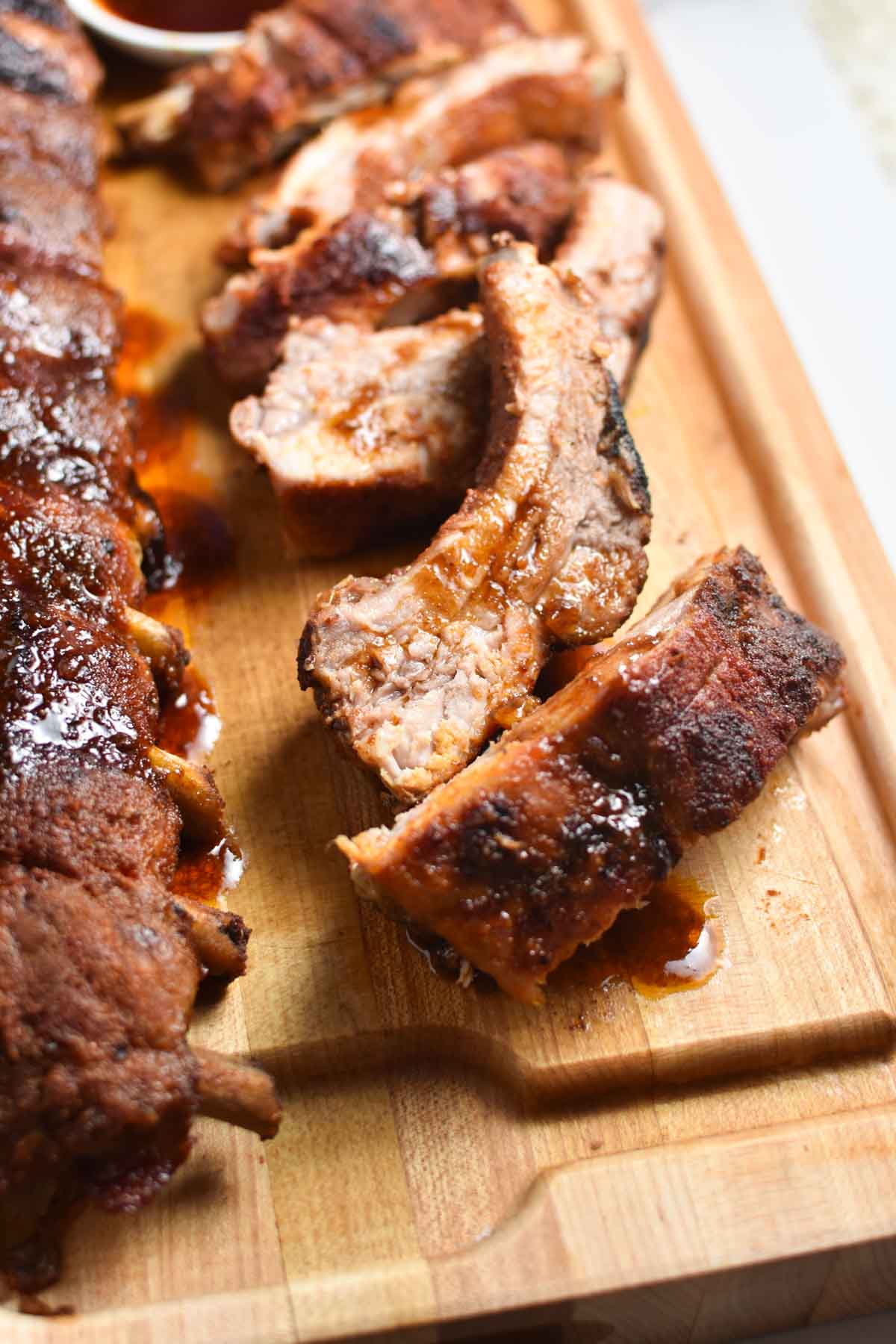 Recipe Substitutions
These dry rub oven ribs are already gluten free and dairy free, so they work well with lots of diets. For low sodium, you can control the amount of salt you add. I like to start with a tablespoon, but the spices are so flavorful you don't need too much.
Honey for brown sugar -

If you have an issue with brown sugar, I've tried this with honey and it was also really good. The trick is to mix the spices all together and apply them to the meat, then drizzle the honey on top. If you try to mix the spices with the honey and then apply it, everything will clump together. Once it all warms in the oven, it's not an issue.

Maple syrup for brown sugar -

Maple syrup is also a great substitute and you don't have to worry about that one clumping.
Suggested Sides
There's also not much else that goes better with ribs than traditional potato salad. I'm a big fan of this simple Potato Salad recipe, a healthy coleslaw, or an easy summer salad.
To keep things low-carb, this would be so good with roasted mashed cauliflower.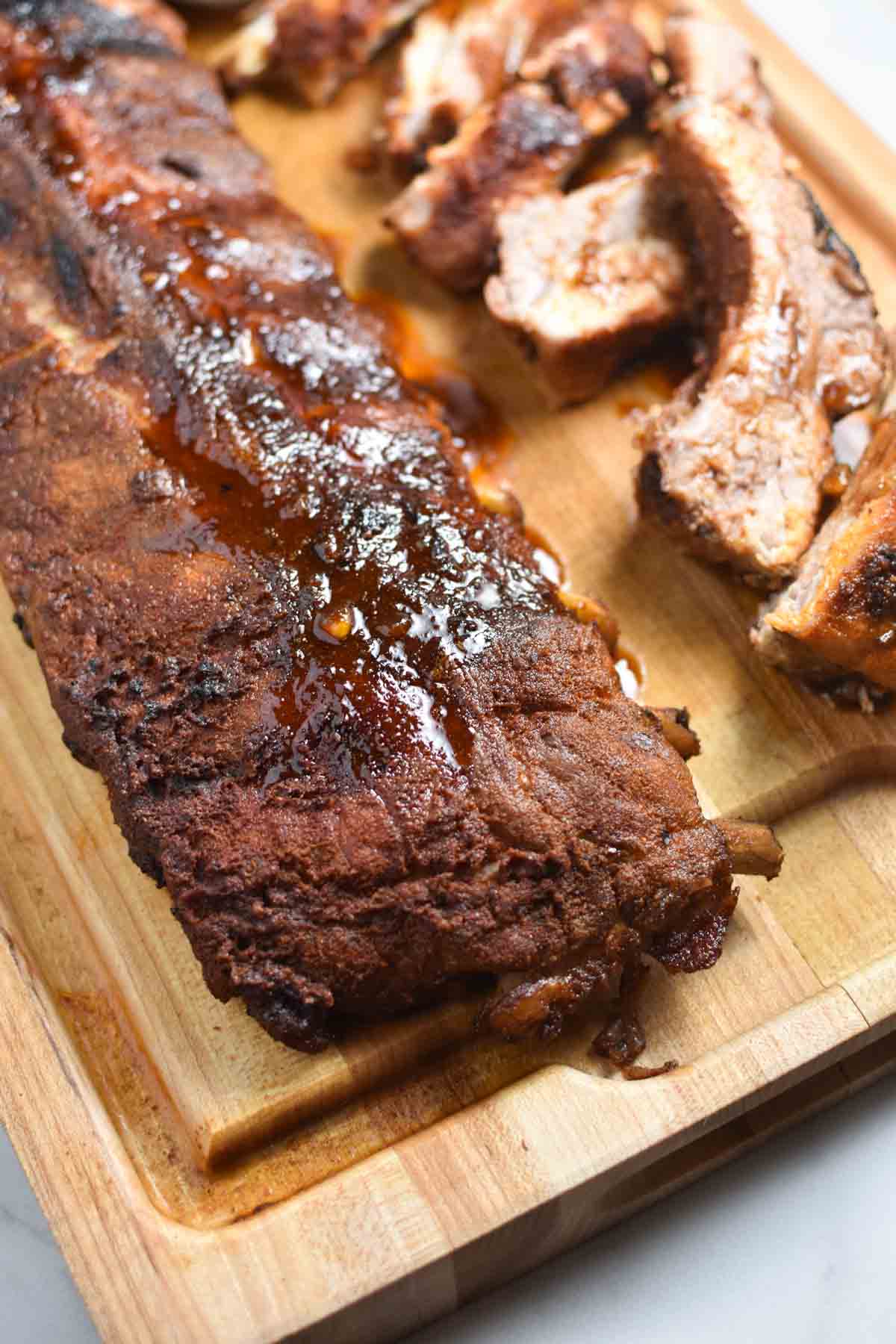 Frequently Asked Questions
What temperature should I cook ribs?
I have experimented several ways and I prefer 300 degrees Fahrenheit because they are almost always done by 3 hours, no matter the size of my ribs. You can also cook the ribs around 250 for a "low and slow" method, but anticipate them taking closer to 5 hours. Any higher than 350 degrees and the ribs are cooking too fast to be tender.
Should I wrap ribs in foil when baking?
Yes! Wrapping BBQ ribs in foil when baking will allow them to cook in their own juices, leaving them tender and not dried out. They will be falling off the bone! Once they're done baking, you can choose to grill them or broil them for extra flavor.
What's better - St Louis Ribs or Baby Back?
I prefer baby back ribs for this dry rub oven rib recipe because the way it's cooked makes it tender and flavorful without the extra fat that St. Louis ribs have. I also like that most baby back racks have the thin membrane already removed. St Louis ribs tend to be better on the grill because they're flatter and have a more even, versus curved, surface. However, both will work for this recipe!
BBQ Recipes
For more summer recipes like these dry rub oven ribs with homemade BBQ sauce, check out these posts.
If you make this, tag me #thedizzycook or @thedizzycook on Facebook and Instagram. And if you love the recipe, please leave a review below! Follow along on my Pinterest for more great recipes.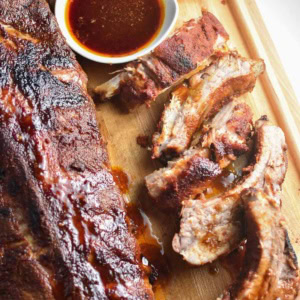 Dry Rub Oven Ribs with BBQ Sauce
These baby back rubs are coated with a homemade dry rub mix and oven baked till they fall off the bone. Coated in a homemade bbq sauce, the only mess you make with these ribs is with your fingers when you eat them!
Print
Pin
Rate
Ingredients
4-5

lb

rack of ribs, either baby back or St Louis spare ribs, membrane removed*

*see notes in post

⅓

cup

brown sugar

1

tablespoon

paprika

1

tablespoon

smoked paprika

1½

tablespoons

chili powder

2

teaspoons

garlic powder

1

tablespoons

kosher salt

1-2

teaspoons

fresh ground pepper

1-2

teaspoons

distilled white vinegar (for sauce)

1

tablespoon

cornstarch
Instructions
Preheat oven to 300 degrees F. Cut a large, long piece (the length of your rib rack plus a few inches) of tin foil. Place the ribs, meaty side up. Combine your spice mixture together and pat half the mixture all over the rib rack, coating it as best you can. Carefully flip the rib rack so the meaty side is down and apply the other half of the mixture.

Fold your tin foil inward on all sides to seal the meat as best you can. Cut another piece of tin foil and apply it on the top of the rack, sealing it underneath the rack. Make sure there are no holes, otherwise all the good juices will leak out!

Place on a baking sheet with a wire rack over it, if possible. Cook in the oven at 300 degrees for 2.5 to 3 hours. Baby back ribs should cook a little faster than St Louis style. If you're not ready to serve, turn the heat down to 175 degrees F and keep them warm till ready.

Remove the rack from the oven and CAREFULLY remove the tin foil from the top (it will be hot!). Then slide the ribs out from the lower foil packet with all the juices and place on a cutting board, meat side down. This way you can see the bones for easy cutting. A cutting board with a little "moat" works best, since they will be juicy. Carefully pour the leftover juices from the foil into a small saucepan.

Heat the juices, along with the 1-2 teaspoons of white vinegar, over medium high heat until boiling. Whisk in the cornstarch till it's no longer clumpy and then turn the heat down to a low simmer. You can do this one teaspoon at a time until desired thickness is reached. Allow the sauce to simmer about 5-7 minutes, stirring frequently.

Apply as much of the sauce as you'd like to the ribs and enjoy!
Notes
Both St. Louis and baby back ribs will work for this recipe, but I prefer baby back. Make sure you ask your butcher to remove the membrane on the back for more flavorful, tender ribs.
This rub covers about 1 full size rack of ribs but can easily be doubled for 2 racks. Plan on about 1 pound of ribs per adult.
If you'd like to substitute honey for the brown sugar, make sure you evenly drizzle on top of the rack after you have applied the spices. Honey will not coat the meat well if it's any bit cold.
For low sodium, adjust the added kosher salt as needed and look into chili powders without added salt, like Morton and Bassett.
Nutrition
Serving:
1
pound
|
Calories:
733
kcal
|
Carbohydrates:
22
g
|
Protein:
56
g
|
Fat:
48
g
|
Saturated Fat:
17
g
|
Trans Fat:
1
g
|
Cholesterol:
197
mg
|
Sodium:
2050
mg
|
Potassium:
887
mg
|
Fiber:
2
g
|
Sugar:
18
g
|
Vitamin A:
2676
IU
|
Vitamin C:
1
mg
|
Calcium:
124
mg
|
Iron:
4
mg