This recipe for MSG free oven ribs is so easy, it doesn't have to just be reserved for holidays! Chili powder, garlic powder, and brown sugar are combined for the best BBQ ribs that don't have any unnecessary additives or flavorings. You won't miss that bottled BBQ sauce!
Dads, I'm really sorry I missed the boat by posting these migraine-safe, oven ribs a day too late. If you're anything like my dad, I know all will be forgiven the second these ribs hit the dinner table. If you're tired of bland food and you want an easy recipe that's a guaranteed hit at your next BBQ, look no further. Well, maybe a little bit further because the pulled pork recipe is also really good too.
Dry Rub for Baby Back Oven Ribs
Can anyone think of baby back ribs without thinking of Chili's? "Here's the thing, Chili's is the new golf course. It's where business happens" – Michael Scott. And Michael Scott is right, business is happening…with MSG. If you've ever dug deeper into some of their nutrition labels, you'll see they somehow incorporate soy into their famous baby back ribs. And if you get a store-bought Chili's BBQ sauce? You're looking at common hidden names for msg or msg-like ingredients such as modified corn starch, natural flavor, natural smoke flavor, maltodextrin, citric acid, and xanthan gum. I get it.
Eating out is a lot easier than waiting around for ribs to be cooked. And most ribs can take a whole day to cook on the grill or in a smoker, which is not migraine friendly anyway due to a build up of tyramine. That's why I love this recipe, adapted from Smitten Kitchen. Deb actually gives you cooking times to have finished ribs in under 3 hours. I never used to think such a thing was possible.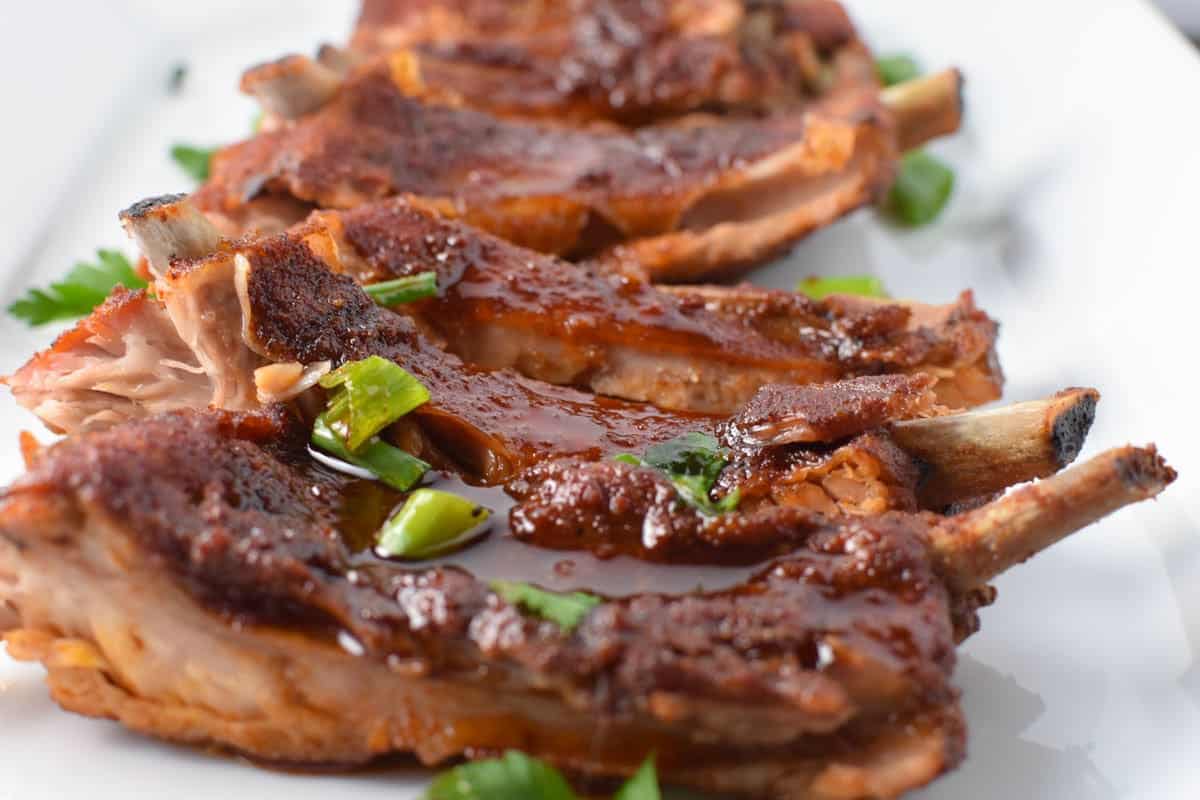 St Louis vs Baby Back Ribs
A few things to note. "St Louis" aka "Spare Ribs" vs. "Baby Back" ribs will both work well with this recipe. I prefer baby back as there's a little more actual meat, less fat, and just overall easier to eat because I'm a tiny little woman. My husband vehemently disagrees with me and thinks St Louis/spare ribs have more flavor and are heartier. St Louis style is also less expensive than baby back, which is good if your husband can also polish off a whole rack by himself. I know you can usually get both types pre-packaged, but I highly recommend asking your local butcher for fresh ones. They're usually quite common this time of year and that way you don't have to worry about any additives or preservatives.
Tips for Subbing Honey for Brown Sugar
If you have an issue with brown sugar, I've tried this with honey and it was also really good. The trick is to mix the spices all together and apply them to the meat, then drizzle the honey on top. If you try to mix the spices with the honey and then apply it, everything will clump together. Once it all warms in the oven, it's not an issue. Maple syrup is also a great substitute and you don't have to worry about that one clumping.
There's also not much else that goes better with ribs than traditional potato salad. I'm a big fan of this Simple Dill Potato Salad recipe with Sir Kensington's Mayonnaise or try homemade, and Annie's Dijon Mustard. For more options, see the Pantry Staples post.
I hope your family enjoys these spicy, easy msg-free oven ribs!
For recipes that are great for summer cookouts check out these:
Honey Chipotle Chicken Sandwich
Mediterranean Pasta Salad
Burrata, Peach, & Strawberry Salad
Summer Corn, Zucchini, and Goat Cheese Pasta
Grilled Italian Shrimp
Flank Steak with Chimichurri Sauce
Oven Ribs with BBQ Sauce
The perfect summer dinner that can cook in under 3 hours! Figure about 1/4-1/2 of a rack per person, depending on sides and general level of hunger.
Keyword:
BBQ Ribs, Gluten Free, MSG Free
Ingredients
4-5

lb

rack of ribs, either baby back or St Louis spare ribs

*see notes in post

1/3

cup

brown sugar OR maple syrup OR honey

*see notes in post if using honey

2

tbsp

paprika of choice - I used 1 tbsp smoked and 1 tbsp regular

1.5

tbsp

chili powder

*can add 1/2 tbsp more if you like it spicy

2

tsp

garlic powder

1

tbsp

kosher salt

1-2

tsp

fresh ground pepper

1-2

tsp

white vinegar (for sauce)
Instructions
Preheat oven to 300 degrees. *side note* sometimes there's a silver skin/membrane on the back of ribs, if you cut that off and trim some of the fat, the rub will permeate the meat better and the ribs will cook more evenly. I've made it both ways and it didn't bother me, but some serious rib people swear by this technique.
Cut a large, long piece (the length of your rib rack plus a few inches) of tin foil. Place the ribs, meaty side down. Combine your spice mixture together with brown sugar (if using honey, wait to apply the honey till after you've put the spice mixture on the rack). Pat half the mixture all over the rib rack, coating it as best you can. Carefully flip the rib rack so the meaty side is up and apply the other half of the mixture.

Fold your tin foil inward on all sides to seal the meat as best you can. Cut another piece of tin foil and apply it on the top of the rack, sealing it underneath the rack. Make sure there are no holes, otherwise all the good juices will leak out!

Place on a baking sheet with a wire rack over it, if possible. Cook in the oven at 300 degrees for 2.5 to 3 hours. Baby back ribs should cook a little faster than St Louis style. If you're not ready to serve, turn the heat down to 175 and keep them warm till ready.

Remove the rack from the oven and CAREFULLY remove the tin foil from the top (it will be hot!). Then slide the ribs out from the lower foil packet with all the juices and place on a cutting board. One with a little "moat" works best, since it will be juicy. Take the juices in the foil and put them into a small saucepan.

Heat the juices, along with the 1-2 teaspoons of white vinegar, over medium high heat until boiling. Bring the heat down so you have a low simmer and allow the sauce to thicken a bit, about 5-7 minutes.

Apply as much of the sauce as you'd like to the ribs and enjoy!
Recipe Notes
Both St. Louis and baby back ribs will work for this recipe.
If you'd like to substitute honey for the brown sugar, make sure you evenly drizzle on top of the rack after you have applied the spices. Honey will not coat the meat well if it's any bit cold.