This delicious halloumi couscous salad combines grilled halloumi cheese with fluffy couscous and tons of vegetables. It's a great vegetarian meal for summer that can be served as a main dish or side.
This dish is the perfect side dish to bring to a BBQ or potluck that feels more adult than your traditional pasta salad. The salty cheese combines well with the fresh vegetables and creamy dijon vinaigrette. You'll love this halloumi and couscous pairing!
The inspiration for this recipe came from a family trip we took to the Florida panhandle. I was looking for something semi-healthy in a land of beautifully fried fish and french fries, and a version of this recipe was the lonely salad on the menu. It was light and refreshing and my little one loved it. I thought it would pair well with halloumi cheese so tried to re-create it when I got home!
Jump to:
What is Halloumi?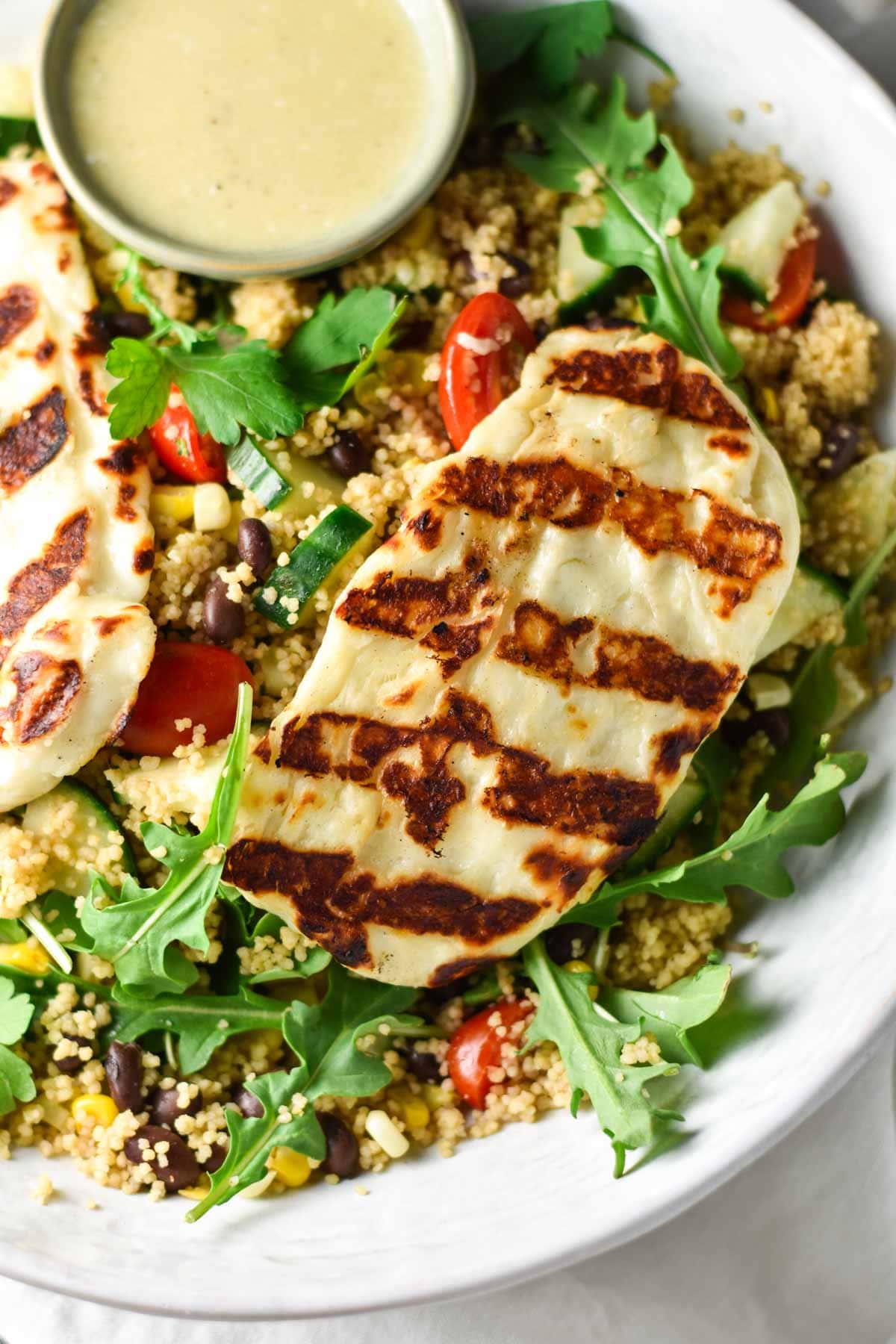 Halloumi is a semi-hard, unripened cheese made of goat or sheep's milk. It has a very high melting point compared to other cheeses making it perfect for grilling or frying.
While it's make-up is similar to mozzarella, it has a stronger flavor that's both tangy and salty. Halloumi is high in both protein and calcium, making it a great addition to this salad which will actually keep you full!
Initially halloumi's texture is kind of rubbery, but once it is pan-friend or grilled, it becomes crispy on the outside and soft and melty on the inside, but still holds it's shape. Although it can be a bit pricey, Trader Joe's usually has a good deal on it!
If you're following a migraine diet, halloumi is an un-aged cheese, but it is brined, so it may come down to a personal sensitivity. If you require low sodium, I recommend substituting the halloumi with mozzarella.
Grill Options
I used a gas grill to grill the halloumi cheese, but you could also use a charcoal grill or a grill pan. Just make sure the grill grates are well-oiled. Also, be careful when oiling as excess oil causes flare ups. Either turn the heat to low or do it before you turn on the grill.
If you don't have any of these options, you can also pan-sear the halloumi in a non-stick pan over medium heat for roughly the same amount of time. I've also used the oven to broil it on both sides as well. Just make sure to check often and flip once the outside has nicely browned.
Ingredients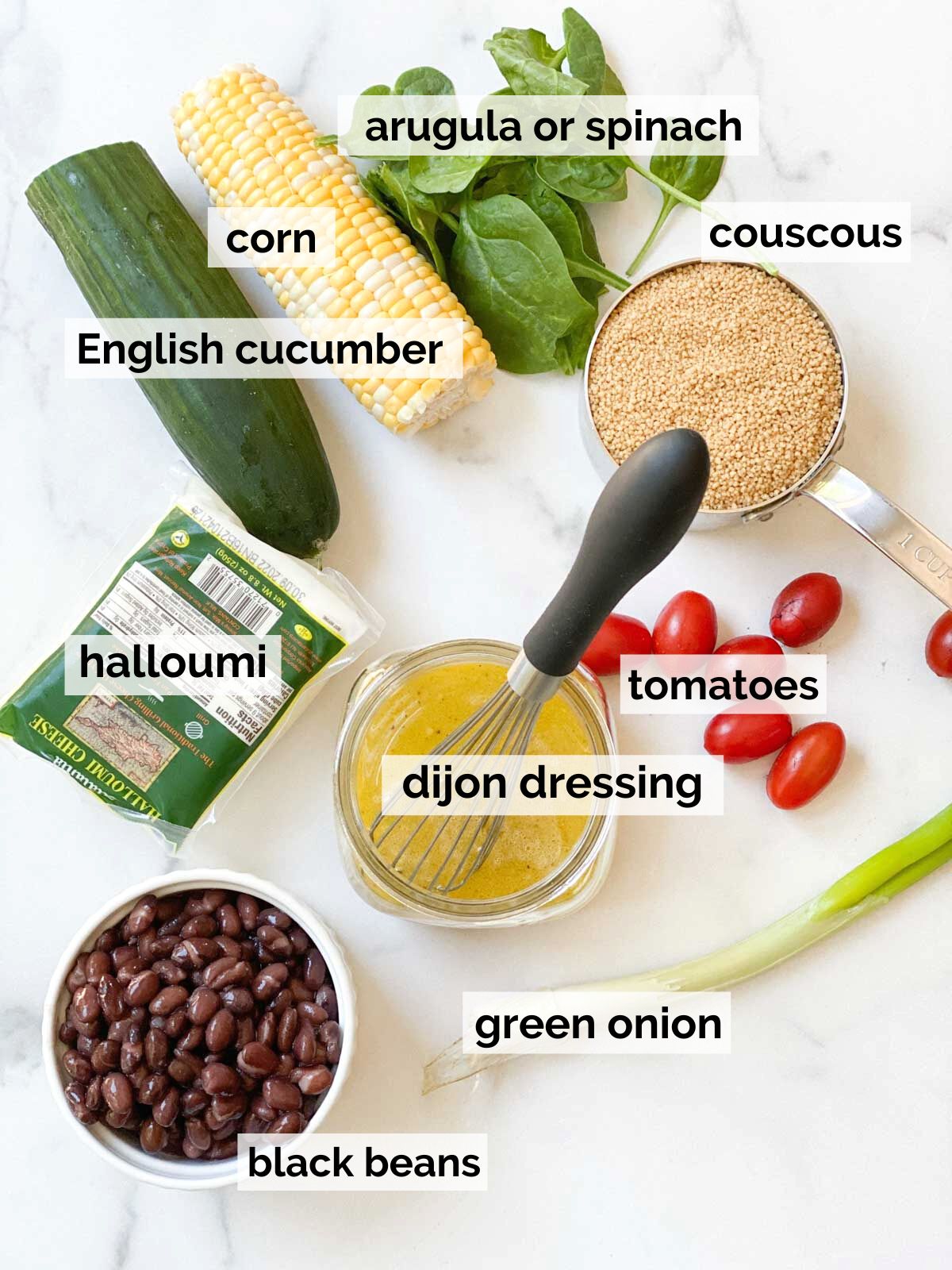 Couscous - a very small semolina pasta, it's the easiest pasta you'll ever cook. This grain couscous should not be confused with Israeli couscous, which is larger balls. Although both could be used with this recipe in theory.
Halloumi - Trader Joe's and Whole Foods carries this type of cheese.
Cucumber
Spinach or Arugula - I've used both and they're both delicious! I tend to prefer arugula, but use whatever you have on hand.
Green onion
Tomatoes - Totally optional, but great if serving during the summer.
Fresh corn
Black beans - I like to buy the low sodium can and then drain and rinse with water to remove any excess. Especially since the halloumi is salty on its own.
Creamy dijon vinaigrette - A little bit of mayo makes this dijon vinaigrette more mellow and creamy. It pairs perfectly with this halloumi and couscous salad. One thing to note is to use a sulfite-free dijon, like Annies.
How to Make
Step 1: Make the couscous
Start by making the couscous. Cook according to the package directions, but it should be something like this. Add water to a large, shallow pan with a lid and bring to a simmer. Stir in couscous, cover, and turn off the heat. After 10 minutes, fluff with a fork. That's it!
Step 2: Prepare the dressing and salad
In a large bowl, add the couscous and vegetables. In a small mason jar, combine the ingredients for the dijon vinaigrette, whisking until smooth. Set aside.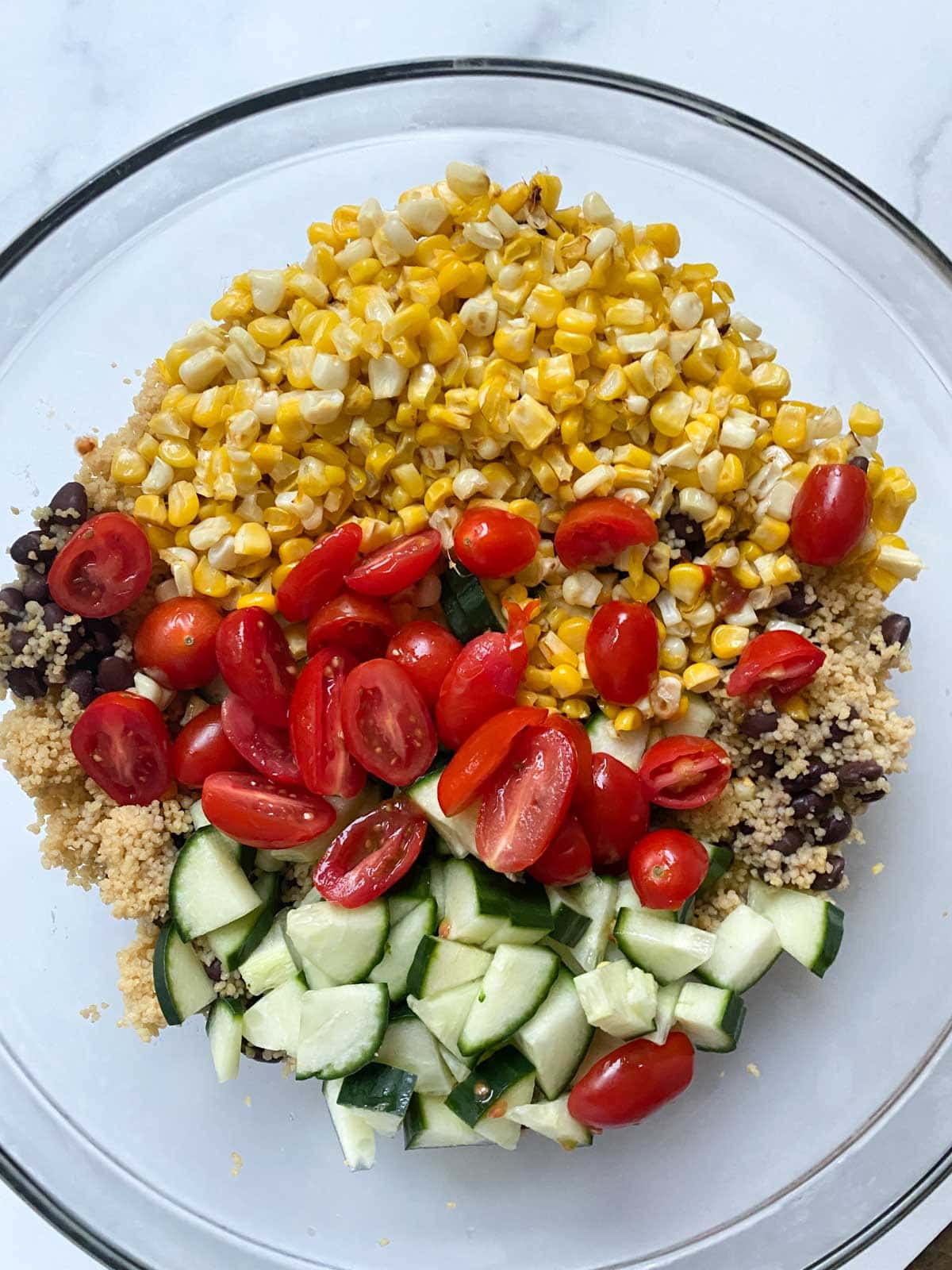 Step 3: Grill halloumi
Prepare a gas grill or grill pan by taking a paper towel and rubbing the grates with a high heat oil like a vegetable or or avocado oil. Turn to medium high heat. Slice halloumi pieces in half if super thick and place directly on the grill. Grill for 4-5 minutes per side until grill marks form on the outside.
Toss the salad with vinaigrette just before serving and top will grilled halloumi!
Substitutions
While couscous isn't naturally gluten free, I recommend substituting it with quinoa for a gluten free option.
For a dairy free recipe, simply omit the halloumi and enjoy the salad on its own.
Storage Instructions
If you're planning to make this ahead, leave the dressing and greens separate from the mixture. The grilled halloumi is best fresh, but can be made ahead for a potluck. Toss everything together just before serving.
For leftovers, they will keep very well in the fridge 3-4 days. I don't recommend freezing this salad.
Serving Suggestions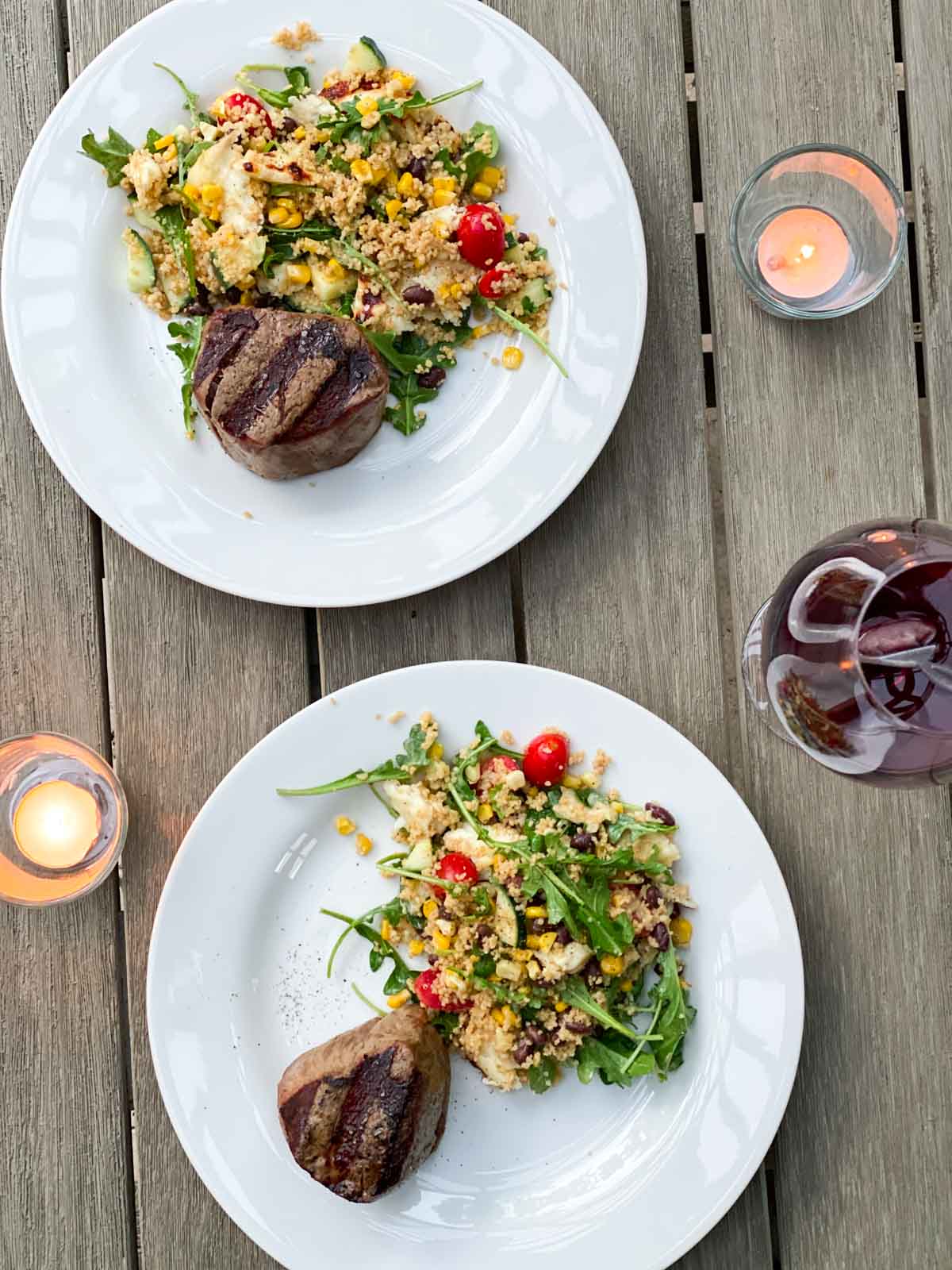 This halloumi couscous salad actually contains a good amount of protein and is very filling if you'd like to serve it as a vegetarian meal. But it also makes a wonderful side dish. A few of my favorite serving suggestions.
For a date night - serve this with grilled steaks and a really good pinot noir or chardonnay with wine wands.
For a bbq - serve this with oven ribs or bbq chicken thighs.
For a poolside lunch - serve this with a light mocktail like this sparkling pear mocktail.
Salad Recipes
For another couscous recipe you'll love, try my Moroccan Chicken and Couscous which contains spiced couscous with pomegranate seeds. And for other summer salad recipes, you'll love check out these posts.
If you make any of my recipes, don't forget to tag me #thedizzycook or @thedizzycook on Facebook and Instagram. And please leave a review below!
Halloumi Couscous Salad
This halloumi and couscous salad is perfect for a summer bbq party or potluck because it can be made ahead and stores well. Pairs perfectly with grilled meat, or as a vegetarian meal.
Print
Pin
Rate
Ingredients
Halloumi Couscous Salad
1

cup

couscous

2

fresh corn cobs, kernels removed

1

cup

seedless cucumber, chopped

2

green onion, chopped

½

15oz can

low sodium black beans

¾

cup

chopped tomatoes

1½

cups

arugula or spinach (or just a large handful)

8

oz

halloumi cheese
Creamy Dijon Dressing
1

tablespoon

shallot, minced

⅓

cup

extra virgin olive oil

2

tablespoons

vinegar

1

tablespoon

apple juice

2

teaspoons

dijon mustard

1

teaspoon

mayonnaise

2

teaspoons

honey

kosher salt and black pepper to taste
Instructions
In a large, shallow pan with a lid, add 1 cup of water and bring to a simmer over medium heat. Stir in couscous and corn kernels, cover, and turn off the heat. Let it sit for 10 minutes, then remove lid and fluff with a spoon.

Meanwhile place all the ingredients for the dressing in a small mason jar and shake till creamy and well-mixed (or whisk). Add the cucumber, green onions, black beans, tomatoes, and arugula to a large bowl, along with the couscous.

Carefully use a paper towel soaked with vegetable or avocado oil to rub the grill grates and preheat the grill to medium high heat. Add halloumi cheese, sliced in half if very thick, and grill for 4-5 minutes per side or until grill marks form and the cheese begins to soften inside.

Toss couscous and vegetables with a little bit of the dressing (taste and see how much you like before adding in the entire dressing). Season with salt and freshly cracked black pepper to taste, but go easy on the salt because halloumi will fill in what you're missing. Serve with the halloumi in whole pieces or sliced.
Notes
Quinoa can be substituted for couscous for a gluten free option.
For extra flavor, I love to simmer vegetable broth instead of water which helps flavor the couscous even more.
Trader Joe's has the best price on halloumi that I have seen.
For a low sodium alternative, use mozzarella balls instead of halloumi (but don't grill them).
Wait to toss the dressing till the end so the vegetables don't get soggy.
For migraine-friendly, use a sulfite-free dijon mustard like Annie's.
Nutrition
Calories:
357
kcal
|
Carbohydrates:
27
g
|
Protein:
18
g
|
Fat:
22
g
|
Saturated Fat:
8
g
|
Polyunsaturated Fat:
2
g
|
Monounsaturated Fat:
11
g
|
Cholesterol:
1
mg
|
Sodium:
526
mg
|
Potassium:
172
mg
|
Fiber:
2
g
|
Sugar:
4
g
|
Vitamin A:
211
IU
|
Vitamin C:
5
mg
|
Calcium:
410
mg
|
Iron:
1
mg