Because it can be so difficult to know what to buy when you first start a migraine elimination diet like Heal Your Headache or a low tyramine migraine diet, I've put together a list of some of my favorite migraine diet pantry staples.
It will certainly make trips to the grocery store much easier on your head if you can stock up on a few of these. I have linked to most everything on Amazon so you can see a picture, but I'll also give you some other options of where you can buy them. I'll continue to update this list as I find more, so please keep checking back!
Please note - companies change their ingredients all the time, so if you have specific food triggers always double check the label, even if it's included on this list.
Jump to: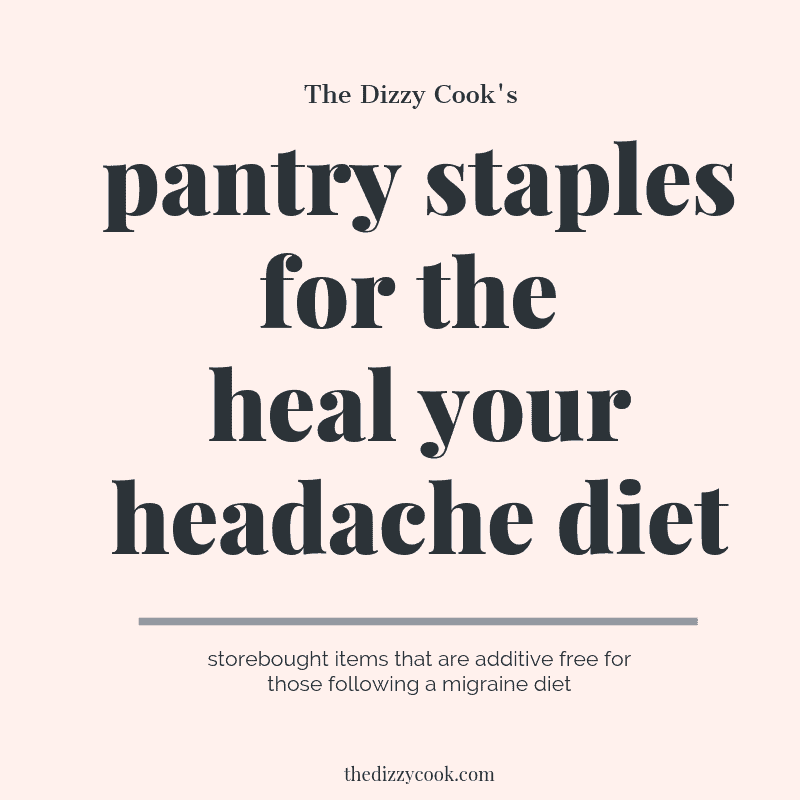 Grocery shopping with chronic migraine can be your worst nightmare. When mine were horrible, I usually sent my husband with a list. As they slowly got better, I would go attempt to go at off times (early in the morning or evenings and NEVER on Sunday), and wear a hat or sunglasses like I'm Julia Roberts. A sunbutter-loving Julia Roberts!
Eventually I got to the point where I don't usually need a hat or glasses, but I do still like to go when it's less busy. I've even seen some folks walk around with headphones, which I plan to start on big shopping days.
Since I've written this post, grocery delivery and pick up has become a very popular perk and is so helpful for those of us with migraine disorders. I hope this post makes it easier to seek out certain products!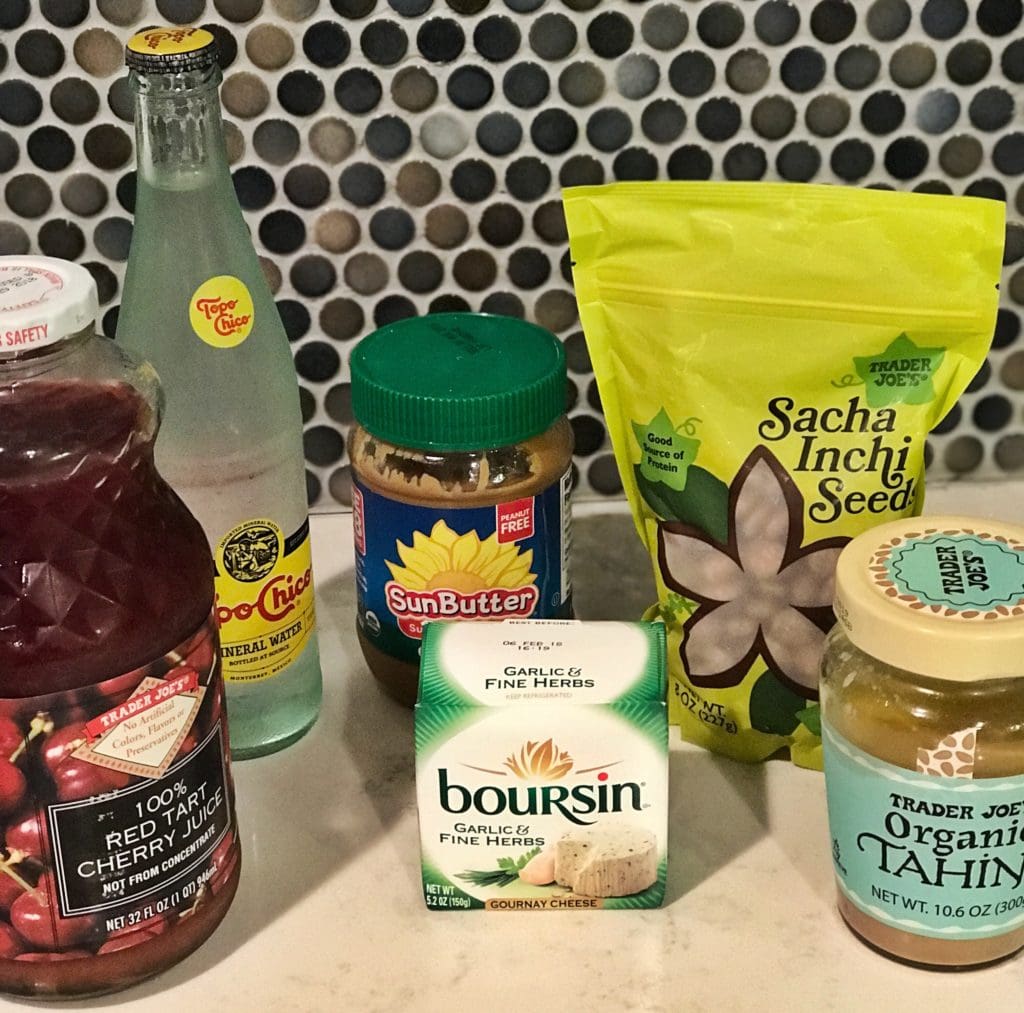 Snacks
I have an entire post dedicated to migraine diet snacks that I recommend checking out, but below are a few favorites!
Sunbutter - Sunflower seed butter. I like the Organic Sunbutter brand which you can get at Whole Foods because it has no added sugar or salt, but you can also find a good one at Trader Joes or here (for cheap!) at Thrive Market. Look for the one without added sugar. I love to use this in smoothies and recipes calling for peanut butter. I've used it in my faux Asian "peanut" noodles and you can barely tell the difference!
Tahini - Sesame seed butter. Can find at most grocery stores, just check the label. Really great in hummus and to mix in to salad dressings. I occasionally also use in smoothies.
Pumpkin seeds, sunflower seeds and sacha inchi seeds. Great for snacks, added protein in smoothies, and putting on top of salads.
Sparkling Water - I like Topo Chico, but any sparkling water is great to have on hand for mocktails or a refreshing soda replacement. Add fresh mint, rosemary, cucumber, fruit, pomegranate or tart cherry juice.
Juices - I'm a big fan of organic pear juice, tart cherry juice, and organic apple juice to either put into sparkling water for a mocktail, marinate meats, or splash with vinegar for a nice dressing alternative. I love pear juice in Asian recipes that call for pineapple juice.
Back to Nature Harvest Whole Wheat Crackers - Very good brand for crackers can be found at Whole Foods and health food stores. Plain Triscuits are also ok.
Trader Joe's Classic Original Water Crackers or Carr's Water Crackers - Love these super clean crackers with fresh goat cheese (the log/chevre kind). Most water crackers are ok too.
I always keep HYH cheeses on hand for an easy snack! Ricotta is another good one. I love the Calabro Ricotta brand drizzled with a bit of honey and some cracked black pepper...treat yourself!
Fresh cheese - look for fresh mozzarella, burrata (usually packed in water), chevre (fresh goat cheese), oaxaca (think if monterey jack and mozzarella had a baby), and farmer's cheese.
Organic Valley Cream Cheese and Philadelphia Cream Cheese (in block form) are two widely found brands that fit the elimination diet, but I've also found local store brands to be ok. Just avoid carrageenan.
American Cheese - my favorites are Boar's Head, Horizon, and Andrew and Everett. You may have to ask the deli counter to cut you a large block instead of the sliced versions. I believe Organic Valley also has pre-packaged slices.
Boursin Garlic & Herb cheese, black pepper, and Shallot and Chive.
Boulder Canyon Olive Oil Potato Chips - These are always in our pantry and they are delicious. Only potatoes and olive oil! I have seen them at Whole Foods, Sam's Club, and multiple other grocery stores. Most plain potato chips are ok.
From the Ground Up has amazing (and gluten free) Cauliflower Pretzels that are totally migraine friendly. Can be found at Whole Foods and Amazon. Rold Gold Braided Honey Wheat are also ok.
Crunchmaster Multi Grain Crackers in Sea Salt - The best gluten free cracker you can find. These are HYH safe too. It MUST be the "sea salt" kind. Other kinds have trigger ingredients like seaweed.
Skinny Pop Popcorn - Plain and Kettle Corn are ok
Nature's Path Pumpkin Seed Granola
88 acres makes great seed snacks - pepita butter, sunflower seed butter, watermelon seed butter, seednola, and more. Stick with their cinnamon seednola/bars or berry seednola/bars and plain seed butters to stay safe in the elimination phase. Use DIZZY15 for 15% off your order from their website.
Trader Joe's Parsnip Chips
Chessman Cookies - A sweet snack!
Aleia's Gluten Free Ginger Snaps - These are good for my GF friends
Ice Cream - Haagen Dazs Vanilla, McConnell's Vanilla, Jeni's Salted Caramel and Brambleberry Crisp. Oatly vanilla is ok if you must do dairy free.
Condiments
Distilled White Vinegar - You will use this in A LOT of cooking as a substitution for the citrus tang or in place of aged vinegars/apple cider vinegar for salad dressing.
Trader Joe's Alcohol Free Vanilla Extract - it's extremely difficult to find a vanilla without alcohol added! Alcohol-free is not totally necessary, but this is just a good option.
Coconut Aminos - While the Heal Your Headache diet tells you to avoid coconut, this is made from the sap of the coconut blossoms and is ok for most. However, many brands are fermented (a few are not!)

. It's a great alternative to soy sauce

that I find most tolerate well, even with the fermentation. Trader Joe's has the least expensive option I've found.
Sir Kensington's Organic Mayonnaise - This one is questionable if you are just starting a migraine elimination diet because of the lemon juice, but it's the best mayo I have been able to find without making your own. I usually purchase it at Whole Foods, but the link is to Amazon. With no additives, MSG or preservatives, and only a tiny bit of lemon, I would guess that you could be ok with this if you're not super sensitive to citrus. I say this because you'll notice lemon juice is right next to sugar as ingredients and sugar is 0 grams on the label. This basically means the amount they put in is super small. Making my own all the time would have been a hassle, so I just stuck with this the whole time and still had good results.

If you're very strict though or citrus is a massive trigger, try Primal Kitchen's Avocado Oil Mayo. It does not have any citrus and the avocado oil should not be an issue, like actual avocados are. You can find this at Costco for a good deal too.

I've seen a lot of people have luck with Just Mayo and Spectrum's Organic, but they do not look as compliant as Sir Kensington's. A jar runs about $8 at my Whole Foods here so pricing is comparable on Amazon, however I like to stock up when it goes on sale for roughly $5-6.
For a vegan egg free mayo, you have to try my recipe.
Annie's Dijon Mustard - Mustard is another tough one to find without additives like xanthan gum and citric acid. I use Central Market/HEB Organic brand, but I think Annie's is more widely found. Their regular mustard is ok too. If you live in Texas, HEB Organics Brand is ok. Essential everyday regular mustard is also ok, but these aren't the only ones. Check your local store brands as you can usually find at least one that will work.
Sriracha - The best options I can find right now are Lingham's, Fix or Underwood Ranches, which do still contain very small amounts of potential triggers, but are otherwise very good! Have a look at this post for more explanations. I used to recommend Yellowbird Sauce Blue Agave Sriracha before they changed their formula to include citrus. This is a good example of how you should always review ingredients because companies can change them at any time!
Pretty Thai is a small Austin, Tx based company, but they have a Sweet Thai Chili Sauce that has minimal ingredients and is delicious. Order from their website in bulk if you can, as it's less expensive than Amazon.
For enchilada sauce, check out this verde sauce from Fody.
Franks Original Hot Sauce - this does contain aged peppers, but many do fine with it.
Zhoug Sauce - Found at Trader Joe's this sauce contains jalapeno peppers, cilantro, and spices. It's like a spicy cilantro pesto or chimichurri sauce.
Ketchup - I recommend the Fody brand that doesn't contain onion.
BBQ Sauce - See a recipe in my cookbook or try this NC BBQ Sauce.
Baking Essentials
BREAD
I can usually find a good migraine safe bread at my local bakery. You mainly want to avoid anything with "malt" in it - so malted barley. If you can't find one, Pepperidge Farm's Wheat Bread or Dave's Killer Bread are both well-tolerated. Remember to avoid sourdough in the elimination phase.
Manna Bread is another wonderful and very clean brand.
For my gluten free friends, Canyon Bakehouse and Free Bread are both good options. Also Against the Grain has Original Rolls with very minimal ingredients!
For buns, I find Martin's at Target. For gluten free, try Happy Camper.
For flour tortillas, look for ones that are refrigerated or freshly made rather than in shelf-stable packs. TortillaLand and Margaritas (both found in the refrigerated section) are ok. If in Texas, I get mine at HEB's Central Market. For gluten free, look for house-made corn tortillas or ones with minimal ingredients. I also recommend visiting your local Mexican or Tex Mex restaurant for freshly made tortillas that will taste 10x better than store-bought. You can freeze them too!
Safe naan can be found in the freezer section at Trader Joe's as well as Malabari Paratha (double check ingredients at your location are ok).
Stock and Broth
Unfortunately I have yet to find a totally perfect stock or broth without making your own. I have two recipes for vegetable broth and chicken broth in The Dizzy Cook cookbook that can be made ahead and frozen and are elimination diet compliant.
Butchers Bone Broth - The ingredients fit the elimination diet, however, the process can be questionable. Bone broth is simmered a very long time and the gelatinous texture usually points to a high glutamate content. For people who have a major sensitivity or an issue with collagen, this could be problematic. Still, I like to recommend it, especially since it's higher in protein than regular broth and it's good for sick days. This typically can be found in the refrigerated section of the meat aisle.

Should you not be able to find this I have also seen good things about Grow and Behold

bone broth

.
I have a recipe for instant pot chicken stock that cooks in about an hour and a half total. It's super easy and flavorful, especially if you plan ahead and freeze it for future uses. This will be your most compliant option with a low glutamate and tyramine content as well as no onions and you can control the sodium amounts.
You'll find as you feel better and can test more foods that there are many good vegetable broths contain onion, but they don't cause a migraine attack. One of my favorites is the Trader Joes "Hearty" Vegetable Stock, NOT the low sodium, or the Pacific Vegetable Broth. This only contains onion powder, which most people tend to tolerate even if they're sensitive to onion.

Strictly avoid any broths or stocks with "natural flavor", but the ones with onion towards the bottom of the ingredient list might work for you if you are in a time crunch and can't make your own.

Fody Vegetable Soup Base does not contain MSG as I've double checked the ingredients in their "spices" with the company. This is a good vegetarian option!
Pre-made Seasonings
Primal Palate has some good ones, like the Super Gyro and the ones below.
New Bae Seasoning - A substitute for Old Bay seasoning
Taco Seasoning - Theirs does not contain onion.
Penzeys Dried Shallots - sub for onion powder
Morton and Basset and Frontier make safe chili powders.
Breakfast and Smoothie Ingredients
Annie's Pancake Mix - Good for pancakes when you don't want to make your own.
Organic Dried Mulberries - I order these online from Amazon, but you can also find in health food stores. They're great to use in place of bananas to sweeten your smoothies and they are considered superfoods. They're very versatile in that they can complement many flavors very well. I'll also occasionally toss these in a salad.
Organic Goji berries - Also order from Amazon, but can be found in health food stores. These have a mild flavor reminiscent of raisins with a hint of cranberry - sweet and tart. They can blend in almost any smoothie and are also a superfood.
Trader Joe's (or any brand) Gluten Free Oats - Can use for oatmeal or to thicken smoothies
Tempt Hemp Milk from Living Harvest - Can be found at health focused grocery stores like Whole Foods and Sprouts. If you can tolerate dairy, fresh organic milk is great. If you have a tough time with drinking milk this is a good alternative for oatmeal. I don't love that it contains gellan gum, but it's the cleanest one I've been able to find without making your own. I also like to keep hemp seeds in the pantry.
Oatly Oat Milk - The perfect dairy substitute without NUTS! They also leave out all the gums. I like the full fat version to sub for whole milk and half and half in cream sauces as it's very thick. Please remember regular milk is also ok too.
Protein Powder - A few good options in the post that's linked!
Cereal - plain cheerios, and corn and rice Chex are all ok. Lovebird has a good gluten free cassava option.
Frozen cherries, blueberries, and strawberries - I like to stock up on these at Trader Joe's to make a variety of smoothies in the morning.
Pasta, Pizza, and Sauce
Gluten Free Quinoa Pasta - I always keep a bag of this on hand for any days that I feel terrible. Mix it with some Boursin cheese or butter and safe veggies and you've got an easy dinner.
Gluten Free Pasta - Jovial is my go-to! They have orzo and chickpea pasta - so many good options.
Rao's Sensitive Marinara - You can get this through the link on Amazon or I've also picked it up in Sprouts. No onions!
Cucina Antica Marinara is also made without onions or added citric acid. The pricing on these through Amazon is actually comparable to those in store, around $7-8. You get what you pay for! I've also heard that Sprouts has a sensitive marinara that does not contain onions as well.
Fody makes a marinara sauce without garlic or onions.
Cauli'flour Pizza Crusts - This crust only contains cauliflower, fresh mozzarella, eggs, basil, and garlic. It's super clean for HYH, gluten free, and you don't have to worry about the fresh yeast. Trader Joe's also makes a decent one that's less expensive.
Trader Joe's Cauliflower Gnocchi - This one can get a little gummy if you don't cook it right, but the flavor is still good.
Tuna in water.
Alcohol
Although alcohol isn't part of the elimination diet, you may want to reintroduce it at some point or celebrate for a special occasion.
In that case, I recommend checking out my posts on the best alcohol for migraine for wine brand suggestions as well as liquors. And consider pairing that with a wine wand that can eliminate the sulfites and histamines if used properly.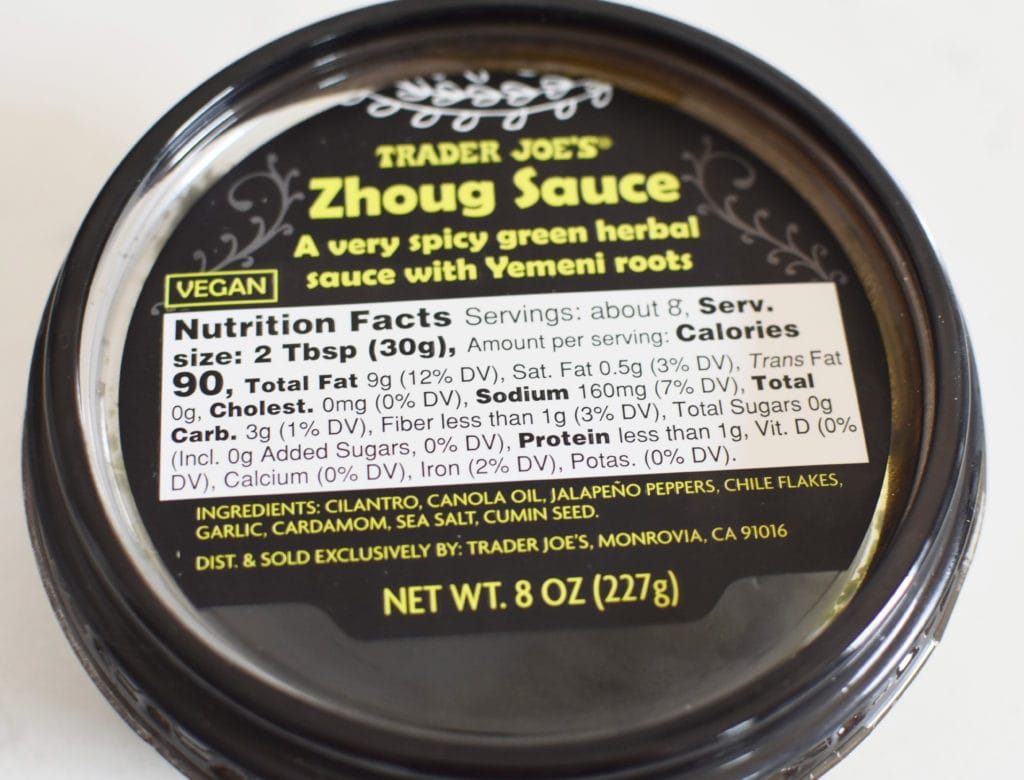 I hope you find this list of migraine diet pantry staples helpful. Comment below with some of your favorites!