The easiest pie you can make without the hassle of rolling out the dough. This crustless blueberry pie is filled with lots of fresh blueberries, and is simple to make in a pinch!
This recipe has been reworked to be even easier, using frozen blueberries! While you could still use fresh, frozen allows you to make this recipe even when blueberries are not in season.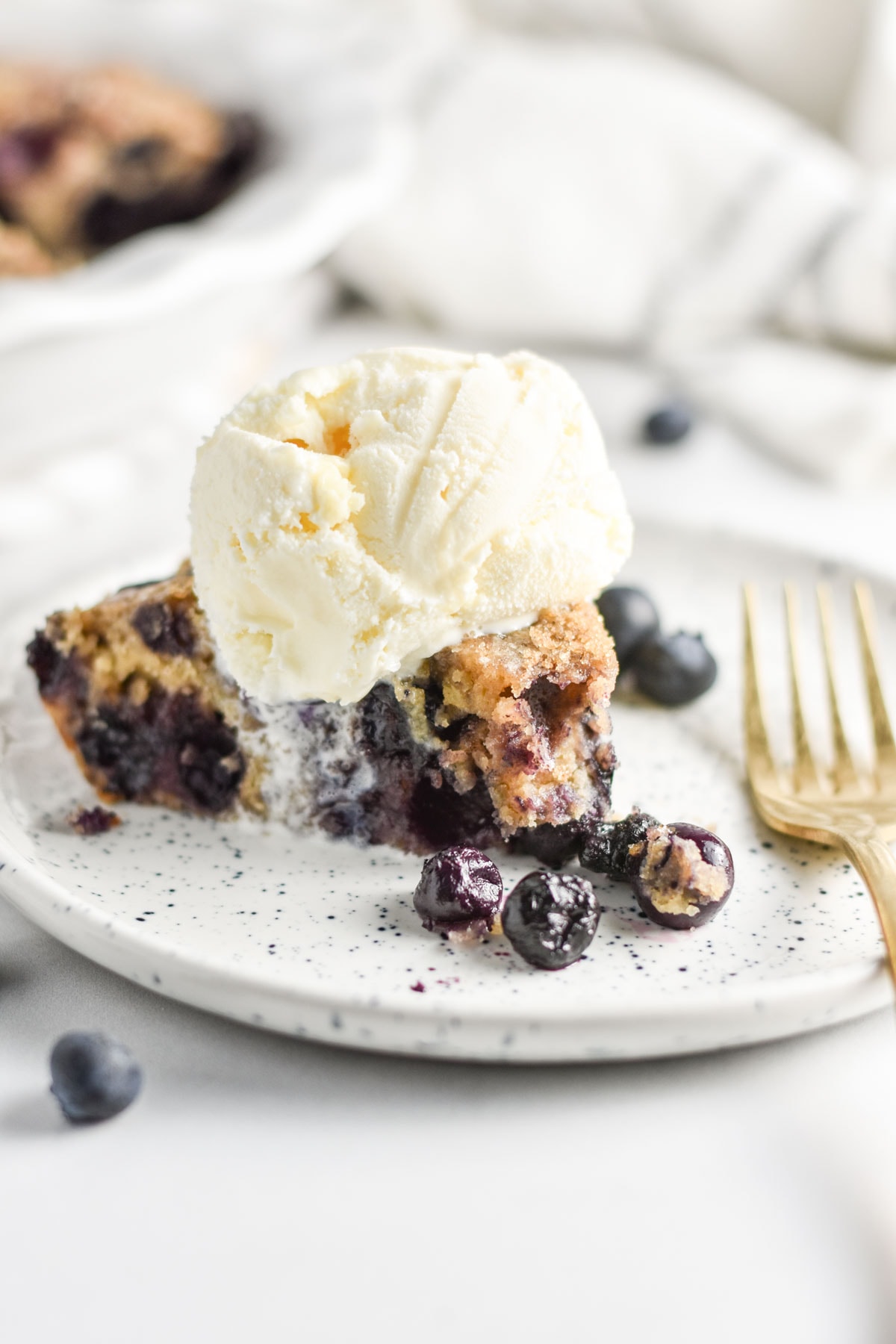 A no crust blueberry pie uses flour to hold everything together, while still maintaining a gooey blueberry filling. People compare it to a mixture of a blueberry muffin and a pie! This style is sometimes called an impossible blueberry pie.
Blueberry Pie Without The Crust
A little bit of cinnamon mixed with gooey blueberry flavor, this recipe is different than the traditional pie, but it is not cakey or bread like at all, especially by day two.
You'll love this recipe because:
Fresh or frozen blueberries - I've tested this recipe multiple ways and have found I actually prefer to make this crustless blueberry pie with frozen berries. However, I'll give you instructions for both!
No crust needed - With this recipe you get all the best parts of blueberry pie but without the hassle of making a crust.
Freezes well - This recipe freezes beautifully for up to 3-4 months.
Stores well - Storing this pie for 2-3 days just makes it more gooey and delicious!
Easy recipe - No need to dirty a lot of dishes with this recipe, everything is mixed in one bowl!
Great summer recipe - This crustless blueberry pie is perfect for summer, topped with vanilla ice cream!
Fresh or Frozen Blueberries?
When this recipe was first written by Jennifer Bragdon, she used a mixture of fresh and frozen blueberries for flavor differences and color preference. With using frozen blueberries, the pie takes on a darker blue color. She preferred the color to be varied, like it would with a brown crust.
To make this with fresh and frozen blueberries, use 1 ¾ cups fresh blueberries and ½ cup frozen. Frozen wild blueberries tend to be more tart, so I love the compliment they bring to sweet, fresh blueberries. You can always use all of one or the other, it is just a flavor preference.
To make this crustless blueberry pie with frozen berries, I used regular frozen blueberries, not wild, in the amount of 2 ¼ cups. I found that frozen does have more moisture, but it also produced a texture more similar to a traditional blueberry pie. I preferred the gooey quality you get from frozen blueberries more than using fresh, which is a bit more cake-like.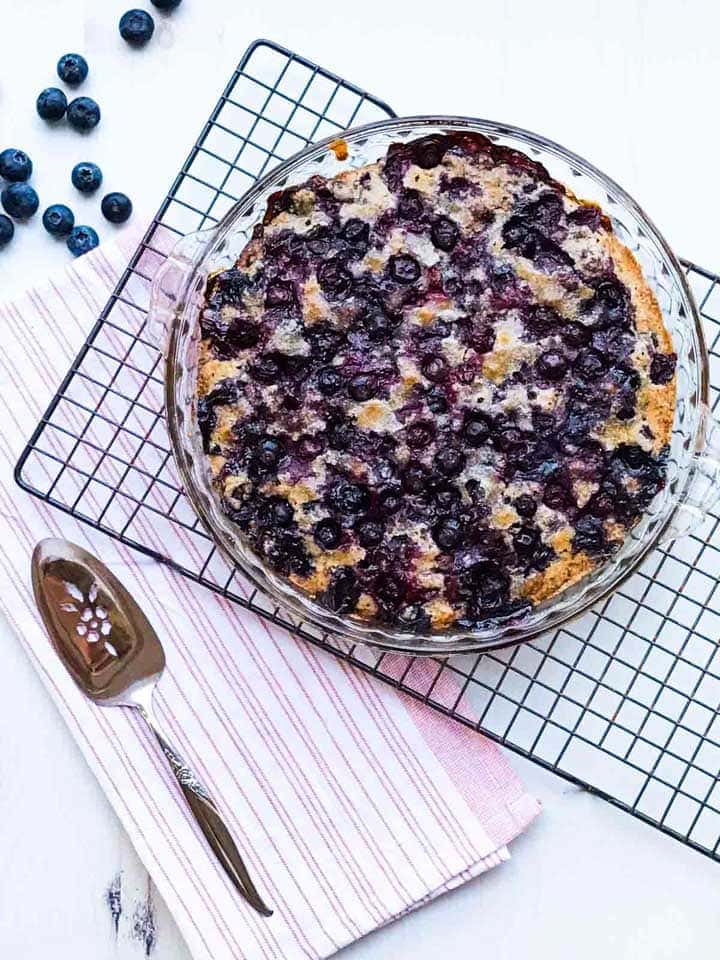 Ingredients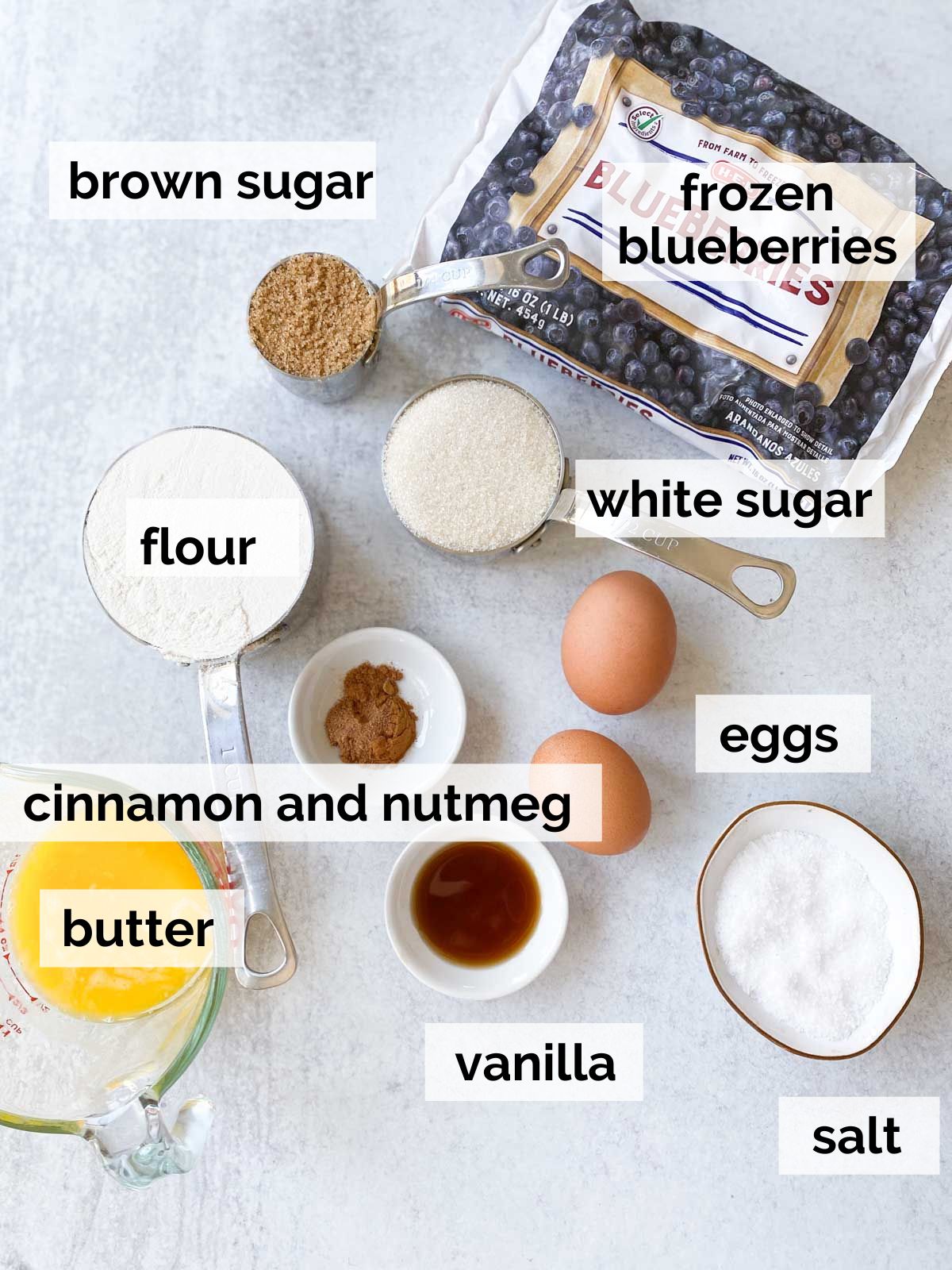 This no crust fruit pie is easy to make with a few simple ingredients you probably have in your pantry.
Frozen blueberries - Use regular frozen blueberries or a mixture of fresh and frozen, as stated above. If you like a more tart flavor, I recommend using half wild frozen blueberries and have regular.
All purpose flour - This can easily be substituted with Bob's Red Mill Gluten Free 1:1 flour with perfect results.
Granulated sugar and brown sugar - Jennifer's original recipe called for all white granulated sugar, but I found that a mixture of white and brown sugar took this to the next level. The edges are a bit more brown and crunchy, while the center stays gooey, like a traditional pie. Most blueberr
Unsalted butter - I like to use a really good quality butter like Kerrygold for this recipe. Since the butter is melted, it's easy to add your favorite dairy free butter substitute like a pressed oil or even coconut oil.
Eggs
Vanilla extract
Cinnamon and a pinch of nutmeg
How to Make a Crustless Pie
Preheat the oven to 350 degrees Fahrenheit or 180 Celsius.
Step 1: Mix dry ingredients. Add flour, sugars, salt, cinnamon, and nutmeg to a bowl. Stir to combine.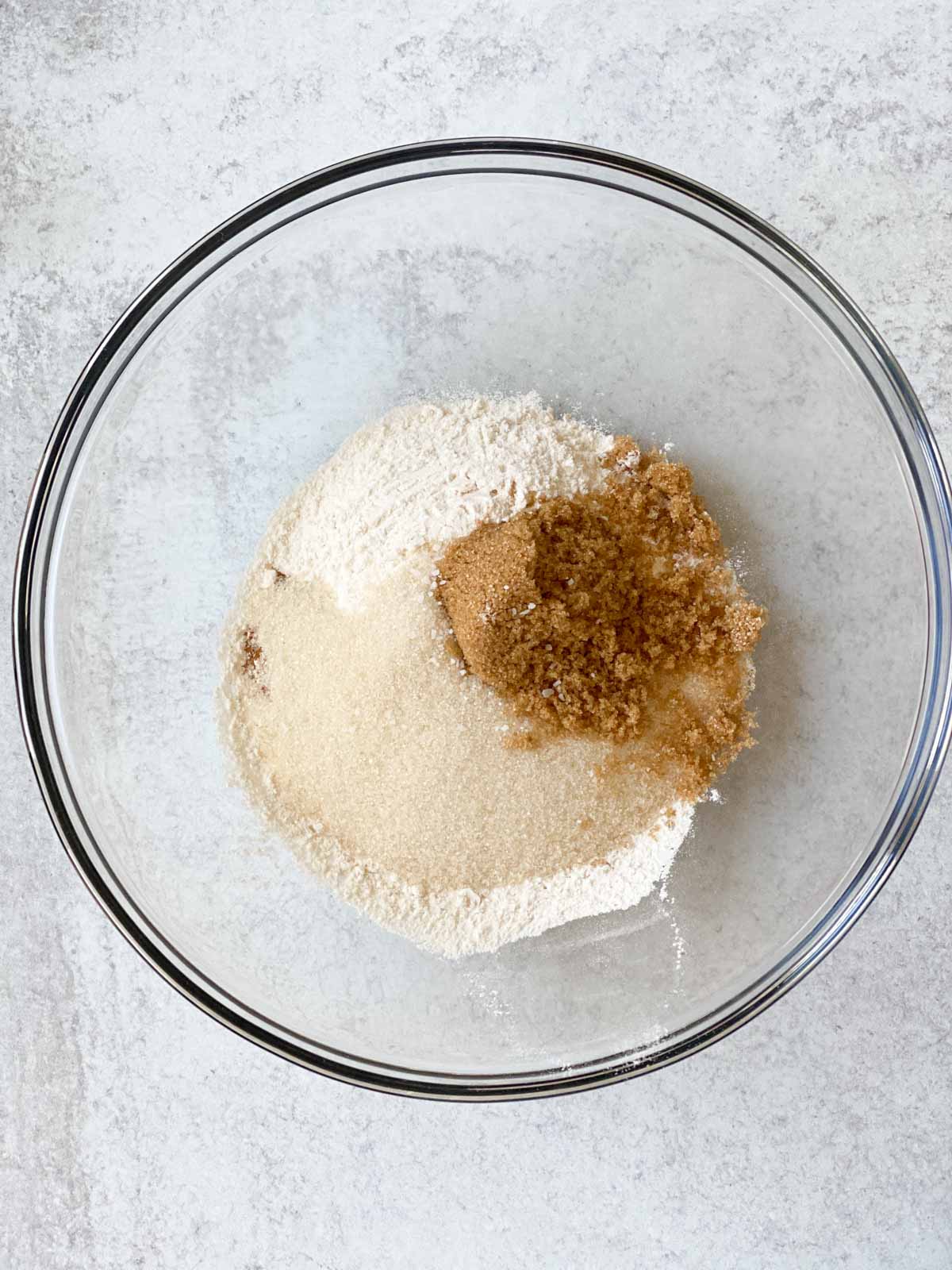 Step 2: Combine wet ingredients. I like to melt the butter in a small bowl, then use that to add in the eggs (once butter has cooled), whisking with a fork till smooth. Stir in the vanilla and pour the mix into the dry ingredients.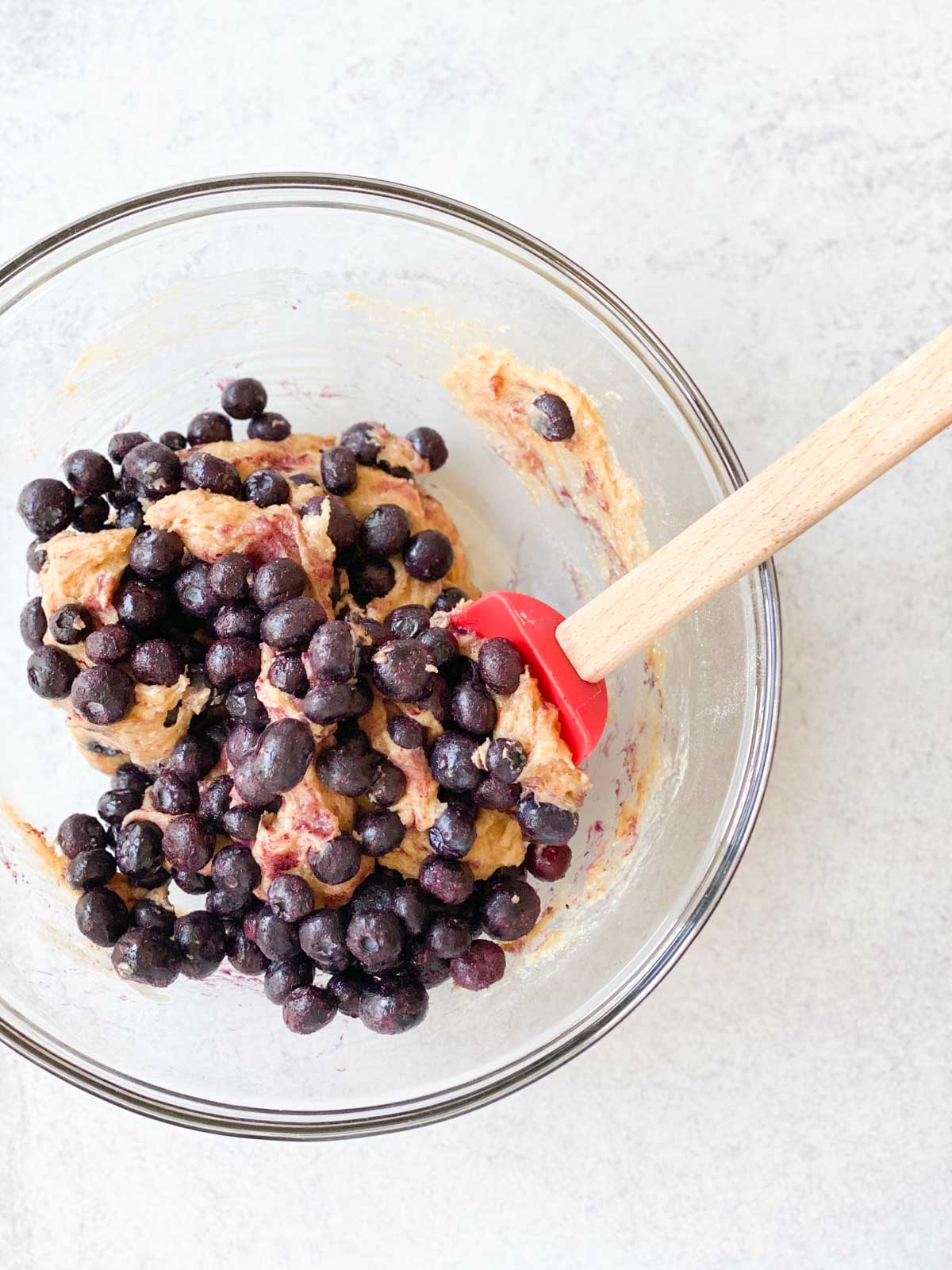 Step 3: Stir in frozen blueberries. With a spatula or wooden spoon, stir in the frozen blueberries. The mixture will "seize" up a little bit as the butter cools, just keep stirring till the blueberries are evenly mixed through.
Step:4 Prepare the pie. Use a butter wrapper or extra to grease the inside of your glass pie dish. Pour in the blueberry pie mixture and spread to the edges, using your spatula.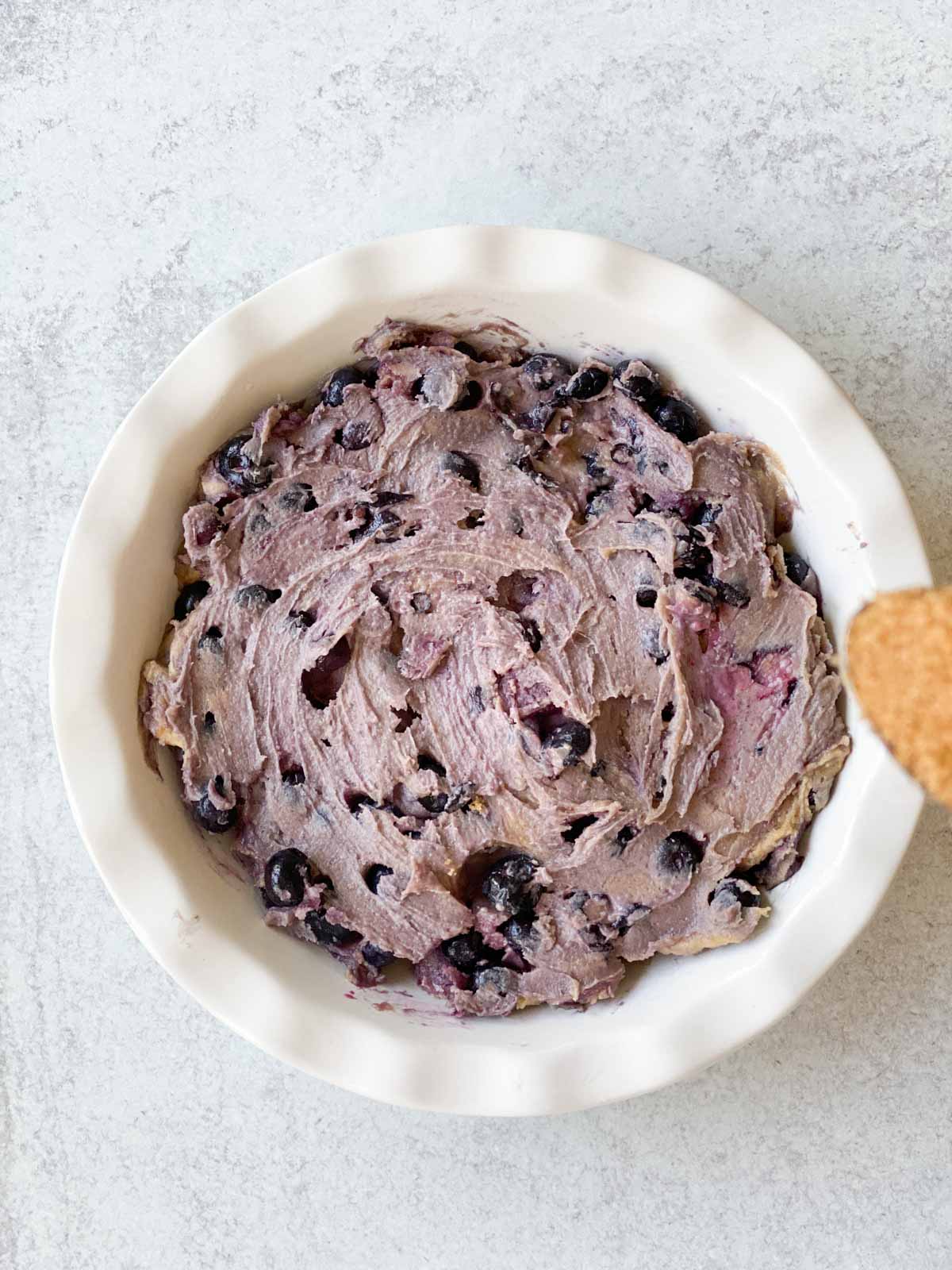 Step 5: Bake! Bake for about 50-60 minutes until the edges are golden brown and a toothpick inserted into the center comes out with just a few moist crumbs (not wet).
Allow the pie to cool for about 5-10 minutes before slicing and serving.
Recipe Tips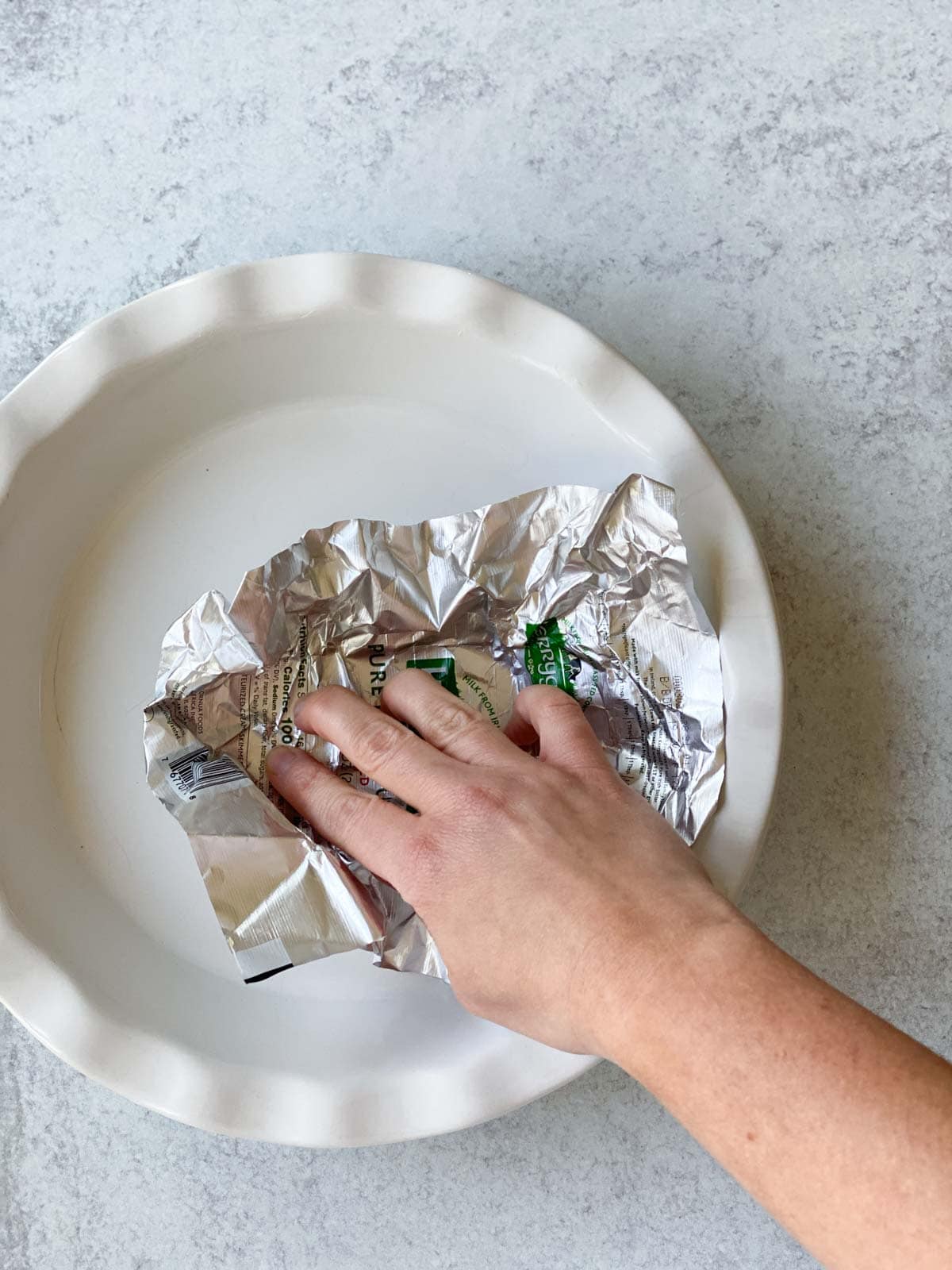 Greasing the pie dish well will make it much easier for you to remove slices. It is worth the extra effort.
For a mixture of sweet and sour, use half regular berries and half wild blueberries.
I have tested this with both gluten free and regular flour. The only difference is sometimes the gluten free takes a bit longer to bake!
Storage Instructions
This crustless blueberry pie stores extremely well!
To store - Once the pie has cooled, cover with a wrap and keep out at room temperature for up to a day. After that, store in the fridge.
To freeze - Place the whole pie in a large ziplock freezer bag or a freezer safe container. Freeze for up to 3-4 months. To defrost, place in the fridge overnight, or leave out at room temperature for 3-4 hours. After defrosting, it may be a little more moist than if eaten immediately.
Serving Suggestions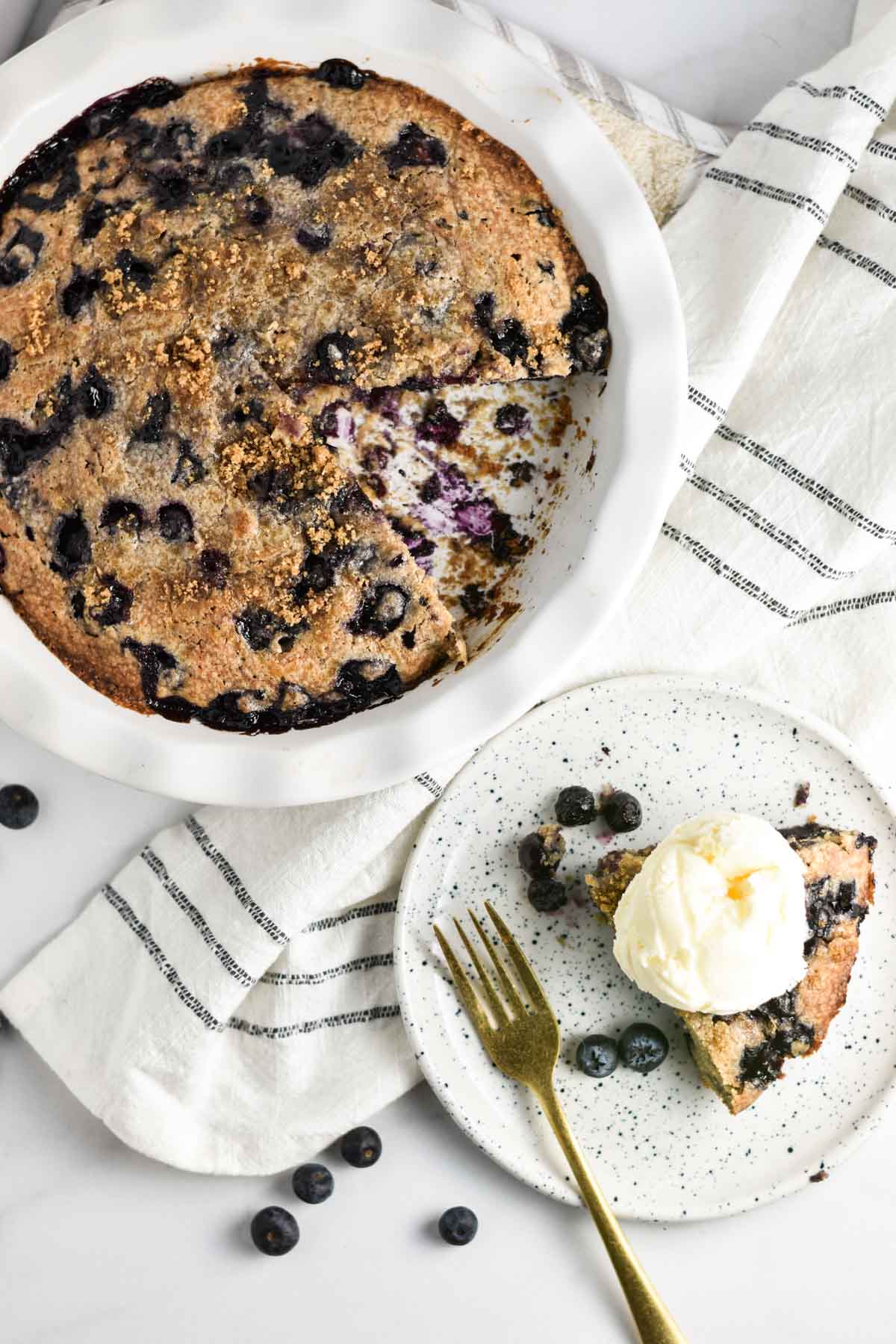 Like any homemade blueberry pie, this pairs extremely well with vanilla ice cream, but there are a few variations you could make with this.
Dust with powdered sugar for a more romantic or elevated look for dinner parties.
Top with a bit of fresh whipped cream and fresh blueberries.
Serve this warm with breakfast foods for a great brunch recipe.
Pair with salted caramel or strawberry ice cream for more unique flavors.
Frequently Asked Questions
Can I use another type of berry?
Yes! This crustless pie recipe would work with blackberries or strawberries, although I have not tested the moisture content of frozen strawberries. That is one you'd have to test yourself!
Should you grease a pie pan?
Always grease your pie pan before adding the filling. This will make it much easier for you to remove pieces after baking. It also helps to wait till the pie has cooled a bit before you begin cutting.
How do I know my pie is done baking?
The pie should be golden brown around the edges and lightly on the top. The surface should be firm, and when a toothpick is inserted into the center, it should just have a few crumbs, but not any thick moisture. Because this pie uses frozen berries, it does take longer to bake.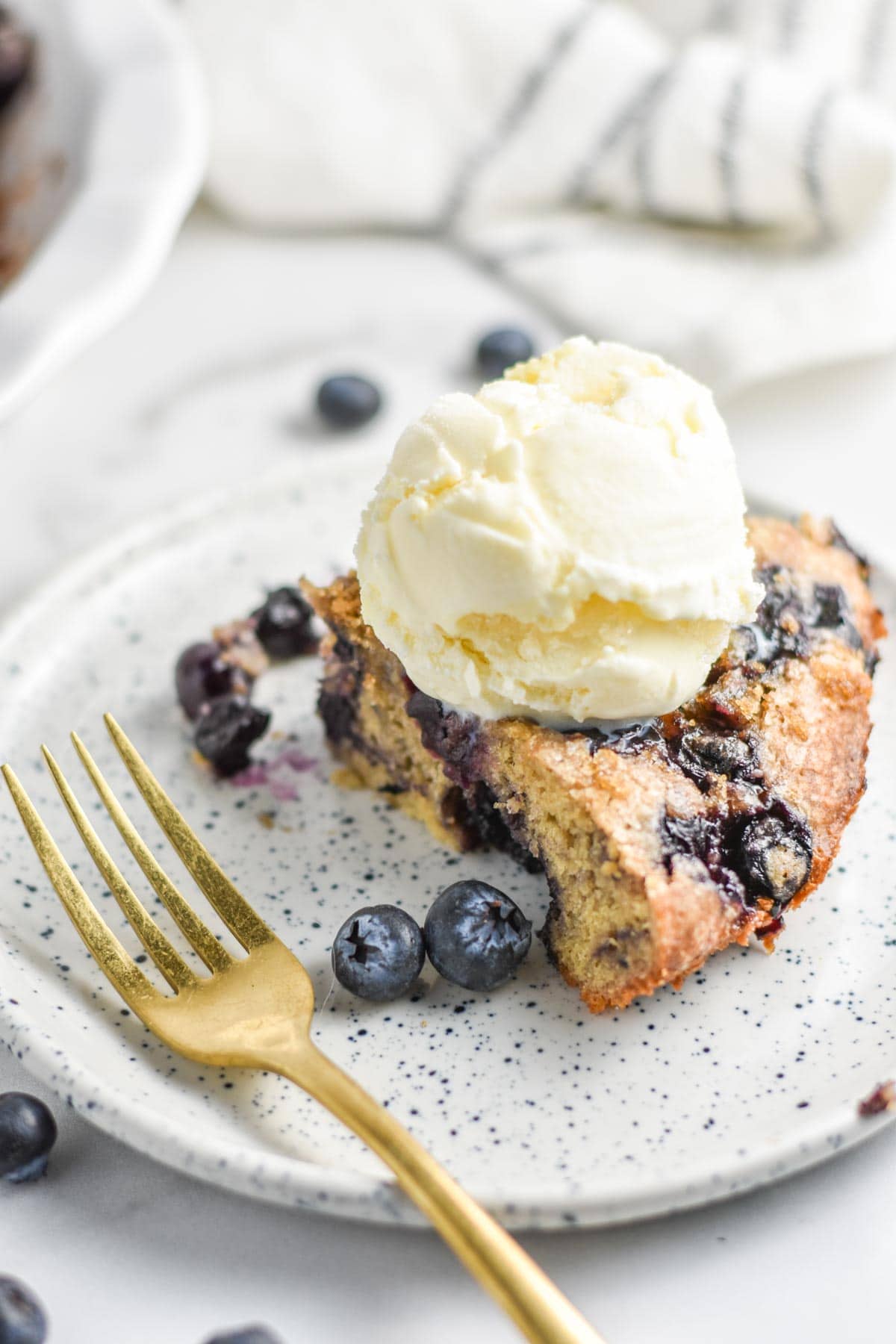 Berry Dessert Recipes
For another great crustless pie, check out my Crustless Chicken Pot Pie recipe! And don't miss out on the below berry desserts.
If you make this, tag me #thedizzycook or @thedizzycook on Facebook and Instagram. And if you love the recipe, please leave a review below! Follow along on my Pinterest for more great recipes.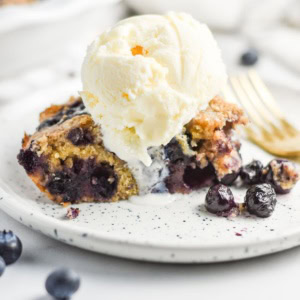 Crustless Blueberry Pie
No rolling out dough and worrying about it being perfect, this blueberry pie without the crust is simple, easy, and delicious for a dessert your company will love year round.
Print
Pin
Rate
Ingredients
1

cup

all purpose flour

½

cup

white sugar

¼

cup

brown sugar

½

teaspoon

ground cinnamon

pinch of nutmeg

¼

teaspoon

salt

½

cup

unsalted butter, melted

2

large eggs

1.5

teaspoons

vanilla extract

2 ¼

cups

frozen blueberries

1

tablespoon

brown sugar for topping
Instructions
Preheat oven to 350F. Use a butter wrapper to grease the inside of a 9-inch round pie dish. Set aside

In a large bowl, add flour, sugars, cinnamon, nutmeg, and salt, and whisk to combine. In a medium bowl add the melted butter (melt in the microwave about 30 seconds). Wait for the butter to cool before mixing in the eggs to avoid cooking them. Add the eggs, vanilla extract, and whisk with a fork.

Pour the wet mixture into the dry and stir to combine. Add frozen blueberries, stirring till blueberries are mixed through evenly. The dough might get a bit difficult to stir, but just keep stirring and it will loosen.

Pour batter into the greased pie dish. Sprinkle 1 tablespoon sugar over the top. Bake for about 50 to 60 minutes, or until edges are slightly brown and a toothpick inserted in the center comes out clean or with a few moist crumbs but no batter.

Allow pie to cool before slicing and serving. Serve with whipped cream or vanilla ice cream.
Notes
Gluten free all purpose flour can be substituted in this recipe, however, I find this sometimes increases the baking time needed.

You can also use fresh blueberries - I have used 2 cups fresh and ¼ cup frozen. You can also mix regular blueberries and wild blueberries for a more tart flavor.

Store at room temperature for 1 day and then transfer to the fridge or freezer.
Nutrition
Serving:
1
slice
|
Calories:
275
kcal
|
Carbohydrates:
37
g
|
Protein:
3
g
|
Fat:
13
g
|
Saturated Fat:
8
g
|
Polyunsaturated Fat:
1
g
|
Monounsaturated Fat:
3
g
|
Trans Fat:
1
g
|
Cholesterol:
71
mg
|
Sodium:
20
mg
|
Potassium:
78
mg
|
Fiber:
1
g
|
Sugar:
23
g
|
Vitamin A:
437
IU
|
Vitamin C:
4
mg
|
Calcium:
22
mg
|
Iron:
1
mg
This recipe was originally written in April 2019 and was updated May 2022 with recipe adjustments for all frozen blueberries, process photos, and recipe tips. Below are the original photos by Jennifer Bragdon.