The easiest pie you can make without the hassle of rolling out the dough. This crustless blueberry pie is filled with lots of fresh blueberries, and is simple to make in a pinch!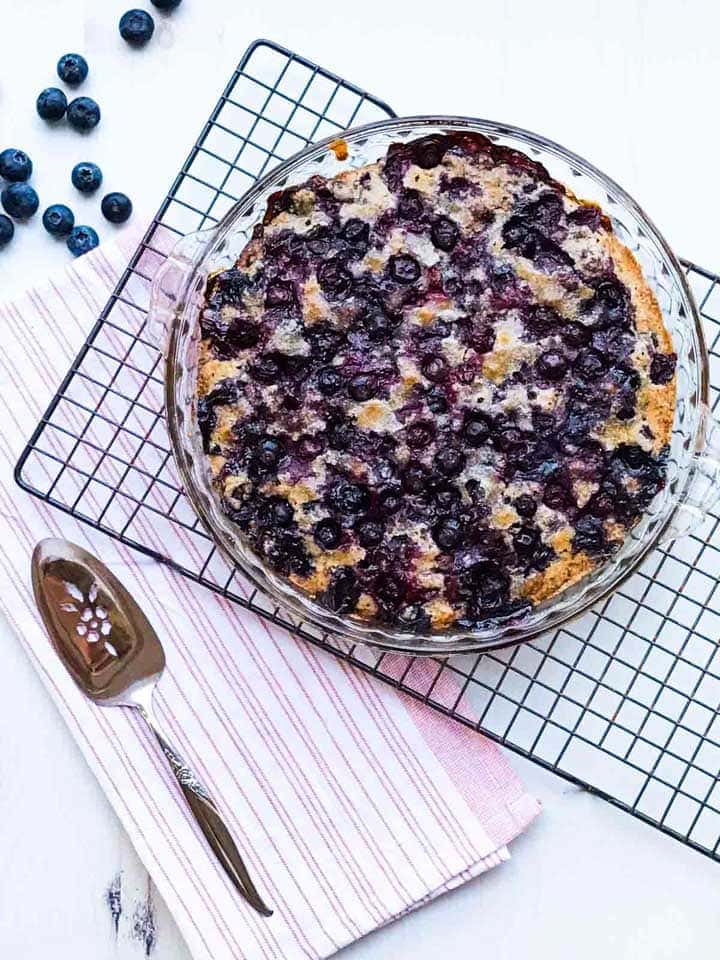 Blueberry Pie... without the crust!!
This week my beautiful niece came to stay with my guy and me for a few days and we decided to try something new. Together we made this crustless blueberry pie and the result was a hit. It's full of cinnamon and gooey blueberry flavor. While it is different than the traditional pie, it is not cakey or bread like at all, especially by day two.
Fresh or Frozen Blueberries?
I personally like to mix fresh and frozen blueberries because of some flavor differences, as well as color preference. When using frozen blueberries, the pie tends to take on a darker color. Since I like for the color to be varied (like it would be with a brown crust), I think the mixture is just the right amount.
Frozen wild blueberries tend to be more tart, so I love the compliment they bring to sweet, fresh blueberries. You can always use all of one or the other, it is just a flavor preference.
Entertaining with a Migraine Disorder
There's no doubt that having house guests can be a disruption to your routine with the entertaining and extra cleaning that sometimes needs to happen before and after their visit. It's important to remember that your guest is experiencing a disruption in their routine as well and may be going through a bit of stress themselves. In spite of this, I firmly believe having a houseguest can be super fun and even relaxing. Here are some tips to help you avoid experiencing a migraine attack and instead enjoying every minute of their visit.
Stick to your sleep routine - This is such an underrated strategy. Sleep is critically important if we want to stay attack and pain free. Migraine brains like consistency so stick to your routine of getting good quality sleep, even if it means you head off to bed a bit earlier than your guest.

Stay hydrated - Another underestimated treatment strategy is drinking enough water throughout the day. Dehydration is one of the top migraine triggers.

It takes an average of 64oz to 80oz of water to replace what your body loses every 24 hours. Do your best to keep yourself hydrated during your guests visit. You don't want to trigger an attack simply because you're thirsty.

Continue following your diet - This one can be tough when you're cooking for additional people or heading out for meals. Just do your best to choose safe foods where you can. Often a simple explanation of your dietary limitations will do. My house guest was aware of my limitations and was more than willing to eat home cooked meals and visit restaurants that were head-friendly.

Go easy on the alcohol - I avoid alcohol completely when I have company, however I do understand that some people enjoy having a drink with friends and family. If you're one of them, consider limiting your drinks to just one. You can also choose the safest alcohol for those with migraine which is vodka and white wine.

If you want to go even safer with your drink choice, consider trying a wine wand.

Pure Wine is a company based out of Texas that created a patented filter that eliminates the histamines and sulfites in wine. Right now they are offering 15% off to Dizzy Cook readers with code thedizzycook so it's the perfect time to give it a try.
Plan some time for yourself- You don't have to entertain your guest every minute.

Remember they'll most likely enjoy some time to themselves as well. Try Alexa 3 minute meditations or the Calm app when you need a minute to relax and regroup.
Don't overdo it- It's ok if you don't participate in every activity. When my niece was visiting, it was my turn to post a blog on Migraine Strong. My niece went out to dinner with my guy that evening while I stayed behind to finish up working. This gave them a chance to eat anywhere they wanted. It also gave me a block of time to get a few things done. (I do admit I missed them though.)
Plan an easy meal that you can make for a crowd. Something that doesn't require a ton of work. Throwing a roast into a crockpot will allow you to spend the day having fun without the burden of coming home to cook afterwards. Here's a crockpot meal I enjoy.
Organize early so that you can avoid a stress let down attack. Clean, wash sheets, organize the room they are staying in etc. over the course of a week before they arrive so you don't get overwhelmed preparing for their visit.

It helps to make a list of things that need to be done to be sure you've covered everything.

Plan, plan, plan, but also be ok with going with the flow. If you have a plan, stress is less likely to creep up than if everyone is looking to you, with boredom in their eyes, for ideas on what to do and you have nothing. Have a few plans and food ideas ready for suggesting.
Most importantly remember to have some fun with your houseguest. My niece was so helpful with household chores during her visit by adding dishes to the dishwasher, letting the dogs outside etc. I wasn't stuck cleaning for half the day and honestly, does it really matter if there is a dish in the sink as long as you had a good time that day? Don't sweat the small stuff, get out, have fun and enjoy every minute of your family or friends.

- xo, Jennifer Bragdon
For more of Jennifer's recipes, check out The Dizzy Baker section.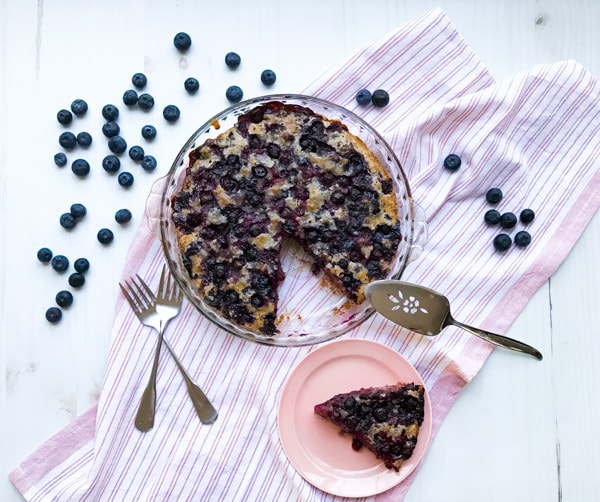 Crustless Blueberry Pie
No rolling out dough and worrying about it being perfect, this blueberry pie is simple, easy, and delicious for a dessert your company will love year round.
Print
Pin
Rate
Ingredients
1

cup

all purpose flour

*King Arthur has a good one

¾

cup

granulated sugar

1

teaspoon

ground cinnamon

¼

teaspoon

salt

½

cup

unsalted butter, melted

2

large eggs

1.5

teaspoons

vanilla extract

2 ¼

cups

fresh blueberries (I used 1 ¾ cup fresh and ¼ cup frozen)

1

tablespoon

granulated sugar
Instructions
Preheat oven to 350F. Use the wrapper of the butter to grease a 9-inch round pie dish set aside.

In a large bowl, add flour, ¾ cup of sugar, cinnamon, salt, and whisk to combine; set aside. In a medium bowl add the melted butter (I heated my butter in the microwave for about 45 seconds.) Wait for it to cool off before adding the eggs to avoid cooking them. Add the eggs, vanilla extract, and combine with a fork.

Pour the wet mixture into the dry and stir to combine. Add 2 cups blueberries and stir to combine. (I used about 1 ¾ cups fresh berries and a ¼ cups frozen wild blueberries for tartness)

Pour batter into a glass pie dish. Sprinkle ¼ cup fresh blueberries over the top. Sprinkle 1 tablespoon sugar over the top. Bake for about 50 to 60 minutes, or until edges are slightly brown and a toothpick inserted in the center comes out clean or with a few moist crumbs but no batter.

Allow pie to cool before slicing and serving. Serve with whipped cream or vanilla ice cream. Pie will keep for up to 5 days.
Notes
Gluten free all purpose flour can be substituted in this recipe, however you may need to increase the baking time.
Nutrition
Serving:
1
slice
|
Calories:
279
kcal
|
Carbohydrates:
39
g
|
Protein:
3
g
|
Fat:
13
g
|
Saturated Fat:
8
g
|
Cholesterol:
71
mg
|
Sodium:
91
mg
|
Potassium:
64
mg
|
Fiber:
2
g
|
Sugar:
25
g
|
Vitamin A:
436
IU
|
Vitamin C:
4
mg
|
Calcium:
17
mg
|
Iron:
1
mg