These classic gingerbread cookies are so charming and fun to make. The dough is super soft without being too crumbly or too sticky and the cookies come out soft in the center, crispy on the outside and perfectly spiced.
This recipe and post is from The Dizzy Baker Jennifer Bragdon. It was posted in December 2019 and has been updated for 2020 with new tips.
Surviving Holiday Stress When You Have Chronic Illness
When I first began to feel better after being housebound for many months with daily dizziness caused by vestibular migraine, I remember feeling overwhelming grateful. I was able to do even the simplest things like running errands which, before I was sick, was honestly more annoying than anything else. The first time I stood in line at the post office (a chore I once hated) I was screaming inside…I'm at the post office! Picture me with arms out, twirling with happiness through the place. Seriously though, when you're not able to complete the simple tasks that come along with life it's devastating. There is no better feeling in the world than getting those abilities back and feeling pure joy just to be able to do chores! Ha!
Since then every year I try to intentionally relish in the holidays and remember that grateful feeling. The holidays involve SO many chores and they move so quickly. I try to do everything I can to really enjoy them. Slowing down, cherishing my friends, delighting in my family and noticing the little joys all around me helps. I even create an unofficial bucket list of things I'd like to accomplish during the holidays. Consider creating your own holiday bucket list to help keep yourself focused on the delightful moments of the season. Here is a short list to help you get started.
Create a holiday playlist and play it on repeat. Do They Know It's Christmas has to be the best holiday song ever written, but I also love Snowed In by Hanson. Yes, Hanson! Don't judge me. Their mix of O Holy Night is SO good! Now I have to pause and go play them. Anyway, Wham and Mariah made my playlist too. Who's on yours?
Wear your ugly Christmas sweater. Someone out there is going to think it's cute!
Sip warm apple cider with cinnamon in your comfiest jammies while listening to a juicy holiday themed book on audible.
Donate a gift for someone less fortunate or suffering around you.
Mail out holiday cards. I know it's just one more thing to do. But everyone enjoys finding a personal note in their mailboxes and I can't bear to see this sweet tradition die.
Complete a random act of kindness. It doesn't have to cost a penny. Hold the door open for a stranger or write a thank you card for your postman.
Go see the best light display in your town. It's such a delightful way to connect with friends and spark the spirit of the holidays.
Eat the candy canes. Most are safe on the HYH diet and it will bring back a yummy treat from your childhood.
Hand make a Christmas decoration. It doesn't have to be complicated. I'm making candy cane wreaths for my cubicle at work.
Bake festive cookies and start with these!
This classic gingerbread cookie recipe always reminds me about creating Christmas traditions with kids. Although chronic illness can rob us of so many things, developing these new traditions together can bring a little joy back into our homes. I personally find baking to be very healing process that takes my mind off of any symptoms or pain I'm experiencing that day. By doing a fun activity like this one together, you can create new memories.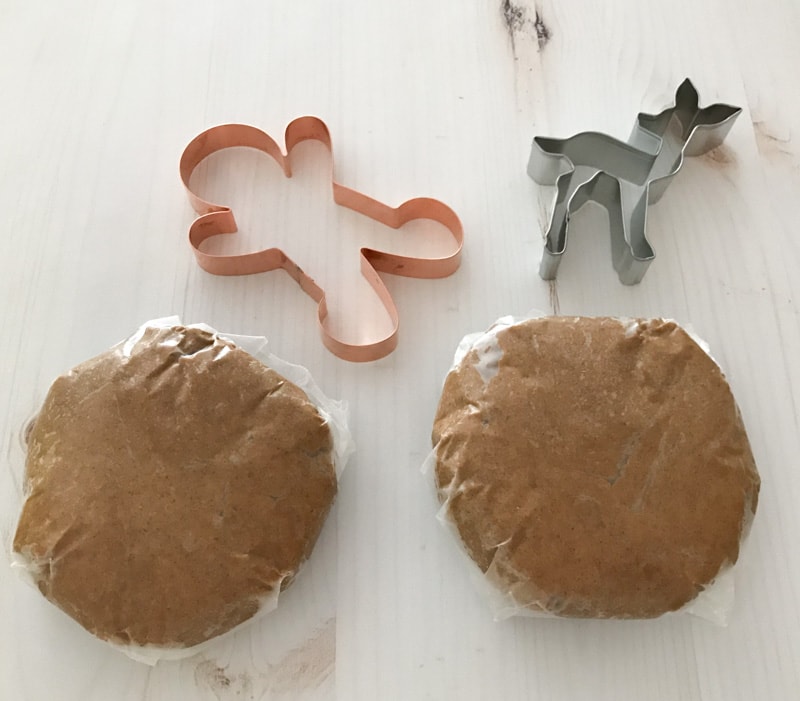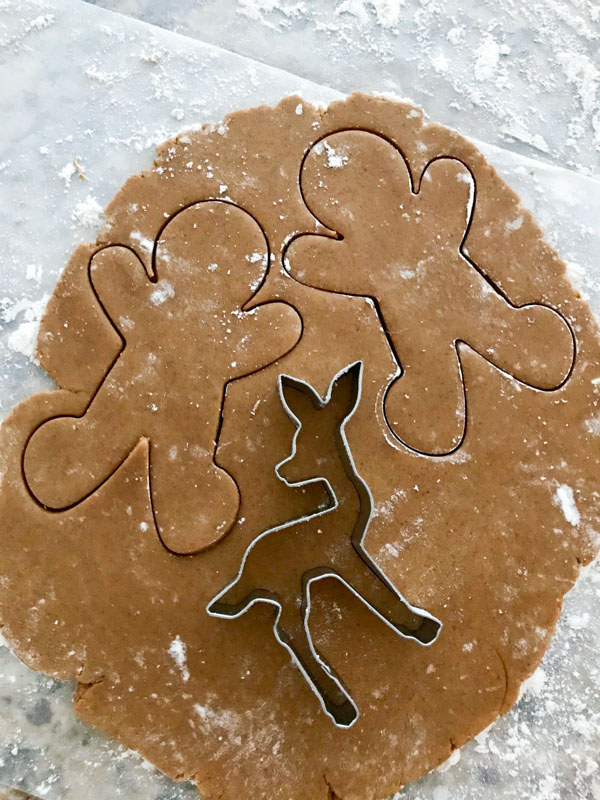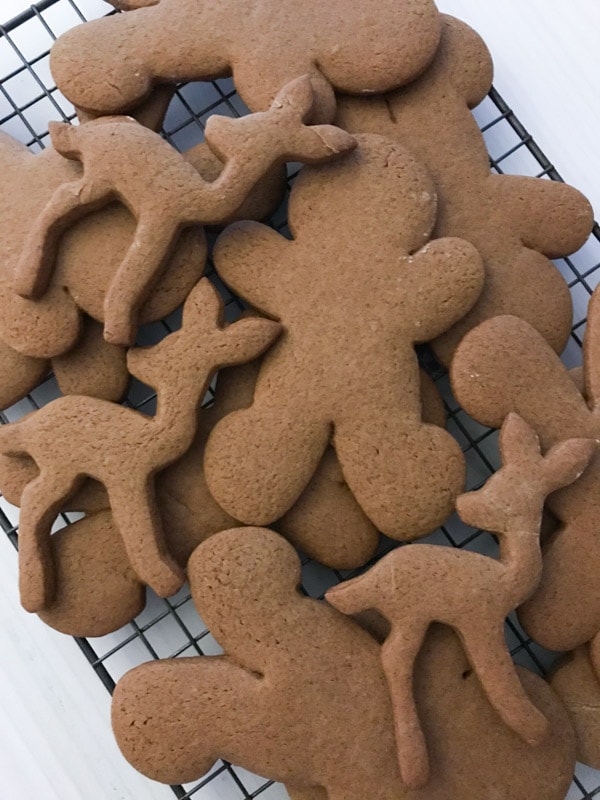 Baking Tips
Conserve space and make as many cuts per roll as possible so you don't overwork the dough.
You can make and freeze or if you enjoy fresh baked cookies cut and freeze the dough.
Invest in fun cookie cutters that you'll use year after year.
Add a teaspoon of maple syrup to the icing for a flavor variation.
To soften butter faster, cut it into cubes.
You can make the dough ahead of time but it will be firm if kept in the fridge overnight so leave it on the counter a while before attempting to roll it.
These make great treats for parties or neighbors. Package them in a cute holiday tin or wrapped in clear pouches with a festive ribbon.
Gluten Free Gingerbread Cookies
These classic cookies can be made gluten free with Bob's Red Mill 1:1 Flour. The baking times may change ever so slightly, so keep an eye on them as they bake.
For the other specific ingredients:
Decorating the Cookies
The icing recipe is a classic one that involves powdered sugar and corn syrup, which hardens as it dries. The recipe I give you makes much more than you'll need. I included enough for you to completely cover the cookies if you'd prefer that look or if you will be decorating with kids and want to give them full creative license.
If you like a minimal look, like used in the photos, consider cutting this recipe in half.
Wishing each of you the happiest of holidays. Xo, Jenn
For more of Jennifer's delicious recipes, check out these posts.
More Holiday Cookies
If you love these classic gingerbread cookies, check out these other great holiday cookies.
Salted White Chocolate Cookies
White Chocolate Oatmeal Cookies
Honey Spice Cookies
Snickerdoodle Blondies
Gluten Free Snickerdoodles
Salted Caramel Cookies
Classic Gingerbread Cookies
These classic gingerbread cookies are the perfect holiday treat. The dough is easy to work with and lends itself to successful decorating! Crisp on the outside and soft on the inside.
Print
Pin
Rate
Ingredients
10

tablespoons

quality unsalted butter, softened to room temperature

3/4

cup

packed brown sugar

1/2

cup

unsulphured molasses

1

large egg, room temperature

1

teaspoon

vanilla extract

3½

cups

all purpose flour

1

teaspoon

baking soda

1/2

teaspoon

salt

1

tablespoon

ground ginger

1

tablespoon

ground cinnamon

1/2

teaspoon

ground nutmeg

1/2

teaspoon

ground cloves
For the Gingerbread Cookie Icing (see note on portion size)
3

cups

powdered sugar

2-4

tablespoons

milk

2

tablespoons

light corn syrup

*

1/2

teaspoon

vanilla extract

Candies and Sprinkles for decorating

*
Instructions
In a large mixing bowl using a hand mixer on medium speed whip your butter until
light and fluffy. Add brown sugar and mix till combined. Then add molasses, egg, and vanilla and mix again until well combined, about 2 minutes. It's ok if the batter separates a little bit.

Now add the flour, baking soda, salt, and spices and continue to mix on medium speed until well combined. Separate your dough into two sections and wrap them in wax paper or cling wrap and place them in the fridge or freezer about 2 hours or until really cold.

Once your dough is cool, take out one section at a time and place it onto a large sheet of well-floured wax paper. Preheat oven to 350 degrees F. Add a little bit of flour to the top of the dough, rolling pin, and hands as well. Don't be afraid to use flour on top of the dough as it will disappear when baking.

Roll dough out into about 1/4 inch thick. I left mine a little thicker because my cookie cutter was pretty big so it was difficult to move thin dough to the cookie sheet. Watch your edges to make sure they're not too thin. Use the cookie cutter to cut into shapes, press the dough back together then roll out again and repeat.

Bake at 350° F for 9 to 12 minutes. Wait at least 5 minutes and transfer cookies to a wire rack to cool. Be sure your cookies are completely cooled before decorating.
For the Gingerbread Cookie Icing
Notes
The icing makes much more than you'll need. I included enough for you to completely cover the cookies if you'd prefer that look. If you like a minimal look consider cutting this recipe in half.
I used Golden Barrel Brand corn syrup and Wilton Holiday Mix for sprinkles
This recipe makes about 2 dozen cookies and they stay fresh in an air tight container, at room temperature for about a week.
Prep Time is about 3 hours. 1 hour to prepare and decorate and 2 hours to chill.
This cookie is not sturdy enough for gingerbread houses.