This guest post is courtesy of Jennifer Bragdon, our favorite baker! You can find all of her gluten free recipes here. I also encourage you to read her path to recovery. Jennifer is an administrator for one of my favorite migraine support groups, Migraine Strong, and a fellow vestibular migraine warrior.
Have you noticed that I never bake with brown sugar? I found out early on into Heal Your Headache that molasses makes me spin. Yep, molasses! Within an hour of eating them I feel like I'm rocking and bouncing. Even though it's not on the "avoid" list for Heal Your Headache, molasses is fermented and also contain a high level of sulfites, making it a no go for me. My mom knows what I sweet tooth I have and that in the beginning of my VM diagnosis, I was too sick to bake. Processed cookies from the grocery store were all on the "no list" of allowed foods. I heard that Trader Joes sold ginger snaps that contained ingredients that were head safe, so my mom made the trek over there and picked me up a couple of tubs of them. When I first started eating them, I honestly noticed no difference in my migraine symptoms, but back then I had ataxia every single day. Once I ran out of cookies, I had been on a low dose preventative medication for a few weeks and my daily symptoms were beginning to fade. My mom stopped by with a new delivery of cookies. I ate three of them and ataxia came rushing back. No more ginger snaps for me! About a week later, I was eating a bowl of organic granola cereal and again began to feel like I was rocking and dropping. I compared ingredients to the cookies and noticed molasses as being the only same ingredient. I tried them a couple more times to be sure and found the same results every time…molasses equal ataxia for me, bleh!
If molasses is not a trigger for you, you may want to use brown sugar here. Brown sugar adds a moisture and flavor depth to cookies that you just can't get with regular sugar. Luckily I prefer my oatmeal cookies crispy rather than chewy so regular sugar did work well in spite of the missing moisture. The result was a nice soft center with a sweet crispy edge – yum!
Some tips –
If you like a large thin cookie skip the dough chilling step.

Chilling the dough will allow the butter to firm back up creating a denser, thicker cookie that doesn't spread.
For chewy cookies bake about 12 minutes.

For crispy cookies bake up to 17 minutes.
Make sure you purchase old-fashioned rolled oats for this recipe and not quick cooking oats.

Quick cooking oats are pressed much thinner and won't provide the same soft, chewy texture in your oatmeal cookies.
For more info on what white chocolate is best for you to use, please reference this post.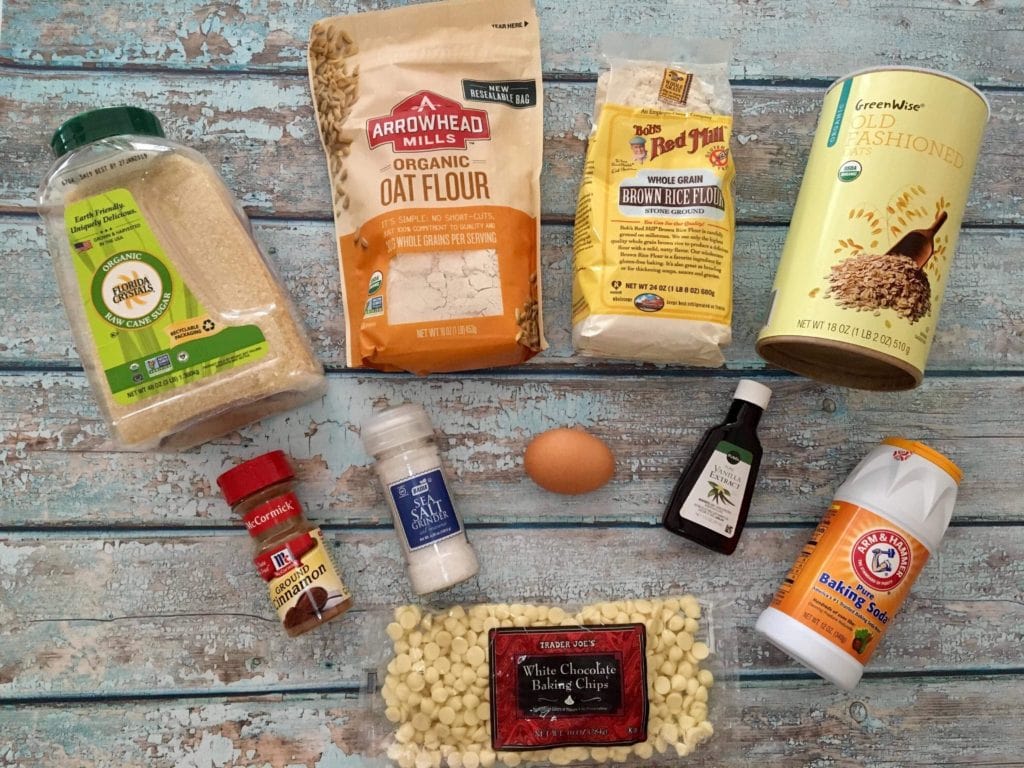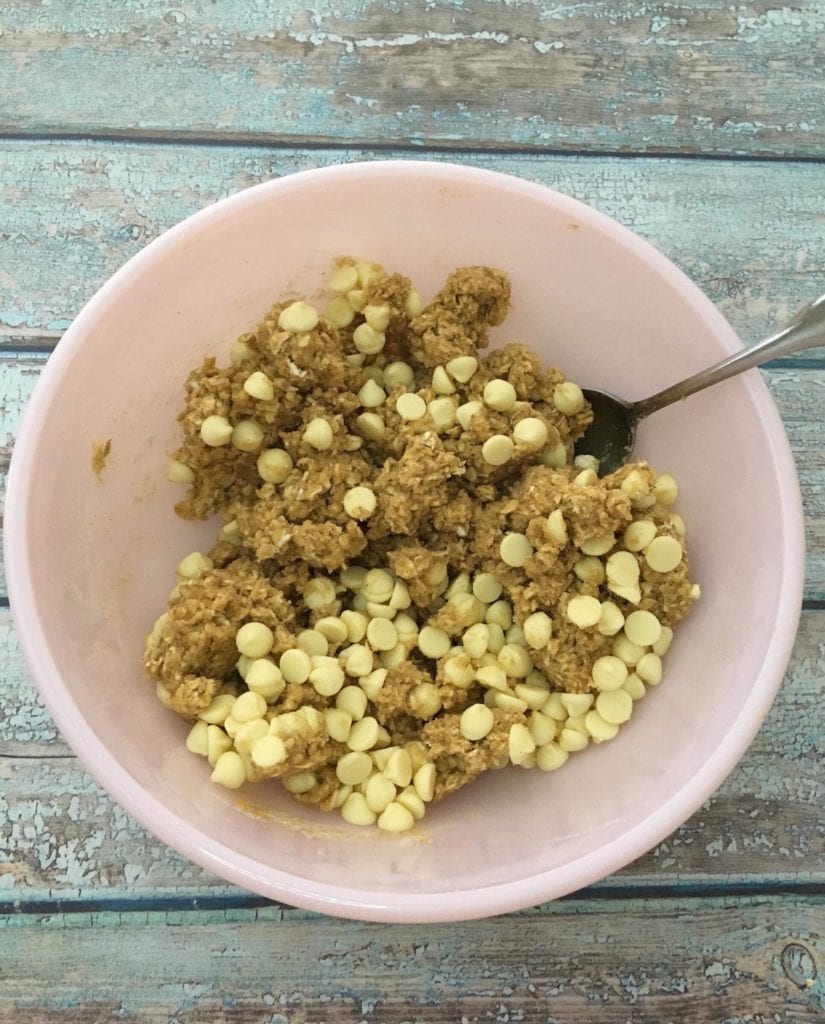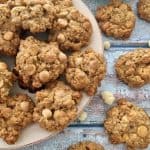 White Chocolate Chip Oatmeal Cookies - Gluten Free
Perfect for a quick and easy, gluten free treat, these cookies work well with both regular and brown sugar.
Keyword:
Gluten Free Cookies, Oatmeal Cookies, White Chocolate Chip Cookies
Ingredients
3/4

cup

rice flour

3/4

cup

oat flour

1

tsp

baking soda

1

tsp

ground cinnamon

1/2

tsp

sea salt

1

cup (8oz)

kerrygold unsalted butter, softened at room temperature

3/4

cup

natural cane sugar

optional use ½ cup brown sugar & ¼ cup natural cane sugar

2

large eggs at room temperature

2

tsp

vanilla extract

3

cups

gluten free rolled oats

2

cups

white chocolate chips
Instructions
In a medium mixing bowl, whisk flour, cinnamon, baking soda, and salt.

In a small mixing bowl add butter, sugar and vanilla. Add eggs one at a time, fully mixing between each addition.

I like to hand mix but you can use an electric mixer on low and add wet ingredients to flour mixture, mix until combined.

Add oats mix thoroughly then add chocolate chips. Mix until just combined.


Chill dough in the fridge for an hour (optional, but yields better results). Preheat oven to 350 degrees.


Using a small cookie scoop or table spoon, place cookies on baking sheet about 2" apart.

Bake for 12 -17mins or until edges are lightly browned.

Cool for 5 minutes on baking sheet, then transfer to cooling rack to cool completely.