This slow cooker pork shoulder is my absolute favorite way to make pulled pork without bbq sauce. A super easy combination of seasonings mixed with garlic and shallots provides a ton of flavor, while cooking low and slow makes the meat super tender and juicy.
It's hard to resist a good slow cooked pork shoulder, especially when served in a bun for a summer sandwich. It is a great recipe for meal prepping and is super freezer-friendly.
This crock pot pork shoulder is one of my favorite recipes for warmer months. It keeps the kitchen cool without the need to turn on the oven, but pairs so well with summer salads and creamy coleslaw.
The secret to an ultra tender pork shoulder is to cook it on low and use the perfect spice blend. No BBQ sauce is needed!
You'll love this slow cooker pulled pork recipe because:
Super easy - just throw everything into the crock pot and forget about it for 8 hours.
Lower sugar - This recipe does not require BBQ sauce, which can add a lot of extra sugar (almost half a cup versus 1 tablespoon).
It's so tender - Thanks to cooking low and slow!
Jump to:
Pork Shoulder Roast in the Crock Pot
There are two types of cuts of pork that work best with pulled pork - pork shoulder and pork butt. Both come from the shoulder area of the pig. Pork butt is also known as "Boston butt" and is generally more fatty. In this recipe, I use boneless pork shoulder roast because that always seems to be easiest for me to find. It generally comes wrapped with twine to keep it together.
Both pork shoulder and pork butt are pretty tough and fatty cuts of meat, which requires slow cooking. This allows the meat to fall apart, becoming tender and flavorful as it cooks.
Ingredients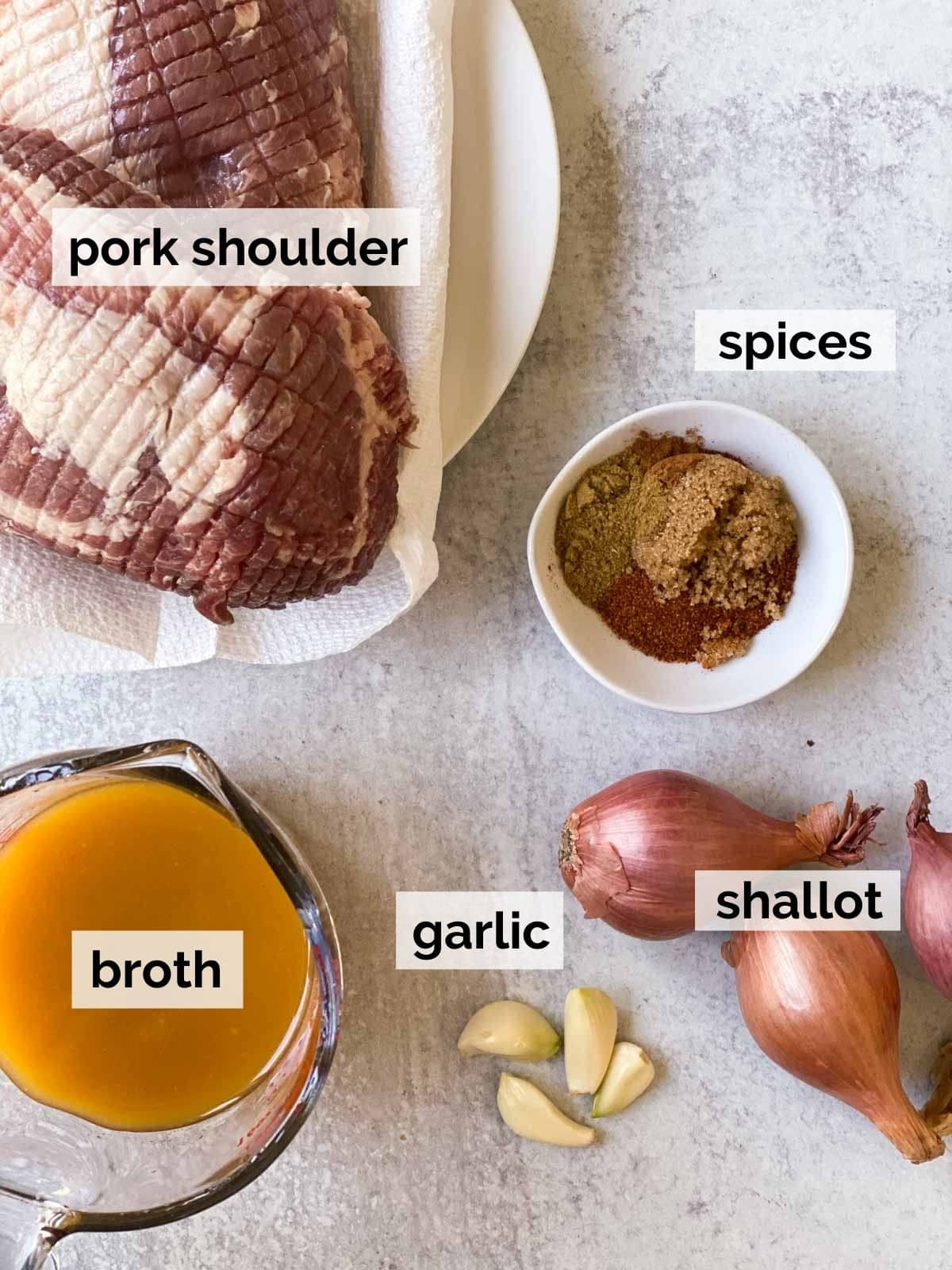 Not much is needed for this slow cooked pork shoulder, but here are some highlights of the necessary ingredients.
Pork Shoulder - This can also be substituted with pork butt, as discussed above. You can use boneless or bone in. For bone in, I recommend anticipating a longer cooking time of 1-2 hours. You'll know it's ready when it falls off the bone easily. A 3-4 pound pork shoulder will serve about 6-8 people depending on if you're making sandwiches or using for other recipes. Keep in mind that while it seems like a lot of meat, it does shrink up as it cooks.
Spices - I like to use a chili powder without cocoa or onion powder included, like Frontier or Morton & Bassett. You already have plenty of onion flavor with the shallot. Just a touch of brown sugar is needed to cut the natural saltiness of the pork.
Broth - I recommend using a vegetable broth for this recipe rather than a beef or chicken broth. It adds just enough flavor!
Step by Step Process
Step 1: Add garlic and shallots. Place them in a single level at the bottom of the slow cooker. Set to "Low" heat.
Step 2: Add pork shoulder. Pat it dry with paper towels and add the pork shoulder roast to the crock pot on top of the garlic and shallots. If your pork shoulder is wrapped in netting, feel free to remove it. Sometimes lying flat can help everything cook more quickly. (Picture 1)
Step 3: Mix the seasoning. Mix together the seasonings and pat on top of the pork shoulder, making sure it's evenly coated.
Step 4: Add broth. Add a cup of broth to the slow cooker, pouring all along the edges and not over the top, so the seasoning stays on the pork shoulder. (Picture 2)
Cook on low for 8-10 hours. I recommend avoiding cooking on high if you can, you'll get best flavor and texture on low. However, if you must, I recommend cooking on high 6-8 hours. (Picture 3)
Step 5: Shred the meat. When it's done, the pork shoulder will shred easily with two forks. Remove the meat from the liquid in the slow cooker if you don't intend to serve immediately. (Picture 4)
Storage and Freezing
This pulled pork shoulder will keep up to 3-4 days in an airtight container in the fridge.
For the refrigerator - Separate the pork from the liquid in the crock pot. The liquid will collect a lot of fat which will harden when cooled. To separate it, pour the liquid into a glass container and place in the fridge. Once it has cooled, a thick cream-colored layer will form on top of the liquid. This is the fat. Simple use a spoon to remove it, and pour the rest of the liquid over the pork before eating.
For the freezer - Place the pork into a freezer-safe bag or container. Freeze flat for up to 4 months. To defrost, place in the fridge overnight. To quickly defrost, place the bag (make sure it is fully sealed) in warm water for 30 minutes.
Serving Suggestions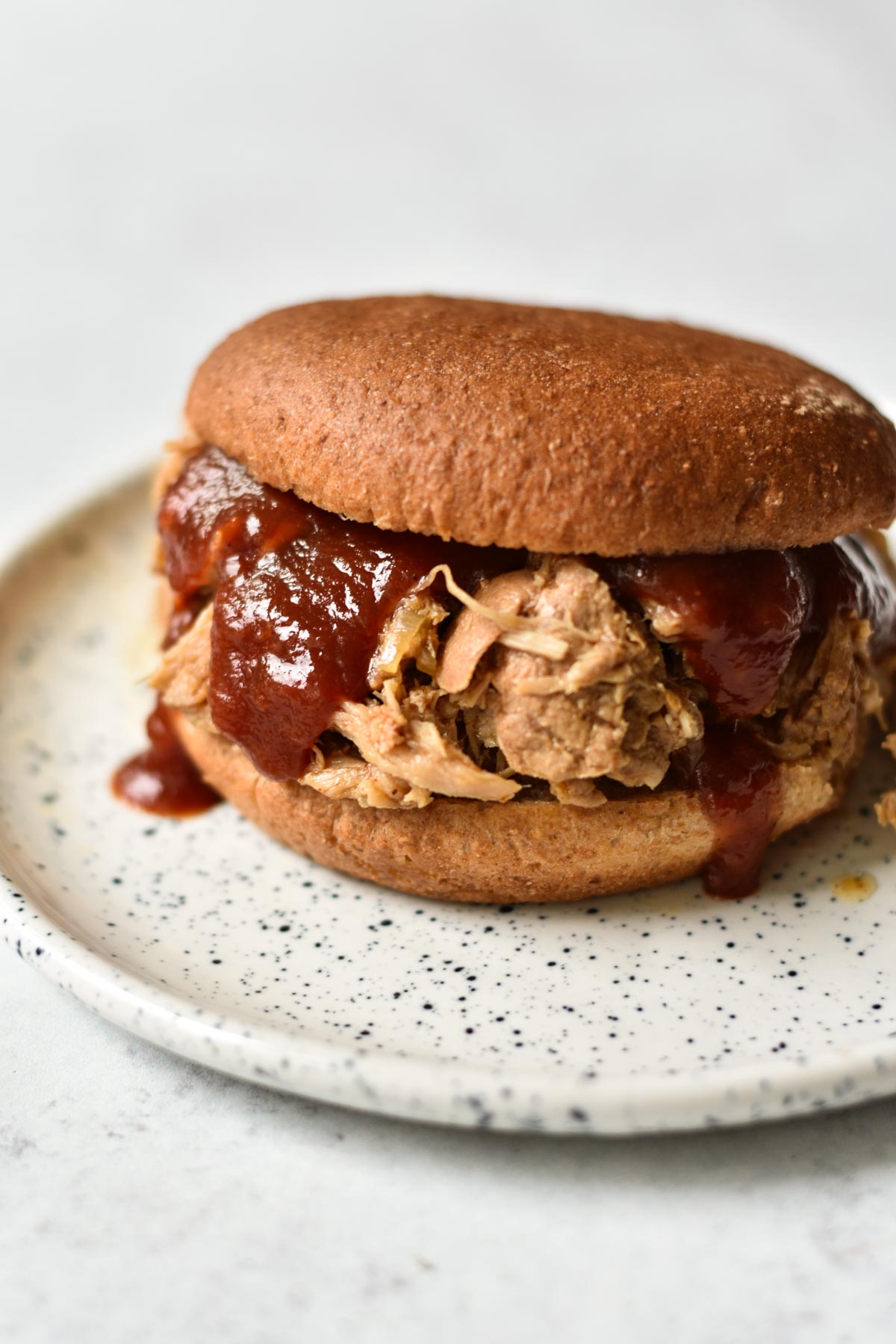 This recipe works great with so many different meals. Here are a few different ways you can transform this crock pot pork shoulder, along with some side dish ideas.
Pulled Pork Tacos - serve with tortillas, lettuce, fresh cheese, and sliced radish.
Pulled Pork Sandwiches - serve on Martin's potato bread, or your favorite burger buns with a homemade BBQ sauce. I have a recipe in my cookbook and a North Carolina vinegar-based BBQ sauce below.
Pork Quesadillas - serve this in between two tortillas with white American cheese. Pan fry till cheese has melted and outside becomes brown and crispy.
Side Dishes
Vinegar Sauce for Pulled Pork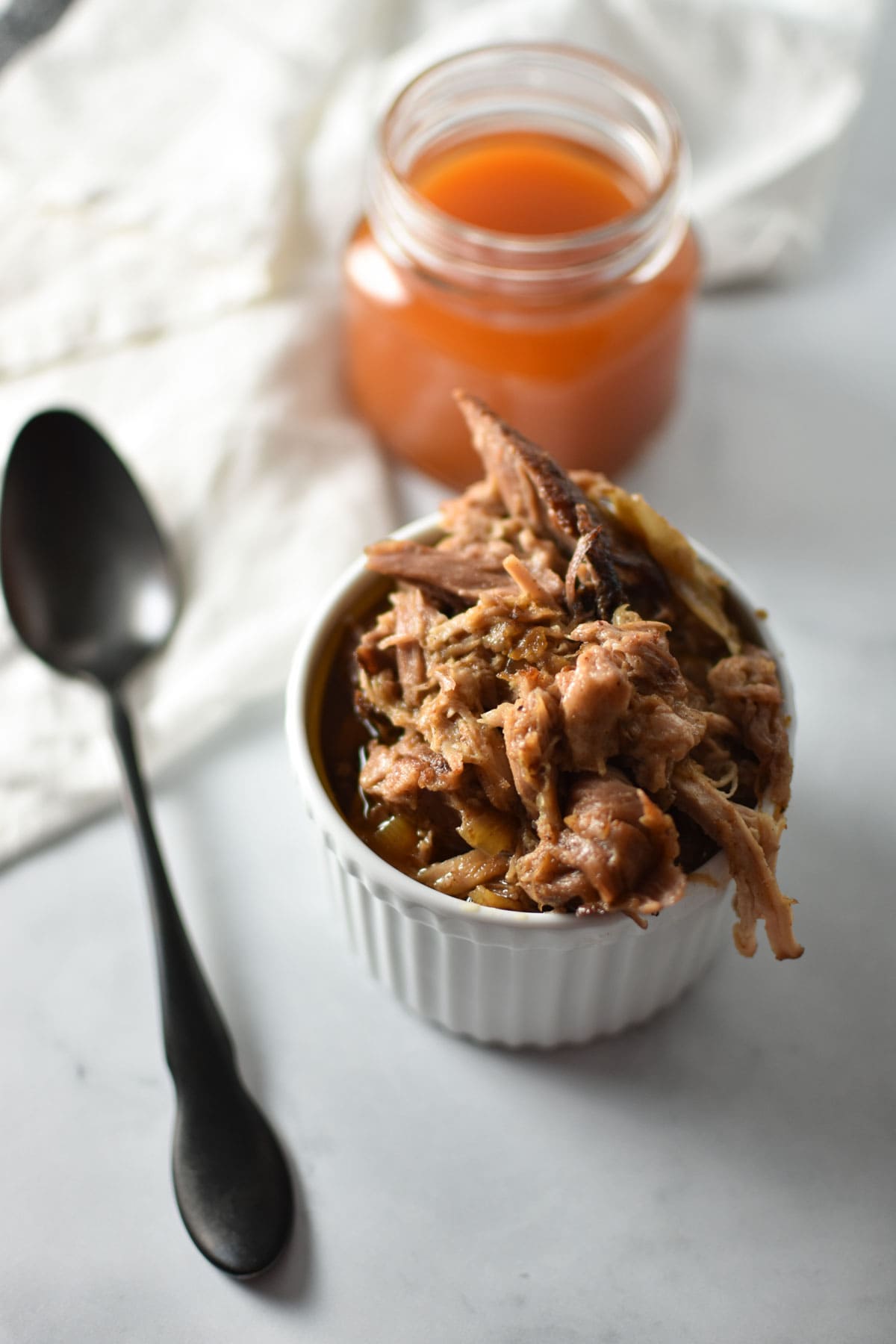 I highly recommend pairing this slow cooked pork shoulder with this vinegar-based sauce! It's delicious! This vinegar sauce recipe is inspired by North Carolina BBQ sauce. The tanginess compliments the rich pork very well and it is also low in sugar compared to other BBQ sauce recipes.
¾ cup distilled white vinegar
¼-1/3 cup organic apple juice (no additives)
1-½ teaspoons tomato paste
½ teaspoon red pepper flakes
½ teaspoon ground pepper
½ teaspoon salt
1 tbsp brown sugar
Place all ingredients in a small pot and bring to a simmer until the salt and sugar are dissolved. Remove from the heat and cool to room temperature or place in the fridge until ready to serve. It is best if you can let sit at least an hour.
This makes around 1 cup of sauce. Adjust as needed! The sauce is meant to be used sparingly so try a teaspoon or two on your serving before you go all in.
Frequently Asked Questions
Can I use an instant pot on the slow cooker function?
No! You need a traditional crock pot (also known as a slow cooker) for this pulled pork recipe. Instant pot's slow cooker function heats differently than a traditional slow cooker and therefore does not cook evenly.
Can I cook pork shoulder on high heat?
While you can make this recipe on high heat, I recommend low for the best flavor and texture. With tough cuts of meat, low and slow is always the way to go. It will give you meat that is very tender and not dry!
Does pork shoulder need to be submerged in the slow cooker?
Having the liquid only come up about ¼ of the way up the pork shoulder is totally normal. This does not mean the pork will be dry - that has more to do with the cut and cooking times. It does not need to be completely submerged, however you do want to make sure you cover the spices all around so the entire pork gets covered in flavor.
Can I use pork loin?
Pork loin and pork shoulder are NOT the same thing and cannot be used interchangeably. So double check what you're buying. Make sure you're clear with your butcher. If you buy pork loin instead or pork shoulder or pork butt, this recipe will turn out incredibly dry as it does not contain the fat content needed to make this tender.
Pork Recipes
For more pork recipes that I love like this easy slow cooker pork shoulder, check out these recipes.
If you make this, tag me #thedizzycook or @thedizzycook on Facebook and Instagram. And if you love the recipe, please leave a review below! Follow along on my Pinterest for more great recipes.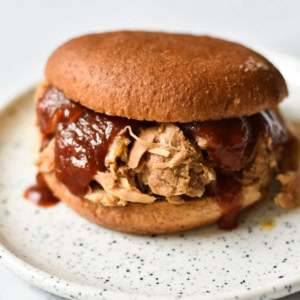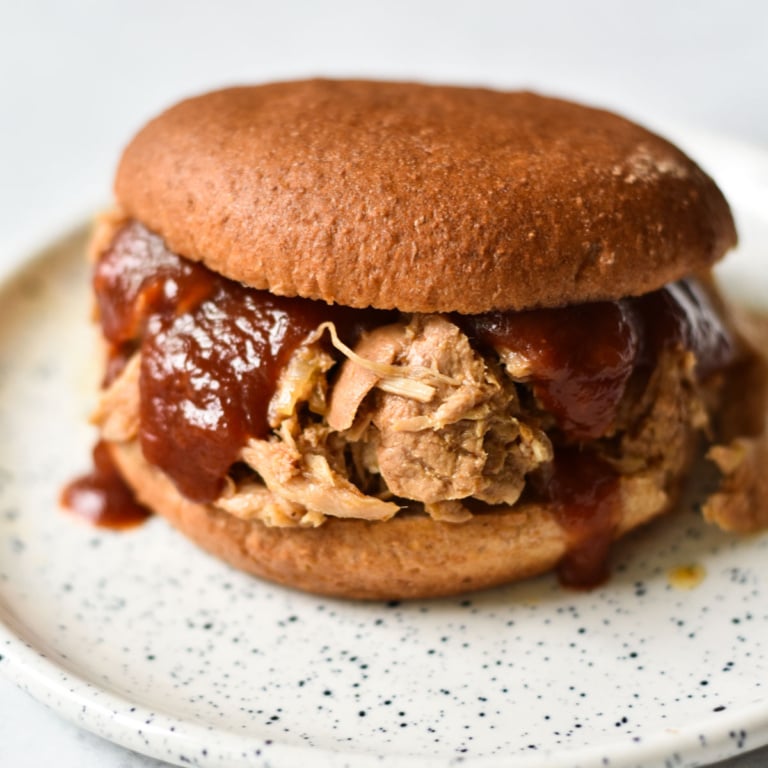 Slow Cooker Pork Shoulder
Shallots and garlic along with wonderful spices make this crock-pot pulled pork perfect for parties!
Print
Pin
Rate
Ingredients
1

3-4lb

boneless pork shoulder aka "pork butt"*

3

shallots, peeled and thinly sliced

4

medium garlic cloves, peeled and thinly sliced

1

tablespoon

brown sugar

1

tablespoon

chili powder

1

tablespoon

kosher salt

½

teaspoon

ground cumin

¼

teaspoon

cinnamon

1

cup

vegetable or chicken broth
Instructions
Place shallots and garlic at the bottom of your slow cooker. If your pork is wrapped in twine, remove the twine/netting. Place pork on top of shallots and garlic in the slow cooker and add the broth.

Combine spices in a small bowl and rub onto pork. Cover and cook 7-10 hours on low. My 4lb pork shoulder took about 8 hours on low. Remove any fat that's accumulated on the top and pulled apart pork with two forks until shredded. It should shred very easily if done.

If you want to remove the pork and then reduce the sauce in a separate pan you can. I usually just shred mine in the accumulated juices and serve.
Notes
Make sure you are buying pork shoulder or pork butt, NOT pork loin.
Temperatures vary greatly on slow cookers, so judge the cooking time based on that. If yours normally runs hot, go with a lower cooking time.
If the pulled pork doesn't shred easily you either got the wrong cut of meat, or it is not done cooking.
For best results, cook on low heat. If you must, this can be cooked on high for about 6 hours.
Do not use an instant pot slow cooker for this recipe. It is not the same thing as a real slow cooker or crock pot.
Nutrition
Calories:
468
kcal
|
Carbohydrates:
8
g
|
Protein:
78
g
|
Fat:
12
g
|
Saturated Fat:
4
g
|
Polyunsaturated Fat:
2
g
|
Monounsaturated Fat:
5
g
|
Trans Fat:
1
g
|
Cholesterol:
204
mg
|
Sodium:
220
mg
|
Potassium:
1397
mg
|
Fiber:
2
g
|
Sugar:
5
g
|
Vitamin A:
597
IU
|
Vitamin C:
2
mg
|
Calcium:
43
mg
|
Iron:
4
mg
This post was originally published as "Pulled Pork with North Carolina BBQ Sauce" January 29, 2018 and was updated April 2022 with new photos, step by step process, side dish ideas, and cooking tips.