I'm going to save you a little time, effort, and heartache - don't even attempt to make that horseradish dressing in the Heal Your Headache book. It's bad. In fact, it left me in tears the first time I made it. That's got to be the worst part of trying new recipes is you never know exactly how they will turn out. Plus if you're in the situation where your migraines are frequent enough to warrant a change in diet, your patience level for cooking is pretty low.
I realized there was a serious lack of migraine safe dressings out there and want to make an effort to change that. Clearly none of us can go to the store and pick out something that's been bottled. Have you seen the back of a Hidden Valley Ranch packet? Here are the ingredients with the hidden (and not so hidden) names for MSG and other migraine triggers in bold letters: Salt, monosodium glutamate, dried garlic, modified food starch, dried onion, maltodextrin, spices, less than 2% of: guar gum, buttermilk, calcium stearate, natural flavor (soy). I'm ashamed to say I used to eat this stuff on pizza all the time back in the day.
I know making your own sounds like a huge pain in the butt, but I promise it takes the same amount of time it would for you to pick up a bottle of the sodium heavy, msg laden pre-made junk. It also tastes 100% better!
On a side note, we had a great fourth of July! Here are some pictures if you'd like to see.
I made these two muffins - strawberry cream cheese, and blackberry/blueberry. For the strawberry muffins, I made the same recipe but just poured them into a muffin tin and baked for about 40 minutes. For the blackberry/blueberry, I just used 1 cup of blackberries instead of blueberries.
We made these ribs with this watermelon salad, and this potato salad (with multi colored potatoes!). My dad was a happy camper.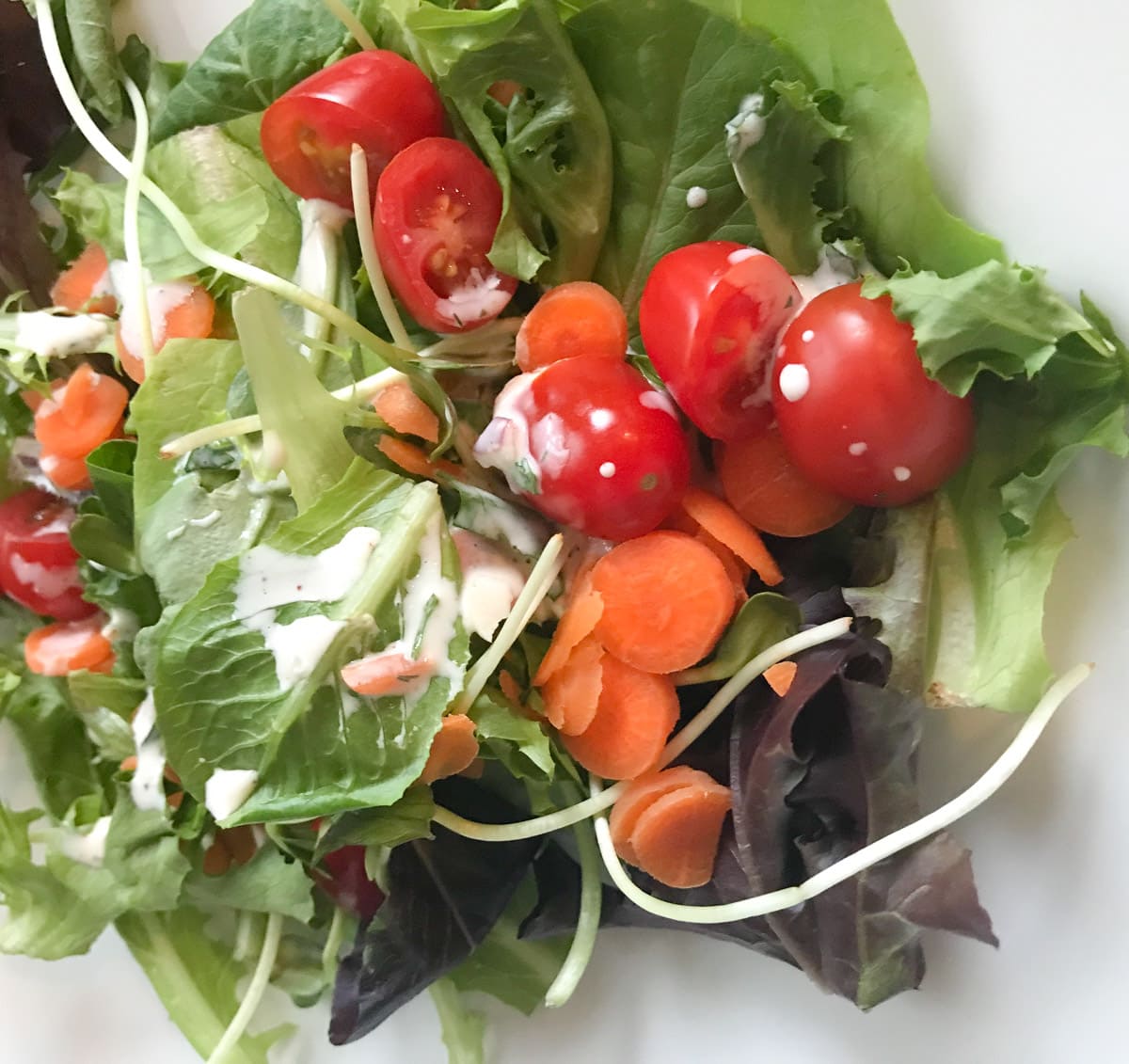 HYH Safe Ranch Dressing
This migraine safe ranch dressing is so fresh and tasty! It thickens as it chills. Give it at least an hour to really let the flavors combine.
Print
Pin
Rate
Ingredients
¼

cup

mayonnaise

*homemade or safe store bought

¼

cup

whole milk or milk substitute

*I like Oatly or hemp milk for a milk substitute, but I find they don't thicken like real milk does

1

tsp

distilled white vinegar

1

tbsp

shallot, peeled and chopped

1

tbsp

fresh chives, chopped

1

tbsp

fresh parsley, chopped

⅛

tsp

dried mustard

¼

tsp

dried dill

*if using fresh, double this amount

⅛

tsp

paprika

¼

tsp

kosher salt
Instructions
Combine all the ingredients and whisk together until smooth. Chill for at least 30 minutes - 1 hour. It will thicken more the longer it chills. Serve on a simple salad or use as a dip for veggies.

Sometimes the onion flavor can get a little more strong on day two. If you don't like that flavor, just eliminate the shallots. If you LOVE that flavor, feel free to add ½ clove of garlic as well.