These grilled flank steak tacos are delicious and made with simple ingredients. Since it's citrus-free, this is a migraine-friendly recipe that your whole family will love. Made without onions and gluten free (if using corn tortillas), the steak pairs wonderfully with the bright flavors of the tomatillos.
As a Texas girl, you can imagine my huge disappointment when I read that I had to give up citrus, avocado, and aged cheeses on the Heal Your Headache diet. Would I ever be able to have a delicious taco again? Is life even worth living without tacos?! If you answered "NO!" to that last question, then I have the perfect migraine safe taco recipe for you.
These grilled flank steak tacos are marinated for at least an hour, although I usually like to do about 6-8 hours. Then simply grill them for about 12 minutes total. If done correctly, no dishes will be harmed in the making of this dinner - total easy cleanup!! Chili powder mixes well with the garlic and smokiness of the paprika to create a delicious marinade.
Taco Toppings
Toppings for these steak tacos are completely up to you, although I like a little bit of shredded cabbage, scallions and cilantro.
I do still miss sour cream, which isn't recommended on a migraine-elimination diet due to the fermentation, but I find that a good quality cottage cheese can make up for it. If you whip it in a food processor till it's smooth, you almost can't tell the difference!
How to Marinate Flank Steak Tacos
After playing around with different marinades, I liked using tart cherry juice the best for adding that citrus-like bite to the meat. I've also used cranberry pomegranate juice with great results as well. I know it sounds super weird to give this a try in steak tacos, but just trust me. If you hate it you can yell at me in the comments.
Obviously this is better the longer you can marinate it, but if you are concerned about tyramine build up you could marinate it for 2-3 hours and still be ok. I do find it's best to not exceed about 8 hours or the fibers in the meat tend to break down. You want it to be just enough that it's more tender, without being mushy.
Most of the time I just dump my marinade into a ziplock bag or a large glass dish. If you can use a bag, you don't have to worry about flipping it so both sides get
Tomatillo Salsa Verde
I have one last surprise for you....salsa verde! So if you're on a migraine elimination diet you can't use onions or lime juice, but I find that roasted tomatillos are the perfect way to get that citrus flavor without adding potential trigger foods. They are those greenish looking ones with the funky, paper skin you always pass by in the grocery store.
As for clean tortillas these can be tricky to locate. I buy the fresh made flour tortillas at Central Market, but you can also find clean corn tortillas it just requires some digging. I've seen a few ok ones at Trader Joe's, but they are hit and miss with adding in malted barley flour. The corn tortillas at TJ's have traces of lime, but I personally think you could get away with them since it would be so minimal. I've seen people have luck with these. Check my pantry staples post for more suggestions. If you're still having trouble, you could ask a local Mexican restaurant as they could be the best you'll find.
PS - please excuse the poor picture. I'm working on my photography skills for better taco photos in the future.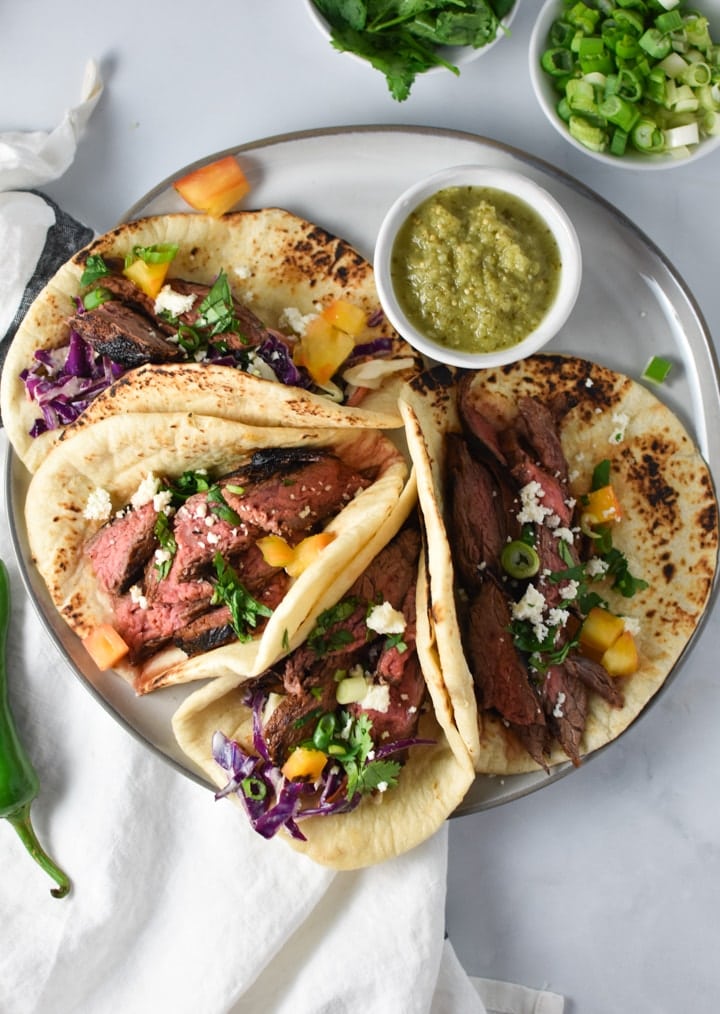 This recipe and post have been updated on March 23, 2020 with new pictures and a few recipe tweaks.
Grilled Flank Steak Tacos
Completely citrus-free, these grilled steak tacos are migraine friendly and can also be made gluten free by using grain free or corn tortillas. Pair it with salsa verde and the Mexican Rice recipe.
Print
Pin
Rate
Ingredients
Marinade
3

tablespoon

white vinegar

1

tablespoon

honey

4

cloves

minced garlic

¼

cup

tart cherry juice

pomegranate juice can also be subbed

¼

cup

olive oil

2-3

teaspoon

smoked paprika

can also use regular paprika

1

teaspoon

chipotle chili powder

1

teaspoon

salt
Tacos
1 ½-2

lbs

flank steak

4-6

tortillas

queso fresco

optional

tomatoes and cilantro

optional

2

green onions chopped

optional
Instructions
Whisk all the marinade ingredients together and place in a large ziplock bag or roasting pan.

Add the flank steak to the marinade and let sit in the fridge for 2-8 hours.

Heat charcoal or gas grill to about 425-450 and add steaks 8 min on first side. Flip and grill about 6 min on other side for medium/well. Remove and place on cutting board.

Cover steak and let rest for 5-10 minutes before slicing across the grain of the steak (rather than with the grain).
Tortillas can be covered in tin foil and heated in the oven for 5 minutes or, if you have a gas grill, you can toast them over the open flame about 1 minute per side to get a nice char.
Notes
If you can't find tart cherry juice, I've also used cranberry pomegranate juice with good results.
For gluten free, use your favorite tortillas like corn or cassava flour.
Nutrition
Calories:
479
kcal
|
Carbohydrates:
24
g
|
Protein:
39
g
|
Fat:
24
g
|
Saturated Fat:
6
g
|
Cholesterol:
102
mg
|
Sodium:
308
mg
|
Potassium:
712
mg
|
Fiber:
1
g
|
Sugar:
7
g
|
Vitamin A:
701
IU
|
Vitamin C:
2
mg
|
Calcium:
77
mg
|
Iron:
4
mg
Onion Free Salsa Verde
Tangy and delicious, this charred salsa verde is onion free.
Print
Pin
Rate
Ingredients
4-6

tomatillos

1

shallot

2

cloves

garlic skin on

¼

cup

cilantro

1

jalapeno (seeds and ribs removed)

optional if you like it SPICY
Instructions
Preheat broiler to high heat.
Peel the tomatillos from the outer paper-like skin and wash them under warm water to remove some stickiness. Remove the top stem and place on a cooking sheet. Add garlic to the sheet with skin on.



Place under broiler for about 10 minutes, watching to make sure you get a nice char. Turn the tomatillos so they get charred on all sides.

Remove garlic from skins and add garlic, shallot, cilantro, and jalapeno to a food processor and pulse till fully chopped. Add charred tomatillos and pulse till desired consistency is reached.

Add salt and pepper to taste.
Nutrition
Serving:
4
oz
|
Calories:
16
kcal
|
Carbohydrates:
3
g
|
Protein:
1
g
|
Fat:
1
g
|
Saturated Fat:
1
g
|
Polyunsaturated Fat:
1
g
|
Monounsaturated Fat:
1
g
|
Sodium:
2
mg
|
Potassium:
117
mg
|
Fiber:
1
g
|
Sugar:
2
g
|
Vitamin A:
106
IU
|
Vitamin C:
5
mg
|
Calcium:
5
mg
|
Iron:
1
mg