This recipe for instant pot steak tacos uses flank steak and salsa verde for a super simple and quick weeknight recipe that's ready in under an hour. Tangy salsa is combined with tender steak that shreds easily for the perfect steak tacos.
While shredded steak tacos would normally take hours in a slow cooker to become tender, this recipe produces fall-apart, melt-in-your-mouth beef in less than an hour using an instant pot.
Plus with minimal ingredients and prep, you can focus on creating side dishes like Mexican Brown Rice or Creamy Queso while this cooks.
Jump to:
Instant Pot Shredded Flank Steak
These instant pot steak tacos are one of my favorite dinners for when I'm too tired to cook. It's also one that I love to just keep a fresh jar or frozen salsa verde on hand so I can make it as one of those last-resort dinners at home.
You'll love this instant pot shredded flank steak recipe because:
Fast - You can make it in a slow cooker or instant pot, but an instant pot makes it faster!
Easy - It just requires a few ingredients.
Healthy - Red meat is actually a great food for your brain when consumed in moderation. High in B12, iron, and coenzyme-Q10 it's a food to work into your weekly rotation at least once a week.
Meal Prep - This is a great recipe to meal prep. The shredded beef freezes extremely well and can be used for a variety of meals beyond tacos.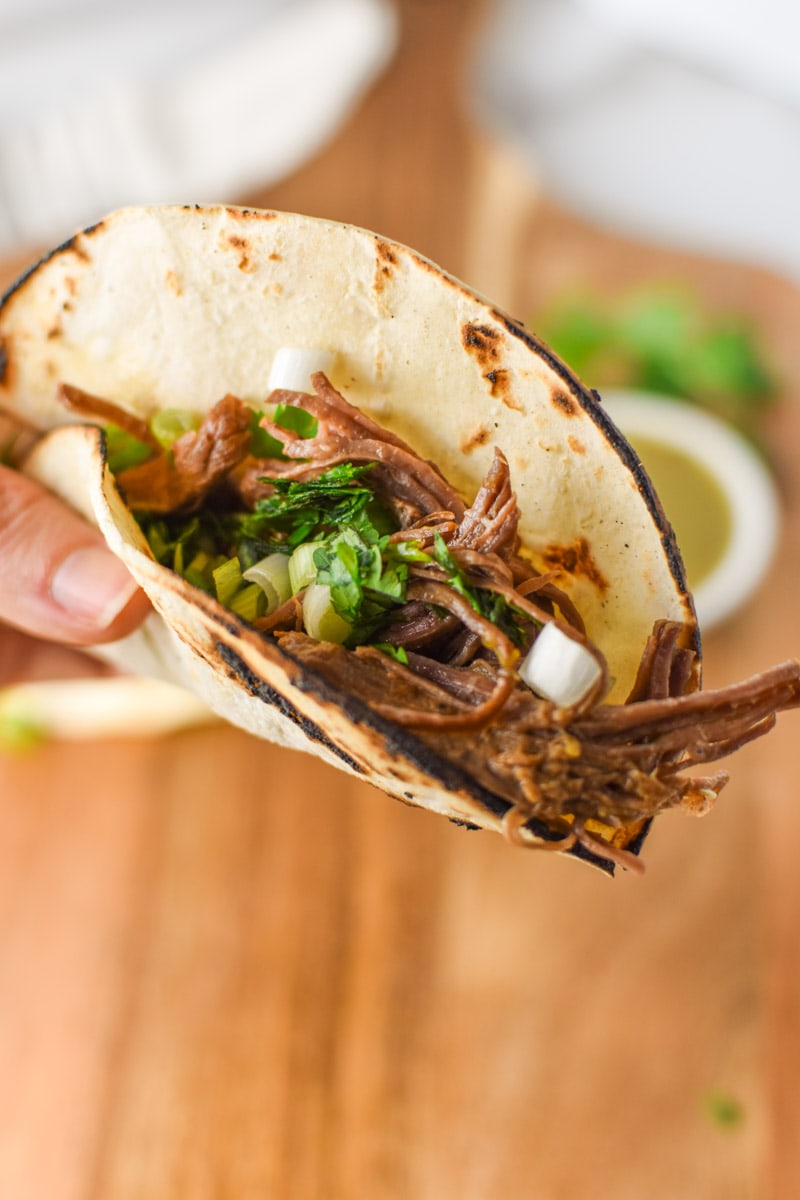 Best Steak for Tacos
When it comes to what steak is best for tacos, it usually involves 3 factors - cost, cooking method, and fat content.
Cost - When it comes to cost, you don't want to spend a lot of money on beef you plan to stick in a tortilla and using a lot of toppings with. Nor do you want to place an expensive filet into an instant pot for shredding. This is where cuts like flank steak and skirt steak become popular.
Cooking Method - With a low and slow methods like a crock pot (or pressure cooker) skirt or flank steak becomes very tender and can easily be shredded. It will fall apart easily, the same way chicken does.
Fat content - While you could use a well marbled piece of beef like ribeye, I would recommend grilling instead of this process. Skirt steak does have more fat than flank steak, but both could be used here and work well. Flank steak is also a little more lean than flat iron steak. While you can use flat iron steak in the instant pot as a replacement for flank steak, skirt steak would be a better choice.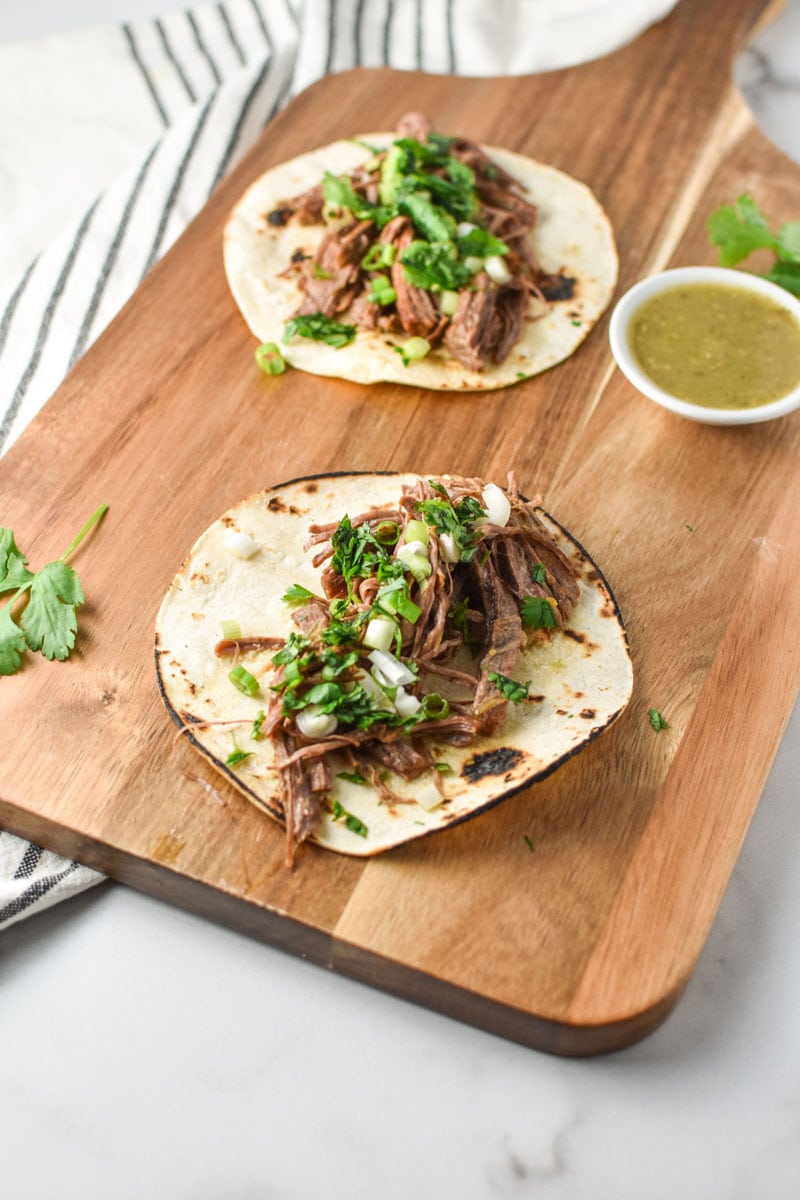 Cooking Steak in an Instant Pot
There are some items that I think the Instant Pot is totally worth the investment for and that's stocks and broths like this Instant Pot Chicken Stock. It's the perfect way to use up a chicken carcass you have leftover and you'll get about 9 cups of stock or broth from it. It's simple to freeze and store for later use.
I also really love it for things like shredded chicken tinga tacos. These are items that I forget to put in the slow cooker before I leave somewhere and have no way to cook quickly.
Besides ground beef, which is probably the easiest kind of tacos to make, shredded beef and chicken usually requires at least 4 hours in the slow cooker. With an instant pot, you're able to cut that time down to less than an hour total.
While a regular steak isn't great in the instant pot, for a quick recipe I recommend using their air fryer lid for the best air fryer flank steak. But for shredded beef? It's perfect. I use the simple 6 quart instant pot to make this recipe!
Ingredients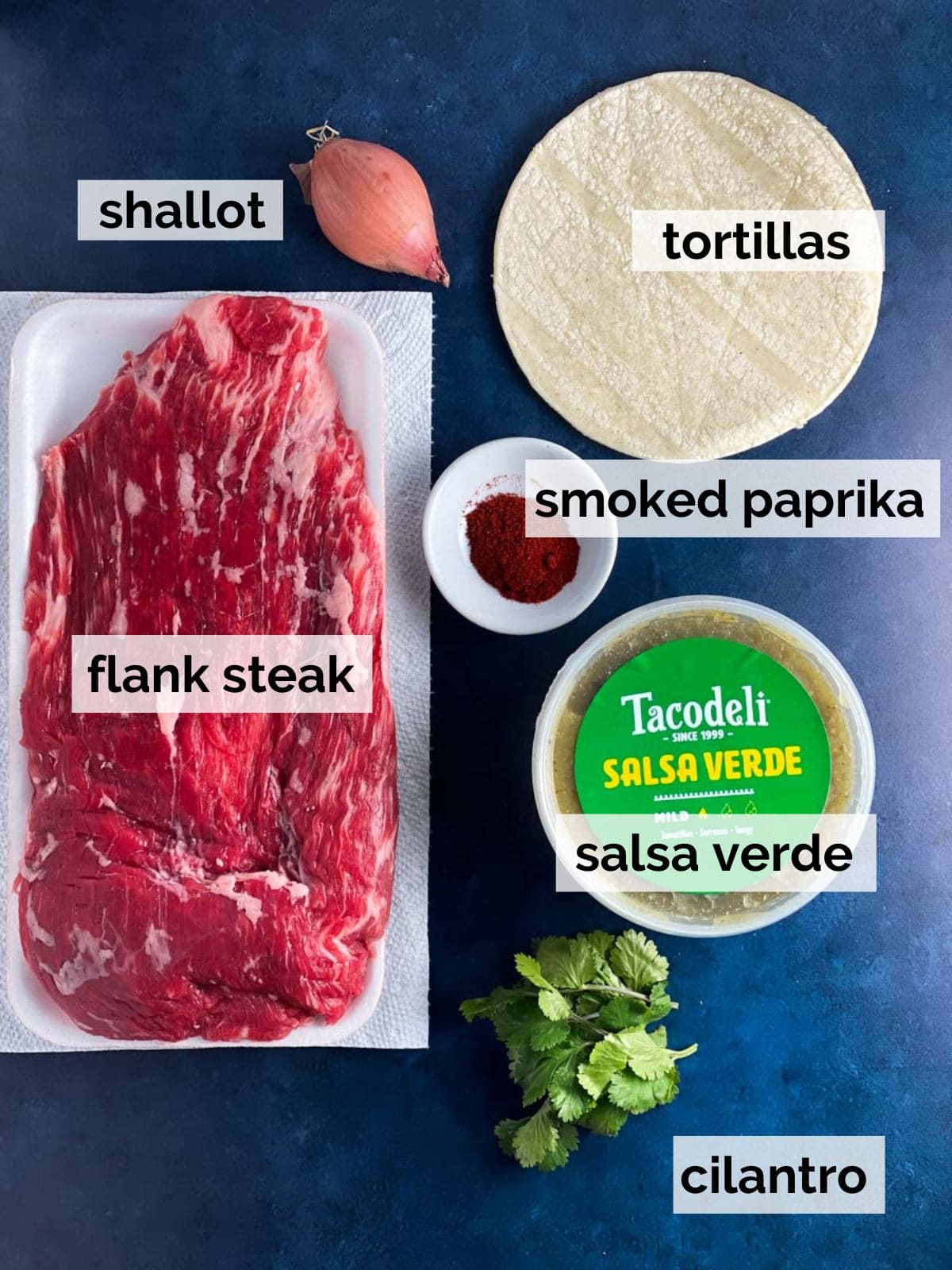 Flank Steak - As previously stated, flank steak or skirt steak would work for this recipe. I typically use flank steak because it's easier for me to find at the grocery store. You may need to slice in half to fit it in one layer.
Salsa Verde - Store-bought will work fine, although I include a recipe for fresh. My favorite store-bought brand is Tacodeli, which can be found at Whole Foods in Texas. Tacupeto Molka Fire Roasted (Sprouts), Del Real Green Salsa (Fresh Thyme), Tia Lupita Salsa Verde are also recommended.
Smoked Paprika - Don't skip this! It adds a wonderful smoky flavor that makes the meat taste like it has been on the grill!
Tortillas - For gluten free or great flavor that is the most like street tacos, choose corn tortillas. Flour will work too. A reader favorite is TortillaLand, which is found in the refrigerated section, not with other room temperature tortillas like Mission. Trust me, good tortillas make a difference. If you are in Texas, I highly recommend Central Market's fresh tortillas.
For those following a migraine diet, do not worry about chemical lime or trace of lime in ingredients. It is not citrus, but how the corn is processed.
Step by Step Process
What's great about these instant pot steak tacos is they use very minimal ingredients yet come out super flavorful. There are just a few important steps.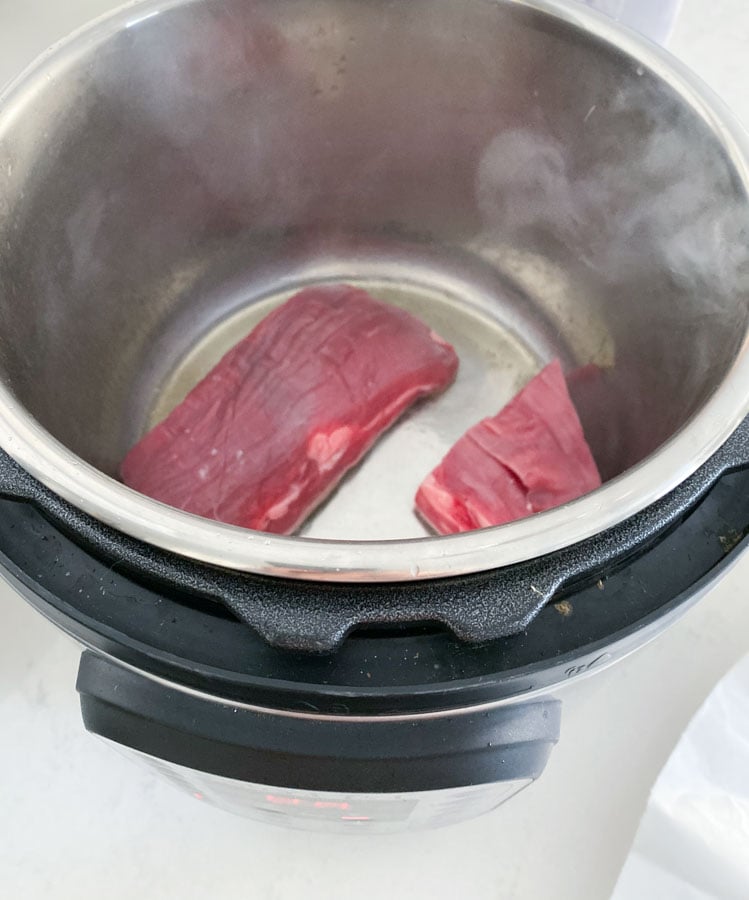 Step 1: Sear the steak
Sear the meat by using the "Saute" setting. This heats your instant pot really fast and high. You sear both sides of the meat till it's nicely browned, just a few minutes. It might be necessary to work in batches depending on how much you make. I had to to work in two batches.
Because you start with searing, it does heat the pot which I think decreases the amount of time it takes to build pressure. This could totally be made up and in my head, but I swear it's faster.
Step 2: Pressure cook the meat
Cover with the instant pot lid and make sure the toggle at the top is turned to be sealed. It should make a fun little noise when the lid is closed properly. Then set the pressure cook button for 40 minutes.
Step 3: Natural Release
I like to use a "natural release" which means you basically don't touch your instant pot for another 15 minutes after the time finishes. This is mainly because I find the spout of hot steam a little bit scary in my smallish kitchen. But I did end up using the manual release a little bit for these because I was in a rush to eat these steak tacos and I did that after 10 minutes.
Slow Cooker Method
You can also make these shredded flank steak tacos in a slow cooker. Be sure to sear the meat in a separate pan on the stove first, then add it to the slow cooker the same way.
Cook on high for about 6 hours or on low for 8 hours, or until meat easily shreds with 2 forks. No need to change the recipe.
Toppings for Shredded Flank Steak Tacos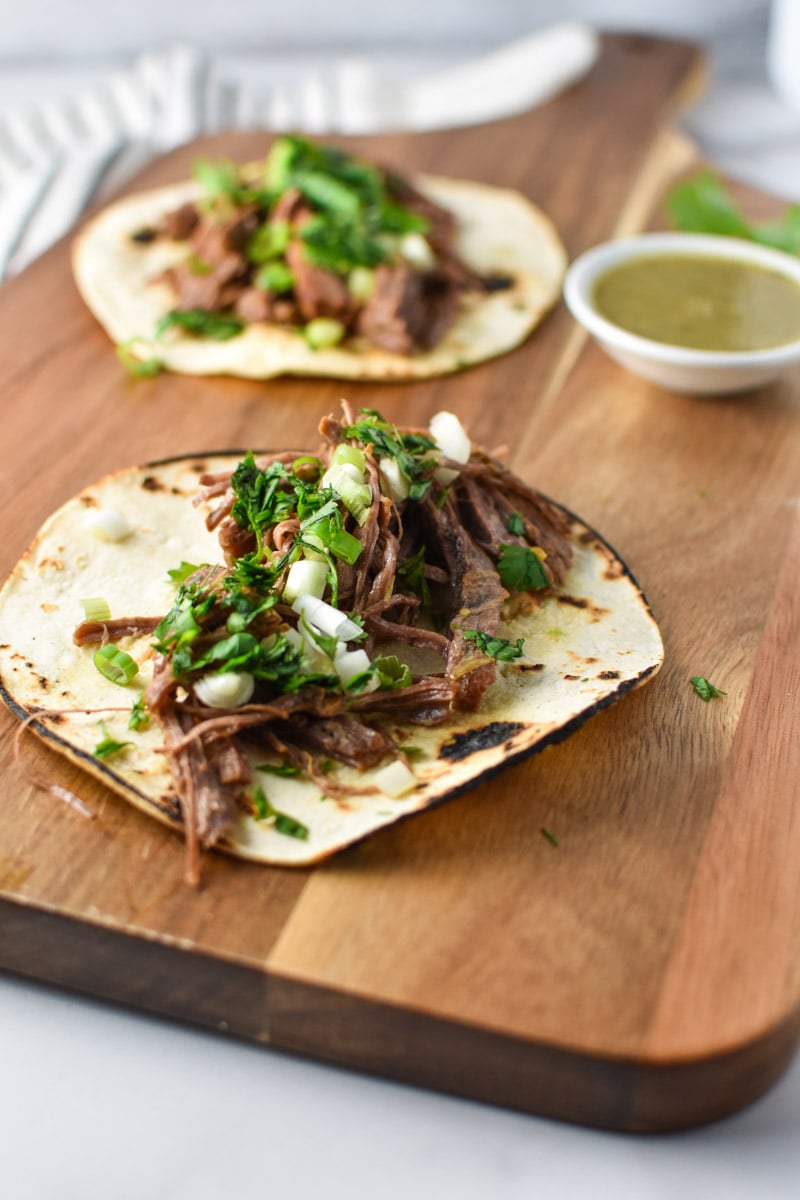 I wanted this instant pot steak taco recipe to be reminiscent of some of my favorite steak tacos in Dallas from La Ventana. I chopped up green onions and lots of fresh cilantro.
Some other toppings that would be great are:
Queso fresco or grated American cheese

Chopped radish

More salsa verde

Lettuce or shredded cabbage
Serving Suggestions
These side dishes would pair incredibly well with steak tacos!
Mexican Brown Rice
White Queso
Nachos Supreme
Healthy Coleslaw
You could also use leftover shredded meat for enchiladas, quesadillas, or a taco salad.
Preparing the Tortillas
There are a few ways I like to soften and warm my tortillas for pressure cooker steak tacos.
Microwave method - H

eat the tortillas in the microwave, just cover with a damp paper towel and microwave for about 15-20 seconds until warm.

Oven method - W

rap in tin foil completely and place in the oven. I preheat to 350 degrees F and by the time the oven reaches that temperature, they're warmed through.

Gas method -

If you have a gas stove or grill, you can get real fancy and place the tortillas directly over the burner. Use tongs to flip them and get them a little charred on each side, about 20-30 seconds.
If using the gas method, be very careful if you do this not to light the tortillas on fire. I have done this before and while it is kind of fun to feel like you're carrying the Olympic torch for about 10 seconds, it's probably not worth the smoke alarms going off.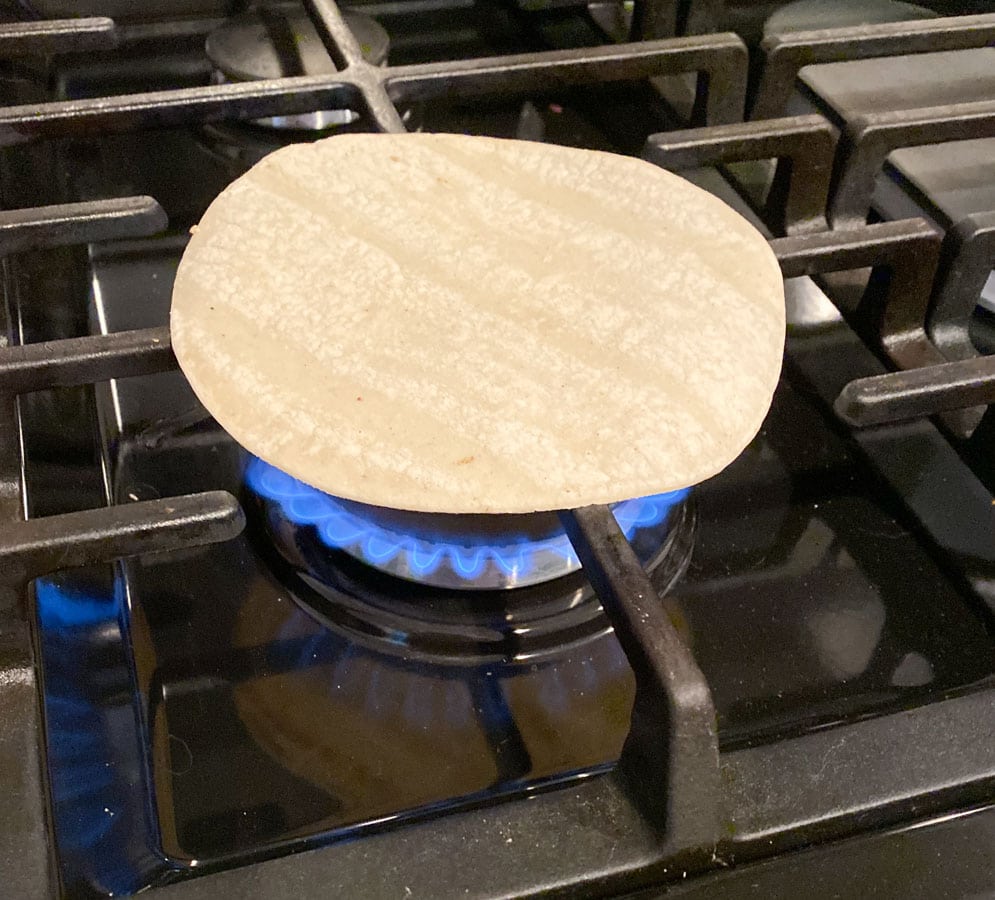 Homemade Salsa Verde
This is one of my favorite recipes and although some people are sensitive to tomatoes, I encourage them to try tomatillos because it actually comes from an entirely different plant.
Tomatillos have a very tangy flavor, which makes up for not using citrus in this recipe.
You just remove the tomatillos from the papery husk and run under warm water to clean them from some of the sticky residue. Then pat them dry with paper towels before you broil. This tangy salsa pairs perfectly with the flavorful flank steak.
Storage and Freezing
Store: One of the best parts of these instant pot steak tacos is they are super easy to freeze and store for later. It will keep around 2-3 months. To store in the fridge, they will last in an airtight container for 2-3 days.
Reheat: Cover with a paper towel and microwave in 30 second increments to defrost. Stir it as it defrosts so all parts get heated through.
Freeze: If you place in freezer bags and smush them flat, it really doesn't take up much space and are easy to defrost quickly in warm water.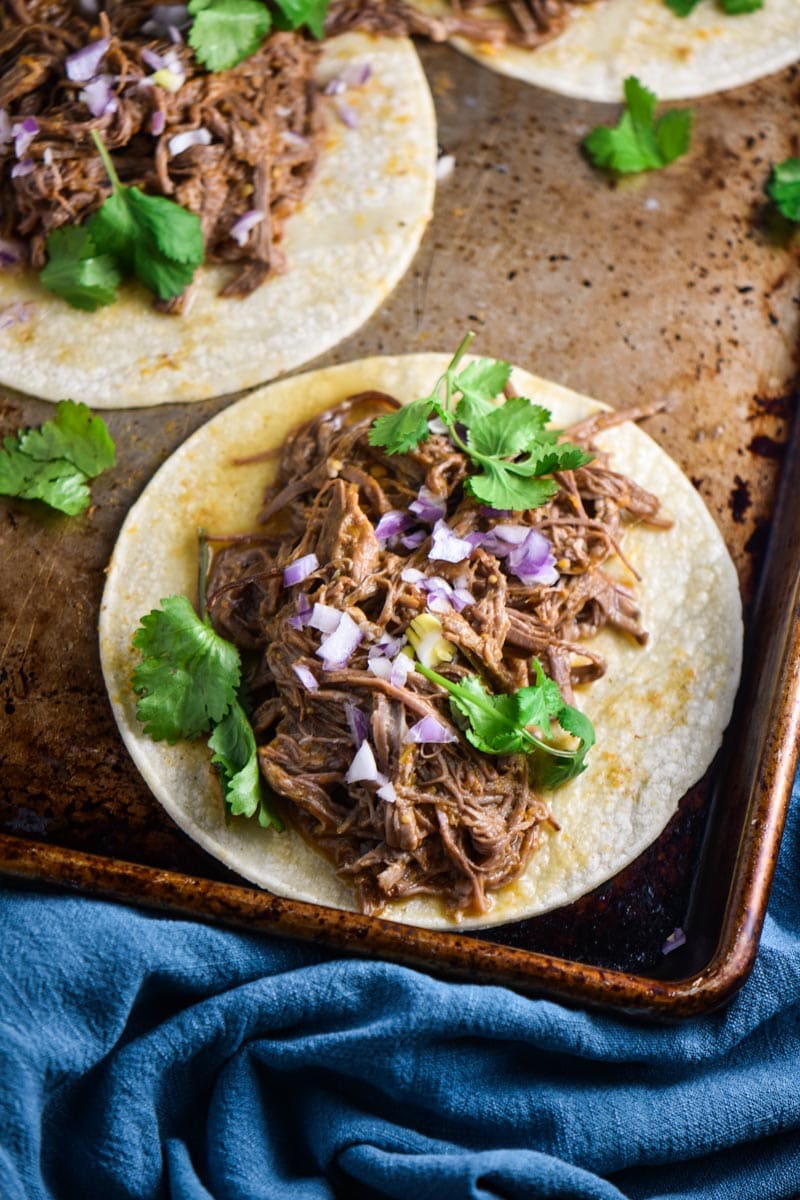 Taco Recipes
For a grilled version that's so delicious, check out my grilled flank steak tacos. Here are a variety of reader-favorite taco recipes! And for another instant pot recipe, try these Pulled Pork Tacos with Mango Salsa.
I hope you enjoy these instant pot flank steak tacos and if it's not exactly what you're looking for, check out some of these other taco recipes.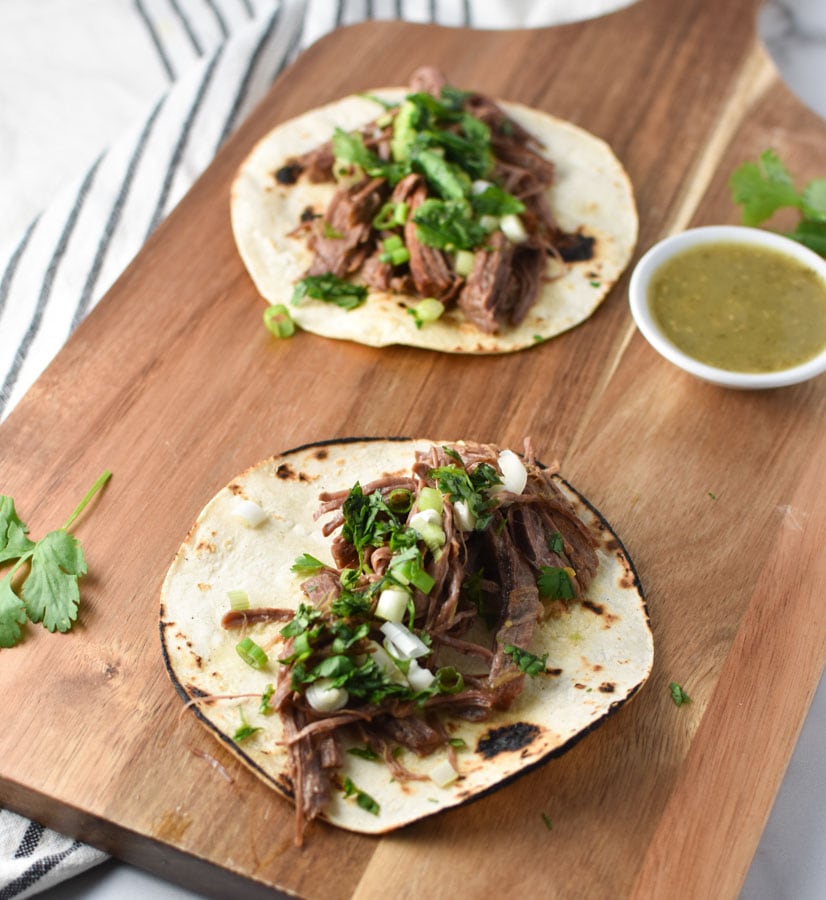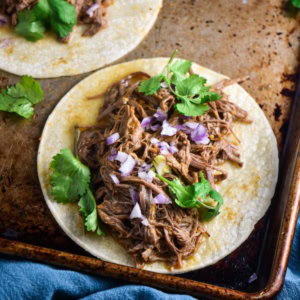 Instant Pot Steak Tacos
Flank steak is combined with homemade salsa verde for a simple, yet delicious steak taco recipe that can be made in an instant pot or slow cooker. Use corn tortillas for a gluten free option.
Print
Pin
Rate
Equipment
Instant Pot or Slow Cooker
Ingredients
1-2

tablespoons

high heat oil, like avocado

2

pounds

flank steak

1¼

cup

salsa verde (store-bought or homemade recipe below)

1

teaspoon

smoked paprika

kosher salt & pepper
Extras
4-5

green onions

1

bunch

cilantro

corn or flour tortillas
Salsa Verde
6-7

tomatillos

1

small shallot

2

small garlic cloves, skin on

¼

cup

cilantro leaves

½

jalapeno (optional)
Instructions
Preheat broiler to high heat. Peel the tomatillos from the outer paper-like skin and wash them under warm water to remove some stickiness. Remove the top stem and place on a cooking sheet. Add garlic to the sheet with skin on.

Place under broiler for about 10 minutes, watching to make sure you get a nice char. Turn the tomatillos so they get charred on all sides.

Remove garlic from skins and add garlic, shallot, cilantro, and jalapeño to a food processor and pulse till fully chopped. Add charred tomatillos and pulse till desired consistency is reached. Add salt and pepper to taste.

Meanwhile turn your instant pot to the "saute" function and add 1 tablespoon oil. Cut your flank steak into large pieces so it can fit nicely in the instant pot without crowding. Season on both sides with salt and pepper. Sear on both sides, about 3 minutes each, until a deep brown crust forms. You will need to do this in 2 batches.

Return all the meat to the instant pot and cover with the salsa verde and smoked paprika (you can save a little extra for the finished tacos if you'd like). Close the lid on the instant pot and make sure the steam release vent is closed. Press "Pressure Cook" and time for 40 minutes. The pressure should build fairly quickly because of the searing.

Once the 40 minutes is up, allow the steak to do a natural release for 10 minutes and then open the vent to release any extra steam, but watch your hands! Remove the lid and shred the beef with two forks. Serve in warmed tortillas (see post for different instructions) and top with green onions and cilantro.
Notes
If you don't have an instant pot you can also do this in a slow cooker - on high for 5-6 hours or on low for 7-8.
Use all corn tortillas for gluten free. Some good tortillas can be found by TortillaLand or in the refrigerated sections of grocery stores.
For store-bought salsa verde, see post suggestions. I use Tacodeli on night's I don't have time to make my own. This homemade salsa verde also freezes well.
Nutrition
Serving:
2
tacos
|
Calories:
323.48
kcal
|
Carbohydrates:
8.25
g
|
Protein:
39.77
g
|
Fat:
13.27
g
|
Saturated Fat:
4.16
g
|
Cholesterol:
108.86
mg
|
Sodium:
304
mg
|
Potassium:
903.39
mg
|
Fiber:
1.33
g
|
Sugar:
5.89
g
|
Vitamin A:
869.41
IU
|
Vitamin C:
11.81
mg
|
Calcium:
50.04
mg
|
Iron:
3.33
mg