This instant pot chicken stock is so easy to make and MSG-free! Vegetables and herbs are combined with a leftover rotisserie chicken to make a quick chicken stock recipe that will be a staple in your kitchen!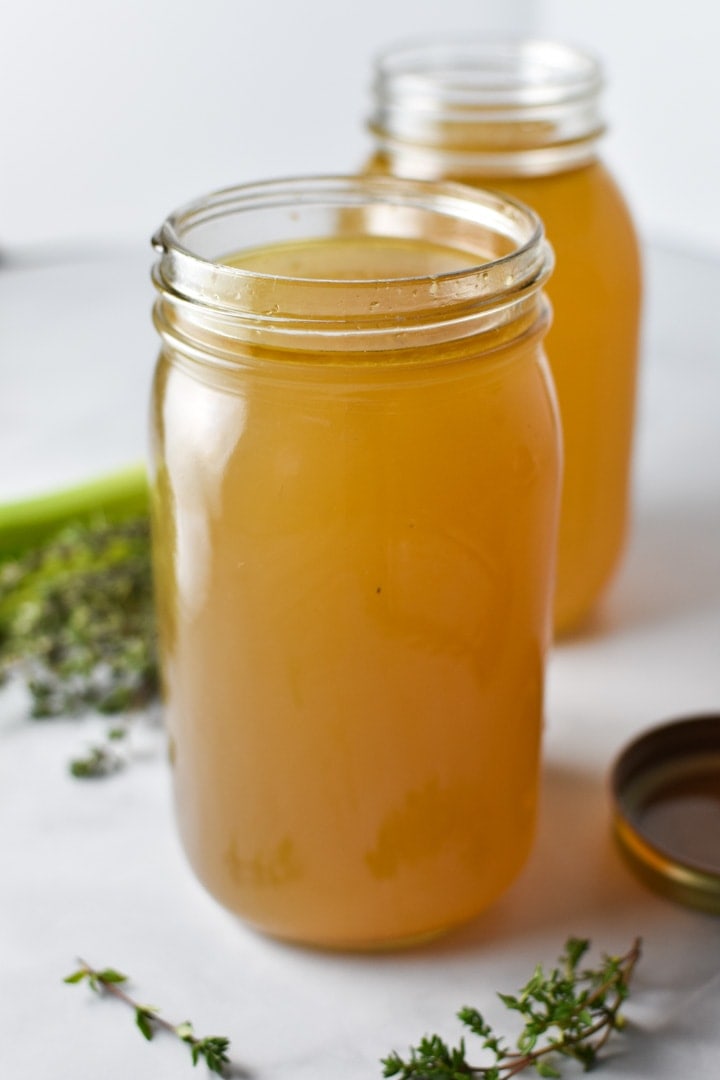 MSG-Free Instant Pot Chicken Stock
It was not love at first sight for me and the instant pot. We had a long courtship, where we went on a few dates, but I wasn't sure if this relationship would be a long term thing. We had some good progress with Mexican pulled pork, but I still preferred the slow cooked flavor you get from simmering for a few hours. I often felt lied to when I thought I was getting a quick meal, but then had to wait for the natural pressure release. The total time would occasionally be longer than if I would have just cooked everything in the oven! I'm not easily impressed. But last night my instant pot proposed, and I gleefully accepted. How did I finally fall in love, you might ask? I made my first Heal Your Headache safe chicken stock. And it was ridiculously easy and full of flavor.
How to Store Leftover Chicken Stock
This instant pot chicken stock recipe is so good, I am letting it skip the line and be posted right away. Not only can you make this in an hour and half TOTAL, but the majority of that is hands off time. This is the perfect recipe to make on a Sunday afternoon, then have it on hand for the week. You can even put it in individual plastic ziplock bags, place them on their side, and freeze them in levels so they don't take up much space.
The bonus to this extra bit of work is that you can rest assured there will be no MSG or onions in your stock, which you can not find anywhere on the market without paying an arm and leg. Plus since it's not simmering all day, you do not have to worry about tyramine build up that you might with bone broth.
Yet one more bonus is that you can use the carcass of your leftover "naked" chicken to flavor this. I've only ever made long simmering stock with chicken wings, and as much as I love Deb, this one takes the cake. My next trial of stock will be with using chicken wings, which isn't as resourceful, but I'll be curious to compare the flavors.
Instant Pot vs. Crock Pot
If you're looking at getting an instant pot, I have this one. It's not the fancy one with all the bells and whistles, but it's less expensive and works really well for everything I need it for. Make sure you have one that's at least 6 quarts. You can not fill the pot over 2/3rd's full with liquid, so this recipe was created with that in mind.
If you do not have an instant pot, you can make this in a crock pot by simmering on high for 4 hours or on low for 8 hours. You can also simmer over the stove for 2-4 hours. The longer it simmers, the more flavor you will have.
If only I would have been as picky with the guys I dated before my husband as I was with my instant pot recipes…
Instant Pot Chicken Stock (HYH Safe)
MSG/Onion free and easy to make, this instant pot chicken stock comes together in less than an hour and half. It still has a ton of flavor and makes great use of your leftover chicken bones from a "naked" rotisserie chicken.
Course:
Kitchen Basic, Sauce, Side Dish
Cuisine:
American, French
Keyword:
Chicken Stock, Heal Your Headache, Instant Pot
Ingredients
1

leftover rotisserie chicken carcass

I get the "naked" chicken from whole foods, pick off the meat, then use the leftover bones for this

8-9

cups

filtered water

1

large shallot (can sub leeks if you have them), peeled and halved

2

large carrots, cut into large pieces

2

celery sticks, cut into large pieces

3

large garlic cloves, peeled

1

tbsp

whole black peppercorns

1/2

cup

fresh parsley stems/leaves

Don't get too exact with this, just eyeball it

3-4

fresh rosemary stems

2

bay leaves

2

tsp

white vinegar

kosher salt

I started with 1 tsp, but you can add more later
Instructions
Place all the ingredients in the instant pot and pour water over your veggies and chicken. Lock your lid, making sure your "valve" is also closed (IE not pointing towards the steam icon). Close the lid, it should make a fun noise. Hit the "pressure cook" button (sometimes these say "manual) and adjust the time for 40 minutes.

At this point the screen will show "ON" as it builds pressure. This is not a part of your 40 minute cooking time, unfortunately. It takes about 10-20 minutes for it to build. As pressure is building, the steam will start to release slightly until the button seals itself within a few seconds. Just letting you know so you don't freak out that you didn't close it like I did my first time.

The time will then show 40 minutes and it was start to cook. Once the 40 minutes are done, don't do anything. Just leave it. It should turn to a "warm" setting while the pressure does a natural release. Let it sit for about 30 minutes, then turn your knob to release any extra pressure. Watch your hands so you don't have hot steam close to them!

Take the inner, silver pot out of the instant pot and strain out all the veggies and chicken parts. You might need a very fine mesh strainer for this if you like your chicken stock clean. Wait for the stock to cool and place in the fridge, or pour into ziploc bags and freeze individual portions. I find it's easier to skim the extra fat off the top once it's cooled.
Recipe Video
Recipe Notes
I've also seen people pour stock into ice cube trays to use one at a time. Whatever floats your boat!

Stock should keep up to a week, but I highly recommend freezing if you have an issue with tyramine build up.

You can make this recipe on the stove in a large pot (simmer for 4 hours) or in a slow cooker as well (8 hours on low).
Nutrition Facts
Instant Pot Chicken Stock (HYH Safe)
Amount Per Serving
Calories 104
Calories from Fat 9
% Daily Value*
Fat 1g2%
Sodium 252mg11%
Potassium 767mg22%
Carbohydrates 24g8%
Protein 3g6%
Vitamin A 20795IU416%
Vitamin C 12mg15%
Calcium 193mg19%
Iron 1mg6%
* Percent Daily Values are based on a 2000 calorie diet.