This chicken and brown rice soup is comforting, easy, and cozy for a simple yet hearty weeknight dinner or lunch. Naturally gluten free and dairy free, the simple ingredients remind you of a classic chicken soup, but fresh herbs provide a deeper and more delicious flavor.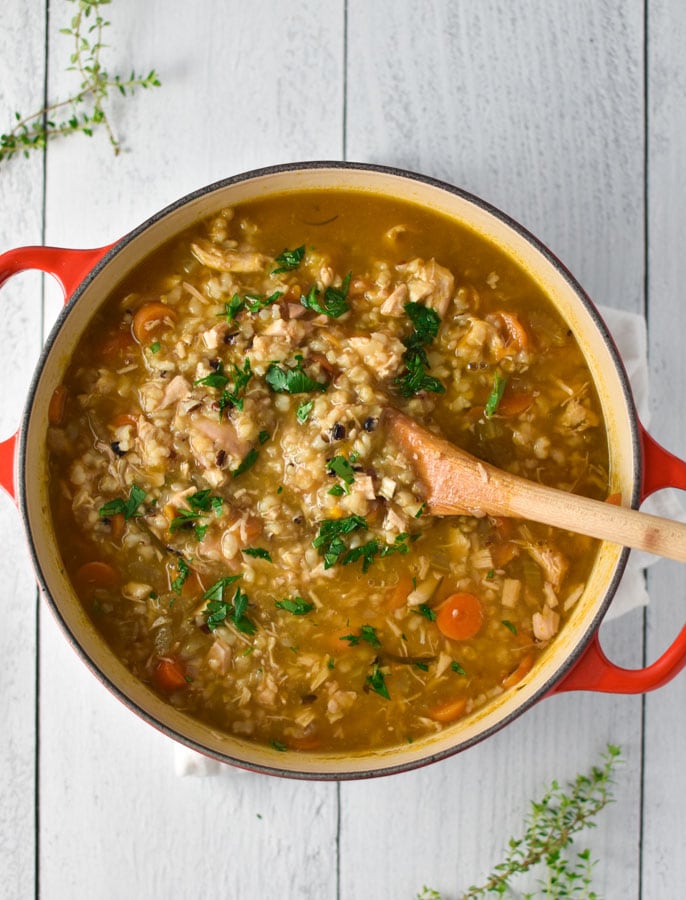 Chicken Soup Cures Everything
It's true…well, almost. No need to learn all about other natural treatments for migraines, this is it guys. I've found the cure!!! All joking aside, isn't there something so comforting about chicken soup? Warm broth, simple ingredients, no crazy flavors – it's a dependable classic.
For the past few weeks I've been experiencing a spike in my vestibular migraine symptoms along with crazy mood changes and overall fatigue. I just haven't felt myself, and it's uncomfortable. Typically I would rely on exercise to improve my mood, and while I've gotten back into that slowly, I found myself searching for more ways to give myself a big hug.
In my presentation for the American Migraine Foundation this week (if you missed it, you can catch it on my facebook page as well as their own), I spoke about how getting back into cooking saved my sanity when I was first diagnosed with chronic migraine. There's something very comforting about knowing that if you sauté some shallots, garlic, and vegetables in olive oil it will fill your home with the most delicious scent, and inevitably creating something delicious.
That's exactly how I felt making this soup. It's been a rough week. I've felt lonely, depressed, hated, angry, tired, sad, and overall like a big piece of poo. But when I combined all of these ingredients together and sat down to eat, I immediately felt a sense of comfort and calm.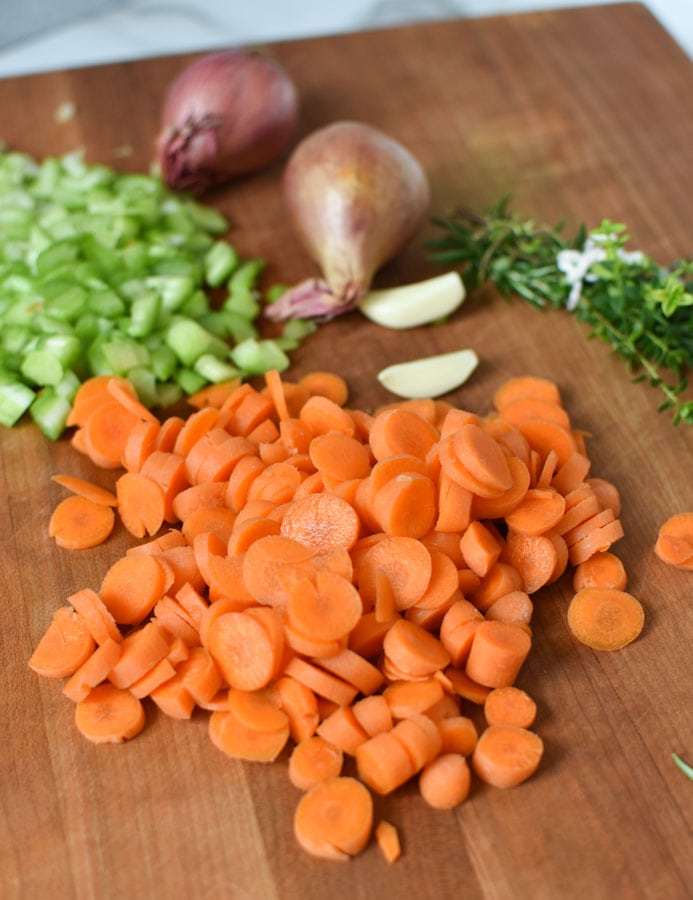 Ingredients
I decided to go with brown rice for this recipe because, frankly, it's what I had on hand. My favorite is Trader Joe's California Brown Rice mix and stock up on it every time I'm in the store for easy side dishes, like this Mexican Rice. I also love that it automatically makes this soup gluten free for many who have sensitivities to that (although it's not required on a traditional migraine diet).
The only downside to using rice (or farro as I found out in one of my cookbook recipes) compared to a traditional chicken noodle is that it thickens and soaks up A LOT of liquid. This is why you end up using so much broth and water, and may have to continue supplementing it with more liquid for leftovers.
Most chicken soups use yellow onions and I might have switched this out for leeks if I had them on hand, but again, I was just looking to make this with pantry staples and I always have shallots around. I loved the flavor they gave this soup, but if you're looking for something a little more mellow, give leeks a try.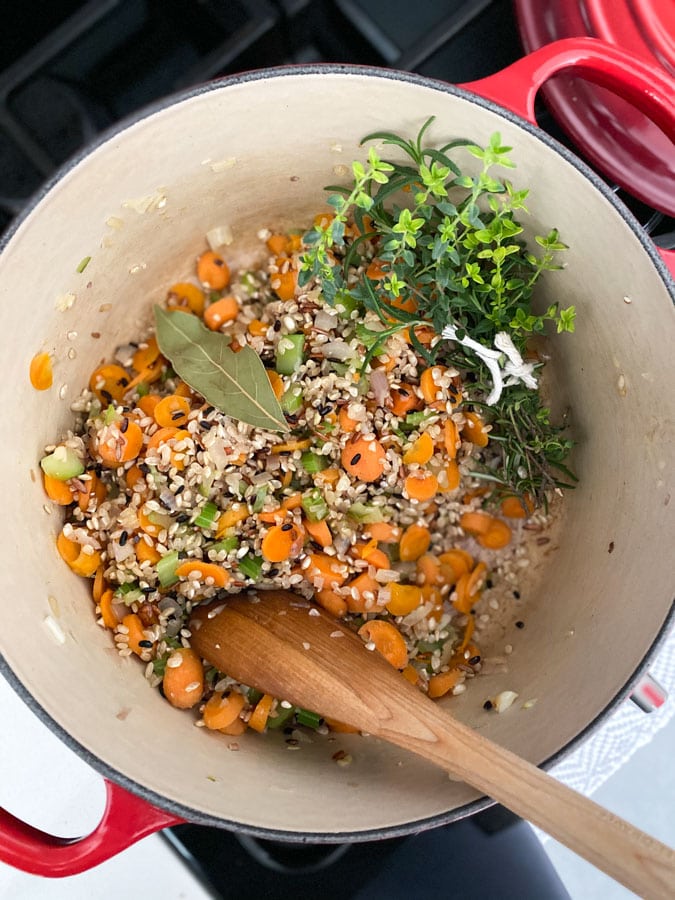 What Stock Should I Use?
This can get a little complicated if you're someone who is following a migraine diet. Most stocks and broths contain hidden MSG with names like "natural flavoring" or "natural chicken flavor". "Yeast extract" is another common one to watch out for. Unfortunately I have yet to find a stock or broth that's totally safe except for Butchers Bone Broth, which can be found in the refrigerated meat section of some grocery stores.
I typically make my own or use Trader Joe's Hearty Vegetable Broth, which is still not totally safe on this migraine diet as it does contain onion, but it's lower on the list of ingredients and I do well with it. Another option is to use this Fody Vegetable Soup Base and combine it with water.
Since this recipe uses a rotisserie chicken, it's very easy to pick off the chicken meat and make this stock recipe ahead of time using the carcass. That way you're using the entire chicken for this soup and you'll have fresh (and migraine friendly) stock. You can also make this recipe entirely vegan friendly, but I'll go into that later.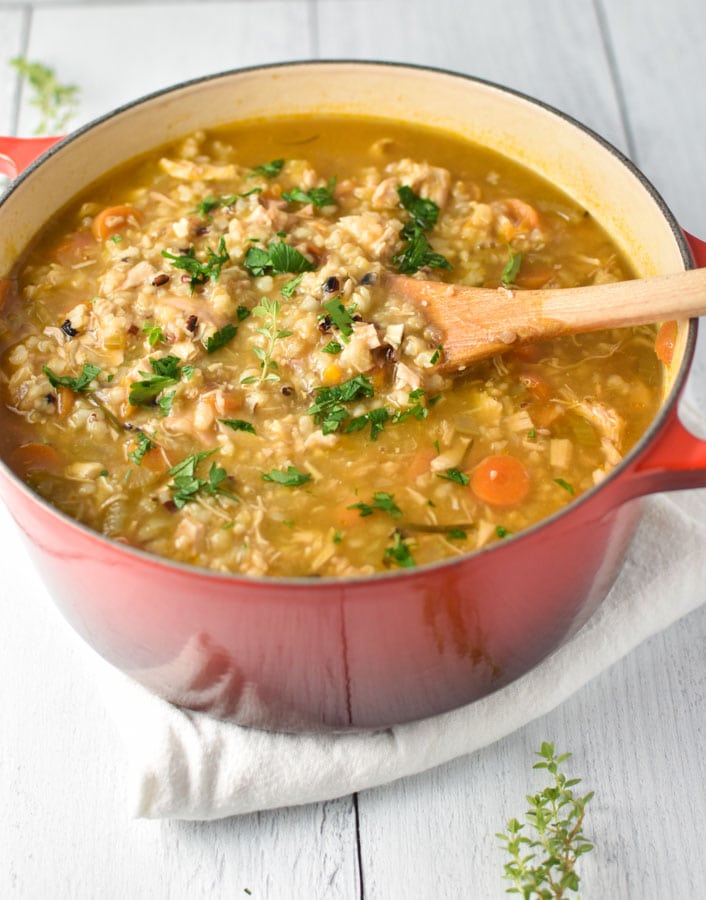 What the Heck is a Bouquet Garni?
A bouquet garni is a term I learned from my culinary trip to Burgundy (ooh lala) and it's essentially a fancy term for a bunch of herbs tied together with kitchen twine. This is a great way to infuse the flavor of the herbs without having a bunch of little pieces floating in your soup.
If you have a hearty herb garden, this is the perfect way to use it. I happen to have rosemary and lemon thyme in my garden so I tied those two together for this recipe. While rosemary is not typically included in chicken and rice soup, it's one of my favorite herbs. I thought it worked great for this dish.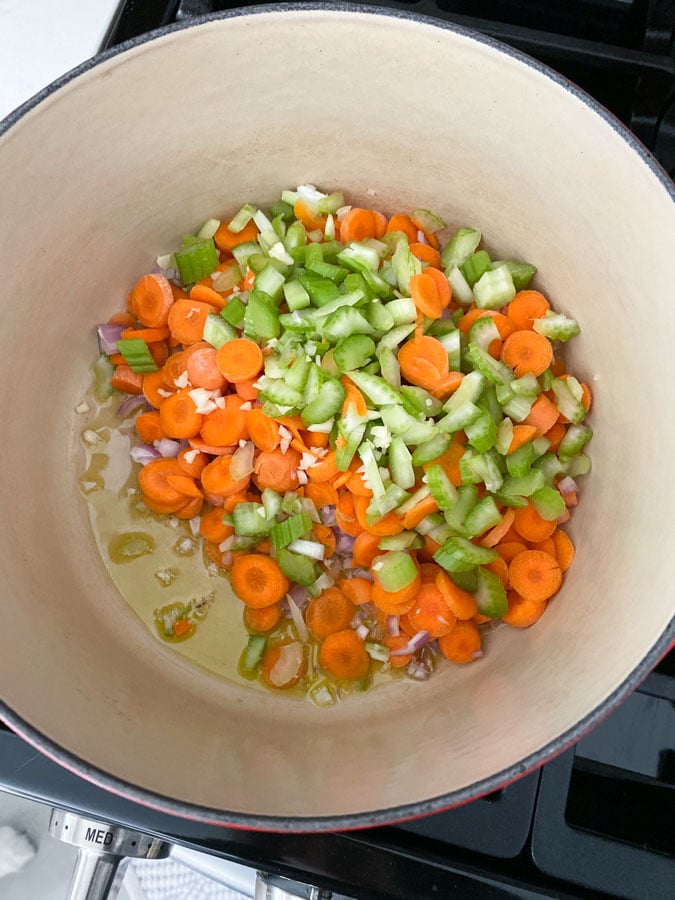 A Vegetarian Option
You can easily make this chicken and brown rice soup vegan by leaving out the chicken and using vegetable broth. In this case, I would add something hearty, like chopped kale, in the last 10 minutes of cooking. This allows it to soften a bit. I like to recommend using fresh kale over spinach, which I think can get kinda mushy in soups.
How Do I Freeze?
Unfortunately I find that rice and pasta doesn't freeze and reheat well as far as texture goes. If you want to freeze this, you could leave out the rice when you cook it, but that kind of defeats the whole purpose.
If you're looking for a soup you can make ahead and defrost easily, I highly recommend this Vegan Tortilla Soup. Also don't miss this refreshing and light Lemongrass and Ginger Soup.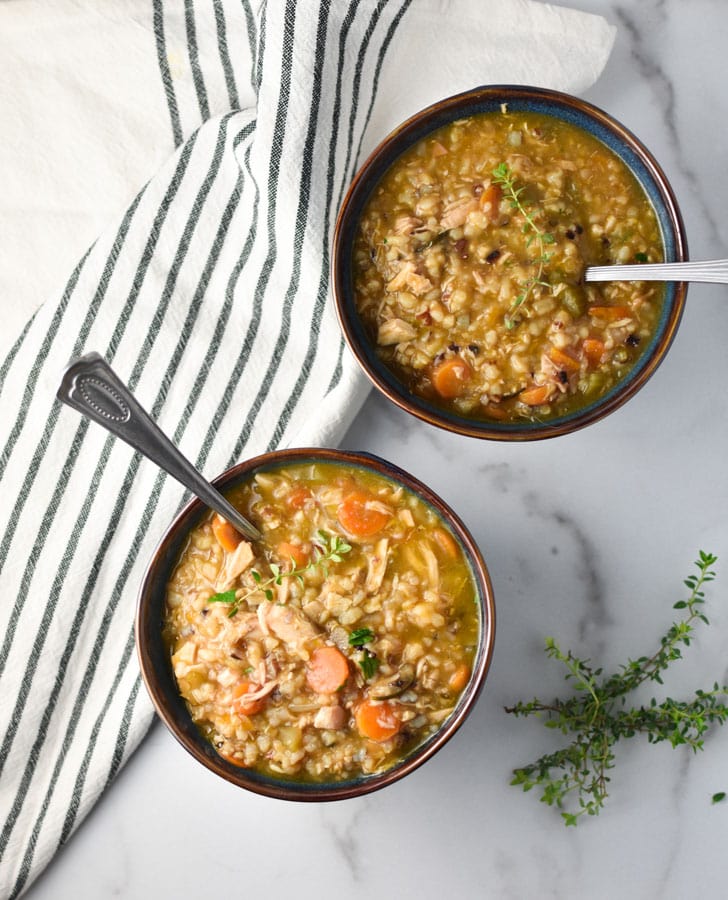 Chicken and Brown Rice Soup
This chicken and brown rice soup is very easy to make and combines fresh herbs with rotisserie chicken for a comforting flavor. Gluten and dairy free, it's the perfect cozy soup.
Print
Pin
Rate
Ingredients
1

tablespoon

olive oil

2

garlic cloves, minced

2

shallots, finely chopped

2

celery ribs, chopped

2

large carrots, chopped

or about 10 baby carrots chopped

1

teaspoon

kosher salt

2/3

cup

brown rice

1

bay leaf

1

bouquet garni - a few sprigs of fresh thyme and rosemary tied together with kitchen twine

5-6

cups

vegetable or chicken broth

1-2

cups

water

1

rotisserie chicken meat, lightly chopped

*

fresh black pepper to taste
Instructions
In a large, heavy pot add 1 tablespoon of olive oil over medium heat. Add the garlic cloves, shallots, chopped celery, carrots and kosher salt. Stir occasionally until slightly softened and fragrant, making sure the garlic doesn't burn, about 5-6 minutes. Add the rice, bay leaf, and bouquet garni and stir to combine everything. Then pour in 5 cups of chicken broth + 1 cup of water, bring to a low simmer, and cover with a lid.

Cook for 35 minutes covered, then check to see that the rice has cooked through. Remove the bouquet garni and add chopped rotisserie chicken. At this point, if the soup is too thick for you, add another cup of water or broth depending on how strong you like the broth to be. I find 5 cups of broth and 2 cups of water to be a delicious combination without being too watered down.

Bring everything to a simmer again and season with more kosher salt and fresh black pepper to taste. Serve warm or cover and store in the fridge till ready to use. The soup will thicken with time, so add more water and broth to thin out to your liking before serving.
Notes
When looking for a rotisserie chicken, I pick one without any MSG added, otherwise known as a "naked chicken". You can typically find these at Sprouts, Fresh Market, Whole Foods, and HEB. They will just have salt and pepper, or nothing at all.
This soup thickens with time so you may need to add more broth or water to thin it for leftovers.
Your bouquet garni can contain whatever your personal favorite herbs are, but my favorites are parsley, thyme, and rosemary.
For a migraine friendly stock or broth (without MSG), see the details in this post.
Nutrition
Serving:
12
oz
|
Calories:
456
kcal
|
Carbohydrates:
30
g
|
Protein:
47
g
|
Fat:
16
g
|
Saturated Fat:
4
g
|
Cholesterol:
154
mg
|
Sodium:
1746
mg
|
Potassium:
640
mg
|
Fiber:
2
g
|
Sugar:
3
g
|
Vitamin A:
3880
IU
|
Vitamin C:
2
mg
|
Calcium:
46
mg
|
Iron:
2
mg