Olives are a confusing topic when it comes to a migraine diet. Heal Your Headache states that they're "ok", but at the same time most olives are packed in aged vinegars (on the avoid list) and are cured. If we're supposed to avoid cured and fermented meats, wouldn't olives be the same? There seems to be a division about this in migraine groups online. I'm in the camp of avoid until your migraines are under control, then reintroduce. They never seemed to be a huge trigger for me, but I'm also careful to buy olives with the pits still in them. Let me explain why.
Olives by themselves would be disgusting if you ate them from the tree. This is because of a naturally bitter compound called glucoside that's in oleuropein, a substance in the olive. There are few methods by which olives can be cured. Older olives can be salt or dry-cured to produce a shriveled, salty product. The flavor is still mildly bitter.
Why You Should By Whole Olives
Another method is to naturally cure them through a water, vinegar, or oil mixture, but this process can be more expensive as it takes longer. The most common option is to treat them with food-grade lye, a chemical sodium hydroxide solution, that allows them to ripen quickly. Not only is a chemical solution already used to ripen the olive, but they also add chemicals to the brine to allow olives to withstand the pitting process. Olives that are pitted can often be sold in marinades to cover up the flavor that the chemicals can leave behind.
I learned a lot of this on a food tour in the Gracia neighborhood of Barcelona. One thing the chefs mentioned was that the most flavorful part of an olive is right next to the pit, and pitting removes that element. You can read more here. While it's difficult to tell if olives have been cured with lye or the natural way, you can at least control some chemicals by staying away from pitted olives.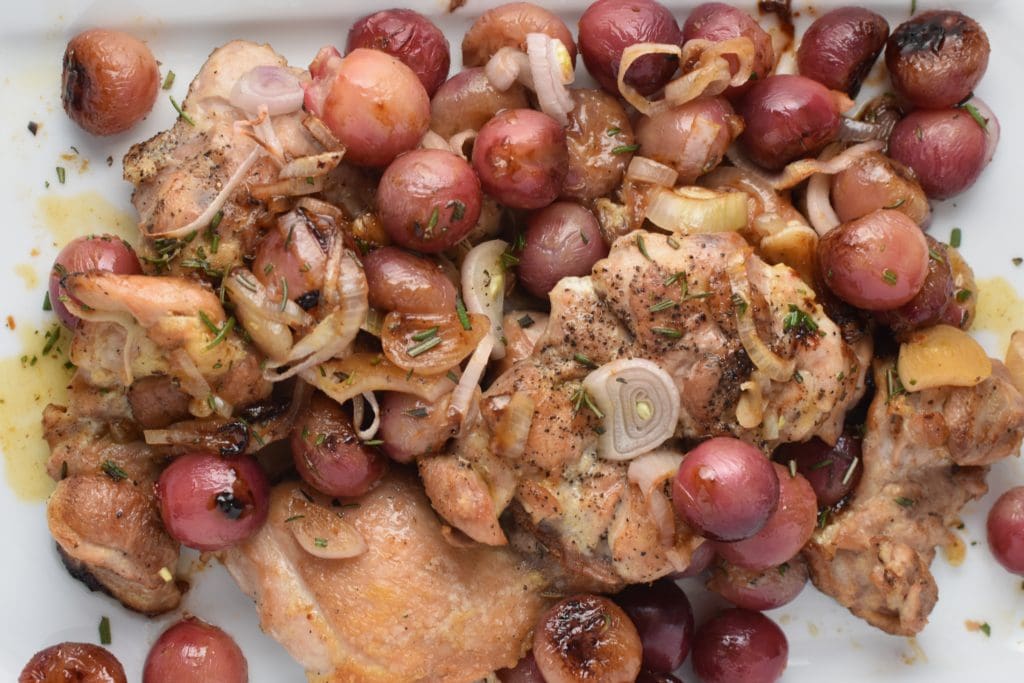 Best Olives for Migraine Diets
Get your olive pitter ready! There are a few different olives you can try if you're a little adventurous with your migraine diet. These Divina Castelvetrano Olives can be found at Thrive (for $4.99!) or at Whole Foods for twice as much…ha. They're packed in water which makes them an ideal choice. Castelvetrano olives are buttery in flavor and more firm in texture. Here are some fresh packed options for Catelvatrano's on Amazon. Some other options are these oil-cured black olives, or Saveur recommends these Kalamata's from Sahadi's or these in a natural brine on Amazon. These also look wonderful too, packed in olive oil.
Maybe you're saying "Alicia, you're crazy! I'm just going to my local grocery!", well then I suggest getting ones with the pits and washing them thoroughly, as most are packed in red wine vinegar. Since they are not pitted, I've read less of the solution can actually penetrate the skin. Worth a try!
Three Ways This Works
This recipe has been a staple dinner for us since the Smitten Kitchen Cookbook first came out. Deb Perelmen is an expert at the easy, yet elevated weeknight meal. I also love that she puts into the consideration the amount of dishes you will be using, and gives you options for one pot/pan meals! Unfortunately when I started the Heal Your Headache diet, I found my favorite cookbooks collecting more dust than usual. Some recipes were just too complicated to adjust without sacrificing a ton of flavor. Deb's "harvest roast chicken with grapes and olives" was one I thought I could never make again when I originally kicked olives to the curb. Fortunately if you are avoiding olives, this recipe is still good with the grapes only. To add in the saltiness I'm missing, I'll either top the dish with some Pink Himalayan Salt or fresh goat cheese.
Roast Chicken with Grapes and Rosemary - 3 ways
Adapted from Smitten Kitchen
Ingredients
3

pounds

boneless chicken thighs, skin on if you'd like

1

tbsp

olive oil

1-2

cups

seedless grapes

If not using olives, use around 2 cups. If using olives, use only 1 cup of grapes.

2

shallots, thin sliced

1

cup

clean chicken or vegetable broth/stock

1

tbsp

fresh rosemary, finely chopped

kosher salt and pepper

1

cup

OPTIONAL: olives of choice

It will be worth the effort to pit these on your own, but you don't have to. Deb recommends Kalamata

OPTIONAL: fresh goat cheese

If not using olives, you can use this to add a little salty/savory aspect to the dish

OPTIONAL: Pink Himalayan sea salt

If you don't want to use olives or goat cheese, top your finished dish with a few cranks of sea salt
Instructions
Preheat oven to 450 degrees with the rack in the middle. Pat chicken dry and season with kosher salt and pepper. Heat oil in a cast iron skillet or one that's ovenproof over medium high until it shimmers. Working in batches to avoid steaming, brown chicken, skin side down first (if using). Let the chicken sit on the first side at least 2.5-3 minutes to get a nice sear. Do not move it around or it won't brown nicely! Turn again and brown for another 2-2.5 minutes.

Return all the pieces to the pan, skin side up (if using) and surround with grapes, OPTIONAL olives, and shallots. Roast the chicken in the oven until juices run clear - about 15-20 minutes. Transfer chicken, grapes, and optional olives to a platter and then add your chicken or vegetable broth to the skillet. Bring it to a boil, scraping up browned bits, until the liquid has reduced by half (3 minutes). Pour sauce over the chicken and top with rosemary.