This recipe for zucchini boats stuffed with sweet Italian chicken sausage is beyond easy to make. It cooks in about 30 minutes total and can please anyone on a low carb diet or following the Heal Your Headache migraine diet. Savory with a hint of spice and creaminess from the cheese that you won't feel too guilty about because you're eating so many veggies!
What is it about eating food in boat form that makes it so much fun? The world may never know. Since I'm on my little Keto kick, I thought I would continue with a recipe that can be modified to fit either Keto or the Heal Your Headache diet. I was not quite sure how this one would turn out since I've never made something like this before, but I did make 4 servings and two of us ate them all. Oink oink.
A clean sweet Italian chicken sausage, or sausage in general, can be tough to find. I avoided it for a long time when I was just starting out in my migraine diet journey. Then one day I got really bold and asked the butcher exactly what was in it. He printed me an ingredient label and we discussed it for a bit. I realized that sausage can actually be very clean, depending on where you get it. You can see the label below from central market. No hidden MSG! I know not everyone lives near a specialty grocery like Whole Foods or Central Market, so I found a recipe you can use here. I would probably use marjoram and rosemary instead of the Italian seasoning, but you do you. If you can get ground chicken thighs, it will have even more flavor than ground chicken breast.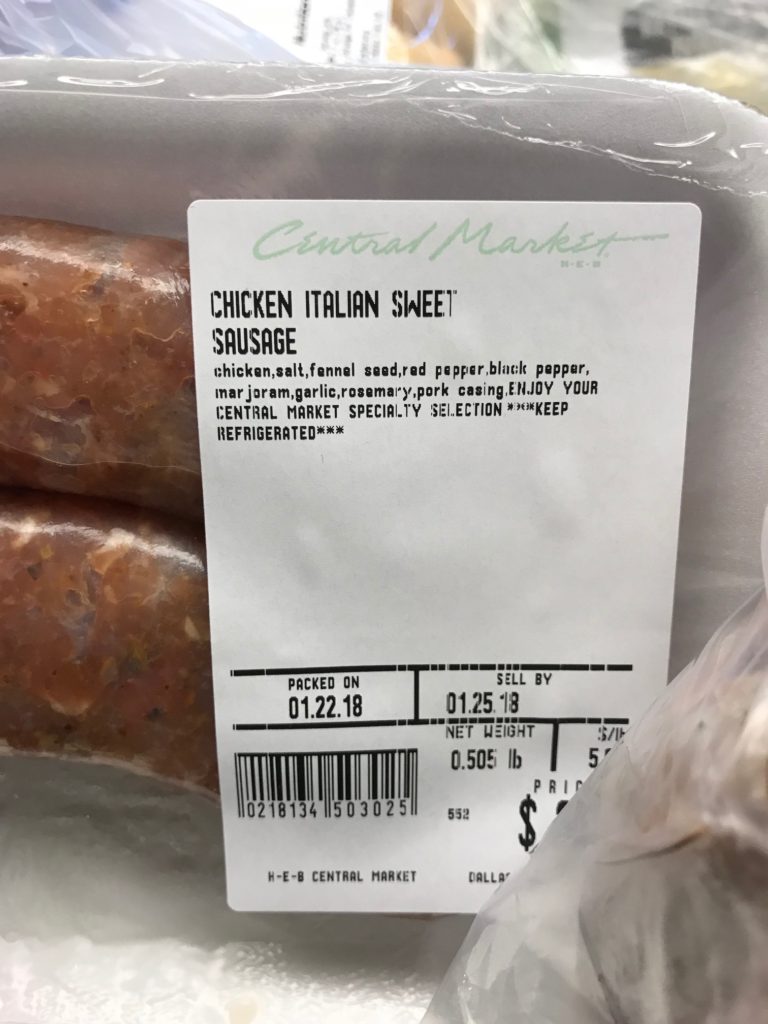 I thought the zucchini would be tough to scoop out, but they're not at all. I cut them in half and then used a spoon to scrape the middle, leaving about 1/2 inch of skin to work with. You can save what you scooped out and use it for omelette's or zucchini bread – whatever floats your  (zucchini) boat.
These cook relatively fast and are a super simple weeknight dinner. I just served it on a little arugula and we didn't even need sides. I can imagine these would be very popular for a family!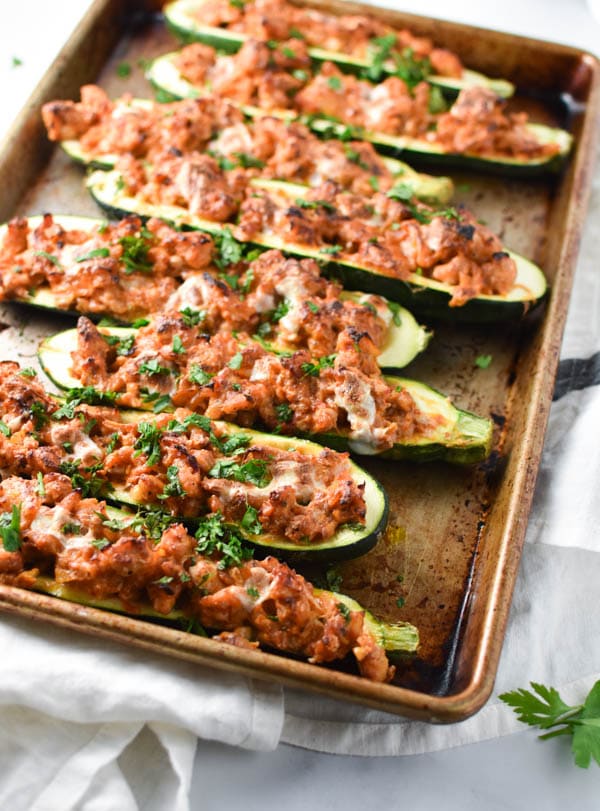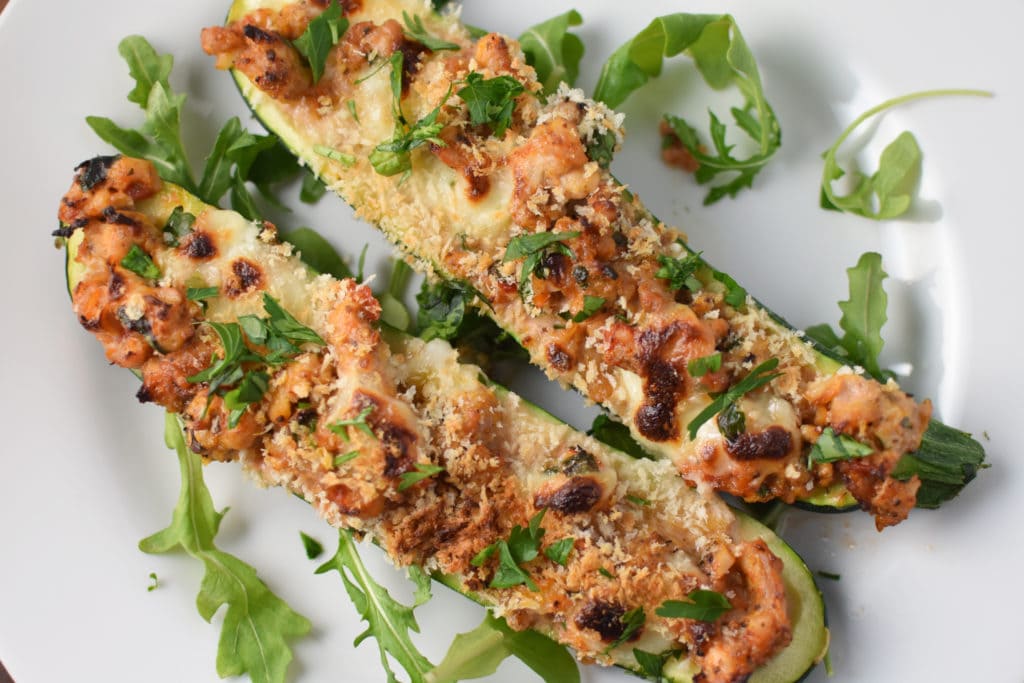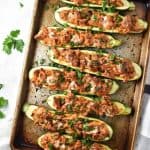 Italian Chicken Stuffed Zucchini Boats
Zesty, delicious and low carb, your family will love this quick and easy recipe. If you can't find clean sweet Italian chicken sausage, you can make your own with ground chicken. Refer to the link in the post. 
Ingredients
1.5

lbs

sweet Italian chicken sausage

I got mine from Central Market but see link for a clean way to make your own

4-6

large

zucchini, cut in half and scraped out with a spoon to leave about 1/2 inch on the outer skin/layer

1

tbsp

olive oil

1

large shallot, chopped

2-3

garlic cloves, minced

I used 3 small

1/4

cup

canned diced tomatoes or tomato sauce

* Can omit if it's a trigger

2-4

oz

goat cheese or cream cheese

1/4-1/3

cup

shredded fresh mozzarella cheese

I got the ball from Trader Joe's and shredded myself

2

tbsp

fresh basil chopped

2

tbsp

fresh parsley chopped

kosher salt and freshly ground pepper

1/4

cup

OPTIONAL: panko
Instructions
Preheat oven to 375 degrees F. Slice zucchini in half lengthwise and scoop out the filling, leaving about 1/4" around the edges. You can use the scraped out filling for smoothies!

After you have scraped out the zucchini so they are little boats, place them on a lightly oiled cookie sheet. Meanwhile heat 1 tbsp olive oil in a large saute pan on medium high heat. Add the shallot and cook for 1 minute, then add the garlic. Remove any casings and add chicken sausage to the pan, separating into small pieces with a wooden spoon. Cook about 5-7 minutes until cooked through. 

On low heat, add tomatoes or tomato sauce and goat or cream cheese. Remove from heat once combined. Stir in basil and parsley (leave a little bit to sprinkle on top) and add salt and pepper to taste. Scoop filling into your zucchini boats. Top with shredded mozzarella and panko (if using). Bake for 15-20 minutes until lightly browned on top and bubbling. Zucchini should be softened but still firm. Serve warm.

If using panko and it is not brown enough for your liking, you can broil under high heat for 2 minutes or so.