This Chicken Stir Fry without Soy Sauce is a healthy dinner with tons of flavor. Vegetables and chicken are tossed with a spicy sesame stir fry sauce. Less than 30 minutes, this recipe is lower in sodium and just as delicious as a traditional stir fry.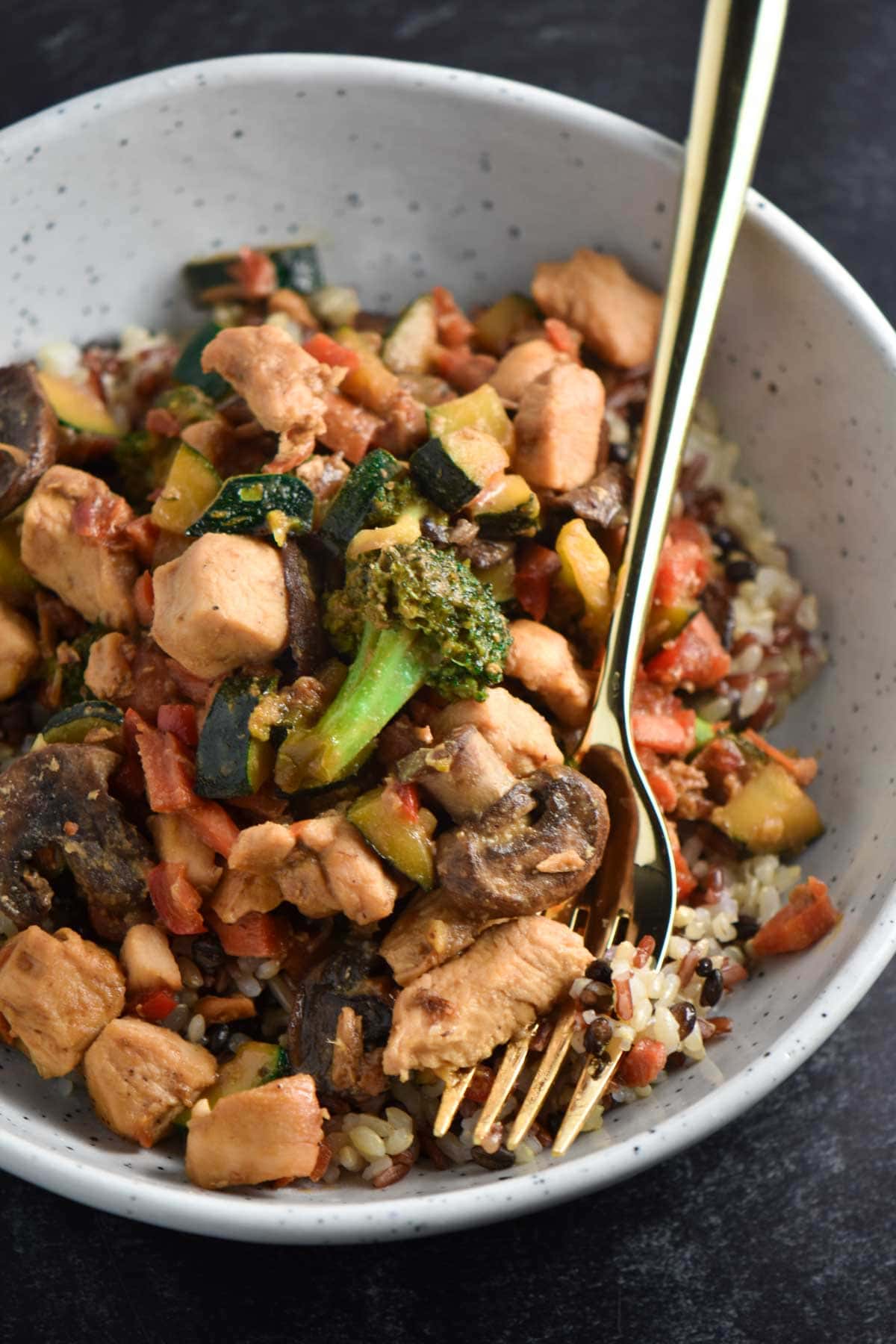 Soy Free Stir Fry
Soy sauce is made from fermented soy beans, so even if a product states there is no MSG, higher levels of glutamic acid or free glutamate is still present. For people on a migraine diet, soy products are avoided as a fairly common trigger, which also includes tamari even though they are gluten free. Whatever your need to avoid soy sauce is, this recipe will hit the spot.
This recipe fits a migraine diet, Whole30, and paleo diets, as well as gluten and dairy free.
It takes under 30 minutes to cook, making it perfect for busy weeknights.
The perfect meal prep recipe, this stores and reheats well.
It's lower in sodium than traditional tamari or soy sauce based stir fry.
By using the natural sweetness of coconut aminos, no added sugar is needed.
Jump to: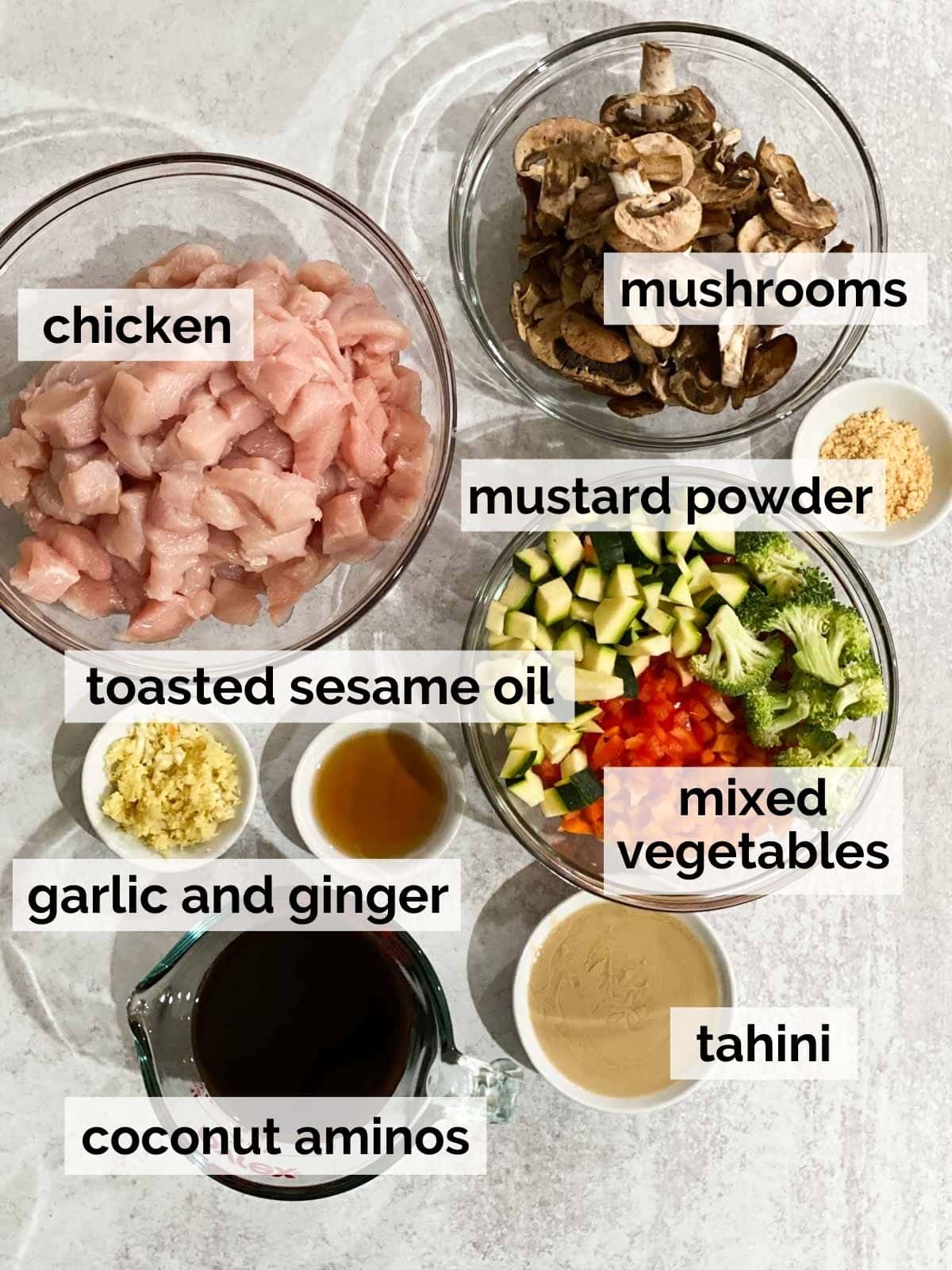 Ingredients
Coconut Aminos - This has substantially less sodium and is made from the nectar or "sap" of a coconut blossom, not the actual coconut fruit. If you can't tolerate coconut aminos for any reason, I recommend the soy sauce substitute from my Egg Roll Bowl post. I used Noble Made by The New Primal found at Whole Foods for this recipe.
Toasted Sesame Oil - This is used to create a good depth of flavor and balance the sweetness of the coconut aminos.
Tahini - This gives the soy-free stir fry sauce a sesame flavor and also adds a bit of creaminess. I recommend a brand called Krinos, but Trader Joe's also has a good one. It should be smooth and drippy, not dry and hard to scoop.
Spices - Ginger and garlic make the sauce super flavorful and also add some anti-inflammatory power. Dry mustard adds a little bit of heat to the stir fry sauce.
Chicken - I recommend boneless, skinless chicken breasts or thighs, cut into bite sized pieces. Air-chilled is great to get a nice golden brown sear and for the best flavor.
Vegetables - I used a mixture of broccoli, carrots, red bell pepper, mushrooms, and zucchini, but you can mix and match what works for you! I recommend at least 3 cups of fresh, chopped vegetables.
Step by Step Process
Make the sauce - Start by mixing together the garlic, ginger, sesame oil, coconut aminos, and tahini. A whisk or a food processor can help to blend this till it's nice and smooth. Ground mustard can bring some heat. Start with 1 teaspoon and taste, then add more as needed. I typically use 2 teaspoons (see above photo).
Brown the chicken - Use a large pan and spray with a mild oil (I used avocado). Then sear chicken for 3 minutes over medium high heat until it gets a golden brown. Use a wood spoon to turn the chicken so it gets cooked through and lightly brown on all sides - about 6-7 minutes total. Remove the chicken from the pan and set aside.
Add in vegetables - Stir the vegetables into the same pan, using a splash of stir fry sauce or vegetable broth to lift up any brown bits from the bottom of the pan. Stir often for about 5 minutes or until vegetables have softened. Push them aside and add mushrooms, if using, cooking another 2-3 minutes until they begin to soften.
Stir in soy free sauce - Add the chicken to the pan with the vegetables and stir in the sauce over medium heat, scraping up any brown bits at the bottom. The sauce should sizzle and bubble as it thickens over another 1-2 minutes.
Serve over rice.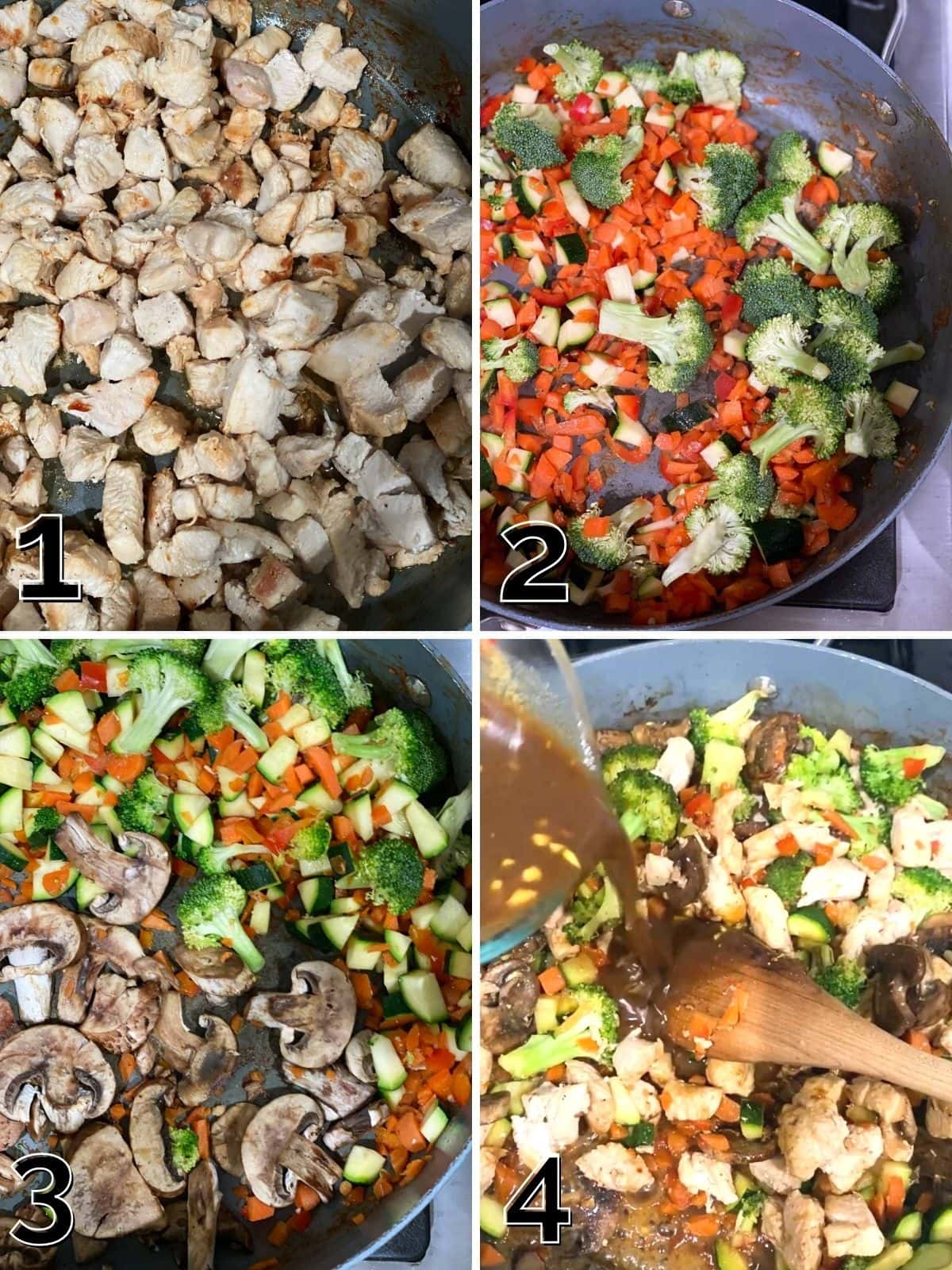 Vegetables You Can Use for Stir Fry
The veggies are totally up to you, but one thing to note is if you're very sensitive to glutamate and avoiding soy for that reason, you may also want to leave out mushrooms. Mushrooms are naturally higher in glutamate, however some people find they fair better with them over soy sauce. Good vegetable options are:
Zucchini and summer squash
Carrots
Mushrooms (if you can tolerate natural glutamate)
Green onion/scallions
Bok choy
Celery
Kale
Shallots
Bell Peppers
You can definitely make this into a vegetarian or vegan meal by adding 2 cups of more chopped vegetables instead of chicken.
Recipe Tips
Use suggested vegetables from the list above.
To make a low carb stir fry, replace rice and carrots with cauliflower rice and additional squash.
For those with a sensitivity to coconut aminos but wanting to stay soy free, try this soy free substitute recipe within the post.
Use a large non-stick wok or pan. I used a Greenpan here, but Caraway and MadeIn have some good ones as well.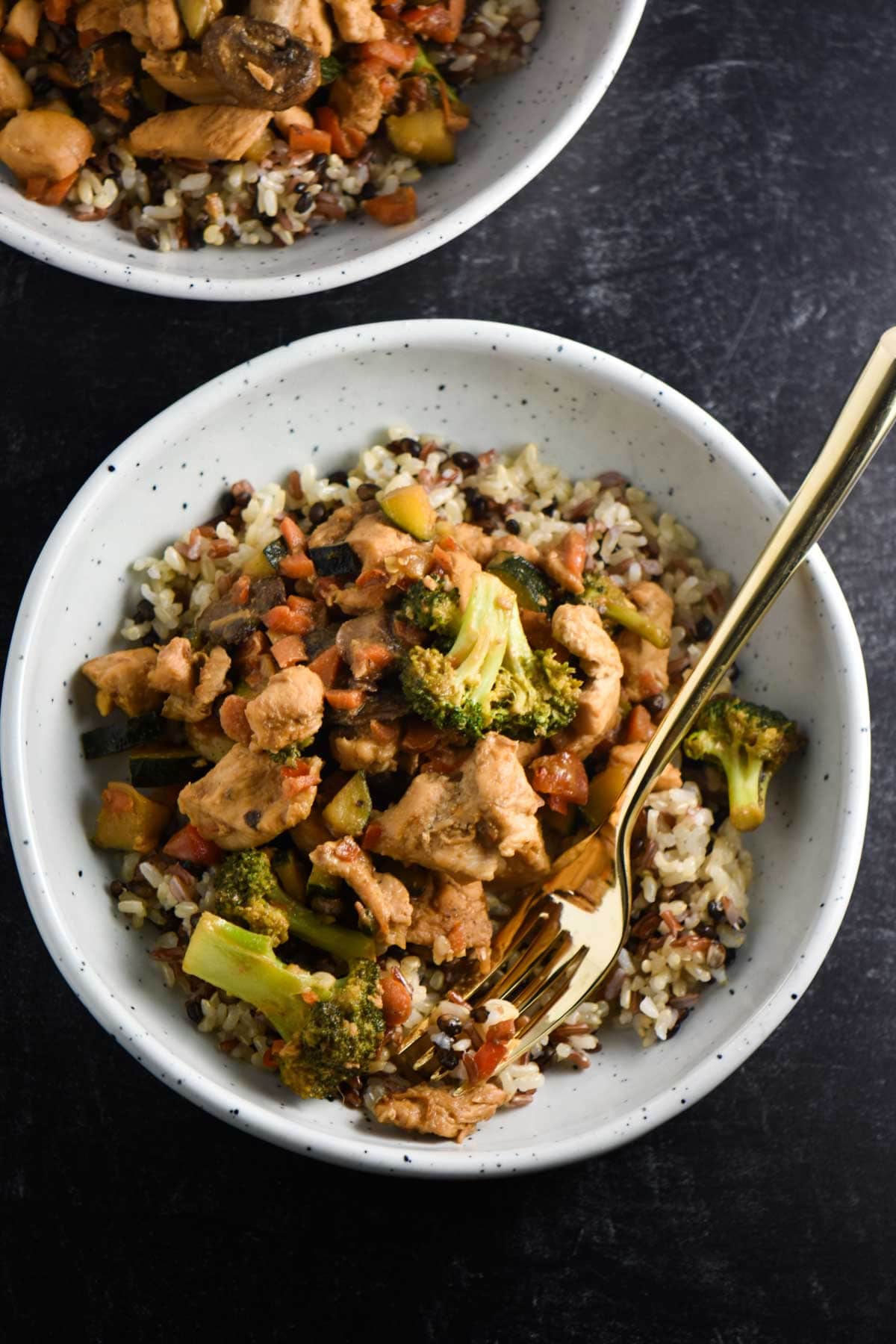 Side Dishes for Chicken Stir Fry
I served this with Trader Joe's microwavable brown rice mix, which takes 3 minutes to steam! Grilled Bok Choy would also work well with this recipe. I would recommend not adding too many sides as you truly get a full meal with this recipe - lots of vegetables and protein!
More Soy Free Recipes
If you like this soy free chicken stir fry, you may also like these recipes.
If you make this, tag me #thedizzycook or @thedizzycook on Facebook and Instagram. And if you love the recipe, please leave a review below! Follow along on my Pinterest for more great recipes.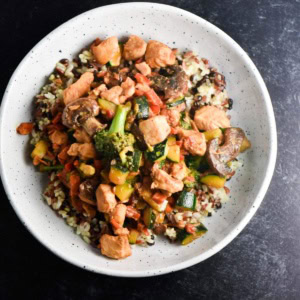 Stir Fry without Soy Sauce
This spicy chicken stir fry uses vegetables and a soy-free sesame sauce for a quick and healthy weeknight meal. Really easy to make all vegetarian as well.
Print
Pin
Rate
Ingredients
Soy Free Sesame Sauce
½

cup

coconut aminos

3

tablespoons

tahini

1

teaspoon

distilled white vinegar

1

teaspoon

toasted sesame oil

2

cloves

garlic, minced

1½-2

teaspoons

ground mustard

The more you use, the more spicy the dish will be.

1

teaspoon

peeled and grated fresh ginger

kosher salt to taste
Stir Fry
Vegetable oil spray

2

lbs

boneless, skinless chicken breast or thighs, cut into bite-size pieces

1

cup

zucchini, washed and chopped into ½" pieces

¾

cup

carrots, chopped

⅓

cup

red pepper, chopped

½

cup

broccoli florets

4

oz

mushrooms (optional)
Instructions
Add all the sauce ingredients to a food processor and blend till combined, or mix with a whisk till smooth. Taste and see if you need to add salt. Salt will balance the sweetness of the coconut aminos. Set aside.

Spray a large skillet or wok with oil and set to medium high heat. Add chicken and sear on first side for about 3 minutes, getting a nice caramelization. Use a wood spoon to flip and cook another 3-4 minutes, or until cooked through. Transfer cooked chicken to a plate.

Spray oil again to the same skillet or wok. If there are brown bits of chicken att the bottom, use a splash or broth or sauce to lift them up from the bottom of the pan. Add all the vegges except for the mushrooms and cook on medium high heat for 3-4 minutes. Move them to the side of the pan and add the mushrooms, cooking another 2 minutes.

Add the chicken back to the skillet and pour in the sauce, which should sizzle and start to bubble. Allow it to bubble and thicken, another 2-3 minutes, stirring frequently. Serve stir fry on top of rice.
Notes
I used Noble Made from The New Primal for coconut aminos, found at whole foods. See the post for a coconut amino substitute.
Coconut aminos are sweeter than soy sauce, and much less salty. They need to be balanced with the toasted sesame oil and a little bit of sodium. No added sugar is needed. Taste the sauce and use these to adjust to your liking.
Use a smooth, drippy tahini like Krinos or Trader Joe's.
Serve with rice or cauliflower rice. For low carb, replace the carrots with more squash.
Make this vegan or vegetarian by replacing the chicken with 2-3 cups of more vegetables.
Nutrition
Calories:
381
kcal
|
Carbohydrates:
12
g
|
Protein:
51
g
|
Fat:
13
g
|
Saturated Fat:
2
g
|
Polyunsaturated Fat:
4
g
|
Monounsaturated Fat:
5
g
|
Trans Fat:
1
g
|
Cholesterol:
145
mg
|
Sodium:
698
mg
|
Potassium:
1124
mg
|
Fiber:
2
g
|
Sugar:
3
g
|
Vitamin A:
4607
IU
|
Vitamin C:
37
mg
|
Calcium:
51
mg
|
Iron:
2
mg
This post was originally published May 7, 2018 and was updated January 17, 2022 with new photography, recipe tips, and step by step process. Below is an original photo.