These gluten free strawberry cupcakes are topped with a homemade strawberry cream cheese frosting. Not only are they delicious, but they also are xanthan gum-free!
Gluten Free Strawberry Cupcakes
These cupcakes were made specifically for the Vestibular Disorder Association in honor of Balance Awareness Week, September 16th-22nd. When VeDA asked me to be the ambassador for the week, I was beyond honored. Since the mascot for vestibular disorders is a flamingo, I racked my brain for any pink foods I could make – this is no easy task, folks. My friend Rhiannon, over at The Crumbly Bits had made some perfect looking, hot pink strawberry cupcakes a few weeks earlier and I was desperate to make a migraine friendly version. And so my super fun adventures in gluten free baking continue (continuously bangs head into bags of rice flour).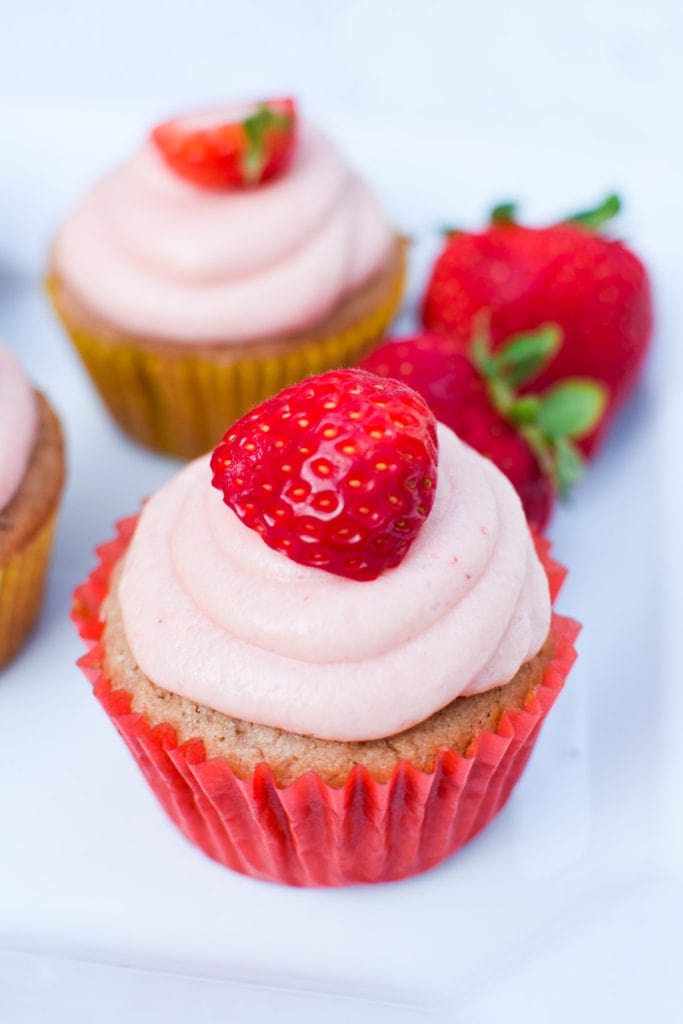 First I'd like to tell you why Balance Awareness Week is important to me. If you haven't read my full story, I encourage you to do so. The idea behind it is to tell our stories with vestibular migraine or vestibular disorders in the hope that one day they will be recognized like MS, Parkinson's, or ALS. Similar to these illnesses, there's no cure for migraine or the majority of vestibular disorders. You must learn to live with it and manage it as best you can, hoping to possibly go into remission.
Since "dizziness" as a symptom is on literally every WebMD page, it can be extremely difficult to get a proper diagnosis. Often patient's concerns are written off and you are sent home with meclizine. I can guarantee you some people probably still think I'm crazy I left my job because of "headaches". If only they knew that vestibular migraine is nowhere near a headache.
Las Vegas – A Vestibular Migraine's Worst Nightmare
Last week I went with my husband on our annual trip to Vegas. He always goes one week a year for work and since we first began dating I would come along with him. Two years ago, this trip was my first after being diagnosed with VM. Vegas was the worst possible place I could have ever gone. The heat, the flashing lights, the smoke and strong perfumes – I was miserable and spent most of my time there in bed. Although I was happy I took the chance on a trip, it really scarred me for future travels.
Fast forward to last year. I was on track with my supplements, diet, and medications and having some 70-80% days. When I told my vestibular therapist about this trip and how nervous I was, we practiced VRT that was specifically geared towards the triggers I would face. Did you know there are thousands of youtube videos of people filming themselves walking through Vegas casinos? My therapist curated a few videos that ranged from easy (professionally produced with less camera shaking and crazy lights) to extremely hard (drunk dude walking through the Cosmopolitan with his 12 kids). I watched them till I felt my dizziness hit a peak, then stopped the video and rested till my symptoms reached a baseline again. This continued for months prior to the trip and my hard work paid off. I managed to actually go out to dinners and enjoy myself.
The Benefits of Vestibular Therapy
So how did this year go now that I'm having 100% days? Aside from the terrible flight in where we bumped around for about an hour while I kept a solid grip on my flight sickness bag, as well as the flight back where everyone next to me smelled like gin, smoke, and lies – pretty darn good! The last few years I have skipped the club night that the conference sponsors since it sounded like my worst nightmare. This year I went not expecting to stay long, and I surprised myself.
Did I have to look away from the flashing lights occasionally and stand in a quieter corner? Yes!
Did I have to nurse my tequila shot as if it cost $1000 (actually it might have since it is Las Vegas)? Yes!
Did the scantily clad bartenders look at me funny when I kept taking their Fiji water mixers instead of grabbing actual booze? You bet!
But I was probably the happiest person in that club because I knew what an accomplishment this was for me and how far I had come within just 2.5 years. Well, aside from Diplo who probably got paid millions to play one hour of music.
My point is that there are options other than just medications that do work. And you need to test them all to find out what works best for you. Don't write off vestibular therapy because you're not seeing results in a week. It takes months and months to get better at this. I still practice it to this day. Just like this recipe that I made 4 times to get just right, trial and error is necessary to move forward.
How Can You Make a Difference?
For Balance Awareness Week, I'll be featuring stories from fellow vestibular migraineurs about their journey with vestibular therapy and/or a migraine diet. If you'd like to join our team or would like to support us with a donation, please go to our link here with the Vestibular Disorder Association. You can also shoot me an email ([email protected]) and I will feature your story. Your donations will go to materials and research that aid people like you or your family members to find the right doctors and resources so they can begin their journey to healing as quickly as possible. It also contributes to educating doctors and encouraging research into vestibular disorders, as the majority of health professionals don't receive education on this subject. You can probably count the number of specialists that specifically treat vestibular migraine on one hand.
Gluten Free Cupcakes without Xanthan Gum
I made my own gluten free flour blend for these gluten free strawberry cupcakes because I don't like using xanthan gum since people can be triggered by it. Feel free to use your favorite gluten free mix if this isn't an issue for you, or regular flour if you're not gluten free. You will need 1 3/4 cups total. I used psyllium husk powder as a binder instead of xanthan gum.
You can usually find this on amazon or in the health section of your grocery store. If xanthan gum isn't an issue for you, use 1/2 tsp. You could also go without it, just note that your cupcakes might fall apart more easily.
Strawberry Cream Cheese Frosting
3 cups of whole strawberries for me equaled 1 cup of puree. These puree quite easily in my vitamix, but you may need to smash them a few times in a regular blender or food processor. If you have some leftover, it's really great in sparkling water or mixed in oats for breakfast.
You might be tempted to add more strawberry puree into your cupcakes to make them have a strong flavor. I assure you that I have already done this and they were way too gummy. I was also tempted to reduce the sugar in this recipe, but I'm finding that gluten free baking needs a little more sugar to keep things moist.
But a little bit more won't hurt your frosting too much, you may just need to add a little more sugar to even it out.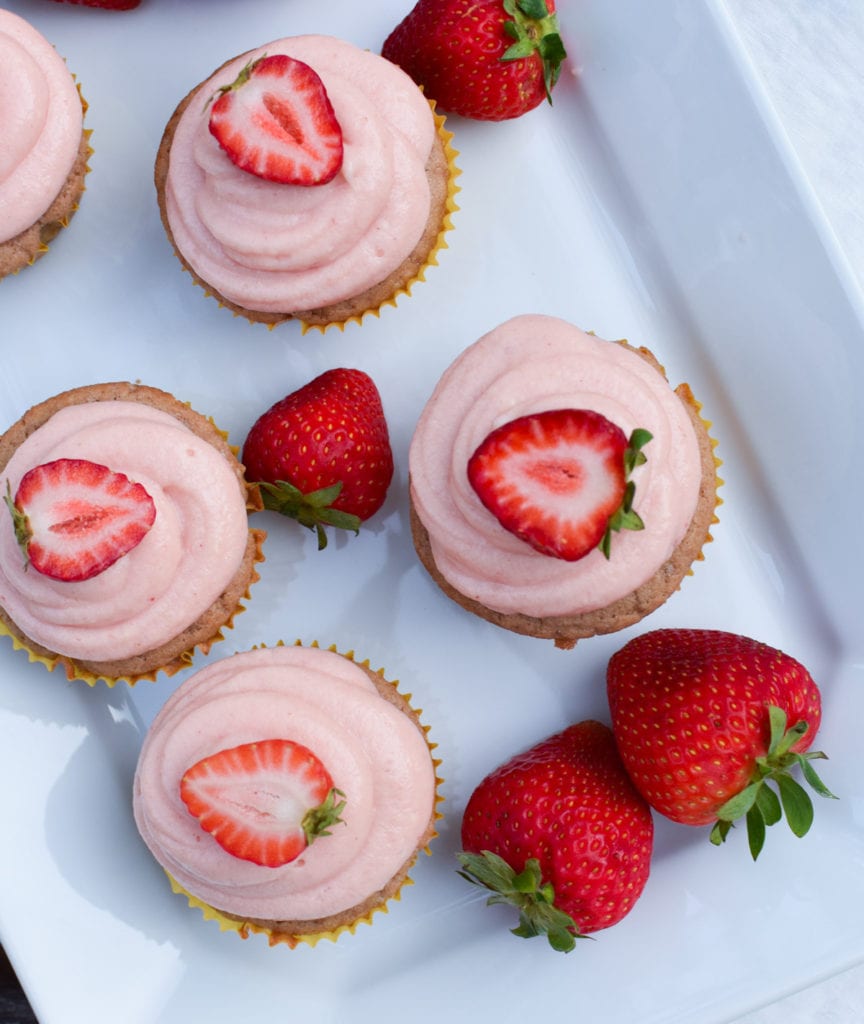 Strawberry Cupcakes with Strawberry Cream Cheese Frosting (Gluten and Xanthan Gum Free)
The cupcakes themselves have a very light strawberry flavor so they're complimented well with the sweet, strawberry cream cheese frosting. Perfect for parties or just a nice sweet treat!
Keyword:
Gluten Free, Heal Your Headache, Strawberry Cream Cheese Frosting, Strawberry Cupcakes
Ingredients
For the gluten free flour mixture
3/4

cup

brown rice flour

* I used Bob's Red Mill

1/2

cup

potato starch

* I used Bob's Red Mill

1/4

cup

tapioca starch

* I used Bob's Red Mill

1/4

cup

oat flour

* I used Bob's Red Mill

3/4

tsp

psyllium husk powder
For the cupcakes
1-3/4

cups

gluten free flour mixture (or regular flour if not gluten free)

1/2

cup

strawberry puree

* around 1 1/2 cups whole strawberries blended. You will need about 2-3 cups of strawberries total for this recipe

10

tbsp

unsalted butter at room temperature

* I used Kerrygold

2

large eggs at room temperature

1/2

cup

whole milk

* I used Organic Valley GrassMilk

1

tsp

distilled white vinegar

3/4

cup

organic cane sugar

2

tsp

vanilla extract

1/4

tsp

salt

2

tsp

baking powder

1/2

tsp

baking soda
For the Strawberry Cream Cheese Frosting
4

oz

block cream cheese at room temperature

1/4

cup

unsalted butter at room temperature

* I used Kerrygold

2

tbsp (or more)

strawberry puree

2-3

cups

powdered sugar

1/2

tsp

vanilla extract
Instructions
Pull your eggs, butter, and cream cheese out to sit at room temperature. Wash and dry your whole strawberries (about 2-3 cups total) and place the in a high speed blender or food processor. Puree till completely smooth then set aside.

Preheat oven to 350. Combine the milk with the vinegar in a small bowl and allow to sit for a while. This creates homemade buttermilk without the migraine trigger!


In a large bowl, using a handheld or stand mixer with a paddle attachment, blend the butter and sugar together on medium high speed until creamy - roughly 2-3 minutes. Add eggs and vanilla, scraping down the sides of bowl as needed, and beat until combined - about another 2 minutes.

In a medium bowl toss together the flours, baking powder, soda, psyllium husk powder (OR 1/2 tsp xanthan gum if your gf flour does not have it *see notes*) and salt.

Slowly add the dry ingredients to the wet in 3 parts, beating on low speed after each addition till just combined. Then add the faux buttermilk mixture and strawberry puree till just combined. Do not overmix!

Spoon batter evenly into 12 cupcake liners. Bake for 18-20 minutes at 350 degrees until a toothpick inserted in the center comes out clean and the tops are firm to touch. Allow to cool at room temperature before frosting.

Meanwhile, in your stand mixer or with a handheld, beat together the cream cheese, butter, vanilla, and strawberry puree. The puree tends to clump up the cream cheese and butter so it's important everything is at room temp and it also helps to use a whisk attachment. Don't worry, this will all smooth out after a few minutes!

Add powdered sugar 1 cup at a time until desired thickness and sweetness is reached. Keep in mind you will place this in the fridge about an hour to firm up before piping. Frost right before serving!

I used a piping bag, but you could also spoon the frosting into a ziploc bag and trim off the end for a cheap, quick piping bag.

If making ahead, store the cupcakes at room temperature and the frosting in the refrigerator. Gluten free cupcakes tend to dry out faster, especially in the fridge!
Recipe Notes
Troubleshooting tips- if the frosting is too sweet, add a pinch of salt. If it's too thin, add more powdered sugar. If it's too thick, add more strawberry puree. Make sure to frost them right before eating. The frosting gets a little melty in the heat.
Using psyllium husk powder binds the batter, however these still crumble fairly easily. The frosting is important as it also helps binds everything together.
If you have no xanthan gum sensitivity - feel free to substitute the flours and psyllium husk powder for regular 1-1 gluten free flour. Or even regular all purpose flour.
Cupcakes and frosting can be frozen 1-2 months.
Nutrition Facts
Strawberry Cupcakes with Strawberry Cream Cheese Frosting (Gluten and Xanthan Gum Free)
Amount Per Serving
Calories 376
Calories from Fat 162
% Daily Value*
Fat 18g28%
Cholesterol 47mg16%
Sodium 137mg6%
Potassium 217mg6%
Carbohydrates 54g18%
Protein 3g6%
Vitamin A 553IU11%
Vitamin C 7mg8%
Calcium 64mg6%
Iron 1mg6%
* Percent Daily Values are based on a 2000 calorie diet.