This easy quiche Florentine is the easiest spinach and goat cheese quiche you'll ever make because you don't even have to make a crust! Minimal ingredients, quick prep, and awesome flavors make this a great breakfast.
Not only is it simple for a beginner cook, but this quiche Florentine recipe is perfect to meal prep for a brunch, Christmas or Easter. I'll show you how to do it all in this post!
One of my favorite recipes for when company stays over, I promise this will become a favorite easy recipe that you'll go to for weekend breakfasts. Serve this Quiche Florentine with Air Fryer Hash Browns and Cinnamon Milk Lattes, or warm Cinnamon Oatmeal Muffins.
Jump to:
What is in Quiche Florentine?
Quiche Florentine is a fancy label for quiche with spinach. Beloved by bridal showers and ladies who lunch, quiche is the ultimate brunch food and I love that this version is vegetarian, but still really filling.
The filling is a light and fluffy egg custard, with bits of goat cheese swirled throughout for a tangy flavor that compliments the spinach and shallots.
To make this quiche Florentine super easy, I went with as minimal ingredients as I could. To my surprise, the flavors were terrific. You really don't need 5 different kinds of cheese in a quiche to have great flavor, just a good one!
You'll love this recipe because:
Super easy - This recipe is so much easier than other quiche Florentine recipes because it is made specifically for a store-bought crust.
Little clean up - Minimal, quality ingredients are mixed together in one bowl.
Perfect for prepping - This can be made ahead and frozen for a party or brunch.
Delicious - A super flavorful quiche with simple ingredients.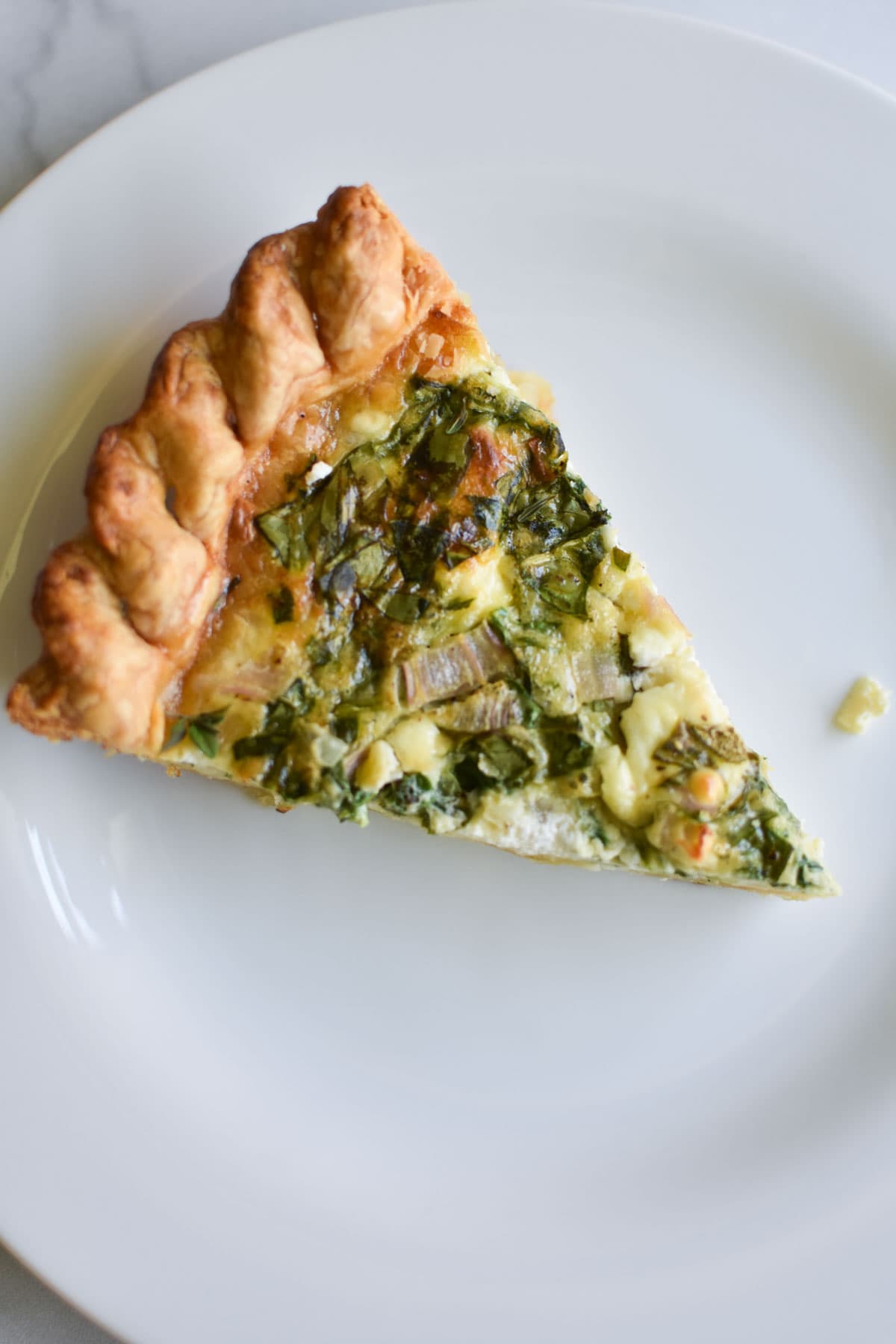 How to Make an Easy Quiche
Look, a lot of recipes will have you slaving away all day rolling out dough and sautéing vegetables to make this simple breakfast recipe and who wants to do that early in the morning? Not me.
What I love about this easy quiche recipe is even though it cooks for a long time, you can whip it up almost any morning - weekdays or weekends! It really is the easiest quiche recipe you'll ever make.
By using a store-bought crust, you cut your prep time to just 15 minutes, only 5 minutes hands on. What else makes this fast? You don't have to cook the spinach or shallots before you add them to the filling. Literally you just mix everything in a bowl, pour it into the pie crust, and bake.
Ingredients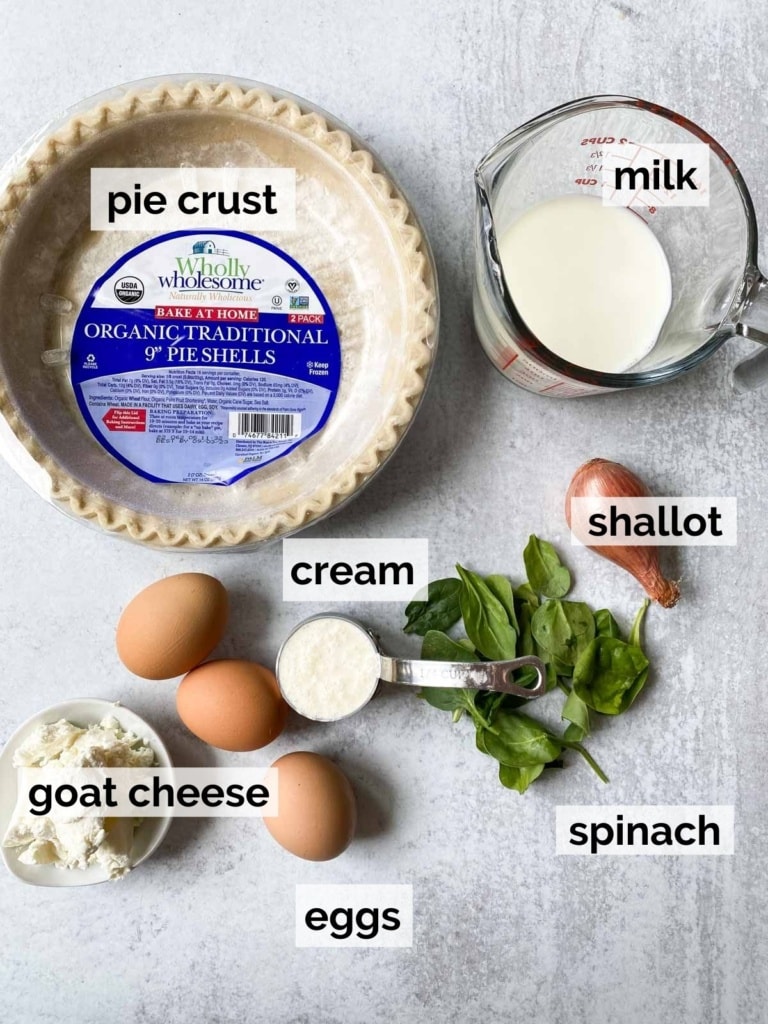 Frozen pie crust - You can use fresh if you'd like to make your own, but I just used a frozen one. Wholly Wholesome is my favorite and comes in both regular and gluten free! Favorite Frozen Pie Crusts: Willamette Valley Pie Co. All Natural Pie Crust, Main Pie Company (Gluten Free), Wholly Wholesome Organic Pie Shells (Sprouts)
Eggs - I use soy-free large brown eggs.
Fresh Spinach - For this recipe, I used fresh spinach. I find it wilts down the perfect amount in the oven without making the quiche watery or gritty, like frozen spinach can do. If spinach is a histamine issue for you, substitute chopped lacinato kale in the same amount.
Heavy Cream - A few readers have made this without using heavy cream, but I recommend it for the best texture. Use a brand without carrageenan like Horizon or Organic Valley.
Whole Milk - Again, for the best flavor and texture, I recommend whole milk. However you could substitute any type of milk you like.
Shallot - Don't skip this! This adds a light onion flavor without overpowering the dish. I don't recommend substituting this with onion.
Blind Baking the Pie Crust
Although using a pre-made crust is easier, the only thing you really need to do is to blind bake the crust. This just means to bake it before adding the quiche Florentine filling. Most frozen pie crusts will give you directions for this.
For mine, I let it defrost for 15 minutes and then I baked at 400 degrees Fahrenheit for about 15-20 minutes until lightly browned. This makes sure your quiche doesn't have a soggy bottom.
Even with frozen pie crusts, it's a good idea to take it out of the freezer while your oven preheats so it softens a bit. Poke the crust with the tines of your fork, or make a few thin slices into the dough with a sharp knife. This prevents the dough from puffing up too much while blind baking.
Step by Step Process
Step 1: Blind Bake Crust
Defrost the crust for at least 15 minutes and use a fork to poke a few holes around the bottom and sides. Bake according to the package directions or bake at 400 degrees F for 15-20 minutes, or until very lightly browned. Keep the oven at 400 degrees F. I like to bake on the bottom ⅓rd of the oven.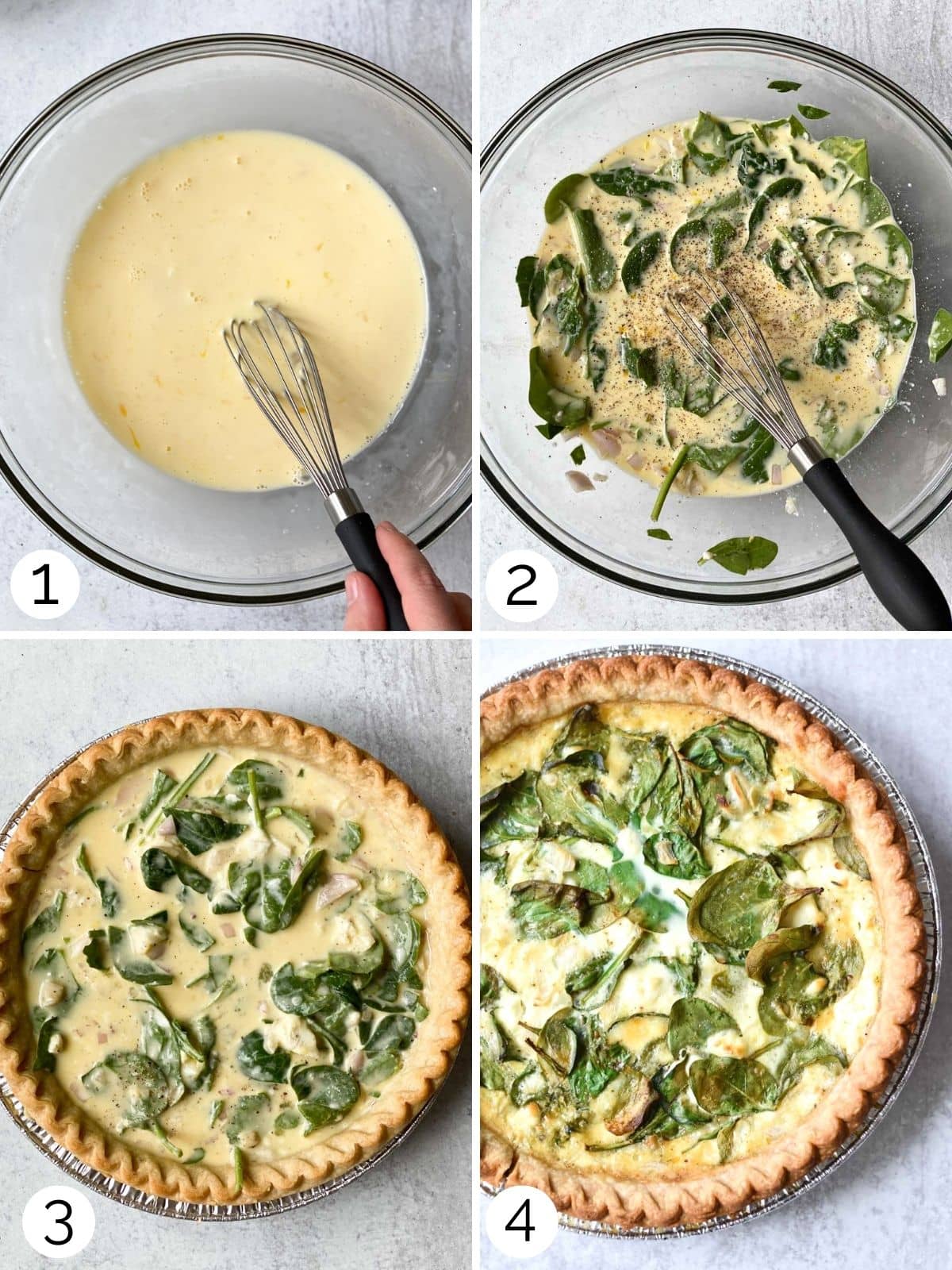 Step 2: Mix Spinach Filling
Whisk together eggs, milk, and cream first, then add in the chopped shallot, spinach, goat cheese, and salt and pepper. Pour into the pre-baked pie crust. (Picture 1, 2 and 3.)
Step 3: Bake the Quiche
Bake for about 50 minutes or until center has set, and no longer jiggles when you move it. Let the quiche Florentine rest for 15 minutes to cool and set before cutting. (Picture 4.)
How to Keep Quiche Crust from Cracking
Another tip for making the best quiche is to use pie weights, uncooked rice, or beans when pre-baking the crust, to make sure the crust doesn't puff up and break apart. I would put the effort into this if you want it to look really nice for family or are serving to friends.
I find that my quiche breaks a part a bit otherwise, but it also doesn't ruin the dish - which is fine for just me and Casey for a quick breakfast. Once you pour in the filling, it covers a lot!
Recipe Edits
This quiche Florentine would be super easy to make gluten free, using one of the gluten free pie crusts above (Wholly Wholesome has one too).
I would not try to make this one dairy free, as you lose a lot of the flavor without the goat cheese, plus full fat dairy is necessary to make this firm up the way it does. For a dairy free quiche, try my recipe for Dairy Free Mini Quiche. You could substitute the sausage for spinach as well.
Cheese Substitutions - If you're not a fan of goat cheese, cream cheese or Boursin cheese would work as a substitute in the same amount. But I would highly recommend trying this way first because the flavors are so nice.
Frequently Asked Questions
What is Quiche Florentine made of?
Quiche Florentine is a classic quiche recipe made from eggs and spinach, with some type of cheese added to it. "Florentine" is a way of preparing dishes that means it is accompanied by spinach - like "eggs florentine" or "salmon florentine". It makes the perfect breakfast, lunch, or brunch recipe. It is different from Quiche Lorraine in that it doesn't contain bacon and is totally vegetarian.
Can quiche be made ahead and frozen?
Yes! I make ahead and freeze this quiche Florentine all the time when I have family gatherings like Christmas and Easter. Just bake them according to the recipe and store in a good airtight container or ziplock gallon bag (mine always fits!). See my tips for reheating above!
How do I avoid a soggy crust?
If you're used to a soggy crust with quiche, the trick is to pre-bake the crust, which will avoid an undercooked, gummy pastry. Thoroughly prick the crust with a fork as well, all along the edges and bottom. This will help prevent it from puffing up. Pie weights or beans can also help maintain the form of the crust while pre-baking.
Can I use milk instead of cream for quiche?
Using a combination of milk and cream will give you the best texture and taste. Just using heavy cream would be too thick of a filling, but mixing the two provides an even filling that's rich without being greasy.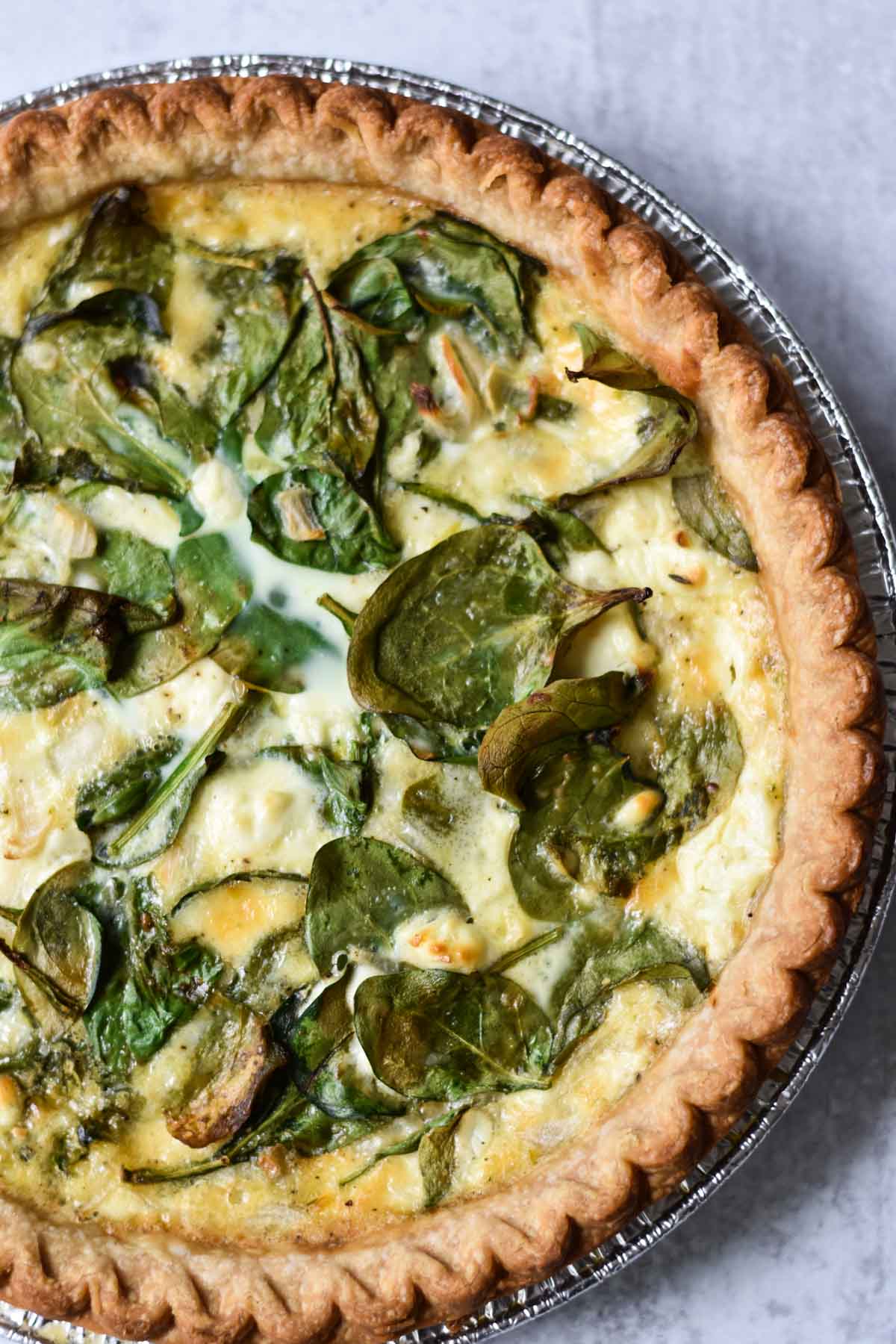 Storage and Reheating
We typically eat this whole spinach quiche and there are zero leftovers, which I think speaks volumes about this recipe - ha! But if you can show some restraint, quiche does freeze and can be easily reheated for a quick breakfast.
To store quiche florentine - Allow the quiche to cool completely. Place in an airtight container in the refrigerator for up to 3 days.
To freeze a whole baked quiche - For me, this fits in a gallon ziplock bag. Seal and place in the freezer for up to 2 months. I don't recommend freezing this unbaked just because it would be easy to spill before it gets frozen.
How to reheat a baked quiche - I think the best way to reheat it is in the oven on tin foil, usually about 350 degrees Fahrenheit for 15-20 minutes. The microwave will also work in a pinch, but the crust may be a bit more soggy.
How to reheat from frozen - Cover the quiche with tin foil and bake at 350F for 20-25 minutes, or until warmed through.
Breakfast Recipes
I hope you enjoy this easy Quiche Florentine as much as we do! If you have any favorite frozen crusts, let me know in the comments. Here are a few other favorite breakfast or brunch recipes that would pair well with this one.
If you make any of my recipes, don't forget to tag me #thedizzycook or @thedizzycook on Facebook and Instagram. And please leave a review below!
Easy Quiche Florentine
This quiche florentine is the easiest spinach and goat cheese quiche you'll ever make. Minimal ingredients, quick prep, and awesome flavors make this a great breakfast. Serves 4...or two really hungry people!
Print
Pin
Rate
Ingredients
1

9" frozen pie crust

3

large eggs

¾

cup

whole milk

¼

cup

heavy cream

3

oz

chevre (soft goat cheese)

½

cup

loosely chopped fresh spinach

1

shallot, chopped

¼-1/2

teaspoon

kosher salt and black pepper

fresh thyme (optional)
Instructions
Remove pie crust from freezer and allow it to warm while you preheat your oven. When softened a bit, poke holes all around the crust with the tines of a fork. If you want your crust to not puff up even more, fill it with pie weights or beans. Pre-bake your pie crust according to package directions (mine was 425 degrees F for 15-20 minutes) on the bottom ⅓rd of your oven, until very lightly browned.

Meanwhile, mix together the eggs, milk, cream and whisk till combined. Then add goat cheese (crumble with your fingers), spinach, and chopped shallot with kosher salt and black pepper and stir. The goat cheese will not fully combine, but that's ok, it will melt down.

Remove pre-baked pie crust from the oven, change the temperature to 400 degrees F, and pour in the filling. It's really ok if you pie bottom breaks a part a bit, you won't be able to tell once it's baked.

Bake at 400 degrees F for about 50 minutes, until the center is puffed up. It should have just a slight jiggle, not a wave, when you move it around. Allow it to set/cool for about 5-10 minutes before eating. I LOVE a little fresh thyme leaves on top if you have them on hand.
Notes
Pre-baking your frozen pie crust is necessary to keep it from having a soggy bottom. I also find that baking in the lower ⅓rd of my oven helps as well.
I have never had an issue with my crust burning at these cooking times, but if yours is looking a little dark, you can cover the crust with tin foil or a crust shield, if you have it.
Gluten free pie crusts are fairly easy to locate. I would not recommend editing this recipe to be dairy-free.
For those sensitive to histamine, replace the spinach with chopped lacinato kale.
Nutrition
Serving:
2
slices
|
Calories:
416
kcal
|
Carbohydrates:
28
g
|
Protein:
13
g
|
Fat:
28
g
|
Saturated Fat:
12
g
|
Cholesterol:
157
mg
|
Sodium:
359
mg
|
Potassium:
207
mg
|
Fiber:
2
g
|
Sugar:
3
g
|
Vitamin A:
1042
IU
|
Vitamin C:
2
mg
|
Calcium:
123
mg
|
Iron:
2
mg
This post was originally published October 6, 2020 and was updated April 2022 with new photography, recipe tips, and step by step photos.