This Sweet Chili Salmon is my favorite two-ingredient meal. Spicy and sweet Thai chili turns into a sticky sauce when cooked with salmon fillets for the easiest dinner kids and adults will love.
Sweet chili sauce has to be one of my favorite pre-made condiments, especially if you can find a really good brand with limited ingredients. The flavor pairs so well salmon for a sweet and savory flavored dish.
This sweet chili salmon is one recipe both kids and adults will love. Pair it with microwavable rice and some quick pickled vegetables for a fast weeknight dinner. In this recipe I give you two ways of cooking the salmon!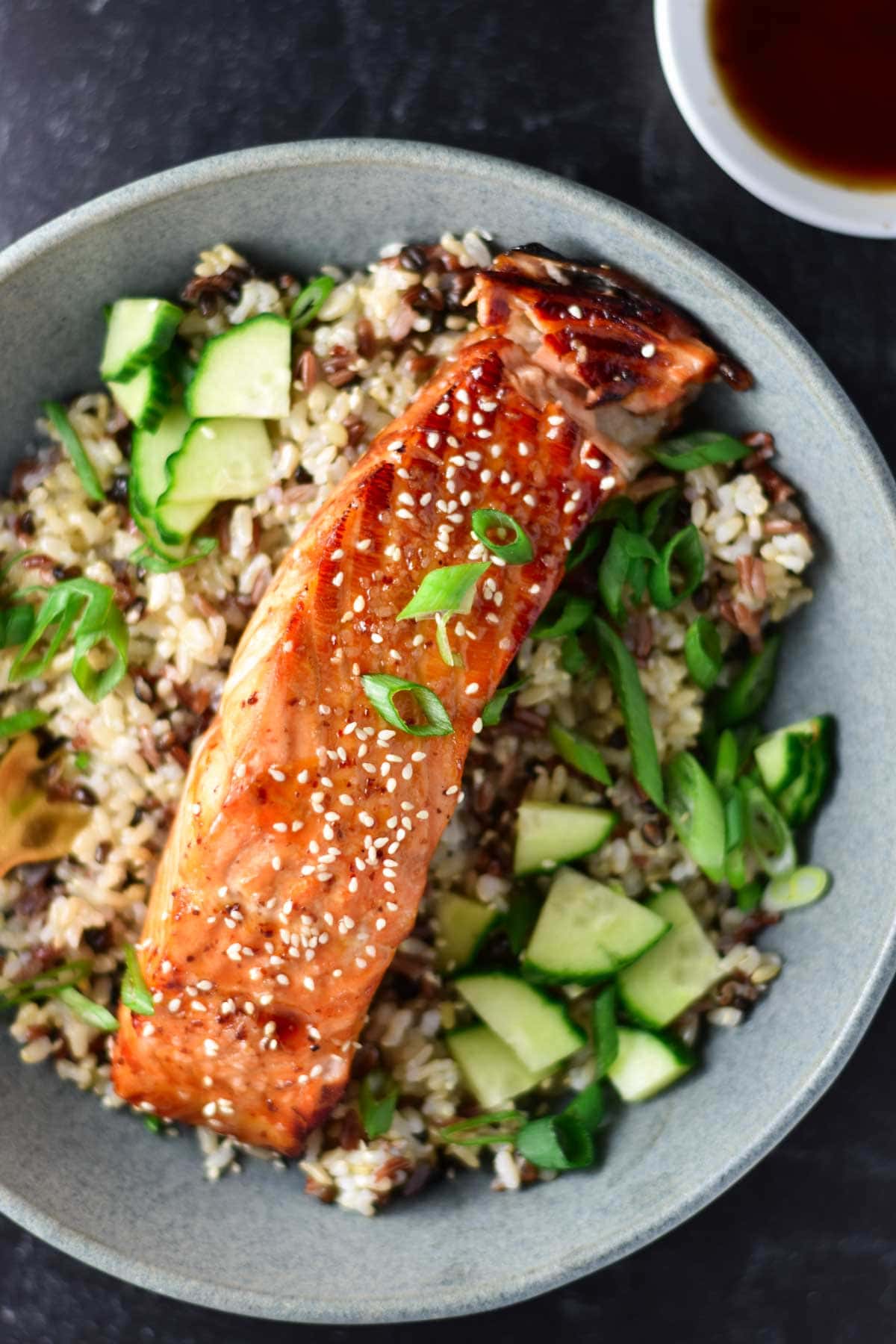 Salmon with Sweet Chili Sauce
This recipe came out of one of those evenings when you're too tired to cook. My son loves salmon and it's a great brain food that's packed with Omega 3 fatty acids, so I try to make a few meals a week with it.
But towards the end of the week the fridge starts to get bare and I don't have enough ingredients to make a full salmon dinner. Enter this sweet chili salmon!
I used the same marinating and cooking process as my Air Fryer Teriyaki Salmon, but switched out the teriyaki sauce for sweet chili. It's different, but really good. You'll love this recipe because it's: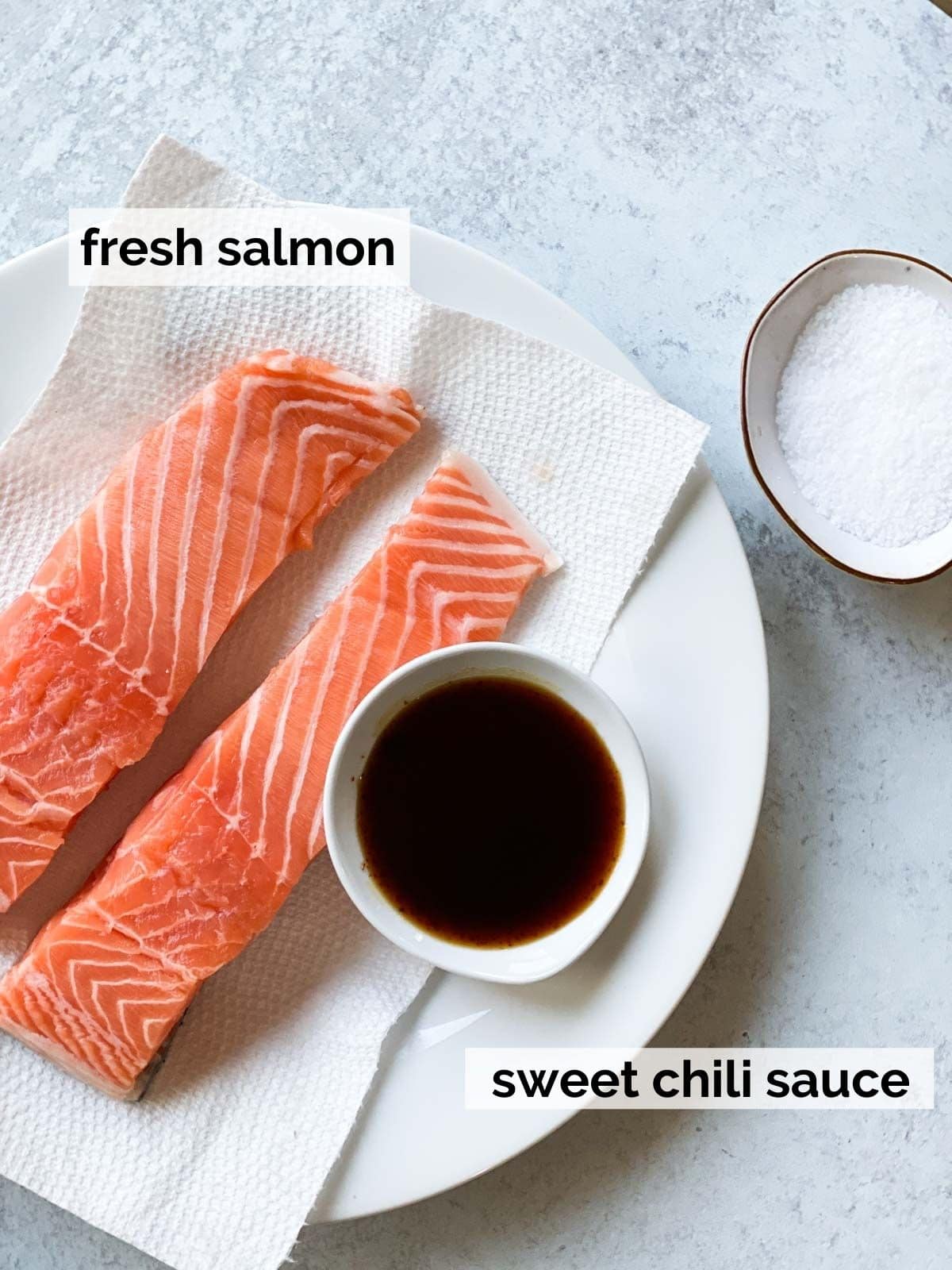 Ingredients
You literally only need two ingredients for this recipe. And salt. But salt doesn't count, right?
Salmon - My favorite type of salmon for general everyday is Verlasso, which is sustainably farmed. I find farmed salmon has the best flavor for my personal preferences. I tend to find wild caught Alaskan more of a fishy flavor.

For this recipe, either will work! Just choose your favorite. You can use fresh or frozen salmon that has been defrosted. Simply place frozen salmon in the fridge the night before you intend to make this recipe.
Sweet Chili Sauce - Sweet chili sauce is generally a mix of vinegar, dried chili pepper, and sugar. I love Pretty Thai sweet chili, which is made by a local small business in Texas. Minimal ingredients and perfect flavor, it's spicy without being overwhelming! Definitely worth ordering online or locating in an HEB/Central Market if in Texas.
How to Make
There are two methods you can use for making sweet chili salmon and I'll take you through both. But they start the same way - with marinating the fish.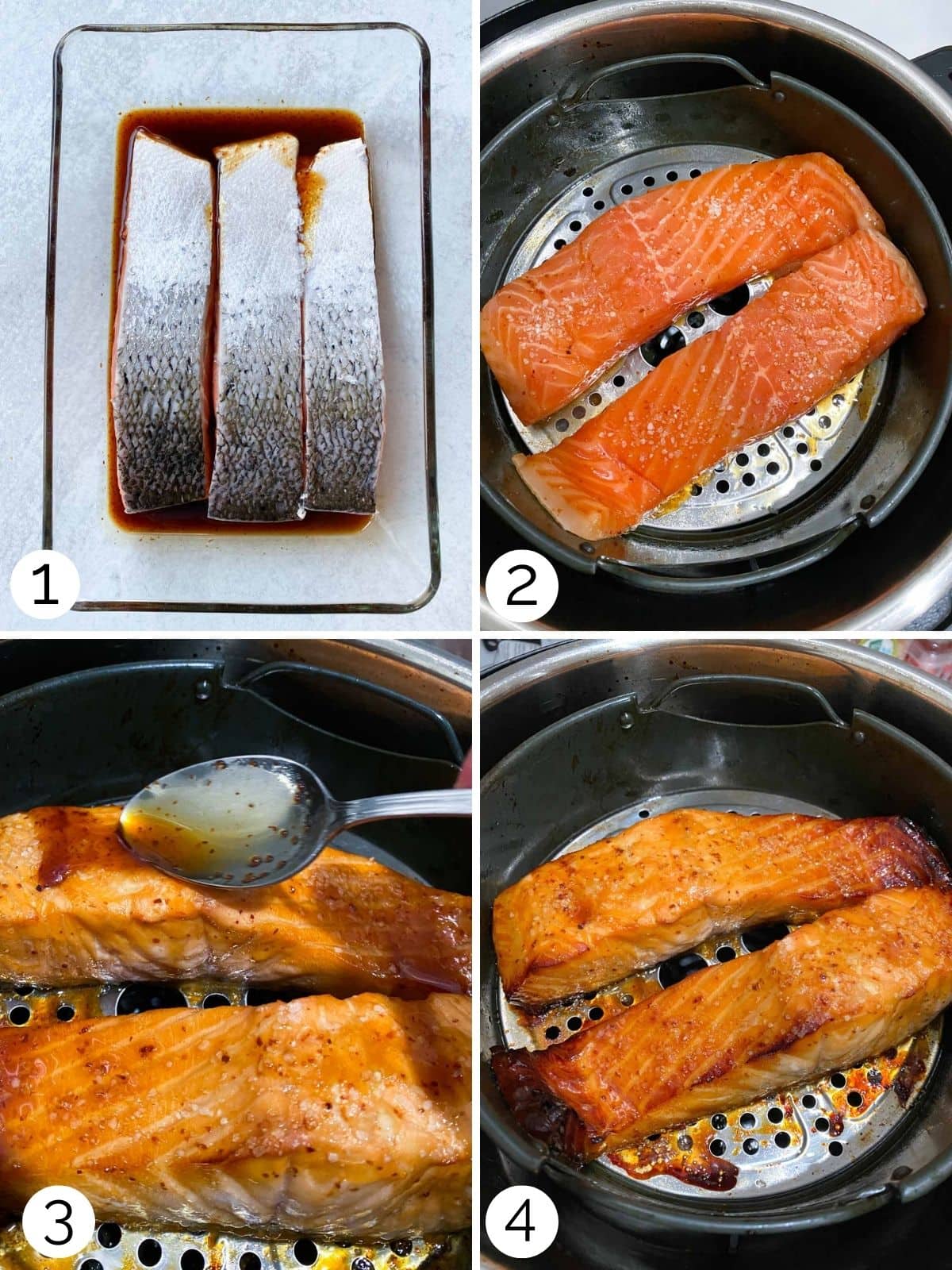 Step 1: Marinate the salmon
Pat the salmon fillets dry and pour ½ cup sweet chili sauce into a shallow dish. Place the salmon fillets meat side down into the sweet chili sauce (skin side up). Marinate for 30 minutes and up to 2 hours.
Step 2: Air fry or broil
Air Fryer Method - To air fry sweet chili salmon, preheat the air fryer to 400 degrees F. Place the marinated fillets into an oiled air fryer basket, skin side down. Air fry at 400 degrees F for 9-10 minutes, until just cooked through. (Shown above.)
Halfway through cooking (sometimes the air fryer will beep to alert you), use some of the marinade to spoon over the top of the salmon before replacing the air fryer cover.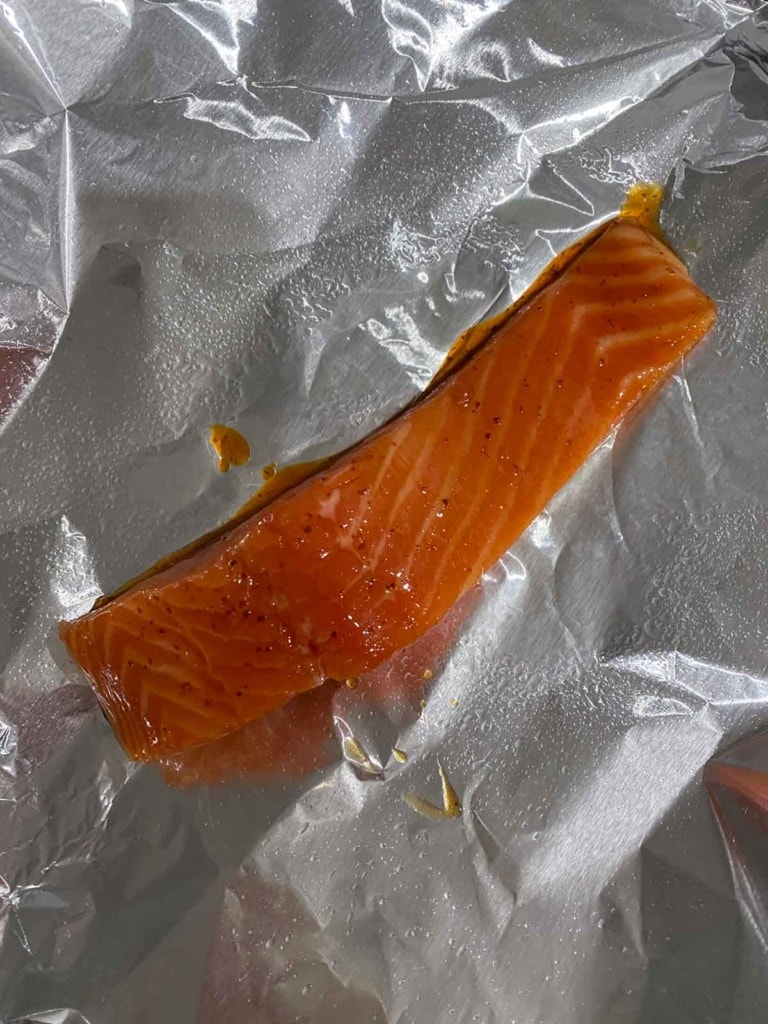 Broiler Method - To broil, place the marinated salmon fillets on a sheet pan covered with foil for easy clean up. Set the broiler to HIGH and place the salmon on the middle oven rack (several inches away from the heat source).
Cook for 4-6 minutes, watching carefully. The top of the salmon should darken in spots, but not burn all over. Remove from oven and wrap the tin foil up and around the salmon so it stays warm until you're ready to serve.
Step 3: Build your plate
Pair the salmon with rice and suggested toppings and serve warm. Serve with extra sweet chili sauce drizzled on top.
Expert Tip - Cooking times for salmon can vary by thickness. These cooking times were for salmon on the thicker side - at least 1 ½ inches.
Serving Suggestions
This sweet chili salmon could be paired with almost anything, even mac and cheese! But here is what I recommend.
Fresh sliced cucumber or avocado (if tolerated).
Trader Joe's microwave rice packets. They cook in 3 minutes!
Steamed or roasted broccoli and cauliflower.
Toasted sesame seeds for topping.
If you're looking for a sweet chili salmon bowl, I recommend using this spicy salmon bowl recipe as a base!
Storage Options
To meal prep this salmon, cook according to directions and allow the salmon to cool for about 20 minutes. Place in an airtight container in the refrigerator for up to 3 days.
I do not recommend freezing this salmon after cooking, but you could use frozen salmon that has been defrosted and place in the fridge to defrost the evening before.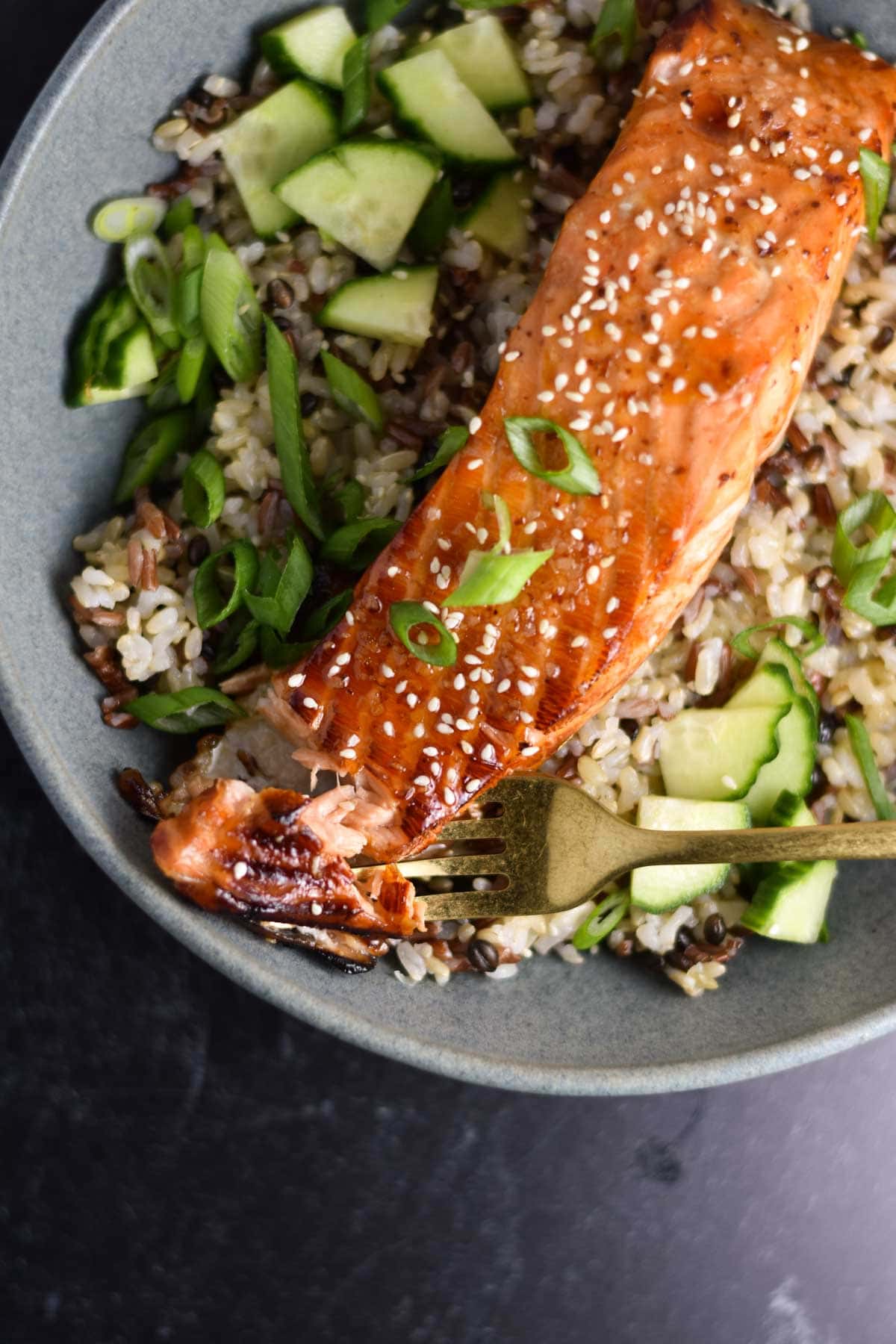 Frequently Asked Questions
How long does it take salmon to cook in the air fryer?
Salmon cooks perfectly in the air fryer at 400 Fahrenheit for exactly 9 minutes for a large fillet. Subtract 1 minute for a small, thinner fillet and add 1 minute for a very large fillet.
How can I spice up salmon?
If the sweet chili sauce is still too mild for you, mix in ½-1 teaspoon of sriracha sauce to give it an extra kick before marinating the salmon.
What is a replacement for sweet chili sauce?
If you can't find a good sweet chili sauce, try using hot honey to brush on top of the salmon. Or I would recommend one of my teriyaki salmon recipes.
Salmon Recipes
For more easy recipes like this sweet chili salmon, check out these posts! This would also work great with this Spicy Salmon Bowl.
If you make this, tag me #thedizzycook or @thedizzycook on Facebook and Instagram. And if you love the recipe, please leave a review below! Follow along on my Pinterest for more great recipes.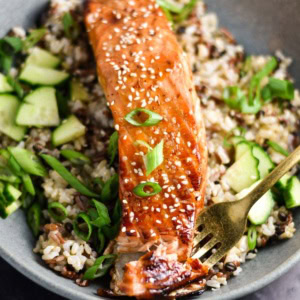 Sweet Chili Salmon
The easiest salmon recipe you'll ever make! A perfect mix of sweet and spicy sweet chili is combined with broiled or air fried salmon fillets for the perfect dinner.
Print
Pin
Rate
Ingredients
4

4-6oz

salmon fillets, skin on

½

cup

sweet chili sauce

kosher salt to taste
Instructions
Pat salmon fillets dry with a paper towel. Pour sweet chili sauce into a shallow dish that fits all the fillets. Place the salmon, skin side up with the fish in the sauce. Cover and place in the fridge for at least 30 minutes to marinate, up to 8 hours.

Air Fryer Instructions - Preheat air fryer to 400 degrees F. Oil the basket with whatever mild vegetable oil you have on hand, then place the marinated salmon fillets skin side down into the air fryer basket. Don't dump the marinade dish yet! Cook for 9-10 minutes, stopping halfway through to use a spoon a little more of the leftover sweet chili sauce on top of the fillets.

Broiler Instructions - Preheat oven broiler to HIGH heat. Place the salmon fillets on top of a baking sheet covered with aluminum foil, skin side down. Place in the middle of the oven, broiling till browned in spots and medium doneness - about 4-6 minutes. Watch carefully so the top does not burn. Use the foil to wrap up the fish until ready to serve.

Remove the salmon from the air fryer or broiler and serve with rice and toasted sesame seeds, if desired. Drizzle with a little more sweet chili sauce, if desired.
Notes
I used Pretty Thai sweet chili sauce for this recipe. It's got a little heat, but not too spicy.
This meal pairs well with microwavable rice bags (ready in 3 minutes), sliced cucumber, steamed or roasted broccoli and cauliflower, and toasted sesame seeds.
It also pairs well with mac and cheese for kids (or picky dads).
Nutrition
Calories:
247
kcal
|
Carbohydrates:
16
g
|
Protein:
26
g
|
Fat:
8
g
|
Saturated Fat:
1
g
|
Polyunsaturated Fat:
3
g
|
Monounsaturated Fat:
3
g
|
Cholesterol:
70
mg
|
Sodium:
250
mg
|
Potassium:
625
mg
|
Fiber:
1
g
|
Sugar:
10
g
|
Vitamin A:
51
IU
|
Calcium:
15
mg
|
Iron:
1
mg