This salmon with mango salsa is perfect for a summer party. Healthy, delicious, and easy to make, the sweet mango salsa perfectly highlights the smoky salmon. With my tips, you'll have easy clean up and have a perfectly grilled salmon the first time!
Don't have a grill? I include instructions for baking so you can make this salmon with mango salsa at any time!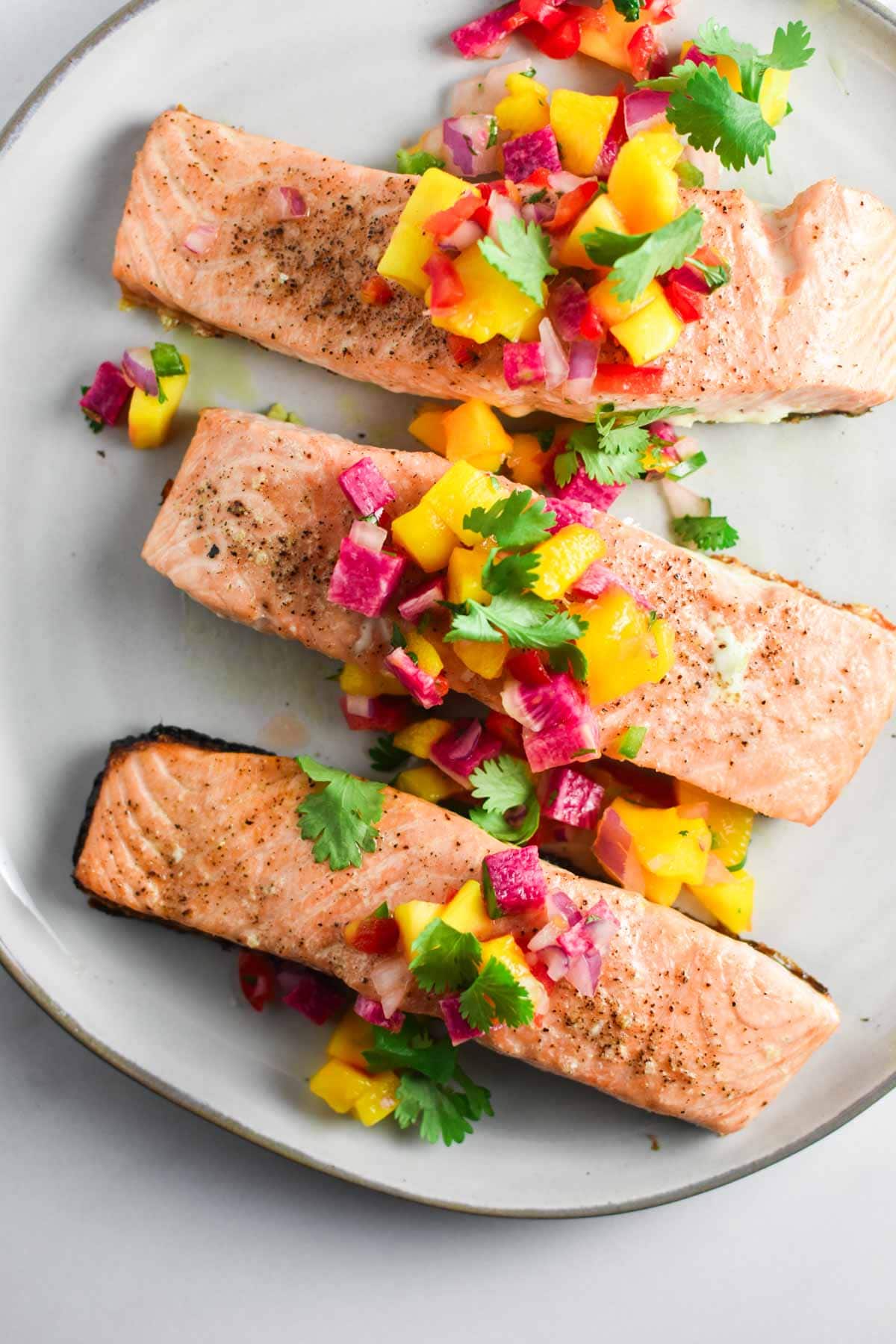 A Summer Salmon Recipe
This is one of my favorite summer recipes for all the following reasons. It turns out perfect every time.
Can be made on the grill or in the oven. This recipe can be made using a gas or charcoal grill. Don't have a grill? You can use a grill pan (you do have to use the stove but don't turn on the oven!) or I've also included a baked option.
Easy clean up. Just one bowl is needed to whip up the mango salsa! Not a lot of dishes are needed.
Healthy and allergy friendly - This mango salsa salmon recipe is perfect for those who are dairy free, gluten free, and are following a migraine diet.
Great for meal prep - The salmon is delicious on top of salads or in wraps for future lunches.
The perfect brain food - Salmon is naturally high in Omega-3 fatty acids, which support brain health and can also reduce or eliminate migraine attacks.
Jump to:
Tips for Mango Salsa Salmon
This is a great dinner party recipes because it's easy to make and has easy clean up. But here are a few of my tips from over the years.
Don't tell your guests they're eating a healthy meal - If your family are picky eaters like a certain father I know, just don't tell them the pasta salad is gluten-free and made of quinoa flour. Or that this salmon isn't covered in a creamy, buttery sauce! I find if they just try it, they will love it.
Recruit help - If your children are great at setting a table or your spouse is a grill master, get them to help you with these tasks. When my husband grills, I make the mango salsa.
Using foil makes for super easy clean up - You don't have to worry about the fish sticking to your grill if you're new to grilling fish. Using foil to grill salmon is a great way to keep the fillet from drying out as well.
Ingredients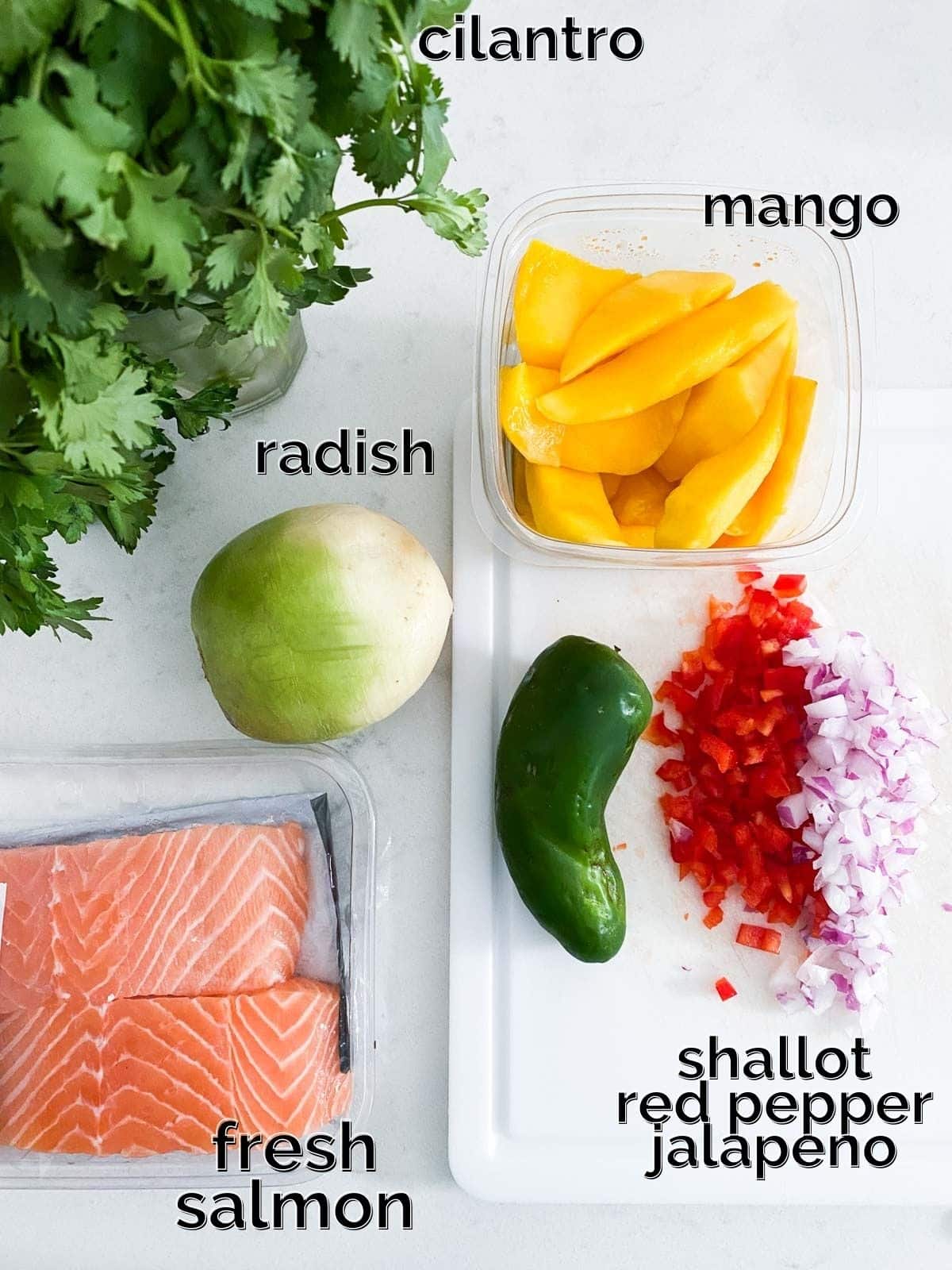 Salmon - Wild caught or sustainably farmed are always a great options if you can find them, but any type of salmon will work for those recipe. Sometimes I prefer the taste of farmed, but I usually go with whatever is on sale. Make sure to buy skin-on salmon, which will help lock in moisture while cooking.
Mangoes - Look for ones that are not too soft, but have a slight give when you press on the skin. If peaches are in season, you can use those instead or in addition to the mangoes.
Watermelon Radish - I just love the color of bright pink watermelon radish for this mango salsa, but regular radish would be fine or jicama would also give it a great crunch.
Cilantro - While cilantro is a great flavor for the salsa, if you are not a fan of the flavor, I would recommend using parsley or basil. Both would be lovely with this salmon!
This recipe also contains shallot, red pepper, and jalapeño to round out the salsa.
How to Make Grilled Salmon with Mango Salsa
If you want to make grilled salmon, use these instructions for cooking.
Step 1: Prepare the Salmon and Grill
Start by preparing a sheet of tin foil that is big enough for the salmon filets. Rub both sides of the salmon with olive oil, place skin side down and sprinkle with salt and pepper.
Preheat your grill to high heat and clean, if needed. Once it reaches 425-450 degrees F, place the foil with the salmon directly on the heat and cover with the grill lid.
Step 2: Grill for 8-10 Minutes.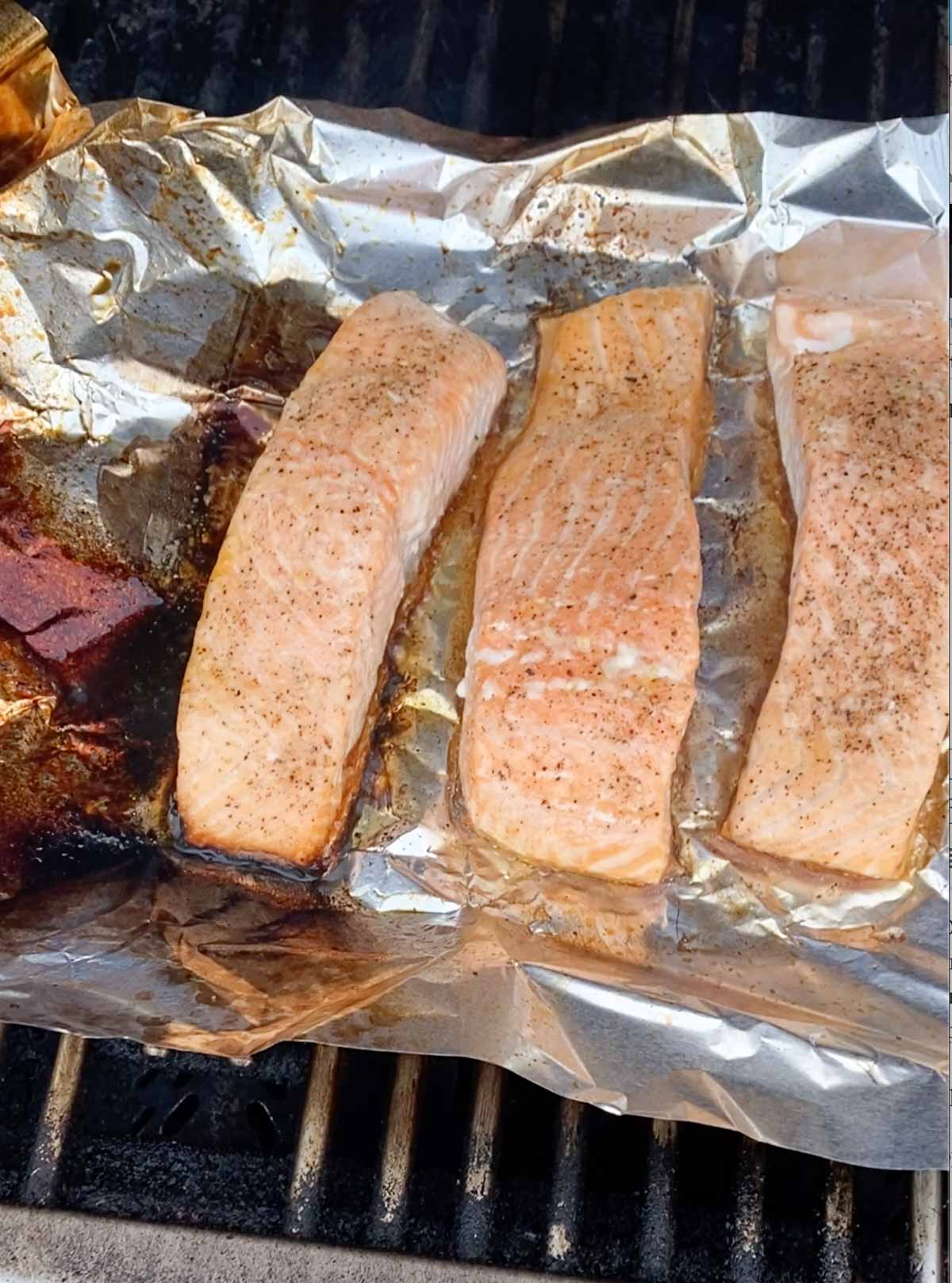 Cook for 8-10 minutes (for smaller filets), until you see the fat (white stuff) just starting to render on top of the salmon. In the picture above, you can see that the color has turned from a bright pink to a softer peach color on the tops and sides. Remove the salmon and foil from the grill.
While you're cooking the salmon, or before, prep your mango salsa by mixing the cubed mango, radish, cilantro, shallot, and bell pepper in a small bowl. If grilling, you can eat the salmon skin, especially if you like it nice and crispy!
How to Bake Salmon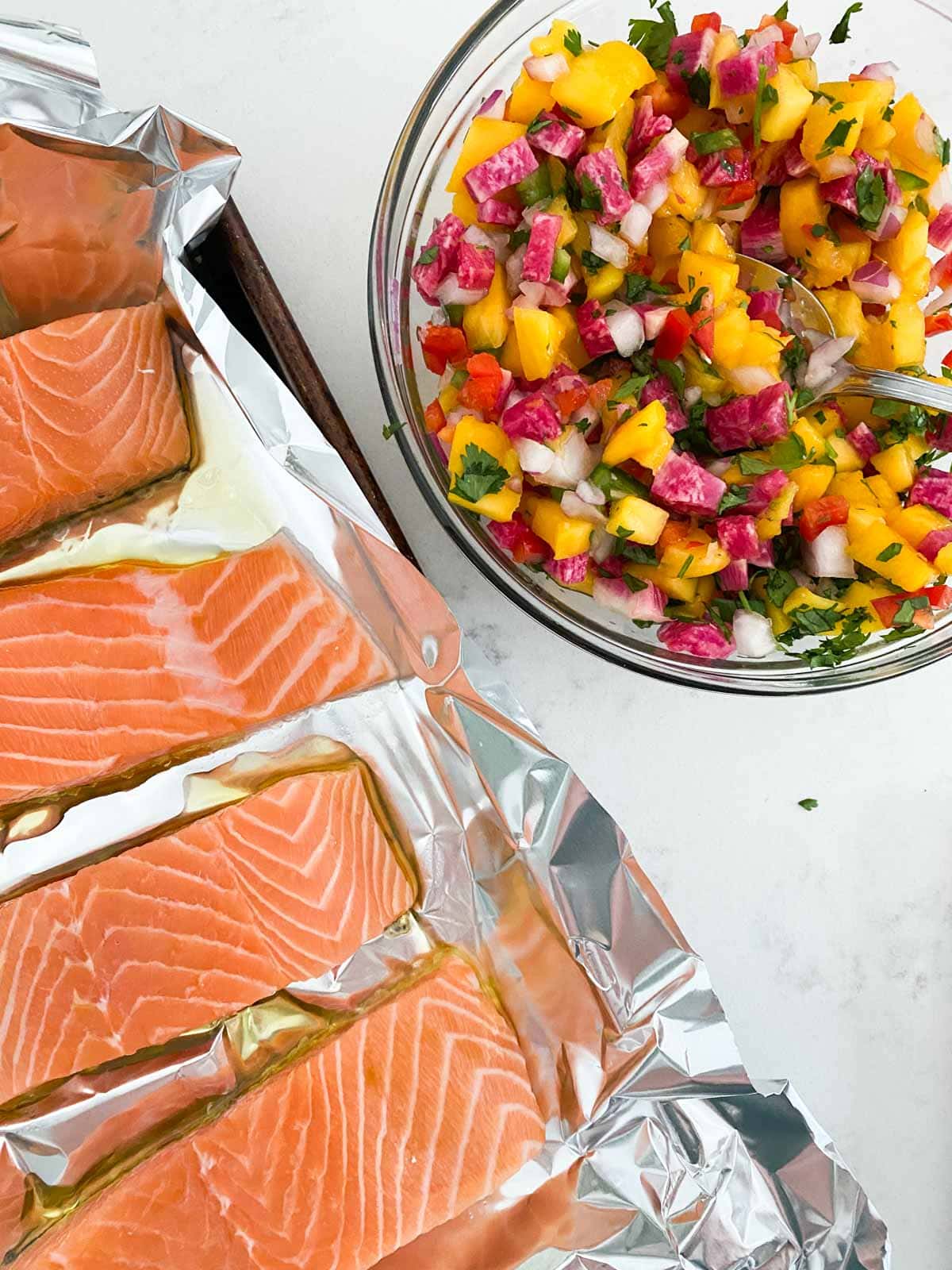 If you don't have a grill, this recipe is very easy to make with pan-seared salmon, or baked salmon!
To make this recipe in the oven - Prepare the salmon the same way on foil for easy clean up. Then place on a baking sheet. Bake the salmon at 400 degrees F for about 13-15 minutes, until just cooked through. Then top with mango salsa!
Making Mango Salsa
This salsa pairs perfectly with salmon, especially for a summer meal. All you have to do is chop everything and stir to combine. There are a few ways you can make this or mix it up. Here are my tips for the perfect mango salsa.
Make sure your mangoes are ripe. They will be firm with a slight give when you push on the outside of the skin.
If you're following a migraine diet, distilled white vinegar adds a great flavor to the salsa, but lime or lemon juice would also work for this recipe.
Mangoes can also be substituted for peaches for a peach salsa.
You can make mango salsa ahead and keep it in the refrigerator for up to 3 days.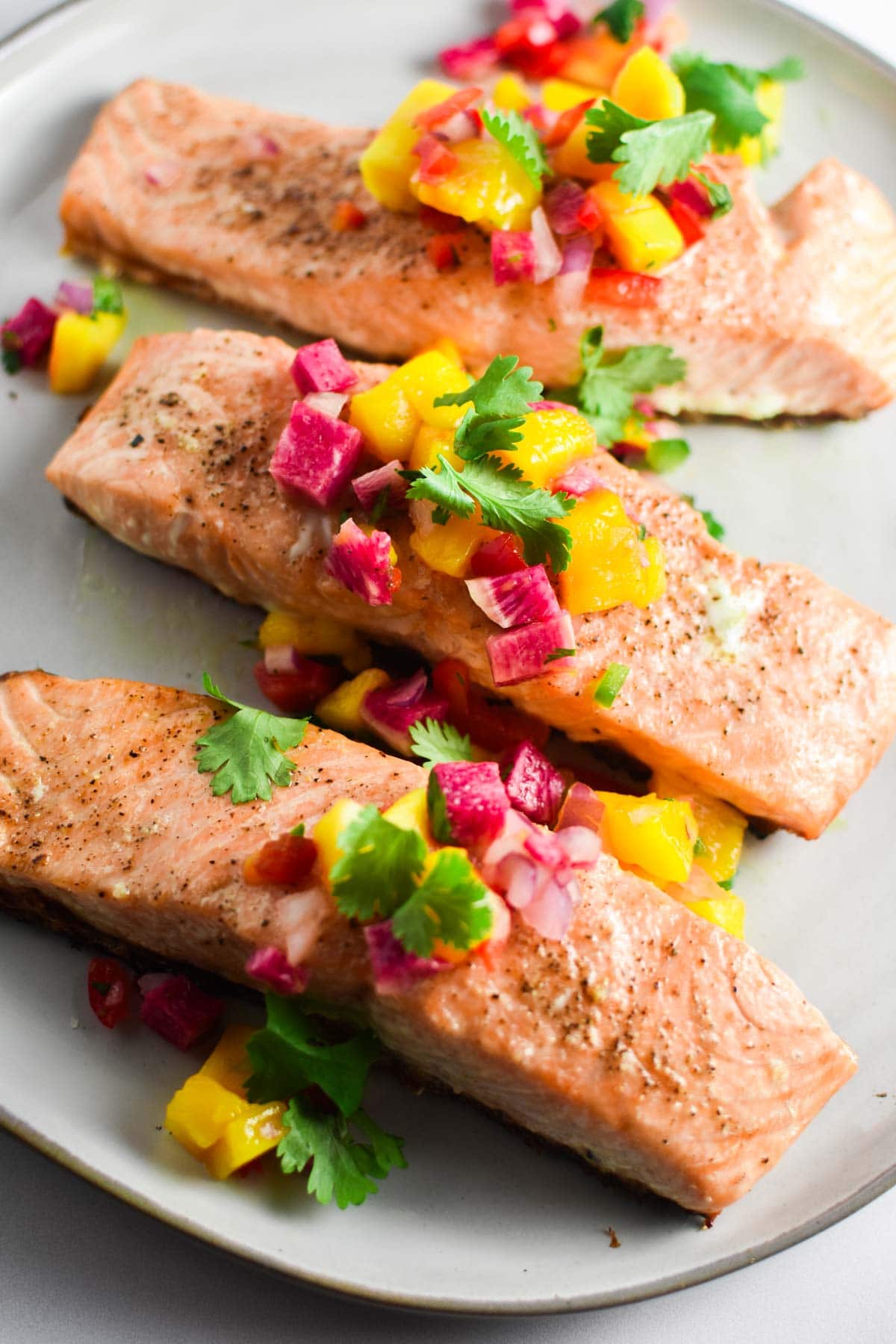 Recipe Variations
There are many different ways you can mix up this recipe!
Salmon - Instead of salmon, halibut or cod would also be a great substitute. Or you can use one large piece of salmon instead of individual 5-6oz portions.
Seasonings - I love this recipe plain, but Old Bay style seasoning like "New Bae" from Primal Kitchen or a sprinkle of chipotle chili powder can add some spice to the salmon! Just sprinkle on top of the fillet before grilling.
Cooking Method - This recipe can be made with grilled salmon, baked salmon, or pan-seared salmon.
Mango Salsa - Use peaches or mix with other types of fruit. Even this strawberry basil topping would be delicious!
Need a sauce? I recommend pairing this with my creamy curry dressing for a salad.
Frequently Asked Questions
What can you eat mango salsa with?
If you have a lot of leftovers of mango salsa, I recommend pairing it with my Spicy Shrimp Tacos, Fish Tostadas, or Baked Chicken Tacos. The sweetness of mango pairs well with anything spicy, especially seafood or chicken dishes.
How do you know when salmon is cooked?
There are a few ways to know the salmon is cooked through. The first is by looking at the color. The salmon will turn from a bright pink-red to a light peach color. Some fat may begin to render on top, which is little bits of white. If using a meat thermometer, bake till the salmon reaches 130 degrees F, then remove it from the grill. The salmon will continue to cook after it is removed. Cooking salmon to medium allows it to retain the moisture content without being overly dry and flakey.
How much salmon should I purchase?
Plan on 6oz of salmon per serving if buying pre-cut portions, or about ½ a pound per person for a whole fillet. The great news is this mango salsa salmon recipe can easily be raised or lowered depending on how many people you are serving.
How do I store leftover salmon and mango salsa?
To store salmon, place in an airtight container for up to 2 days in the refrigerator. I don't recommend freezing cooked salmon. It's best eaten freshly cooked. While you can freeze the mango salsa, it does change the texture to be much softer. So just be aware that it won't have the same crisp, fresh texture. You also may need to drain extra moisture. If freezing, I recommend chopping the other vegetables, and buying fresh mango to mix in once the rest has defrosted. Mango salsa will keep in the fridge for up to 3 days.
Other Seafood Recipes
For more recipes like this salmon with mango salsa check out these seafood options!
If you make this, tag me #thedizzycook or @thedizzycook on Facebook and Instagram. And if you love the recipe, please leave a review below! Follow along on my Pinterest for more great recipes.
Salmon with Mango Salsa
The mango salsa is a perfect, sweet compliment to a simple grilled salmon. You could easily substitute peaches if you can't find good mangoes.
Print
Pin
Rate
Ingredients
2

pounds

salmon, skin-on and bones removed

olive oil, kosher salt, and pepper
Mango Salsa
1

large mango

if buying fresh, you want it to be firm with a slight give when pressed, like an avocado.

¼

cup

fresh cilantro

½

red bell pepper, chopped

1

small shallot, chopped

½

watermelon radish chopped (or regular red radish if you can't find)

¼

green jalapeno, seeds and membrane removed, minced

the seeds and membrane contain the most heat. You can adjust accordingly to your personal heat level preference.

1

teaspoon

distilled white vinegar

kosher salt to taste
Instructions
Use a peeler to peel the skin from the mango. Slice around the largest diameter of your mango, avoiding the pit. Martha has a great video here. Add chopped cilantro, red bell pepper, radish, vinegar, and chopped shallot. If using jalapeno, remove the seeds and membrane first, then dice into small pieces. If you'd like a little salt, I added about ¼ tsp. You can taste it and see what you think it needs. Cover and place the salsa in the fridge. This can be made 1 day ahead.

Turn grill to high heat till it reaches 425-450 degrees F. Drizzle salmon with extra virgin olive oil on both sides and sprinkle with some kosher salt and pepper. Place on top of a sheet of tin foil, skin side down.

Once grill has reached desired temperature, place salmon with the foil directly on the heat. Close the cover to the grill and cook for 8-12 minutes or until the fat *just starts* to render on top of the salmon. If you allow it to fully render, it will be overdone.

If salmon has been cooked all the way through, serve immediately.

If middle of filet is still raw, allow salmon to rest 5 minutes loosely covered in aluminum before serving.
Notes
Cut a slit into thickest part of filet. Depending on desired level of doneness, middle of fillet should be just slightly darker pink.
Desired level of doneness is a matter of preference. I prefer mine more medium well, my husband prefers straight up medium. If you prefer more medium, shoot for 8-10 minutes of cooking time.
You can also cook the salmon directly on the grill, just make sure you oil the salmon well.
This can also easily be made in the oven by roasting at 400 degrees for 13-15 minutes.
Plan on about 6oz per person for individual pieces, or ½ pound salmon per person.
Nutrition
Calories:
366
kcal
|
Carbohydrates:
10
g
|
Protein:
46
g
|
Fat:
15
g
|
Saturated Fat:
2
g
|
Polyunsaturated Fat:
6
g
|
Monounsaturated Fat:
5
g
|
Cholesterol:
125
mg
|
Sodium:
110
mg
|
Potassium:
1305
mg
|
Fiber:
2
g
|
Sugar:
9
g
|
Vitamin A:
1186
IU
|
Vitamin C:
42
mg
|
Calcium:
42
mg
|
Iron:
2
mg
This was originally posted July 14, 2021 and has been updated April 2022 with new recipe tips, ideas for sides, and baking instructions.