We'll start with the pasta salad today. Since we're getting into warmer outdoor weather, I love a pasta salad that doesn't have mayonnaise. There's nothing worse than the idea that a mayo-laden salad is sitting out in the heat…and I typically love mayo! The zucchini adds a really nice and fresh crunch, and you can easy leave out the cherry tomatoes if they're a trigger for you. I'd sub them with carrots or another one of your favorite vegetables.
I used this olive oil, this dijon mustard, and this vinegar for the dressing. I also love using Trader Joe's Quinoa and Brown Rice (GF) Pasta for something like this. I typically only boil it between 7-8 minutes, on the lower end of their suggestion. You want it to be al dente for a salad like this, and I find if you let it boil too long it turns into mush. I like using fusilli, which picks up a lot of the dressing and veggies in between the ridges. Also because this comic makes me laugh.
I've talked about olives before and how they are "allowable" on HYH, but many are still soaked in triggers like red wine vinegar. You'll want to make sure you're buying them whole (not pitted) and to rinse them well before adding them to your pasta salad.
Steps 2 Balance is here! Our Team of Dizzy Cooks has grown to 7 people and I cannot wait to share our progress throughout the week. There's still time to join or donate to our team if you'd like. You can find more information at both links above. My personal goal is to do 10 workout classes and create 5 new recipes. I have a huge weekend coming up where my parents, my in laws, and my best friend from Colorado are all coming in for a graduation weekend. We're having everyone over for Sunday dinner, which means A LOT of cooking for me. Luckily I can pass everything I learn on to you! Because of our busy weekend ahead, I have to cram a lot of my classes into 6 days…yippie.
I started my first S2B day by stepping outside my ballet comfort zone and doing a spin class. Spin classes tend to make me a little more dizzy than my ballet classes, I think because it's such a high amount of cardio. I haven't ever sweat so much in my life! There's a little balance involved with getting on and off the bike, as well as standing in the different positions. It takes some coordination too, which I'm still trying to get the hang of. For the most part, the lights are pretty low and don't flash, at least at the studio I went to. If you have an issue with flashing lights, let your instructor know prior to the class. It was a great way to start my Sunday, but I think I'm ready to go back to ballet tomorrow!
To round out a busy weekend, we had some friends over last night for an impromptu dinner party. Sometimes I prefer to have people over because I find cooking to be relaxing, and I can control the noise level around me as well as what's in my food. My usual go to is some kind of pulled pork that I can put in the crock pot or instant pot and it's hard to screw up. I had already planned to make salmon for that night, so I just doubled my recipe and wished for the best. I ended up with grilled salmon topped with mango salsa, an easy pasta salad, and a black and blueberry crumble. I plan to share all the recipes with you this week. It was so good, that I'm considering kicking my idea of serving pulled pork to the curb for our big graduation party this weekend.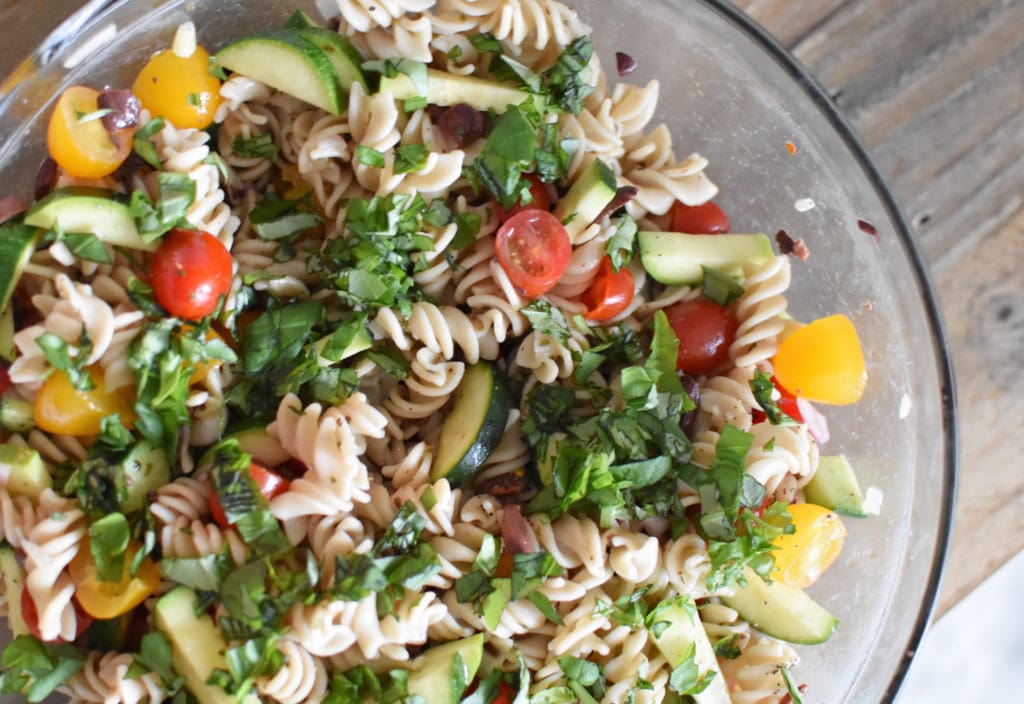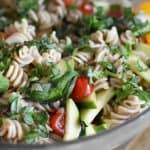 Mediterranean Pasta Salad (Gluten Free)
Light and perfect for summer, this mayo-less pasta salad can sit outside with you and get a nice tan! ...sorry, took that a little too far.
Course:
Main Course, Side Dish
Ingredients
Pasta Salad
1

12oz

package gluten free pasta, like Fusilli

I used Trader Joe's Quinoa and Brown Rice pasta which comes in 16oz, so just don't use all of it

1

large zucchini, sliced into bite-size cubes

1/3

cup

cucumber sliced into small cubes

1

pint

organic mixed cherry tomatoes

If you can't tolerate tomatoes, try carrots

1/4

cup

kalamata olives, pitted and chopped

Or omit if you can't tolerate

1/4

cup

fresh basil, chopped

1/3

cup

crumbled fresh goat cheese (chevre)

fresh cracked pepper to taste
Pasta Salad Dressing
1/4

cup

extra virgin olive oil

3

tbsp

distilled white vinegar

1

tsp

honey

1.5

tsp

dried oregano

1

small shallot, chopped

1

tsp

dijon mustard

Annie's naturals is safe

1/2

tsp

kosher salt

1/4

tsp

crushed red pepper
Instructions
Start by putting a large pot of water on high heat and bringing it to a boil. Generously salt the water and you can add a tbsp or two of olive oil to keep the pasta from sticking together. While waiting for the water to boil, whisk the ingredients for the pasta salad dressing together in a large bowl.

Once water is boiling, add the pasta and watch it carefully. Gluten free pasta tends to go mushy real fast. Cook according to the lower end of time on your package's directions. You can chop your veggies now, if you'd like and place them in a smaller bowl. Once finished, remove from heat and drain. Run the pasta under cold water until cooled. Then drain on a paper towel.

Add cooked pasta to the large bowl with the salad dressing and toss to combine. (SIDE NOTE: I find the longer you let the pasta sit in the dressing, the lighter the flavor as it soaks it up. I like to add 1/2 the dressing at the beginning and 1/2 right before you serve).

Set the veggies on the top of the pasta or keep them in a separate bowl (I like to do this so they don't get too soggy and stay crisp). You'll want to toss them together with the pasta about 30 min before serving. Cover and cool in the fridge for around 2 hours. I love to top this with fresh cracked black pepper before serving!

Enjoy all the praise and love you get from your guests.