This Mediterranean Chickpea Pasta Salad is so easy to make with tons of fresh summer vegetables like zucchini and tomatoes. A pasta salad without mayo, it can be served cold or at room temperature. This also makes it ideal for lunches or traveling!
By using chickpea pasta, you're adding more nutrition to a typical pasta salad with more vitamins, protein, and fiber. It's also a great way to squeeze in more vegetables.
Serve this chickpea pasta salad on it's own or with grilled chicken, BBQ ribs, or blackened fish. Or bring it to your next summer cookout as the perfect vegetarian side dish!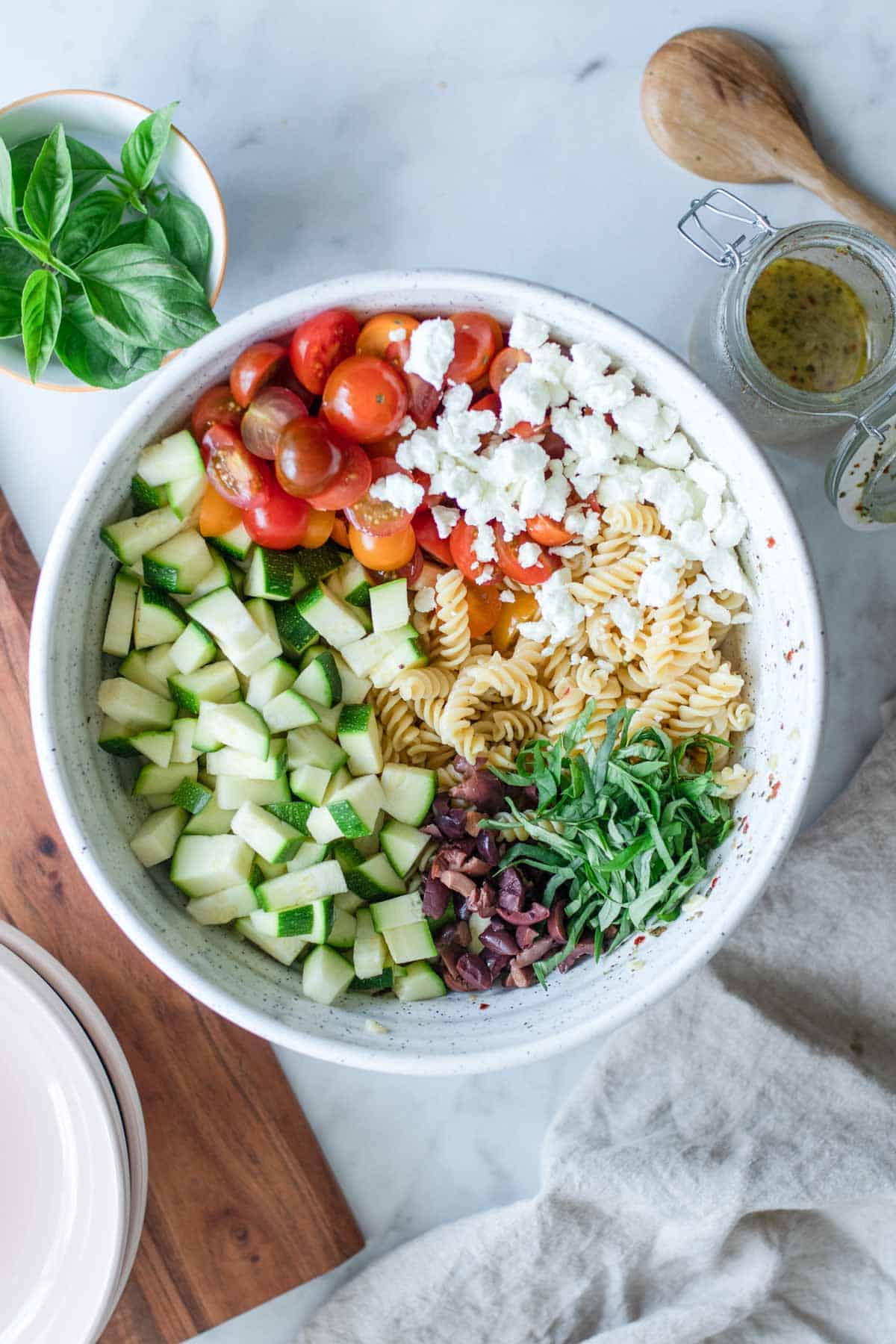 You'll love this Mediterranean chickpea pasta salad because:
Healthy - Packed with protein and fiber from the chickpea pasta, you also add a bunch of nutrition with fresh vegetables.
No mayo - With ingredients that are safe for room temperature, you can easily serve this in warm weather!
Travels well - This is my ultimate travel meal when I'm wanting to eat migraine-friendly on planes or road trips.
Jump to:
Types of Chickpea Pasta
Most dietitians will agree that chickpea pasta is a better substitute overall to traditional pasta from a health perspective. Although the pasta is a little lower in fiber than consuming regular chickpeas, it can sometimes contain more protein, and overall has a boost compared to flour pasta.
There are certain brands that are more popular than others, but I prefer ones that use just "chickpeas" as the ingredients.
Barilla - Chickpea flour is the only ingredient. This is what I used.
Tom Thumb (any many other local store brands) - Contains chickpea flour and corn.
Tolerant Organic - Only made with chickpea flour!
Ingredients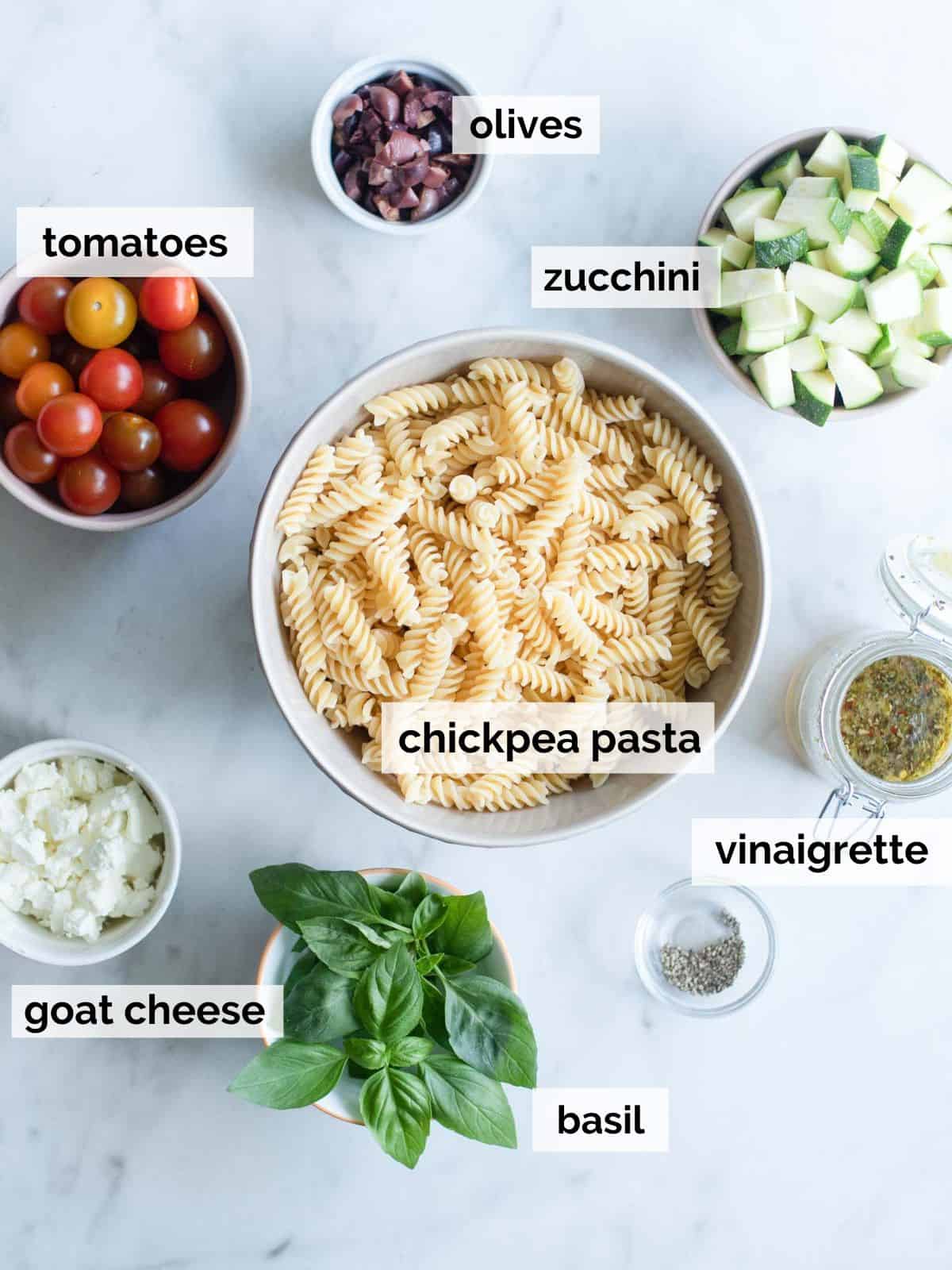 For the pasta salad:
Chickpea pasta - This can also be substituted with any other pasta you like.
Zucchini - This can also be a combination of zucchini and summer squash.
Cherry tomatoes - Also any fresh tomatoes, diced, would work, but cherry tomatoes look pretty!
Olives - I recommend kalamata olives with pits, or Castelvetrano would also work.
Basil - Fresh basil is best for this recipe.
Goat cheese - Also known as "chevre".
For the shallot oregano dressing:
Olive oil
Distilled white vinegar
Dried oregano
Shallot
Dijon - Look for one that's sulfite free, like Annie's.
Honey
How to Make Chickpea Pasta Salad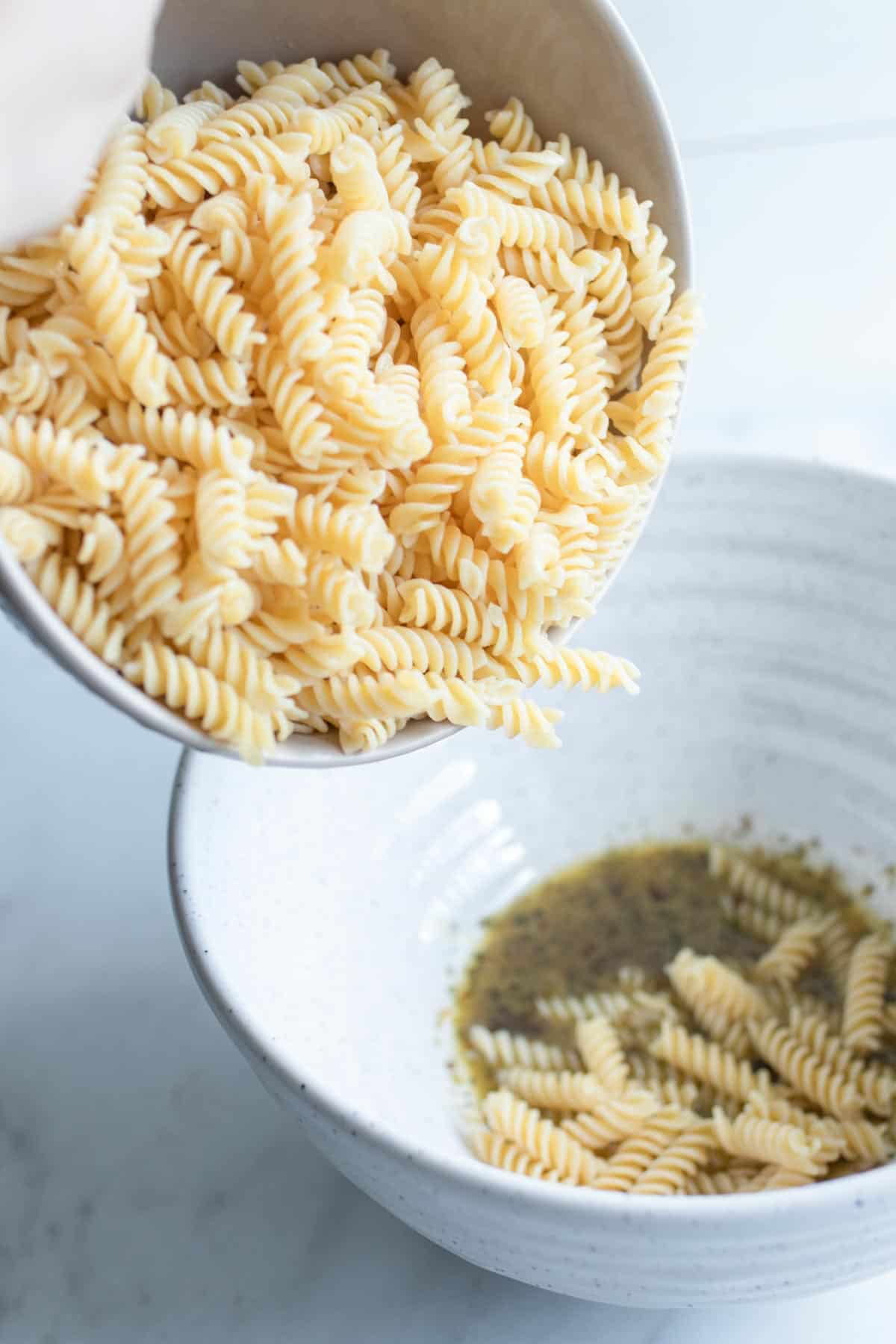 Step 1: Cook the pasta
Start by generously salting a large pot of water and cooking pasta according to package directions. Drain and set aside. Be careful to not overcook the pasta as chickpea pasta (or any gluten free pasta) tends to go mushy if overcooked. Rinse the pasta under cool water to stop the cooking process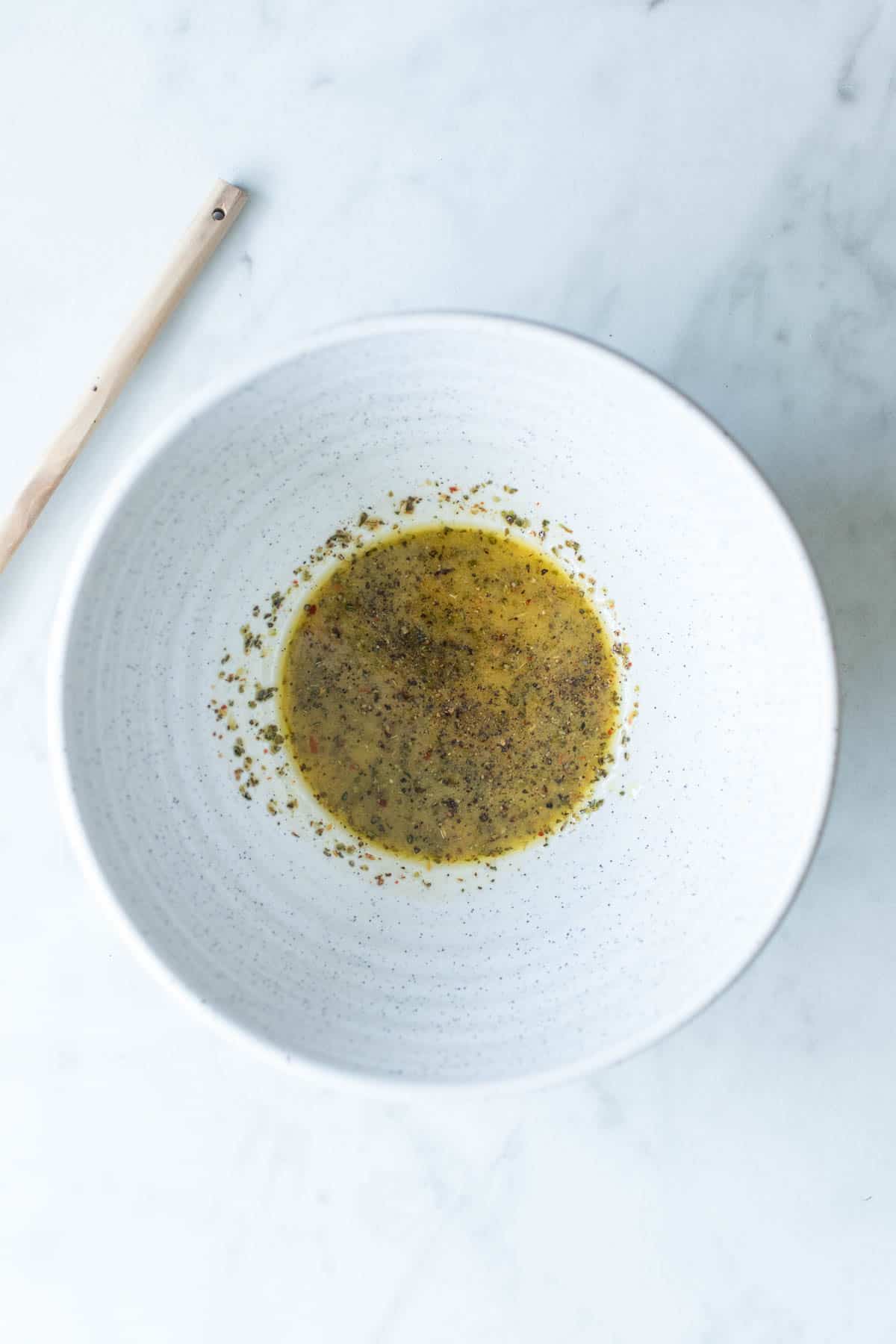 Step 2: Make the vinaigrette
Combine all the ingredients for the salad dressing and whisk together till smooth and fully combined.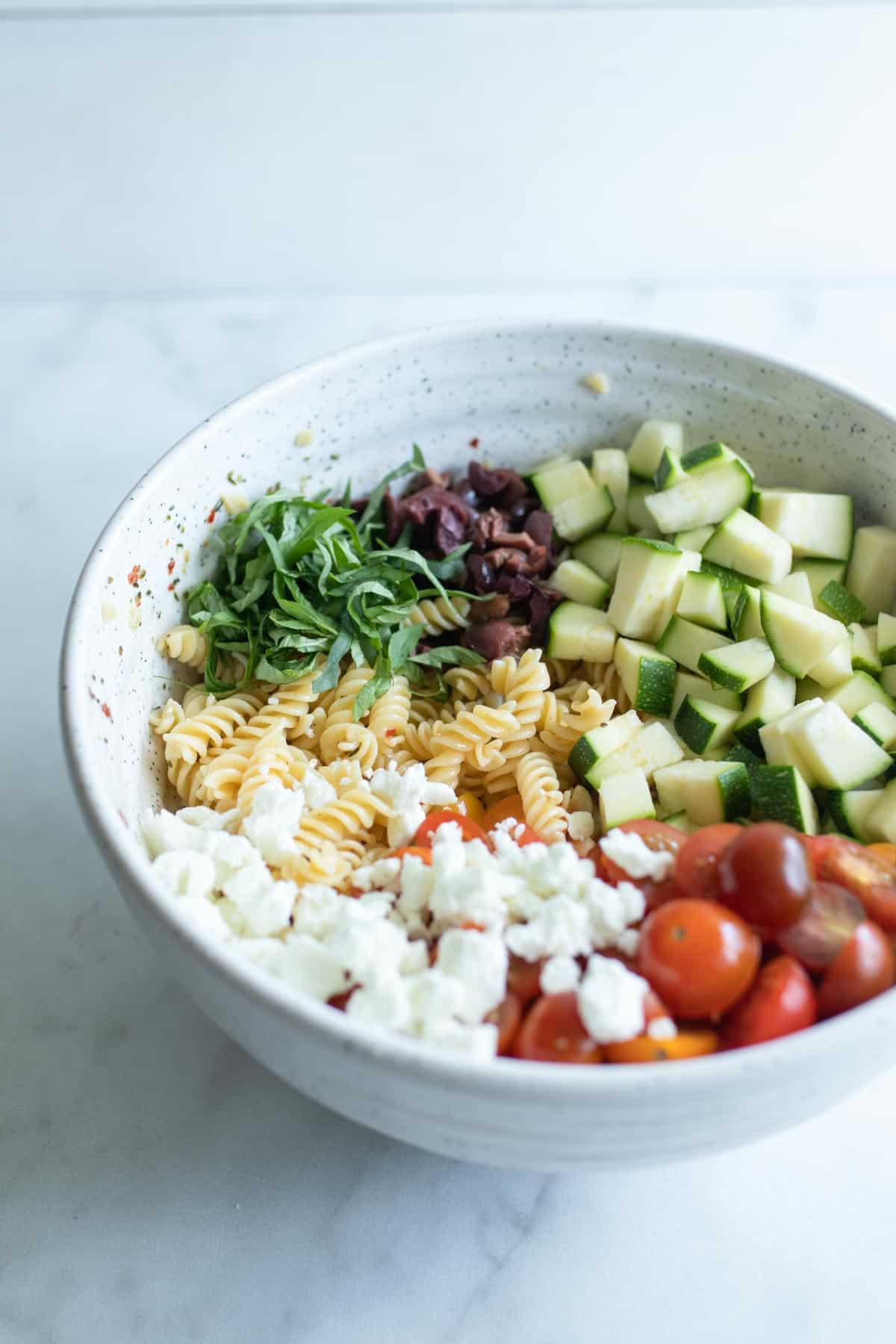 Step 3: Combine the pasta salad
In a large bowl stir together the pasta and ½ of the vinaigrette. Refrigerate for 2 hours or until cool.
Step 4: Add vegetables
Before serving, mixed in the chopped vegetables and the remaining dressing. I like to separate this from the chilling process so the veggies stay crisp, but feel free to combine them all if that's easier. I also find adding more dressing later really makes the flavor pop.
Expert Tips
There are two things that will help to ensure the success of making this chickpea pasta salad delicious.
Don't overcook the pasta. Aim for the lower end of the package directions.
Wait to add in the vegetables and ½ of the dressing. This way the vegetables stay crisp and the dressing doesn't all soak into the pasta.
Recipe Substitutions
Pasta - can be substituted with any favorite pasta you prefer. Orzo would work well here too!
Zucchini - yellow squash or "summer" squash can be substituted. Blanched asparagus would be delicious in this too.
Tomatoes - If tomatoes are an issue for you, just omit them and add more vegetables.
Olives - Look for ones that are not packed in a red wine vinegar solution. Ones that contain pits are less processed and tend to be more tolerable. Castelvetrano olives are not aged, so these tend to be the best tolerated. Or you can omit these entirely.
Goat cheese - A young feta would also be delicious here! Or omit for a dairy free/plant based option.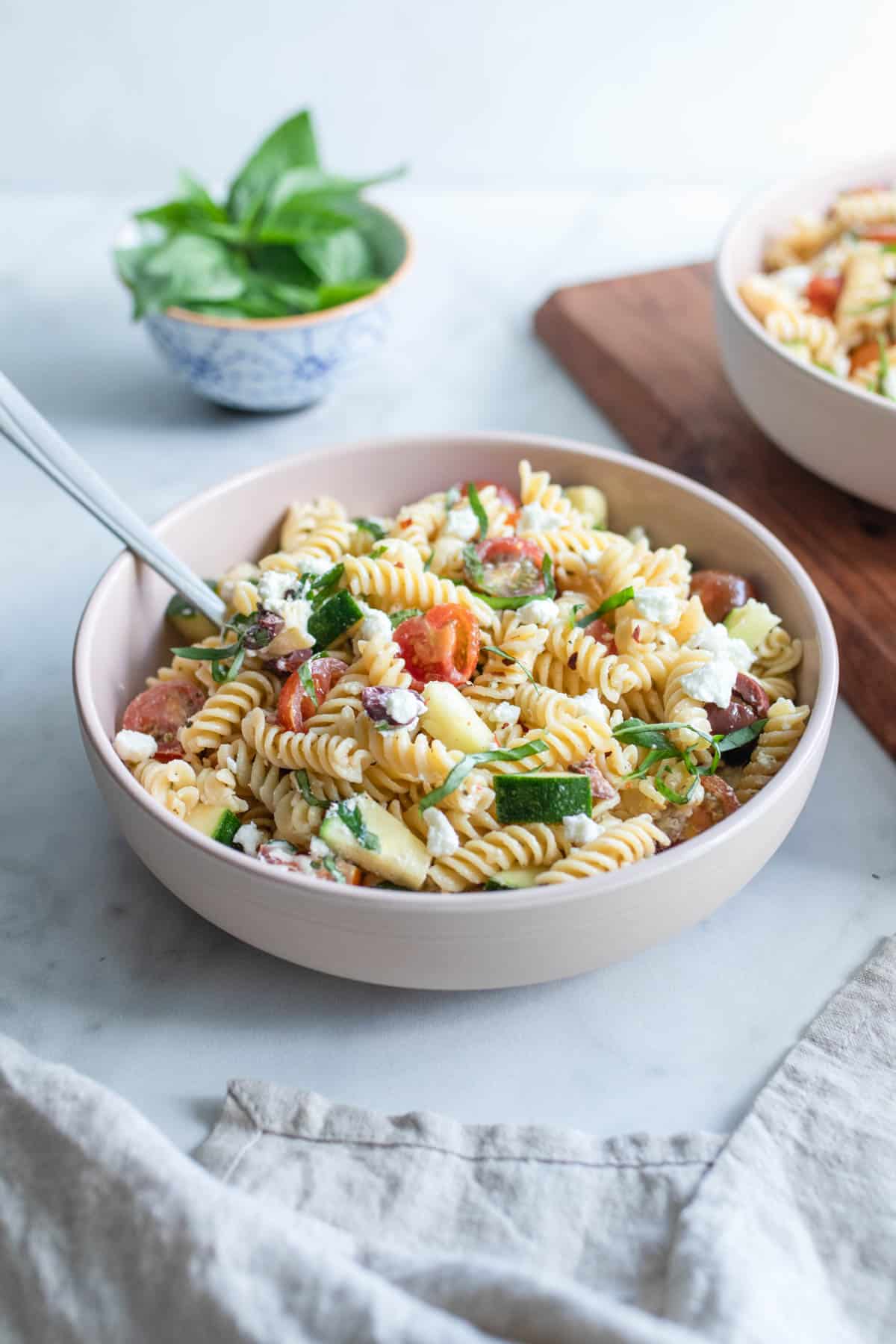 Pairing Suggestions
A few of my favorite meals that pair well with this chickpea pasta salad. These are best served for a bbq or outdoor dinner!
Storage Information
This pasta salad will keep well for up to 3-4 days in the refrigerator in an air tight container. The longer the pasta soaks with the dressing combined, the more it can mellow the flavor of it. It will still be good, just not quite as flavorful.
If using this for a road trip or flight, pack in an airtight container and don't use any cheese. This will make it last longer without being refrigerated.
Frequently Asked Questions
Is chickpea pasta healthy?
Chickpea pasta contains more fiber and protein than traditional white pasta, which can be more stabilizing for blood sugar. This can be especially helpful for those who have migraine attacks.
What do I look for when buying chickpea pasta?
I highly recommend looking for a brand with only chickpea flour (or another type of healthy flour) added. Avoid ones that contain pea protein and other binders.
What pasta shapes work best for pasta salad?
Fusilli, penne, or farfalle (bowtie) tend to be the go to for most pasta salad recipes because they can catch the dressing and vegetables in all the texture. Do not use long pastas like spaghetti.
Can I use a different type of pasta?
Yes! You can make this chickpea pasta salad with any type of pasta. Whole wheat, white, brown rice, cassava, etc. I recommend using a dried brand instead of fresh.
Salad Recipes
For more vegetarian side dishes like this chickpea pasta salad, you'll love these recipes!
If you make this, tag me #thedizzycook or @thedizzycook on Facebook and Instagram. And if you love the recipe, please leave a review below! Follow along on my Pinterest for more great recipes.
Chickpea Pasta Salad
Light and perfect for summer, this gluten free pasta salad is great for a picnic, road trip, or camping since it doesn't contain mayo. Serve cold or at room temperature!
Print
Pin
Rate
Ingredients
Pasta Salad
1

12oz

chickpea pasta

1

large zucchini, sliced into bite-size cubes

1

pint

cherry tomatoes

¼

cup

kalamata olives, pitted and chopped

¼

cup

fresh basil, chopped

⅓

cup

Optional: crumbled fresh goat cheese (chevre)

fresh cracked pepper to taste
Vinaigrette
¼

cup

extra virgin olive oil

3

tablespoons

distilled white vinegar

1

teaspoon

honey

1½

teaspoons

dried oregano

1

small shallot, chopped

1

teaspoon

dijon mustard (without sulfites)

½

teaspoon

kosher salt

¼

teaspoon

crushed red pepper
Instructions
Bring a large pot of salted water to a boil over high heat and add chickpea pasta. Cook according to package directions (I use the lower end of the time to avoid it getting mushy). Add the cooked pasta to a colander and drain while running it under cool water to stop the cooking process.

Chop vegetables and place them in a small bowl. Meanwhile combine all the dressing ingredients, whisking until smooth and emulsified.

Add cooked pasta to the large bowl and combine with ½ of the salad dressing. Transfer the pasta to the fridge to cool for approximately 2 hours. If space is an issue, set the veggies on top of the pasta so they stay crisp, or leave in a separate bowl.

Before serving, combine the vegetables, pasta, and the rest of the dressing. Taste and adjust any seasonings, adding more kosher salt and pepper as needed.
Notes
This recipe serves 4 people as a main dish and 6 as a side dish.
Dividing the dressing allows some flavor to get soaked up into the pasta, but also leaves some for before serving so the pasta doesn't dry out.
Vegetables can also be added whenever is convenient but I recommend doing it before serving so they stay bright and crisp.
This pasta salad stores well for 3-4 days, but will get more dry as time goes on. You can also whip up more dressing to add to it, if needed.
If traveling with this recipe, omit the goat cheese so it stays better at room temperature.
Nutrition
Calories:
306
kcal
|
Carbohydrates:
38
g
|
Protein:
15
g
|
Fat:
14
g
|
Saturated Fat:
1
g
|
Polyunsaturated Fat:
1
g
|
Monounsaturated Fat:
7
g
|
Sodium:
355
mg
|
Potassium:
285
mg
|
Fiber:
9
g
|
Sugar:
9
g
|
Vitamin A:
559
IU
|
Vitamin C:
24
mg
|
Calcium:
69
mg
|
Iron:
6
mg