Cottage Cheese Dip makes a great easy snack that's a high protein, healthy snack or spread. With just 5 ingredients, you can whip up this delicious veggie dip for any occasion.
When whipped, cottage cheese becomes light and fluffy with a mild cheesy flavor making it perfect for dip. Not only does this cottage cheese dip pack over 50 total grams of protein, but it is also packed with hidden vegetables. Roasted zucchini and garlic gives this dip a great flavor.
This veggie dip is best served with pita bread, crackers, fresh cut vegetables or for dipping Mediterranean Meatballs. And if you love this dip, don't miss my Artichoke Hummus recipe or my Shallot Dip which also uses cottage cheese!
Jump to:
Best Cottage Cheese Veggie Dip
One thing I've learned from being on a migraine diet is how wonderful cottage cheese can be if you just blend it. As someone who normally hates the texture, this was a game changer for me. I created this dip to serve alongside another new recipe similar to my Baked Chicken Kabobs. It was delicious and my husband went out to buy more cottage cheese the next day!
You'll love this cottage cheese dip because:
Healthy - With hidden protein and added veggies, it's a great dip.
Great for summer - A cool dip with in-season zucchini.
5 ingredients - And I mean, literally 5 ingredients is all you need.
Types of Cottage Cheese
Here are a few favorite brands I like to use for this dip. I recommend to go with one that's at least 4% fat for the best texture and flavor, but it's always up to you.
Daisy - This popular brand that is easy to locate contains very minimal ingredients - cultured milk, cream, salt, and vitamin A.
Friendship dairies - Friendship has some lower sodium versions containing around 2% of the daily sodium value. They also make a pre-whipped version, but it can be tricky to find.
Store brands - You may find a store brand like Kroger, Whole Foods or Wegman's works well for you. I recommend one without gums or live active cultures.
Ingredients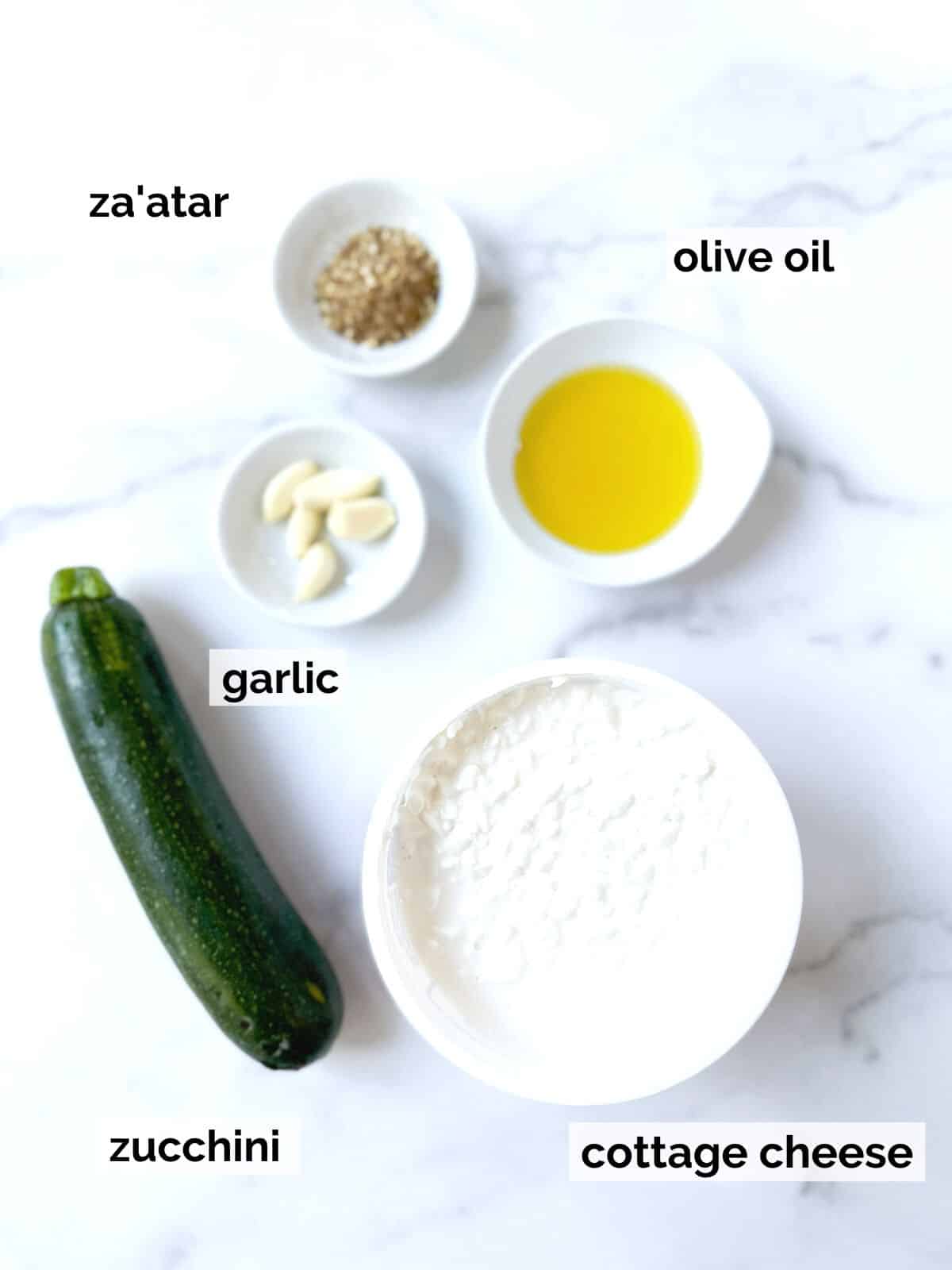 Cottage cheese - I used a "regular" version, not low fat, for recipe testing.
Zucchini - A small to medium size about 6 oz total.
Garlic - Use 3-4 small to medium cloves depending on how strong you like the garlic flavor to be. Roasting the garlic does mellow it out.
Olive Oil - Extra virgin olive oil is recommended.
Za'atar - This is a blend of spices that typically contains cumin, sesame, and sumac. I find it's popular now and easier to locate in most grocery spice sections. Other seasonings that would work well here are dried shallots, dill, or parsley.
How to Make Cottage Cheese Dip
Step 1: Roast zucchini and garlic. This can be done in an air fryer (quickly!) or a regular oven. For the air fryer - set to 400 degrees Fahrenheit. Coat both sides of the zucchini with olive oil and salt and pepper. Air fry whole garlic cloves (skin on) and zucchini for 15-16 minutes total, removing the garlic around 8-10 minutes or until it has browned and softened.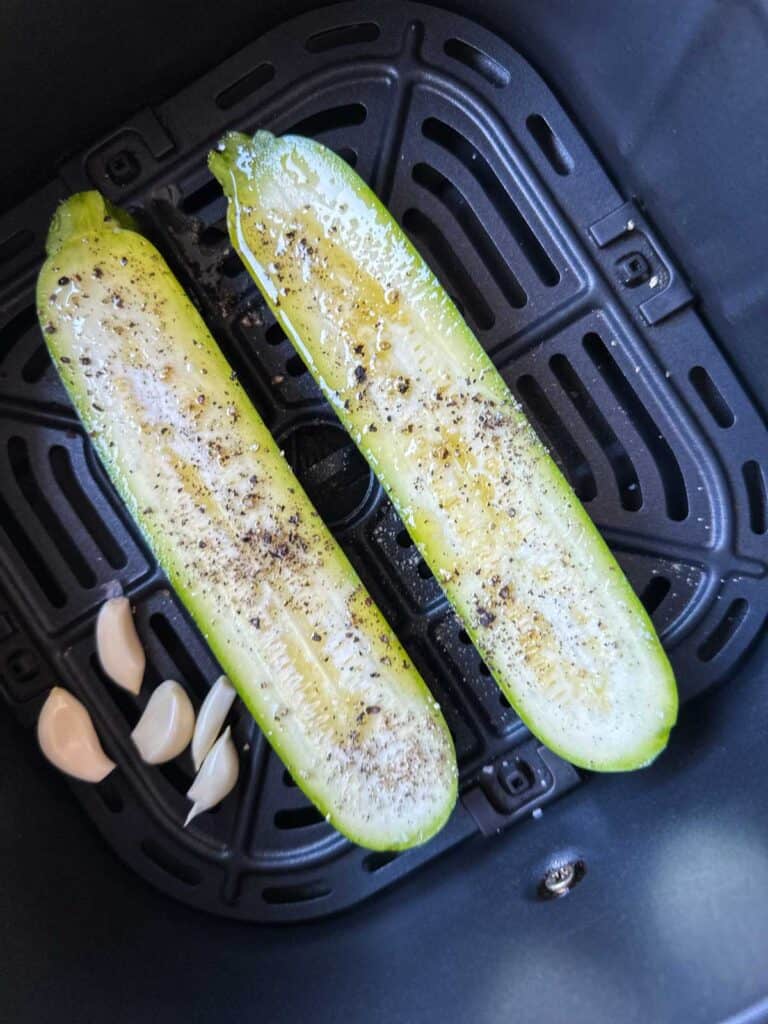 Step 2: Blend cottage cheese. Add cottage cheese to a small blender or food processor and mix till smooth and fluffy, scraping down the sides as needed. Transfer to a bowl.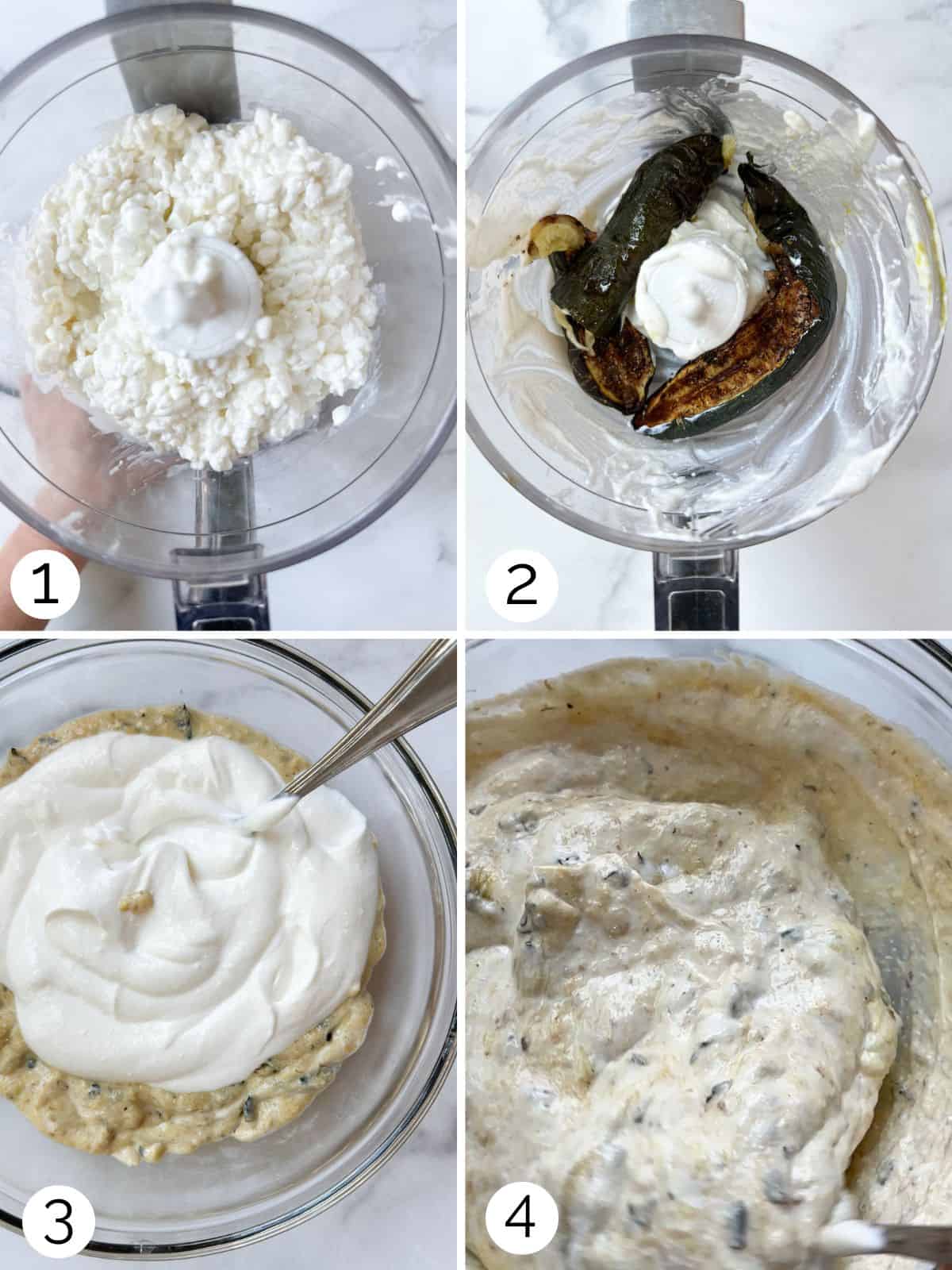 Step 3: Blend zucchini and garlic. To the same food processor (it doesn't need to be cleaned), add the zucchini. Squeeze out the roasted garlic from the skin and add it to the food processor. Blend till smooth.
Step 4: Stir everything together. Combine the whipped cottage cheese with the zucchini mixture, folding with a spatula so it remains light and fluffy. Taste and adjust any seasonings. Top with a drizzle of olive oil and za'atar mix.
Tips for Success
Use a small to medium size zucchini, around 6oz total. That way you don't overpower the cottage cheese with zucchini and keep a creamy, fluffy texture.
An air fryer speeds up the cooking process, but this can also be roasted in the oven at around 425 degrees Fahrenheit for 18-20 minutes, or until golden brown.
Garlic enhances the flavor the longer it sits. So if you plan to make this ahead, go easy on the garlic cloves, unless you're a big garlic fan.
Allow the dip to chill for at least 30 minutes to combine the flavors.
Serving Suggestions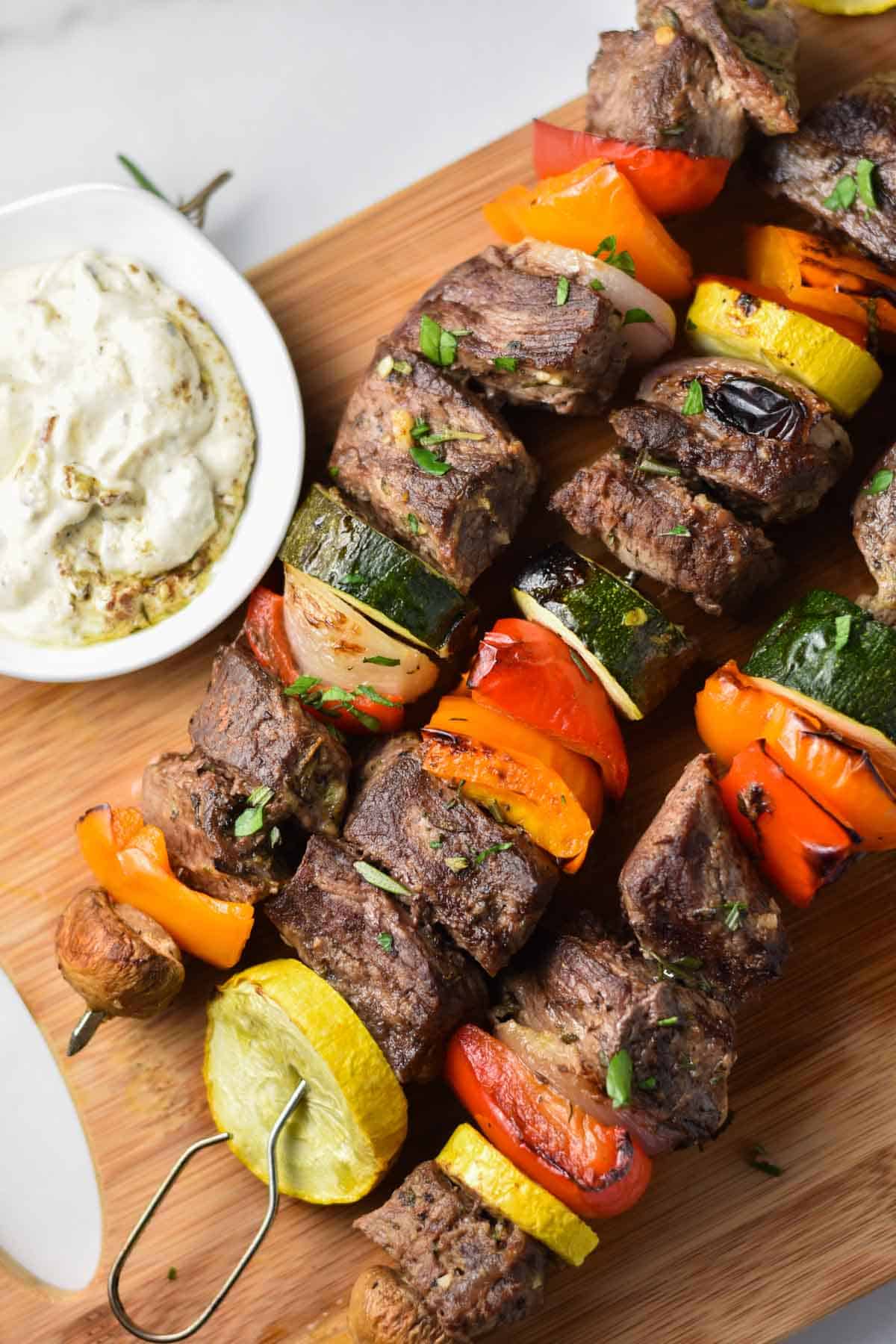 This cottage cheese dip pairs with so many different things! A few of my favorites are:
Cucumbers
Radish
Jicama
Endive
Carrots
Celery
Pita or Naan bread
Stacey's pita chips
Crunchmaster sea salt crackers
Broccoli florets
Cauliflower
Bell peppers
Storage Information
Store the cottage cheese dip in the refrigerator in a sealed container for 3-5 days. The longer it sits, the dip may become watery as the salt brings out the moisture from the zucchini. This won't affect flavor, just stir again before serving. I don't recommend freezing.
Frequently Asked Questions
What spices can you add to cottage cheese?
I went with za'atar for this recipe because it pairs well with the garlic and zucchini. But a ranch-style seasoning would also work well, "everything but the bagel", or a green goddess mixture that contains dill and parsley!
Do you prefer a food processor or blender?
I find a food processor does a much better job at making whipped cottage cheese because the blade is closer to the bottom of the bowl, so nothing gets missed. That being said, both can be used for this recipe.
What are the health benefits of cottage cheese?
Cottage cheese is overall a fairly low calorie cheese that contains about 24 grams of protein per cup. It contains a good about of B12 and B2 (Riboflavin) which can be helpful for brain health.
How do I make cottage cheese dip low sodium?
Look for a brand that states it is low sodium, like Friendship Dairies. They do exist!
Cottage Cheese Recipes
For more recipes using cottage cheese, you'll enjoy these posts! And for more dips like this cottage cheese dip, don't miss my Artichoke Hummus or Creamy Spinach Artichoke Dip.
If you make this, tag me #thedizzycook or @thedizzycook on Facebook and Instagram. And if you love the recipe, please leave a review below! Follow along on my Pinterest for more great recipes.
Cottage Cheese Dip
With just 5 ingredients, you'll love this creamy and flavorful dip that's packed with hidden veggies.
Print
Pin
Rate
Equipment
1 Food processor or blender
Ingredients
1

6oz

zucchini (small to medium sized)

2

teaspoons

extra virgin olive oil, plus more for drizzling

16oz

package

cottage cheese

3-4

small to medium

garlic cloves, unpeeled

1

teaspoon

za'atar

kosher salt and black pepper to taste
Instructions
Preheat oven to 425 degrees Fahrenheit or air fryer to 400F. Cut zucchini in half, lengthwise and drizzle all sides with olive oil, season with salt and pepper. Place the zucchini in the air fryer or oven, along with the garlic (unpeeled).

Cook for 8-10 minutes then check garlic. Remove if golden brown and soft. Flip zucchini. Continue cooking zucchini (air fryer: around 15-16 minutes, oven: 18-20 minutes) or until golden brown.

In a food processor or blender, add cottage cheese and blend till smooth and fluffy. Transfer to a serving bowl. Add the zucchini mixture and squeeze garlic cloves out of the peel (they should be soft and come out easily). Blend till smooth.

Fold the zucchini mixture into the cottage cheese mixture. Top with za'atar and olive oil. Taste and adjust any seasoning. I used a full sodium cottage cheese and didn't feel the need to add salt. Chill for 30 minutes in the refrigerator for best flavor, and serve alongside crackers, veggies, meatballs or pita for dipping.
Notes
For best flavor, use a higher fat cottage cheese (around or above 4%).
Garlic flavor becomes more intense the longer the dip sits. Use the full amount for a stronger flavor.
For low sodium, use a labeled low sodium cottage cheese.
Store in the fridge in an airtight container for 3-5 days.
Use carrots, celery, pita, naan, radish, cucumber, or broccoli for dipping. More suggestions given in the post. Also highly recommend pairing this with my Baked Chicken Kabobs and Mediterranean Meatballs for a sauce.
Nutrition
Calories:
138
kcal
|
Carbohydrates:
6
g
|
Protein:
15
g
|
Fat:
7
g
|
Saturated Fat:
2
g
|
Polyunsaturated Fat:
0.4
g
|
Monounsaturated Fat:
2
g
|
Cholesterol:
19
mg
|
Sodium:
361
mg
|
Potassium:
234
mg
|
Fiber:
1
g
|
Sugar:
4
g
|
Vitamin A:
253
IU
|
Vitamin C:
8
mg
|
Calcium:
107
mg
|
Iron:
1
mg