This caramelized shallot dip is the perfect update for a creamy onion dip without fermented dairy, making it a great migraine diet appetizer.
Game Day Caramelized Shallot Dip
Good morning! I'm hoping to catch you all before your big, grocery store run today. It's one of my favorite days of the year. Not because my team will be playing today (poor Cowboys), but because it's the one day of the year you can eat a cup of cream cheese laden dip and not feel bad about yourself. Hooray! And the commercials aren't bad either.
I've been an Ina Garten fan for years, but when I started the Heal Your Headache diet I could not use many of her recipes. Ina loves her lemon juice! When I was searching for ideas of what to make for a big game day dip, her caramelized onion dip kept popping up.
I thought I would try to make a migraine-friendly "onion dip" and see how it turns out. It's incredibly decadent, and really hits the spot if you were a huge onion dip fan before you started the diet.
Ingredients for Caramelized Shallot Dip
You'll want to double check your labels for cream cheese and cottage cheese. I have seen many of the low-fat versions contain MSG names. This isn't the day to save calories! You have to go all in. Daisy brand has a clean cottage cheese that doesn't have live active cultures. If you're confused on live active cultures and their relation to migraine, check out this post.
For many with migraine, fermented dairy like sour cream tends to be a trigger, so using cottage cheese is a wonderful alternative. This avoids using fermented dairy for a creamy dip.
For cream cheese, you can usually find good brands like Sierra Nevada, Organic Valley, etc. at Sprouts or Whole Foods. You can make your own mayo here or try a clean one with a little bit of lemon like Sir Kensington's if you're able to tolerate it.
If you're egg free, try this aquafaba mayo.
What to Serve with Caramelized Shallot Dip
These pita chips by Primizie are one of the best things ever. They have a "find" button on their website, but I've seen them at Sprouts, Tom Thumb, and Central Market. Get the "Simply Salted" ones.
I also love to serve this creamy shallot dip with plain potato chips, like these from Boulder, as well as celery, carrots, and radish slices.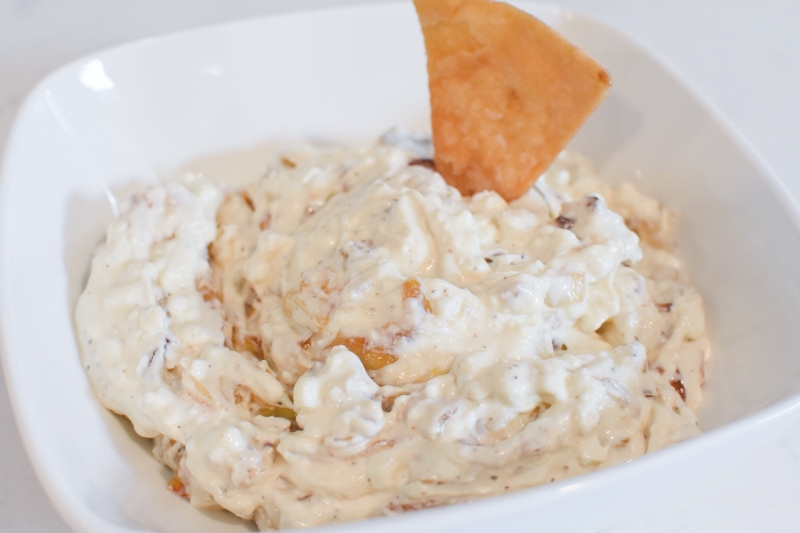 For other migraine diet appetizer recipes, check out these posts.
Caramelized Shallot Dip
A knockoff to Ina Garten's Onion Dip without onions or sour cream, which makes it migraine-friendly. Perfect for football games and casual parties.
Keyword:
Caramelized Shallot Dip
Ingredients
6 or about 2 cups sliced

medium to large shallots

2

tbsp

unsalted butter

1

tbsp

olive oil

4oz

cream cheese at room temperature

1/4

cup

mayonnaise

1/4

cup

cottage cheese

1/8

tsp

cayenne pepper

1/3

tsp

kosher salt

1/4

tsp

black pepper
Instructions
Slice shallots about 1/8inch thick rings and if yours are particularly large, cut the rings in half. In a large pan, melt 2tbsp and 1tbsp of olive oil on medium heat. Add sliced shallots to the pan with salt, cayenne, and pepper and sauté about 10 minutes. Turn heat down to low and cook another 10-15 minutes until brown and caramelized, watching closely to make sure it does not burn. Allow to cool. If there's a lot of excess oil leftover, you can drain it.

In a separate bowl, whisk together cream cheese, cottage cheese, and mayo. Add onion mixture and stir till combined. Ina suggests serving at room temperature, but I like mine slightly chilled. Serve with carrots, celery, and pita crisps.

I find the shallots already have a strong garlic flavor, but if you think it needs more you can add 1/4 tsp. garlic powder. Wait for the flavors to combine a bit before you do.
Recipe Notes
For cream cheese I used Organic Valley or Arla
For cottage cheese I use Daisy brand, but any without live active cultures will be ok if you follow a migraine diet.
Nutrition Facts
Caramelized Shallot Dip
Amount Per Serving
Calories 115
Calories from Fat 90
% Daily Value*
Fat 10g15%
Cholesterol 12mg4%
Sodium 170mg7%
Potassium 90mg3%
Carbohydrates 5g2%
Protein 1g2%
Vitamin A 116IU2%
Vitamin C 2mg2%
Calcium 15mg2%
Iron 1mg6%
* Percent Daily Values are based on a 2000 calorie diet.