This Egg Free Mayo is thick, creamy, and super easy to make! Perfect as a spread on sandwiches, in salad dressings, or as a garlic aioli. Soy-free and nut-free, it uses the liquid from a can of chickpeas to create a luscious spread that's completely free of eggs.
Why We Love this Eggless Mayo
There are several reasons someone may not want to make real homemade mayonnaise with a raw egg. Even though the risk of salmonella is extremely low, if you're pregnant or at a higher risk of complications, this recipe is totally risk free.
It's a vegan mayo recipe but tastes amazing, rich and fluffy.
This egg free mayo is easy to make and will turn out perfect if you follow the instructions carefully.
A lot of chickens are fed soy in their diet and soy-free eggs are very expensive. If you're someone sensitive to soy on a migraine diet, this can create an issue.
Store-bought eggless mayo contains lots of additives and flavorings, and this recipe is MSG free.
Jump to: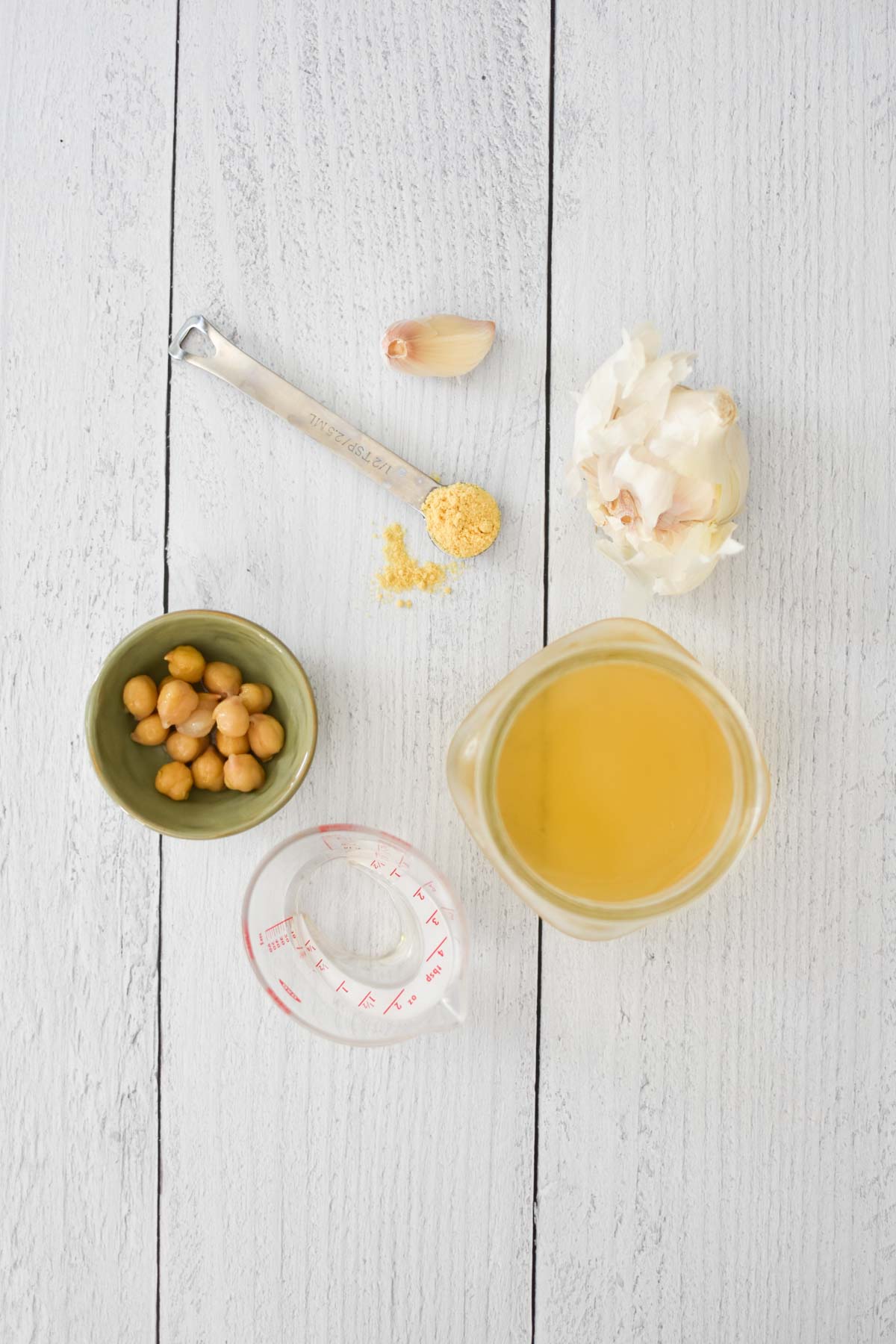 Ingredients
Aquafaba aka "Chickpea Juice" - Many of us have drained and tossed a can of chickpeas to make some hummus, not even realizing we were throwing out a trendy item! Aquafaba has become very popular these last few years as an egg substitute for vegan diets. When whipped, aquafaba's starchy liquid creates a foam. In fact, this guide to aquafaba from America's Test Kitchen shows that when whipped with cream of tartar, it can create stiff peaks, just like real eggs. Which is wonderful for those who are sensitive to eggs, but still love merengue!
A few Chickpeas - This enhances the emulsifying process, adding some bulk and texture to the mixture.
Distilled White Vinegar - Necessary to make the mayo come together in a thick texture and also add flavor.
Spices - Garlic and dry mustard give this a traditional Hellman's-style flavor.
Oil - I prefer to use a light vegetable oil like canola or sunflower for this to keep the flavor similar to store-bought mayo. However you could use olive oil or avocado oil, it will just have a stronger flavor to it.
Step by Step Guide
This egg free mayo is easy to make. Just follow the instructions well as they're very important!
Prepare all the ingredients so they're ready to add in quickly - 1 clove of garlic, 3 tablespoons of leftover aquafaba, 12 chickpeas (according to Serious Eats), 1 tablespoon of distilled white vinegar, ½ teaspoon mustard powder, ½ teaspoon kosher salt, and ¾ cup of sunflower oil.
Add the garlic, aquafaba, chickpeas, white vinegar, mustard powder and salt to the food processor. I turn my food processor on high and let it whip for about 30 seconds until the chickpeas were incorporated and smooth.
With the processor still on, SLOWLY add in a steady stream of the oil. Normally when I do this with an egg, it whips up pretty fast. With the aquafaba mixture I started to worry a little bit as it looked more like a dressing. I paused on the oil for a few seconds, and saw it starting to take shape. Once you see this happening, you can continue to slowly add in the rest of the oil.
Continue to process until the mixture is nice and thick and don't overwork it. Turn off once the thick consistency is reached.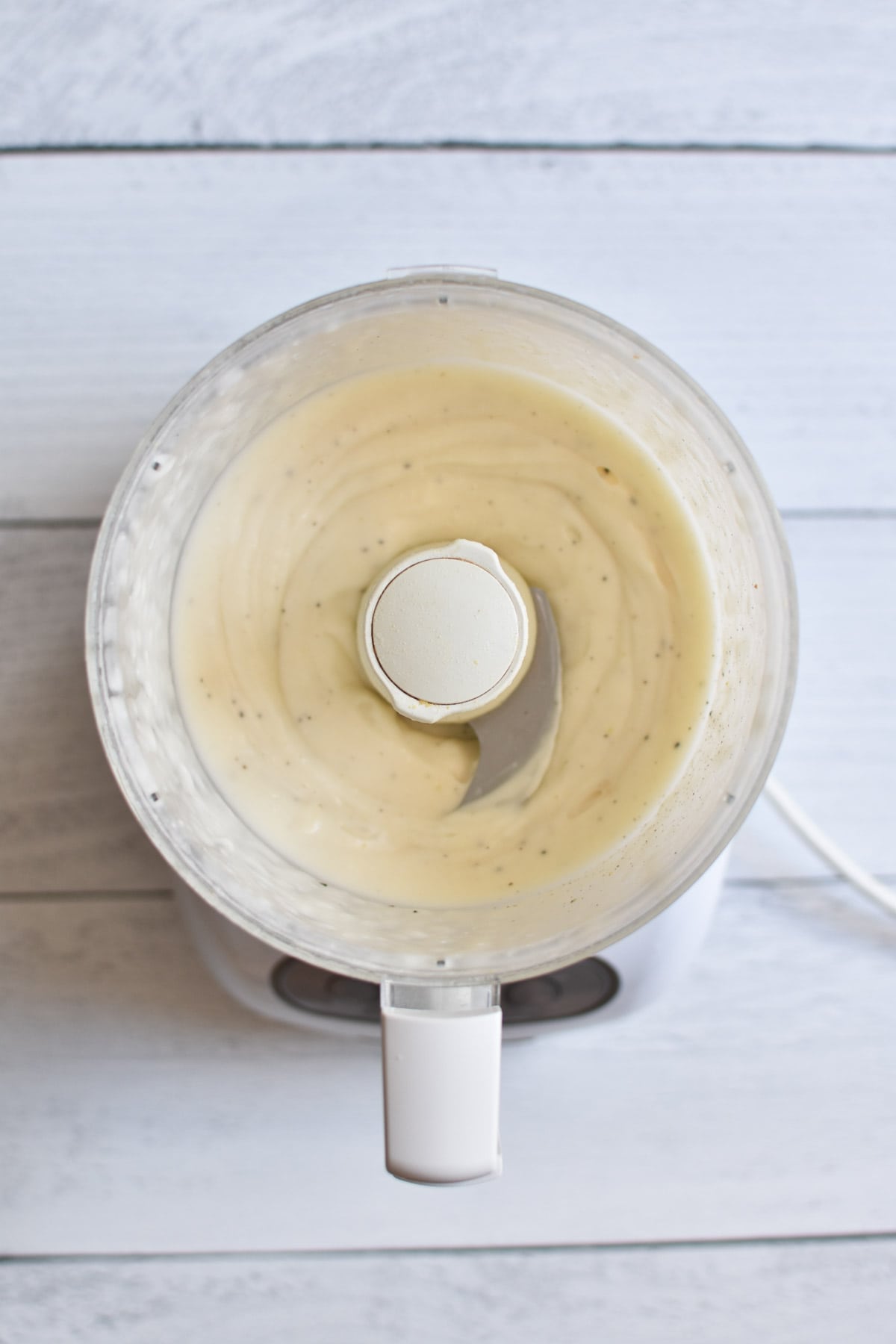 Recipe Tips
To achieve a great texture, it helps if the aquafaba is at room temperature, but it seems to work chilled as well.
It's imperative that you drizzle in your oil very slowly, or this recipe will just turn into a giant mess.
Egg free mayo will keep in the fridge for about a week. I store mine in little mason jars.
I prefer to use a good food processor for this since it does a great job of blending everything while keeping my hands free. A blender would also work, although you may want to mince your garlic before adding if the blade sits high.
If you're new to making mayo, try an immersion blender, which is nearly foolproof. You just might need someone to help keep the tall jar steady while you pour in the oil slowly.
Frequently Asked Questions
Can I Use Olive Oil?
Using sunflower, canola, and safflower oil, or any light vegetable oil produces a great, fluffy texture and a mild taste. You can definitely use olive oil or avocado oil, but I recommend splitting it with a vegetable oil, or you may not have a great texture and the flavor can be a bit strong. For example, use ¼ cup of olive oil and ½ cup of vegetable oil.
What does Eggless Mayo taste like?
Mayo made with aquafaba tastes surprisingly like the real thing. It's thick, creamy, and substitutes well in recipes that call for mayonnaise with eggs like ranch dressing, pesto mayo, or baked fish.
What is a good vegan substitute for mayo?
Good news - This egg free mayo is vegan and plant based! But if you're looking for some other condiments, I recommend my chimichurri sauce, nut-free pesto, or artichoke hummus all linked below.
More Egg-Free Condiments
You can use this egg free mayonnaise in the following recipes or these condiments without eggs could be a great substitute.
If you make this, tag me #thedizzycook or @thedizzycook on Facebook and Instagram. And if you love the recipe, please leave a review below! Follow along on my Pinterest for more great recipes.
Egg Free Mayo
A vegan mayo recipe that's egg-free, nut-free, and soy-free. Delicious, thick, and creamy, it's perfect for sandwiches and dips!
Print
Pin
Rate
Ingredients
1

garlic clove, peeled

1

tablespoon

distilled white vinegar

½

teaspoon

mustard powder

3

tablespoons

aquafaba, drained from a can of chickpeas

½

teaspoon

kosher salt

12

whole chickpeas, either from a can or softened (not dried)

¾

cup

sunflower oil

*see notes

fresh black pepper to taste
Instructions
In a food processor or blender, combine the garlic clove, distilled white vinegar, mustard powder, aquafaba, chickpeas, and kosher salt. Blend till smooth and frothy.

With the food processor or blender on high speed, drizzle the oil in very slowly, pausing when needed to allow the mixture to become thick and creamy. Continue blending till the texture is more like a thick mayonnaise rather than a dressing. The whole process took me 1-2 minutes. Once it reaches that thickness, stop blending immediately.

Taste and adjust seasonings. Add more kosher salt and fresh black pepper if needed. Store in the fridge in a mason jar or airtight container for up to a week.
Notes
It helps the texture if your aquafaba (chickpea juice) is at room temperature, but it seems to work chilled as well.
If you want to add sugar, it's recommended to use regular cane/granulated sugar rather than honey or maple syrup, which can affect the texture.
It's imperative that you drizzle in your oil very slowly, or this recipe will just turn into a giant mess.
Sunflower, safflower, or light vegetable oil is recommended for the best texture and taste. You can divide the recipe using ½ vegetable oil and ¼ cup olive oil or avocado oil, if desired.
I like to use a food processor, but an immersion blender or regular blender can also work. I recommend an immersion blender for beginners or if you don't have a really good food processor.
Recipe adapted from Serious Eats.
Nutrition
Serving:
1
tablespoon
|
Calories:
91
kcal
|
Carbohydrates:
1
g
|
Protein:
1
g
|
Fat:
10
g
|
Saturated Fat:
1
g
|
Polyunsaturated Fat:
1
g
|
Monounsaturated Fat:
9
g
|
Sodium:
73
mg
|
Potassium:
1
mg
|
Fiber:
1
g
|
Sugar:
1
g
|
Vitamin A:
1
IU
|
Vitamin C:
1
mg
|
Calcium:
1
mg
|
Iron:
1
mg
This post was originally uploaded September 13, 2019 and was recently updated to include new recipe tips, step by step process, and improved photos.