This vegan aquafaba mayonnaise is thick, creamy, and super easy to make. Soy-free and nut-free, it uses the liquid from a can of chickpeas to create a luscious spread that's completely free of eggs.
Mayo on a Migraine Diet
Eggs are totally allowed on all migraine diets like Heal Your Headache and the Johns Hopkins diet. However, in my two years of being the Dizzy Cook I have noticed that occasionally they can be a trigger for people. Often readers will say that they can tolerate eggs when baked into goods, but seem to have symptoms spike when eaten on their own. This can present an issue for those who are looking for mayo options as eggs are the foundation of mayonnaise!
One of the most challenging parts of a migraine diet is finding basic foods without additives. This can be tough with regular mayonnaise, as even my favorite Sir Kensington's does contain a small amount of lemon juice. The Sir Kensington's Aquafaba Mayo unfortunately also contains kombu, which is a hidden name for MSG, as well as lemon juice.
I've shown you how to make regular mayo with eggs, but I wanted to explore another option for those who have trouble with eggs or for vegan readers. It seems most of the recipes out there use some kind of nut or soy milks to make vegan mayo, but with this recipe it's completely soy-free and nut-free! Which is great for those also following a low tyramine migraine diet.
What is Aquafaba?
Many of us have drained and tossed a can of chickpeas to make some hummus, not even realizing we were throwing out a trendy item! Aquafaba has become very popular these last few years as an egg substitute for vegan diets.
When whipped, aquafaba's starchy liquid creates a foam. In fact, this interesting test from America's Test Kitchen shows that when whipped with cream of tartar, it can create stiff peaks, just like real eggs. Which is wonderful for those who are sensitive to eggs, but still love to bake!
How to Make Aquafaba Mayo
After I made the artichoke hummus this week, I had a few leftover chickpeas as well as the reserved aquafaba. I figured what better time than to test out a few egg-free mayo recipes! I knew based on the above, as well as seeing it on some cocktail lists, that aquafaba would provide a good base. However, when making this mayo with aquafaba alone, I found it more challenging to get the same time of mayonnaise texture that an egg provides.
As I researched some recipes, I came across Serious Eats Aquafaba Mayo, which uses chickpeas as well as aquafaba. They claim that adding a few chickpeas enhances the emulsifying process which I found to be completely true. And if you're also making the hummus, you'll have a few leftover that can be easily used.
I started by preparing all of my ingredients - 1 clove of garlic, 3 tablespoons of leftover aquafaba, 12 chickpeas (according to Serious Eats), 1 tablespoon of distilled white vinegar, ½ teaspoon mustard powder, ½ teaspoon kosher salt, and ¾ cup of sunflower oil.
Adding the garlic, aquafaba, chickpeas, white vinegar, mustard powder and salt to the food processor, I turn my food processor on high and let it whip for about 30 seconds until the chickpeas were incorporated and smooth. With the processor still on, I VERY SLOWLY add in a steady stream of the oil. Normally when I do this with an egg, it whips up pretty fast. With the aquafaba mixture I started to worry a little bit as it looked more like a dressing. I paused on the oil for a few seconds, and saw it starting to take shape. Once you see this happening, you can continue to slowly add in the rest of the oil.
Can I Use Olive Oil?
Using sunflower and safflower oil, or any light vegetable oil produces a great, fluffy texture and a mild taste. You can definitely use olive oil or avocado oil, but I recommend splitting it with a vegetable oil, or you may not have a great texture and the flavor can be a bit strong. For example, Serious Eats uses ¼ of olive oil and ½ cup of vegetable oil.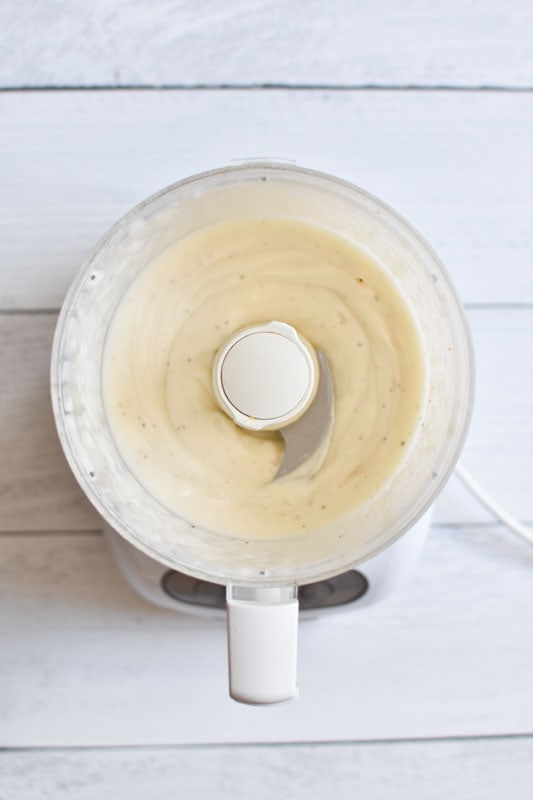 Tips for Aquafaba Mayo
I find it helps the texture if your aquafaba is at room temperature, but it seems to work chilled as well.
It's imperative that you drizzle in your oil very slowly, or this recipe will just turn into a giant mess.
Aquafaba mayo will keep in the fridge for about a week. I store mine in little mason jars.
I prefer to use a good food processor for this since it does a great job of blending everything while keeping my hands free. A blender would also work, although you may want to mince your garlic before adding if the blade sits high. I'm not a big fan of using immersion blenders, although that seems to be the preference for other recipes I found. I find it easier to add the oil slow and steady when I don't have a giant device in my other hand.
I hope you enjoy this recipe as much as I did! If you decide to make this, comment below with what you think or tag me on facebook and instagram!
For more egg-free condiments, check out these recipes:
Vegan Pesto
Homemade Ranch Dressing
Honey Mustard Ranch Dressing
Italian Vinaigrette
Vegan Aquafaba Mayo
A vegan aquafaba mayo recipe that's egg-free, nut-free, and soy-free. Delicious, thick, and creamy, it's perfect for sandwiches and dips!
Print
Pin
Rate
Ingredients
1

garlic clove, peeled

1

tablespoon

distilled white vinegar

½

teaspoon

mustard powder

3

tablespoons

aquafaba, drained from a can of chickpeas

½

teaspoon

kosher salt

12

whole chickpeas, either from a can or softened (not dried)

¾

cup

sunflower oil

*see notes

fresh black pepper to taste
Instructions
In a food processor or blender, combine the garlic clove, distilled white vinegar, mustard powder, aquafaba, chickpeas, and kosher salt. Blend till smooth and frothy.

With the food processor or blender on high speed, drizzle the oil in very slowly, pausing when needed to allow the mixture to become thick and creamy. Continue blending till the texture is more like a thick mayonnaise rather than a dressing. The whole process took me 1-2 minutes.

Taste and adjust seasonings. Add more kosher salt and fresh black pepper if needed. Store in the fridge in a mason jar or airtight container for up to a week.
Notes
I find it helps the texture if your aquafaba is at room temperature, but it seems to work chilled as well.
I don't feel the need to add sugar to this, but if you do it's recommended to use regular cane/granulated sugar rather than honey more maple syrup which can affect the texture.
It's imperative that you drizzle in your oil very slowly, or this recipe will just turn into a giant mess.
Sunflower, safflower, or light vegetable oil is recommended for the best texture and taste. You can divide the recipe using ½ vegetable oil and ¼ cup olive oil or avocado oil, if desired.
I like to use a food processor, but an immersion blender or regular blender can also work.
Recipe adapted from Serious Eats.
Nutrition