This pesto with sunflower seeds uses roasted, unsalted sunflower seeds, fresh basil and arugula or kale to make a wonderful vegan, nut-free pesto that's perfect on flatbreads, mixed into pasta, or tossed with roasted vegetables.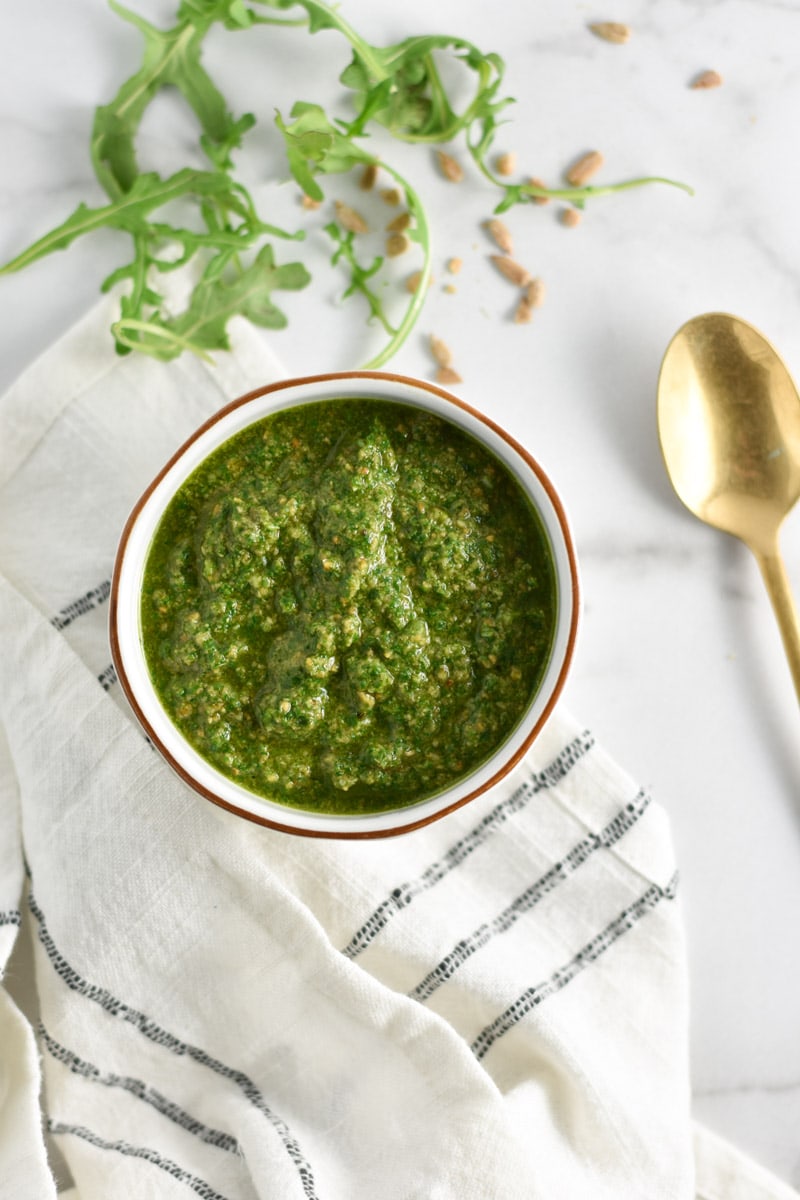 Typically pesto is made with pine nuts, lemon, and lots of parmesan cheese, but many of these items are high tyramine foods. For me, nuts ended up being one of my biggest migraine triggers so I quickly became a big fan of anything with seeds.
Jump to:
Best Sunflower Seed Pesto
I've tried a few different versions of vegan pestos, some with broccoli, some with spinach, but this one is probably my favorite. I even ran out of olive oil while I was whipping up this batch for pictures and it was still delicious. Toasted sunflower seeds is what gives it the nutty flavor you might miss from an aged parmesan. It's truly delicious and I wouldn't recommend skipping that step. So why should you make it?
It's incredibly fast and easy. All you need to do is throw everything into a food processor and it's ready!
It's allergy-friendly. This recipe is not only nut free, but also dairy free and gluten free. It fits a number of dietary restrictions including vegan, Whole30, paleo, and a migraine diet.
A versatile recipe. I find a few different greens work with this - spinach, kale, and arugula. I like arugula when I want a peppery flavor, and kale when I want it to taste a little more "green".
An easy dinner. This pesto with sunflower seeds recipe pairs well with pasta, pizza, and sandwiches. Spoon over flank steak or grilled vegetables for a delicious sauce.
Equipment Needed
For this pesto with sunflower seeds you do need a food processor or the grind won't be quite as smooth. With blenders, there is a lot of space left underneath the blade, making it difficult to get the right consistency even with high quality blenders. A food processor chops up the sunflower seeds well and gets everything mixed together nicely. I still like my seeds a little chunky, but you can pulse the mixture till you're satisfied with it.
I recommend Breville, Kitchen aid, or even a small personal food processor if you're cooking for 1-2 a lot.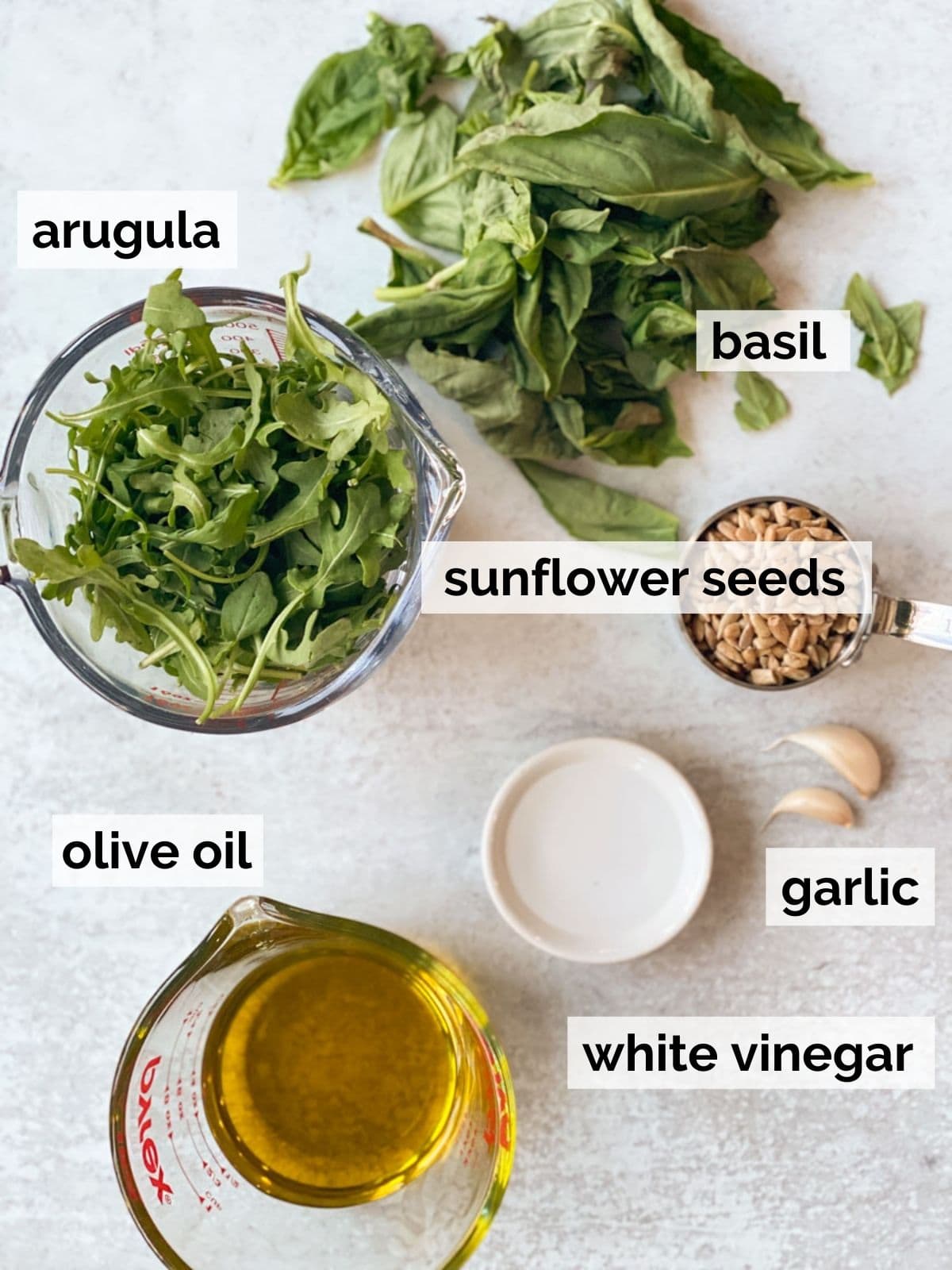 Ingredients and Substitutions
Just a few ingredients are needed for this delicious sunflower seed pesto!
Roasted sunflower seeds - I recommend purchasing roasted and unsalted seeds so you can control the sodium level. Roasted is necessary to add that extra nutty flavor you miss from aged cheese.
Arugula or Kale - My favorite combination is arugula (used here), but kale or spinach also works in the same amounts.
Garlic - Use 1 large or 2 small garlic cloves for a burst of garlic flavor without it being overpowering.
Distilled white vinegar - Acid is needed to balance the flavors, and I tend to prefer it over lemon juice, however you could use either if lemon is tolerated.
Olive oil - A good quality olive oil can make a big difference! I recommend a cold pressed olive oil in a dark bottle. Look for if the olive oil is made and sourced from the same country - that's an indicator of the quality too. Trader Joe's carries some reasonably priced ones, and California Olive Ranch is a dependable, widely-found choice too.
How to Make
The best way to make pesto with sunflower seeds is to start with the seeds, grind them up first, then add all your greens. If you like your pesto a little more chunky, you can flip this and add the seeds later. Taste and adjust any seasonings as needed.
Step 1: Put ingredients in food processor.
Add all the ingredients except the olive oil to a food processor.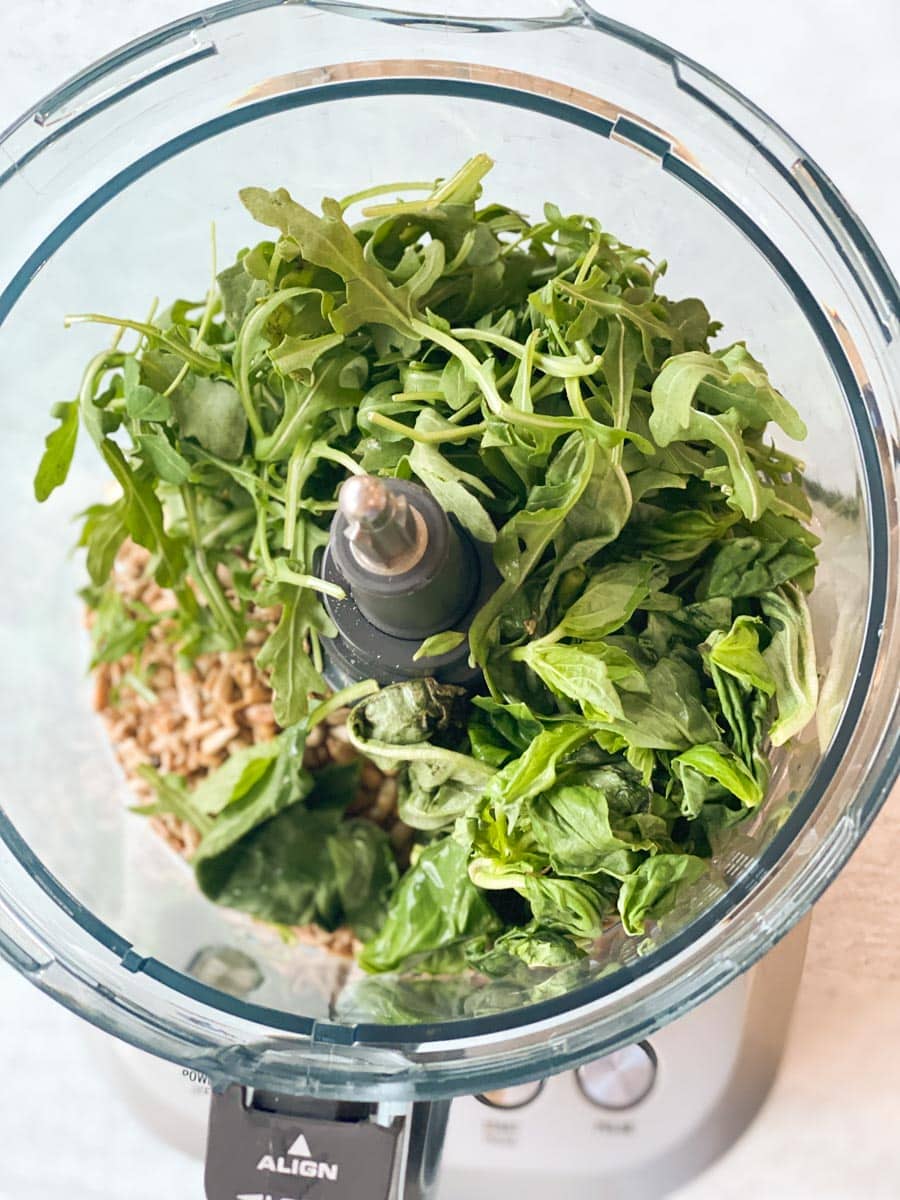 Step 2: Pulse to combine seeds and basil.
Cover with a lid and pulse till chopped throughly, stopping to scrape down the sides of the food processor as needed.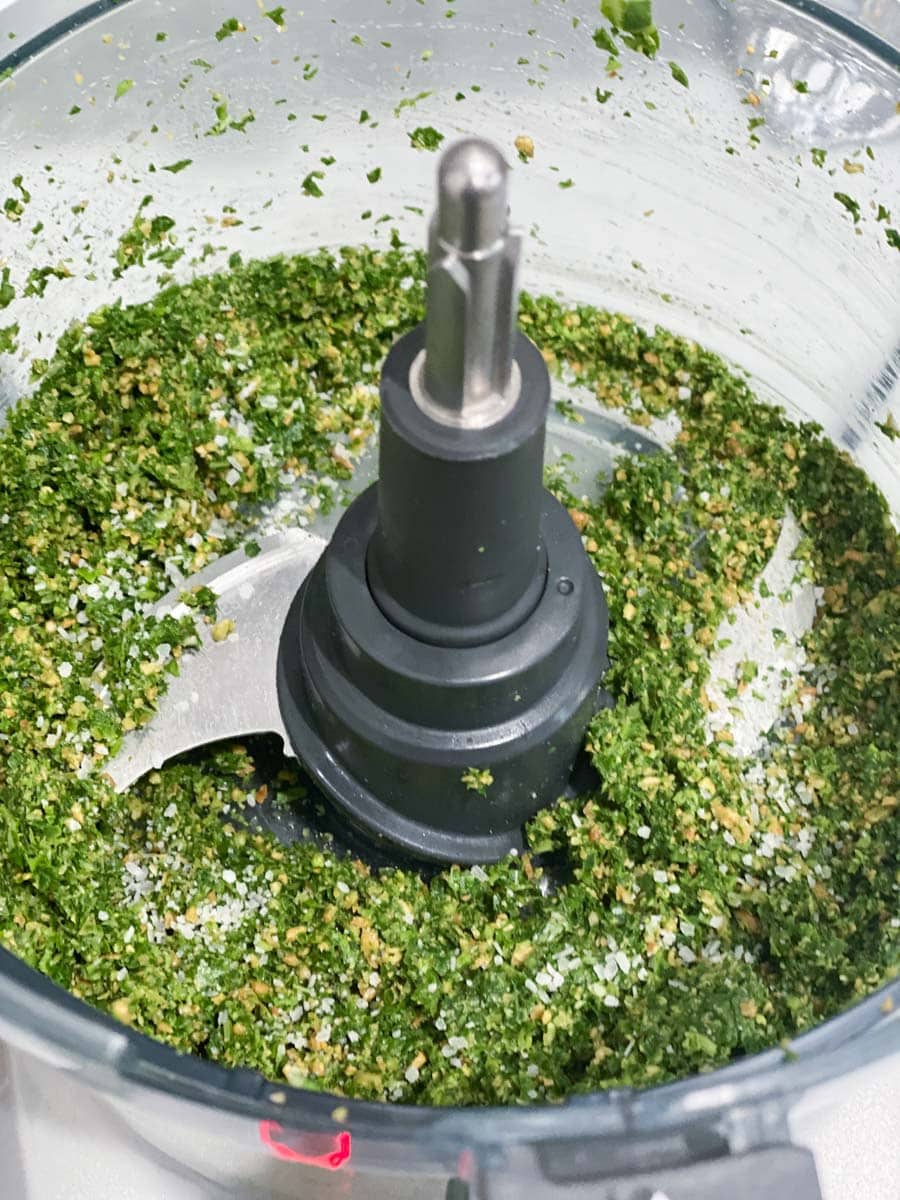 Step 3: Add olive oil and blend.
Add in the olive oil and process till the oil is fully incorporated into the sunflower seed pesto mixture.
Use immediately or pack for storage with my tips below!
Storage and Freezing
Fresh homemade pesto can be stored in the refrigerator for a week, or several months in the freezer.
Refrigerator storage - Pour into an airtight container, cover with a layer of saran wrap right on top of the pesto to help prevent browning, and refrigerate up to 4-5 days.
Freezer storage - Plan ahead on what the pesto will be used for - will you need a large amount or are you just adding as a topping for eggs, or in a personal size pasta. If you need a larger amount, pour into a smaller freezer bag and freeze flat. For a smaller amount, pour into ice cube trays where you can just pop out a pesto ice cube whenever it's needed!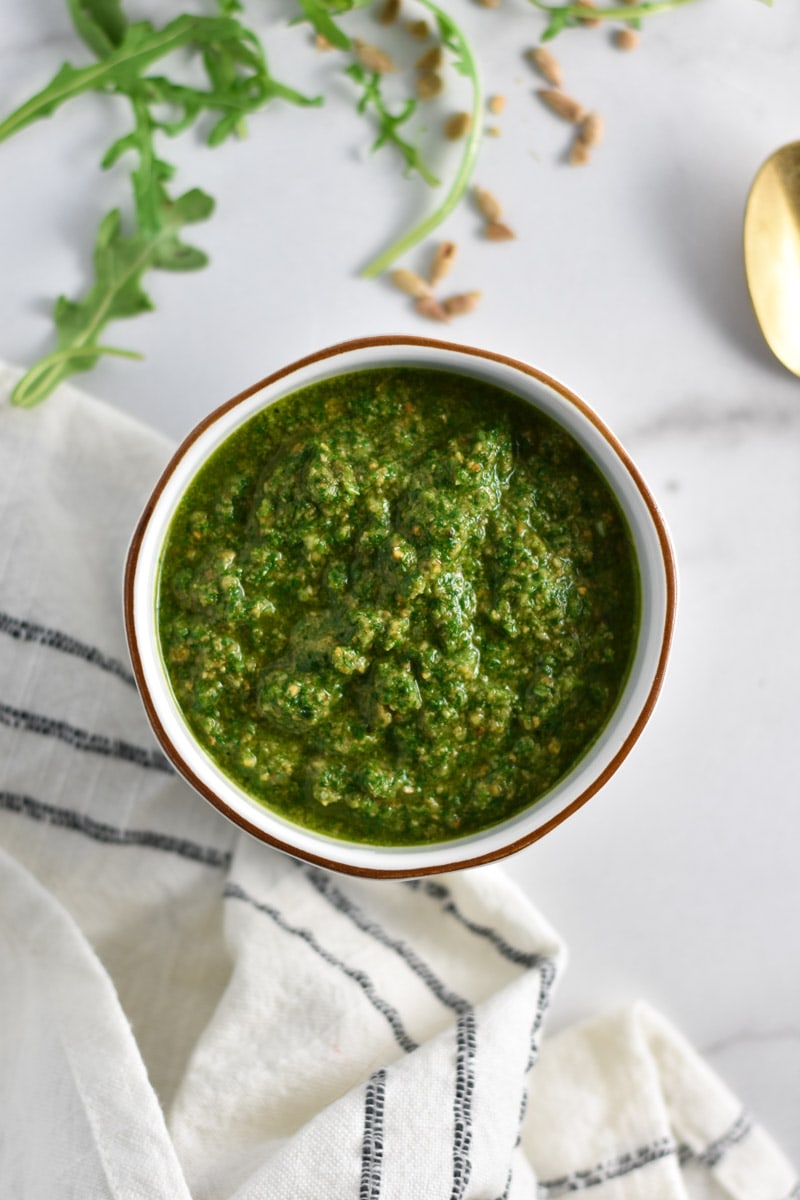 Frequently Asked Questions
Can I substitute sunflower seeds for pine nuts in pesto?
Sunflower seeds make an excellent replacement for pine nuts in pesto, especially for people who are allergic or sensitive to tree nuts. Roasted pumpkin seeds (pepitas) will also work as well if you prefer the flavor of those. For vegan pesto, I like roasted sunflower seeds to help replace the nutty flavor of parmesan.
How long does homemade pesto last?
Homemade pesto will last about 4-5 days in the refrigerator, and up to 6 months in the freezer. As it keeps in the fridge, the garlic flavor will become much stronger with time, so if you plan to keep the pesto for a few days, consider dialing back the recipe to 1 clove of garlic.
Can I toast sunflower seeds instead of buying roasted?
If you can't find roasted sunflower seeds, toast them at home one of two ways. The first is to toast in the oven at 350 degrees F for about 7-10 minutes, checking and stirring them often so they brown on all sides. The other method is to toast in a dry sautè pan over medium low heat, watching very carefully and stirring often till golden brown and fragrant.
How To Serve Homemade Pesto
Here are a few favorite ways to use this sunflower seed pesto for dinners. In the picture above, I used it in my Corn and Goat Cheese Pasta but omitted the goat cheese!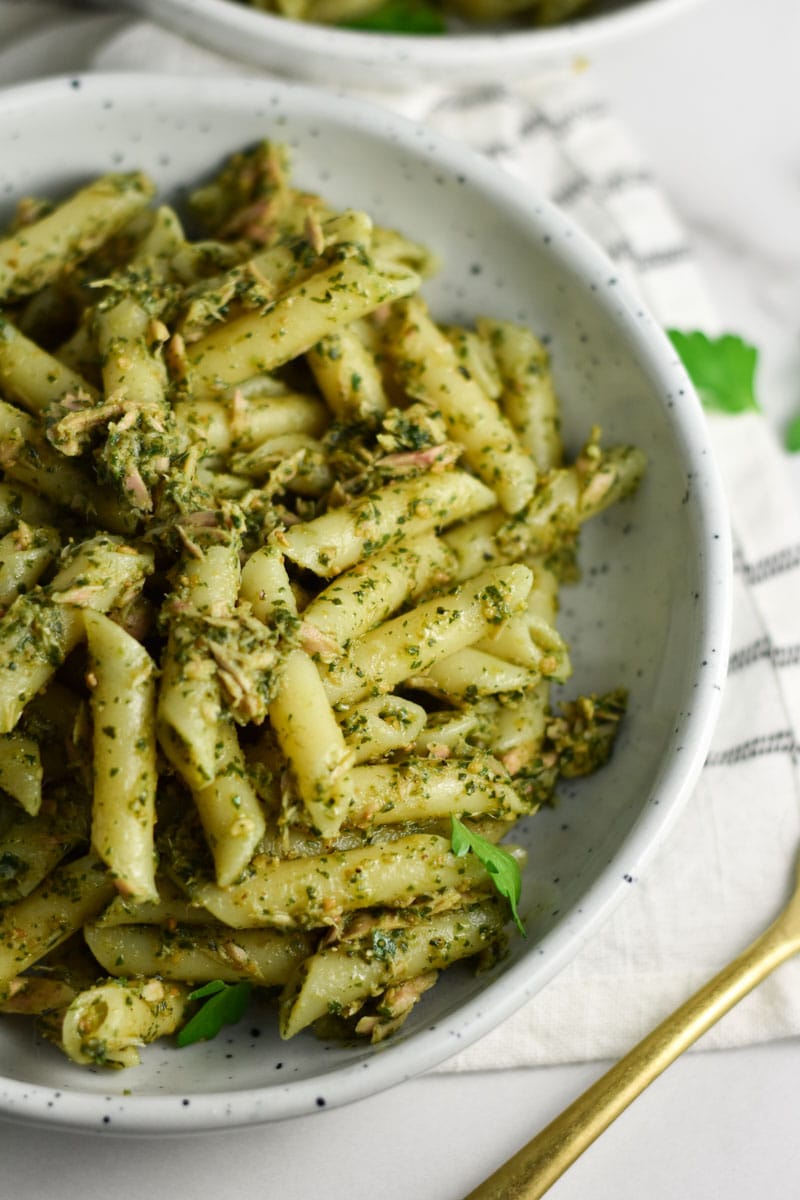 More Sauce Recipes
If you love this nut free pesto, check out my favorite sauces and toppings.
And don't miss my Creamy Cilantro Sauce which is a reader favorite.
If you make this, tag me #thedizzycook or @thedizzycook on Facebook and Instagram. And if you love the recipe, please leave a review below! Follow along on my Pinterest for more great recipes.
Pesto with Sunflower Seeds
Toasted sunflower seeds add the flavor you might miss from an aged parmesan or pine nuts in this nut-free pesto.
Print
Pin
Rate
Ingredients
⅓

cup

roasted sunflower seeds, unsalted

1¾

cups

fresh arugula or kale (thick stems removed for kale)

1

cup

fresh basil leaves, lightly packed

1-2

garlic cloves, skin removed

if you love garlic, use 2

1½

teaspoons

distilled white vinegar

⅓-1/2

cup

extra virgin olive oil
Instructions
Add toasted sunflower seeds to a food processor and process until chopped. Add other ingredients except for the olive oil and chop till combined. Slowly add ⅓ cup of the olive oil through the top. I typically like my pesto a little thicker for adding to pastas. If you like a thinner consistency or want to use as a dressing, add another 3tbsp or so till you reach your desired consistency.

If you'd like to spice it up, a few shakes of red pepper flakes will do the trick.
Notes
If you're not a fan of kale or arugula, you can use spinach leaves instead. Arugula and spinach sometimes make a nice, peppery combination if you add around ¾-1 cup of each.
This recipe is dairy free, gluten free, and low sodium as is. Be sure to buy "roasted and unsalted" sunflower seeds. These are available at Trader Joe's.
This makes about 1 cup of pesto.
Nutrition
Calories:
113
kcal
|
Carbohydrates:
2
g
|
Protein:
1
g
|
Fat:
12
g
|
Saturated Fat:
2
g
|
Polyunsaturated Fat:
3
g
|
Monounsaturated Fat:
7
g
|
Sodium:
21
mg
|
Potassium:
70
mg
|
Fiber:
1
g
|
Sugar:
1
g
|
Vitamin A:
263
IU
|
Vitamin C:
1
mg
|
Calcium:
16
mg
|
Iron:
1
mg
This post was written May 1, 2018 and updated March 2022 to include new photos and recipe tips. Original photo below.