This creamy sweet corn pasta with basil uses sweet summer corn, zucchini and goat cheese for a simple and easy meal - no hot oven required. Just five ingredients needed!
This pasta is super creamy, but uses pasta water to thin out the cheese into a lovely, tangy sauce. Therefore it's a really light pasta that highlights the best of summer vegetables. It's one of my favorites for the ultimate easy weeknight dinner.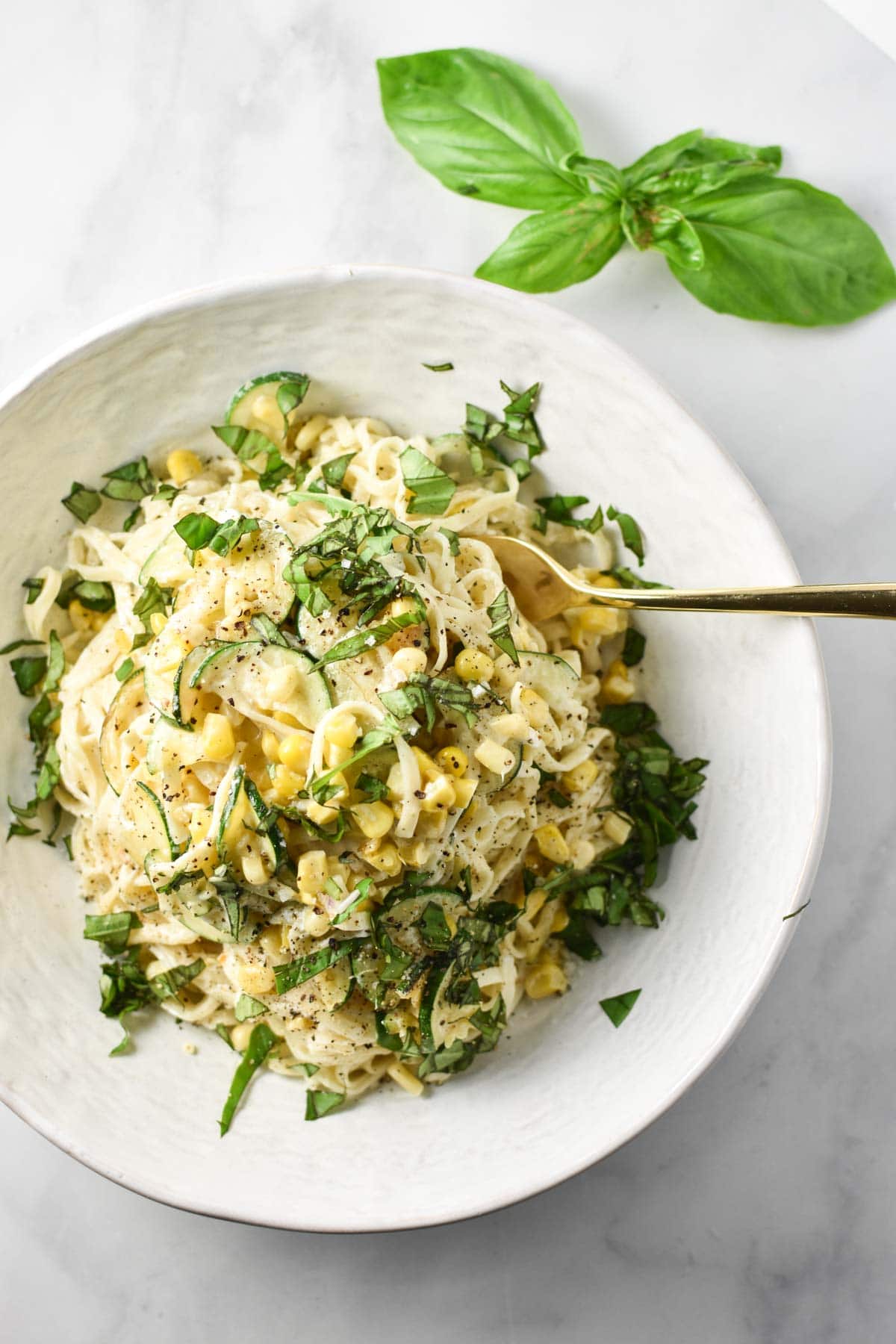 I came up with this sweet corn pasta because I did not want to turn on the oven since it's 100 degrees in Texas and I needed use up a ton of vegetables in my fridge. Like any good food blogger, I bring TWO bags to every farmers market and get overly zealous about everything that's offered. I have no idea how to cook okra, but I'll gladly buy two bags from any vendor who smiles at me. It really doesn't even have to be a full smile…I'm a total sucker.
Jump to:
The Easiest Sweet Corn Pasta
I typically end up with way too much corn and zucchini during the summer, and I suspect I'm not alone in this. As I searched online for what to do with it, I realized I needed quite a few other ingredients to make most of the recipes when all I really had in the pantry was pasta. Not to worry, this is the only sweet corn pasta recipe you'll ever need again.
This creamy corn pasta with basil is one of my most favorite recipes I've ever made and I think you'll love it too! Here are a few highlights that set it apart.
Minimal ingredients - This recipe only contains 5 main ingredients total.
Easy to make - Any beginner chef can make this and it can either be a weeknight dinner or for a dinner party.
Gluten free - Use your favorite gluten free pasta to make this dish fit a gluten free diet.
Easy to substitute - Hate goat cheese? You could substitute the cheese with Boursin or cream cheese.
Using Pasta Water for Sauce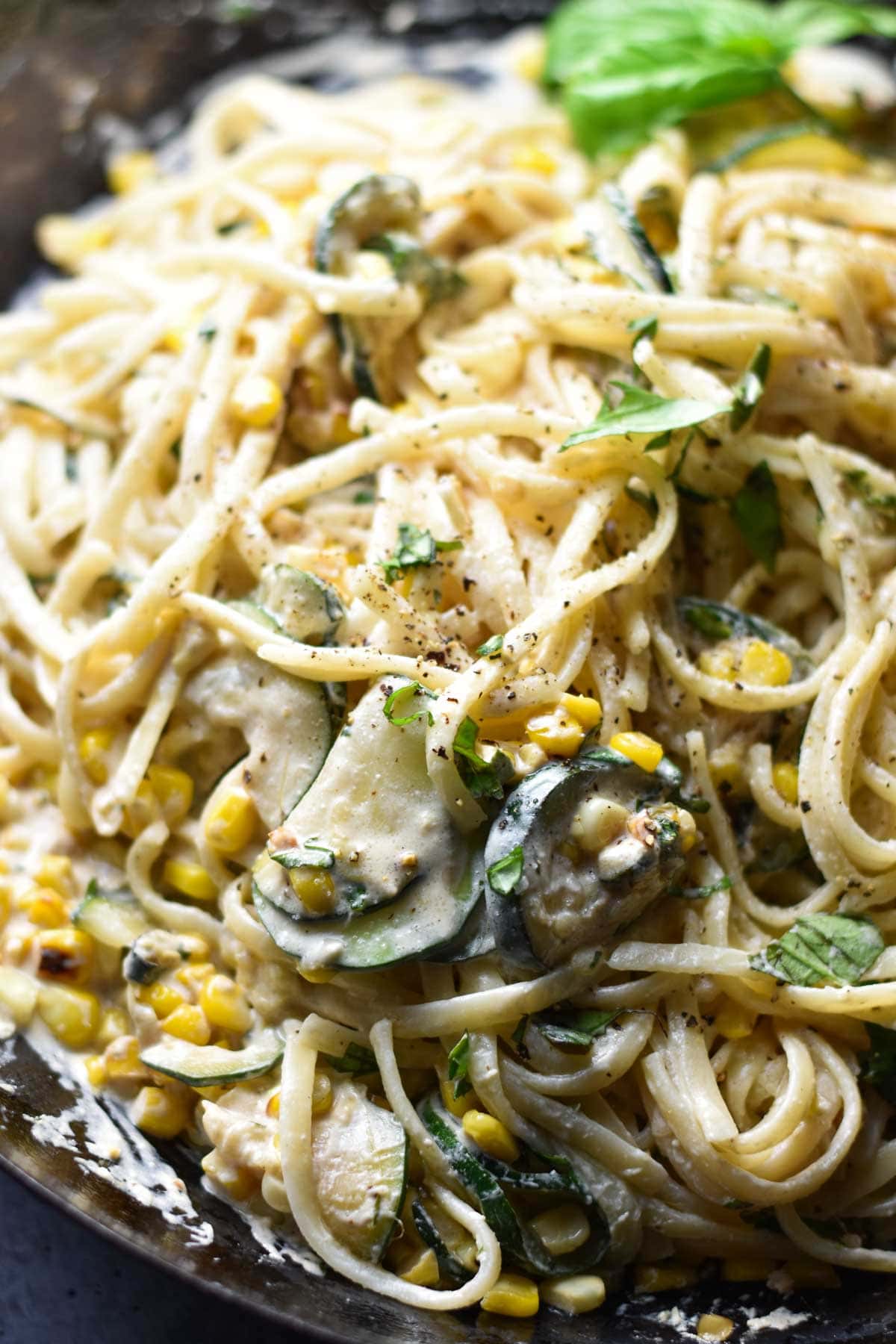 A creamy pasta sauce without cream? This is it! This is an excellent way to lighten up pasta dishes without sacrificing texture and flavor.
I decided to use this trick I picked up from my Pumpkin Sage Pasta where I combined the cheese with a little bit of pasta water. It helps make a creamy sauce, but much lighter in both flavor and texture.
This creamy sweet corn pasta with basil will be a hit for those nights you want a quick, oven-free meal.
Storage Options
While I don't recommend freezing this pasta as it's best enjoyed fresh, it does keep well for 3-4 days in the refrigerator.
To reheat - I recommend covering the bowl with a damp paper towel or adding a small splash of water before microwaving in 30 second intervals. Stir each time, so the sauce begins to coat the noodles well and becomes creamy again. Bonus points if you save more pasta water to do this!
If you have leftover sweet corn, I recommend making this Spanish Brown Rice - it's a perfect vegetarian side dish!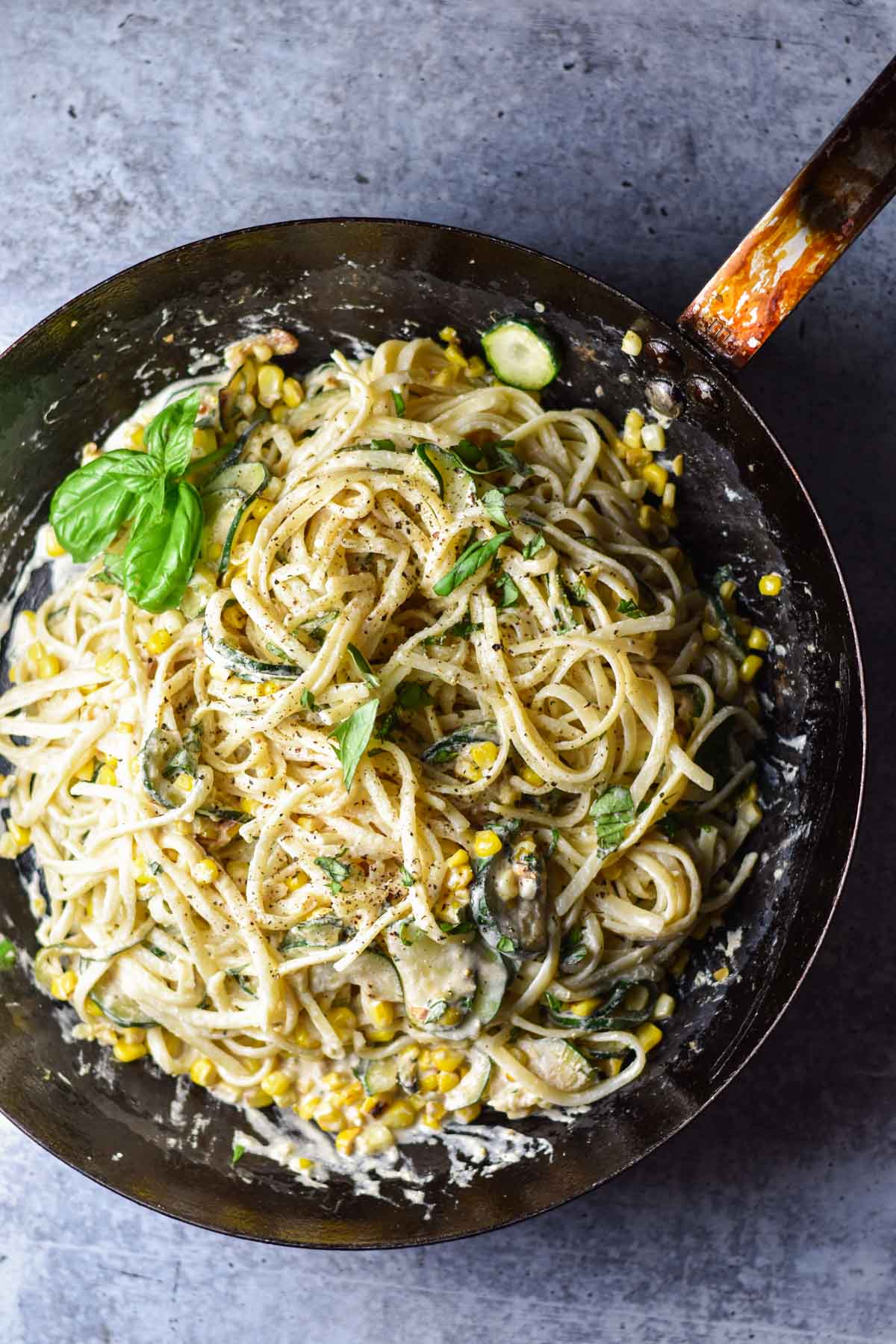 If you make this, tag me #thedizzycook or @thedizzycook on Facebook and Instagram. And if you love the recipe, please leave a review below! Follow along on my Pinterest for more great recipes.