This mediterranean baked halibut is super flavorful and easy to make in under 20 minutes for the perfect weeknight meal. Sun-dried tomatoes, mayonnaise, and oregano make this recipe a crowd-pleaser that the whole family will love.
I tend to forget about how far I've come in this journey sometimes. When I'm creating recipes for The Dizzy Cook now, I'm in a completely different headspace than I was two years ago. Even when my vestibular migraine was horrible, I always found relief in cooking. Sometimes it was the only moment I wasn't laying down on the couch or in bed. I'd use it as vestibular therapy, purposely looking from my bowl, to the spices, to the utensils. It always made me feel like I had accomplished something for the day, however small it may be. I do remember one time we had family in town, and it was really overwhelming to cook a meal like I used to. Therefore I wanted to create a group of recipes I find really simple yet delicious for those that aren't quite as far along in their healing. The tag will be under "Easy Dinners" or "Easy Lunches". Just because it's easy doesn't mean it can't be packed with flavor.
Do I have to use halibut?
This Mediterranean baked halibut inspiration comes from a fish sandwich I love that I often make for company. I use wild caught halibut, but it can be pricey. If you don't want to spend the money on halibut, wild caught cod is a less expensive substitute. The sauce can really work well on a few different types of fish. The sun-dried tomatoes you have to be a little careful of. You want ones without sulfites/sulfate added. These can be found fresh in some fancy grocery stores (I get mine at Central Market) or local markets. I've also found the 365 Whole Foods Brand packed in olive oil is pretty clean. If you're super adventurous you can even make your own. It's quite easy, but it does take all day.
Mayo Options
Finally, let's talk about mayonnaise options. You can make your own if you'd like to be super safe. My personal favorite is Sir Kensington's Organic, which contains a small amount of lemon juice. Another option I used to be wary of is avocado oil mayo, like Primal Kitchen Mayo. A little research shows that oils are so processed they don't contain the same issues you have to worry about in an actual avocado. The nice thing about this option is it doesn't contain citrus, if that's your biggest worry. I served this with simple sautéed garlic broccolini and roasted fingerling potatoes.
More Quick & Easy Dinner Options
Healthy Egg Roll Bowl
Steak Fajitas
Pumpkin Sage Pasta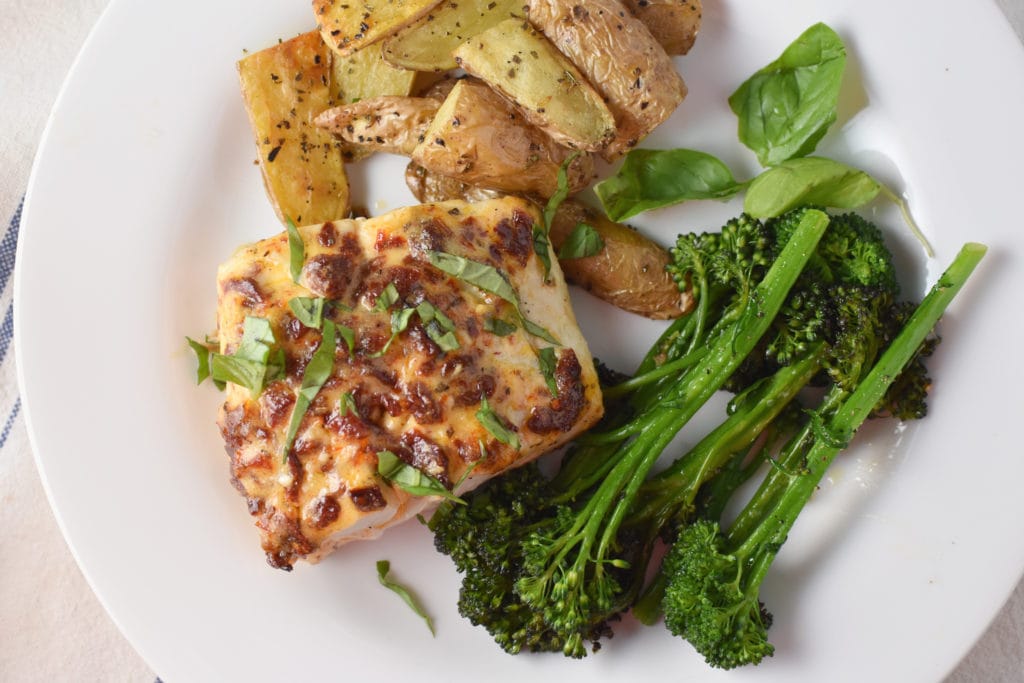 Mediterranean Baked Halibut
Gluten free, whole 30, and delicious, this baked fish is perfect for an easy weeknight meal. Fresh sun-dried tomatoes work best here, but a clean olive oil packed version is ok too.
Print
Pin
Rate
Ingredients
1

lb

wild caught halibut

2-3

tbsp

sundried tomatoes, chopped

2-3

tbsp

mayonnaise

2

garlic cloves, minced

¼

tsp

dried oregano

Optional: dash of red pepper flakes

1

tbsp

fresh basil, chopped

olive oil, kosher salt, and fresh pepper to taste
Instructions
Preheat oven to 425 degrees F. Mix together chopped sun-dried tomatoes, mayo, garlic, oregano, and red pepper flakes (if using).

Coat a small baking sheet with a splash of olive oil and place the fish on top, skin side down. Sprinkle fish with a tiny bit of kosher salt. Spread the mayonnaise/tomato mixture over the top of the fish.

Bake at 425 for 15-17 minutes. My fish was about 1 ½" thick and took 15 minutes. Remove from oven and top with fresh chopped basil. Enjoy!