This strawberry and peach burrata salad makes the best of all the awesome fruit that's at it's peach right now...whoops, I mean "peak"! Clearly I have peaches on the brain. Fresh peaches and strawberries are combined with creamy burrata, peppery arugula, and a simple basil vinaigrette. It's the perfect summer salad for a Fourth of July party!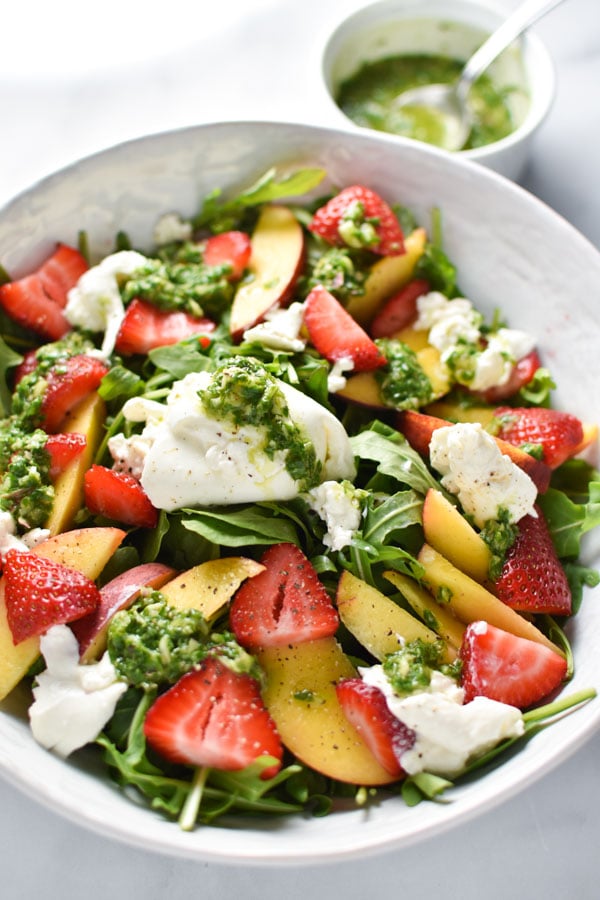 A Personal Win
This week is always a special one for me. It was this week over 3 years ago that I was finally diagnosed with Chronic Vestibular Migraine after months of feeling like I was losing my mind (and my job). The mild lightheadedness that began in March had snowballed into constant severe dizziness, ataxia (stumbling and a general feeling of being drunk), brain fog and memory loss, as well as derealization. I had to take a nap nearly every day because my eyes felt as if they were working overtime.
I had a number of different diagnoses from several doctors, but none of them matched up. Some said it was stress, others anxiety, a neuritis, and potentially a perilymph fistula. Because of this, we drove 16 hours to go to the Mayo Clinic in Arizona. It was there that after a full day of vestibular testing, I had diagnosis I finally trusted.
The comfort that comes from a great doctor and an accurate diagnosis is like the feeling of coming up and taking a deep breath of fresh air when you're swimming. I had been underwater for months and felt like I was drowning until that moment. From that day, life got a little bit better. We spent the rest of the week with family in Flagstaff. I was finally able to relax.
This drive to Arizona eventually became a tradition, where we spend a week with family at some point around the holiday. Each year I reflect on how far I've come with my Vestibular Migraine diagnosis - from chronic to episodic. This year I'm feeling in complete control - the best year yet.
Picking the Best Peaches
To pick the best peaches for this peach burrata salad you want them to smell really good, but still be a bit firm. You want them to only have a little bit of give when you squeeze them. This will tell you it's ripe and ready to eat!
I've also used nectarines for this salad and any type of peaches will do, including donut peaches.
Summer Recipe Menu
Here's how I'm planning to celebrate - with tons of great food, like the peach burrata salad!
Main Course Ideas
Oven BBQ Ribs (GF/DF)
Steak Salads with Grilled Peaches (GF)
Banh Mi Inspired Burgers (GF/DF)
Super Easy Pulled Pork with NC BBQ Sauce (GF/DF)
Grilled Shrimp (GF/DF)
Sides
Simple Potato Salad (GF)
Pasta Salad (GF Option)
Big Salad with Ranch Dressing
Plain Potato Chips
Fruit Salad (watermelon, strawberries, cherries, and blueberries)
Appetizers
Strawberry Endive Appetizers (GF, add blueberries for red, white, & blue) (GF)
Creamy Shallot Dip (GF)
Cream Cheese and Herb Cracker Bites
Desserts
No-Bake White Chocolate Cereal Bars (seriously so easy) (GF)
Angel Food Cake with Berries (DF)
Crustless Blueberry Pie
Black & Blueberry Crumble
Hope you all have a safe and fun week, especially if you're celebrating with friends and family. If you're struggling with something, like chronic migraine or an illness, use this time to focus on the sweet things in life, and reflect on how far you may have come.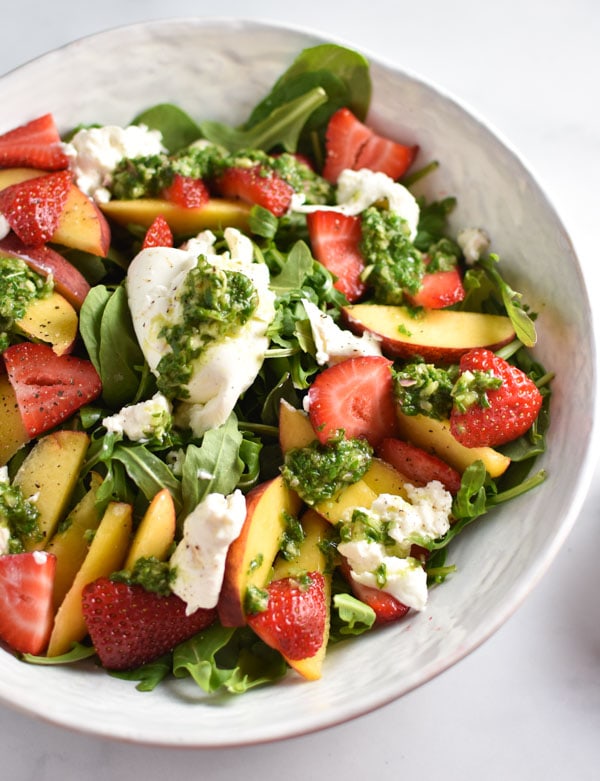 For more recipes like this peach burrata salad see:
Vegan Noodle Salad
Argula and Pear Salad
Farro and Arugula Salad with Roasted Carrots
Sausage and Potato Salad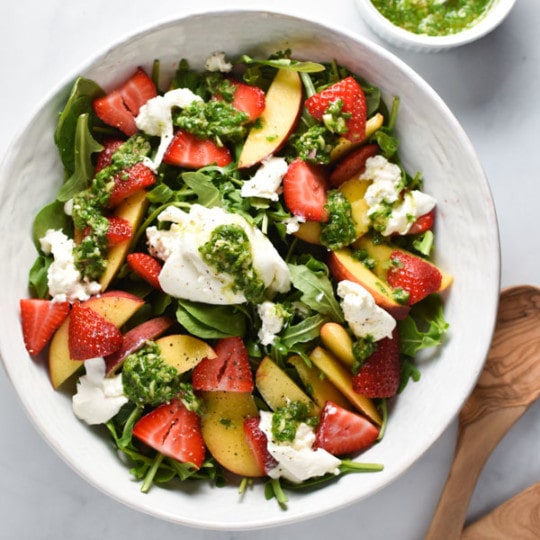 Strawberry and Peach Burrata Salad with Basil Vinaigrette
The perfect summer salad - strawberries, juicy peaches, and creamy burrata all combine with arugula and a fresh basil vinaigrette. Great for cookouts with friends when paired with a simple grilled meat or fish.
Print
Pin
Rate
Ingredients
Salad
½

5oz

package of arugula

6

large fresh strawberries, sliced

1-2

small fresh peaches, sliced

* Any kind is fine

1

ball of burrata, torn into pieces
Basil Vinaigrette
2

cups

fresh basil leaves

1

small shallot, peeled

1

small garlic clove

½

cup

olive oil

2

tablespoons

distilled white vinegar

½

teaspoon

kosher salt

½

teaspoon

freshly cracked black pepper
Instructions
In a food processor, add the shallot and garlic. Process till finely chopped. Then add basil and the rest of the ingredients, pulsing till combined.

In a large bowl, add arugula and top with sliced strawberries and peaches. Tear the burrata into small-ish pieces and plop it on the top. Drizzle with basil vinaigrette and a little fresh cracked black pepper. Sea salt is also wonderful on top if you have it.
Notes
Burrata can be expensive, so I recommend Trader Joe's for the best deal I've been able to find.
Spinach can be substituted for arugula.
Nutrition
Calories:
264
kcal
|
Carbohydrates:
5
g
|
Protein:
1
g
|
Fat:
27
g
|
Saturated Fat:
4
g
|
Cholesterol:
1
mg
|
Sodium:
292
mg
|
Potassium:
135
mg
|
Fiber:
1
g
|
Sugar:
4
g
|
Vitamin A:
762
IU
|
Vitamin C:
15
mg
|
Calcium:
29
mg
|
Iron:
1
mg