This honey chipotle chicken sandwich is the perfect combination of smokey, a little spicy, and sweet. Great for any barbecue cookout or weeknight meal, they're so easy to prepare. Your family will definitely want seconds!
Smoky honey chipotle chicken is placed on top of burger buns and topped with lettuce and spicy mayo for the perfect dinner recipe. I highly recommend serving this with Trader Joe's baked french fries.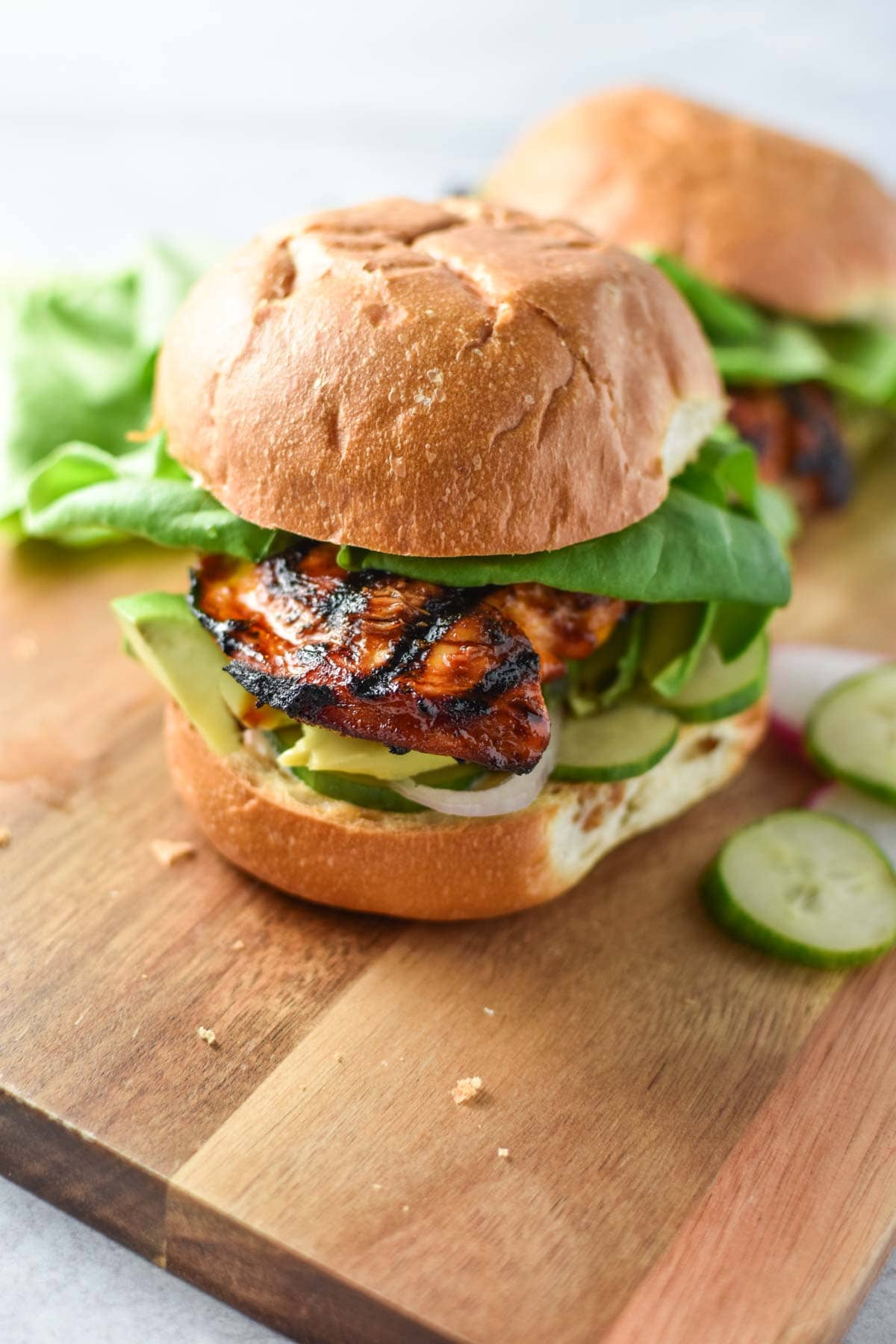 The whole family will love this chipotle chicken sandwich for a summer BBQ or a regular weeknight meal. It's also so good meal prepped and served with sweet potatoes, a potato salad, or a pasta salad.
Jump to:
Honey Chipotle Chicken
These honey chipotle chicken breasts aren't just good for serving as a sandwich. There are many other ways you can serve them! You'll love this recipe because it's not only easy and delicious, but also fits all kinds of dietary needs like dairy free, gluten free, and MSG-free.
Paleo - For a paleo meal, add chicken to a lettuce wrap. Top with radishes, green onion, and a spicy mayo sauce.
Gluten Free - Serve on a gluten free bun like Against the Grain's Original Rolls
Veggie Boost - Sliced and used on a salad topped with Honey Mustard Ranch Dressing. Use corn, black beans, shallots, and crushed tortilla chips to keep with a southwestern-inspired dish.
Honey Chipotle Chicken Tacos - Serve in tortillas. Top with shredded iceberg lettuce, corn, and radishes for an extra crunch. Serve with a side of Salsa Verde.
Chipotle Chili Powder vs Chili Powder
They may sound and look the same, but these two spices are quite different. Chili powder is typically a mix or combination of spices. If you're following a migraine diet, this can occasionally get you into trouble. I've found a few brands of chili powder that actually contain triggers like onion and cocoa.
With chipotle powder, you're only getting dried, smoked jalapeño peppers. In my opinion, this makes this type of chili powder much more spicy as it's not combined with any other ingredients.
Because of this, chipotle powder shares the same heat profile as jalapeño peppers. It's also different in flavor because it contains that extra smokiness. I like to use Morton & Bassett but there are many brands that are good, like Frontier.
There's no smoke flavor added to chipotle chili powder. The process begins with jalapeños that are grilled over an enclosed wood fire for a few hours and then dried. This is why it's got a much more smoky flavor than traditional chili powder.
Ingredients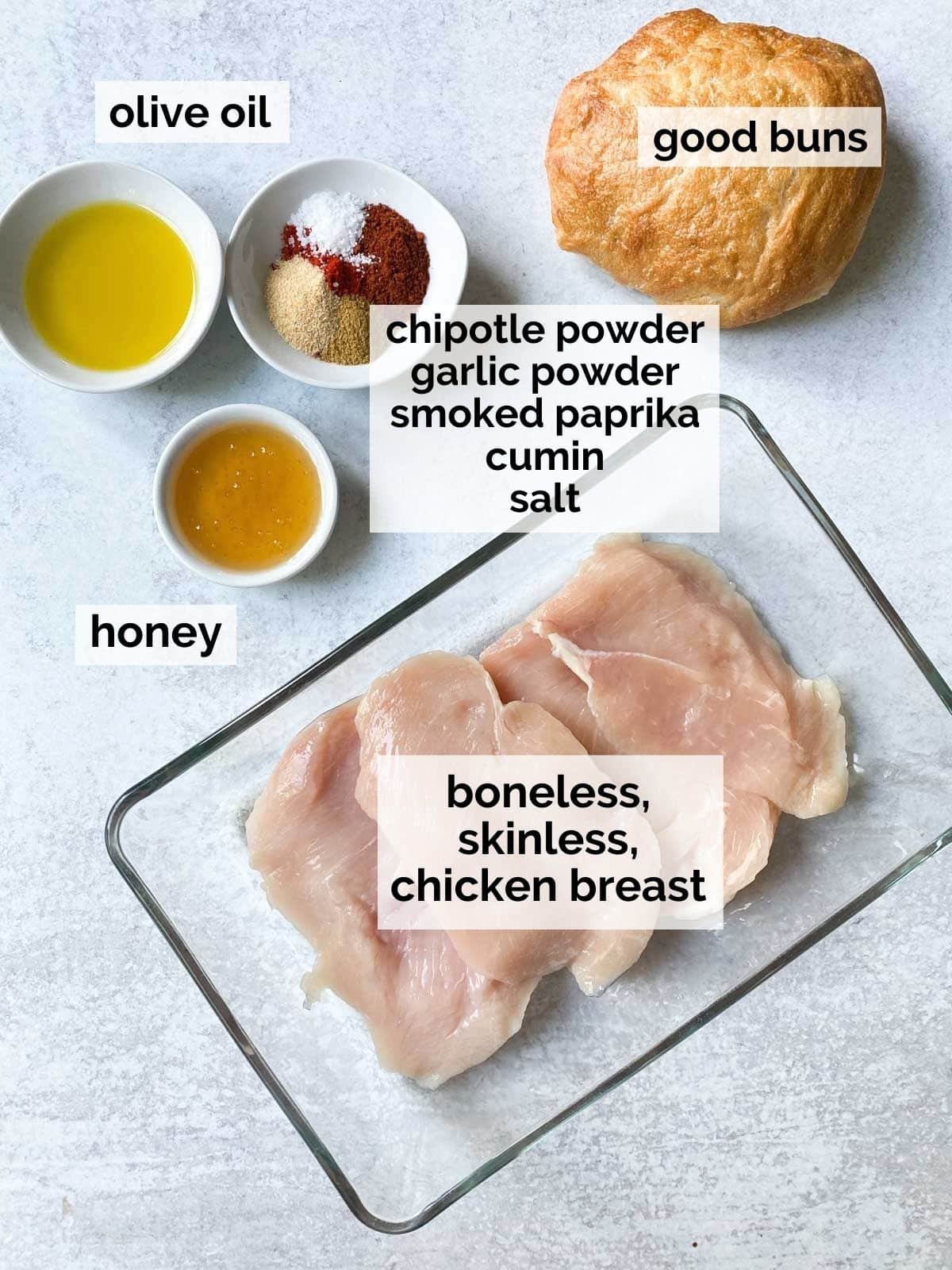 Boneless, skinless chicken breasts - You can also use boneless, skinless chicken thighs if you prefer the flavor. I recommend buying thin sliced or "cutlets" if you can, which are just thin sliced chicken breasts. This skips a step of you pounding the chicken out if the breasts are particularly thick. You'd like them to be about ½-3/4 inch thickness. I recommend air chilled chicken for the best flavor and also it grills best! This is because the chicken doesn't absorb any extra solution as it's processed through chambers of air.
Spices - Smoked paprika, cumin, chipotle chili powder, and garlic powder come together to make this marinade both smokey and earthy.
Honey - Balances out the spiciness of the chipotle powder.
Buns - Go with your favorite, but I highly recommend a local bakery or Martin's Potato Buns (found at Target). For gluten free, I recommend Udi's or Franz.
Toppings - Bibb lettuce, sliced cucumbers, and a homemade spicy mayo are my favorites.
How to Make
Before you begin making honey chipotle chicken, make sure you are using thin chicken breasts, about ½-3/4" thickness. Often they can be bought thin-sliced. If yours are very thick, simply slice them in half width-wise or use a mallet to pound them thin.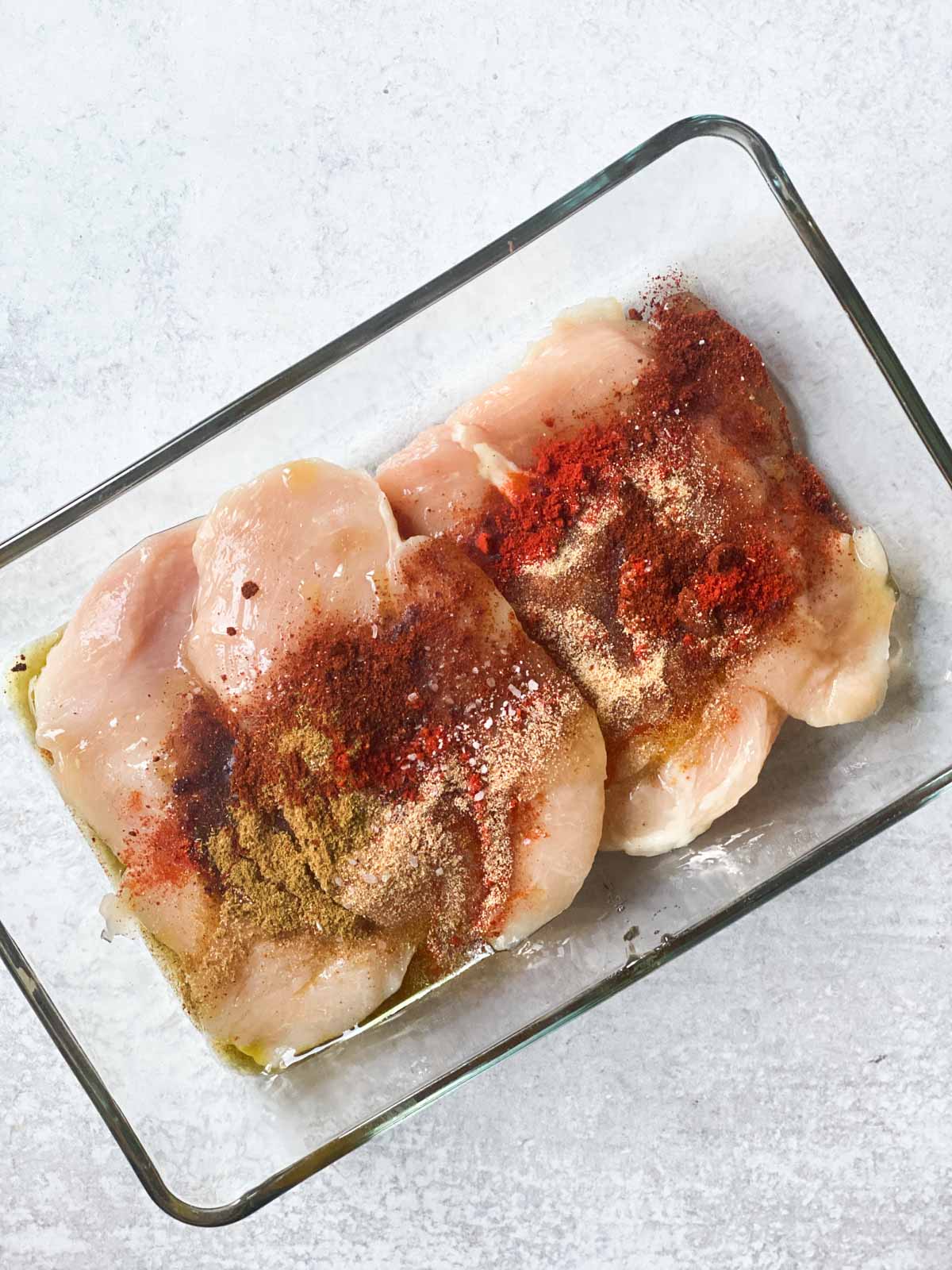 Step 1: Make the marinade
Combine the spices, honey, and oil and pour on top of the chicken, stirring till the chicken is well coated on all sides. You can also place into a ziplock bag.
Step 2: Marinate for at least 1 hour
For the best flavor I recommend marinating this chipotle chicken up to 1 hour, but the longer you can wait the better. I find the sweet spot is usually between 5-6 hours. I do not recommend marinating any chicken longer than 24 hours because the fibers of the chicken can break down and start to change the texture.
Step 3: Grill the chicken
This can either be done with a grill pan or on a gas or charcoal grill. Preheat the grill to medium high heat, till it reaches about 425 degrees F.
Place the chicken directly onto the grill grates and close the lid. Grill for 4-6 minutes per side, flipping halfway through. The thinner the chicken the faster it will cook. If you decided to not listen to my suggestions about thin chicken, then the grill time will be closer to 8 minutes per side.
The best way to check the chicken is cooked properly is to use a meat thermometer. Chicken should register 165 degrees Fahrenheit. Once it reaches that temperature, remove it from the grill and build your sandwich!
Top Grilling Tip - Using a meat thermometer will help you know when the chicken is done without wondering, poking around, and then overcooking it. If you're new to grilling, I highly recommend it.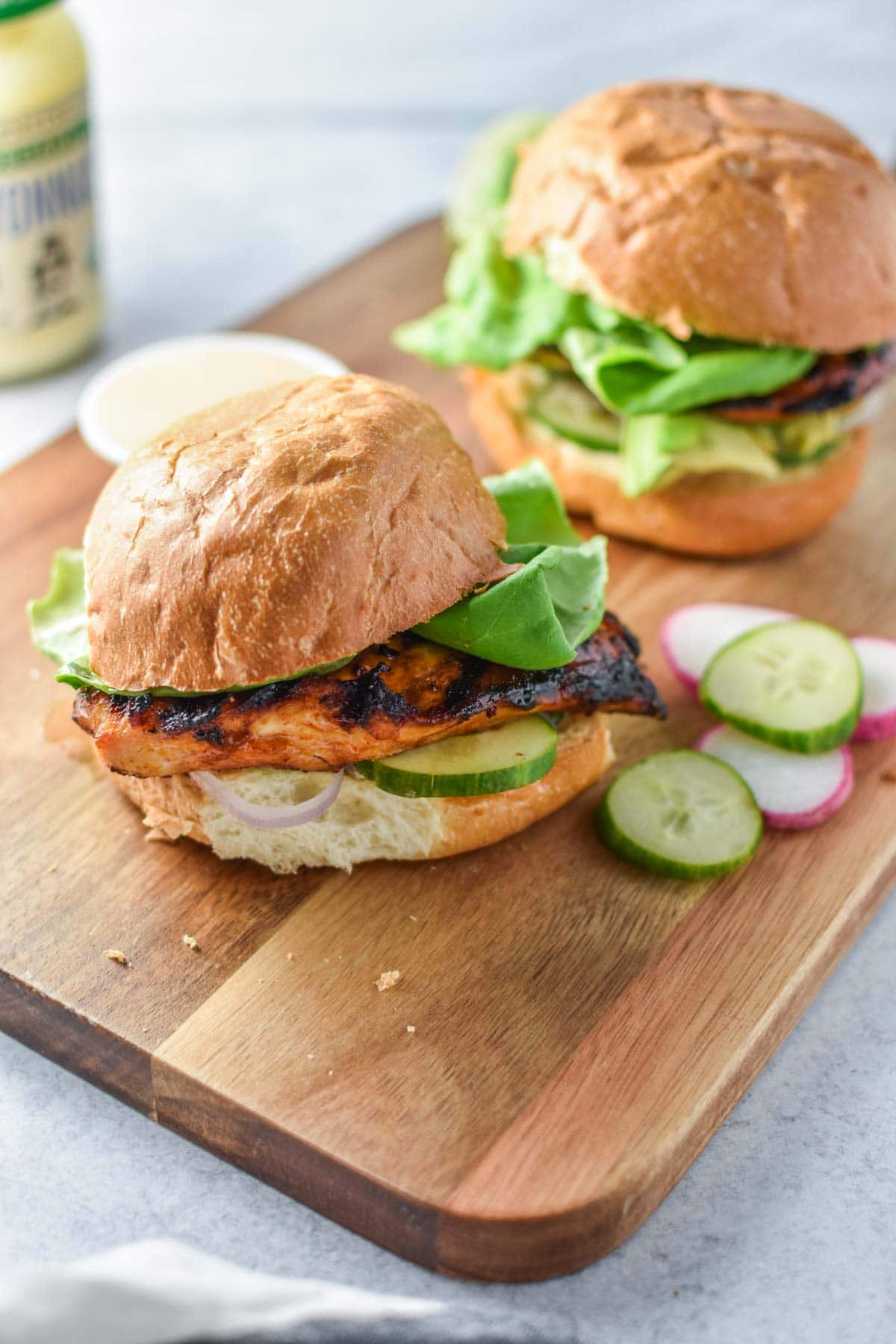 Grilled Chicken Tips
While you may like a nice char in spots, you still don't want them to completely burn. It's best to cook chicken breasts over indirect heat, about medium temperature. For a charcoal grill, this means you would only have coals cover half your grill.
Marinating time can vary, but should be for at least 30 minutes for a decent flavor. Do not marinate your chicken breasts for more than 24 hours. I find between 6 to 8 hours is a nice sweet spot if you can remember to do it before work.
Serving Suggestions
There are so many ways you can serve these honey chipotle chicken sandwiches.
Low carb - Ditch the buns and just serve these straight up with my healthy coleslaw or roasted mashed cauliflower. Or slice and serve in lettuce wraps.
Backyard BBQ - I recommend pairing this with my easy potato salad.
Easy weeknight meal - I like to serve these with Trader Joe's frozen fries, cooked in the air fryer at 400 degrees for about 15-20 minutes.
Leftovers - This makes the BEST leftovers. I serve on top of a simple salad with ranch dressing for lunches. Add corn, black beans, and tortilla chips for a great way to mix it up.
My favorite toppings are bibb lettuce, avocado (if tolerated, not elimination compliant), thin sliced cucumber, and the spicy mayo!
Storage Tips
Refrigerator - This will store for 2-3 days in the refrigerator and is perfectly reheated in the microwave in 30 second intervals. But I actually love it chopped and served cold on a salad.
Freezer - This honey chipotle chicken freezes beautifully! Store in an airtight container or freezer bag for up to 6 months. Thaw overnight in the fridge or quickly by placing the bag in warm water for 30 minutes - 1 hour.
Frequently Asked Questions
Can I use chicken thighs instead of chicken breasts?
Yes! Chicken thighs will also work for this recipe. I recommend using boneless, skinless thighs and making sure they're still fairly thin. They may take another 1-2 minutes to cook on the grill.
Is chipotle chili powder spicy?
Yes! These chipotle does have some heat to it, even more than regular chili powder. This is why honey is added to the recipe to balance out some of the spice. However, if you're not a fan of anything spicy, decrease the amount used by about ½.
What if I don't own a grill?
No problem! You can use this honey chipotle chicken marinade for almost any type of chicken. I recommend a grill pan for best results, but this can be cooked in a regular pan or in the oven as well.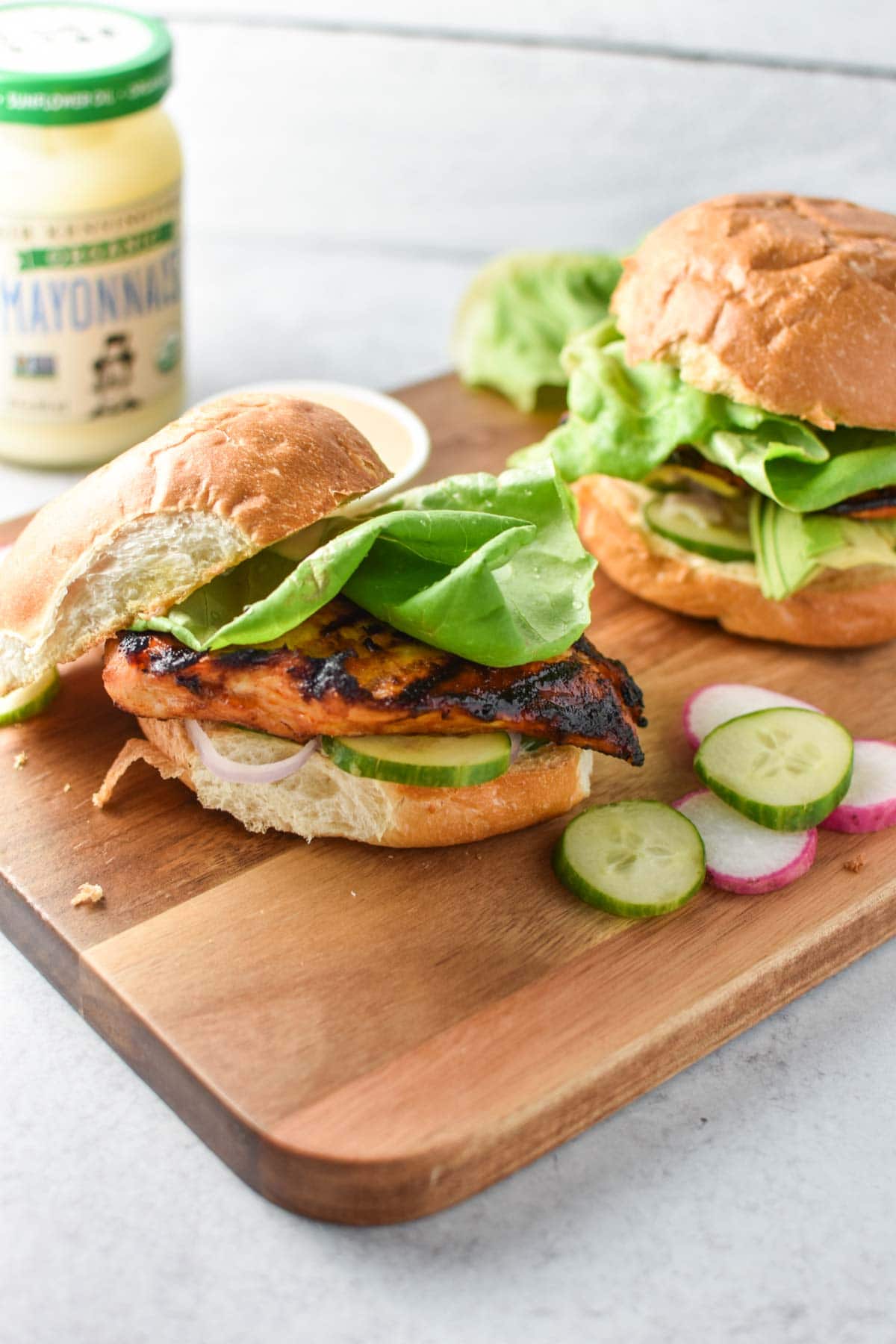 Grilled Chicken Recipes
For more delicious grilled chicken recipes like this honey chipotle chicken sandwich, see these posts!
If you make this, tag me #thedizzycook or @thedizzycook on Facebook and Instagram. And if you love the recipe, please leave a review below! Follow along on my Pinterest for more great recipes.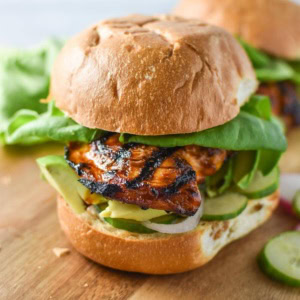 Honey Chipotle Chicken Sandwich
The perfect combination of sweet, smoky, and spicy. This honey chipotle chicken is sure to a be a hit at your next BBQ or family dinner. Serve with potato chips and/or a simple side salad.
Print
Pin
Rate
Ingredients
Honey Chipotle Chicken Breasts
1 ¼-1/2

pounds

thin sliced boneless, skinless chicken breasts, or chicken breasts pounded to ½-3/4" thickness

1

teaspoon

chipotle chili powder

½

teaspoon

smoked paprika

½

teaspoon

cumin

½

teaspoon

garlic powder

½

teaspoon

kosher salt

2

tablespoons

honey

3

tablespoons

olive oil
Sandwich Toppings
4

large buns, lightly toasted if desired

*See post for gluten free recommendation

fresh cucumber, sliced into coins

fresh red radish, sliced into coins

Bibb or romaine lettuce leaves

1

shallot, thinly sliced
Spicy Mayo
¼

cup

mayonnaise

*For migraine-friendly mayo, see my Pantry Staples post

sriracha sauce to taste

*For migraine-friendly srirachas, see my Pantry Staples post
Instructions
In a large dish or ziploc bag, combine the chipotle chili powder, smoked paprika, cumin, garlic powder, and salt. Add honey and olive oil and mix till combined. Add chicken and thoroughly coat both sides in the spice mixture. Cover (if using a large dish) and place in the fridge for at least 30 minutes and up to 24 hours.

Prep your grill to medium heat. If using coals, place them on one side of the grill. Cook chicken off the indirect heat for about 8-10 minutes (flip over at about the 5 minute mark or until grill marks form) until the chicken is cooked through and the internal temperature registers 165 degrees F. Remove from heat and cover with tin foil to rest.

Prepare the sandwiches. Lightly toast the buns, if you'd like. Coat both sides with spicy mayo, slices of radish, cucumber, and shallots. Top with grilled chicken breasts and lettuce. Serve warm.
Notes
I prefer to use air-chilled chicken for better flavor and texture.
Make sure your chicken is grilled off direct heat unless you're using a grill pan. Chicken should register a temperature of 165 degrees to be cooked thoroughly.
If you're not following a low tyramine migraine diet, feel free to add avocado slices.
If gluten free or paleo, try this in lettuce wraps or on top of a salad with corn, black beans, and radish.
Nutrition
Serving:
1
sandwich
|
Calories:
378
kcal
|
Carbohydrates:
22
g
|
Protein:
35
g
|
Fat:
16
g
|
Saturated Fat:
3
g
|
Polyunsaturated Fat:
2
g
|
Monounsaturated Fat:
9
g
|
Trans Fat:
1
g
|
Cholesterol:
91
mg
|
Sodium:
389
mg
|
Potassium:
604
mg
|
Fiber:
1
g
|
Sugar:
3
g
|
Vitamin A:
318
IU
|
Vitamin C:
2
mg
|
Calcium:
86
mg
|
Iron:
2
mg