Delicious and creamy, this mascarpone ice cream is one of my favorite no-churn ice cream recipes. Made with Italian cream cheese and whipped cream, it is a one of my favorite summer desserts.
This mascarpone ice cream recipe is perfect for dinner parties or an after dinner treat and what's so great about it is its versatility, working well with many different toppings. The ice cream itself is like a very rich vanilla honey, but the mascarpone gives it an ultra-luxurious texture. A little bit goes a long way with this recipe!
Another great thing about this ice cream with mascarpone is that it's very easy to make. No ice cream maker required! Even the most beginner cook can have a wonderful homemade ice cream ready in just a few hours.
Jump to:
What is Mascarpone Cheese?
Mascarpone cheese has a higher fat content than regular cream cheese, making the texture a little more creamy. It's often used in Italian cooking and you may recognize it from the classic dish, tiramisu. However, it is not heavy!
Mascarpone has a looser texture than cream cheese that's smooth and velvety, making it more ideal for folding into desserts. It also has a more mild flavor, where cream cheese is more tangy, making it ideal for cheesecake.
I have yet to try this recipe with regular cream cheese, and although I imagine it would work, I recommend at least trying the original recipe for the best flavor and texture.
It shouldn't be difficult to locate in most grocery stores. A few of my favorite brands are BelGiosio (they make great ricotta too) and Vermont Creamery.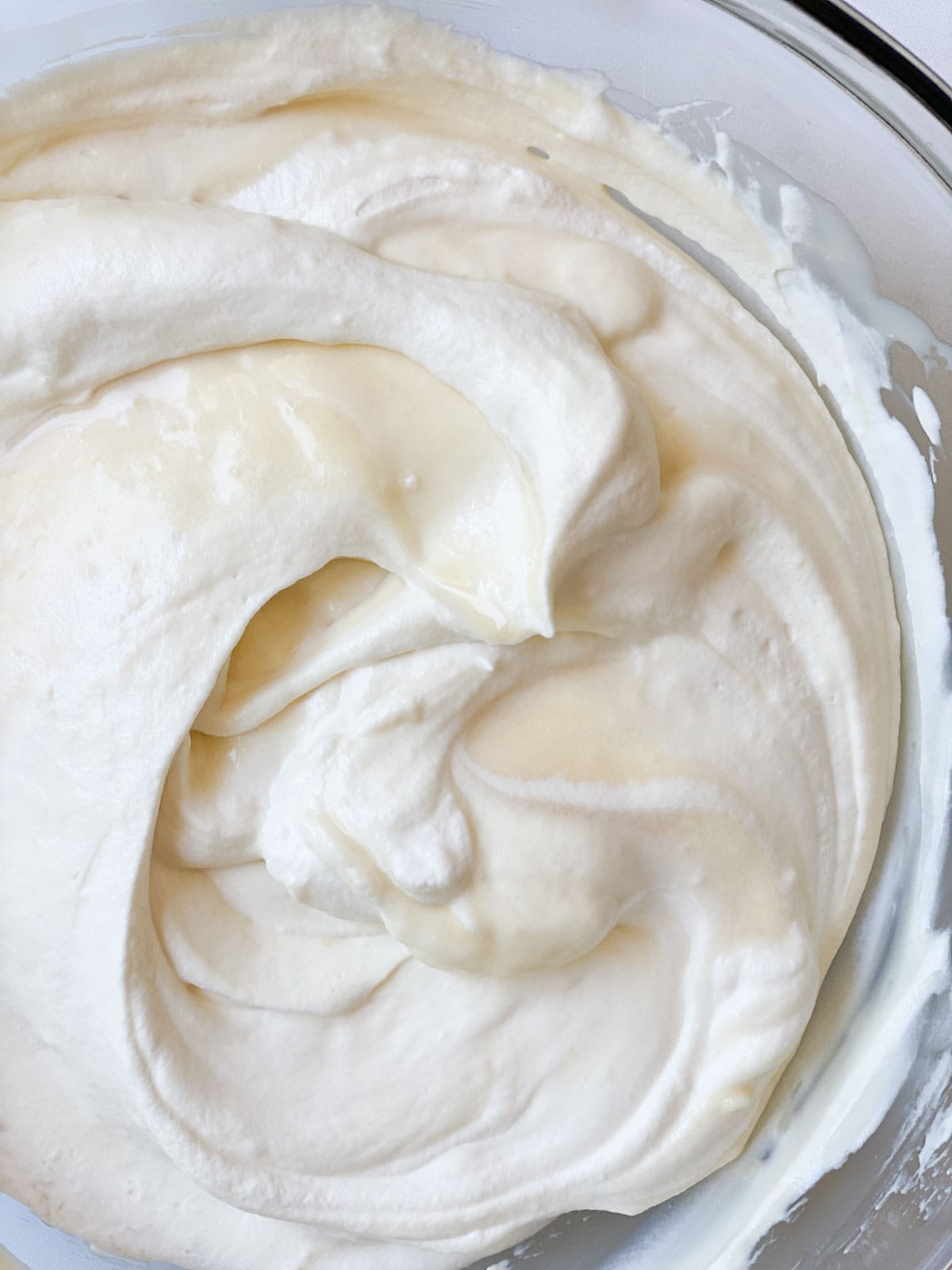 Why You'll Love No Churn Ice Cream
I'm big on cooking. I love to cook. I have so many cooking gadgets in my home that I use frequently. And an ice cream maker is not one of them. Not only do they always break but then they're so finicky. It can make homemade ice cream feel like a massive chore and just easier to pick up from the store.
With this recipe, you won't have that problem. No churn ice cream only requires a blender to whip the heavy cream - that's it! And I suppose you could use a whisk too if you needed a great arm workout.
What you need? Cold sweetened condensed milk and cold whipping cream. That's it! Just two ingredients. While there are a few methods for making ice cream without an ice cream maker, I find this one to be the one with the least amount of effort.
Ingredients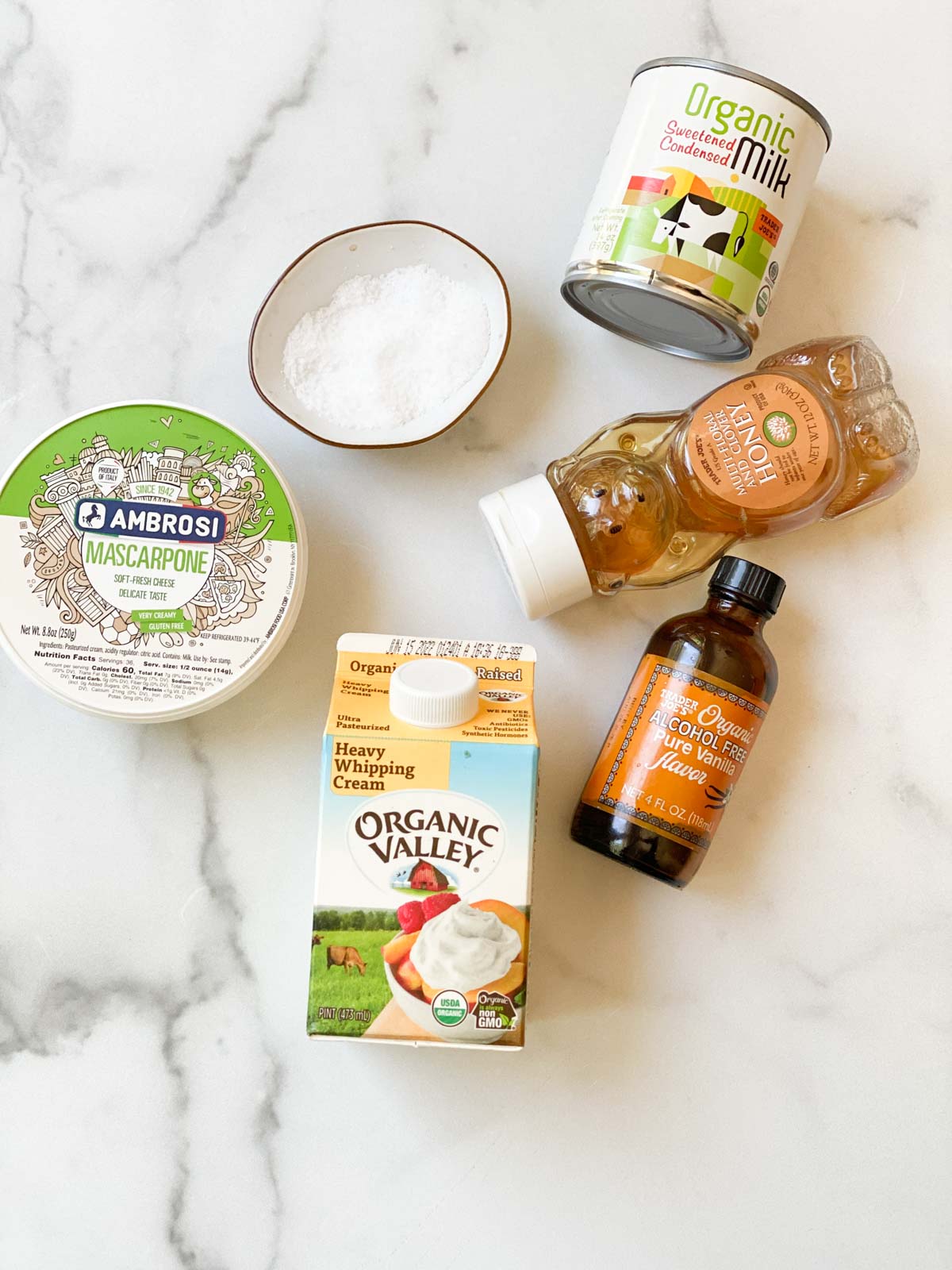 Mascarpone Cheese - I recommend BelGiosio and Vermont Creamery, but this is available at many different stores!
Sweetened Condensed Milk - One 14.5oz can is all you need and I recommend placing it into the fridge so it's cold before using.
Heavy Whipping Cream - Locate one without carrageenan. I find a few local brands, Horizon, or Organic Valley to be good.
Honey - While the sweetened condensed milk brings most of the sugar content, just a touch out honey provides a nice little swirl and a more caramelized flavor. You can omit this if you'd like.
Vanilla Extract - If sensitive to alcohol, Trader Joe's has a good alcohol-free version.
Salt - A pinch of salt balances the sweetness.
How to Make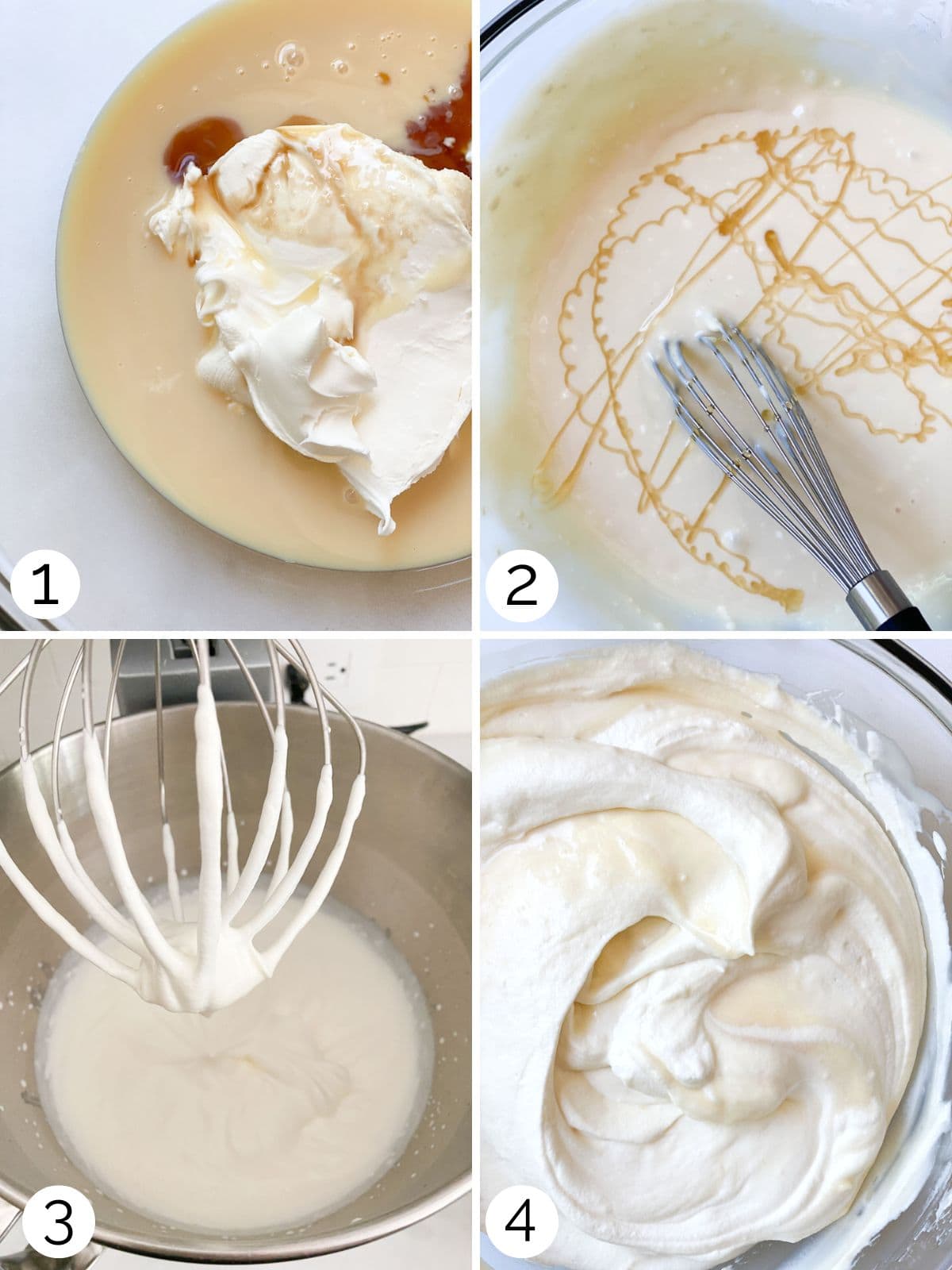 Step 1: Combine the base ingredients
Stir together all the ingredients except the heavy cream in a large bowl. It helps to have all the ingredients cold, but it's not necessary. Also place a 9x3x5 inch pan (23 x 7.5 x 12 cm) in the freezer to chill.
Step 2: Whisk till combined
Use a whisk to fully incorporate the ingredients and remove any lumps.
Step 3: Whip the cream
It helps to start with a cold mixing bowl. Place chilled heavy cream into the bowl and whip it on medium-high speed until firm peaks form. Not soft peaks that kind of fall over. Not medium peaks that are still a little loose. Firm peaks.
Step 4: Fold whipped cream into the base
Fold whipped cream into the mascarpone mixture, stirring till well-combined. To "fold", take a spatula and twist your wrist, running it around the edges of the bowl, flipping your wrist to face up. As opposed to "stirring" which uses your whole arm, folding just requires a few flicks of the lower arm and the wrist mainly does the work. (Picture 4)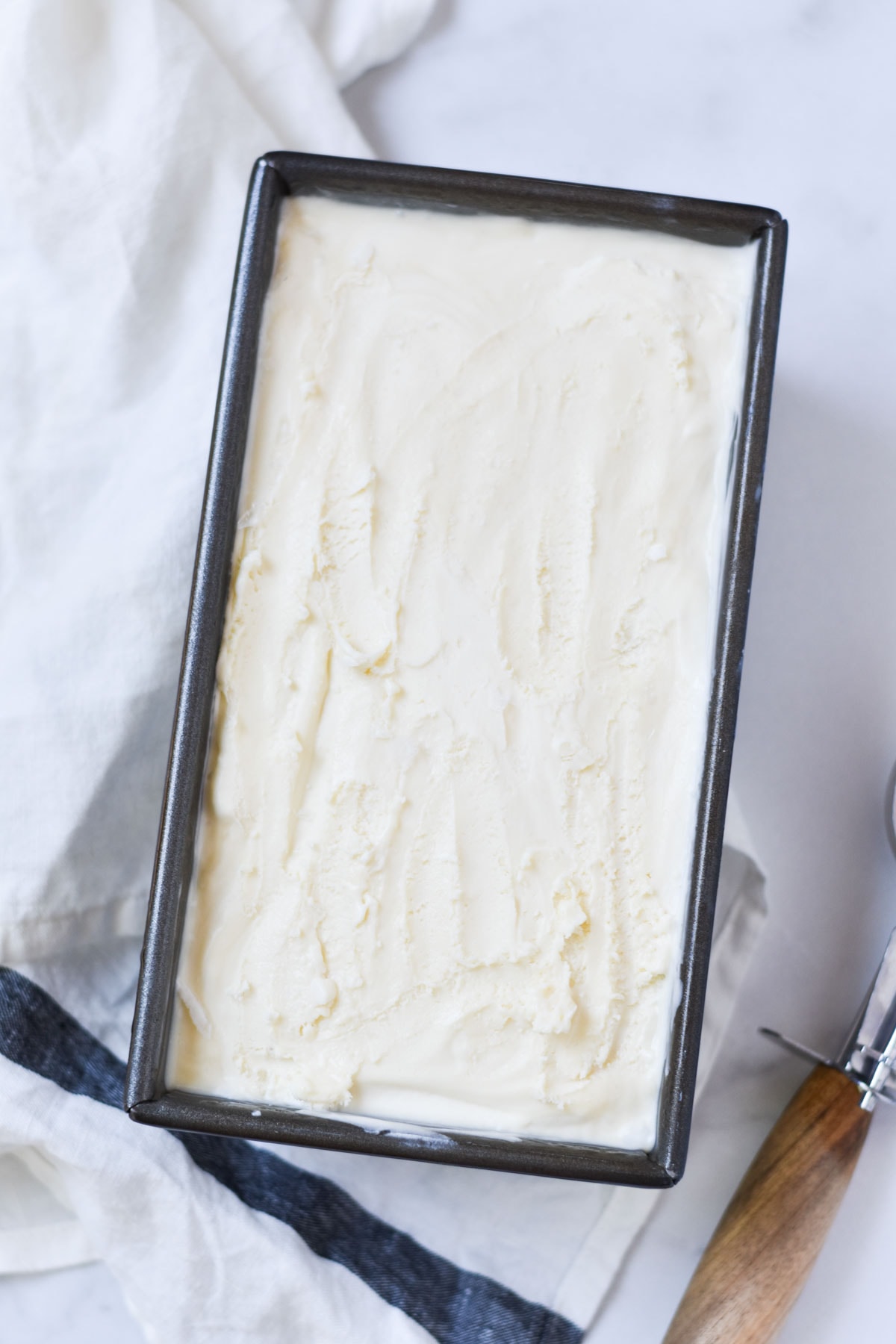 Step 4: Freeze
Pour the ice cream mixture into the chilled loaf pan, cover with saran wrap on top, and freeze for about 4-5 hours, or until firm. Remove from freezer before serving so it can soften and melt a bit, which makes it easier to serve.
Variations
This mascarpone ice cream recipe is very versatile and works extremely well as a base. To mix it up, here are a few of my favorite variations.
Top with fresh fruit - When serving, top with fresh mango, blueberries, blackberries, or strawberries.
Caramel swirl - Make a homemade caramel sauce and then swirl it in about 1-2 hours after placing it into the freezer.
Add fresh fruit jam - Add fresh fruit (I recommend berries) and ¼ cup of sugar to a sauce-pan over medium high heat and cook, mashing and stirring often, until the fruit has reduced and become syrupy. This will take about 10 minutes. Allow the jam to cool in the fridge. Pour the ice cream mixture and freeze for 1 ½-2 hours until almost set but still soft, then stir in the jam with a spoon. Return to the freezer until it has fully set, another 4 hours.
Top with crushed graham crackers - so good!
Use this between two cookies as an ice cream sandwich.
Storage Instructions
Store covered in the coldest part of your freezer, NOT towards the front door. Allowing the ice cream to melt and re-freeze is what causes ice crystals to form and it will draw away from some of the creaminess.
Mascarpone ice cream will be best within one week but can last up to 1 month in the freezer.
Frequently Asked Questions
What does mascarpone ice cream taste like?
Ice cream with mascarpone cheese tastes super creamy, almost buttery, with just a touch of acidity and sweetness. It's like a very decadent vanilla ice cream.
I have leftover mascarpone cheese. How can I use it?
Mascarpone can be used for a lot of different recipes and makes a great sour cream replacement in baked goods. One in particular that I love to make is this Strawberry Peach Cake. But you can also use it spread on toast with fresh fruit.
Can I substitute cream cheese for mascarpone?
Yes, of course you can do anything you want when it comes to cooking! But this was created specifically for the flavor and texture of mascarpone ice cream, I highly recommend trying it as written first and anticipate a taste and texture change if substituting cream cheese.
Help! My ice cream is hard to scoop!
If your ice cream is too firm to scoop easily, just give it a little time to sit on the counter at room temperature 5-10 minutes. You can also run the scoop under warm water to make for easy scooping!
Ways to Use Mascarpone Ice Cream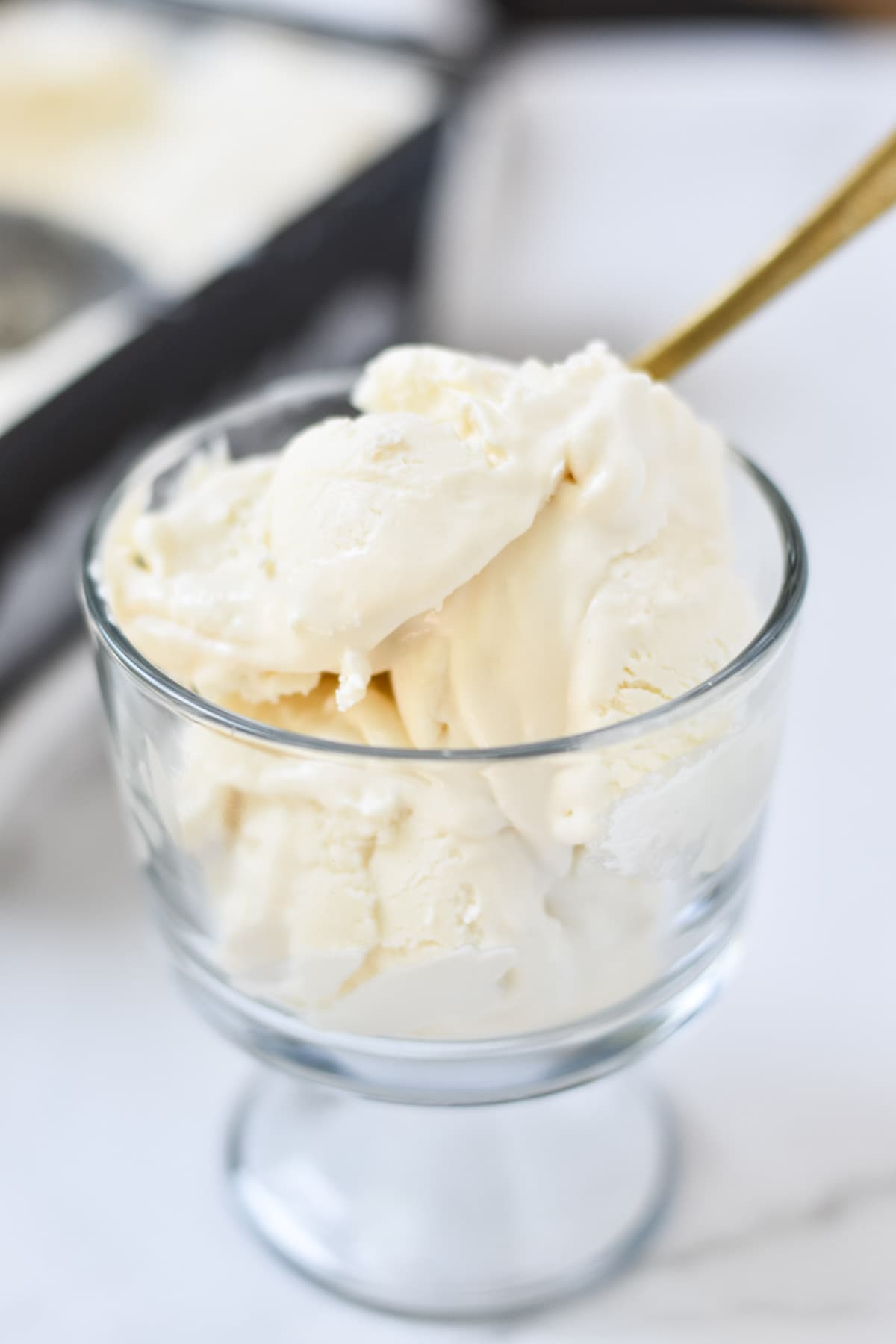 Obviously this recipe is delicious on it's own, but you may also like some of these ideas.
Summer Dessert Recipes
For more recipes that will beat the heat like this ice cream with mascarpone, check out these posts.
If you make any of my recipes, don't forget to tag me #thedizzycook or @thedizzycook on Facebook and Instagram. And please leave a review below!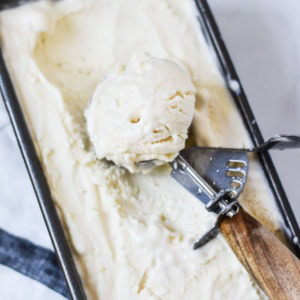 Mascarpone Ice Cream
This simple recipe for no churn ice cream with mascarpone doesn't need an ice cream maker! Just a few ingredients and you have a creamy and decadent dessert.
Print
Pin
Rate
Ingredients
8

oz

mascarpone cheese

14oz

can

sweetened condensed milk

2

teaspoons

honey

1

teaspoon

vanilla extract

pinch of kosher salt

2

cups

chilled heavy cream
Instructions
Put the mascarpone cheese, condensed milk, honey, vanilla, and salt into a large bowl and stir to combine. Use a chilled bowl to whip cold heavy cream with a hand mixer (or stand mixer) on medium high speed until firm peaks form, about 4-5 minutes.

Fold the whipped cream into the mascarpone mixture, stirring till well incorporated. Pour the ice cream mixture into the chilled loaf pan, cover it with plastic wrap, and freeze until firmly set, about 6 hours total.

Allow ice cream to sit out at room temperature for 5-10 minutes before serving so it softens a bit and makes it easy to scoop. This will also give you the best texture.
Notes
If stirring in fresh fruit jam or other suggestions from the post, freeze for 2 hours, remove the ice cream and stir in the mixture with a spoon, then freeze another 4-6 hours until fully set.
Ice cream will keep at least 2 weeks, but is best served within the next few days before ice crystals form from opening/closing the freezer.
This recipe is gluten free. It cannot be made dairy free.
Nutrition
Serving:
64
g
|
Calories:
397
kcal
|
Carbohydrates:
25
g
|
Protein:
6
g
|
Fat:
31
g
|
Saturated Fat:
19
g
|
Polyunsaturated Fat:
1
g
|
Monounsaturated Fat:
5
g
|
Cholesterol:
90
mg
|
Sodium:
76
mg
|
Potassium:
194
mg
|
Fiber:
0.003
g
|
Sugar:
24
g
|
Vitamin A:
1123
IU
|
Vitamin C:
1
mg
|
Calcium:
176
mg
|
Iron:
0.1
mg