These cheesecake popsicles are the perfect mix of light and summery mixed with the total decadence of creamy cheesecake. You can use fresh strawberries to create your own perfect flavor combination like strawberry cheesecake popsicles.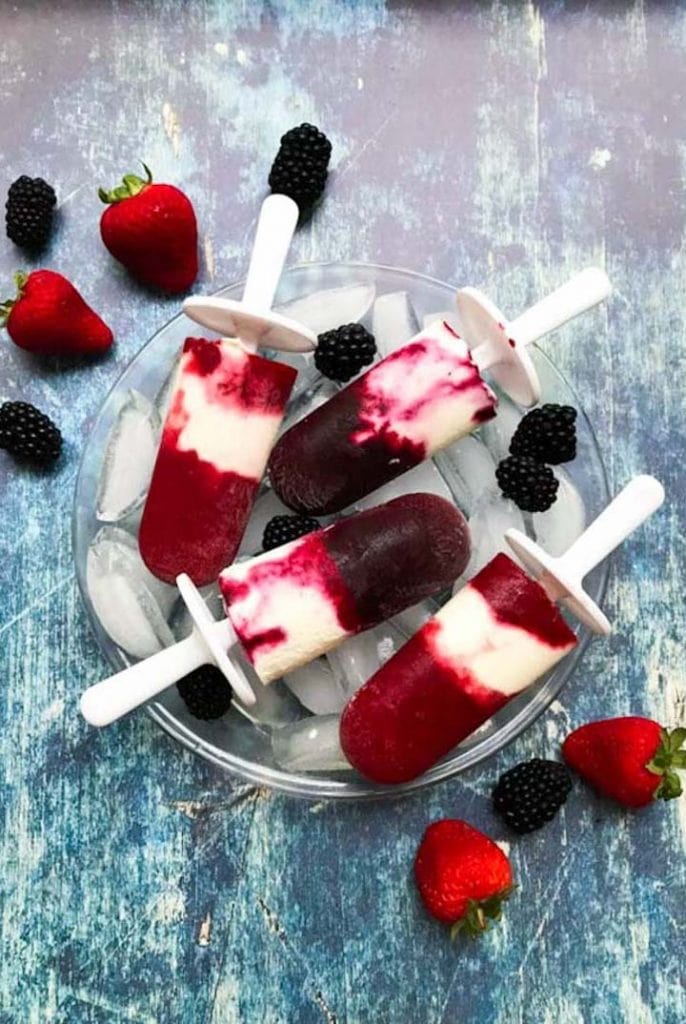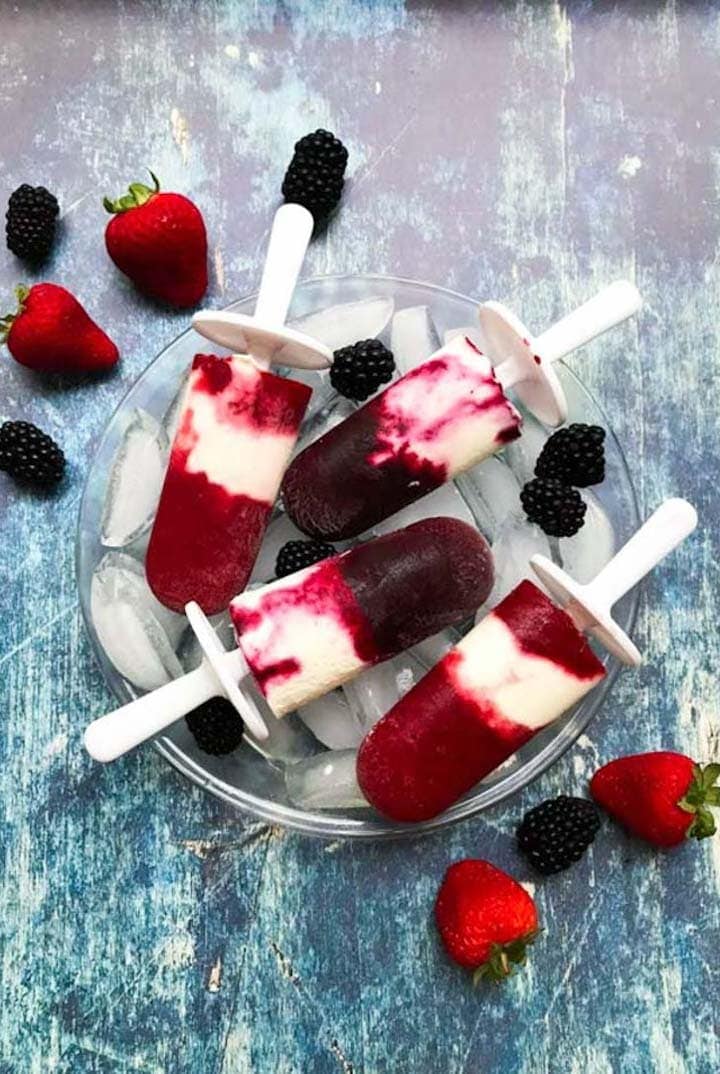 Heat and Migraine
It is blazing hot in Florida right now. Even though summer just begun, it's definitely in full swing in my little area of the world. Along with these yummy popsicles, I thought I'd share a few tips to help you beat the heat.
Avoid the glare by wearing a hat with a rim & your favorite sunglasses.

I like Theraspecs Outdoor Lenses. You can find Alicia and my review of them here.
Stay hydrated! Don't go more than 2 hours without a glass of water. An insulted water bottle can help.

Exercise indoors, or better yet, in the swimming pool.

Bring a misting spray bottle filled with cool water and add a couple drops of peppermint oil.
If you're planning to spend the day at the park or the beach, try brining a portable fan.

Placing it on top of cooler full of ice is like bringing outdoor AC with you.
Wearing a fabric covered freezable neck wrap or cooling towel is my favorite strategy to keep from overheating.
I recently purchased a small fan that plugs into my cell phone.

I use it when I have to stand on playgrounds while making school visits for work. You can find it here.
Eat lots of homemade popsicles ;). I used these popsicle molds.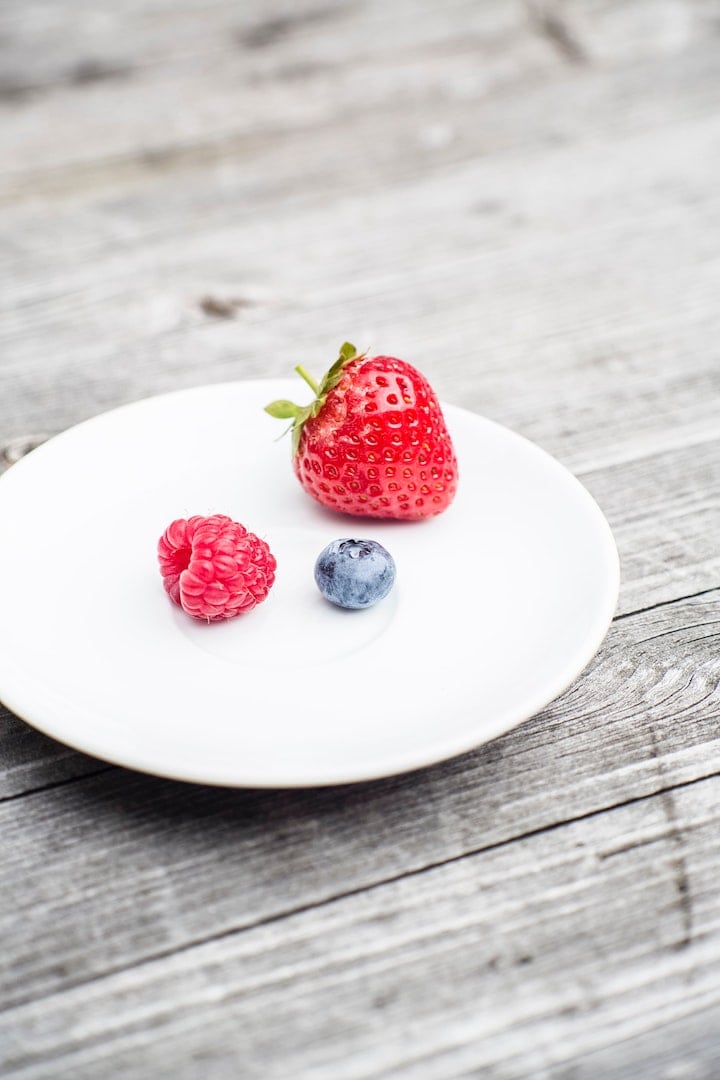 What Kind of Berries are Best?
As stated above, you could make these into strawberry cheesecake popsicles or blackberry cheesecake popsicles - whatever you want to use. My personal favorites are:
Strawberries
Blackberries (it helps to strain the seeds out if using these)
Blueberries
Feel free to mix and match two kinds of berries, or all three at once. If you can tolerate raspberries, those are ok too, however they're not allowed in the elimination period of a migraine diet. If your berries aren't sweet enough, you can add a bit of honey to them. I find in the summer time the berries are perfect without the extra sweetness!
Cheesecake Popsicles
Cream cheese, powdered sugar, and milk are combined with the berries to give these popsicles the cheesecake flavor. If you're looking for suggestions on brands, some good ones are:
Philadelphia Cream Cheese in the block form (not whipped or in the container).
Organic Valley Cream Cheese
Publix Greenwise Brand
These brands typically do not contain carrageenan, which is the thickener you want to avoid most on a migraine diet. Some gums are ok for most people, like locust bean gum.
Other Summer Berry Desserts
Some of my favorite ways to take advantage of all the wonderful fruit right now are below!
Jennifer Bragdon is monthly contributor for The Dizzy Cook. She went from being housebound for months to working full time and living an active full life by following the Migraine Strong treatment pie. Preventative meds, the Heal Your Headache Diet and supplements do a lot of the heavy lifting in relieving her symptoms. Catch her recipes and posts each month under "The Dizzy Baker".
This post contains affiliate links.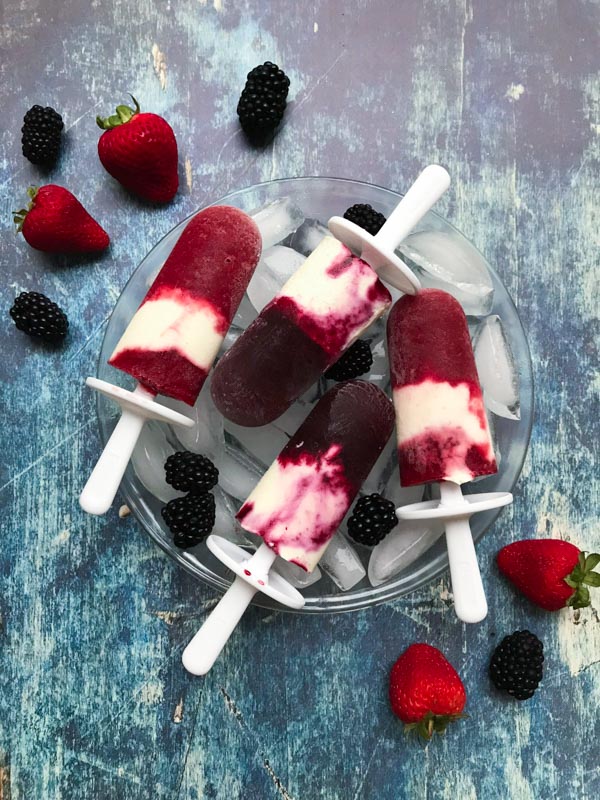 Berry Cheesecake Popsicles
These popsicles are the perfect mix of light and summery mixed with the total decadence of creamy cheesecake. Use fresh strawberries, blueberries, or blackberries to create your own perfect flavor combination of these gluten-free berry cheesecake popsicles.
Print
Pin
Rate
Ingredients
Berry Layer
12

oz

fresh blackberries, strawberries, or blueberries

1

tablespoon

water

1

tablespoon

honey (only if berries are not too sweet)
Cheesecake Layer
6

ounces

cream cheese

½

cup

powdered sugar

4

tablespoons

milk

1.5

teaspoons

vanilla extract
Instructions
In a medium saucepan, cook berries over medium heat for about 10-15 minutes. This is the time to add honey if your berries are not sweet enough.

Pour the cooked berries into a deep mixing bowl, blender, or food processor and blend them until smooth. I used the blueberries and strawberries as is. Allow blended berries to cool in the refrigerator about 20 minutes.

In a small mixing bowl beat the cream cheese, powdered sugar, milk and vanilla until well combined. Layer the berry and cream cheese mixture into popsicle molds and freeze for 24 hours before serving.
Notes
A note on blackberries -

I don't like big blackberry seeds in my popsicles, so I strained the blended mixture in a wire colander before refrigerating.
Nutrition
Calories:
169
kcal
|
Carbohydrates:
17
g
|
Protein:
3
g
|
Fat:
10
g
|
Saturated Fat:
6
g
|
Cholesterol:
32
mg
|
Sodium:
96
mg
|
Potassium:
144
mg
|
Fiber:
3
g
|
Sugar:
14
g
|
Vitamin A:
518
IU
|
Vitamin C:
12
mg
|
Calcium:
56
mg
|
Iron:
1
mg