The spring and summer seasons always remind me of one very important thing - fruit crumbles. I'm not a huge baker, so a crumble is my jam…no pun intended. It's really easy to make with typical pantry staples, all you have to add is fresh fruit. When I plan on having company, this is my go to dessert since it's easy to make earlier in the day and doesn't require a lot of effort. I tend to just grab whatever fruit is on sale or looks fresh. This time around was mainly blueberries with a small carton of blackberries just to spice things up.
Typically I try to cut down on the sugar I use in most recipes and this one was no exception. Although HYH allows all types of sugar, I know the molasses in brown sugar can be an issue for some, so I experimented with using a mixture of honey and cane sugar. I always assumed honey was so much better for you than white sugar, and it does have a few benefits, but at the end of the day, it's all sugar. Still, I love the flavor of it in this dish and it allows the natural sweetness of the fruit to really shine. And since we're already eating sugar, you might as well top it with some safe vanilla ice cream!
While you may not get many benefits from switching white sugar to honey, you do get many benefits by using blueberries as your fruit of choice. There have been many studies that show blueberries are high in antioxidants, fiber, and have "neuroprotective" effects. Neuroprotective means your nerve cells are protected against damage or impairment. Therefore eating this blueberry crumble is good for your brain! As if you didn't need convincing already.
As for my update on Steps 2 Balance…I'm halfway through and really freaking tired. I can't say I've been feeling my best the past week. I've felt a little burnt out with trying to keep up with my goals, all while preparing for a busy weekend with the family. I tried to take a break from social media last night to relax and watch the Harry and Meghan Lifetime movie, but I kept thinking about the thousands of things I should have been doing. That may or may not have been influenced by the quality of previously stated Lifetime movie. I'm going to try to push through and get a few great ones to you before the end of the week as I'll be taking a vacation next week. As some of you know, vacations aren't always the most relaxing for migraineurs. Which sounds super spoiled, but I can't figure out a better way to say it. You have to worry about packing all you rescue meds and products, time changes, air pressure, airport triggers, etc. Perhaps I have a little anxiety about it all. Either way, my plan is to do the occasional post, but it may be a little more sporadic than usual. I also plan to put together a meal plan, using the recipes that have previously been posted. Hopefully that's something that will be really useful? Let me know your thoughts!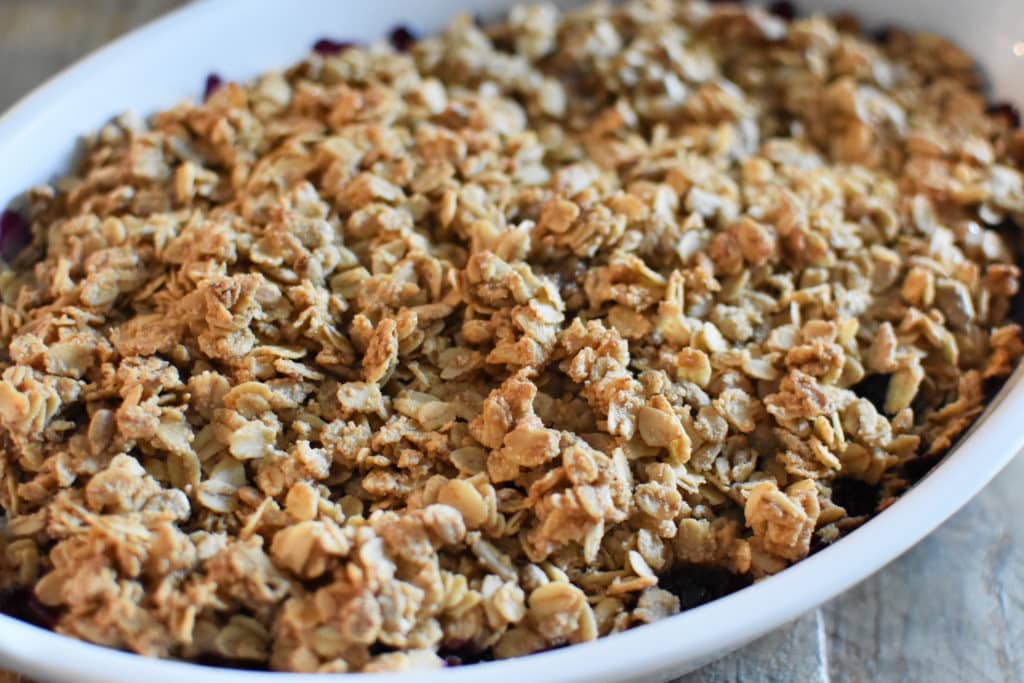 Ingredients
Berry Filling
3

cups

fresh blueberries

1

cup

fresh blackberries

1.5

tablespoon

flour or cornstarch

I used gluten free flour

¼

cup

honey

¼

teaspoon

ground cinnamon

1

teaspoon

vanilla

1

teaspoon

OPTIONAL: lemon zest (do not use if just starting HYH)

Lemon is NOT HYH safe, but if you can tolerate it like I can, add 1 tsp
Crumble topping
1-¼

cup

gluten free rolled oats

¼

cup

organic cane sugar or brown sugar

⅓

cup

oat flour

¼

cup

unsalted, raw sunflower seeds

¼

cup

melted butter

I used kerrygold

pinch of kosher salt
Instructions
Preheat oven to 350 degrees and coat a roughly 10inch baking dish with a little butter. I used an 11inch gratin dish, but a 9x9 baking pan will also work.


In a bowl, mix together the ingredients for the fruit filling and add it to the gratin/baking dish. In another bowl, mix together the topping ingredients until well combined. Spread on top of the fruit filling mixture.

Place the dish on a middle rack in the oven and bake for about 55-60 minutes, until golden brown. Mine took 60min.

Serve with vanilla ice cream, like Haagen Daz or McConnell's.