The key to this super quick and easy potato salad is using baby potatoes or fingerling potatoes, which cuts the chopping and boiling time in half. Combined with mayonnaise, dill, and, shallot, it's the perfect BBQ side dish.
This recipe was originally posted along with these BBQ Oven Ribs, but was always a little bit of an afterthought. I recently paired it along with some burgers for a weeknight meal and forgot about how easy and quick it was. It was then that I knew this deserved it's own spot on The Dizzy Cook!
Tips for Fingerling Potato Salad
A lot of recipes call for you to dice or quarter large potatoes which seems like an insurmountable hassle to me on some days. I realize I'm being dramatic about this, but to me it just seems so much easier to slice a small potato in half and throw it in a pot. Plus I think it makes it look a little more elegant...if that's even a thing for potato salad.
I've even made this using tricolored baby potatoes, but typically I love using the small gold ones or fingerling potatoes. Simply wash them, slice them in half, and you're done! Also because the skin is so thin on these, there's really no need to peel like you would for russet potatoes.
A Note on Mayonnaise
If you're following a migraine diet, it's simply impossible to find a totally safe mayonnaise without lemon or additives. This is why I suggest the below three options.
Use Sir Kensington's Organic Mayonnaise - This brand contains a tiny amount of lemon juice. You can tell this because the ingredient is placed right before sugar, which is 0 grams in the nutrition information. To me, the small amount is worth the hassle of constantly making my own. You can even find this at some Walmarts now!
Use Primal Kitchen Avocado Oil Mayo - Let's say you know you're extremely sensitive to citrus and even the tiniest amount can trigger a migraine attack. This mayo does not contain citrus, but is made with avocado oil. While avocados are considered a trigger because of tyramine content, I learned from Migraine Strong that most oils are so refined they typically do not cause issues. This is sometimes why people with peanut allergies can tolerate peanut oil. I personally still avoided avocado oil in the beginning, but we all have to pick our battles a little bit to make this diet fit into our lives successfully. Many find they tolerate it well even if actual avocado is an issue.
Make Your Own! If you're a superstar in the kitchen and have the energy for it, I think homemade mayonnaise is fantastic. Use this recipe, but make sure you follow the directions carefully. Mayo can be a little fussy when you're totally new to making it.
I have yet to find a vegan mayo that's migraine-friendly, but if you're only following a vegan diet, feel free to use mayo that fits your specifications. I've seen one at Trader Joe's that looks interesting!
Let it Chill
It's important to let these flavors combine and for everything to cool down to taste it's best. Don't worry about this being a factor for increasing tyramine content. You can keep this salad for 2-3 days successfully before that becomes a factor.
Other Fun Side Dish Recipes
Pomegranate Couscous - perfect for those who are dairy and egg free!
Mediterranean Pasta Salad - easy to make gluten and dairy free
Mac & Cheese Cauliflower
Peach & Watermelon Salad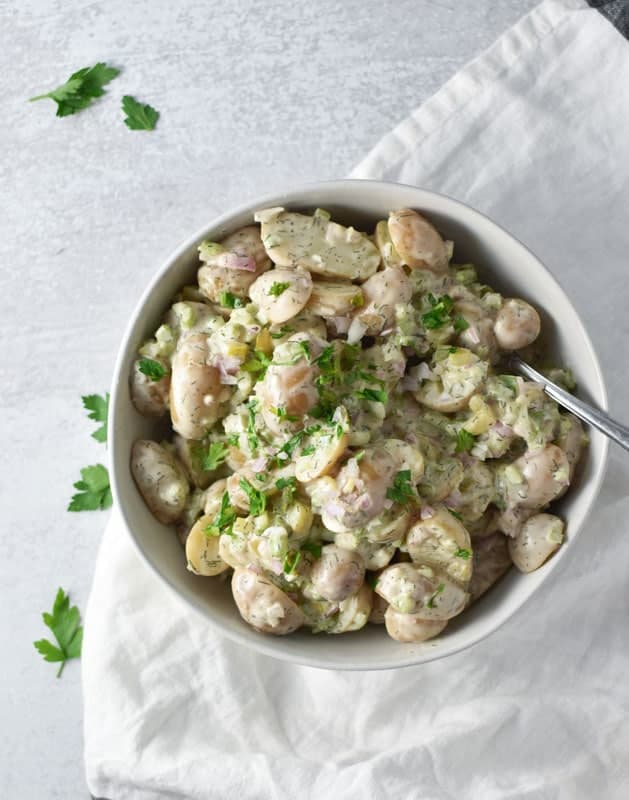 Quick and Easy Potato Salad
Traditional and easy, using small potatoes helps this potato salad cook a little bit faster. Choose an additive free mayonnaise that fits your diet or make your own. This serves 4 people as a side dish.
Print
Pin
Rate
Ingredients
2

pounds

small potatoes, like fingerlings or baby potatoes

⅓

cup

mayonnaise

*See notes

1

tablespoon

dijon mustard

*See notes

1

tablespoon

distilled white vinegar

2

teaspoons

organic apple juice

(plain juice, nothing added)

2

small stalks of celery, diced small

1

small shallot, peeled and finely chopped

2

tablespoons

chopped pickles (OPTIONAL)

1

teaspoon

dried dill (or 1 tablespoon fresh)

* Use fresh if you can

1-2

tablespoons

finely chopped parsley

kosher salt and pepper to taste
Instructions
Bring a medium pot of water to a boil and, while waiting, clean your potatoes and cut them in half. Cover with a lid and simmer the potatoes till soft, but not mushy - about 10 minutes. They're ready when a fork can slide easily through the potato.

Remove the pot from heat and drain. You can run your potatoes under cold water to cool them down a bit, then dry loosely with a paper towel.

Meanwhile combine the mayo, dijon, vinegar, apple juice, celery, shallot, pickles (if using) and dill. Add the potatoes to the mix and chill for at least an hour or two. Taste your potato salad and add salt and pepper to your preference. I typically only add ¼ teaspoon of kosher salt, but love more pepper - about ¼-1/2 teaspoon.
Notes
For migraine-friendly, additive-free mayonnaise and dijon mustard see the suggestions in Pantry Staples. My personal favorites are Sir Kensington's and Annie's Naturals. You can also use Primal Kitchen or make your own using this recipe.
I find migraine-friendly pickles at my local farmers market, but they're also easy to make at home. Here's a recipe for quick pickles.
Nutrition
Calories:
315
kcal
|
Carbohydrates:
42
g
|
Protein:
5
g
|
Fat:
14
g
|
Saturated Fat:
2
g
|
Cholesterol:
8
mg
|
Sodium:
193
mg
|
Potassium:
1028
mg
|
Fiber:
6
g
|
Sugar:
3
g
|
Vitamin A:
189
IU
|
Vitamin C:
47
mg
|
Calcium:
40
mg
|
Iron:
2
mg