These Crock Pot BBQ Chicken Thighs are delicious and fast - just dump everything in the slow cooker in 5 minutes! This recipe uses a quick homemade BBQ sauce that avoids additives and high amounts of sugar in store-bought brands, making it healthy for weeknights and holidays.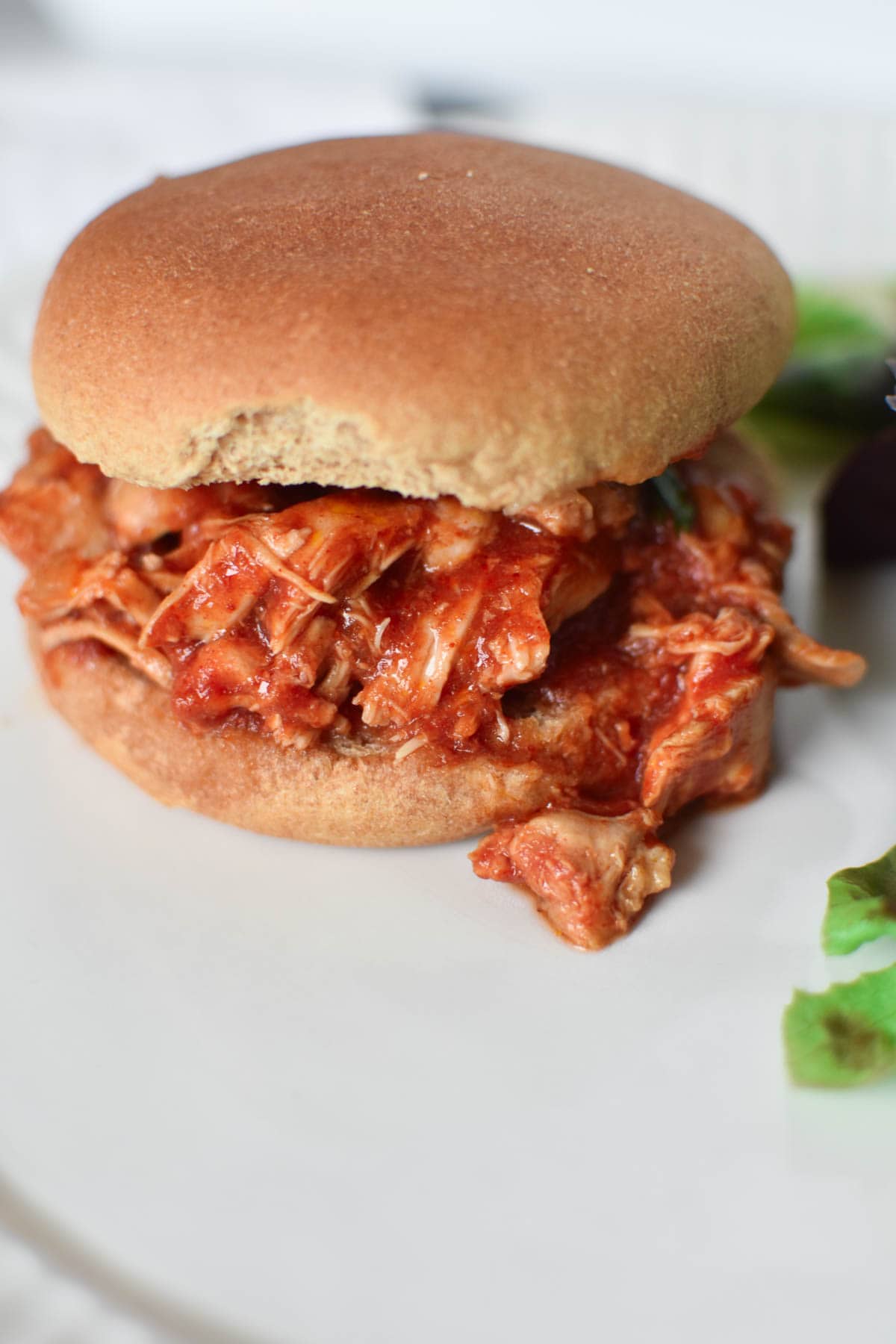 Why Make This Recipe?
This recipe fits a multitude of diets including low sodium, a migraine diet, gluten free, and dairy free. You could even make this Paleo by using honey instead of brown sugar or leave out the sugar entirely for Whole30.
It doesn't use store-bought BBQ sauce, which can contain liquid smoke, MSG, sodium and high amounts of sugar.
The sauce takes less than 5 minutes to put everything into the slow cooker!
Chicken thighs are very forgiving in the slow cooker and remain tender and juicy!
Shredding the chicken (also called pulled chicken) makes the best BBQ chicken sandwiches!
Ingredients
Chicken Thighs - I used air chilled boneless, skinless chicken thighs for this recipe. I prefer air chilled because they don't retain water like regular chicken thighs and I find they taste and cook better. Boneless also tends to cook faster than bone-in, but they're more forgiving than chicken breasts, which can dry out if cooked too long.
Strained Tomatoes - This will be the base of this homemade BBQ sauce. It's basically plain tomatoes that have been cooked briefly and strained. It leaves you with the thickness of BBQ sauce without added seasonings. I like the Pomi Brand or De Rica.
Brown Sugar - This is such a small amount, but does add some sweetness to the recipe. Because we're also using apple juice, you can leave this out if you're watching your sugar intake.
Smoked Paprika - This is what is going to add that smoky BBQ flavor to our chicken thighs. This is made from smoke-dried chilies.
How To Cook
These crock pot bbq chicken thighs are such a simple recipe, it doesn't require a lot of effort.
Start by chopping the garlic and shallots (Step 1)
Place the shallots, garlic, strained tomatoes, spices, and sugar into the bottom of your slow cooker and mix everything together till smooth. (Step 2)
Spread your chicken thighs over the top of the sauce, then turn them so they're coated on both sides in the bbq sauce. (Step 3)
Place the cover of your slow cooker back on and cook on low heat for about 2-3 hours. (Step 4)
Once cooked through, you can eat the thighs whole or shred them using two forks pulling the opposite directions.
As the chicken cooks, it will release juices. This can make a thinner BBQ sauce. If you'd like to thicken it back up, heat it in a small pot on the stove and whisk in 2 teaspoons cornstarch. Bring to a boil and then reduce the heat to a simmer, stirring till thickened. You can add 1 teaspoon at a time until desired thickness is reached. I personally don't mess with this though....the sauce is delicious as is in my opinion.
For boneless chicken thighs that are fairly thin, these cook quickly - only 2-3 hours on low heat. If using bone in, you will need to cook longer, about 3-4 hours on low.
Meal Prep Ideas
This recipe is great for meal prepping cause it's easy to make a big batch of and keep in the fridge for 2-3 days or freeze. It freezes beautifully, especially when shredded.
Here are some meal ideas to change it up throughout the week.
- BBQ Chicken Sandwiches (find bun suggestions in my Pantry Staples)
- BBQ Chicken Salad with Ranch Dressing
- On top of a roasted sweet potato or russet potato with ranch dipping sauce
- On top of nachos
Frequently Asked Questions
Is it best to cook chicken on high or low in the crockpot?
I find that cooking chicken on low heat provides the maximum amount of flavor without drying the chicken out. If you are in a hurry, you can cut the cooking time in half by using high heat, but be aware they won't be quite as good!
Can you put raw chicken in a slow cooker?
Yes! Sometimes recipes will have you sear the chicken first, especially if you're using skin on chicken thighs, but overall you don't have to cook the chicken before placing it into the slow cooker.
How do I keep chicken from drying out in the crockpot?
To keep chicken from drying out in the crockpot you need two components - the first one is fat and the other one is heat. This is why chicken thighs are a little more forgiving when cooked in a crock pot because they don't dry out as easily as breasts due to fat content. Also, using the low heat setting will help, but every slow cooker has different power settings as to what is truly "high" and "low". Mine runs a little high, so I find I am usually on the low end of cooking times.
More Slow Cooker Recipes
For more posts like this crock pot bbq chicken, check out these recipes
If you make this recipe, don't forget to tag me #thedizzycook or @thedizzycook on Facebook and Instagram. And please leave a review below!
Crock Pot BBQ Chicken Thighs
These bbq chicken thighs are easy to make, all ingredients go into the slow cooker and come out as either whole chicken thighs or you can shred it for BBQ chicken sandwiches. Perfect for summer and weeknight dinners!
Print
Pin
Rate
Ingredients
2

large shallots, chopped

2

garlic cloves, minced

2

tablespoons

apple juice

1½

cups

strained tomatoes

1½

tablespoons

brown sugar

1

tablespoon

smoked paprika

½

teaspoon

dry mustard

⅛

teaspoon

cayenne pepper

kosher salt and pepper to taste

(I typically start with adding 1 teaspoon to the slow cooker before cooking)

2

pounds

boneless, skinless chicken thighs
Instructions
Start by adding your chopped shallots and garlic to the slow cooker, along with the apple juice, strained tomatoes, brown sugar, smoked paprika, dry mustard, and cayenne pepper (if using). Lay the chicken thighs on top, then turn them to coat with the sauce.

Place the lid on the slow cooker and cook on low for 2-3 hours till cooked through (an internal temperature of 165°F). Remove the chicken thighs and serve whole, or shred with two forks for a shredded BBQ sandwich. Taste and adjust any seasonings.
Notes
I like Pomi brand of strained tomatoes. Look for one without seasonings.
Temperatures on slow cookers can vary greatly. If yours cooks fast, err on the low end of cooking time (like mine does).
You can use bone in chicken thighs, they will just add another hour to the cooking time.
In a pinch, you can use high heat and cut the time in half, however, the meal won't be quite as flavorful, and might be a little more dry. Same notes go for using chicken breasts.
Nutrition
Calories:
337
kcal
|
Carbohydrates:
16
g
|
Protein:
46
g
|
Fat:
10
g
|
Saturated Fat:
2
g
|
Trans Fat:
1
g
|
Cholesterol:
215
mg
|
Sodium:
326
mg
|
Potassium:
926
mg
|
Fiber:
3
g
|
Sugar:
10
g
|
Vitamin A:
1138
IU
|
Vitamin C:
10
mg
|
Calcium:
68
mg
|
Iron:
4
mg