This vegan and gluten free sweet potato kale soup is the perfect freezer to slow cooker meal that is beyond easy to make. Sweet potato is combined with garlic, ginger, shallots, and creamy sunflower seed butter for a healthy and delicious soup.
Curry Sweet Potato Kale Soup Inspiration
One of my favorite cookbooks is from blogger Cookie + Kate, which is all vegetarian meals. A lot of the recipes in there can be easily made migraine-friendly and I highly recommend it for anyone attempting to do a vegetarian migraine diet.
In this book, Kate creates a South African Peanut Stew that uses peanut butter to add creaminess and flavor without using dairy. When I googled this recipe, I found tons of different options out there, but none for those of us who can't eat peanuts!
Another concept I really loved was from Pinch of Yum where Lindsey makes a similar recipe, but freezes all the ingredients ahead of time and uses a slow cooker to warm everything up. I thought this idea was genius for anyone with migraine. Simple, freezable meal prep with minimal cooking is key for us on bad days!
Migraine Diet Freezer Meals
As we head into the new year, many people are looking to change their diet as part of their migraine protocols. The initial reaction to a migraine diet is often one of "OMG WHAT DO I EAT I'M GOING TO DIE HELP ME". If you take a moment to breathe and mourn the loss of the foods you cannot have, you'll actually see that there's quite a lot of foods that are allowed. And there are multiple recipes that showcase these foods in ways your whole family will love.
If you're a vegetarian or vegan looking to start a migraine diet, there are a few tips found here.
Easy meals overall are key to success with starting this diet. Here are some options that can get you started with a migraine diet!
Chicken Poppers with Cilantro Sauce – can be frozen and reheated easily
Chicken Sausage with Potatoes and Arugula – a one pan meal
Healthy Egg Roll Bowl
5 Day Meal Plan – many of these can be frozen and reheated
Pumpkin Sage Pasta and Creamy Boursin Pasta
Vegan Tortilla Soup – another one that can be frozen and cooked in the slow cooker!
A South African Peanut Stew without Peanuts
Peanuts, and a lot of legumes, trigger a migraine attack for some and are meant to be eliminated in the early stages of Heal Your Headache, but that doesn't mean you can't enjoy a flavorful soup like this one.
For this sweet potato kale soup recipe, I used sunflower seed butter to mix in with the soup at the end. A lot of people will wonder why it can't be included in the freezer packet and this is because if it gets too hot, it becomes a little grainy. By adding the sunbutter to the end of the cooking process, it gets mixed in smoothly without any separation.
How to Customize
I would even venture to call this sweet potato kale soup a stew because it's thicker than your traditional soup recipes and I find it quite filling for an all vegetarian soup. Still, if you're looking to add a bit of protein, you can mix in some shredded rotisserie chicken at the end.
Another option would be to serve this with quinoa, which provides a little protein and keeps this dish vegan.
For more soup recipes see:
Chicken and Brown Rice Soup
Vegan Tortilla Soup
Chilled Zucchini Soup
Sweet Potato Curry Soup
Lemongrass Spaghetti Squash Soup
The perfect vegan soup, this sweet potato stew is hearty with tons of flavor from garlic and ginger. Freeze the ingredients ahead and add to your slow cooker for an easy and healthy weeknight meal.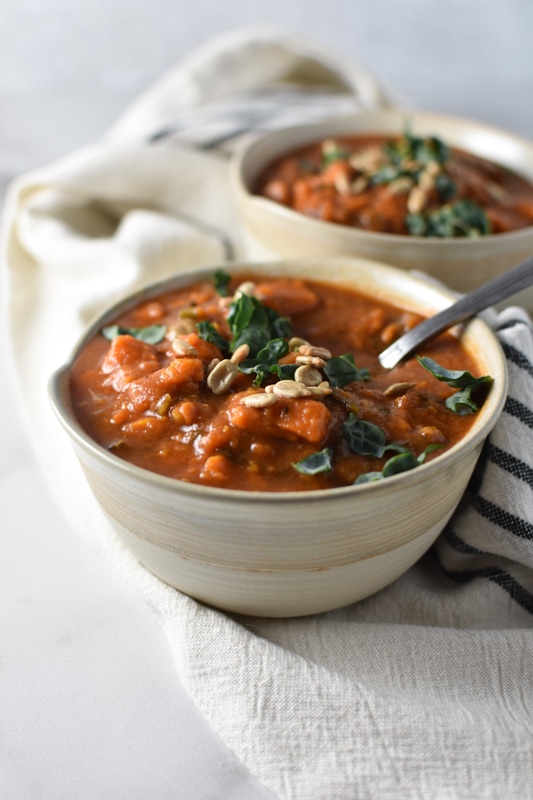 Sweet Potato Kale Soup
Inspired by South African Peanut Stew (but without the peanuts), this soup can be prepared ahead of time, frozen, and defrosted in the slow cooker. Stir in sunflower seed butter at the end for a creamy finish.
Print
Pin
Rate
Ingredients
1-2

sweet potatoes, peeled and cut into 1/2inch cubes (3 cups total)

1

shallot, peeled and roughly chopped

1

5oz

can of tomato paste

2

teaspoons

curry powder

1

teaspoon

cumin powder

1/2

teaspoon

ginger powder

2

cups

vegetable broth

1

teaspoon

kosher salt

2

cups

water

1

cup

lacinato kale, roughly chopped

1/3

cup

sunflower seed butter
Instructions
For a freezer meal - Combine the sweet potatoes, shallots, tomato paste, curry powder, ginger, vegetable broth, and salt all in a plastic ziploc bag or a freezer safe container. Freeze till ready to use.

From fresh and frozen - place Combine the sweet potatoes, shallots, tomato paste, curry powder, ginger, vegetable broth, and salt all in a slow cooker and cover. Set to high heat. Cook for 4 hours.

30 min before serving, stir in the kale and water and allow the kale to soften a bit. Taste and adjust any seasonings. Right before serving, stir in the sunflower seed butter while warm. If the soup is too thick for your liking, add a little more water or broth to thin out.
Notes
This can also be made on the stove top, just simmer everything together, covered, for about 30 minutes or until the potatoes soften. Then add the kale, wilt that down, and stir in the sun butter on low heat.
When you freeze your ingredients, make sure it will fit into your slow cooker in frozen form...mine was a little large and it made it awkward to cover for the first few minutes!
If your heat is too high, the sunflower seed butter can separate and get a little gritty rather than provide a smooth texture. This is why you add it at the end. I personally prefer Trader Joe's Sunflower Seed spread which is slightly salted and not sweetened.
Feel free to use fresh ginger if you have that on hand.
Nutrition
Calories:
115
kcal
|
Carbohydrates:
11
g
|
Protein:
4
g
|
Fat:
7
g
|
Saturated Fat:
1
g
|
Sodium:
722
mg
|
Potassium:
131
mg
|
Fiber:
1
g
|
Sugar:
2
g
|
Vitamin A:
3590
IU
|
Vitamin C:
5
mg
|
Calcium:
38
mg
|
Iron:
1
mg