Every once in a while I cook a meal so lovely and delicious that it jumps all my other scheduled posts to get to you guys ASAP. This is one of those meals. I realize that a lot of my recipes aren't exactly fit for vegetarians and vegans. A lot of this is because my husband is a very athletic guy who does CrossFit work outs for fun. I can hardly keep up with buying enough food as it is. The other part of that is a book my mom always loved for her cancer patients called "Eat Right for Your Type", which believes you can solve a lot of health issues that are correlated with certain blood types.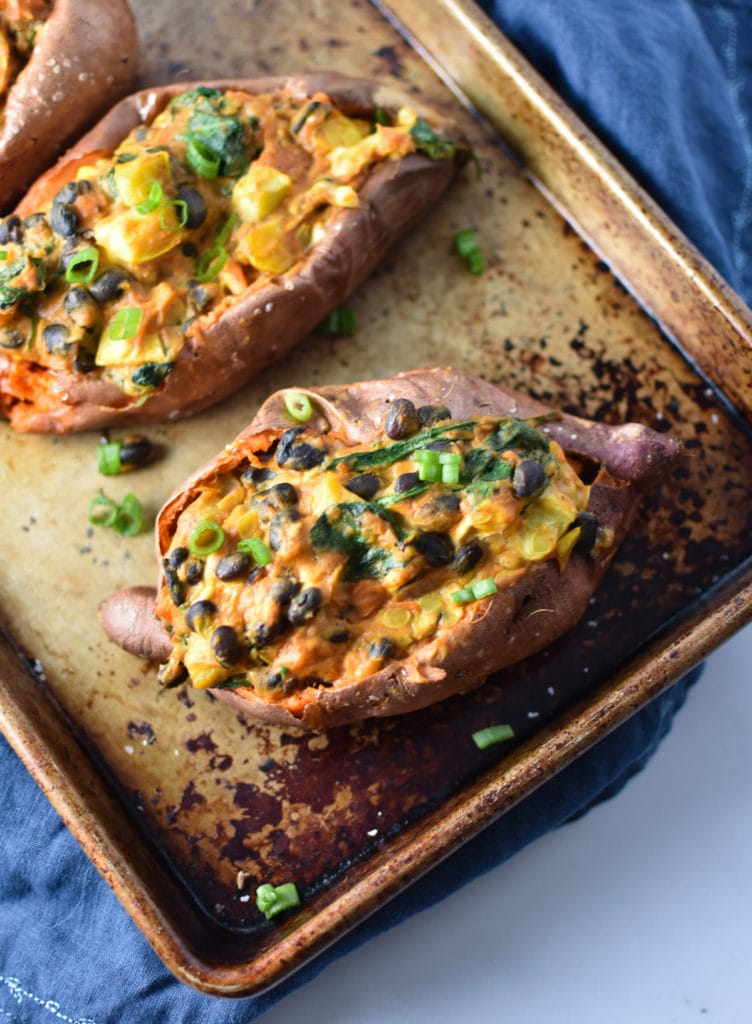 The blood type O, which I have, is associated with a lower risk of heart disease, but a higher risk of stomach ulcers. I've battled stomach issues my whole life. It all hit a high point a few years ago when I was diagnosed with a stomach ulcer. My gastro was never quite sure of a cause, although it was believed to be H Pylori based on some traveling to Mexico and Nicaragua. I have a feeling it had more to do with my work environment at the time. People with type O have a higher "fight or flight" response to stress and it takes them longer to recover from stressful events.
The book also goes into how different blood types have varied gut bacteria. For instance, people with type A can break carbohydrates down much more efficiently than type O.
Type A should eat a diet filled with lots of vegetables and avoid red meat. Their diet should resembled a vegetarian or vegan diet.
Type AB can eat seafood, grains, dairy, and beans. They should avoid corn, beef, and chicken. This resembles a pescatarian diet.
Type B should eat lots of plants and most meats, avoiding chicken and pork. They can also eat small amounts of dairy. Corn, lentils, and tomatoes can be problematic.
Type O should eat a diet that mostly resembles paleo, limited in dairy, legumes, and grains.
While I don't follow this diet as closely as Heal Your Headache because it's hard enough to follow one diet without adding in 20 others, I do keep it in the back of my mind. Sometimes I notice I don't feel as great if I haven't eaten meat in a few days. That being said, I've been trying to add in at least one or two nights a week that we eat strictly vegetarian or vegan meals. It's really allowed me to branch out of my "meat rut" and get more creative with vegetables, like this meal!
There are many people I know who do HYH as a Vegan or Vegetarian for their migraine disorder. One is currently working on a post for you guys of what her week in meals usually looks like. While it is challenging, it can be done. Even research has shown it can make an improvement in migraine attacks.
Here are some Dizzy Cook Recipes that are Vegetarian and could be easily adapted to be Vegan by making a few small changes.
Farro and Arugula Salad with Roasted Carrots
Tahini Sweet Potato Bowl (omit the meat)
Mediterranean Pasta Salad (omit the cheese and honey)
Roasted Red Peppers and Vegetarian Wrap (omit the cheese)
Vanilla Chia Pudding (sub maple syrup and use Oatly or Hemp Milk)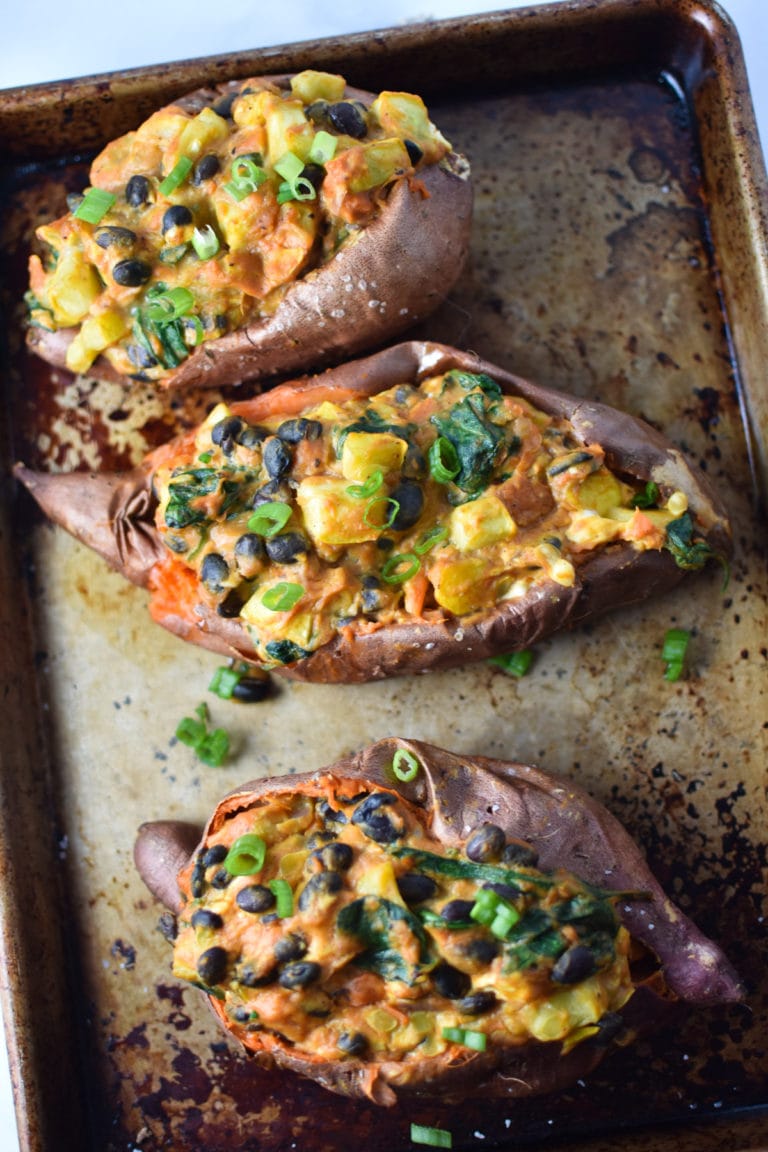 Mexican Stuffed Sweet Potatoes (Vegan, HYH, & Whole 30)
Loaded with veggies while still creamy, these Mexican stuffed sweet potatoes are twice baked and perfect for a healthy weeknight dinner.
Cuisine:
American, Mexican
Keyword:
Migraine Diet, Stuffed, Sweet Potatoes, Twice Baked, Vegan, Vegetarian
Ingredients
Sweet Potatoes
4

sweet potatoes of a similar size, scrubbed clean and dried

2

tbsp

extra virgin olive oil

7-8

oz

canned black beans, drained

* this is about half a can

1

small summer squash, cut into 1/2" pieces

2

green onions, ends trimmed and chopped

1

cup

fresh spinach leaves

1

shallot, peeled and chopped into small pieces

kosher salt and pepper
Spicy Sauce
1.5

tbsp

olive oil

1.5

tbsp

flour

* can sub 2tsp arrowroot powder for whole 30/ gluten free

1

tsp

chili powder

1

tsp

cumin

1/2

tsp

garlic powder

1

tbsp

tomato paste

1

cup

vegetable broth

* I used Trader Joe's Hearty Vegetable

1

tsp

white vinegar

kosher salt (about 1/2 tsp)
Instructions
Preheat oven to 400 degrees. Take a fork and poke a few holes all around your sweet potato. Place on a baking sheet, drizzle with about 1 tbsp of olive oil and some kosher salt, and bake for 50-60 minutes.

Meanwhile chop your veggies and make the sauce. In a small saucepan, whisk the olive oil and flour together over medium heat. Add in all your spices and cook for about 30-40 seconds, until fragrant. Whisk in tomato paste. Then add your vegetable broth, whisking continuously until smooth. Simmer for 4-5 minutes until thickened. Sauce will thicken more as it cools. Once off the heat, add vinegar and salt to taste. You can set this aside to use when your sweet potatoes are ready.

Once the sweet potatoes are done, take them out but keep the oven on 400 degrees. Cut a slit in the top lengthwise and scoop out some of the filling, leaving a place for you to put the veggies. Set aside the scooped out sweet potato.

In a large pan, heat 1 tbsp olive oil over medium heat. Add the squash and shallots, cooking 1-2 minutes until slightly browned. Add in black beans, scooped out sweet potato, and spinach until warmed through and slightly wilted, another 2 minutes. Pour in 1/3 cup of the spicy sauce you made until mixture is combined.

Scoop vegetable mixture into each hollowed out sweet potato. Place back into the oven at 400 degrees for another 15 minutes. Top each potato with extra sauce and chopped green onions. Serve immediately.