These Mexican Stuffed Sweet Potatoes are the most delicious and filling vegan dinner recipe! Sweet potato filling is scooped out and mashed with seasoned vegetables and enchilada sauce, then placed back into the skin to bake again. It's simple and so flavorful.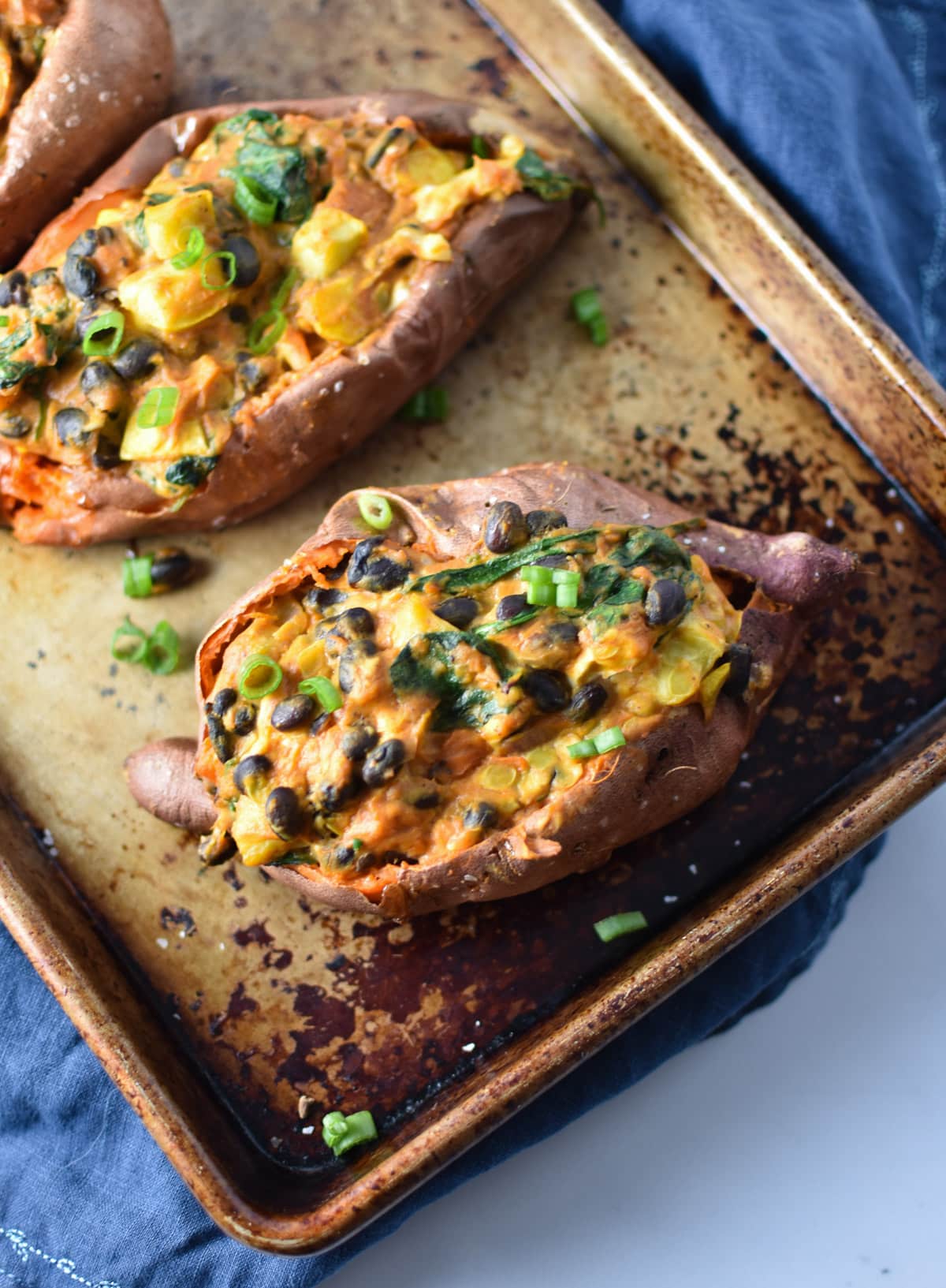 Jump to:
Every once in a while I cook a meal so lovely and delicious that it jumps all my other scheduled posts to get to you guys ASAP. This is one of those meals. I normally don't eat vegan often because of my blood type via the "Eat Right for Your Type", which believes you can solve a lot of health issues that are correlated with certain blood types.
Type A should eat a diet filled with lots of vegetables and avoid red meat. Their diet should resembled a vegetarian or vegan diet.
Type AB can eat seafood, grains, dairy, and beans. They should avoid corn, beef, and chicken. This resembles a pescatarian diet.
Type B should eat lots of plants and most meats, avoiding chicken and pork. They can also eat small amounts of dairy. Corn, lentils, and tomatoes can be problematic.
Type O should eat a diet that mostly resembles paleo, limited in dairy, legumes, and grains.
While I don't follow this diet closely like Heal Your Headache (it's hard enough to follow one diet without adding in 20 others) I do keep it in the back of my mind. I notice I don't feel as great if I haven't eaten meat in a few days. That being said, I've been trying to add in at least one or two nights a week that we eat strictly vegetarian or vegan meals. It's really allowed me to branch out of my "meat rut" and get more creative with vegetables.
Why Make This Recipe?
It fits vegan and vegetarian diets, but doesn't skimp on the flavor. These Mexican sweet potatoes are also Whole30 compliant.
These stuffed sweet potatoes are super filling and you won't leave hungry.
To save on time, you can prep cooking the sweet potatoes ahead of time so the whole meal will take around 30 minutes.
It's got wonderful ingredients for brain health! Lots of vitamins and minerals packed into these vegetables.
This meal stores great and the flavors improve overnight!
Ingredients
You do need quite a few ingredients for these Mexican Stuffed Sweet Potatoes, however, it's a great way to use up vegetables in your fridge. Feel free to mix and match the filling with the vegetables you have on hand.
Sweet Potatoes - I like to use organic garnet or jewel sweet potatoes. Make sure they're a decent size so you can use one potato per person.
Black Beans - Canned, low or no salt black beans work best for this recipe. Pinto beans will also work if you have those on hand.
Summer Squash OR Frozen Corn - I use frozen corn in the winter months and summer squash or zucchini when it's in season.
Green onions and shallots - Both add great flavor to this recipe and since shallot has notes of garlic to it, it's a sub without having to use both.
Homemade Enchilada Sauce - This brings a lot of wonderful Mexican-style flavor to the sweet potato filling and makes it somewhat creamy without any dairy. Plus it's easy to make in just 10 minutes!
How to Make Stuffed Sweet Potatoes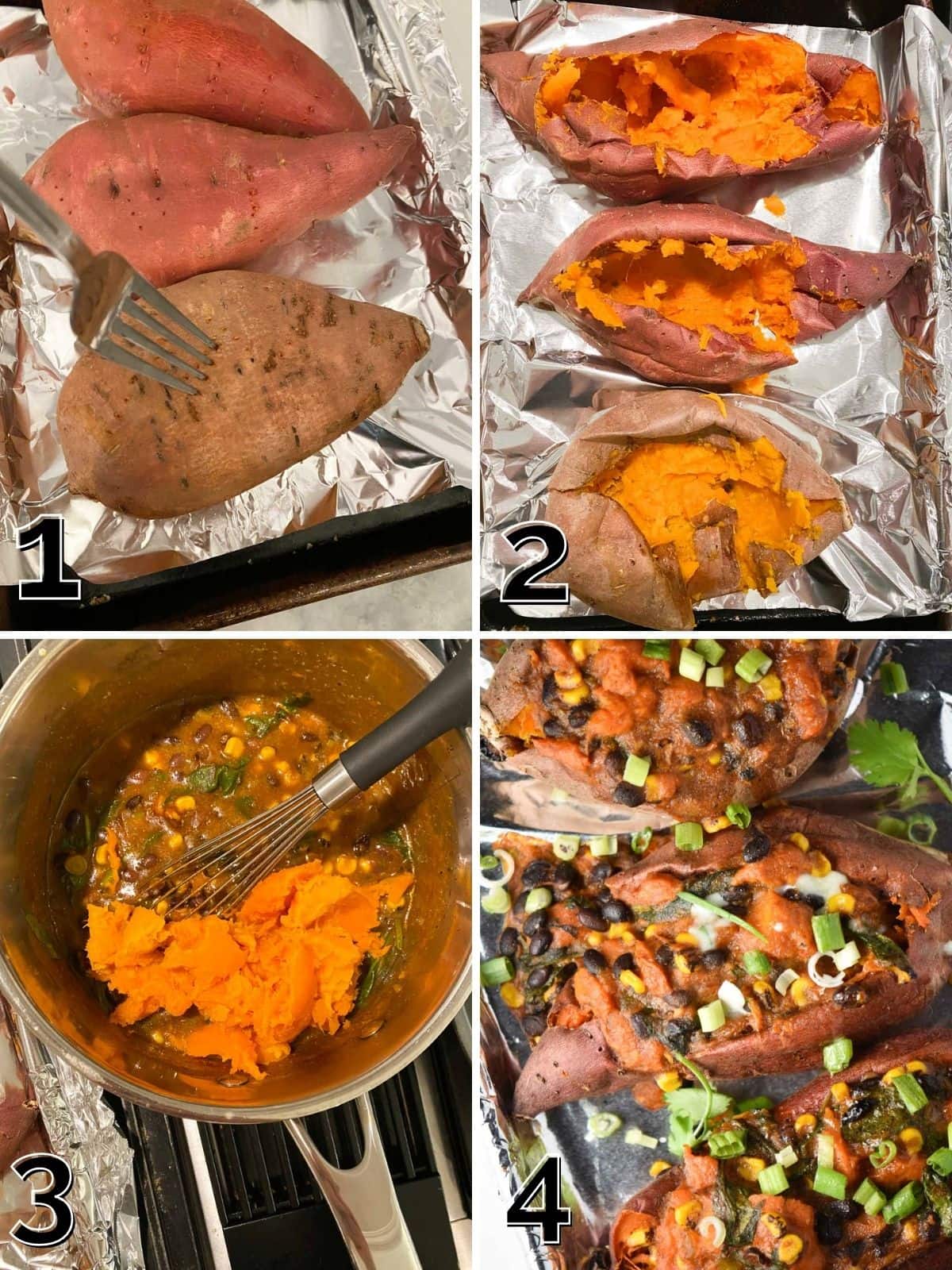 Begin by roasting the sweet potatoes at 400 degrees F for 50-60 minutes. Prep a sheet pan with foil or parchment and wash potatoes. Poke holes all around them with the tines of a fork and place on the baking sheet. Cook till soft in the middle, then allow them to cool at least 15-20 minutes before handling. This is why it's great to prep these ahead! Or you can take a short cut and cook this quickly in the microwave.
While you're roasting the sweet potatoes, make the sauce! Combine the oil and flour in a medium saucepan, then add the spices, stirring till fragrant. Add in the broth slowly, whisking so it's smooth. It will sizzle when you add it and the flour mixture will clump, but keep whisking till smooth. This is why it helps to add very slowly instead of dumping the broth in at one time. Simmer for 4-5 minutes until thick. The sauce will thicken even more as it cools.
Cut a slit into the top of the sweet potatoes and carefully scoop out the filling, leaving a thin layer around the edges.
In a large pan, heat a tablespoon of olive oil and add the chopped vegetables. Sautè till everything is softened. Add in black beans, scooped out sweet potato, and spinach. Stir till the spinach is slightly wilted and mix in the enchilada sauce. Taste and adjust any seasonings here.
Fill the sweet potato skins with the vegetable filling and bake at 400 degrees F for another 15 minutes. Top each potato with any extra sauce (if you have it) and green onions.
How to Make Enchilada Sauce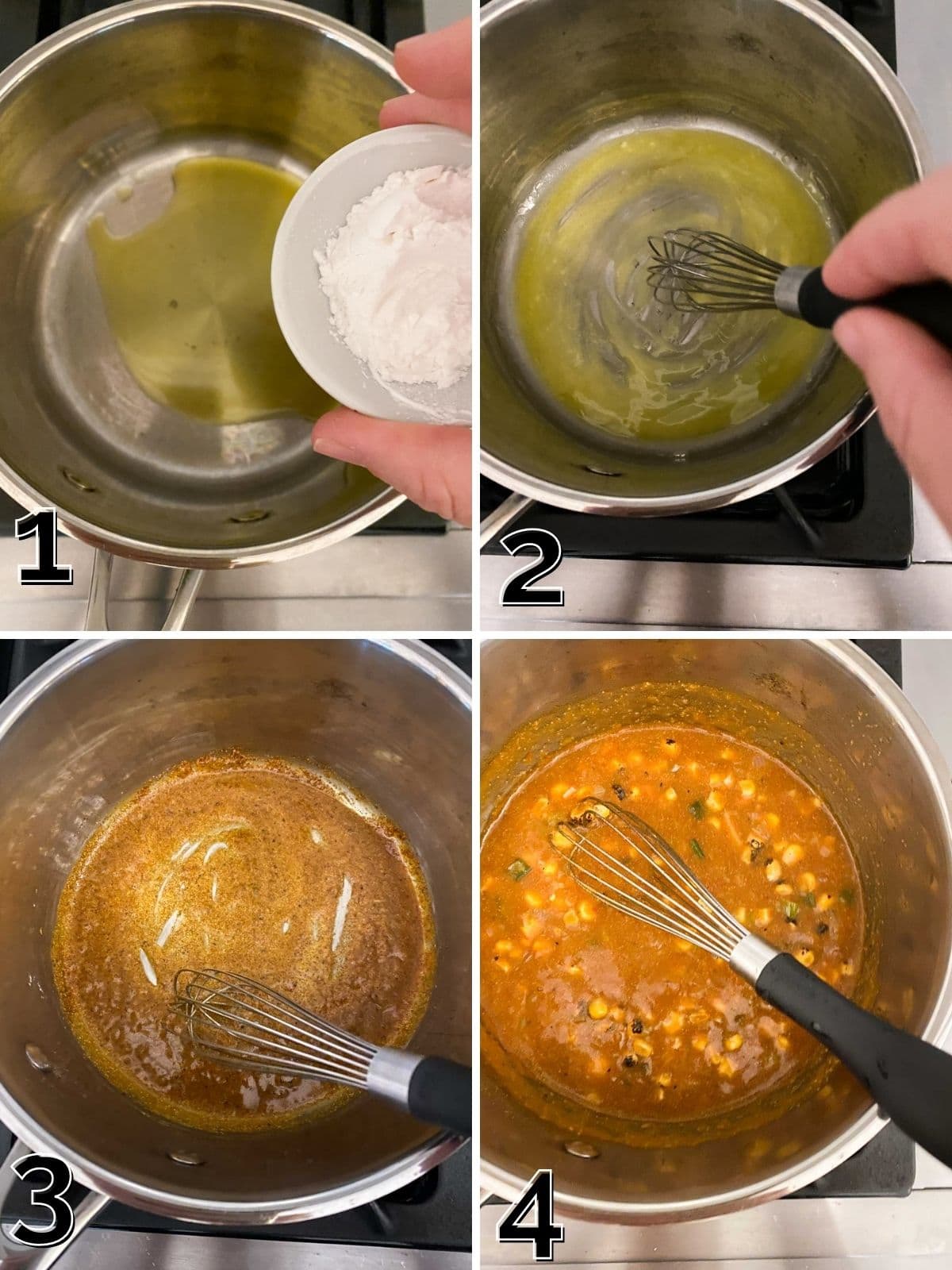 Start by mixing together the flour and oil.
Whisk together flour and oil till smooth and starting to bubble, over medium low heat.
Add in spices, whisking till smooth.
Slowly add in broth and bring to a simmer to thicken, about 3-4 minutes. The sauce will thicken more as it cools. Add in cooked vegetables to this mixture and stir to combine.
Toppings For Mexican Sweet Potatoes
If you're a big sauce guy, here are some extra sauces you can add to your stuffed sweet potatoes, although many of these won't keep the recipe vegan. I personally think it's plenty flavorful with just the enchilada sauce, but these would definitely kick it up a notch.
Recipe Substitutions
If you cannot tolerate tomatoes, simply leave them out of the enchilada sauce.
If you want to make this recipe vegetarian and can't resist adding cheese, I recommend topping with white American cheese or my queso before baking!
Feel free to sub in equal amounts of other vegetables you have on hand. For instance if you don't have summer squash, use zucchini or corn.
To make the sauce gluten free, use arrowroot or your favorite all purpose gluten free flour to thicken.
Other Vegan Recipes
For more vegan recipes like these Mexican sweet potatoes, check out these posts.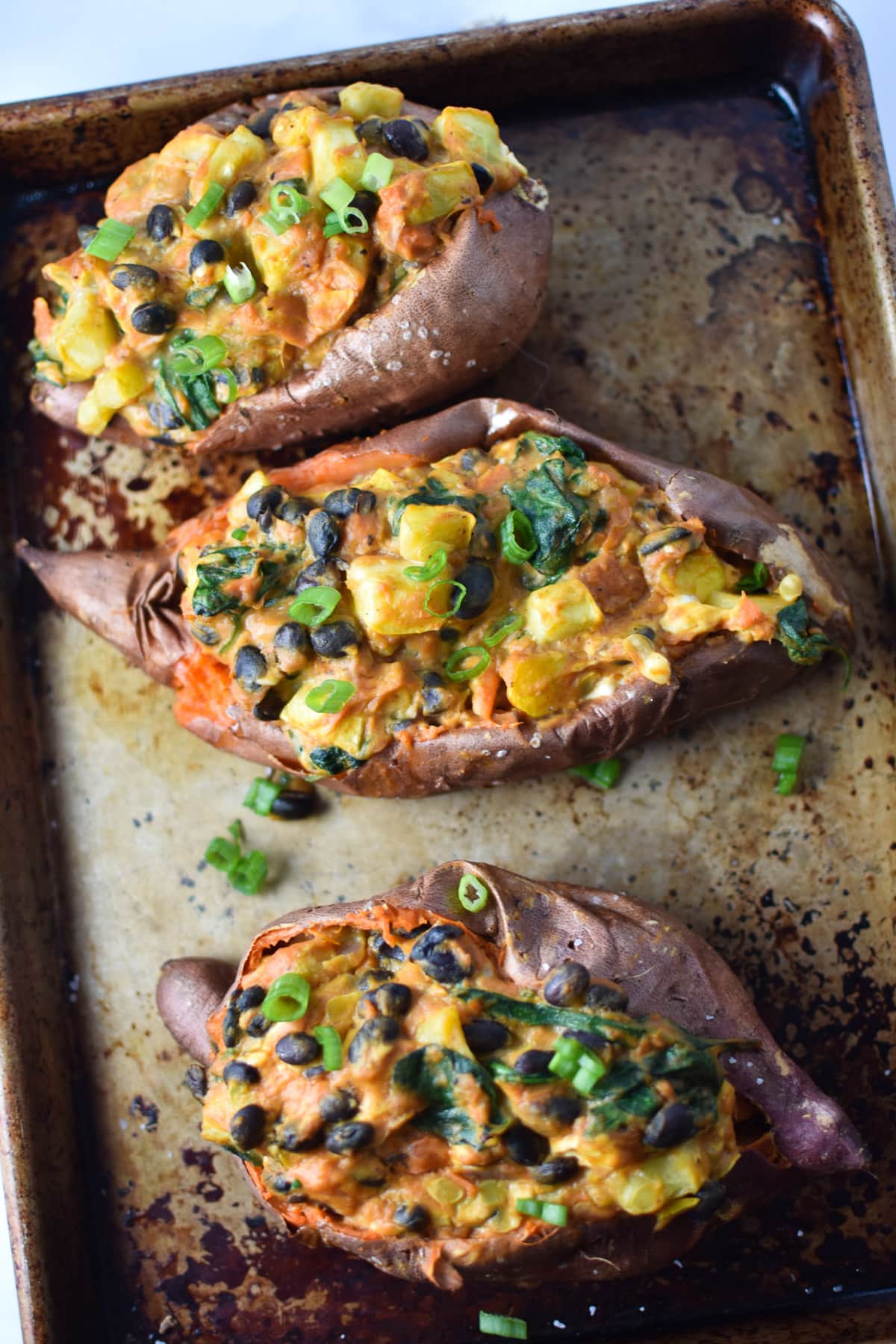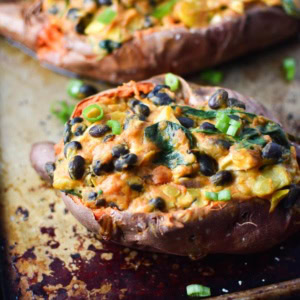 Mexican Stuffed Sweet Potatoes
Loaded with veggies while still creamy, these Mexican stuffed sweet potatoes are twice baked and perfect for a healthy weeknight dinner.
Print
Pin
Rate
Ingredients
Sweet Potatoes
4

sweet potatoes of a similar size, scrubbed clean and dried

2

tablespoon

extra virgin olive oil

7-8

oz

canned black beans, drained

* this is about half a can

1

small summer squash, cut into ½" pieces

2

green onions, ends trimmed and chopped

1

cup

fresh spinach leaves

1

shallot, peeled and chopped into small pieces

kosher salt and pepper
Spicy Sauce
1.5

tablespoon

olive oil

1.5

tablespoon

flour

* can sub 2tsp arrowroot powder for whole 30/ gluten free

1

teaspoon

chili powder

1

teaspoon

cumin

½

teaspoon

garlic powder

1

tablespoon

tomato paste

1

cup

vegetable broth

* I used Trader Joe's Hearty Vegetable

1

teaspoon

white vinegar

kosher salt (about ½ tsp)
Instructions
Preheat oven to 400 degrees F. Take a fork and poke a few holes all around your sweet potato. Place on a baking sheet, drizzle with about 1 tablespoon of olive oil and some kosher salt, and bake for 50-60 minutes.

Meanwhile chop your veggies and make the sauce. In a small saucepan, whisk the olive oil and flour together over medium heat. Add in all your spices and cook for about 30-40 seconds, until fragrant. Whisk in tomato paste. Then add your vegetable broth, whisking continuously until smooth. Simmer for 4-5 minutes until thickened. Sauce will thicken more as it cools. Once off the heat, add vinegar and salt to taste. You can set this aside to use when your sweet potatoes are ready.

Once the sweet potatoes are done, take them out but keep the oven on 400 degrees. Cut a slit in the top lengthwise and scoop out some of the filling, leaving a place for you to put the veggies. Set aside the scooped out sweet potato.

In a large pan, heat 1 tablespoon olive oil over medium heat. Add the squash and shallots, cooking 1-2 minutes until slightly browned. Add in black beans, scooped out sweet potato, and spinach until warmed through and slightly wilted, another 2 minutes. Pour in ⅓ cup of the spicy sauce you made until mixture is combined.

Scoop vegetable mixture into each hollowed out sweet potato. Place back into the oven at 400 degrees F for another 15 minutes. Top each potato with extra sauce and chopped green onions. Serve immediately.
Notes
To cut down on the overall prep time, you can prep cooking the sweet potatoes. Then all you have to do is make the filling and heat through.
Nutrition
Calories:
386
kcal
|
Carbohydrates:
61
g
|
Protein:
9
g
|
Fat:
13
g
|
Saturated Fat:
2
g
|
Polyunsaturated Fat:
2
g
|
Monounsaturated Fat:
9
g
|
Sodium:
365
mg
|
Potassium:
1189
mg
|
Fiber:
12
g
|
Sugar:
12
g
|
Vitamin A:
33142
IU
|
Vitamin C:
20
mg
|
Calcium:
115
mg
|
Iron:
4
mg
This post was originally published Oct 10, 2018 and was revised Oct 30, 2021 to include new step by step photos and process updates as well as topping ideas.