This vegan tortilla soup is made with tons of vegetables, like sweet potatoes and shallots, along with black beans for a healthy and quick soup. Warm, flavors like cumin and chili powder combine for a great vegetable tortilla soup.
Vegan Tortilla Soup Recipe for Busy Weeks
I should probably be calling this "detox" soup after my week of gluttony. For me, anything Mexican flavored is the best way to go if you're trying to trick yourself into eating more healthy food. It's a great way to get in lots of vegetables while still maintaining tons of flavor. When I found the black bean tortilla soup from the Cookie + Kate book, I knew I had to give it a try with some Heal Your Headache migraine diet updates.
Speaking of my week of gluttony, did you all have a great Thanksgiving? In case you missed it, I did a presentation for VEDA about managing Vestibular Migraine through the holidays. We had some technical difficulties, but I heard the last 20 minutes was really helpful if you'd like to fast forward. Some of the tips were ones I implemented myself while spending time with my family, like doing the grocery shopping yourself so you can double check the labels. I also talk a little bit about how I got through some dark days and depression right after my diagnosis.
A Healthy Soup for After The Holidays
For our Thanksgiving, we drove 16 hours with the dogs in tow to visit my family in Arizona. Overall I did really well with my vestibular symptoms! This sandwich always gets me through those trips without feeling super sluggish. We made the majority of the recipes I posted last week including the green bean casserole and the chipotle sweet potatoes. I can't say that anyone was super excited about seeing the sweet potatoes on the menu, particularly the dads. Perhaps skeptical is the right word? If your dad is anything like mine, the only acceptable potato is a plain russet that's been baked, with at least ¼ cup of butter on top. But it was the sneaky winner of the evening, with everyone raving about how delicious and unique it is. My dad even had seconds!
There's usually one big cooking fail at every holiday, and I took the (cheese)cake this year. I made my pumpkin cheesecake with the sunflower seed crust and somehow my crust burnt to a crisp with the same cooking time I used at home. Could it have been the darker pan? My mother in laws fancy oven? The drier climate??? I'll never know. This is officially why I can't stand baking. If we're being totally honest my football team was probably the biggest fail of the evening, but that's neither here nor there.
You know what won't be a fail? This soup! It's nearly impossible to mess up, it cooks very quickly, and it's warm, comforting, and delicious on cold winter nights. I dare you to try to make it without humming Feliz Navidad.
Vegan Tortilla Soup Ingredients
For this recipe, I use 1-2 fresh sweet potatoes, chopped, along with frozen corn, which I prefer to canned. I do use canned black beans that are low sodium with no added ingredients.
For chili powder, you want to make sure there's no onion or cocoa powder included in the mix if you're following a migraine diet. Morton and Bassett Natural Chili Powder is one of my favorites. It's a little more expensive, but I love that they clearly state all the ingredients on their label versus the ominous "spices" term. Frontier also makes one that is safe. Silicone dioxide is permitted as it's just to prevent any caking of the spices.
For broth, I either use my own vegetable broth from the new Dizzy Cook Cookbook, this chicken stock, or Trader Joe's Hearty Vegetable Broth. If you're following a migraine diet, the Hearty Vegetable broth does have onions, but it's lower on the list and seems to be well tolerated.
The Easiest Vegetable Tortilla Soup
This soup is my go to for crazy, busy weeks. It freezes well and can be reheated easily, although more broth might need to be added. Most of the time it requires is hands off simmering, and there's really very little chopping involved.
To make crispy tortilla strips, I just cut my tortilla in thin strips and lightly coat with olive oil. Then bake at 400 degrees F for about 7 to 9 minutes total until lightly browned and crispy.
If you're looking for another quick and easy soup that's very healthy, give this Chicken and Brown Rice Soup a try or this Lemongrass and Ginger Spaghetti Squash soup.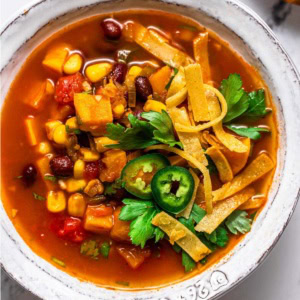 Vegetarian Tortilla Soup
Made with sweet potatoes, black beans and shallots for a filling and flavorful lunch or dinner, this healthy tortilla soup is quick for a 30 minute meal.
Print
Pin
Rate
Ingredients
2

tablespoons

olive oil

2

medium size shallots, peeled and chopped

1

lb

peeled sweet potatoes, diced in ¼ inch pieces

1

cup

frozen corn

1

small jalapeno, seeds and ribs removed and finely chopped

3

large cloves garlic, peeled and minced

2

teaspoons

ground cumin

1.5

teaspoons

ground chili powder

* Chipotle works well here too

2

14.5oz cans

low-sodium black beans, drained and rinsed

1

14.5oz can

diced tomatoes

4

cups

vegetable broth

¼

cup

chopped fresh cilantro

2

tablespoons

distilled white vinegar

kosher salt to taste

corn chips or tortillas for topping
Instructions
In a large heavy pot or dutch oven, heat 2 tablespoons of olive oil over medium heat. Add the shallots, sweet potatoes, corn, and jalapeno and ½ teaspoon of kosher salt. Stir frequently until the shallots and potatoes become softened, about 5-7 minutes.

Add garlic, chili powder, and cumin and stir till fragrant and mixed into the vegetables. Then add drained and rinsed black beans and diced tomatoes, stirring to combine. Finally add vegetable broth and stir everything together. Turn the heat up to medium high and allow the soup to come to a low simmer, which is small bubbled around the edges and not large bubbles (this would be boiling). Continue to simmer (not boil) for about 25-30 minutes or until the potatoes have softened.

Once the soup is ready, taste and adjust any seasonings, add 2 tablespoons of vinegar, and fresh cilantro. Top with tortilla chips when ready to serve.

To make your own tortilla strips - preheat your oven to 400 degrees Fahrenheit, brush the tortilla with oil on both sides, cut into thin ¼ inch strips, and bake for about 7-9 minutes until lightly browned on both sides, tossing halfway through.
Notes
Great toppings include - Sliced radish or jalapeno, cilantro, crispy tortilla chips or strips, blended cottage cheese or avocado (if not following a migraine diet). Queso fresco or shredded American cheese would also work well here.
Lime juice can be substituted for distilled white vinegar if not on a migraine diet or have re-introduced citrus.
This soup freezes well and will keep in the fridge for 3 days.
Nutrition
Calories:
398
kcal
|
Carbohydrates:
76
g
|
Protein:
18
g
|
Fat:
8
g
|
Saturated Fat:
1
g
|
Polyunsaturated Fat:
1
g
|
Monounsaturated Fat:
5
g
|
Sodium:
331
mg
|
Potassium:
1385
mg
|
Fiber:
21
g
|
Sugar:
9
g
|
Vitamin A:
16417
IU
|
Vitamin C:
22
mg
|
Calcium:
157
mg
|
Iron:
7
mg