This Vegetarian Tortilla Soup is made with sweet potatoes, black beans and shallots for a filling and flavorful meal! Quick and very healthy, spices like cumin and chili powder combine for a great vegan tortilla soup.
Best of all, this soup takes a little over 30 minutes to make and can be made even faster by using pre-cut vegetables. I also find this to be one of my favorite vegetarian soups that will fill you up with a good amount of protein from the beans.
While this vegetable tortilla soup makes a great lunch, it pairs extremely well with my Spanish brown rice or Mexican grilled chicken for an extra large meal. Need a vegetarian appetizer? Try this delicious mozzarella queso.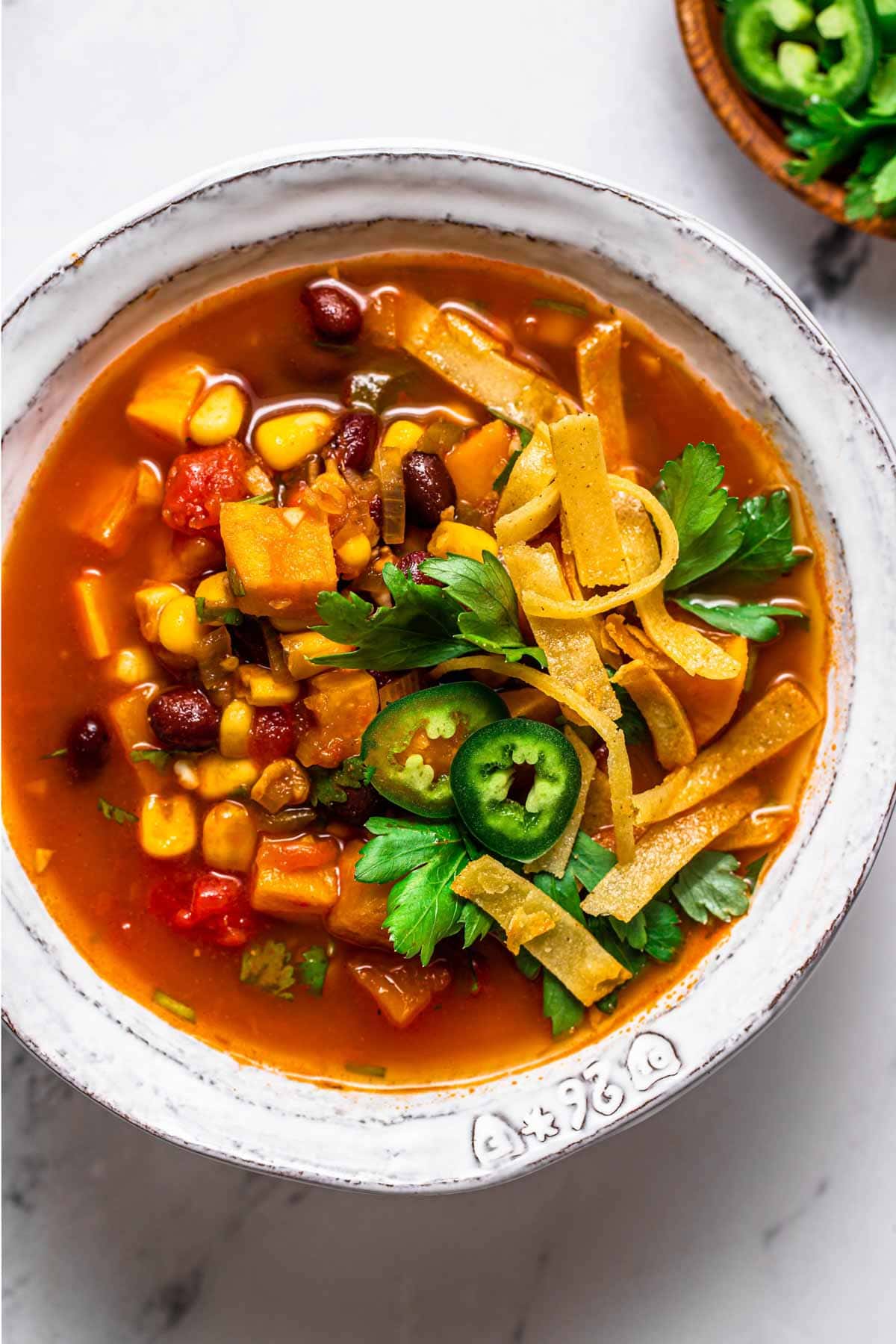 Jump to:
Vegetable Tortilla Soup
We're so used to eating chicken tortilla soup, and while it's delicious, some days I find myself craving more vegetables. This happens a lot in the new year where I feel like everyone is getting sick or I'm seeing lots of changes in weather, which can affect migraine attacks.
That's why I love this vegetable tortilla soup. It's hearty and filling even without chicken, but doesn't taste heavy with lots of cream or cheese. It's the perfect healthy tortilla soup!
Super easy - Made from mostly pantry-staples with little chopping involved, this soup can be made in about 30 minutes!
Vegan - This recipe is vegan, especially if you use tortillas without lard.
Customizable - Want chicken? It's easy to add.
Healthy - This packs a ton of vegetables in one meal! Antioxidants from sweet potatoes, B vitamins in beans, and lots of extra vegetables help to boost overall brain health.
Great for meal prep - Need to make it ahead? This soup keeps well for 2-3 days or in the freezer!
Ingredients
The ingredients for this vegetable tortilla soup are simple and a lot can be kept in the pantry or freezer so you can make this whenever you want! See the recipe card for the full list.
Sweet potatoes - These are so filling and they hold up great in this vegetable soup. Buy pre-cut to make life a little bit easier! You will need 1 huge sweet potato or two smaller ones.
Shallots - A more refined flavor, these add the flavor without the large bits of overpowering onion.
Frozen corn - I prefer the flavor and texture of this to canned, but use whatever you have on hand.
Black beans - Low sodium black beans (or no sodium) is recommended for this recipe. You can always add salt later.
Vegetable broth - I highly recommend the Instant Pot Vegetable Broth from my cookbook or one of the recommended vegetarian options from store-bought brands.
Diced tomatoes - Use one without seasonings added. These are tomatoes packed in a tomato puree. You can omit this from the recipe if sensitive, but it won't have the same thickness.
Chili powder - I recommend a chili powder without onion or cocoa powder like Frontier.
Jalapeno - If you're nervous about the spice level, you can use poblano or leave out.
White vinegar - This is just distilled white vinegar like Heinz. If you're not following a migraine diet and can tolerate citrus, this can be substituted with lime juice.
Tortillas - Flour or corn (for gluten free) work great here to make homemade crispy tortilla strips. You can also use corn chips in a pinch. Look for plain tortillas with just flour, oil, baking powder like Margarita's or TortillaLand. These can usually be found refrigerated and not on the store shelves. If you're in Texas, Central Market has great fresh tortillas.
Ingredient Substitutions
Sweet Potatoes - Use more black beans or add diced butternut squash.
Black Beans - Pinto beans can be used.
Jalapeno - Poblano or pasilla pepper, or omit.
Diced tomatoes - Add more sweet potatoes or omit, however this will change flavor and texture.
How to Make Vegetarian Tortilla Soup
Step 1: Sauté vegetables
In a large, heavy bottom pot like a dutch oven, add olive oil over medium heat. Add shallots, sweet, potatoes, corn, and jalapeno (if using) with kosher salt. Stir frequently until the shallots and potatoes have softened, about 5-7 minutes.
Step 2: Add seasonings and broth
Add in garlic, chili powder, and cumin, stirring till fragrant, then add the drained beans and tomatoes. Finally, stir in the broth. Turn the heat to medium high and allow everything to come to a low simmer. Then continue to simmer, adjusting the heat as needed so it doesn't boil, for about 30 minutes.
Step 3: Add toppings
Finish the soup with cilantro and vinegar, then top with crispy homemade tortilla strips or chips.
How to Make Homemade Tortilla Strips
While you can use crushed tortilla chips for topping this vegetarian tortilla soup, sometimes it's nice to put in the extra effort for homemade tortilla strips.
To prep - Simply run a sharp chefs knife down the length of the tortilla to cut into small ¼" strips.
Oven method - Preheat oven to 400 degrees Fahrenheit. Brush the tortilla on both sides with oil and place on a baking sheet. Bake for 7-9 minutes, turning halfway, until lightly browned on both sides. They crisp up as they cool.
Fried - Use a high heat oil to coat the bottom of a cast iron skillet and turn to medium high heat. Fry the tortilla strips until golden brown on both sides, then transfer to a paper towel lined plate.
Topping Suggestions
While vegetarian tortilla soup is amazing on it's own, but here are a few of my favorite toppings:
Sliced radishes
Thin-sliced jalapenos
Cottage cheese (for a little extra protein!) or shredded American cheese.
Crunchy tortilla strips or chips
Storage Tips
Refrigerator - Soup will store in the fridge for up to 3 days. It can be reheated in a pot on the stove or in the microwave.
Freezer - I like to freeze this vegetable tortilla soup in a ziplock freezer bag (wrapped 2x) flat so it can thinly stack with other soups.
Recipe FAQ
Can I add chicken?
Yes, easily transform this soup into a chicken tortilla soup with extra vegetables by adding pre-cooked rotisserie chicken at the end or cooking small pieces of raw chicken thigh or breast while simmering the soup. Just make sure they're cooked through before serving.
How do I make this soup mild?
I find even with the jalapeno, this soup is still on the mild to medium side because the seeds are removed. However, if you're very sensitive to spiciness, I recommend either using ½ a poblano pepper (or pasilla pepper) or just leaving it out entirely. For more heat, add thin-sliced jalapenos to the top!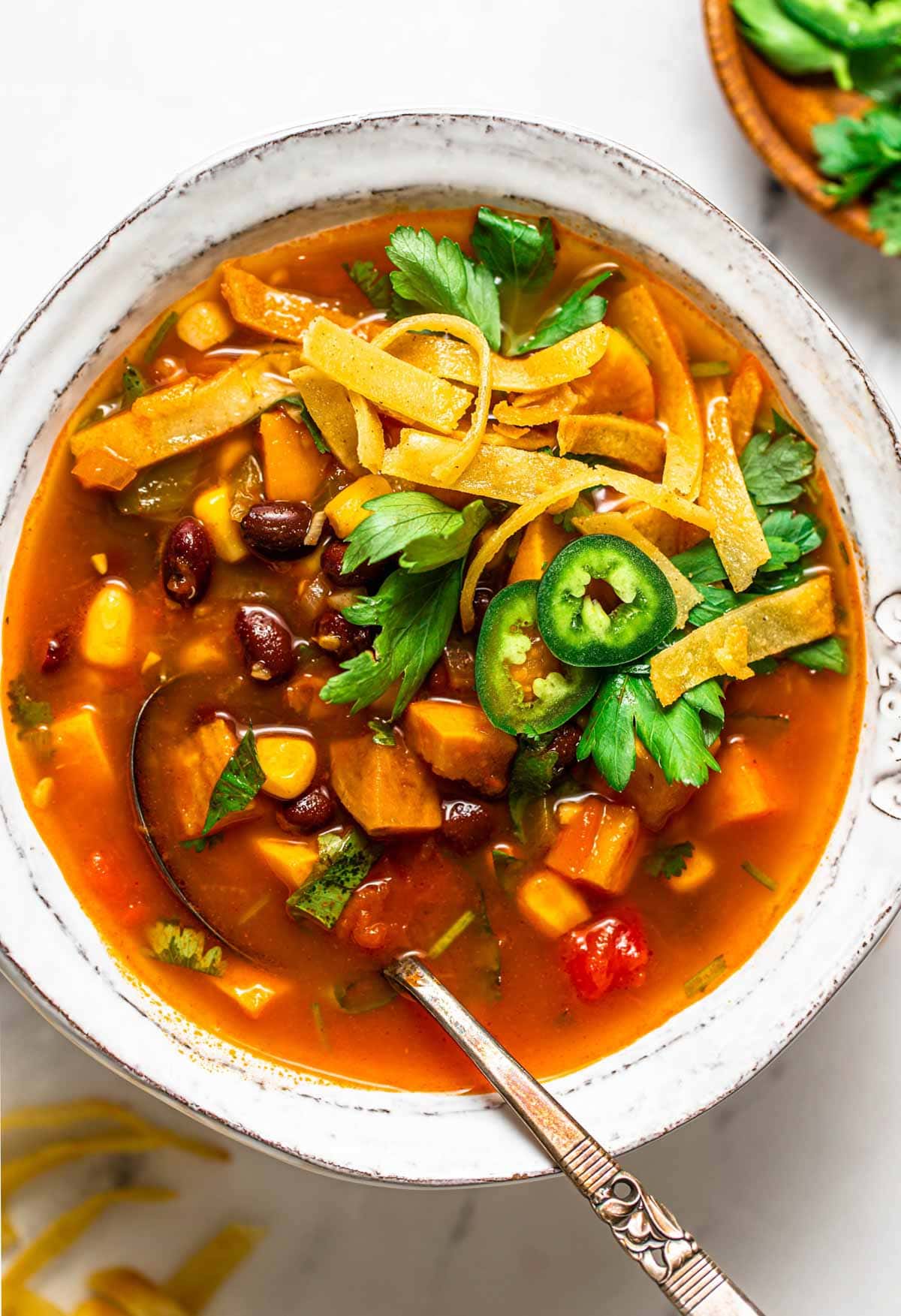 Healthy Soup Recipes
For more healthy soup recipes like this vegetarian tortilla soup, check out these posts.
If you make this, tag me #thedizzycook or @thedizzycook on Facebook and Instagram. And if you love the recipe, please leave a review below! Follow along on my Pinterest for more great recipes.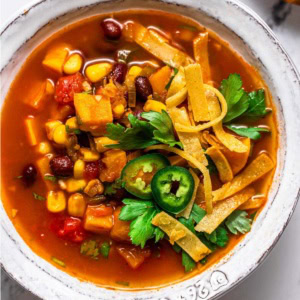 Vegetarian Tortilla Soup
Made with sweet potatoes, black beans and shallots for a filling and flavorful lunch or dinner, this healthy tortilla soup is quick for a 30 minute meal.
Print
Pin
Rate
Ingredients
2

tablespoons

olive oil

2

medium size shallots, peeled and chopped

1

lb

peeled sweet potatoes, diced in ¼ inch pieces

1

cup

frozen corn

1

small jalapeno, seeds and ribs removed and finely chopped

3

large cloves garlic, peeled and minced

2

teaspoons

ground cumin

1.5

teaspoons

ground chili powder

* Chipotle works well here too

2

14.5oz cans

low-sodium black beans, drained and rinsed

1

14.5oz can

diced tomatoes

4

cups

vegetable broth

¼

cup

chopped fresh cilantro

2

tablespoons

distilled white vinegar

kosher salt to taste

corn chips or tortillas for topping
Instructions
In a large heavy pot or dutch oven, heat 2 tablespoons of olive oil over medium heat. Add the shallots, sweet potatoes, corn, and jalapeno and ½ teaspoon of kosher salt. Stir frequently until the shallots and potatoes become softened, about 5-7 minutes.

Add garlic, chili powder, and cumin and stir till fragrant and mixed into the vegetables. Then add drained and rinsed black beans and diced tomatoes, stirring to combine. Finally add vegetable broth and stir everything together. Turn the heat up to medium high and allow the soup to come to a low simmer, which is small bubbled around the edges and not large bubbles (this would be boiling). Continue to simmer (not boil) for about 25-30 minutes or until the potatoes have softened.

Once the soup is ready, taste and adjust any seasonings, add 2 tablespoons of vinegar, and fresh cilantro. Top with tortilla chips when ready to serve.

To make your own tortilla strips - preheat your oven to 400 degrees Fahrenheit, brush the tortilla with oil on both sides, cut into thin ¼ inch strips, and bake for about 7-9 minutes until lightly browned on both sides, tossing halfway through.
Notes
Great toppings include - Sliced radish or jalapeno, cilantro, crispy tortilla chips or strips, blended cottage cheese or avocado (if not following a migraine diet). Queso fresco or shredded American cheese would also work well here.
Lime juice can be substituted for distilled white vinegar if not on a migraine diet or have re-introduced citrus.
This soup freezes well and will keep in the fridge for 3 days.
Nutrition
Calories:
398
kcal
|
Carbohydrates:
76
g
|
Protein:
18
g
|
Fat:
8
g
|
Saturated Fat:
1
g
|
Polyunsaturated Fat:
1
g
|
Monounsaturated Fat:
5
g
|
Sodium:
331
mg
|
Potassium:
1385
mg
|
Fiber:
21
g
|
Sugar:
9
g
|
Vitamin A:
16417
IU
|
Vitamin C:
22
mg
|
Calcium:
157
mg
|
Iron:
7
mg