This recipe for Mexican Grilled Chicken is so flavorful with an extremely quick marinade. It's a great weeknight meal for how quickly it comes together, and it can be easily frozen and used for lunch salads or other meals throughout the week. With chili powder, cumin, and garlic combined, you'll love this easy recipe!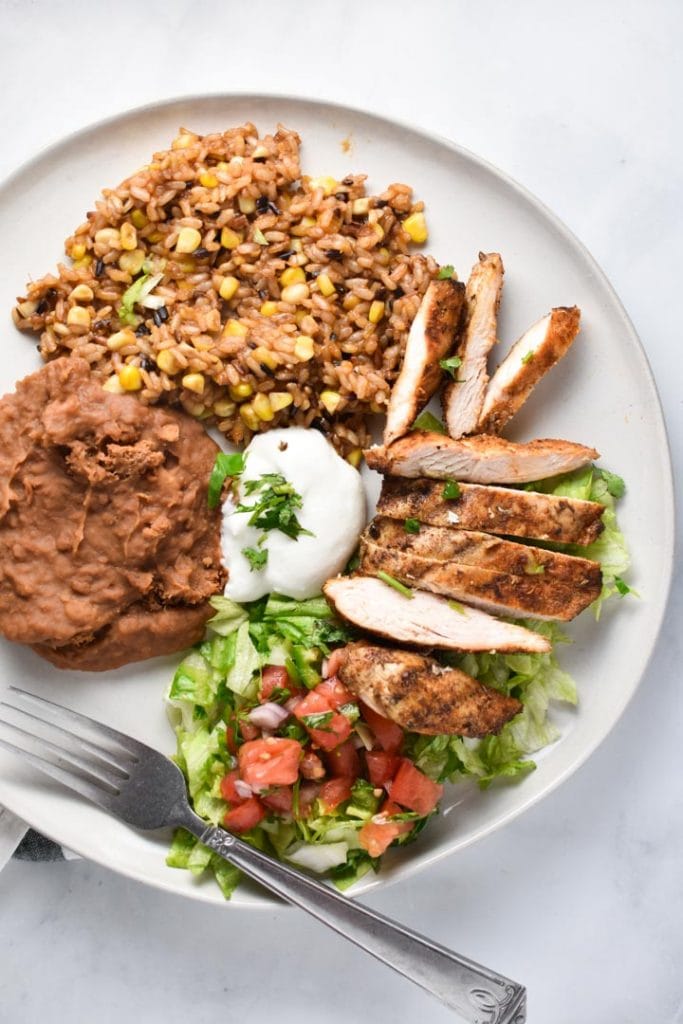 Mexican Grilled Chicken Marinade
The great thing about this marinade is that it really doesn't take a long time for the chicken to be immersed in flavor. Plus there's minimal ingredients! I combine my favorite chili powder, cumin, and smoked paprika which give a little smoky and spicy flavoring. Add in a little fresh garlic and it's absolutely delicious.
I've used different times for marinating, from a full day to less than an hour. Every time it's full of flavor, but I usually try to leave it in there for at least 2 hours. I find this is kind of the sweet spot. If I think of it around 5pm, it can be easily thrown together for dinner at 7pm.
I find the best way to marinate chicken is just by using reusable (BPA free!) or ziplock storage bag, this allows the marinade to coat the chicken on all sides. If you just use a dish, it's only really getting soaked on one side at a time.
Ingredients
On a migraine elimination diet, citrus is one of those items you have to avoid until you can reintroduce at a later time. Normally any type of Mexican dish would include lime juice in the marinade, but for this recipe I like to use either cherry or cranberry juice mixed with a little distilled white vinegar. RW Knudsen is a great brand that's very "clean".
It works so well for the steak tacos and is just delicious here as well. You really don't miss the lime juice! The tangy, tart juice really compliments the smokiness of the paprika and chili powder.
One thing to note when buying chili powder is to check the label of ingredients, some brands add in onion or cocoa powder to the mix, which are not allowed on the Heal Your Headache diet. Silicon dioxide, which is an anti-caking agent, is fine.
A few favorites are Frontier and Morton & Bassett. And I love Trader Joe's Smoked Paprika.
Pan-Seared or Grilled?
My favorite way to make these is on a charcoal or gas grill, but if you have neither a good grill pan will do. I tend to prefer my cast iron grill pan as I think it gives the chicken the best grill marks and also good texture.
There's nothing worse than a rubbery chicken breast! The marinade really helps to keep the meat tender, but a high heat grill can give you those crispy edges that I love when grilling.
Another option is that this doesn't have to be grilled at all! It can be baked or seared in a pan about 4-5 minutes per side, whatever your heart desires. But for the best flavor, I highly recommend grilling.
Ways to Serve Mexican Grilled Chicken
My favorite way to serve this is similar to how restaurants serve sizzling fajitas - with rice and beans. Black beans and pinto beans are two types that are allowed on this diet. What would be really fantastic is to serve these with the Spiced Black Beans from my book on page 187.
If you have some extra time, this recipe for Mexican Brown Rice fits really well together. Chop up some lettuce or throw together a quick pico de gallo with tomatoes, shallots, cilantro, and a little jalapeño.
Another recipe this Mexican Chicken would be great with is the Honey Mustard Ranch Dressing. Mixed with a little corn, red pepper, lettuce, and radish, you have a great salad for lunches or dinner.
How to Meal Prep
If you don't have much energy for cooking or it's a high pain or dizzy day, this is a great recipe for you. You're literally dumping the ingredients in a bag, sticking it in a fridge, and if you have an outside grill, it's the easiest clean up ever!
If you double the recipe, you can grill it then slice and store the chicken breast in the freezer. Just defrost in the fridge for lunches or reheat in the microwave for a quick meal. The Honey Chipotle Chicken and Moroccan Chicken recipes are other great options if this idea appeals to you, but I will say this recipe is probably the most family friendly! Not too spicy, but just right.
For more easy chicken recipes:
Honey Chipotle Chicken Sandwiches
Creamy Rosemary Chicken
Moroccan Spiced Chicken
Instant Pot Shredded Chicken Tinga
Chicken Zucchini Poppers
Garlic Honey Chicken
Mexican Grilled Chicken
Minimal ingredients and effort makes this Mexican Grilled Chicken a great recipe for meal prep. Gluten and dairy free, you can combine this with beans and Mexican Rice for a flavorful dinner.
Print
Pin
Rate
Ingredients
1.25

pounds

thin sliced, boneless chicken breasts

2

tablespoons

oil - olive oil or any other mild oil would be fine

2

tablespoons

cherry or cranberry juice

1

teaspoon

cumin

½

teaspoon

chili powder

½

teaspoon

smoked paprika

½

teaspoon

kosher salt

2

large garlic cloves, minced
Instructions
In a gallon sized bag, combine the oil, juice, cumin, chili powder, smoked paprika, salt, and minced garlic cloves. Smoosh around to mix everything up. Drop in your chicken breasts. I like using thin sliced chicken breasts (which you can usually buy already done) because they marinate/cook much faster). If you can't find these, you can slice large chicken breasts in half.

Prepare the grill to medium/high heat and cook for about 4-5 minutes per side, until grill marks form and the chicken reaches an internal temp of 165 degrees. Remove from the grill and cover with foil. If using regular chicken breasts (not thin sliced), you will need to increase the cooking time.

When ready, slice the chicken breasts and serve warm.
Nutrition
Serving:
1
breast
|
Calories:
233
kcal
|
Carbohydrates:
2
g
|
Protein:
30
g
|
Fat:
11
g
|
Saturated Fat:
1
g
|
Cholesterol:
91
mg
|
Sodium:
461
mg
|
Potassium:
546
mg
|
Fiber:
1
g
|
Sugar:
1
g
|
Vitamin A:
240
IU
|
Vitamin C:
2
mg
|
Calcium:
14
mg
|
Iron:
1
mg