This recipe for Mexican Grilled Chicken is so flavorful with an extremely quick marinade. It's a great weeknight meal for how quickly it comes together, and it can be easily frozen and used for lunch salads or other meals throughout the week.
With chili powder, cumin, and garlic combined, you'll love this easy recipe. A lot of recipes will have you use citrus juices for the marinade, but with this recipe you can use pomegranate juice or tart cherry juice, boosting anti-inflammatory and brain health benefits.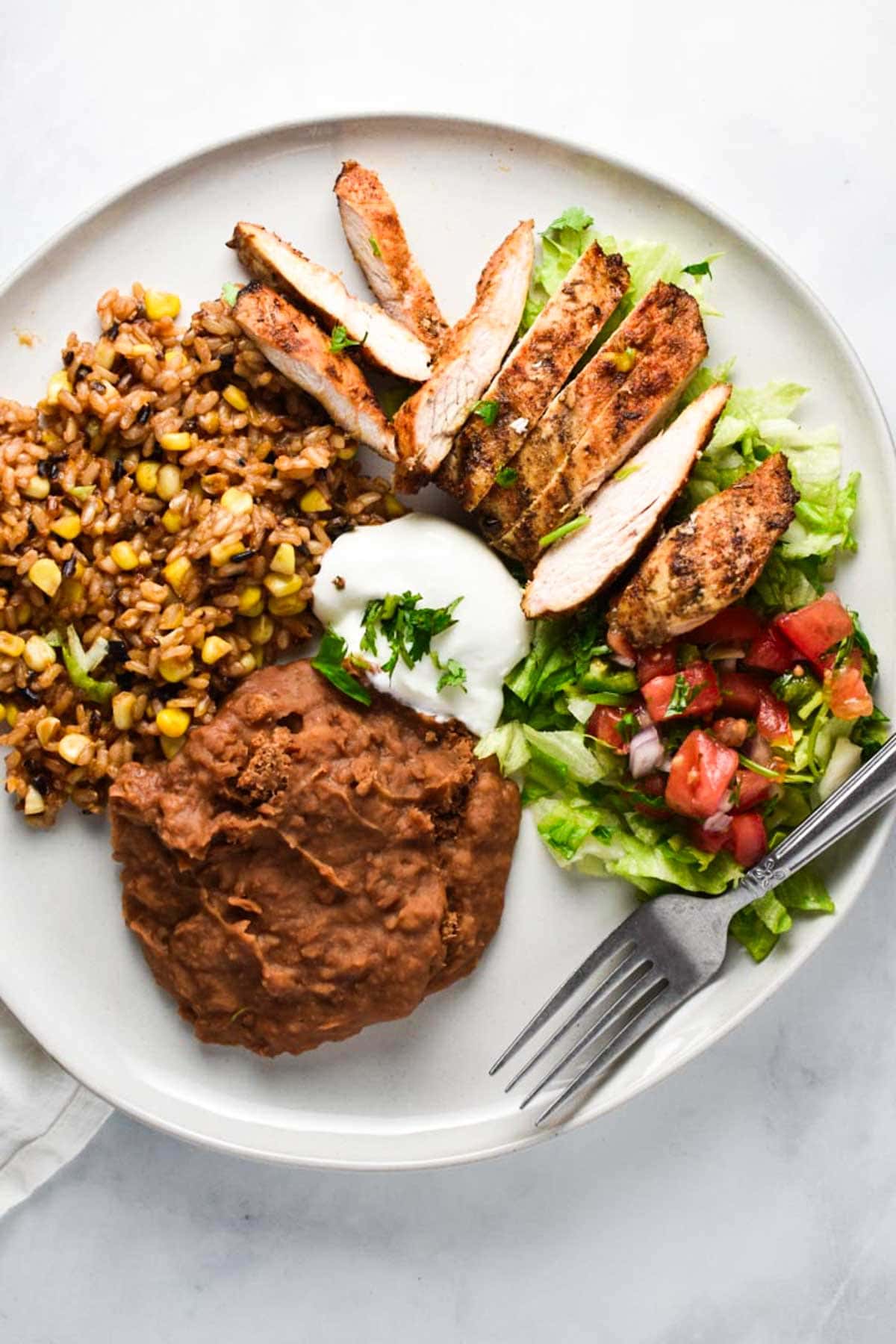 This Mexican chicken marinade is also delicious with other types of meat, seafood, or vegetables and can be used as your go-to basic marinade for anything grilled. Serve it with my Spanish Brown Rice for a full meal!
Jump to:
Mexican Chicken Marinade
The great thing about this marinade is that it really doesn't take a long time for the chicken to be immersed in flavor. Plus it is made from what you probably already have in your pantry! I combine my favorite chili powder, cumin, and smoked paprika which give a little smoky and spicy flavoring. Add in a little fresh garlic and it's absolutely delicious. You'll love this Mexican chicken marinade because:
Easy ingredients - No obscure chili peppers to source! Only 5 ingredients.
Quick - The marinade can be made in less than 5 minutes.
Kid-friendly - Not too spicy, which can be an issue that I've found with some Mexican chicken marinades, this one is mild enough to please everyone at the table - including kids!
Best Way to Marinate Chicken
I've used different timing for this Mexican chicken marinade, from a full day to less than an hour. Every time it's full of flavor, but I usually try to leave it in there for at least 2 hours. I find this is kind of the sweet spot. If I think of it around 5pm, it can be easily thrown together for dinner at 7pm.
The best way to marinate chicken is just by using reusable (BPA free!) or ziplock storage bag, this allows the marinade to coat the chicken on all sides. If you just use a dish, it's only getting soaked on one side at a time so you have to remember to flip it halfway through. I still do it this way sometimes and both ways work fine.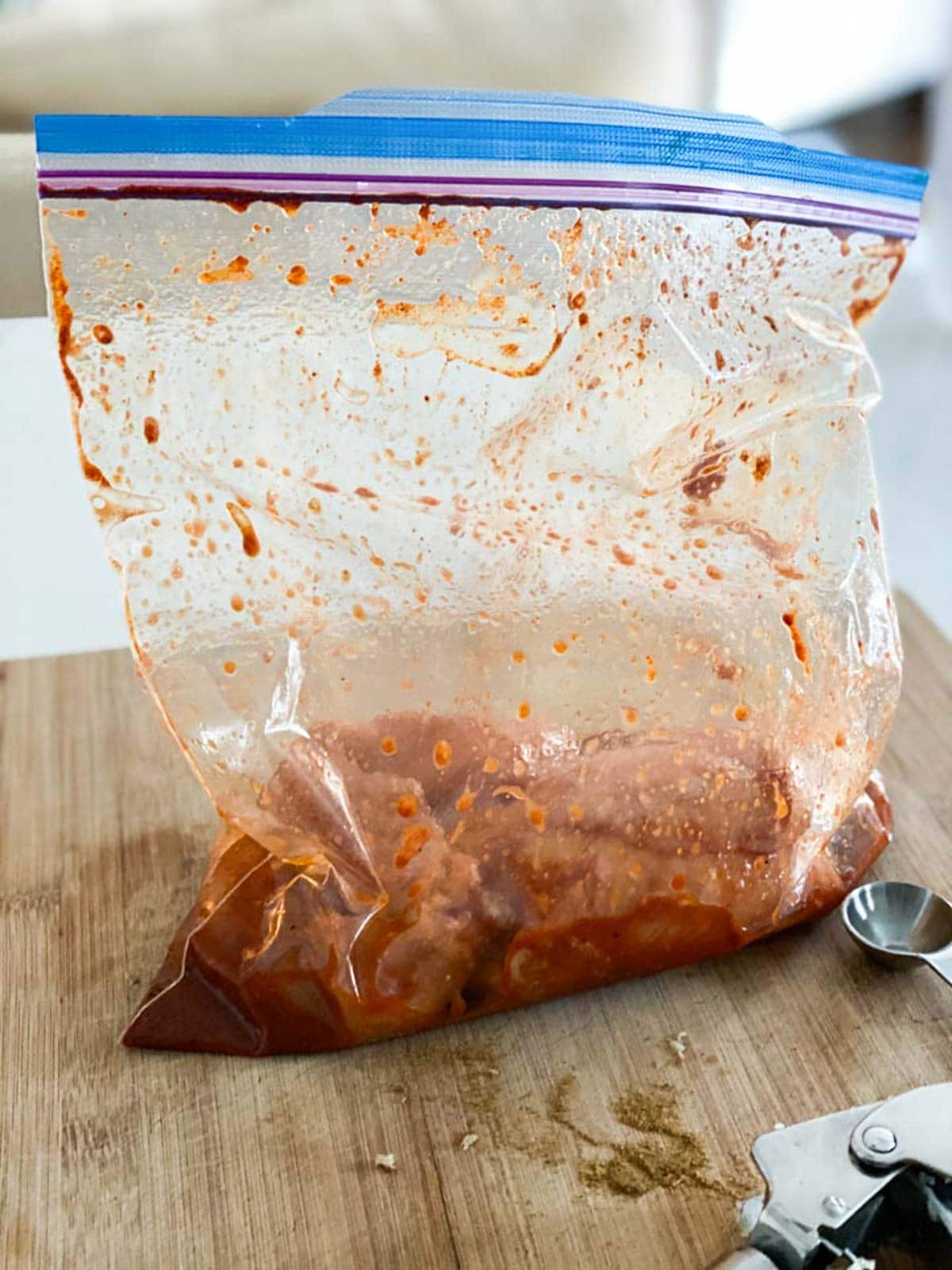 Ingredients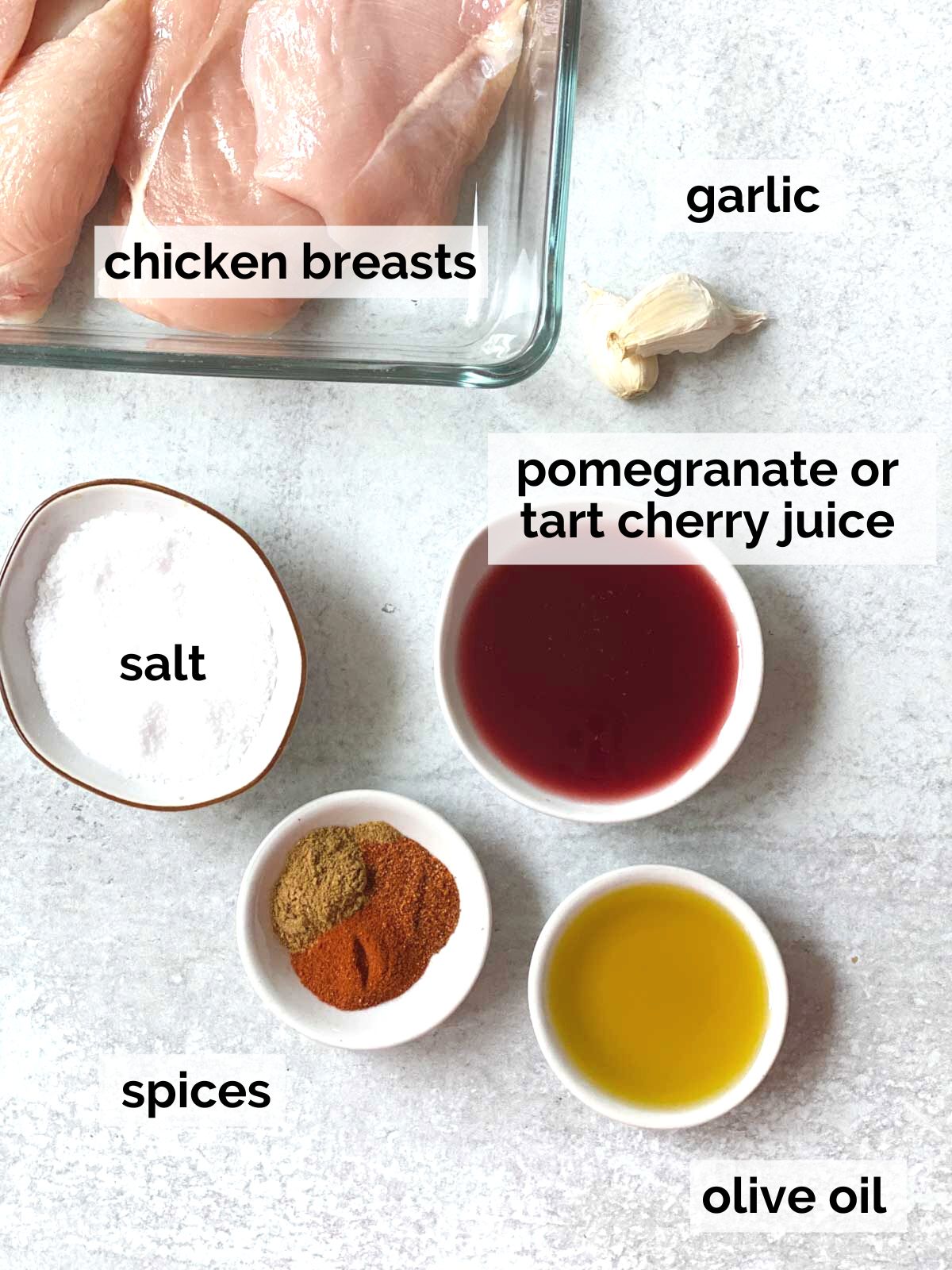 Chicken - You can use this marinade for boneless, skinless chicken breasts or chicken thighs. I would highly recommend choosing air-chilled if you have the option, even more than organic. Air-chilled chicken is passed through chambers of air rather than being dunked in solutions for cleaning, which can be absorbed by the chicken. Air chilled chicken will cook much better, especially when grilling, and also give you the best flavor.
Spices - Chili powder, cumin, and smoked paprika make up the flavors. A few favorites are Frontier and Morton & Bassett. And I love Trader Joe's Smoked Paprika. While silicone dioxide, an anti-caking agent, is fine, check the ingredients for onion or cocoa powder if following a migraine diet.
Oil - I recommend using extra virgin olive oil or avocado oil. If grilling the chicken, I suggest the avocado oil because it has a higher heating point to it if your grill gets a little hot.
Pomegranate or Tart Cherry Juice - The unique part of this Mexican grilled chicken marinade. Pomegranate or tart cherry juice both have the same tart flavor that citrus would bring, but are great foods that help support brain health and also provide such good flavor. They pair extremely well with the smoked paprika.
Garlic - Use fresh minced or pressed garlic for the best flavor.
How to Grill Chicken
There's nothing worse than a rubbery chicken breast! The Mexican chicken marinade really helps to keep the meat tender, but a high heat grill can give you those crispy edges that I love when grilling.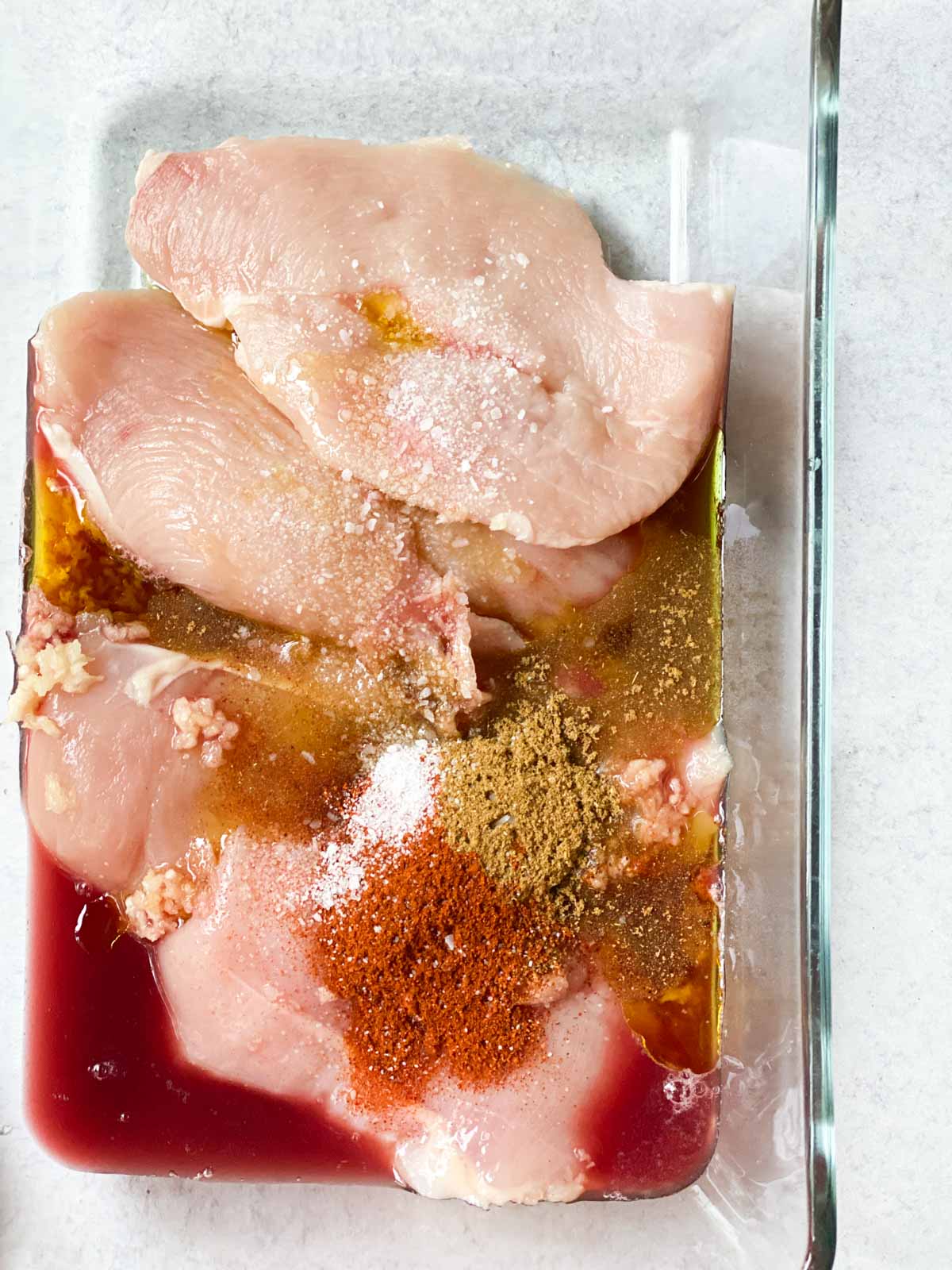 Step 1: Marinate the chicken
Mix together all the ingredients and submerge the chicken in the marinade, making sure it's fully covered. Marinate in the fridge for at least 2 hours, up to 12 hours.
Step 2: Grill the chicken
Preheat a gas or charcoal grill to 400-450 degrees F (medium high heat). Pour a little bit of oil onto a paper towel and, using tongs, rub the grill grates. Be careful of excess oil as this can cause flare ups if it drips into the flames! A little bit goes a long way.
Place the chicken onto the grill and close the lid. Cook on both sides for about 5-7 minutes per side, depending on the thickness of your chicken breasts. If using cutlets or thin-sliced, cook for about 4-5 minutes per side. The chicken is ready to flip when it easily releases from the grill grates and has nice grill marks.
A meat thermometer is a great tool - you want the chicken breasts to reach an internal temperature of 165 degrees Fahrenheit.
Place onto a serving plate and cover with foil to keep warm until ready to serve.
Can I Bake or Pan-Sear the Chicken?
My favorite way to make Mexican grilled chicken is on a charcoal or gas grill, but if you have neither a good grill pan will do. I prefer a cast iron grill pan as I think it gives the chicken the best grill marks and also good texture.
Another option is that this doesn't have to be grilled at all!
To bake - Cook at 425 degrees F for 15-20 minutes, or until it reaches an internal temperature of 165 degrees F. But for the best flavor, I highly recommend grilling.
To pan-sear - It helps to start with thin chicken breasts, so either buy "cutlets", pound the chicken to about ½ inch thickness, or slice the chicken breasts in half so they are cut thin. Pan sear over medium heat for about 5-6 minutes per side, or until cooked through.
Serving Suggestions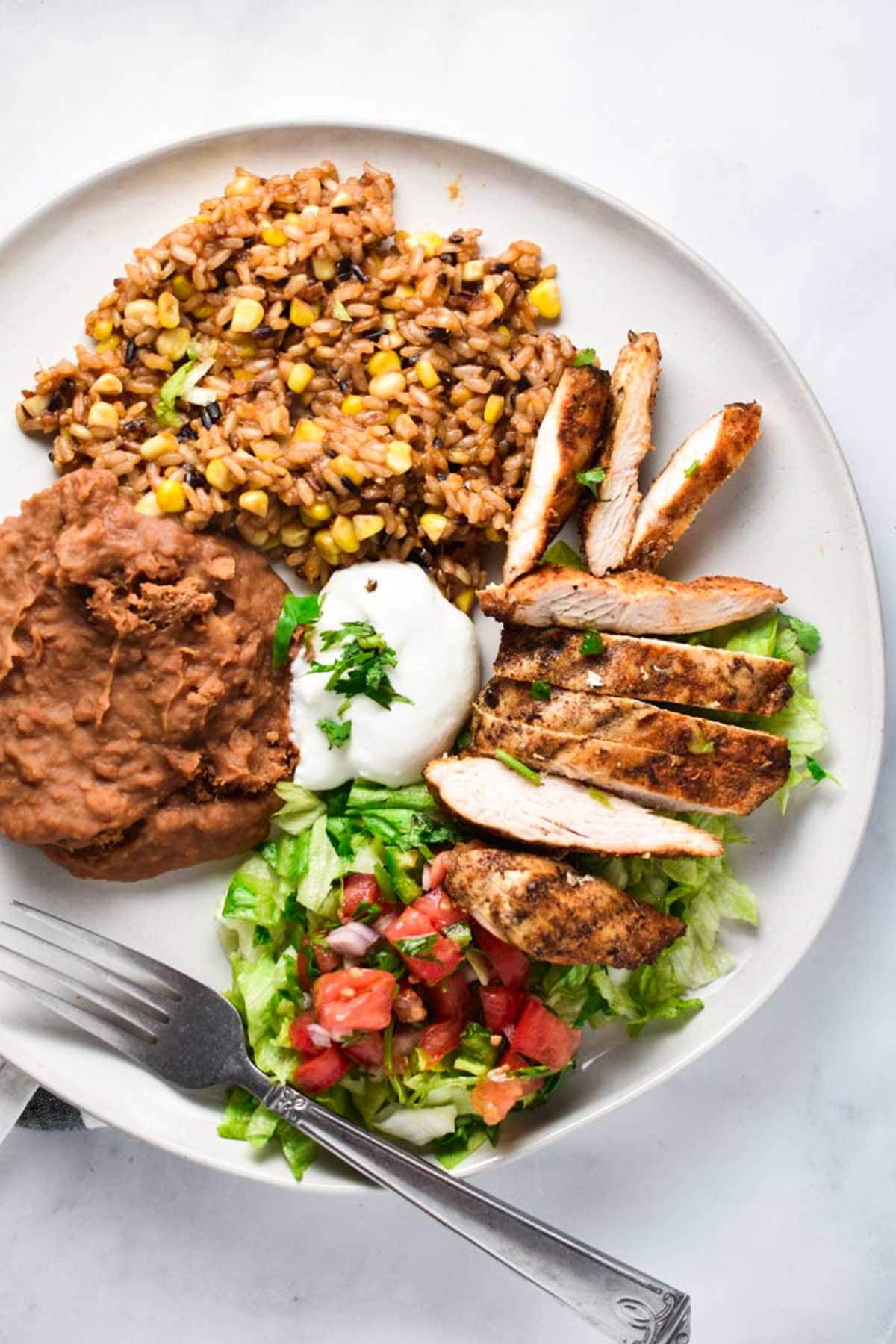 My favorite way to serve this is similar to how restaurants serve sizzling fajitas - with rice and beans. Black beans and pinto beans are my favorite pairings. What would be really fantastic is to serve these with the Spiced Black Beans from my book on page 187.
If you have some extra time, this recipe for Mexican Brown Rice fits really well together. Chop up some lettuce or throw together a quick pico de gallo with tomatoes, shallots, cilantro, and a little jalapeño.
Another recipe this Mexican chicken marinade would be great with is the Honey Mustard Ranch Dressing. Mixed with a little corn, red pepper, lettuce, and radish, you have a great salad for lunches or dinner.
Storage Suggestions
Refrigerator - Keep the chicken in an airtight container for up to 3-4 days. It reheats well microwaved in 30 second intervals.
Freezer - Store this in a sealed freezer bag for up to 6 months. Defrost overnight in the refrigerator, or quickly by placing the bag into warm water. It should defrost within 30 minutes.
To keep the Mexican chicken marinade - place in the fridge in an air tight container for up to 1 week until you're ready to use.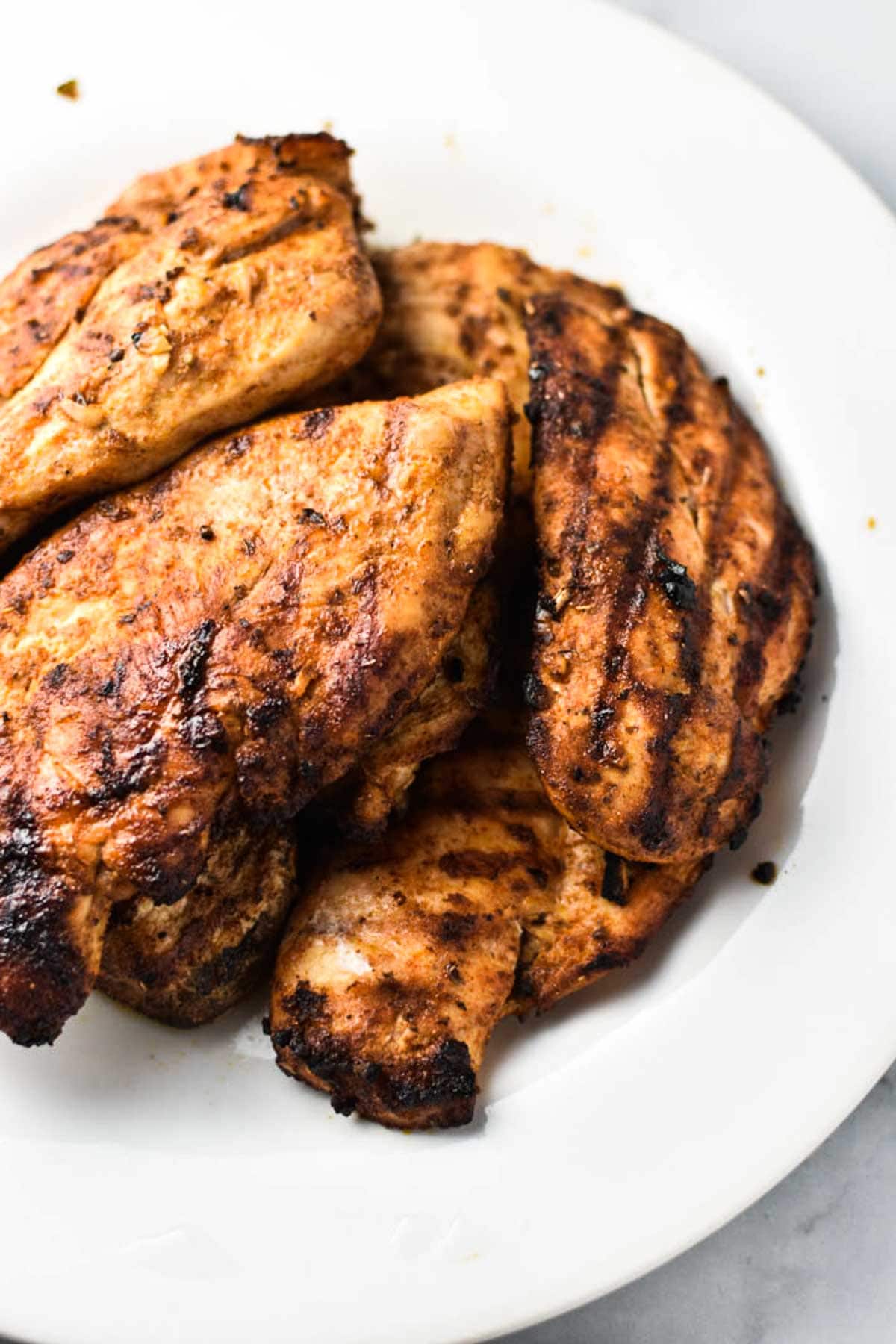 How to Meal Prep

Mexican Grilled Chicken

If you don't have much energy for cooking, this is a great recipe for you. You're literally dumping the ingredients in a bag, sticking it in a fridge, and if you have an outside grill, it's the easiest clean up!

If you double the recipe, you can grill it then slice and store the chicken breast in the freezer. Just defrost in the fridge for lunches or reheat in the microwave for a quick meal. For meal prep for 1 for an entire week (or 2 for a few days), you will need.
3 pounds chicken breasts (or 1 breast for each day)
¼ cup avocado oil or extra virgin olive oil
¼ cup pomegranate or tart cherry juice
2 teaspoons cumin
1 teaspoon chili powder
1 ½ teaspoons smoked paprika
1 teaspoon kosher salt
4 garlic cloves, minced
The Honey Chipotle Chicken and Moroccan Chicken recipes are other great options if this idea appeals to you, but I will say this recipe is probably the most family friendly! Not too spicy, but just right.
Grilled Chicken Recipes
If you make this, tag me #thedizzycook or @thedizzycook on Facebook and Instagram. And if you love the recipe, please leave a review below! Follow along on my Pinterest for more great recipes.
Mexican Grilled Chicken
Minimal ingredients and effort makes this Mexican grilled chicken a great recipe for meal prep. This smokey and tart marinade is also perfect for chicken, steak, or vegetables!
Print
Pin
Rate
Ingredients
2

pounds

boneless, skinless chicken breasts or thighs

3

tablespoons

extra virgin olive oil or avocado oil

3

tablespoons

pomegranate juice or tart cherry juice

1 ½

teaspoons

cumin

¾

teaspoon

chili powder

1

teaspoon

smoked paprika

½

teaspoon

kosher salt

3

large garlic cloves, minced
Instructions
In a gallon sized bag, combine the oil, juice, cumin, chili powder, smoked paprika, salt, and minced garlic cloves. Smoosh around to mix everything up. Drop in the chicken breasts (see note on size of chicken breasts), and marinate for at least 2 hours, up to 12 hours.

Preheat the grill to medium/high heat (about 400-450 degrees F) and place a little bit of oil onto a paper towel. Using tongs, rub the towel on the grill grates to oil them, being careful to avoid excess oil flare ups. A little bit of oil goes a long way! Place chicken breasts on the grill, close the grill lid, and cook for about 5-7 minutes per side, or until grill marks form and the chicken reaches an internal temp of 165 degrees Fahrenheit. The chicken will release easily from the grill grates when it's ready to be flipped.

Remove from the grill and cover with foil. When ready, slice the chicken breasts and serve warm.
Notes
If using thin-sliced chicken breasts, which marinate and cook much faster, cook for about 4-5 minutes per side.
To get thin chicken breasts - run a sharp knife down the middle center of the chicken (sideways) or use a mallet to pound to about ½ inch thickness.
A grill pan will also work if you don't own a charcoal or gas grill. See post for instructions for baking and pan-searing chicken.
This marinade will keep up to a week without the chicken. Use for other types of meat like pork or flank steak, or brush onto grilled vegetables.
Nutrition
Serving:
1
breast
|
Calories:
233
kcal
|
Carbohydrates:
2
g
|
Protein:
30
g
|
Fat:
11
g
|
Saturated Fat:
1
g
|
Cholesterol:
91
mg
|
Sodium:
461
mg
|
Potassium:
546
mg
|
Fiber:
1
g
|
Sugar:
1
g
|
Vitamin A:
240
IU
|
Vitamin C:
2
mg
|
Calcium:
14
mg
|
Iron:
1
mg