This Moroccan-Inspired Grilled Chicken and Couscous is one of my favorite weeknight recipes. Flavorful paprika-marinated chicken is combined with fluffy couscous filled with vegetables and spices. Once the chicken has marinated, the whole meal cooks in less than 20 minutes!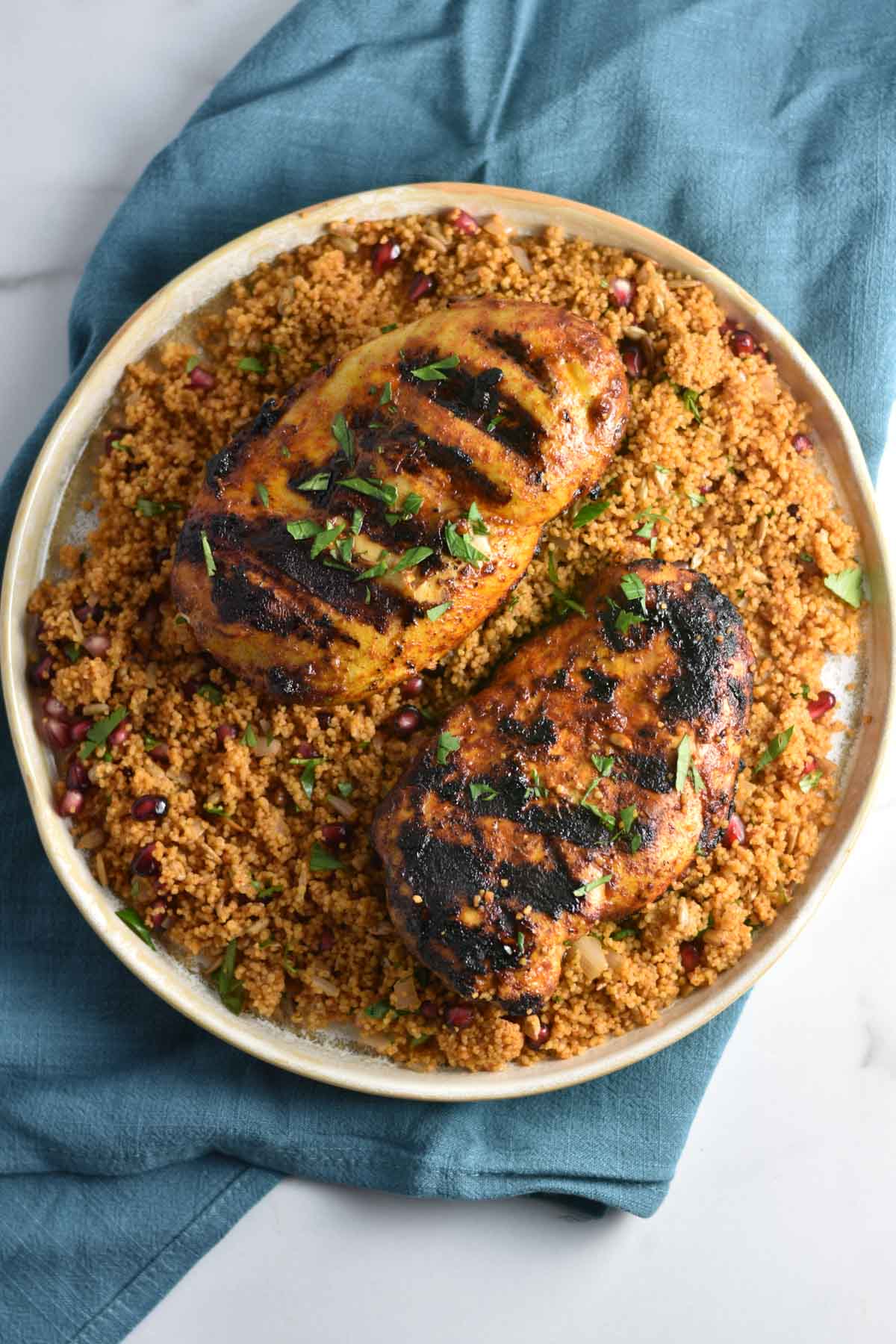 Easy Chicken and Couscous Recipe
If you're tired of the same baked chicken every night, this chicken and couscous is a great recipe to mix it up.
Chicken breasts are marinated in an easy recipe containing paprika, garlic, and honey, then grilled for about 15-16 minutes. Meanwhile, this easy couscous contains just a few key ingredients but has tons of flavor. The tart pomegranate seeds pair so well with the grilled chicken for a great and healthy combo.
You'll love this recipe because:
Easy Recipe - It's easy for a beginner cook and only takes 20 minutes to make.
Allergy Friendly - This recipe is dairy free, nut-free, and also migraine diet friendly.
Boost Brain Health - This Moroccan inspired dish has some great ingredients that boost brain health - from antioxidants in pomegranate seeds and paprika, to pain-fighting power of ginger, cinnamon, and turmeric. A good recipe for both migraine and fibromyalgia!
How to Choose Chicken
I am sure you've seen many chickens labeled "air chilled", and I've been told by the butcher that they find these words more important than "organic" these days. The USDA requires chickens to be cooled to a certain temperature for food safety.
Many large corporations use the same containers filled with chlorinated water to chill their chickens, promoting cross-contamination and the absorption of water into the meat. Air-chilled chickens are separated and passed by a track through different chambers of cooled air. It takes longer than a water bath, causing it to be more expensive all around. Many believe it's worth the extra cost because:
You're not getting extra water in the meat.

The flavor is so much better, as you are truly getting an all-natural chicken.

Air chilled chicken cooks better overall because it doesn't release as much moisture. You can get that nice, brown sear.
Some solutions for chicken are made with "natural flavors, seaweed, broth, and salt", meaning you're not actually buying just raw chicken. These have to be declared on the label, so double check what you buy.
I encourage you to look closely at what you're buying and try out "air-chilled' chicken sometime. I think you'll notice a large difference in the flavor and maybe even feel better overall.
Recipe Ingredients
Boneless, Skinless Chicken Breast - I recommend air chilled for the reasons above. You could also go with chicken thighs, but it will increase the cooking time slightly.
Spices - Garlic, paprika, cumin, coriander, ginger, cinnamon and turmeric.
Olive oil - Your favorite extra virgin olive oil will work for this chicken and couscous recipe.
Couscous - This is very important. This recipe requires Moroccan couscous which is very small in size, like a grain (even though it's actually a pasta!). Israeli couscous is much larger and looks like pearls. They have totally different textures and cooking times, so don't mix them up!
Pomegranate seeds - These are often found in the fresh fruit section of you grocery store, refrigerated. If you cannot find them, dried apricots or cranberries would be a good substitute. Just choose sulfite-free.
Broth - I love to cook couscous in broth which adds a great depth of flavor to a simple recipe. Chicken or vegetable broth will work.
Sunflower seeds - Buy pre-toasted, unsalted sunflower seeds for the best crunch and nutty flavor that makes this pomegranate couscous shine.

How to Make Chicken Couscous
For this recipe you'll start with marinating the chicken, which can be done up to 24 hours before grilling. I don't recommend going past that, as it can change the texture of the chicken the longer it marinates.
Step 1: Using a mallet, pound the chicken till it's about ½ inch thick. I like to use two sheets of wax paper to avoid any mess.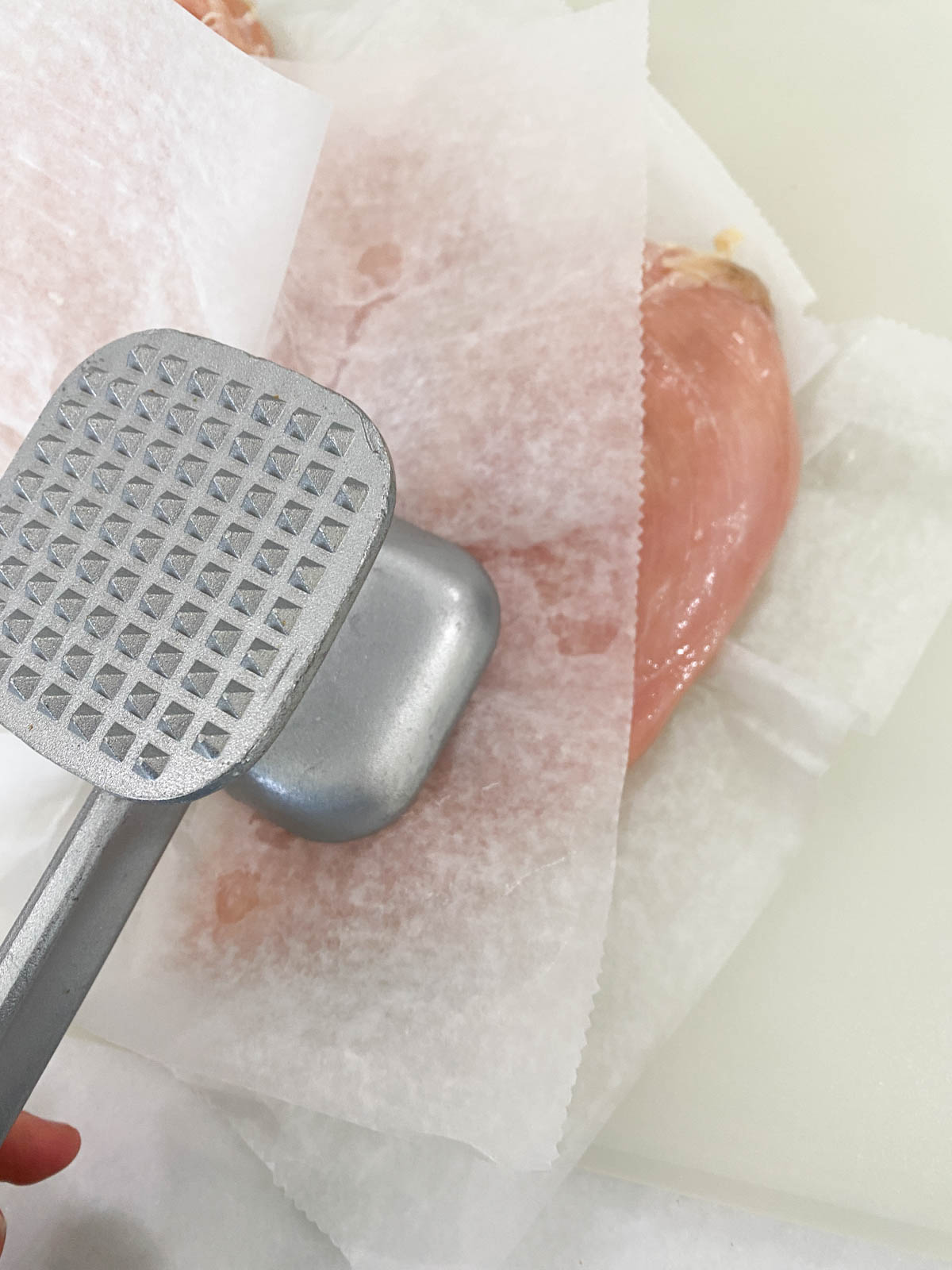 Step 2: Whisk together all the ingredients for the marinade and add the chicken, coating both sides. Allow the chicken to marinate at least 1 hour, up to 24 hours, before grilling.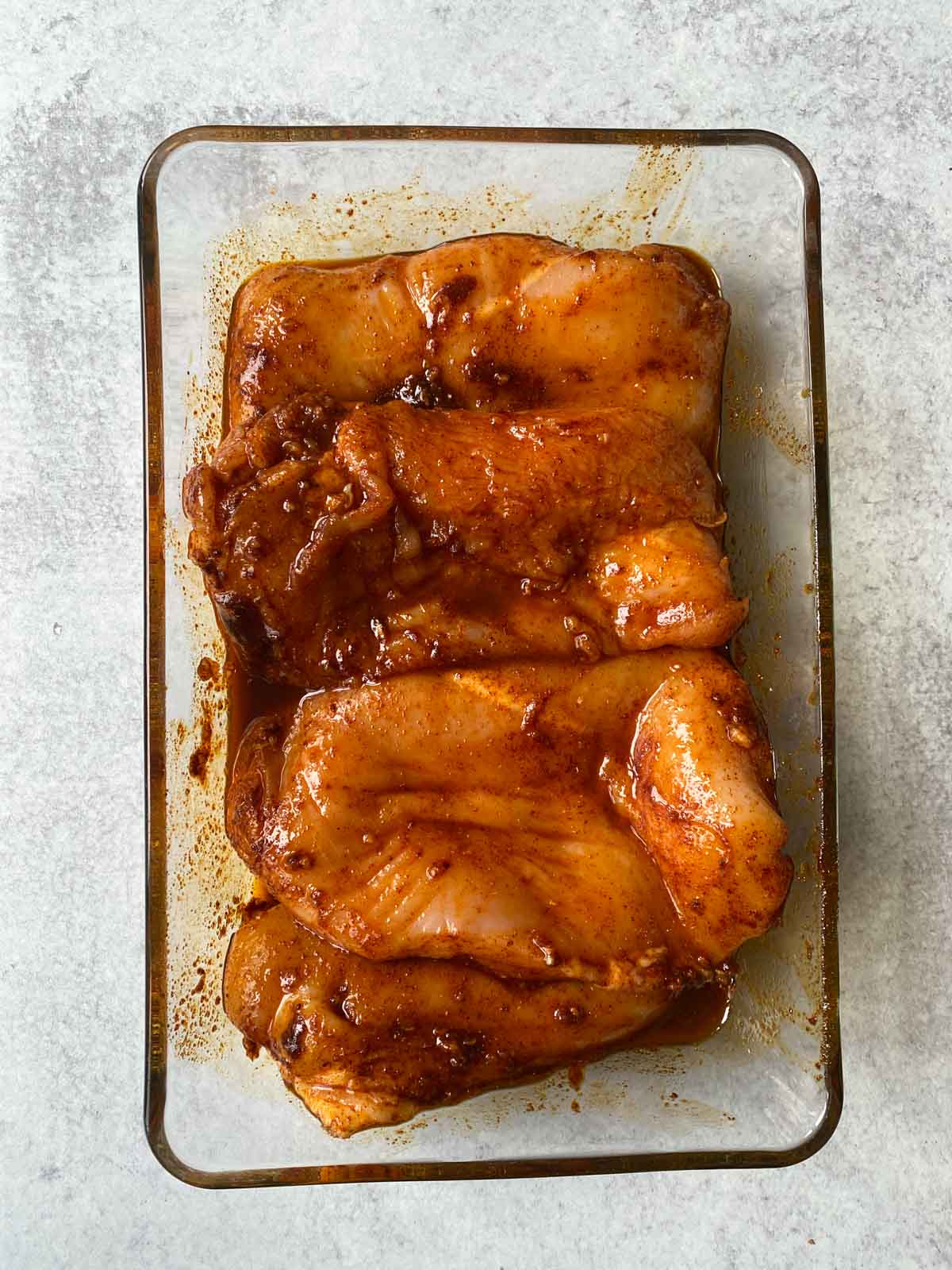 Step 3: Prepare a grill or grill pan to medium high heat. Place the chicken on the grill in a horizontal pattern and close the lid. Cook about 7-8 minutes per side, turning once there are nicely defined grill marks on one side. The chicken is done when it reaches an internal temperature of 165 degrees F. I highly recommend a meat thermometer for this step.
Step 4: Meanwhile, make the couscous. Add olive oil to a medium to large pan with a lid to cover it and turn to medium heat. Add in shallot, stirring often till softened, about 1 minute. Add in broth and paprika and bring the mixture to a boil.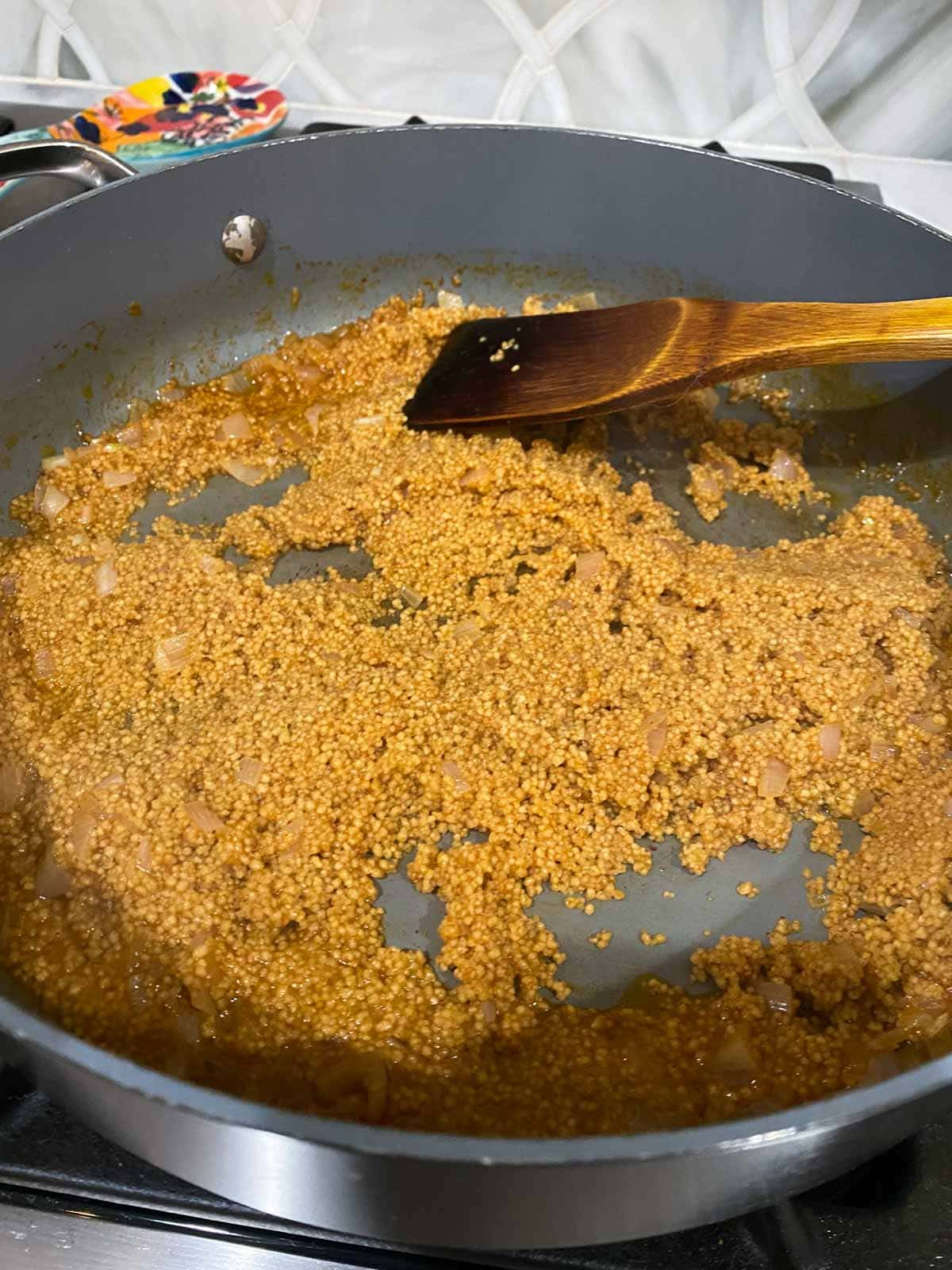 Step 5: Turn the heat off and stir in couscous. Place the lid back on the pan and allow it to sit for 10 minutes. No peeking!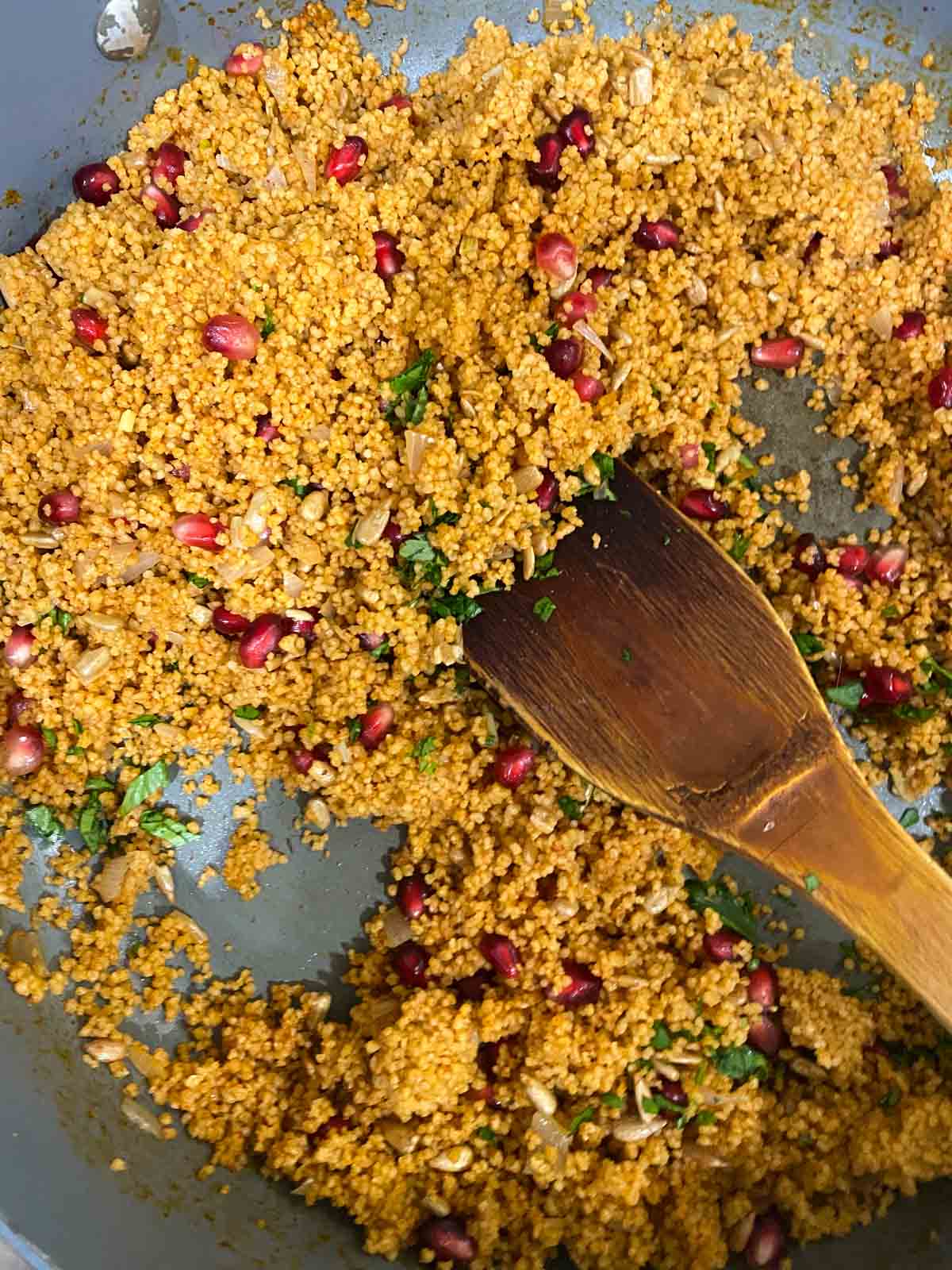 Step 6: After 10 minutes, remove the lid and fluff couscous with a spoon or fork. Stir in pomegranate seeds, sunflower seeds, and parsley. Serve with grilled chicken.
How to Serve
This chicken and couscous should be served warm and will be ready roughly about the same time. You could make the couscous ahead as well, and just microwave before serving. Wait to add in the pomegranate seeds till after you reheat the couscous.
I recommend pairing this with a light salad like this rocket salad.
Frequently Asked Questions
How can I make chicken and couscous recipe gluten free?
Unfortunately couscous doesn't come with a gluten free option since it is a whole grain, but you could substitute quinoa or brown rice instead. Just note that the cooking times and techniques will be different. Follow the package directions and stir in the additional ingredients after cooking.
How long will this recipe store and can it be frozen?
This recipe will last up to 3 days in the fridge, when placed in an airtight container. It reheats and keeps well for lunches the next day! I recommend it as a good meal prep option. While the chicken can easily be frozen, I recommend making the couscous fresh each time. It's just very easy and fast, so it's better starting from scratch than reheating.
What does couscous taste like?
If you've never tried couscous before, it is similar to quinoa in texture but much less bitter, and more dry. It really absorbs the flavor of what it's cooked with so that's why I love the addition of paprika and broth to simmer it, over just using water.
This recipe is a simple, healthy weeknight dinner that takes about 30 minutes total. I have a cast iron grill pan that I love to use when it's too cold to grill, but you can use whatever you like best. For the salad, I mixed arugula or "rocket salad" with really good olive oil I got from Spain, some kosher salt, and freshly cracked pepper. If you use really good olive oil, you don't need much else.
Easy Chicken Recipes
For more marinated chicken recipes that would also pair well with couscous, I recommend these posts.
If you make any of my recipes, don't forget to tag me #thedizzycook or @thedizzycook on Facebook and Instagram. And please leave a review below!
Chicken and Couscous (Moroccan-Inspired)
An easy and super flavorful meal of simply grilled chicken marinated in Moroccan spices and accompanied with couscous that's filled with pomegranate seeds. A perfect 30 minute meal if marinated ahead!
Print
Pin
Rate
Ingredients
Moroccan-Inspired Grilled Chicken
2

pounds

boneless, skinless chicken breasts pounded to ¾ inch thickness

⅓

cup

extra virgin olive oil

2

large

garlic cloves minced

1

teaspoon

honey

2½

teaspoon

paprika

1½

teaspoon

cumin

½

teaspoon

coriander

¼

teaspoon

ginger

¼

teaspoon

cinnamon

¼

teaspoon

turmeric

1

kosher salt

¼

teaspoon

freshly ground black pepper
Pomegranate Couscous
2

tablespoons

olive oil

1

large

shallot, chopped

1

cup

vegetable or chicken broth

1

teaspoon

paprika

¾

cup

Moroccan-style couscous (not Israeli)

¼

cup

roasted, unsalted sunflower seeds

⅓

cup

pomegranate seeds

2

tablespoons

flat leaf parsley, chopped

¼

teaspoon

kosher salt and black pepper (each)
Instructions
Place all the ingredients in a large ziplock bag or shallow dish and marinate at least 30 minutes to an hour, up to 24 hours total.

Brush grill pan with olive oil and heat to medium-high heat. Add marinated chicken and sear on first side 4 minutes. Flip and sear on other side 3-4 minutes (mine took 3). The internal temperature should be at least 165 degrees. Wrap in tin foil until you're ready to serve. For full size chicken breasts, grill for about 7-8 minutes per side.

Meanwhile, in a large, deep pan (that has a lid) warm olive oil over medium high heat and sauté shallot for 1 minute. Add broth and paprika and bring to a simmer.

Remove the pan from the heat and add couscous. Cover with the lid and allow to sit for 10 minutes. Remove lid and fluff couscous with a fork. Add pomegranate seeds, sunflower seeds, and parsley. Season to taste.
Notes
The longer the chicken is marinated, the more flavorful it will be...up to a point! After 24 hours, the texture of the chicken can change so limit it to within 24 hours.
This chicken can also be grilled on a grill pan or simply seared on both sides till cooked through.
For gluten free, substitute couscous with quinoa or brown rice and cook according to package directions before mixing with the spices and seeds.
Nutrition
Calories:
562
kcal
|
Carbohydrates:
10
g
|
Protein:
51
g
|
Fat:
35
g
|
Saturated Fat:
5
g
|
Polyunsaturated Fat:
6
g
|
Monounsaturated Fat:
21
g
|
Trans Fat:
1
g
|
Cholesterol:
145
mg
|
Sodium:
297
mg
|
Potassium:
1026
mg
|
Fiber:
3
g
|
Sugar:
4
g
|
Vitamin A:
942
IU
|
Vitamin C:
5
mg
|
Calcium:
36
mg
|
Iron:
2
mg
This recipe was originally posted in 2018 and was updated with new photography and process shots. Below is an original photograph.