This honey garlic chicken recipe is so unbelievably easy to make, it's perfect for weeknight dinners and for anyone on a migraine diet. Low carb, paleo, gluten free, and super flavorful, it's one of the most popular recipes on The Dizzy Cook. I love to use chicken thighs because they have such a rich flavor, but this would also work with chicken breasts.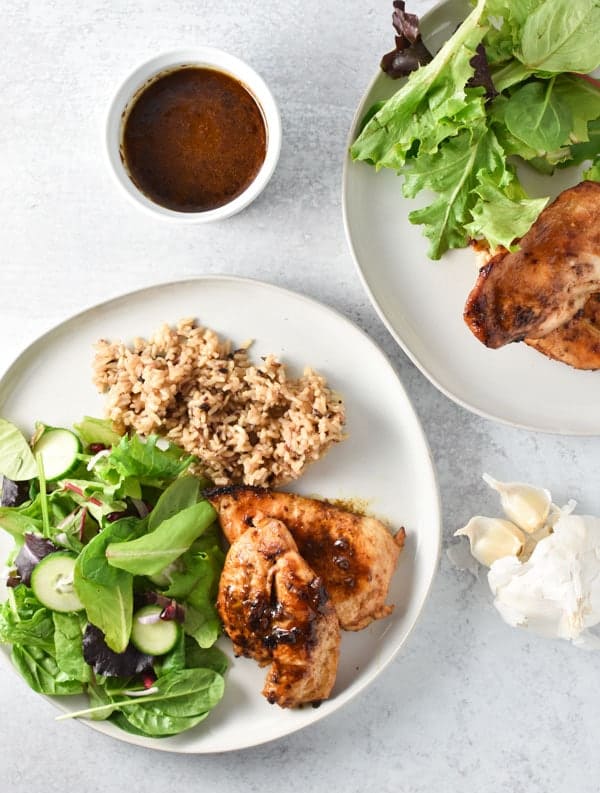 I've been slacking a bit on my posts and that's mainly due to the Migraine World Summit. The episodes expire after 24 hours unless you pay for a membership or the transcripts. Alas, I am not really "making it rain" over here, so I'm getting them in while they are free! There have been a lot of great speakers this year and I've only been disappointed by one seminar. I've also only fallen asleep once! I'm sorry, there's just something about Dr. Dodick's voice that's similar to Jim Nantz at the Masters. Some of my favorites so far have been "Surviving Weather Related Migraine" by Dr Vince Martin, Teri Robert's "They Don't Get It", and Trupti Gokani's "Gut Brain Connection".
Warming Spices and Ayurvedic Medicine
Trupti's episode really stood out to me as I haven't really researched Ayurvedic medicine. Before my vestibular migraine disease began, I had stomach issues over the course of 2 years. Some doctors suspected h pylori, but there was never any test that could confirm it since I was put on a load of antibiotics before I saw a gastroenterologist. When I had my endoscopy, they found a resolving ulcer, but couldn't pinpoint the cause. I always attributed it to being miserable and stressed at my job, but now I'm started to see more research linking migraine to gut health.
The vagus nerve connects the gut to the brain and naturally creates a calming sense on the body. If you're stressed, GABA, which is manufactured by the gut, is not released or made to help calm your nervous system.
In the episode, Trupti goes on to explain that a healthy gut has 3 markers.
1. You go to the bathroom first thing in the morning, before any coffee.
2. You have no gas, bloating, or GERD symptoms.
3. Your hunger symptom occurs naturally around meal times.
If you start skipping meals, your body will adapt and not get hungry around those meal times, signaling a less than healthy gut. She also mentions the positive aspects of "warming foods" that help to bring excitable energy down. It's a whole other world I'd like to research more, but for now, since it's still cold outside (except you, Arizona) I'll give you a recipe with some nice warming spices like cumin!
Ginger for Migraine
Ginger has been shown to be as effective as triptans like Imitrex in aborting head pain by using just ⅛th a teaspoon. Isn't that incredible? Whether or not you suffer from migraine headaches, this meal could actually help your pain. However, I haven't found it to be as effective for vestibular migraine symptoms.
Occasionally taking ginger supplements alone will give me heartburn, so incorporating it more into my diet is the best way to go!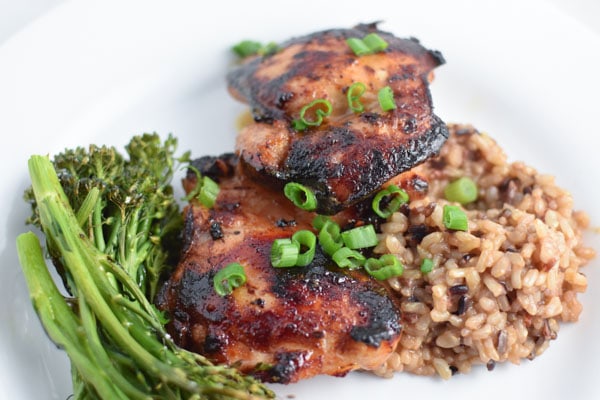 Should I Use Chicken Thighs or Breasts?
Well, that's quite the header! This recipe originally called for boneless chicken thighs, but now that I've made it both ways I can honestly say it's great with both options. Chicken thighs are obviously a little more flavorful, but they also take a little bit longer to cook. I find boneless chicken breasts are easier to find in the store and most people have it on hand for weeknight meals. If using chicken breasts for this honey garlic chicken, you will want to cut down the time in the oven to about 5 minutes. If you are using thin sliced chicken breasts, you may not even need to bake these at all.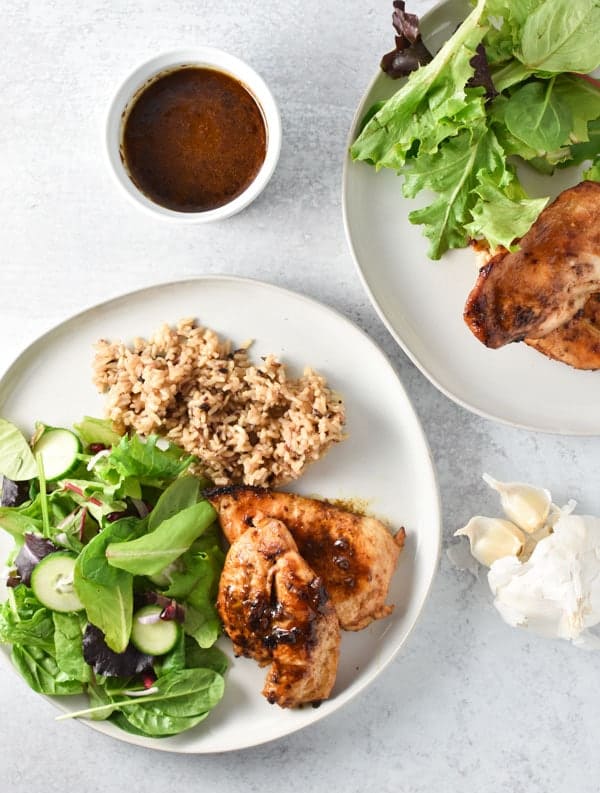 Side Dishes for Honey Garlic Chicken
It's important to marinate your chicken for at least 30 minutes before you intend to cook it, if not earlier. It will yield a much more flavorful chicken! You can use that 30 minutes to work on side dishes like roasted broccolini and Trader Joe's Organic California Rice.
Other good options for side dishes:
I especially love using simple brown rice, quinoa, or mashed potatoes/cauliflower with this honey garlic chicken recipe as it soaks up some of the delicious sauce!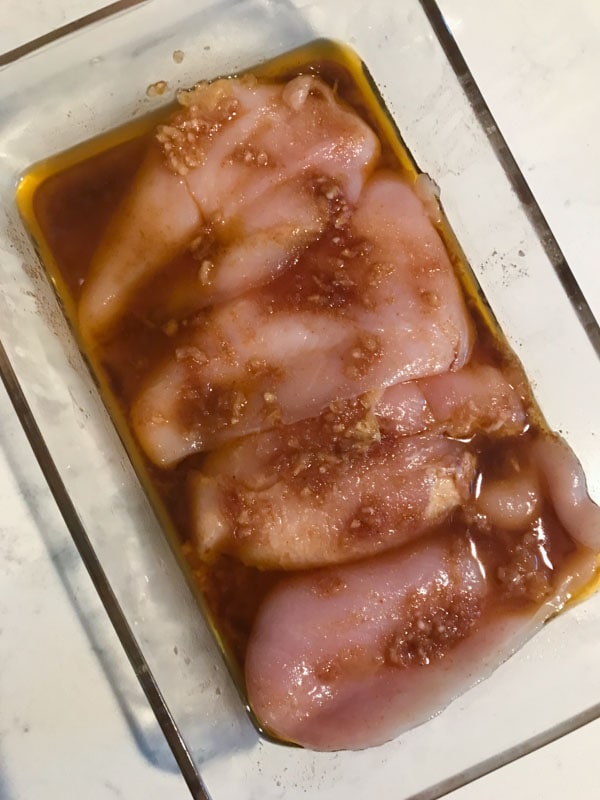 Tips for Making Honey Garlic Chicken
There are two things to remember with this recipe:
Don't skip the marinating time - it's only 30 minutes at the least, but you can marinate them up to a day!
Be careful to not burn your garlic.
This is tricky because you want to get the chicken nicely browned, but to do that you need to cook on (at least) medium heat. Continuing to stir the garlic around the chicken while it cooks can help. I also like to spoon the sauce back on top of the chicken while cooking.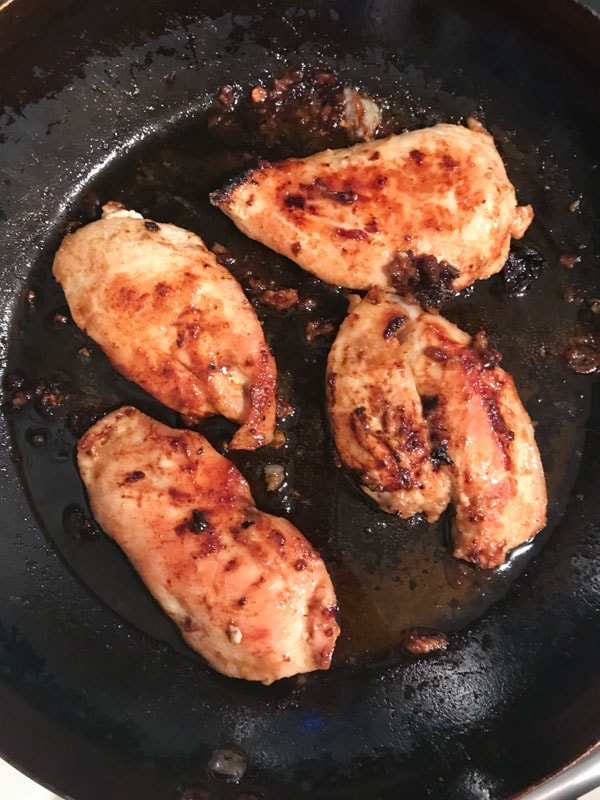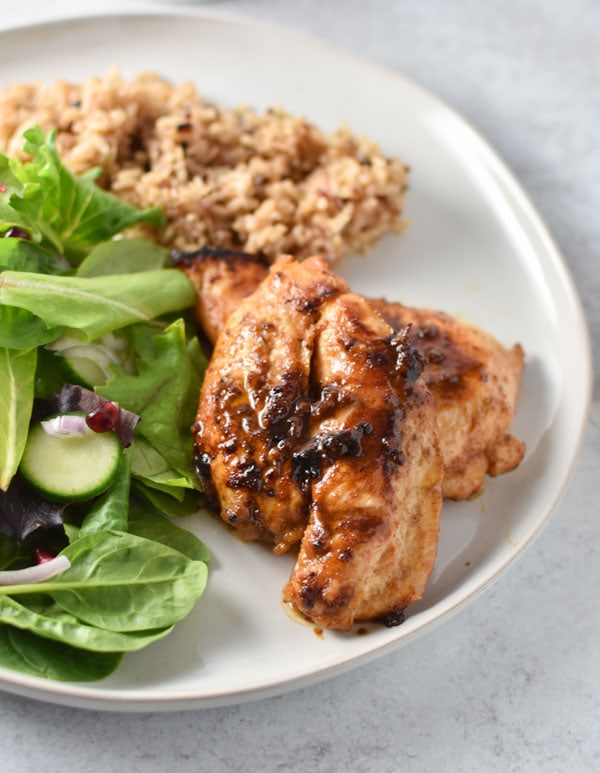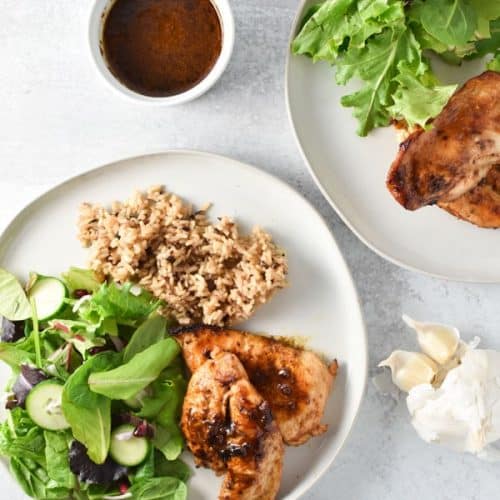 Honey Garlic Chicken
This honey garlic chicken will be your new favorite weeknight meal! The honey garlic sauce and spices are delicious on almost everything, but I prefer either brown rice, quinoa, or mashed potatoes. This makes 4 smaller portions or 2-3 large portions.
Print
Pin
Rate
Ingredients
1.5

lbs

boneless, skinless chicken thighs or chicken breasts

¼

cup

olive oil

2

tablespoon

honey

4

cloves

garlic, minced

1

teaspoon

dried ginger

1

teaspoon

cumin

¼

teaspoon

paprika

1

teaspoon

kosher salt

optional: pinch of cayenne pepper

2

tablespoon

unsalted butter or ghee

⅓

cup

coconut cream

If coconut is a trigger you can sub heavy cream.

optional: green onions for garnish
Instructions
Combine olive oil, honey, garlic, ginger, cumin, paprika, and kosher salt in a ziplock bag or dish and add chicken. Marinate for at least 1 hour and up to 24 hours.

Preheat oven to 425 degrees F. In a large pan over medium heat, add the chicken along with the marinade. Cook at least 3-4 min per side, till browned on each side, being careful to not burn the garlic. Place the chicken on a sheet pan and cover with foil, but leave the garlic sauce in your pan. If using thin sliced chicken breasts, they should be cooked through at this point. If using thicker chicken breasts or chicken thighs, cook at 425F for 10 minutes until the internal temp reaches 165 degrees.

While the chicken is in the oven or covered with foil, melt 2tbsp of butter in the heavy pan with the leftover sauce and drippings. Add coconut cream (or cream of choice) to the pan and bring to a low simmer until warmed and thickened.

Add cooked chicken back to the pan and coat with the sauce. Top with green onions for garnish (if desired). Serve immediately!
Notes
Chicken thighs will take a little bit longer to cook then chicken breasts - adjust your time accordingly.
Be careful to not burn the garlic by moving it around the pan while the chicken gets nicely browned. You can also do this by spooning the sauce back over the chicken while cooking.
To make this completely dairy free, use coconut oil instead of ghee or butter.
Nutrition
Calories:
470
kcal
|
Carbohydrates:
12
g
|
Protein:
37
g
|
Fat:
31
g
|
Saturated Fat:
13
g
|
Cholesterol:
124
mg
|
Sodium:
783
mg
|
Potassium:
715
mg
|
Fiber:
1
g
|
Sugar:
9
g
|
Vitamin A:
297
IU
|
Vitamin C:
4
mg
|
Calcium:
19
mg
|
Iron:
2
mg