Also known as the easiest fancy dinner you could make, these seared scallops with chive oil are delicious. I know it sounds hoity toity and complicated, but this whole dinner can come together in about 30 minutes. I taught myself how to make sea scallops in my early 20's and it was the best thing I could have learned along with how to cook clams. Jumbo sea scallops will cook in about 4 minutes, and if done properly will be buttery smooth in the center. They're the perfect thing to make when you're looking for a quick dinner, but I think many are afraid of cooking them because they can go wrong pretty easily.
A few important things to consider:
1. Purchase dry scallops instead of wet scallops. Many wet scallops are treated with with sodium tripolyphosphate, causing them to basically bloat with excess fluid. If you use these, it's really difficult to get a proper sear and additional chemicals aren't great for people with migraine anyway. Dry scallops, although a little more expensive, will leave you with a nice brown crust. You can either ask your fish monger or if you notice a pale, milky liquid the scallops are sitting in they are probably wet scallops. Dry scallops also have more of a skin colored/cream tone rather than being white. Your local Whole Foods should sell dry scallops.
2. Before you cook your scallops, place them between 2 paper towels and lightly salt one side. Allow to sit at least 10 minutes so the salt can draw out some extra liquid. Then blot any excess moisture with paper towels.
3. Use an oil with a high smoke point like ghee or grapeseed oil. While I have used a combination of butter and olive oil in the past, I find I get the best sear and flavor with ghee.
4. Do not overcook. When you get that rubbery texture it means you have overcooked your scallops. You'll be looking at cooking large scallops about 1.5 minutes per side, 2 at the very most.
The chive oil from Bon Appetit was just for Valentine's flare, although it went wonderfully with the scallops and cauliflower puree. Plus I saved the extra to use as a dressing. It's worth making ahead for this dinner.
For the roasted, pureed cauliflower I used Guy Fieri's recipe, which as weird as it sounds it turned out beautifully. I cut the recipe in half, which says it serves 8, and in my opinion it served 2 generously. Perhaps my cauliflower head was on the small size because I purchased the organic kind. Or perhaps because we like to eat a lot. You can make this a lot easier on yourself by purchasing the pre-cut cauliflower florets from Trader Joe's.
The roasted asparagus is pretty self explanatory – easy yet delicious!
Give these seared scallops with chive oil a try for your next date night! And if scallops aren't your thing or you're looking for something more simple try this Mediterranean Baked Halibut.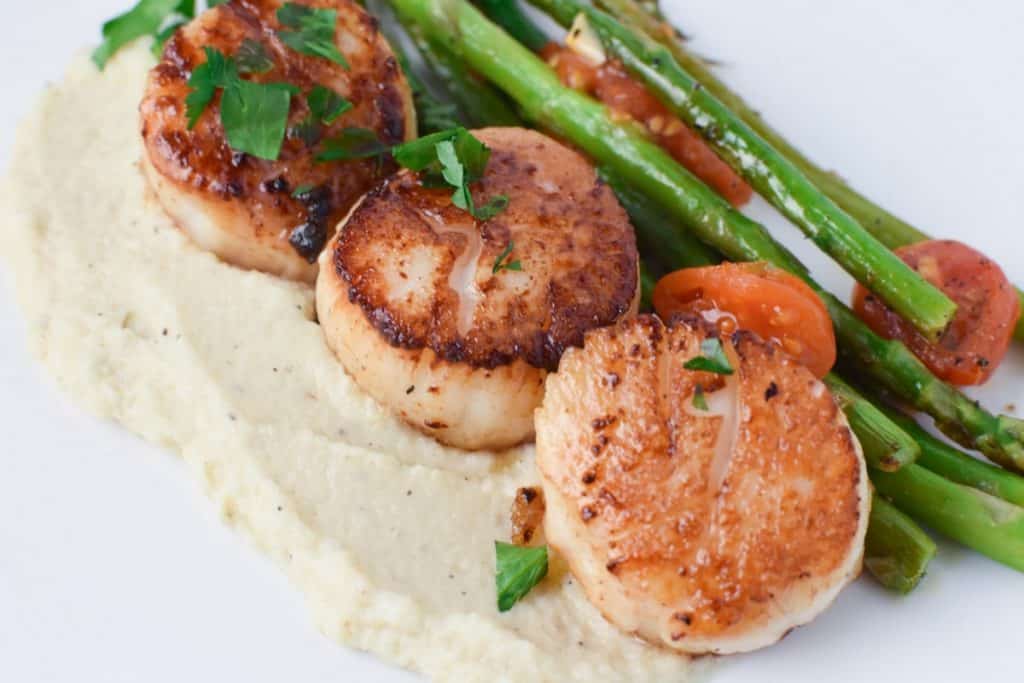 Seared Scallops with Chive Oil (Gluten Free)
Recipe heavily adapted from Bon Appetit, these seared scallops are buttery and rich with a light compliment of chive oil. Perfect for any date night meal.
Cuisine:
American, Seafood
Keyword:
Chive Oil, Gluten Free, Seared Scallops
Ingredients
Scallops
1-1/2

lbs

dry, jumbo sea scallops

4

tbsp

ghee

or combination of 2tbsp butter and 2tbsp oil
Chive oil
2

garlic cloves peeled

3

tbsp

fresh chives roughly chopped

1

tsp

kosher salt

1/2

cup

olive oil
Instructions
The chive oil can be made ahead (which I highly recommend). Place all ingredients in a food processor and puree till fully blended. Set aside at room temperature.

Prepare the scallops by patting with a paper towel, lightly salting one side, and placing them between 2 paper towels. Lightly press down on the paper towels. Allow to sit for 10 minutes. Dry off any excess moisture

Meanwhile heat ghee in a large skillet (I like a non stick here) on medium high heat. You want the pan to be very hot so you'll get a nice sear right away. It's also good to space them out so they each have their own space, even if it means doing in batches. If placed too close, they will steam instead of sear. Add the scallops and leave them for 1 1/2-2 minutes. Check one to see if a nice crust has formed. If so, turn and leave them for about 60-90 seconds more. *a splatter screen is wonderful in this step*

Remove scallops from pan and if you're cooking a second batch, cover with tin foil.
Cauliflower Puree
This gluten free cauliflower puree is rich without being heavy. A perfect compliment to any seafood dish!
Keyword:
Cauliflower, Gluten Free, Pureed
Ingredients
1

large head of cauliflower cut into florets, or pre-bought florets

1

tbsp

olive oil

2

cups

whole milk or milk substitute

1

tsp

salt
Instructions
Preheat over to 400 degrees and toss 1/4 of the florets with olive oil, 1/2 tsp salt and pepper. Place on an oven sheet and roast about 20 minutes, or till nicely browned.

Combine remaining cauliflower with milk, salt, and pepper in a large saucepan with a lid. Heat on medium heat until simmering, then cover and cook about 20 minutes until cauliflower is tender. Drain cauliflower, but reserve the hot milk.

Add roasted cauliflower to a blender and pulse till mashed. Add the milk steamed cauliflower and pulse till smooth. Season with salt and pepper to taste. Guy says you can add half of the milk to the mixture, but I found I didn't need to add any. You have some reserved if you need it!
Roasted Asparagus
So simple, this roasted asparagus recipe is the perfect, easy side dish for an elevated meal.
Keyword:
Asparagus, Gluten Free, Roasted
Ingredients
1

bunch

fresh asparagus trimmed and washed

2

cloves

garlic sliced

Optional: handful of cherry tomatoes

kosher salt and pepper

1-2

tbsp

olive oil
Instructions
Preheat oven to 400 degrees. The best way to trim your asparagus is to hold the stalk by the tip and the end, then bend it in half till it breaks naturally. Line up the stalk with the bunch and trim at the same place. Place in a bowl of cold water for about 5 min and allow any dirt and sediment to float to the bottom. Then rinse with cold water.

Place asparagus and cherry tomatoes (if using) on a foil lined baking sheet and toss with olive oil, garlic, salt, and pepper.

Roast for about 20 minutes, checking halfway through and tossing to evenly bake on both sides.